1 Day in Spain? 10 Best Things to Do in 24 Hours!
July 19, 2023
Updated:

July 27, 2023
Published: July 19, 2023
Spain in 24 hours is a bit insane, and not nearly enough time to see this wonderful country. But if one day in Spain is all you have, I'm all in to bring you the best itinerary for one day in Madrid and Barcelona (assuming you're visiting the largest and most important cities)
It hurts that some things to do in Spain in 24 hours will have to wait for another article, but the remaining ones are worth it on your bucket list. 
Let me show you how to get the most out of your stay here. You will find this itinerary planned down to the minute, going hour by hour, with a few suggestions to suit your preferences if you have extra time. 
And remember that we're here to help you plan the best itinerary for your trip. Here's an article that will help you decide which city is best for you!
24-Hour Itinerary in Madrid
---
Keep in mind that this 24-hour itinerary starts in the most strategic places and follows a logical route so that everything is within walking distance and you can soak up the atmosphere at the same time that you go through the most important sites.
Here are some useful resources that can make you enjoy a better time:
1. Start at the Heart of Madrid: Puerta del Sol
10:00 am
Your day begins at Puerta del Sol, the heart of the city. It's one of the most famous squares in Madrid, home to some of the most important buildings. 
Among them is the Real Casa de Correos, an impressive and ancient structure built in the 18th century, now housing the government's presidency for the Community of Madrid, and the famous "Kilometro Zero" plaque on the sidewalk next to the Post Office.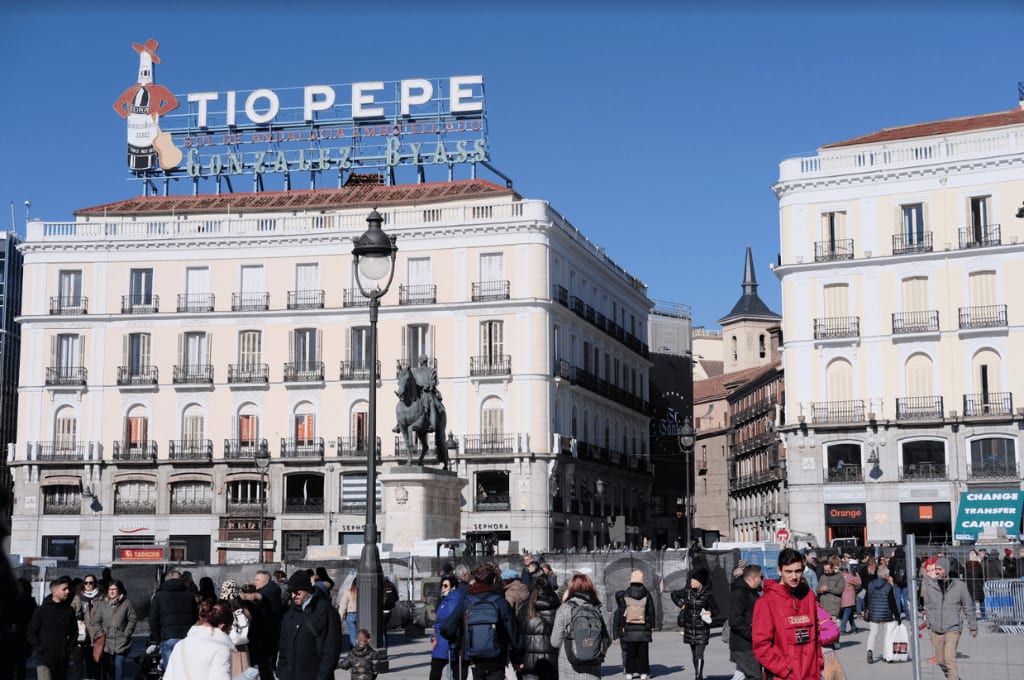 Make sure to take a picture with the iconic "El Oso y el Madroño" statue representing the city's coat of arms. Take a photo, continue your walk, and officially declare this day as started!
Do yourself a favor and stop at La Mallorquina pastry shop, founded in 1894, and try the Napolitanas de Chocolates, the Magdalenas, and palmeritas if you haven't eaten anything after the airport.
Still, if you wait a little longer, you can eat the most iconic churros in the city that I will mention later.
2. Explore Historic Beauty at Plaza Mayor
10:45 am
Now, just a few minutes away is the most iconic Plaza Mayor.
It's a very iconic place to visit if you're coming to Madrid for the first time because, as you might know, the concept of "Plaza Mayor" refers to the main square of some localities in Castilian and Hispanic American urbanism.
At Plaza Mayor, you'll spot the Statue of Felipe III, Casa de la Panadería, and Arco de Cuchilleros. And guess what? This square hosts the famous New Year's celebration, which is unique and (for some) a bit unusual.
📌 Read more: Spain in Winter: Weather, Destinations, Tips & More
Once you're here, you've got options! Wander around the surrounding streets, absorb the vibrant atmosphere, or treat yourself to a classic breakfast of churros con chocolate at Chocolatería San Ginés. This traditional spot has been an emblem of the city's timeless traditions and a must-try for any visitor.
3. Taste Local Food at Mercado San Miguel
12:00
Alright, I'll be done with food in a minute, but I can't make up this day trip without mentioning the iconic Mercado San Miguel.
Gastronomy plays a massive role for any traveler since the Spanish culture is full of food traditions and customs around cuisine. 
Visited by over 10 million people yearly, this market is a foodie's paradise famous for its gastronomic offer, which blends the concepts of a traditional market with high-end tapas and drinks such as beer and wine. 
It has 33 stalls, and its top-selling offers in this market are cheese, ham, wine, and oysters. But my favorite is the mushroom and ham croquetas from Arzabál Croqueteria cart, the oysters from Daniel Sorlut, and the baos from Boale.
📌 Here's a guide that will help you choose the right dishes: What to Eat in Spain: 31 Tasty & Traditional Dishes
4. Meet the Royal Palace of Madrid
1:00 pm
The Royal Palace of Madrid, also called the Palacio de Oriente, is the largest in Western Europe and one of the largest in the world! 
It was established as the Spanish kings' residence in 1764 with Charles III. Today, it is used exclusively for receptions, ceremonies, and official acts, since the kings of Spain reside in the Palacio de la Zarzuela.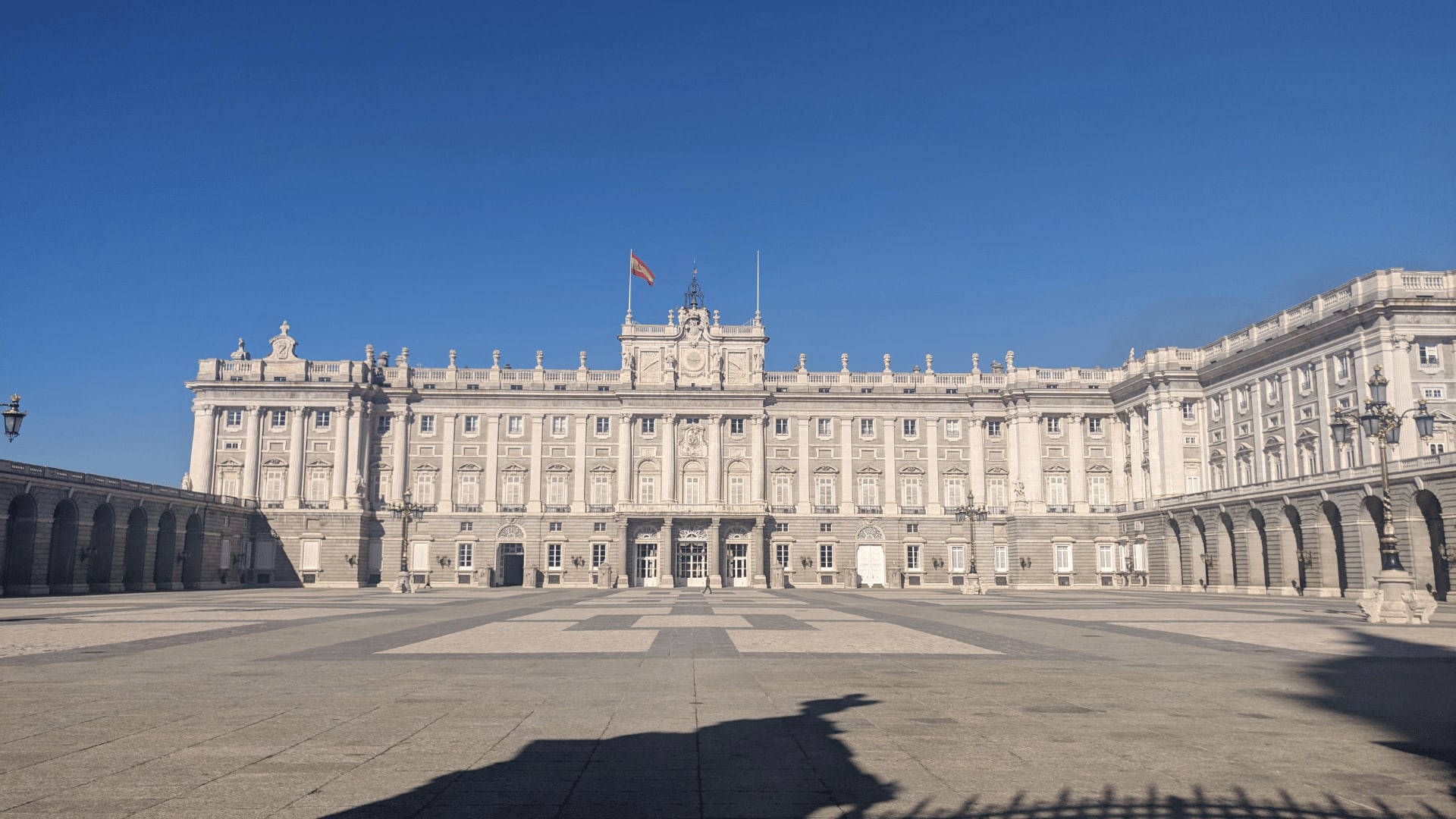 If you want to obtain all the details, anecdotes, and stories, the best way to visit it is with an expert guide. (You can get one inside the museum or before arriving) or by yourself. 
The visit includes entrance to the official halls, the Royal Armory (to see armor, shields, and weapons of all kinds, constituting one of the most important collections in the world), and the Royal Pharmacy.
It is free from Monday to Thursday, from 5 to 7 pm (from 4 to 6 in winter) if you are a citizen of the European Union, resident, or holder of a work permit.
5. Witness the Charm of Plaza de España
3:00 pm
Plaza de España is one of the most beautiful squares to sit down before hitting the streets of Madrid, as it has a privileged location next to Gran Via and other important roads. So it's a fantastic starting point to get to know the surroundings!
It is an ample garden space in Madrid, where you can see a monumental fountain dedicated to Miguel de Cervantes. Depending on whether you go during the day or at night, you can enjoy two different settings.
It is integrated with the Royal Palace or the Temple of Debod (ideal for visiting at sunset)
At Christmas, it gains color, lights, markets, and activities of all kinds. In front of the square is the "Edificio España," one of the largest towers in the center of Madrid, where you can visit impressive views from the top of the Hotel Riu.
Also, just below, you have the largest Zara in the world! Perfect for shopping.
6. Experience the Vibrant Energy of Gran Vía and Callao
4:00
The Gran Vía in Madrid is one of the city's most important streets. It has monumental architecture, a shopping area, and it's in the city's tourist center. 
Madrid's Gran Vía begins on Calle Alcalá, very close to the fountain of the goddess Cibeles (which we all know from the Real Madrid celebrations), and ends at Plaza de España.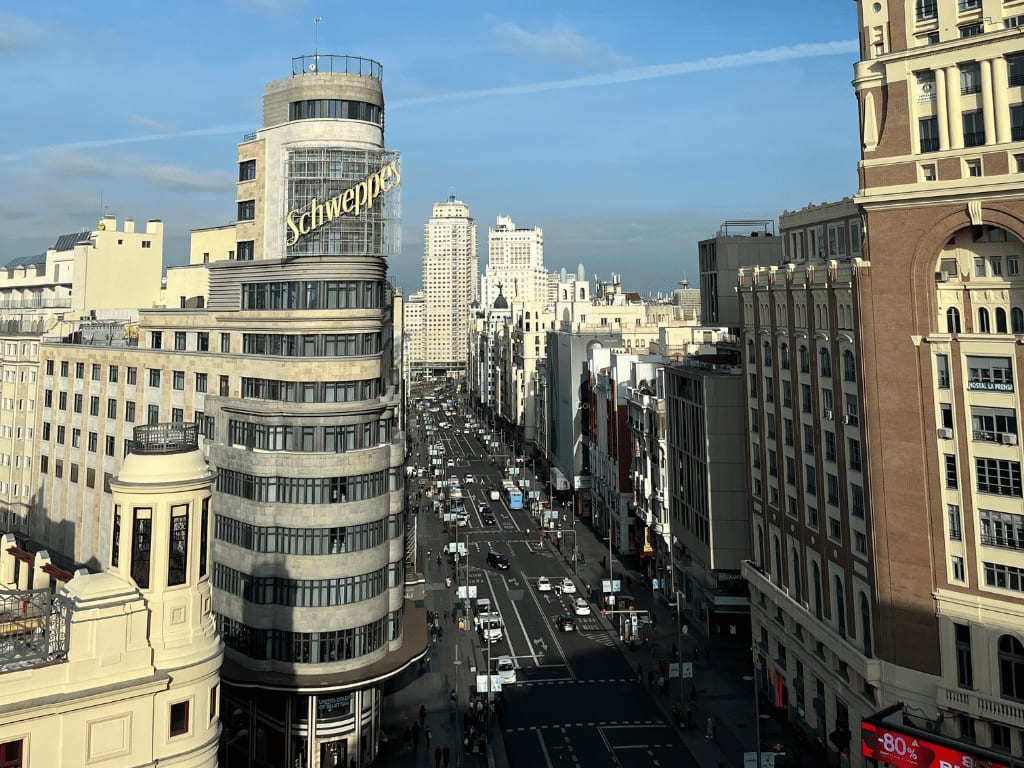 You can see the famous Metropolis building, the Sweepes Building, the Telefónic Building, and the Grassy Building with the iconic Rolex advertisement, among other important streets that are full of life and activities of all kinds (theatres, cinemas, entertainment venues, entertainment, nightclubs, bars, food, everything!)
If you continue walking along the Gran Vía, you will run into the famous Plaza de Callao, always full of people, shops in the surroundings, and the pedestrian streets towards Puerta del Sol.
Stop by the Torrons Vicens store. They always give free samples of artisanal turron, a famous and delicious Spanish sweet. You can grab as many as you want (or as much as the lady in front allows you), as they are the perfect local pick-me-up!
7. Admire the Iconic Cibeles Fountain
4:30 pm
Cibeles is one of Madrid's most iconic symbols and the main scene for celebrating the Real Madrid Football team victories.
📌 Read more: Football in Spain: How to Buy Tickets Online + 5 Pro Tips!
The buildings surrounding the square are Palacio de Cibeles, Buenavista Palace, Banco de España, and Palacio de Linares.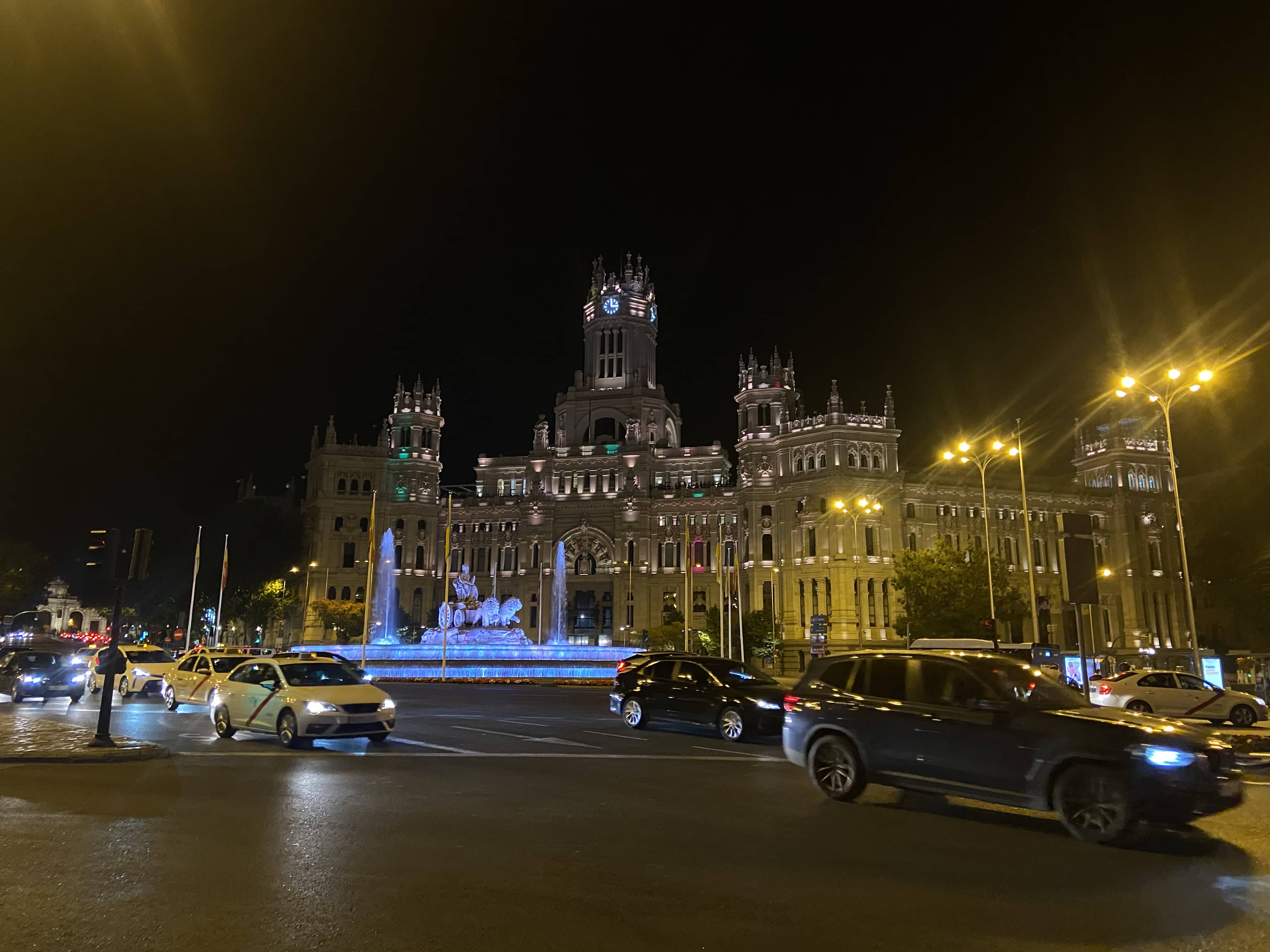 Then there's the timeless fountain of Cibeles, initially designed to be installed in the Granja de San Ildefonso Gardens in Segovia. But, it was finished in 1781 under the order of Carlos III and was made by Ventura Rodriguez.
Also, it is on the way to Banco de España, Thyssen Museum, the Naval Museum, Puerta de Alcalá, Serrano Street, and Retiro Park, among other important landmarks.
8. Immerse Yourself in Art at The Prado Museum
5:00 pm
Your day continues strong with a gorgeous visit to the Prado Museum. 
With more than 3 million annual visitors, it is a must-see in the city as it is the most famous museum in the capital and the country and a worldwide reference.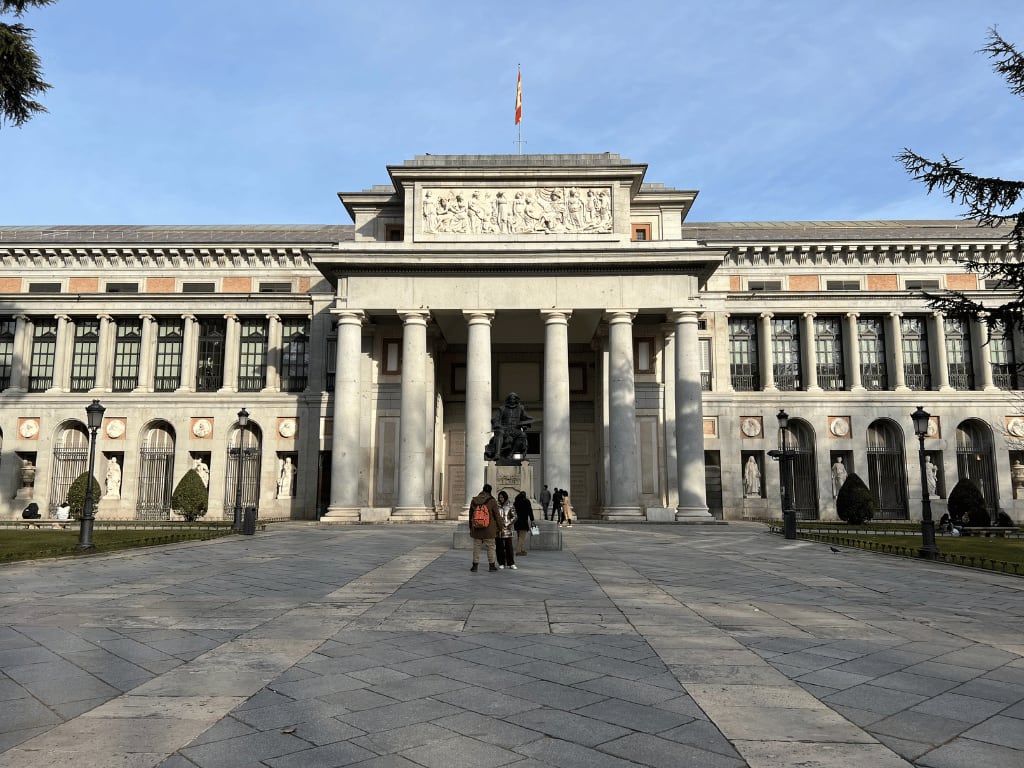 The Prado Museum houses the most extensive collection of Spanish paintings, which makes it an art lover's dream. It has the most famous paintings by Velázquez (Las Meninas), El Greco, Goya (Third of May 1808), Titian, Rubens, and Bosch. 
I saved the best for last since the Prado it's free from Monday to Saturday, from 6 pm to 8 pm, and on Sundays and holidays, from 5 pm to 7 pm.
📌 Read more: 18 Best Landmarks in Madrid Totally Worth Visiting in 2023
9. Take a Walk on the Lovely Retiro Park
6:30 pm
We continue walking and come across the entrance to the famous Retiro Park, an oasis in the center of Madrid.
It is the largest and greenest park in all of central Madrid. It serves as a bit of escape from the bustling streets for all kinds of leisure activities, recreation, reading, painting, meditating, running, exercising, yoga, going on a picnic, enjoying works of art, taking photos of nature, playing chess, sitting down on a terrace, partying, you name it!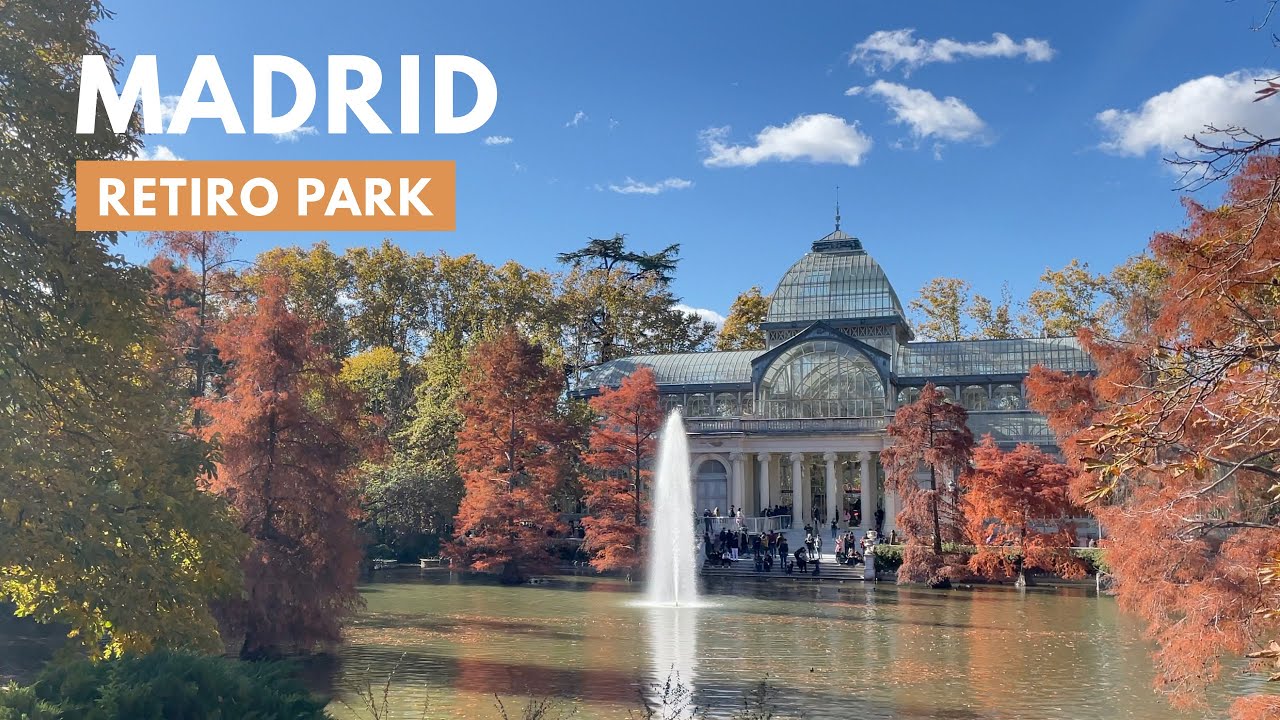 What else can I say about this magical place? I could spend years and years talking about the beautiful Retiro Park, a big and beautiful spot that even Madrilenians take several days to see in its entirety. However, if you make it quick, you can complete everything to see in the Retiro Park in about two and a half hours.
10. End Your Day at the Magical Puerta de Alcalá
8:00 pm
The iconic Puerta de Alcalá, which many have had to see under renovation in the past months, is a symbol of grandeur and elegance in the history of Madrid.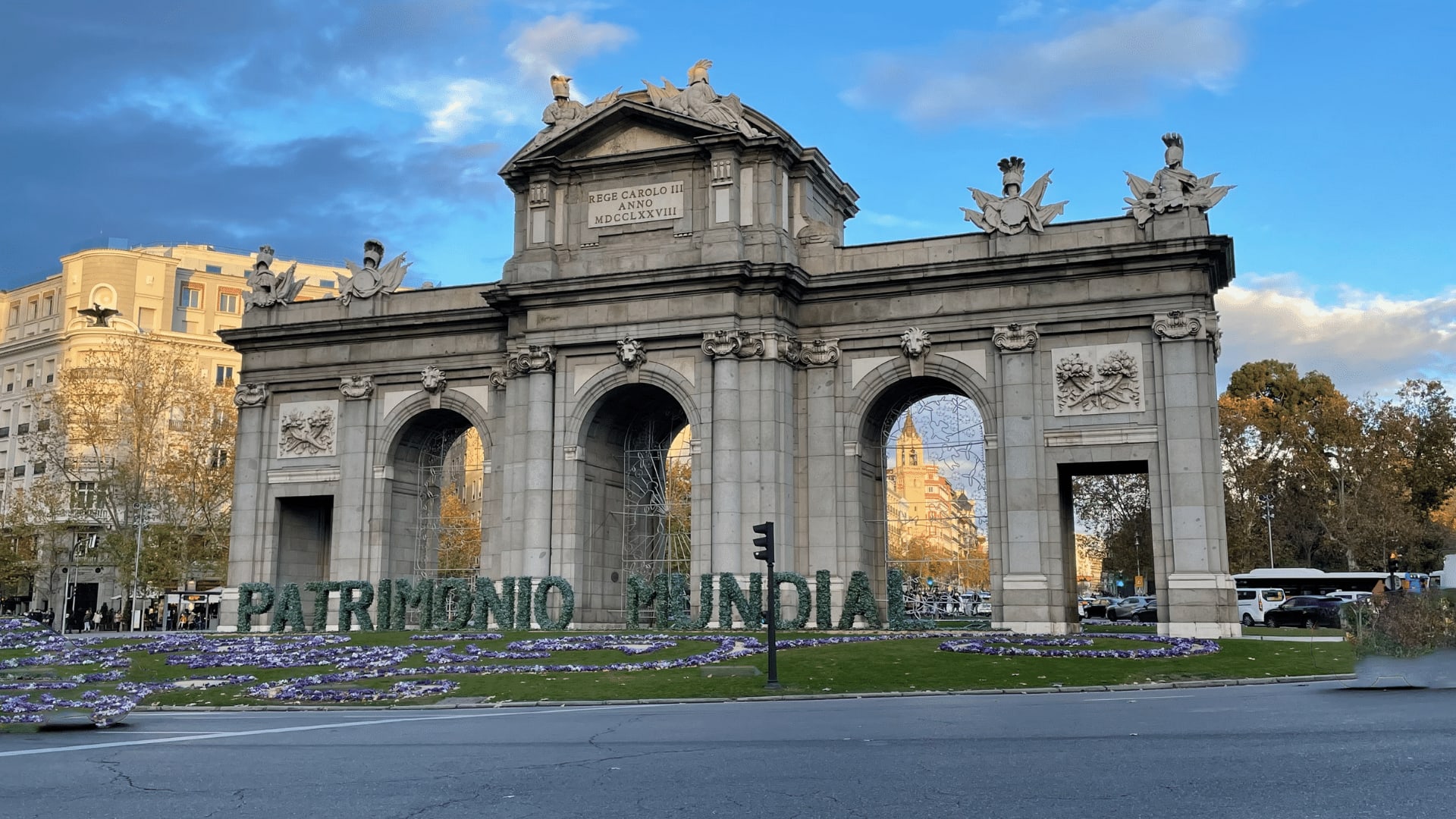 Located in the center of the Plaza de la Independencia, the Puerta de Alcalá is one of the five old royal gates that gave access to the city and was built during Carlos III.
This massive entrance, inaugurated in 1778, is located next to the Parque del Retiro, and it connects streets as prominent as Alcalá, Alfonso XII, and Serrano, with lovely streets to walk, stroll around, or spend an afternoon in its fabulous terraces.
I hope you can make it all!
24-Hour Itinerary in Barcelona
---
This guide focuses on the most emblematic places you can visit in one day in Barcelona. Obviously, there are many missing, but you would have to prepare for at least three to five days.
🧳 Read more: 3 Days in Spain: What's the Best Itinerary for Your Trip?
However, the activities I mention are efficient in terms of short transportation time, proximity, and relevance of the place to immerse yourself in the culture in the shortest possible time.
Useful Resources!
1. Begin at the Iconic La Sagrada Família
9:00
Okay, we start your day in the magnificent city of Gaudi with nothing more and nothing less than the Sagrada Familia.
Very basic? Did you expect it like that? Sorry, I don't mean to, but this landmark is everything but mainstream. As a Spanish, I confirm the hype is real about this impressive landmark that captivates almost 4 million tourists a year.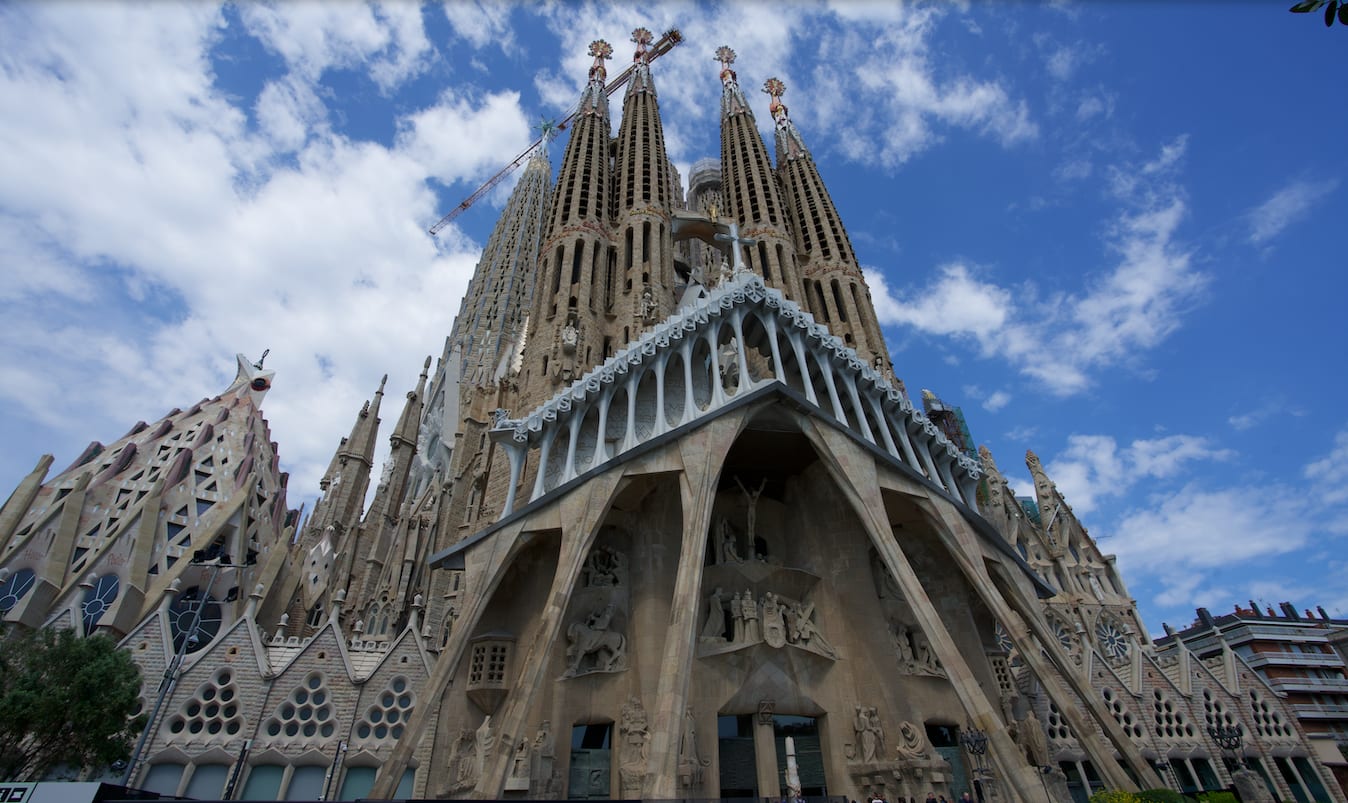 The Sagrada Familia is the symbol of the City of Barcelona par excellence. The construction of this temple began in 1882 with a neo-Gothic style. They gave the project to Gaudí a year later, who completely rethought it.
Sadly, Gaudí died in 1926 and left this masterpiece unfinished. Yet, thanks to the plans that remain, other artists and donors are continuing the project so it can be finished one day!
If I were you, I would go there early in the morning to avoid crowds. And get tickets in advance if possible.
2. Experience Gaudí's Masterpiece: Casa Batlló
11:00
Let's move forward to our second activity of the day, Casa Batlló, a UNESCO World Heritage Site and an icon of Barcelona. Here you'll learn about Gaudí's work and modernism at its best.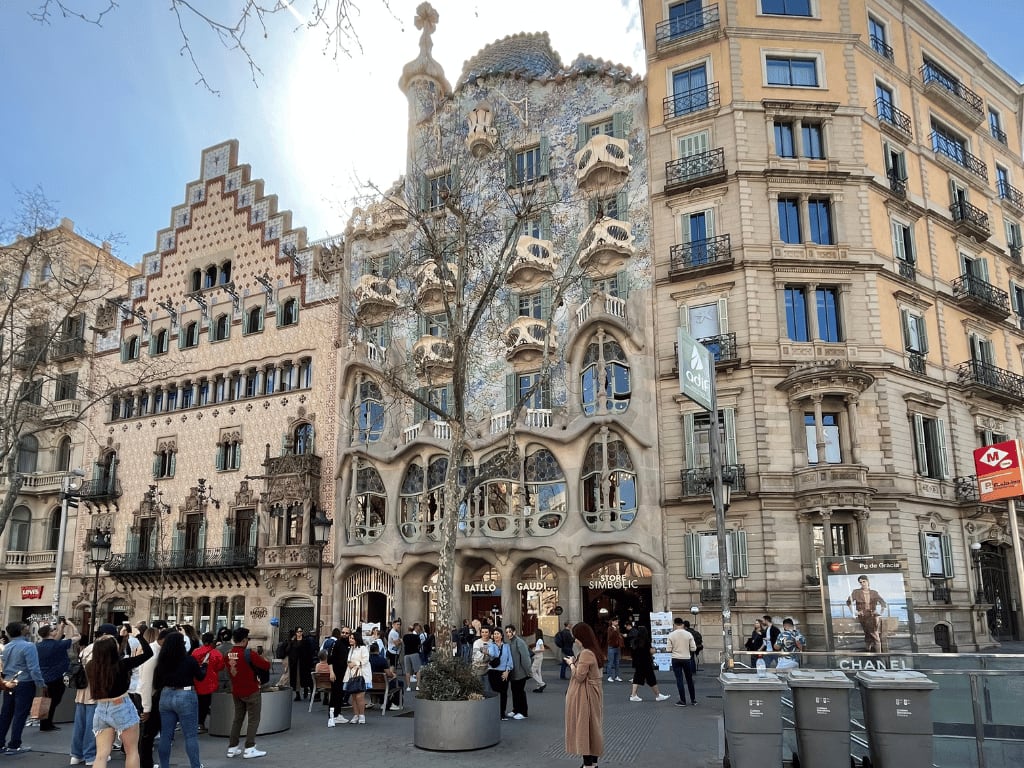 This place is also one of the most valued cultural and tourist attractions, and it welcomes 1 million visitors a year! Nowadays, Casa Batlló was chosen Best Monument of the World 2021 (Yes, over the London Tower, the Milán Duomo, and the Empire State so that you can have an idea.)
3. Encounter the Fascinating La Pedrera - Casa Milà
12:00
Next to Casa Batlló is Casa Milà, commonly called "La Pedrera" by locals, which is the last civil work of Antoni Gaudí. It began in 1906 and ended in 1912.
The house's original name was Casa Milà because of the Milà family who owned the place. And the nickname "La Pedrera" comes from its external appearance, where mainly stone was used for the facade and balconies.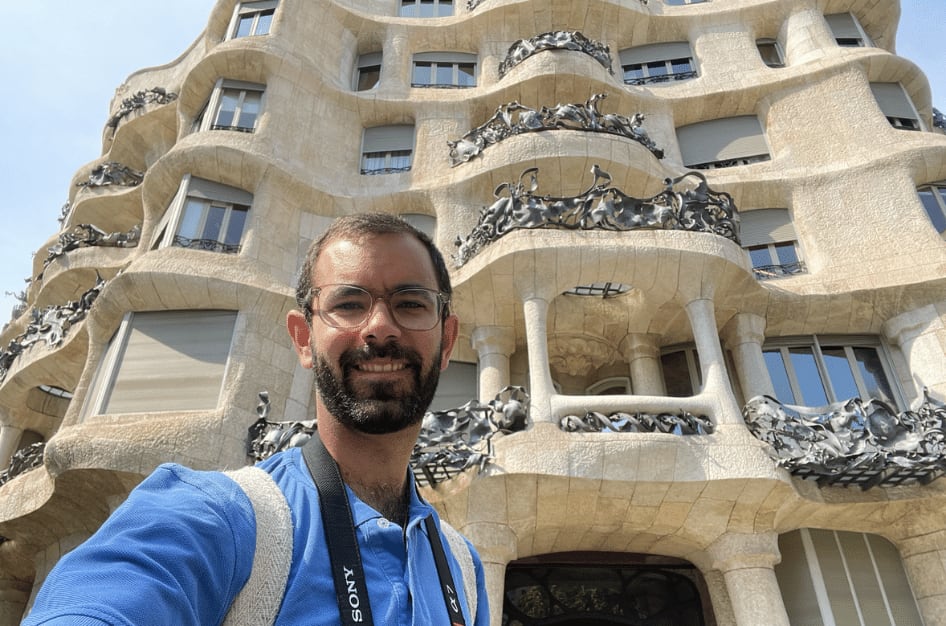 You must see the Facade, the Atico de la Ballena, La Azotea de los guerreros, El Patio de las Mariposas, El Patio de las Flores, and even the Café de la Pedrera.
Barcelona is art and culture, and buildings like this represent it to the fullest. I recommend you go!
4. Stroll Along the Stunning Passeig de Gràcia
1:00 pm
The tour continues with one of the most attractive promenades in Barcelona, Paseo de Gràcia, an avenue of great tourist attraction and architectural relevance.
It starts at Plaza Cataluña, Ronda de San Pedro, and ends at Jardines de Gracia, where it connects with Calle Mayor de Gràcia.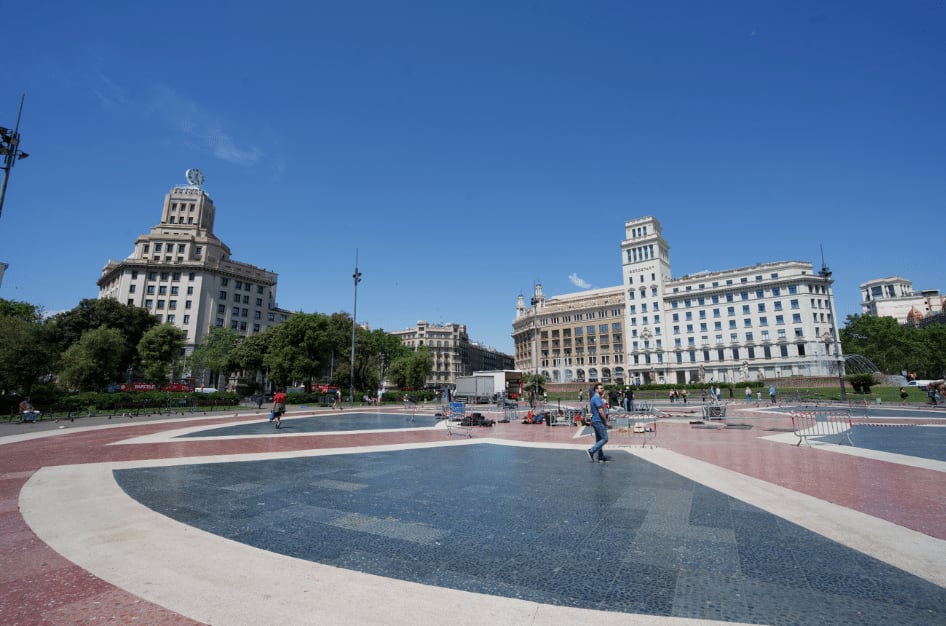 We have options! You can see modernist buildings in the city, architects such as Gaudí, Codina, Domenech i Montaner, Puig i Cadafalch, and Josep Vilaseca i Casanovas.
Or you can go shopping and enjoy the most exclusive street with stores like Loewe, Burberry, Versace, Louis Vuitton, Longchamp, and Gucci, among others.
Walking past these streets feels like a movie!
5. Try Culinary Delights at El Nacional
1:30 pm
El Nacional is the most convenient place to live an authentic gastronomic experience that will delight your palate. You can try a bit of everything, choose the food that best suits you, and enjoy a pleasant and tasteful atmosphere is the famous El Nacional.
The space divides into four different areas: La Llotja (best seafood dishes), La Taperia (tasty tapas and rice dishes), La Braseria (great charcoal grill), and La Parada (quick bite to eat)
Plus, the ambiance is very nice and photogenic. It is an open space with a good interior, very clean and busy. You can find different restaurants inside the complex offering up anything you could want.
📌 Read more: Eating Out in Spain: Where to Eat & Best Food to Order
6. Get Lost in History at the Gothic Quarter
3:00 pm
The Gothic Quarter has a unique energy. It transports you to the city's early years, and each building has a distinctive architecture.
To understand Barcelona, you must walk in this neighborhood. In addition, it is the dream for many international artists since the Gòtic is one of the epicenters of Barcelona's cultural agenda.
It has cultural and social life every day of the year, with art centers such as Arts Santa Monica and Artevistas Gallery or the famous Gaudí Exhibition Center.
📌 Read more: 9 Best Neighborhoods in Barcelona: Students, Expats & Tourists
Some must-visit spots are El Mural del Beso, Barcelona Cathedral, Plaça Reial (royal square), and the Museo de Cera.
Still, as we are short on time, and I don't mean to overwhelm you with activities, one visit is enough to know what to put on your bucket list for the next trip! 
7. Immerse in Art at Museu Picasso
4:30 pm
I'm sure we can fit in a visit to the Museu Picasso. We're talking about one of the most renowned artists of the 20th century – it's a must!
The Museu Picasso in Barcelona is a treasure trove for art enthusiasts. With over 4,000 pieces by Pablo Picasso, including sketches, paintings, and ceramics, it boasts one of the world's most extensive collections of his work.
To skip the queues, grab your tickets online in advance. And for a deeper appreciation of each masterpiece, consider joining a guided tour.
Fun fact: Although Picasso was originally from Málaga in Southern Spain, it was in the bohemian city of Barcelona where he truly flourished and experimented as an artist. So the Museu Picasso was born to showcase his finest works and many other artistic wonders in this vibrant city.
📌 Read more: The Best 11 Museums in Barcelona: It's not all about Gaudí!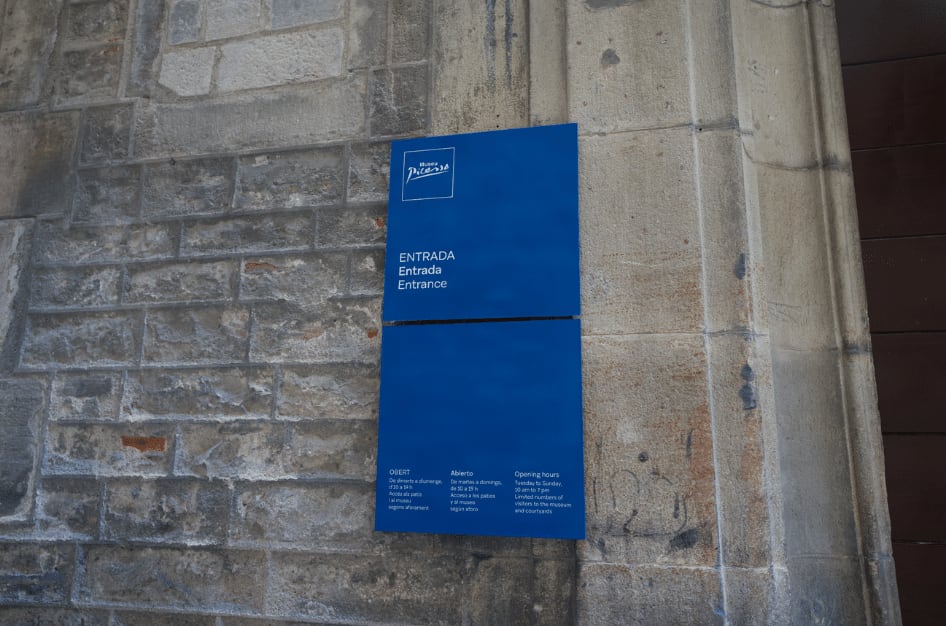 8. Meet the Bustling Las Ramblas Street
5:30 pm
Considered the main street in the Eixample district, La Rambla de Catalunya is the most transited street in Barcelona.
This is your place if you want to watch the world go by. Many shops and vendors are in the middle of the street, a pedestrian walkway, giving the area its unique essence.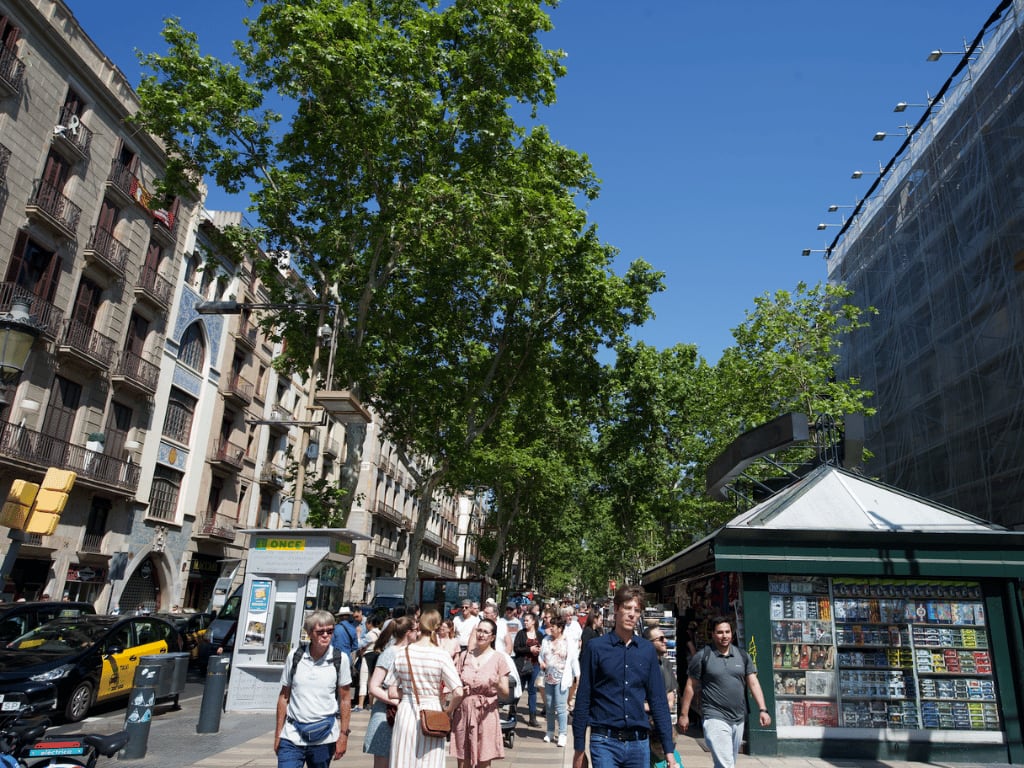 You will see many shops, luxury brands, multiple fashion boutiques, and many restaurants to wine and dine. However, they can be overpriced. To enjoy a good feast in Barcelona, visiting one of these restaurants would be best:
📌 Read more: 13 Best Restaurants in Barcelona: A Food Lover Guide
If you fear crowds, visit this area in the morning or off-season, as the masses can be overwhelming. Still, I highly recommend this walk as you can appreciate a lively and energetic street in the city. 
9. Try New Flavors at La Boqueria Market
6:30 pm
The bustling Ramblas meet the famous Market of La Boqueria, a paradise for local food enthusiasts when traveling. 
You will find a wide variety of fruits and vegetables, fish and seafood, meat, preserves, vegetables, cheeses, and other local products. 
Since 1840, the energetic Boqueria Market has been a labyrinth with more than 300 stalls offering all kinds of typical products of the gastronomy of Barcelona.
Admission is free, and even if you don't want to buy anything at the market, it is worth a visit to soak up the atmosphere and discover the local cuisine with the fresh products on the stalls.
📌 Read more: 13 Best Markets in Barcelona to Explore Food & Crafts!
10. End the Day with Paella in La Barceloneta Beach
8:00 pm
Now that we have passed Las Ramblas, we made a pit stop at La Boqueria, and we are soaked up by the city's atmosphere; it is essential to visit the Barceloneta, which brings Barcelona its soul.
It was tough to pick this activity over others, like the stunning Montjuic Palace or the impressive Parc Guell, but honestly, they are pretty far away. Since convenience and minimal transportation time are essential for our 24-hour itinerary, we had to choose the best option to make the most of our experience.
Also, the beautiful Barceloneta is the main reason why all of Barcelona has a different vibe, thanks to its Mediterranean influence.
Whether you plan to enjoy the rest of the day next to the waves of the sea, eat a delicious paella at Pez Vela, or let yourself go and have a few drinks in the lively area of Barcelona, famous for its great nightlife, you'll have a blast!
📌 Read more: Spain Nightlife Guide: 9 Best Places to Party in 2023
---
Well, I hope you're ready to embark on this exciting 24-hour trip to Spain!
You will have a blast, as Spanish people are known for being warm, open, and friendly. Don't be afraid to ask questions to anyone you meet; people are often happy to help you out. And if you don't believe me, just watch what everyone says in our interviews!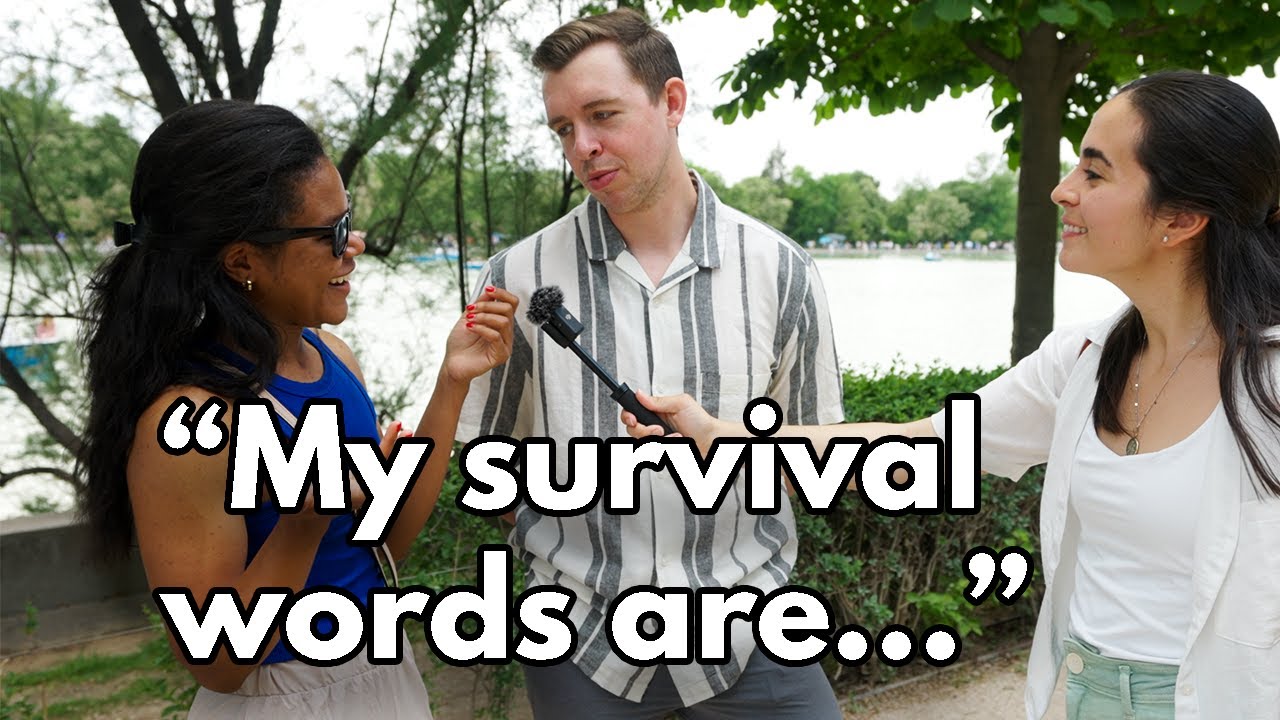 Thank you for reading, and please feel free to comment below and let us know which activities you plan to include in your bucket list!