2 Days in Spain: Trip Ideas & Itineraries to Enjoy Your 48h
June 13, 2023
Updated:

June 21, 2023
Published: June 13, 2023
When I started organizing trips for my family, I remember liking to do them as fluidly as possible. You might be wondering what I mean by "fluidly." Let me explain very quickly.
So, one of the main mistakes my family and I would make when traveling was making a list without looking at a map. And I am sure many first-time travelers do the same, which wastes time!
The following 2-days in Spain itineraries for Madrid and Barcelona are the same ones I created for my family when they visited last year. But this one has more upgrades, tips, and learnings from living in the city center. 
Also! You should not do 1-day for Madrid and 1-day for Barcelona because you will end up rushing everything and seeing nothing. It's better to spend your time and energy getting to know one city and then another.
Let's begin!
How to spend two days in Madrid
🗺️ DAY #1
Begin with some breakfast at ACID Cafe. This specialty coffee shop is located between the "Las Letras" neighborhoods and "Paseo del Prado." Pastries are crazy goood, so don't miss your chance.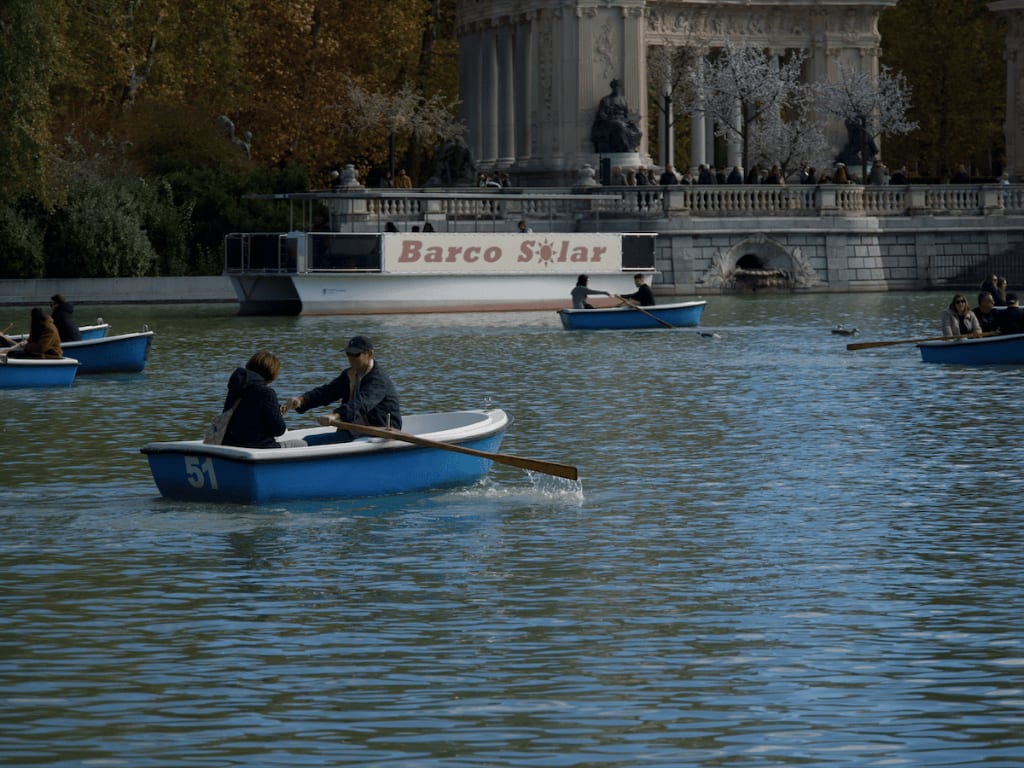 After you have to wake up with some good specialty coffee, your first stop is Retiro Park. After leaving ACID Cafe, you will walk to the gate of the Fallen Angel to start your tour around the park. This gate will take you directly to the statue of the Fallen Angel, one of the few in the world to represent Lucifer.
After that, you will take a walk towards the Paseo del Estanque, which will lead you to the Crystal Palace, the Monumento of Alfonso XII, and the Retiro Pond. 
You can exit the park through the Puerta Real, which will show you to the next stop: Puerta de Alcalá.
The "Puerta de Alcalá" was constructed in the 18th century by Carlos III; it is one of the five royal gates that permitted the entrance to Madrid. This is a MUST-stop for a cute picture!
From the "Puerta de Alcalá," you will walk towards the Ciebles Fountains and the Cibeles Palace, where you must make a recharge pit stop.
Cibeles Fountains & Cibeles Palace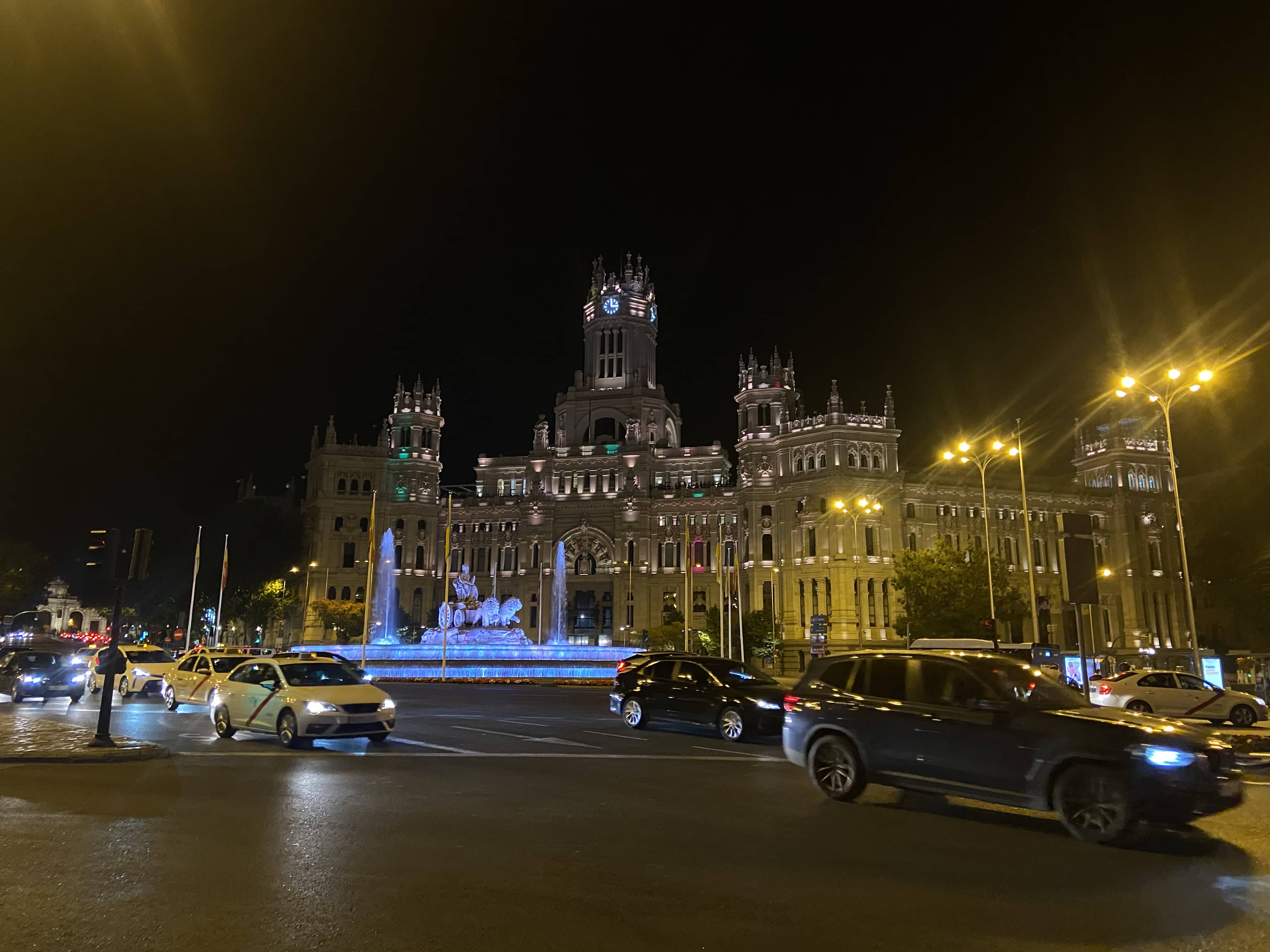 The Cibeles Fountain is one of the most important landmarks in Madrid but Real Madrid fans. Those who know their football know they were to wait for their team after winning a championship. Real Madrid has celebrated their wins at the Cibeles Fountains since the 80s. 
Ventura Rodrguez designed the Cibeles Fountain under the order of Carlos III. It represents the goddess Cibeles astride, a lion-drawn chariot. She holds a scepter and the keys to the city in her hands.
Right next to the fountains is the Cibeles Palace, a breathtaking piece of Ecclectic architecture where you will make a pit stop. 
Although there are some paid exhibitions in the palace, after the city municipality acquired it, it is full of free activities all year round. For example, during summer you can attend fantastic movie nights. 
The Cibeles Palace was built during the 20th century as the Telecommunications Buildings but nowadays is a cultural center. 
You must visit the rooftop! At the Cibeles Rooftop, you will get a beautiful view of Madrid, where you will recharge your energy. The entrance costs 10 euros, but they are consumable. I usaully go for a glass or wine, or an Apperol for 3 more euros.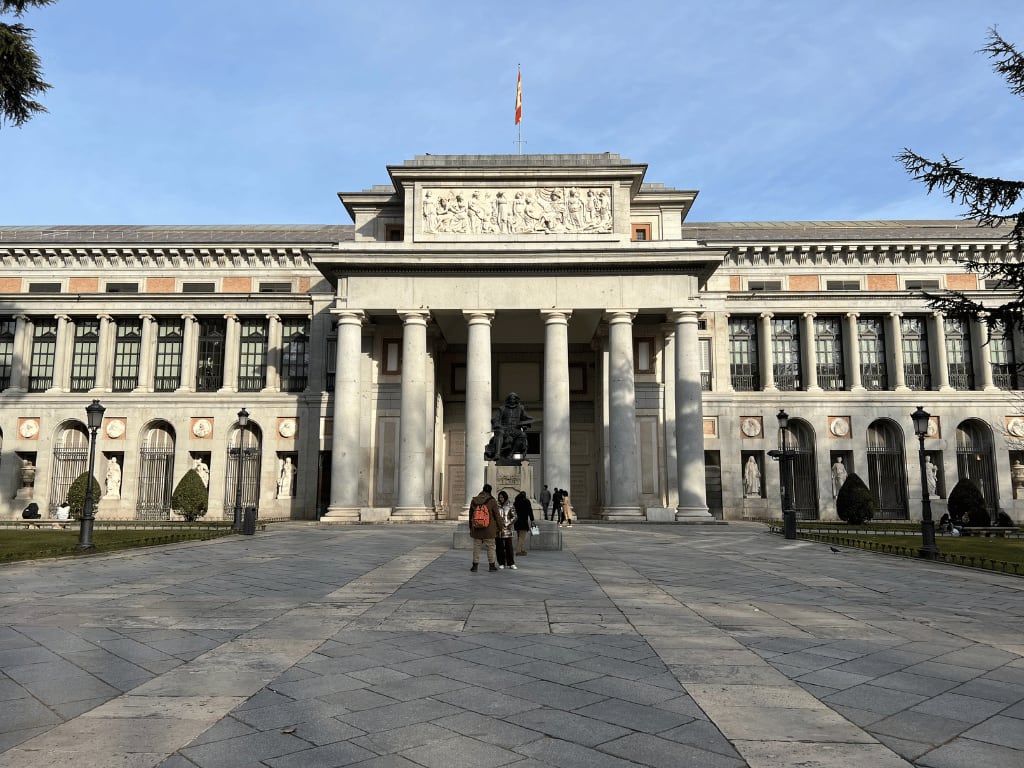 After you have recharged your energy on the Cibeles rooftop, you can stroll down to the Paseo del Prado and decide if you want to visit one of the three most important museums in Madrid.
You can choose from the Museo del Prado to see pieces of Goya, the Thyssen-Bornemisza to discover different art movements, or the Reina Sofia to experience the Guernica by Picasso. 
Remember that a museum usually takes up to an hour, so visit them early in the morning or after you have had some lunch.
Eat in Barrio de las Letras
You must be starving after strolling through the Paseo del Prado or visiting a museum! So, grab lunch at Plaza Sta. Ana in the artsy "Barrios de las Letras". Plaza Santa Ana is a beautiful space with plenty of restaurants and terraces to enjoy a meal.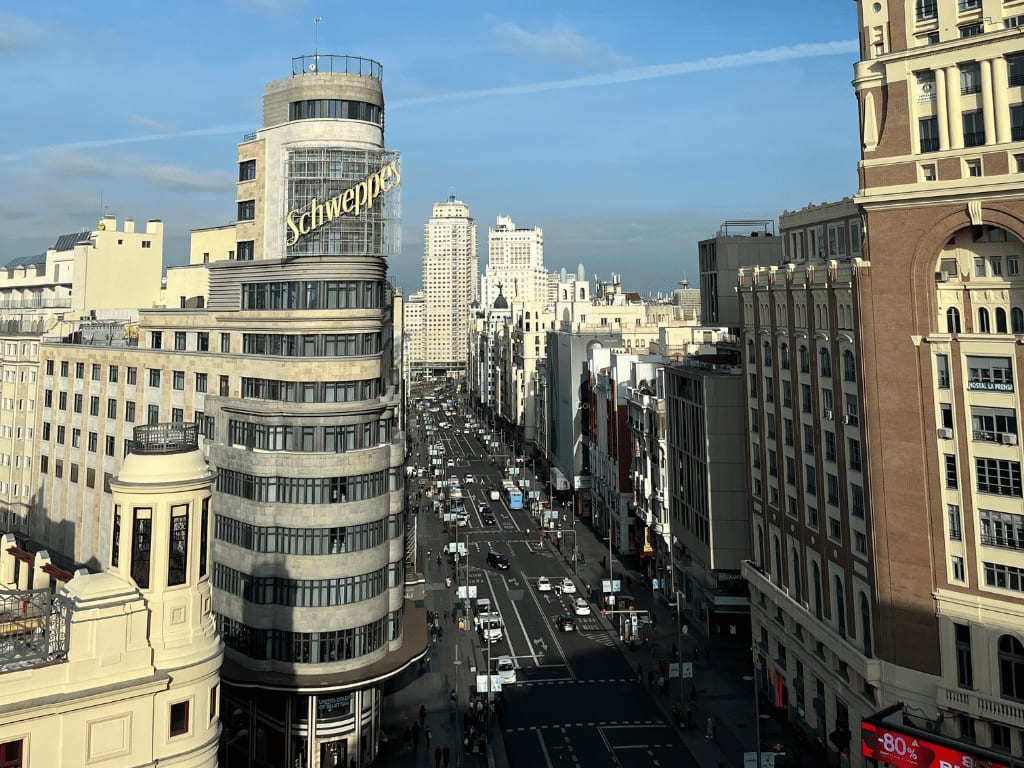 To finish your afternoon, walk the Gran Vía in search of some nice shopping deals. You have stores like Zara, Stradivarius, H&M, Primor (favorite for beauty products), Adidas, and more!
Walk until the Plaza de Callao and get that unmissable picture of the Schweppes building. Even better? Go to the Gourmet Experience of the Corte Inglés (right in front of the Schweppes building) and get a better view. 
Enjoy dinner and drinks at the Picalagartos rooftop.
---
🗺️ DAY #2
If your hotel does not offer breakfast, go straight to Misión Café in Malasaña and get the best specialty coffee and toast in that area.
I could recommend you a thousand more cafes, but Misión is one of my favorites. If it's too full, you can try Ambu, Hanso Café, and Carmita Brunch.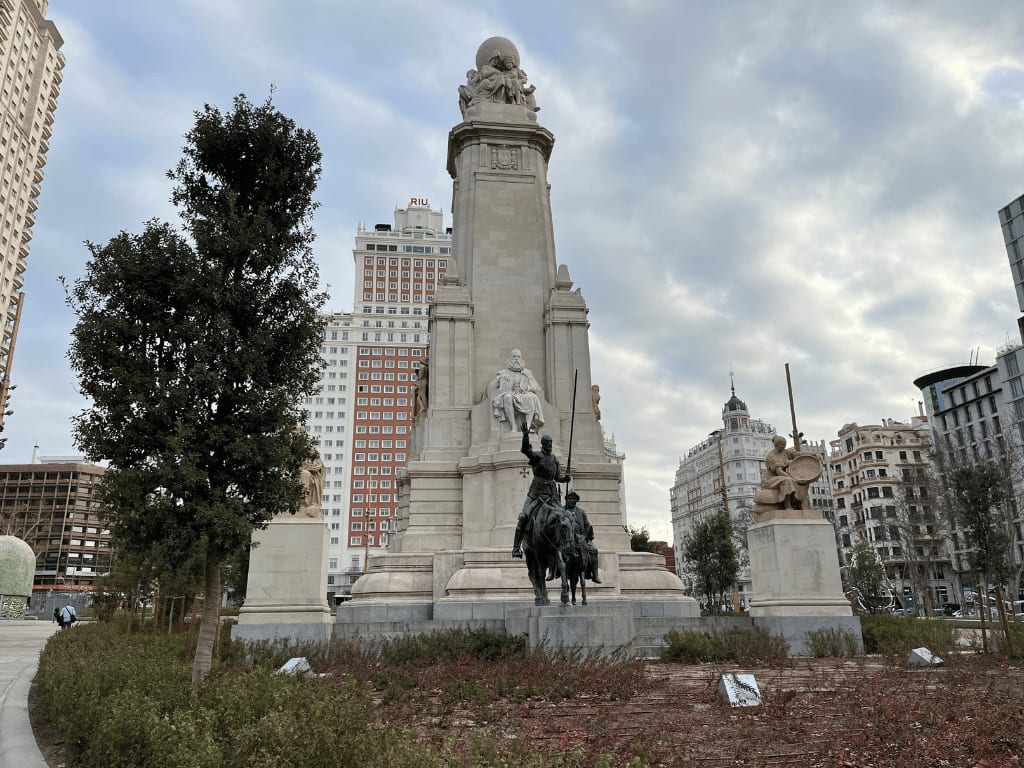 Now that you have charged your body with good nutrients, we can start the 24-hour tour that we still have left for Madrid. 
So, after breakfast, walk a few minutes to Plaza de España! The newly-renovated space is right in front of the RIU Hotel and Gran Vía. Here is where you can visit the famous RUI 360 Rooftop to view Madrid; the prices go from 5-20 euros.
Check it out here: 360 Rooftop Bar
In Plaza de España, you will see a monument dedicated to Miguel Cervantes (author of Don Quixote), and if you walk a bit more, you will reach the Debod Temple.
Palacio Real & Almudena Cathedral
Now, I know you have walked a lot by now. But if you are in Madrid for two days, that's the best way to experience it. 
So, from the Debod Temple, walks towards the Spanish Royal Palace and the Cathedral of the Almudena. These two landmarks are right next to each other. You don't need tickets to get into the Almudena Cathedral, but you do need if you want to tour inside the Royal Palace.
From there you can also visit the Plaza de Oriente and the Royal Theater.
If you want to tour the Royal Palace, get your tickets in advance right here.
Now, very close to the Catedral de la Almudena is the neighborhood of La Latina. Walk to the beautiful street of Cava Baja and grab some tapas for lunch. 
A recommended restaurant here is Casa Lucio and the legendary Botin Restaurant (the oldest in Madrid). 
I know that it is tempting to do so, but DON'T EAT at Plaza Mayor! You will pay a lot of money for a regular meal. 
After eating your tapas, go through one of the entrances of Plaza Mayor and observe the beautiful architecture of Madrid de los Austrias. From Plaza Mayor, you should take the Calle Mayor to Puerta del Sol.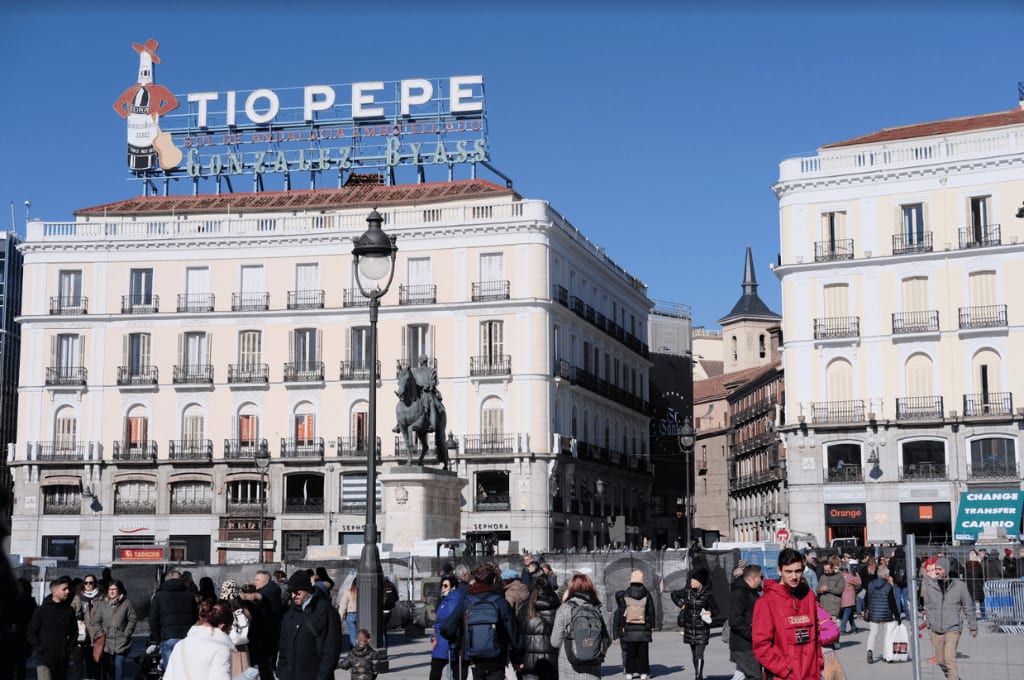 Finally, end your day with the grandiose Puerta del Sol of Madrid. You will find the legendary "Oso y el Madroño" statue, Madrid's symbol.
In Sol, you will also see the traditional sign of "Tio Pepe", one of Spain's finest sherry wines and spirits companies. 
From Sol, you have plenty of options! You can walk towards Calle Alcalá and visit the luxurious Galeria Canalejas and Galaerias Canalejas Food Hall, where you will find some fine tapas and luxury stores. 
You can take Calle Preciados and walk back to Callo and Gran Vía for some more shopping. If you are hungry, I recommend visiting the Tiki Tako in Calle San Bernardo.
You could also tale calle Arenal and get some churros con chocolate at San Ginés. Or get into Sol's metro station and take the metro to another destination like Serrano!
Get a walking tour through Madrid de los Austria. One of the best ways to know the city is by having an expert explain little by little the history of Spain's capital while seeing and even touching the landmarks!
---
How to spend two days in Barcelona
Now it's time for the alternative! If you only have today in Spain, you must decide between the two most important cities. You now know how to spend 48 hours in Madrid; let's begin with Barcelona!
🗺️ DAY #1
Again, if your hotel does not include breakfast, I would go early to Citizen Brunch Cafe in Plaça Urquinaona. My favorite order is the flat white with the egg bagel (add feta for more deliciousness).
Citizen Brunch Cafe is just four minutes from Plaça Catalunya, the walking connection between Passeig de Gràcia and Las Ramblas today. So, on your first day, you will go to Las Ramblas.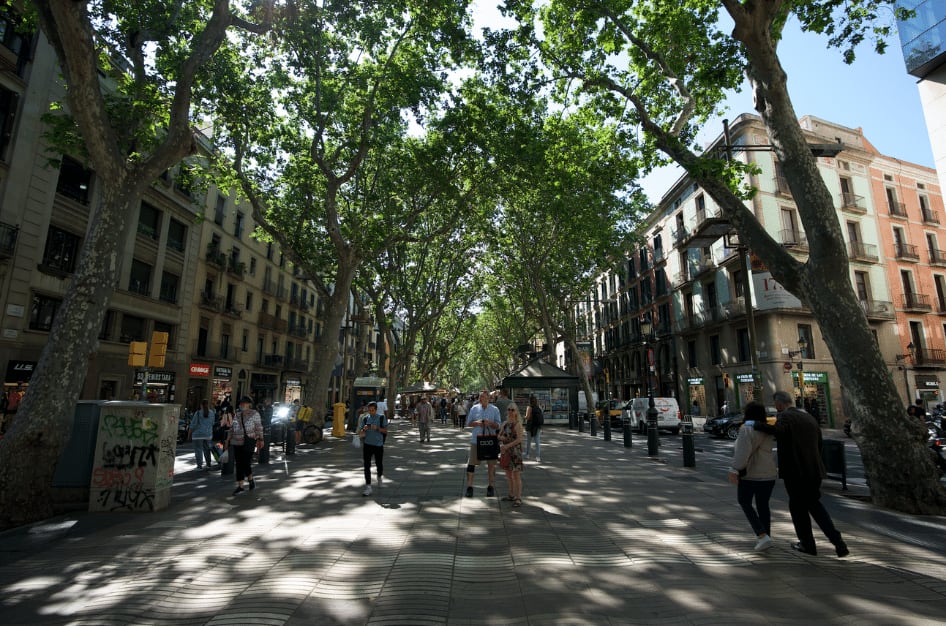 Las Ramblas is a unique pedestrian street that connects Plaça Catalunya with Colon's Monuments right next to the beach. If you pay attention and appreciate art, there is a Joan Miró mosaic in Las Ramblas that most people don't know about. 
Las Ramblas will be your point of reference for many other places to see in Barcelona. You will see the Mercat de la Boqueria, the Liceu Theater, Güell Palace, and the Plaça Reial by promenading through Las Ramblas. 
You must visit the Mercat de la Boqueria to taste Spanish ham, fresh juice, or tapa. Then continue walking towards the Palaü Guell, an impressive mansion designed by the architect Antoni Gaudí for the industrial tycoon Eusebi Güell and was built between 1886 and 1888.
You can have lunch at Plaça Reial and continue walking towards Port Vell.
Monument to Christopher Columbus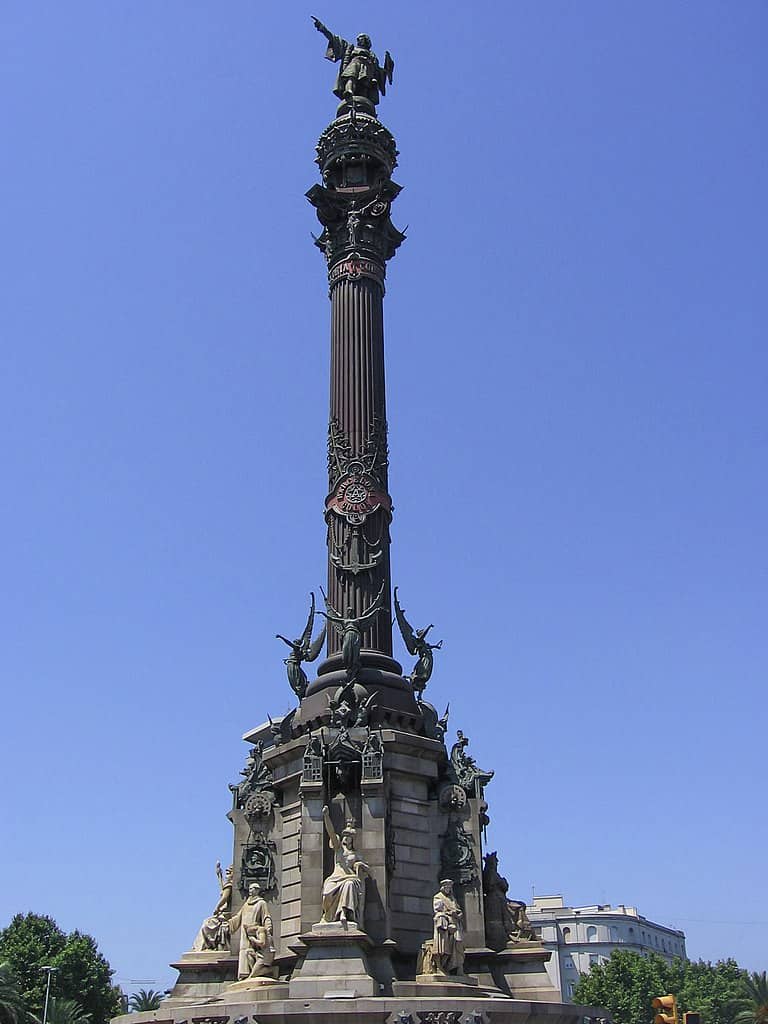 At the end of Las Ramblas, you will see the Monument of Christopher Columbus. It was built for the Universal Exhibition of Barcelona in 1888 as a homage to Columbu's first travels to the Americas. 
After you take a look at the monument and the Port Vell of Barcelona, you can walk right into the famous Gothic Quarter of Barcelona.
I will tell you a secret; the Gothic Quarter is not "gothic." Not everything in it comes from the Medieval era of Barcelona, nor is every monument in the same place as it originally was. 
For example, in the Plaça Nova, right in front of the Cathedral of Barcelona, there are Roman structures that architects intentionally moved from their original site to create a different vibe in the plaza. 
In the Gothic Quarter, you can see the Cathedral of Barcelona, the famous Basilica de Santa Maria del Mar, the Roman city wall, the Pont de Bisbe, the Plaça del Rey, and the Plaça de Sant Felipe Neri. 
The Gothic Quarter is home to one of Barcelona's oldest candle shops. It is called Cerería Subirá.
You should spend the entire afternoon discovering the Gothic Quarter, every corner hides a piece of history, and you should take your time to explore it.
Additionally, you can visit the MOCO Museum or the Picasso Museum for some art experience. 
It's worth to pay the entrance! Only some know you can climb to the cathedral's roof and get a 360 view of Barcelona.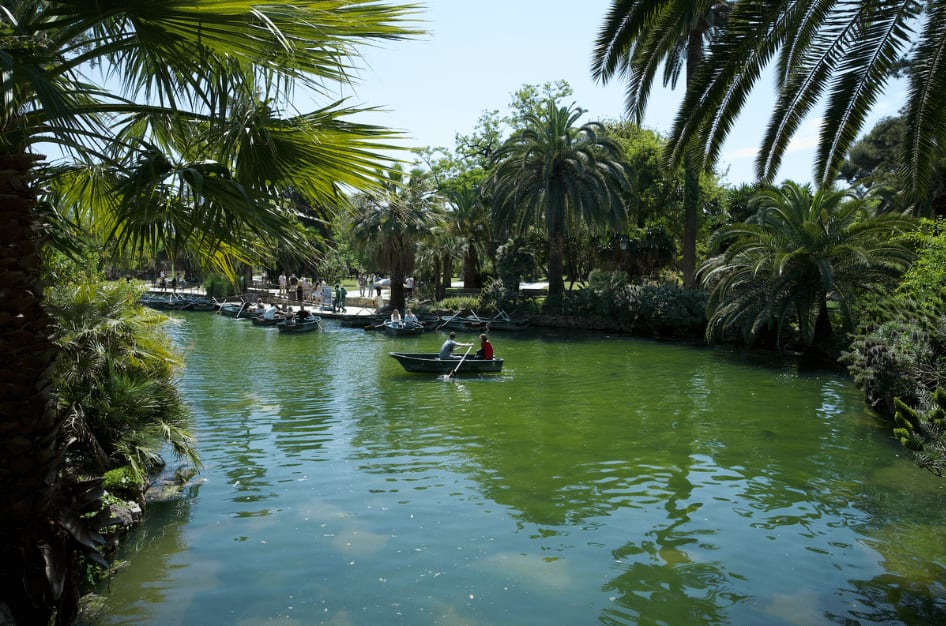 If you still have energy, finish the day with the sunset at Parc Ciutadella, close to the Arc the Triumph, and the Barceloneta. This way, you can choose what fits your plan better. 
Finish your first day in Barcelona with some delicious tapas. I recommend the restaurant La Flauta where you will find great food for a great price. Make a reservation to secure your spot!
---
🗺️ DAY #2
Day two in Barcelona will take more transportation than day one. So, for this day, I will recommend you take a look at our article on "How to move around Barcelona," in this piece, you will find all the details you need to get a metro card in Barcelona.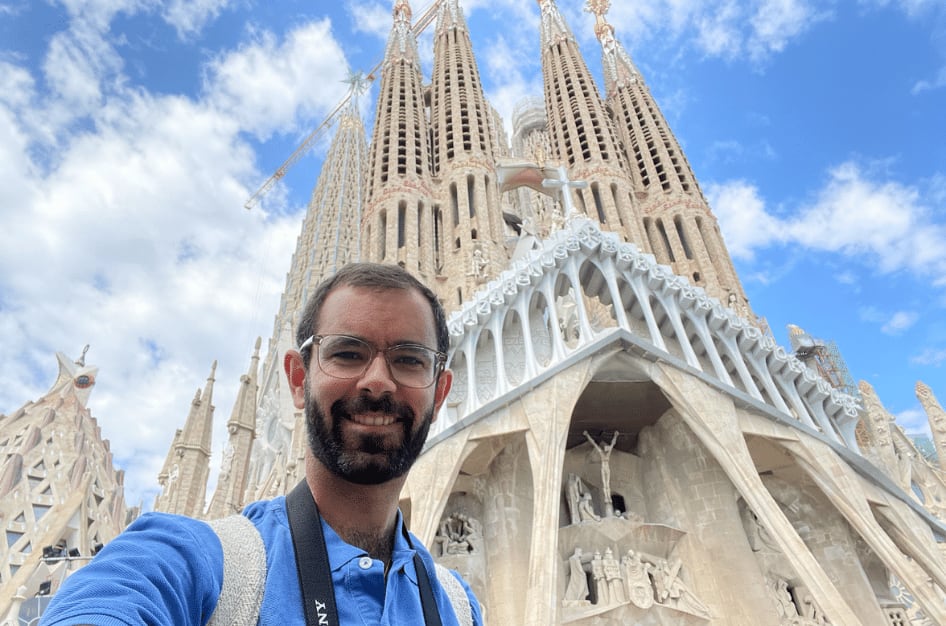 Any new day needs to start with breakfast. I personally recommend having some delicious breakfast at La Papa; they are pretty new to Barcelona, but their food is so good that the cafe gets queues every morning. 
If you still need convincing about this cafe, look at our featured article on the best specialty coffee and breakfast in Barcelona and begin your day on the right foot. 
After you have filled yourself with nutrients, you have enough energy to take a full tour of the Sagrada Familia. If you are traveling on a budget and you have to prioritize certain activities, the masterpiece by Gaudí must be one of them.
You will only understand the beauty of this church if an expert or the tour machines explain it to you.
Now from Sagrada Familia, you can take bus V19 or go for the metro L5 to Diagonal and then from Diagonal to Vallcarca. These two are the best routes to get to Parc Güell besides just hopping on an Uber or a taxi. 
If it's your first time in Barcelona, book those tickets! Parc Güell is another beautiful piece of architecture from Gaudí that you must visit if possible. Parc Güell was meant to be a housing project for the aristocrats of Barcelona, but people did not want to live up the mountains. 
Walk around the park and get a panoramic view of the city. Totally worth it if you ask me.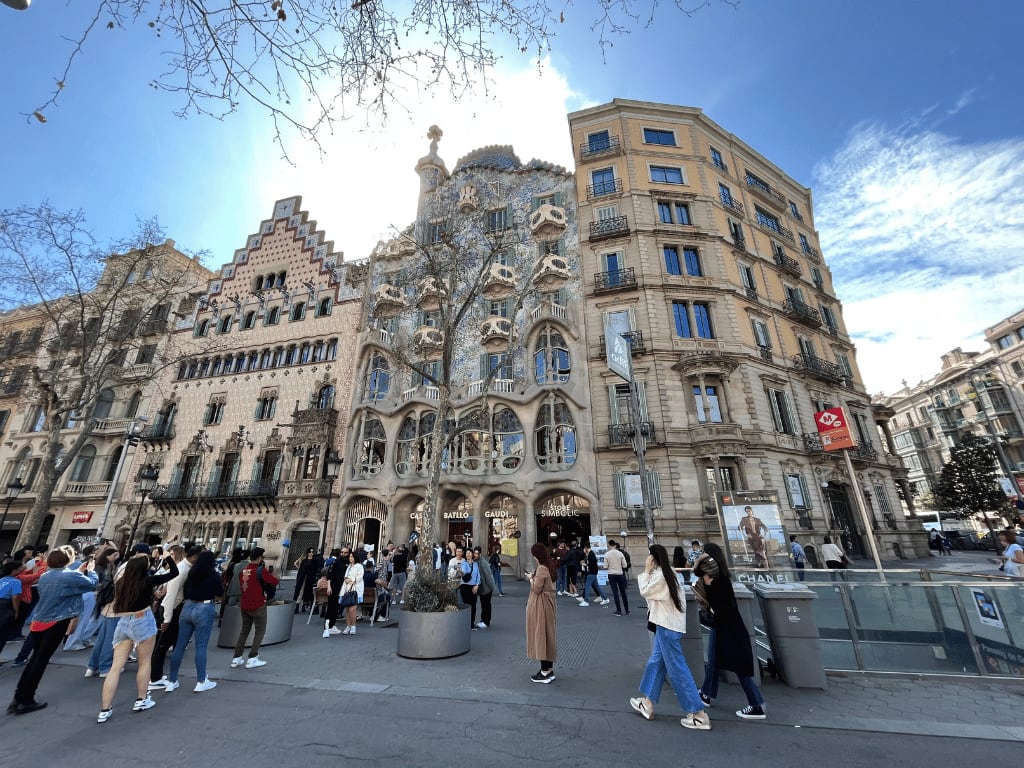 Now, after you have seen the beauty of Parc Güell, go back to the metro and ride Line 3 to Diagonal. From there, you can walk all the luxurious Passeig the Gràcia, where you will admire two more of Gaudi's masterpieces: Casa Milà and Casa Batlló.
On top of that, you can see and maybe even shop in the most luxurious stores in Barcelona, like Burberry or Chanel.
You can take some delicious tapas at the open and exclusive market of El Nacional.
Magic Fountain of Montjuïc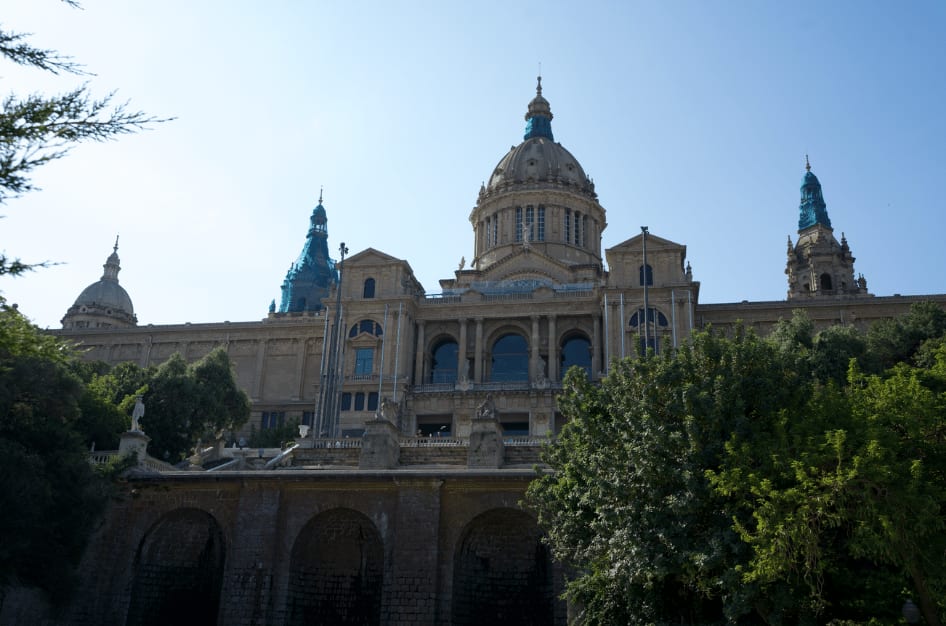 Now, take the metro Line 1 and visit the Magic Fountain of Montjuïc. From there, you have several options to continue your tour in Barcelona. You will find yourself in Poble Sec; there, you can visit the National Art Museum of Catalunya, the Poble Espanyol, the Castle of Montjuïc, the Joan Mirò Foundations, and the Montjuïc cableway.
Whatever you decide to do, I recommend being back at the Magic Fountains by sunset to enjoy an amazing then light and water show. You can check out the schedules here 👉 Magic Fountain of Montjuïc.
To finish the day, you can go for some dinner at Llamber, close to Citadell Park; everything in that restaurant is crazy delicious, and you will get a top Spanish gastronomy experience. 
More on activities in Barcelona:
---
And that's it! Now you have two days itinerary in Madrid and two days in Barcelona. If you only spend two days in Spain, prioritize a city! Don't try both cities in two days because it is not worth it, because you don't get to know the city.
If you want to complement your itineraries check the articles that we have tagged along this one, you will get a broader option of landmarks, places to eat, and the best places to drink in Barcelona.