6 Days in Spain: The 3 Best Itineraries for Your Trip!
September 4, 2023
Updated:

September 4, 2023
Published: September 4, 2023
When planning a trip, we often aim to maximize our experiences within a limited timeframe or underestimate the possibility of including more activities in our itinerary…
So the question is: What's the best way to organize a 6-day trip to Spain, where you can immerse yourself in the culture, relax, and have fun? (Consider that Spain offers incredible experiences that could easily fill more than six days for sure!)
With careful planning you can make the most of your time in each city and have lots of fun. That's why we've curated three different six-day itineraries in Spain, allowing you to choose the best for you!
Also, the itineraries can help as the right starting point, which you can customize to your specific needs and interests.
This is the first step towards the vacation of your dreams. Are you excited? Let's begin!
---
ITINERARY 1 - Explore all highlights in the main cities
| Day | Highlight | Night in |
| --- | --- | --- |
| Day 1 | Explore Barcelona: A Mediterranean gem | Barcelona |
| Day 2 | Dive into Barcelona's iconic attractions | Barcelona |
| Day 3 | Vibrant Madrid: Embrace Spain's heart | Madrid |
| Day 4 | Madrid's Art Triange & Neighborhoods | Madrid |
| Day 5 | Experience Seville's Warm Welcome | Seville |
| Day 6 | Farewell Seville: Wrapping up the journey | Seville |
The first thing you would want to do when visiting Spain for the first time is to discover the main Spanish cities: Madrid, Barcelona and Seville. 
Both are iconic and have different vibe, architecture, people, atmosphere, and culture. While Barcelona is hipster and alternative, Madrid seems more lordly and elegant, and Seville has a vibrant personality.
Either way, a six-day trip to Spain allows you to soak up the environment, get to know the most important landmarks, enjoy good food, and even get familiar with some neighborhoods!
---
On day 1: Make sure you arrive in Barcelona; this way, traveling to the south is more affordable and shorter in distance.
I always suggest to my friends to spend day 1 exploring the highlights, such as the famous Sagrada Familia, Casa Battló, La Boquería Market, and La Pedrera, but leaving the places furthest from the city center for the second day!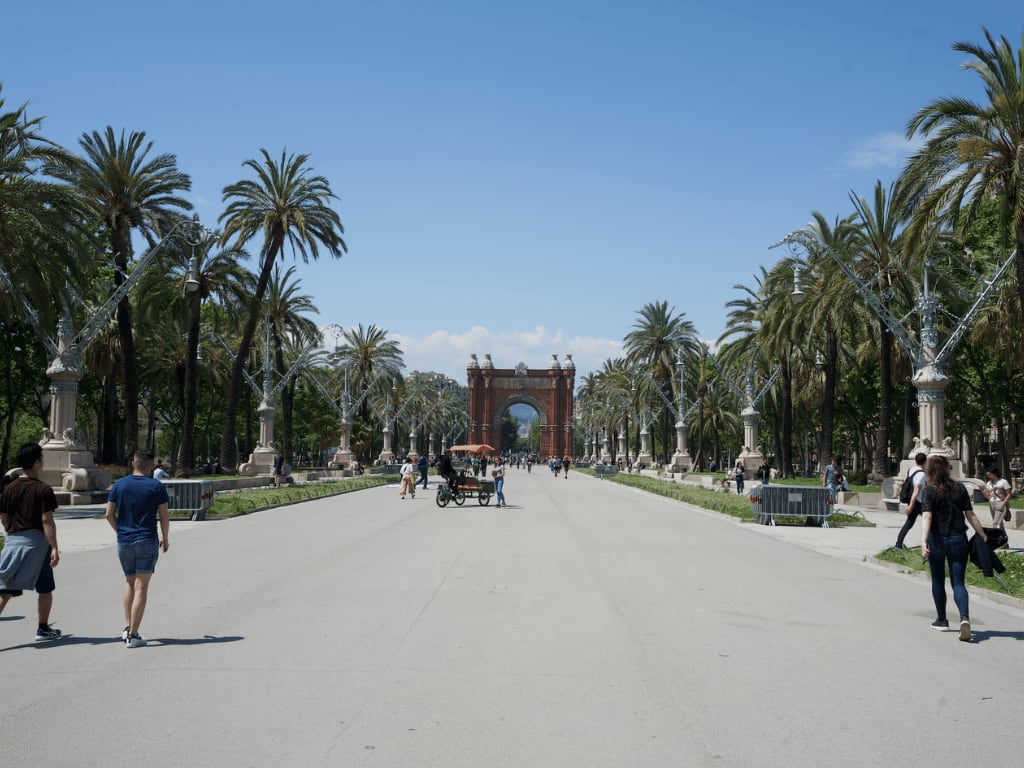 Here's a list of all the landmarks you should include in your list:
📌Read more: 15 Best Tourist Landmarks in Barcelona Worth Your Visit
On day 2, scratch off your list of some of the most unique attractions in Barcelona, like Park Güell, Tibidabo Park, or Camp Nou; it's your pick! 
And if you're an adventurer and already did everything on the first day (which is almost impossible), you can spend this day on a day trip to La Costa Brava:
📌Read more: The 9 Best Barcelona Towns for a Nice Day Trip!
Now, day 3 is all about wine. The main reason why I always suggest spending three days in Barcelona, compared to two in Madrid, is because Catalonia holds an incredible location next to the Mediterranean to experience different activities, such as wine tastings, day trips in La Costa Brava, and gorgeous landscapes for hikes and nature retreats. 
This captivating city has a million activities to do and places to explore. Therefore, I suggest you read our article to learn how to spend the perfect 24 hours in Barcelona.

📌Read more: 1 Day in Spain? 10 Best Things to Do in 24 Hours!
Then you'll head to Madrid in the evening so you can relax and spend a cozy night to be ready to explore Spain's main capital right after you wake up!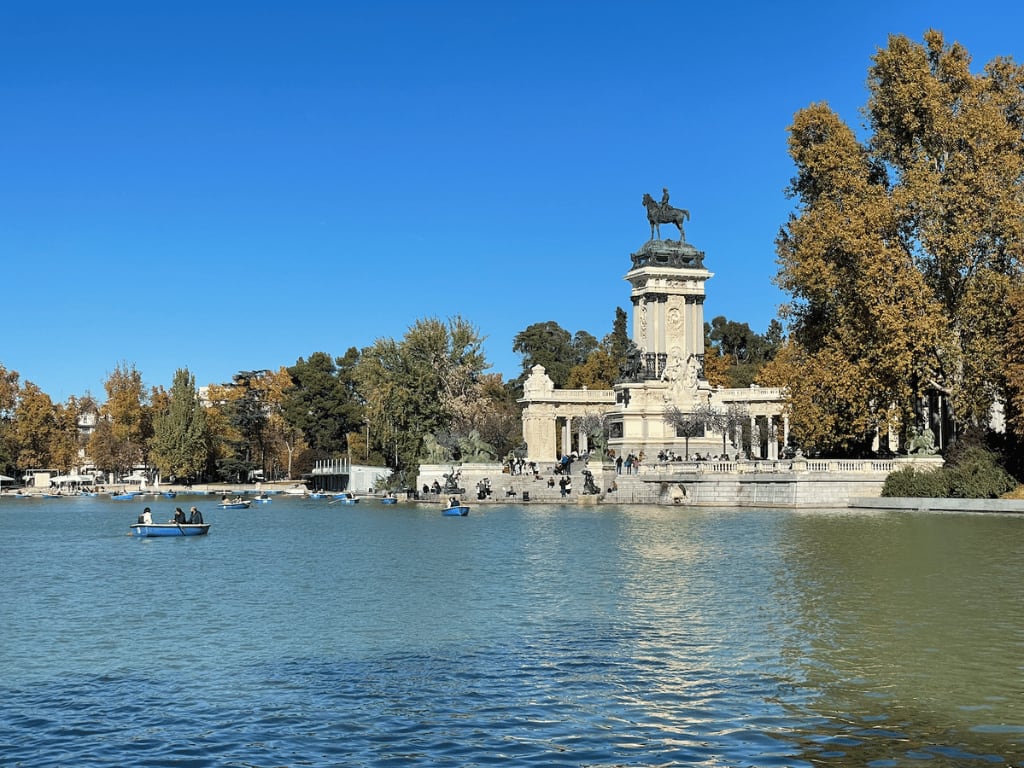 On Day 4, a traditional Spanish breakfast awaits you in Chocolatería San Ginés, where you can try the best chocolate with churros in the world.
Then you'll find yourself in the middle of the bustling city center; you can wander in the streets and visit Plaza Mayor, Puerta del Sol, Callao, Plaza de España, the Royal Palace, walk in Gran Vía, and head to Cibeles, reach the Retiro Park and finish with dinner in front of La Puerta de Alcalá. 
If you don't want to do a lot of walking, take a hop-on & hop-off bus
Day 5 is about discovering Madrid's most important museums, the Prado Museum, the Reina Sofía, and the Thyssen —Also known as the art triangle! 
In between museums, get lost in the different neighborhoods in the city, each with a unique charm and vibe. 
In the evening, you'll travel to Seville, Spain's southern jewel; it will welcome you with open arms and lovely people.
On day 6, uncover the main landmarks and try the best dishes of the south! Here are my top recommendations:
📌Read more: 10 Iconic Landmarks in Seville and Must-Visit Attractions
This itinerary works like a charm since it allows you to spend the right amount of time in the right places to travel to each city. Although it is best to spend at least two days in Seville, and one more in Madrid to visit Toledo or two more, and you can visit Segovia nearby! Well, I could go on for hours… Spain has SO much to see.
---
ITINERARY 2 - Discover the Southern Jewels of Spain
| Day | Highlight | Night in |
| --- | --- | --- |
| Day 1 | Explore Charming Seville | Seville |
| Day 2 | Uncover Seville's Hidden Treasures | Granada |
| Day 3 | Discover the Unique city of Granada | Granada |
| Day 4 | Immerse in the Historic town of Córdoba | Málaga |
| Day 5 | Enjoy Coastal Málaga | Málaga |
| Day 6 | Visit Cádiz or Jeréz de la Frontera | Cádiz or Jeréz |
This itinerary is perfect if you already visited Madrid or Barcelona and it has made you crave more of this beautiful country!
Six days in Spain are perfect for visiting Andalucia's main highlights: Seville, Granada, Córdoba, Málaga, Cádiz, and Jeréz de la Frontera. Home to many UNESCO heritage sites and fun activities worth traveling for!
---
Day 1 and day 2 are reserved for Seville. You can visit the most important landmarks in one day, but immersing yourself in this captivating city could take ages! So let's agree on two days.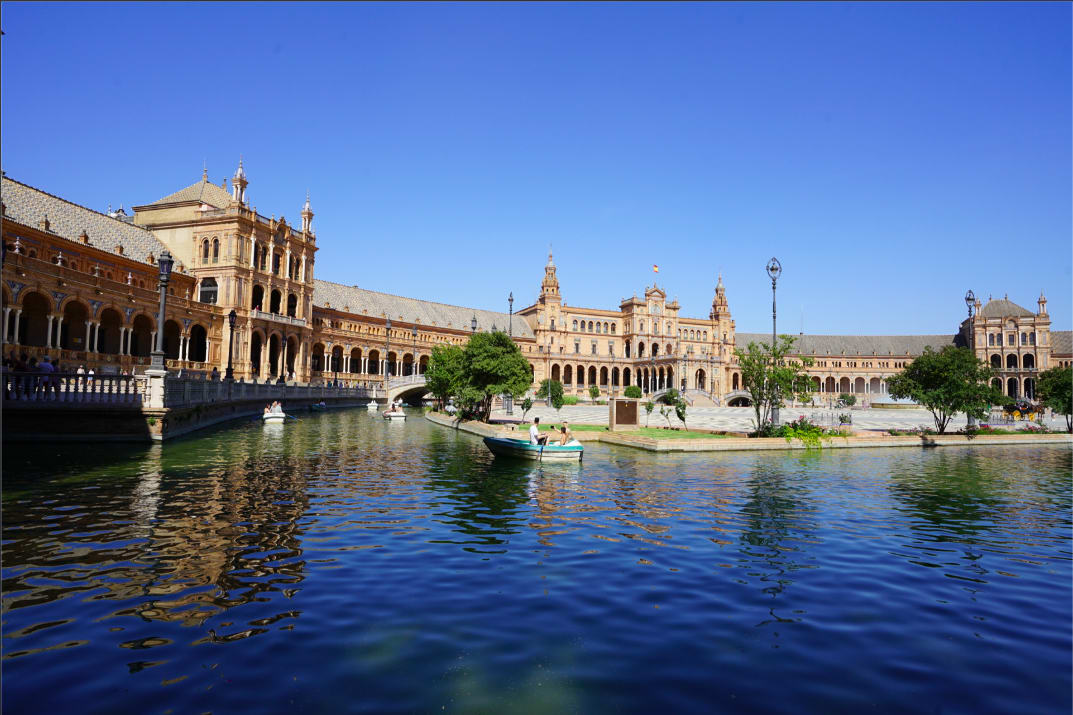 It would be best to begin with a visit to the Seville Cathedral and the climb to the iconic Giralda. Then, the Royal Alcázar of Seville.
Walk through the Santa Cruz neighborhood, with iconic buildings, houses, and important alleys. Don't miss the famous Triana neighborhood, the views of the Guadalquivir River, and eat in the most delicious restaurants in Seville:
📌Read more: The 19 Best Restaurants in Seville: A Food Lover's Guide!
In the afternoon, you can head to your next destination, Granada. The best way to take advantage of the day in this city is to arrive the day before, spend the night in a hotel, and get up early.
Day 3 is for the famous Alhambra in Granada, a beautiful palace and fortress, one the most important monuments of Islamic architecture, and one of the best-preserved palaces of the historic Islamic world!
Visit the Generalife Park, listed as one of the prettiest parks in Europe, stroll through the Albaicín neighborhood, and save yourself some time to savor the city and eat delicious food.
Day 4, now let's head to Córdoba, home to the Mosque-Cathedral of Córdoba, the most important monument in the Islamic West, where Christians and Muslims shared space for a time.
In this city, you can appreciate the patios (Intangible Cultural Heritage of Humanity by UNESCO, different festivals and traditions, embrace Flamenco, and see the architectural differences with the rest of Spain.
On Day 5, you'll encounter Málaga, a relaxed southern city in Spain with a laid-back atmosphere, lively streets, beautiful corners, and many activities. You can visit the Alcazaba, the Atarazanas Central Market, the Cathedral, the Picasso Museum, the Gibralfaro Castle, and the Port of Málaga.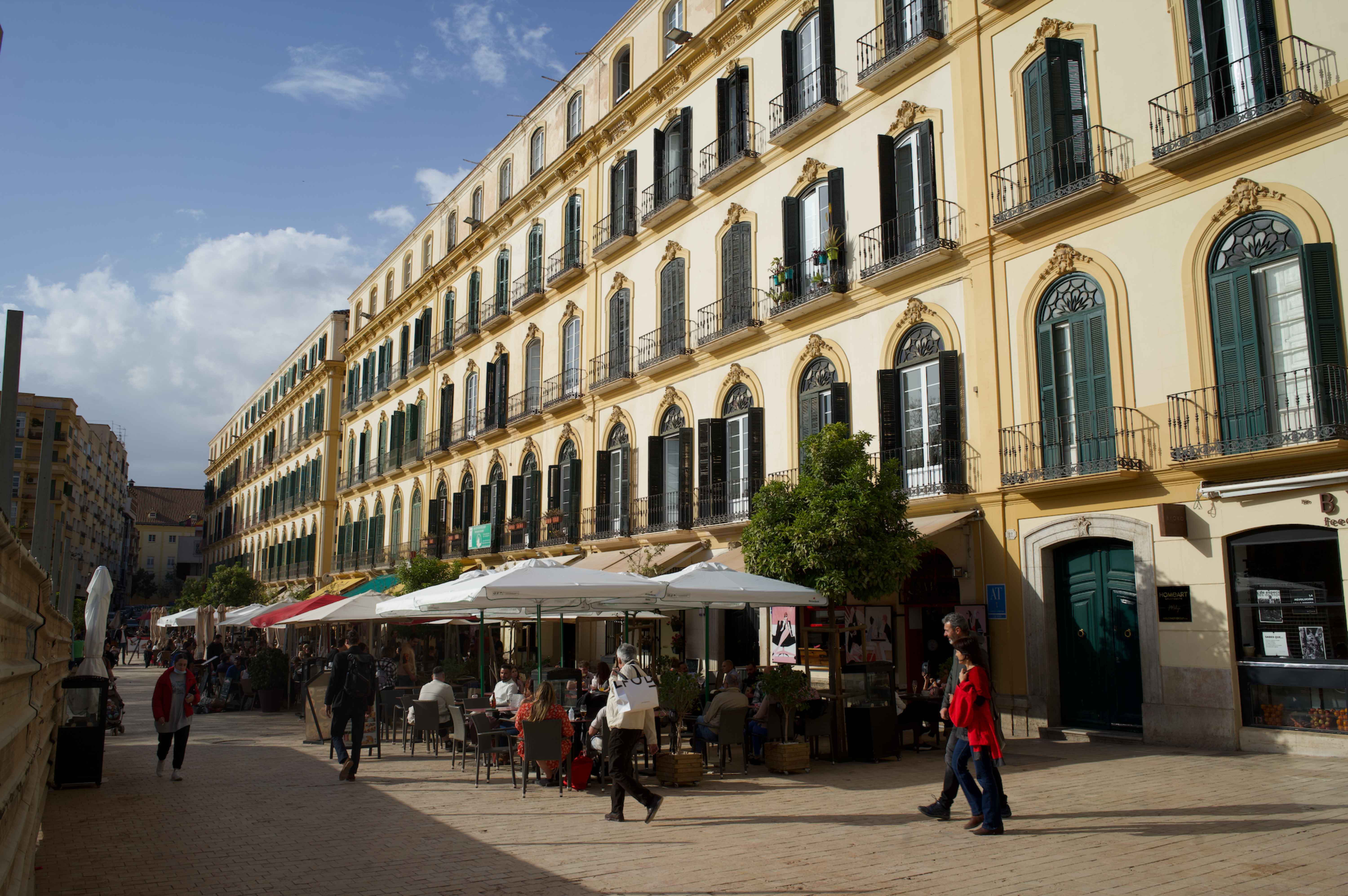 Then, on day 6, take time to explore the surroundings and choose between Jeréz de la Frontera, the cradle of Flamenco, or Cádiz, one of the most beautiful towns in Spain.
Cádiz has beautiful beaches (one of them is La Caleta in the city center), iconic narrow streets, lovely Mediterranean plazas, and stunning views. On the other hand, Jeréz de la Frontera has the Alcázar of Jeréz, wine cellars, and is the birthplace of Flamenco in the country.
📌Read more: 10 Top Flamenco Shows to See in Spain. With Videos!
Both are gorgeous places to spend your last day in Spain, so that it will depend on your preferences.
---
ITINERARY 3 - Spend a Mediterranean Vacation in the Islands
| Day | Highlights | Night in |
| --- | --- | --- |
| Day 1 | Discover the enchanting city of Valencia | Valencia |
| Day 2 | Explore Valencia's cultural treasures | Valencia |
| Day 3 | Arrival in Palma de Mallorca | Palma de Mallorca |
| Day 4 | Discover the beauty of Palma de Mallorca | Palma de Mallorca |
| Day 5 | Island adventure in Ibiza | Ibiza |
| Day 6 | Explore the vibrant nightlife of Ibiza | Ibiza |
The ideal itinerary for those who plan to spend the typical Mediterranean vacation surrounded by the beach and the sun while enjoying many fun activities!
This trip begins in Valencia, which is an hour away from Palma de Mallorca, and I believe it is the best option since it is a smaller and walkable city where you'll find fewer crowds and more of a relaxed vibe than Barcelona, for example, perfect for the upcoming island scene.
---
On day 1 and day 2, spend your day in Valencia, the city of arts and sciences, where gorgeous architecture, landmarks, and iconic museums await.
Visit the port of Valencia, the Valencia Bullring, the Central Market, the Lonja de la Seda and the Barrio del Carmen, the Turia Gardens, and the City of Arts and Sciences.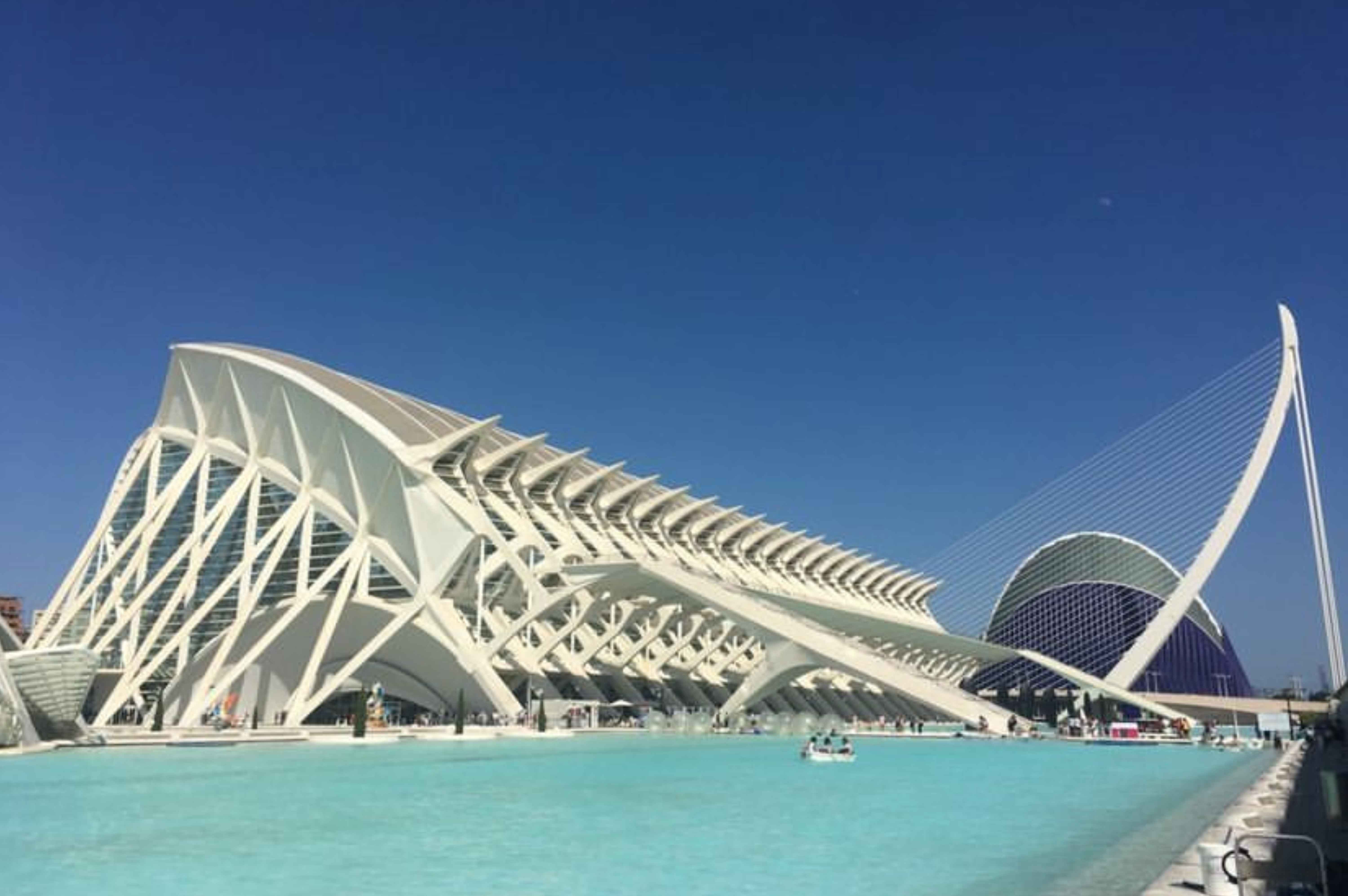 Just make sure you try an authentic Paella Valenciana before leaving for Mallorca!
On day 3, you should wake up in Palma de Mallorca ready to hop on the streets and discover the city. Here are our top recommendations.
📌Read more: 17 Best Things to Do in Mallorca: Top-Rated Attractions!
Remember, we have complete guides dedicated to this city, so every traveler can have the best advice from Spanish people to ensure everyone can see the best of Spain!
On day 4, take a good dip in the Mediterranean waters, eat food by the beach, grab a nice tan, and have evening drinks (while saving some energy for Ibiza). My favorite beaches are Es Trenc Beach, Caló des Moro, Cala Sa Calobra, and Cala Llombards. (Read more)
Then you'll head to Ibiza, and spend day 5 and day 6 there. It is a 2 to 4-hour ferry, depending on what day you leave and how much you want to spend. See how much a typical journey costs here: Balearia.
Once in Ibiza, you have two options depending on how hard you want to party.
Your one-night trip to Ibiza can come short if you see this destination as a place to have fun, dance until dawn, party in Ushuaïa, and enjoy the music of renowned DJs in a festive atmosphere.
On the other hand, you can save some energy to know the island in a different way that not many people know about: sightseeing!!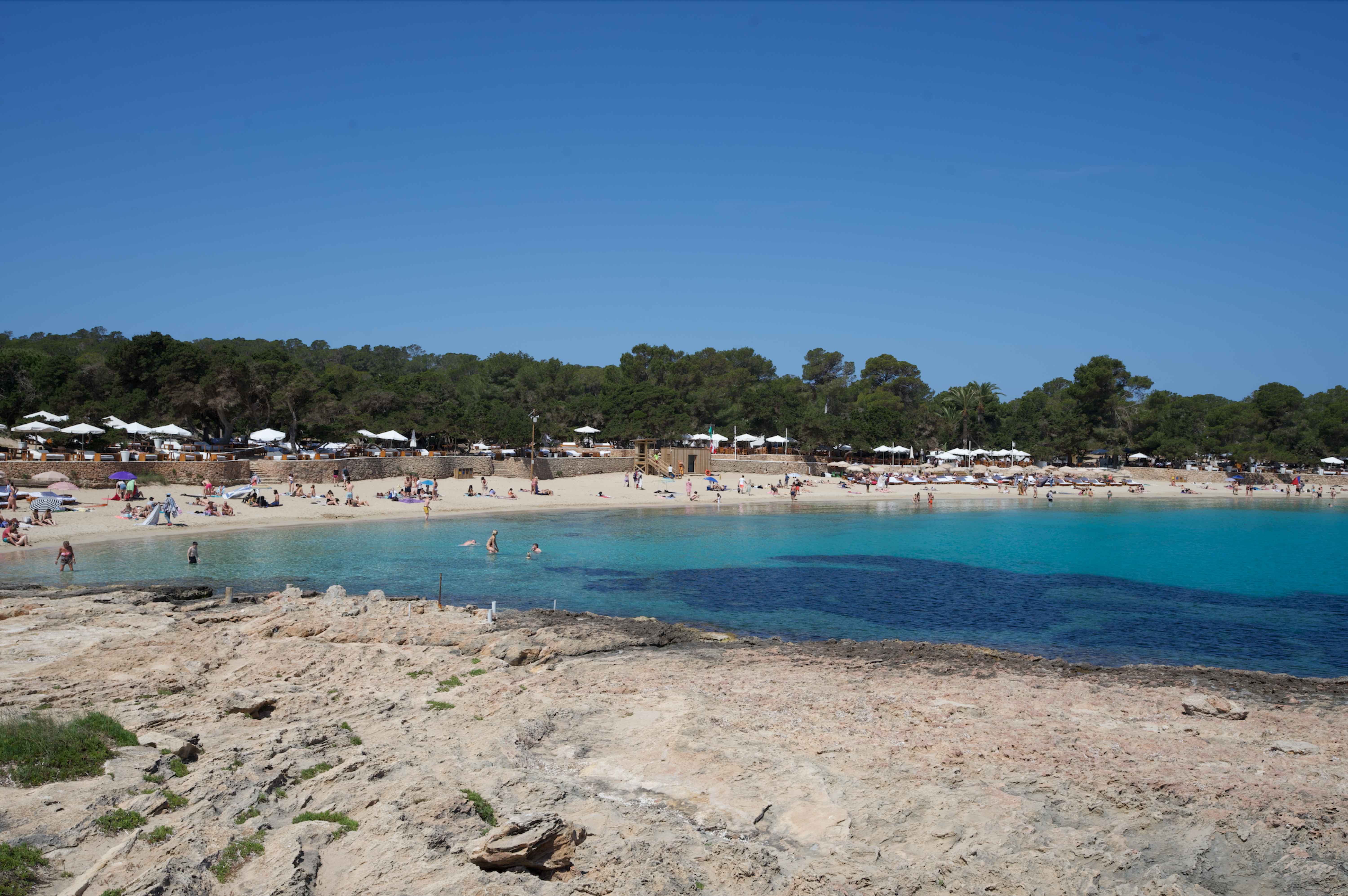 Jokes aside, many would be surprised that Ibiza has a walkable historic center (Eivissa, worth discovering btw), and many other activities besides partying!
It has the beautiful Ses Salines Natural Park, breathtaking coves, such as Cala d'Hort, Es Vedrá, Cala Salada and Cala Saladeta, Cala Bassa, and many other beaches with amazing landscapes, you can't miss this experience.
---
I hope this article has enlightened you with many travel ideas to help you easily travel to Spain.
You can find our Travel Guides by cities in our toolbar for more travel resources, and remember to ask us any questions in the comment section or email us. We'll be happy to help you! :)