7 Days in Spain: The 3 Best Itineraries for Your Trip!
September 11, 2023
Updated:

September 12, 2023
Published: September 11, 2023
If you travel seven days to Spain, I hope you mean nine days. I am telling you this because, in this itinerary, I am not counting the days of arrival and departure from and to your home country.
This is important to count because arrival day is usually tiresome; everyone is hungry, and most need a little siesta to recover. For this day, I recommend doing low-key activities such as walking your host neighborhood, marveling at the Gran Vía, doing some shopping, or eating at that one restaurant you found in TikTok.
For departure day, take it very chill. Organize your day so you can get anything missing from your shopping list, maybe a receipt to get your taxes back (VAT Refund tips at the end), or just walk around your city of departure.
For the rest of the days, I have got you covered! I have created three different itineraries so you can personalize your seven-day trip to Spain.
I think a week in Spain is a pretty good amount of time for first-time travelers, as you would get to know most of each city. You won't get to a local level, but I am sure you will remember way more stuff than people traveling to Spain for two days.
So, let's start with our first itinerary: The First-Timers!
Itinerary #1: Urban Marvels: Madrid's Historic Heartbeat, Barcelona's Gaudí Glow
Read more about Barcelona vs Madrid:
| Day | Highlights | Overnight |
| --- | --- | --- |
| 1 | Gran Vía, Puerta del Sol & Madrid de los Austrias | Madrid |
| 2 | Museum Triangle | Madrid |
| 3 | Day Trip to Alcalá de Henares | Madrid |
| 4 | Segovia or Toledo | Madrid |
| 5 | Barceloneta & Montjuic | Barcelona |
| 6 | Gaudí, Gothic Quarter & Shopping | Barcelona |
| 7 | Wine tasting | Bracelona |
---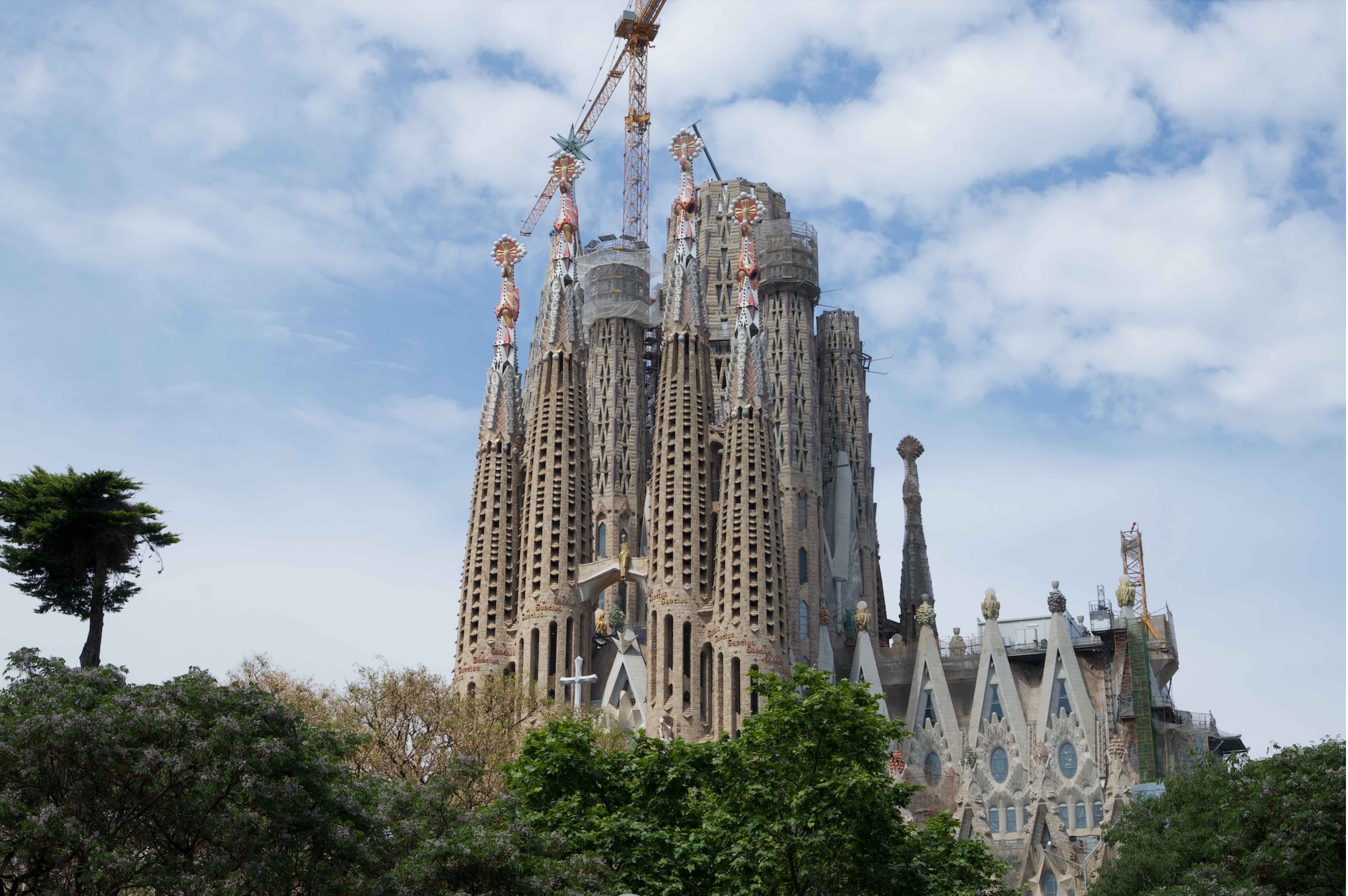 When I created this first itinerary for a week in Spain, I thought about all the first-timers that come to Spain with other European countries in their macro-itinerary. 
What usually happens is that travelers want to fit Spain in one or two days while also traveling to seven other countries in two weeks. I might be exaggerating a bit, but most of what I said is true. 
So, if you are giving Spain a real chance and staying a decent amount of days, I have prepared the perfect first-timer trip for you!
Day 1
Unlike most of our itineraries, this one starts in Madrid. Just like I mentioned before, arrival day should be about settling in and resting. So, on day one, when yuo have recharged your batteries, you will start your adventure with Madrid de los Austrias. 
Madrid de los Austrias is a historic neighborhood, also known as "Habsburg Madrid," due to the extensive urban development during their reign (16th-17th centuries).
This neighborhood's cobbled streets and Renaissance/ Baroque architecture hide the beautiful Plaza Mayor, Mercado San Miguel, Almudena's Cathedral, and Royal Palace. 
👉🏼 I recommend getting a walking tour of Madrid de los Austrias and a tour inside the Royal Palace, which is the biggest in Europe!
Have some tapas at Mercado San Miguel. I know it can be a bit pricy, but everything is good, and the experience is a must!
End your first day with Puerta del Sol, an important landmark where you will find the "Bear and Oak Tree" statue (symbol of Madrid), and it is the KM 0 of Spain. 
Callao and Gran Vía are a few steps away, where you can enjoy some shopping!
Day 2
Your second day in this itinerary is about culture. Madrid hides three (and more) of the best museums in Europe. 
On this day, I recommend choosing between the Prado Museum, Thyssen-Bornemizza, and the Museum Reina-Sofia. Book your tickets during the morning shift; you will be less crowded and have more energy.
After having cultural moments, you must be starving, so go ahead and walk to Puerta de Alcalá. There you will find several restaurants, but I recommend Patio de Leones for lunch.
After recharging your energy, take a walk through Retiro Park. The most iconic sites to visit are the pond, the sculpture of the Fallen Angel, the Crystal Palace, and even check out Florida Park for any event. 
End the day by walking down Cibeles. Go through the Cibeles Fountain and the Cibeles Palace. 
Day 3
On the third day of your trip, make a different day trip outside Madrid and visit Miguel de Cervantes's birth city. 
Take this morning to chill down, and choose a nice cafe from the list I will leave you below. After you are done with your breakfast, head to Atocha and hop on a train to Alcalá de Henares. 
Best specialty cafes in Madrid:
This city is a UNESCO World Heritage. The city is also famous for the University of Alcalá, a great institution that occupies 16th-century buildings. 
In Alcalá de Henares, you should visit the house of Miguel de Cervantes, where he wrote Don Quixote, the Saint Idelfonos chapel, the Calle Mayor, the Cervantes Plaza, and just walk around the old town. The city's architectural style is neo-Mudejar and eclectic, and it is simply a beauty to look at.
When your day trip ends, walk to the restaurant Talanis and enjoy a delicious dinner and the most spectacular Basque cheesecake you will ever try. 
Day 4
On the fourth day of your trip, you must decide: visit Segovia or Toledo. These cities have one thing in common: going through them in the ONE afternoon is possible. Segovis is the northeastern side of Madrid, and you will find three great things: the Roman Aquaeduct, the Alcázar, and the "cochinillo show."
 On the other hand, Toledo is close to Madrid, and you will see an unimaginable experience there. Most of the streets of the Medieval city are made of cobblestones, which transports you back in time. 
You shouldn't forget to visit the Alcazar, the Cathedral, the Synagogue, the Mosque, and the Greco Museum in Toledo. 
Day 5
On day five, you should take an early train to Barcelona and take advantage of all the days ahead. So, the first thing to do should be to leave everything at the hotel.
Go for a walk at the Barceloneta, and breathe some salty breeze. I highly recommend getting something to eat and then heading to the Magic Fountain of Montjuïc for a water show.
Day 6
On day six, you should book an early tour of the Sagrada Familia. The morning shifts are less crowded, and you will get a better view of everything.
After the tour around Barcelona's most famous church, head to Park Güell and marvel at other of Gaudi's masterpieces. Remember to visit the lookout and get on og the best lookout of the Barcelona's skyline.
End the day with a walking tour of the Gothic Quarter. I recommend doing this with a guide because you get all the history, curious facts, and details on this famous neighborhood.
Lookout for cute stores such as the oldest candle store in Barcelona, Cereria Subirà, and the store of the Caganer (poopers in Catalan), which is a traditional figure to add to the Christmas nativity scene. You will find one of them right before the Basilica de Santa Maria del Mar.
Day 7
The final day of this itinerary is about wine and shopping!
Book ahead in one of Barcelona's finest vineyards: Bodegas Torres. You can experience wine tastings, wine pairing, and vineyard tours with great experts in the field.
Best vineyards in Spain:
End your day with some relaxing shopping at Passeig de Graçia, where you will also get to see other two of Gaudí's masterpieces: Casa Batlló and Casa Milà.
Where to go shopping in Barcelona:

10 Best Shopping Places in Barcelona: Streets, Outlets & More
Coastal Chronicles: From Bilbao's Arts to Barcelona's Beaches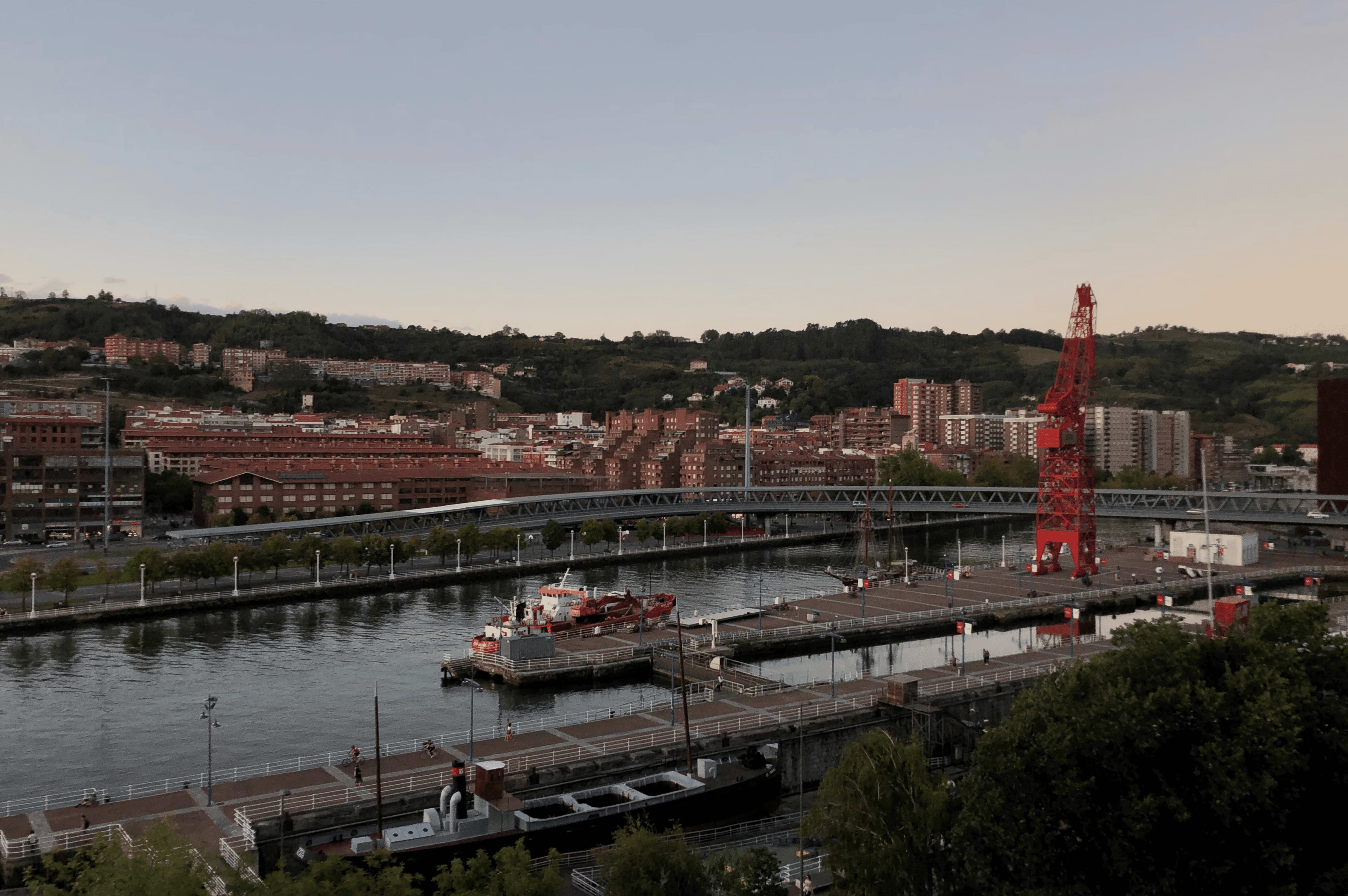 | Day | Highlights | Overnight |
| --- | --- | --- |
| 1 | Old-town & Guggenheim | Bilbao |
| 2 | Old-town & Beach | San Sebastián |
| 3 | Arrival & Barceloneta | Barcelona |
| 4 | Gaudí & Gothic Quarter | Barcelona |
| 5 | Arrival & Gran Vía | Madrid |
| 6 | Segovia or Toledo | Madrid |
| 7 | Madrid de los Austrias & Museum Triangle | Madrid |
---
This is the second itinerary that I created for your week in Spain. In this case, I added two cities in the north, Bilbao and San Sebastián, and subtracted days from Madrid and Barcelona. Let's get to it.
Bilbao is the biggest city in the Basque Country and the industrial port of this autonomous region. It is a wonderful city to start a tour of the Basque Country! Once in Bilbao, you should arrive a day earlier to Bilbao (day cero), so your trip can start with a full day. 
Day 1
The first activity in Bilbao will be a tour of San Juan de Gaztelugatxe. This islet became famous for inspiring Dragon Rock in the Game of Thrones.
At the tip of this islet hides a hermitage; a pleasant excursion and hike will introduce you to the Basque Coast.
When you return from the excursion, get some lunch and walk the old town of Bilbao. Finally, get tickets for the night shift at the Guggenheim and be surprised by its modern art exhibitions. 
Day 2
On day two, you will take a bus or train to my favorite city in Spain: San Sebastian or Donosti, which is the name in Basque. 
You will spend the night of day two in San Sebastian, and I recommend a room with an ocean view. The most breathtaking view ever!
You must walk the old town of San Sebastian and try some delicious pintxos. One of my favorite bars is Gandarias, with its pintxo of "chuleta" (pig) and octopus. 
In San Sebastian, you must visit the Cathedral of the Good Sheppard, walk down La Concha Beach, and experience the funicular of Monte Igeldo. 
I have traveled to San Sebastian more than 8 times in the past five years, and six times, I have climbed the funicular and ridden a Swiss roller coaster with breathtaking ocean views. 
End the night with more tapas in the old town and one last view of La Concha.
Day 3
Check this out article on 24 hours in Barcelona:
Remember that you slept in San Sebastian on day two, so you take a train to Barcelona on day four.
The train from San Sebastian to Barcelona is five hours, so take advantage of this time and sleep. 
Once you arrive, leave everything at the hotel and take it to chill. Depending on where you are staying, I recommend walking around the neighborhood and getting to know the vibe of Barcelona. 
I will leave two alternatives:
And if you are in the mood for some sightseeing, go to the beach! Take the bus, metro, or Uber to the Barceloneta and get to see the city's ocean view and harbor. 
You can also go shopping at the Passeig de Graçia, the most famous road in Barcelona. There you can also see Casa Milà and Casa Batlló, and have dinner at the Nacional Market.
Important landmarks around here are the Christopher Columbus statue, and you can get some tapas at the Barceloneta Market. From there, you could also walk the famous Ramblas of Barcelona and to Plaça Catalunya, where you will find multiple stores for shopping. 
Where to shop in Barcelona?

10 Best Shopping Places in Barcelona: Streets, Outlets & More
If you want to have a full overview of the city, I recommend taking a red bus. Red buses are relaxing, informative, and quick. On the day of your arrival, you can take one and learn all the basics of Barcelona in the comfort of an open car.
Day 4
Be an early bird and go on a morning tour of the Sagrada Familia. I say it here, and it is in every one of our blog posts. Booking a tour of Gaudi's most iconic architectural piece is your best decision. 
Why? The Sagrada Familia is a church where no single piece is a coincidence, and knowing the details and hidden secrets is worth doing. 
The first shift of the Sagrada Familia is at 10 a.m., and the tour will take around two hours. So, at 12, go ahead and have some coffee at Syra Coffee Sagrada Familia (C/ de Sardenya, 331); it is a five-minute walk, and then take your transport of preference to Park Güell.
Park Güell was a residential project that didn't go as planned. Its developer, Eusebi Güell, wanted the project to be a residential space for noble families of Barcelona, but people didn't want to go live up the mountains. After the projects as urbanization were abandoned, Park Güell became a private green space that shows Gaudi's biggest work with trencadís mosaic.
After walking around Park Güell, have lunch at Fismuler Barcelona, where you will taste one of the best Basque cheesecake ever.
In the afternoon, after 4:00 p.m., book a walking tour of the Gothic Quarter and discover the secrets of this neighborhood in Barcelona. 
Day 5
On day five, you should leave on an early train to Madrid. Take the ones between 6:00 am and 7:00 am, so you can be at a decent hour in Madrid. The train ride lasts 2:30 minutes, and the lane is pretty easy to find. 
Once in Madrid, I recommend doing a tour from north to south. First, go to Retiro, where you have to see the Great Pond, the Fallen Angel sculpture, and look at the library and the rose garden.
Get lunch at La Vanduca (C. de Columela, 2), 5 minutes away from Puerta de Alcalá. 
After that, walk south to the Cibeles Fountain, Cibeles Palace, Fine Arts Circle, and the Gran Vía. If you have some strength left for shopping, know that at the other end of Gran Vía (Plaza de España) lays the biggest Zara store in the world. 
Day 6
On day six, I recommend visiting either Segovia or Toledo.
Both are cities less than an hour away from the capital and easy to reach by train or bus. Segovia is located in Castile-Leon and is a smoother tour as it has fewer landmarks than Toledo, the most important being the Roman Aqueduct and the Alcazar. 
You can't miss eating their traditional "cochinillo" at Mesón Candido in Segovia.
Conversely, Toledo offers denser tours, especially if you visit the Alcazar, the Cathedral, the Synagogue, and the Greco Museum in a day. 
Day 7 
On your last day, start with a tour of Prado Museum and marvel at the great pieces of Goya Velazquez, a great European artist. After leaving the museum, take a bus or metro to Madrid de los Austrias. 
Once there, start with a Royal Palace tour, then walk to the Mercado San Miguel and Plaza Mayor. 
From one of the corners of Plaza Mayor, you can go down to the street Cava of San Miguel and walk the oldest neighborhood of Madrid: La Latina. Eat some delicious tapas at Mesón del Champiñon, then walk the Cava Baja street.
Finish the day with drinks and a beautiful sunset at the RIU hotel. 
For more drinks and food in Madrid, check these articles!
9 Best Specialty Coffee Shops in Madrid (and Brunch!)
The 21 Best Restaurants in Madrid: A Food Lover's Guide!
21 Iconic Bars in Madrid with the Best Drinks & Vibes
The 11 Best Rooftops in Madrid: Drinks & Stunning Views!
Itinerary 3: Discovering Barcelona, Madrid, and Seville's Secrets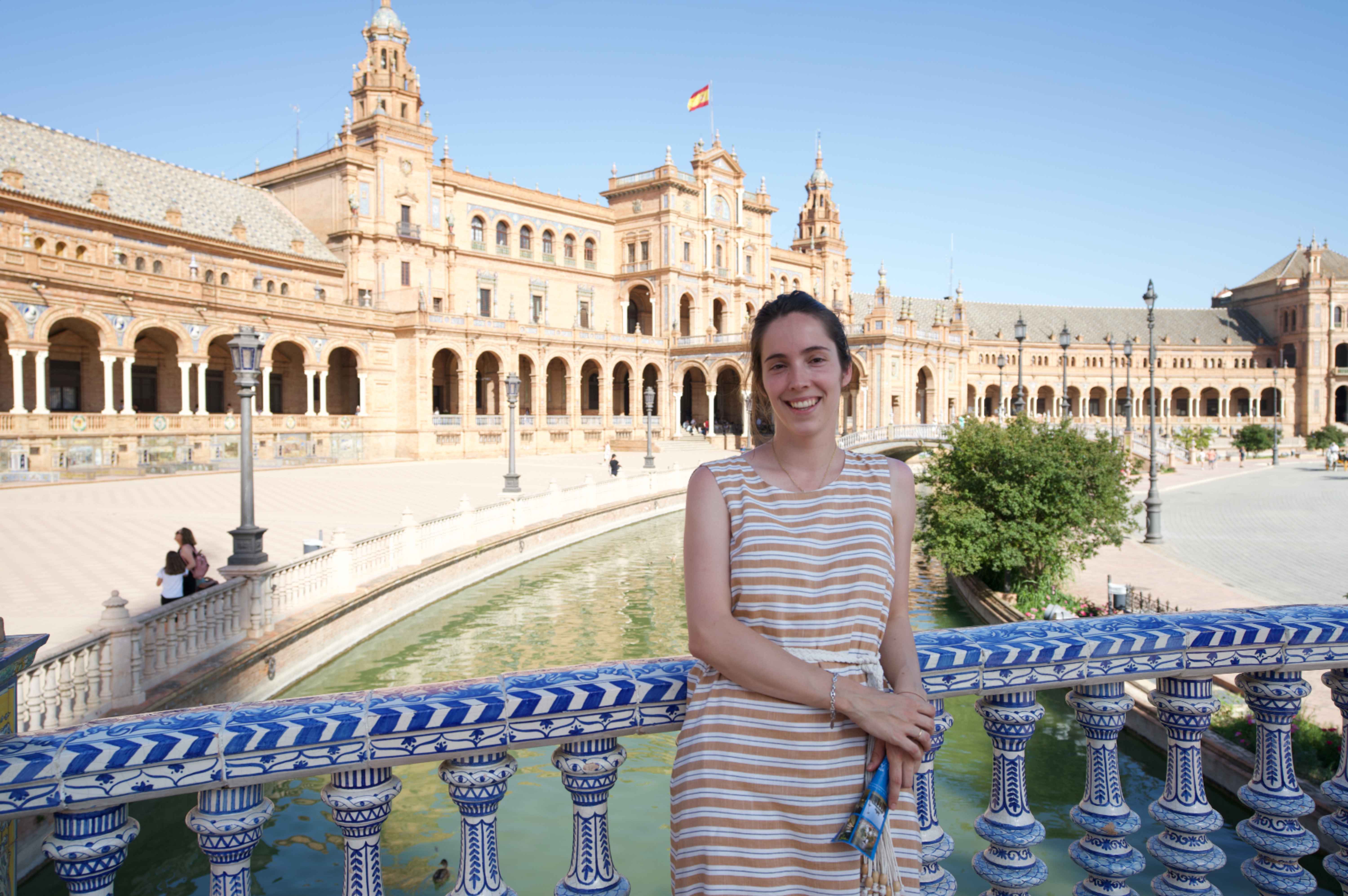 | Day | Highlights | Overnight |
| --- | --- | --- |
| 1 | Gaudí & Gothic Quarter | Barcelona |
| 2 | Arc de Triomf & Barceloneta | Barcelona |
| 3 | Day trip to Tarragona | Barcelona |
| 4 | Arrival, Gran Vía & Debod Temple | Madrid |
| 5 | Prado & Madrid de los Austrias | Madrid |
| 6 | Traina's & Setas | Seville |
| 7 | Cathedral & Real Alcazar | Seville |
---
The third option of the itinerary for your seven-day trip to Spain has a bit of everything: Barcelona, Madrid, and Seville.
Day 1
Remember that this should be a 9-day trip so day. So, you have arrived in Barcelona one day before our itinerary starts.
But coming back to what is important. On the day of your trip, you will go on their first tour of the Sagrada Familia that you have available. As I mentioned before, usually, the earliest time is 10:00 am. Then, around 12:00 pm, you will visit Park Güell, and get one of the best skylines of Barcelona.
You should be getting some lunch around 2:00 pm; I recommend going to La Flauta for some delicious tapas.
For the afternoon, I recommend booking a tour of the Gothic Quarter, because it is the best way of getting to know this neighborhood of Barcelona. In this area, my favorite corners are the Basilica de Santa Maria del Mar, the small cobblestone streets, and the impressive Plaça del Rei.
Day 2
Your day two in Barcelona will be a chill day. For those who just enjoy walking around and doing some shopping, you will start your day with some shopping! Yes, shopping at the Passeig de Graçia.
This luxurious street in Barcelona is also home to two of Gaudi's buildings: Casa Milà and Casa Batlló.
Once you have made all your way through Passeig de Graçia, it is time to take a look at the Arc de Triomf of Barcelona and the Park of Citadel. From there, you can walk towards the harbor of La Barceloneta, enjoy the ocean view, and take some cute selfies.
For dinner, you can go to Fismuler (Carrer del Rec Comtal, 17), which is not far from the Barceloneta, less than 20 minutes by car or public transport.
Day 3
Day trip to Tarragona! You can travel to this Roman city for less than 30 euros.
Take the train from Barcelona Sants to Camp Tarragona. There is one that leaves around 9 am, and it's the perfect combination of time and price.
In Tarragona, you should visit the old town, the Amphitheater with breathtaking ocean views, the Cathedral, and the Roman Aquaduct.
You can enjoy more traditional rice at La Morada for a delicious meal.
Day 5
Start with a tour of the Prado Museum for your full day in Madrid. The Prado is one of the most important museums in Spain, and it houses paintings by Goya, Velazquez, El Greco, Rembrandt, and so much more. The Prado is a cultural gem you can't miss if you appreciate art.
After that, you should discover Madrid de los Austrias with a self-walking tour through the iconic Barrio de las Letras. It's a 30-minute walk from the museum to the Royal Palace of Madrid, and you will see that they are totally worth it after you experience the cute and historic cobblestone streets, old stores, and bars of Barrios de las Letras.
Once there, tour the Royal Palace, continue with the Royal Opera and Plaza Mayor, and end the night with some tapas at the Mercado San Miguel.
Day 6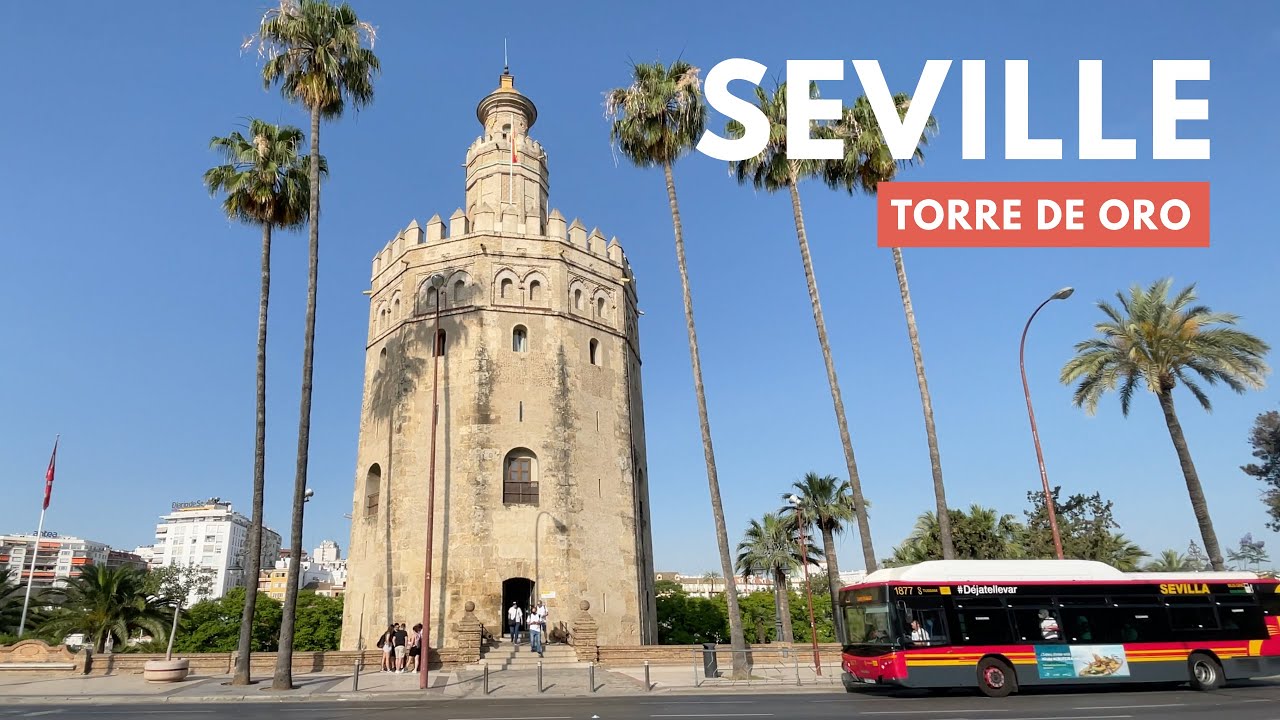 Our trip is coming to an end! Remember that you are taking a train on the sixth day to the Andalusian city of Seville.
On your first day in Seville, walk around the old town and cross the bridge of Isabel II to the Triana neighborhood. Here, I recommend getting some Andalusian tapas at the Triana Market and continuing your day with a walk down Betis Street, where you will enjoy a view of the Guadalquivir and the stunning Torre de Oro (Golden Tower). 
After this wonderful visit, finish your day with a night view of Seville's skyline in Las Setas. You will find "Cervecería: La Sureña" in the same place where you can have authentic Andalusian dishes.
Day 7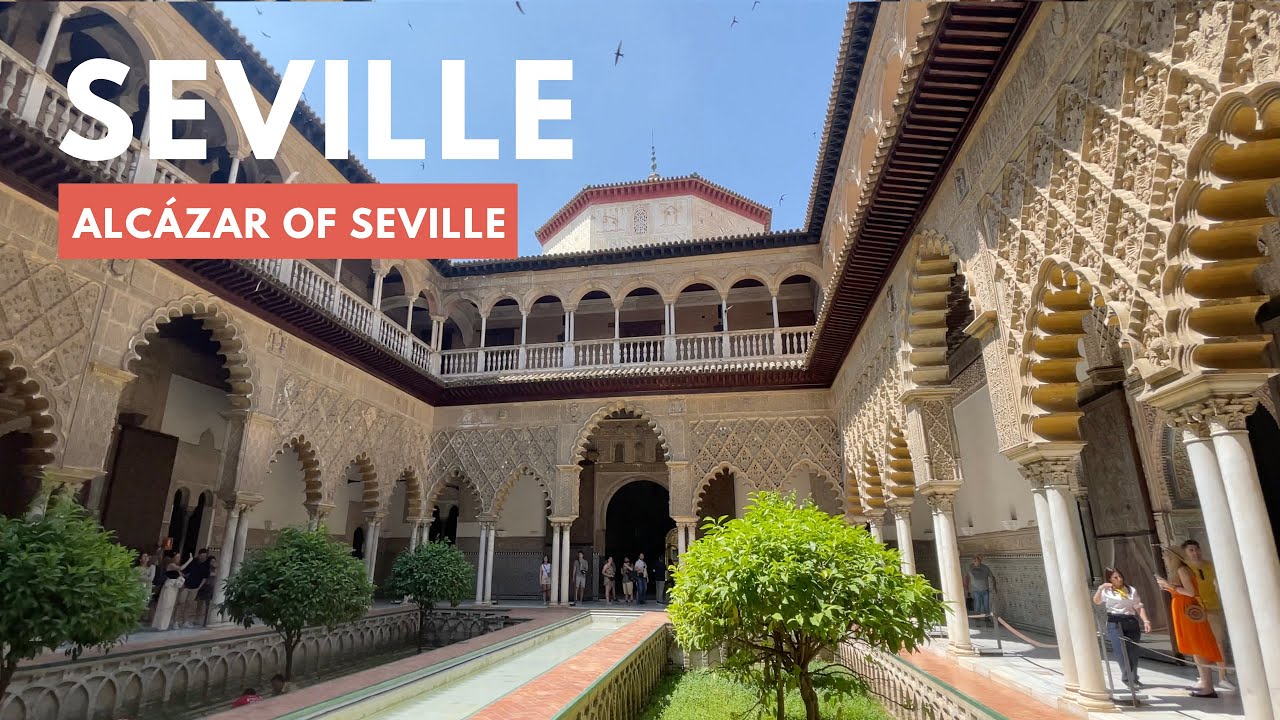 On your last day in the Andalusian paradise, you will go through all the important landmarks of Seville.
Start your day with a tour of the Royal Alcazar. Getting a guide to show you around the palace will help you know the full story of this UNESCO World Heritage.
After that, visit the Sevillian Plaza de España, and save a visit to the Cathedral and climb the Giralda for the afternoon.
I am going to leave you a list for helpful articles to travel Seville:

Seville Budget Travel: 7 Money-Saving Tips & Tricks!

Seville Museums: 9 Must-Visit Palaces & Art Galleries

How to Get Around Seville + 3 Tips I wish Someone Told Me!
---
And there you have it! We have just been through three full itineraries for seven days in Spain. Now, you can choose how to spend your week in the Iberian country, with several alternatives to personalize your trip.
Let us know if you have any questions or want to add any recommendations! We love reading you and helping you go further in your travel journey.