Alcalá de Henares: 8 Best Attractions, Food & Activities
October 18, 2023
Updated:

October 23, 2023
Published: October 18, 2023
"In a village in la Mancha, whose name I do not care to remember, a hidalgo lived not long ago, one of those who keeps a lance on the rack, an old leather shield, skinny nag, and swift greyhound…"
Do you recognize this passage? It belongs to the Don Quixote of la Mancha novel by Miguel de Cervantes, the pride of Alcalá de Henares.
During my first visit to Alcalá de Henares, its infrastructure didn't impress me. However, after visiting again in September, my perspective changed as I discovered the city's UNESCO World Heritage sites.
If you have a few days in Spain and decide to spend all of your holiday in Madrid, in this article, you will find all the information you might need to create a full itinerary.
This piece is dedicated to Alcalá de Henares only, and you will find things to do, places to eat, and tips to make your trip amazing.
What is Alcalá de Henares in Spain?
Alcalá de Henares is located 40 minutes from Madrid, and it is very easy to get there, but I will explain further transportation in another section.
This city belongs to the Community of Madrid, and the entire old town is considered a world heritage by UNESCO because of its Neomudejar and Eclectic architecture that creates an environment out of a movie.
The city dates back to the Romans, it was inhabited by the Morrish and liberated by the Chrsitinas. 
Alcalá de Henares is recognized as the first planned university city in the world, with the establishment of the then Complutense University, which is now known as the University of Alcalá. The establishment of this institution in the 16th century led to the development of the intellectual level of the city. Many notable people, such as Lope de Vega, studied here and contributed to the university's prestige.
With a population of approximately 200,000 residents, Alcalá de Henares is a vibrant mix of history, culture, and modernity.
Best Things to Do in Alcalá de Henares
1. Explore the Enchanting Old Town (Casco Antiguo) of Alcalá de Henares
From the train station to the centric part of Alcalá de Henares, it is approximately 15 minutes on foot. I recommend you walk this bid to experience this city's beauty visually.
Walking towards the landmarks, you can feel how you enter a different part of town and how the city transforms into a total movie set. 
Certainly! Here's an expanded list of things to do in Alcalá de Henares, including a brief description of each place and its historical significance:
2. Universidad de Alcalá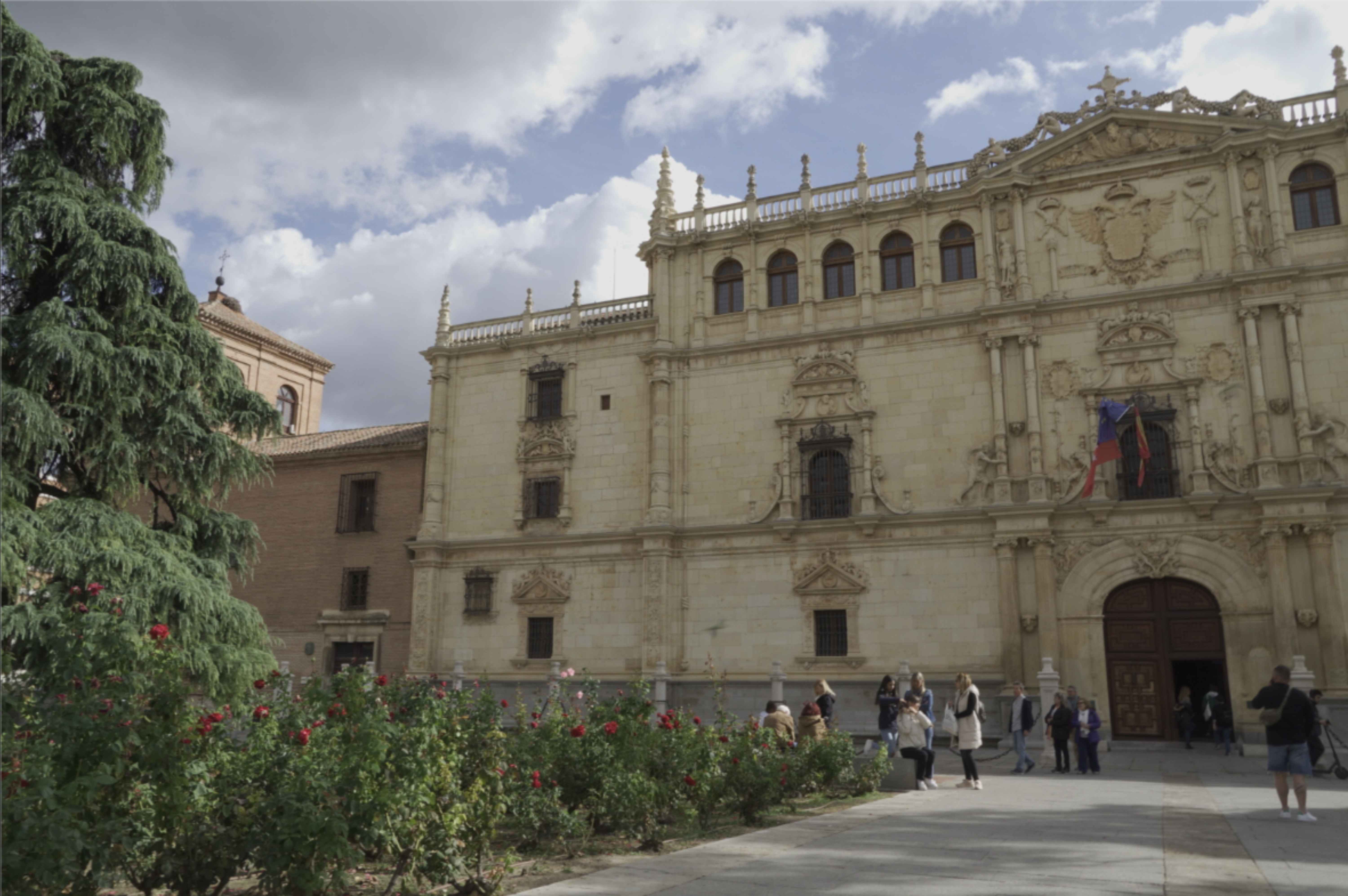 This was one of the first universities in Spain way back in 1499, founded by Cardinal Cisneros. It has been a significant part of Spain's cultural and intellectual history ever since. 
Sadly, in the 19th century, the university lost much of its prestige, and the government decided to move to Madrid, which is now the Universidad Complutense. 
Nevertheless, in the 20th century, Alcalá de Henares rebuilt its heart, its university, which is now the prestigious University of Alcalá.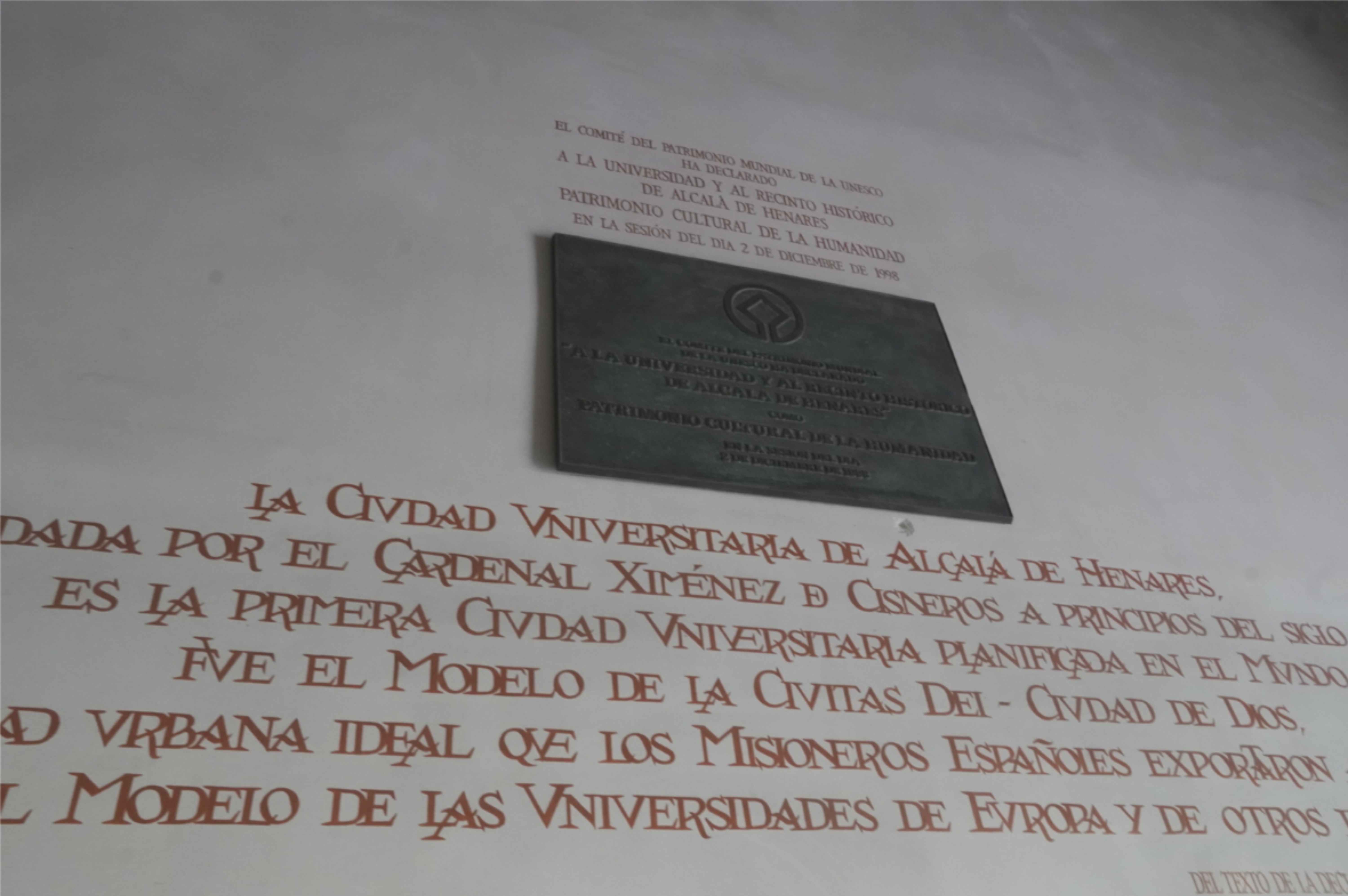 3. Miguel de Cervantes' Birthplace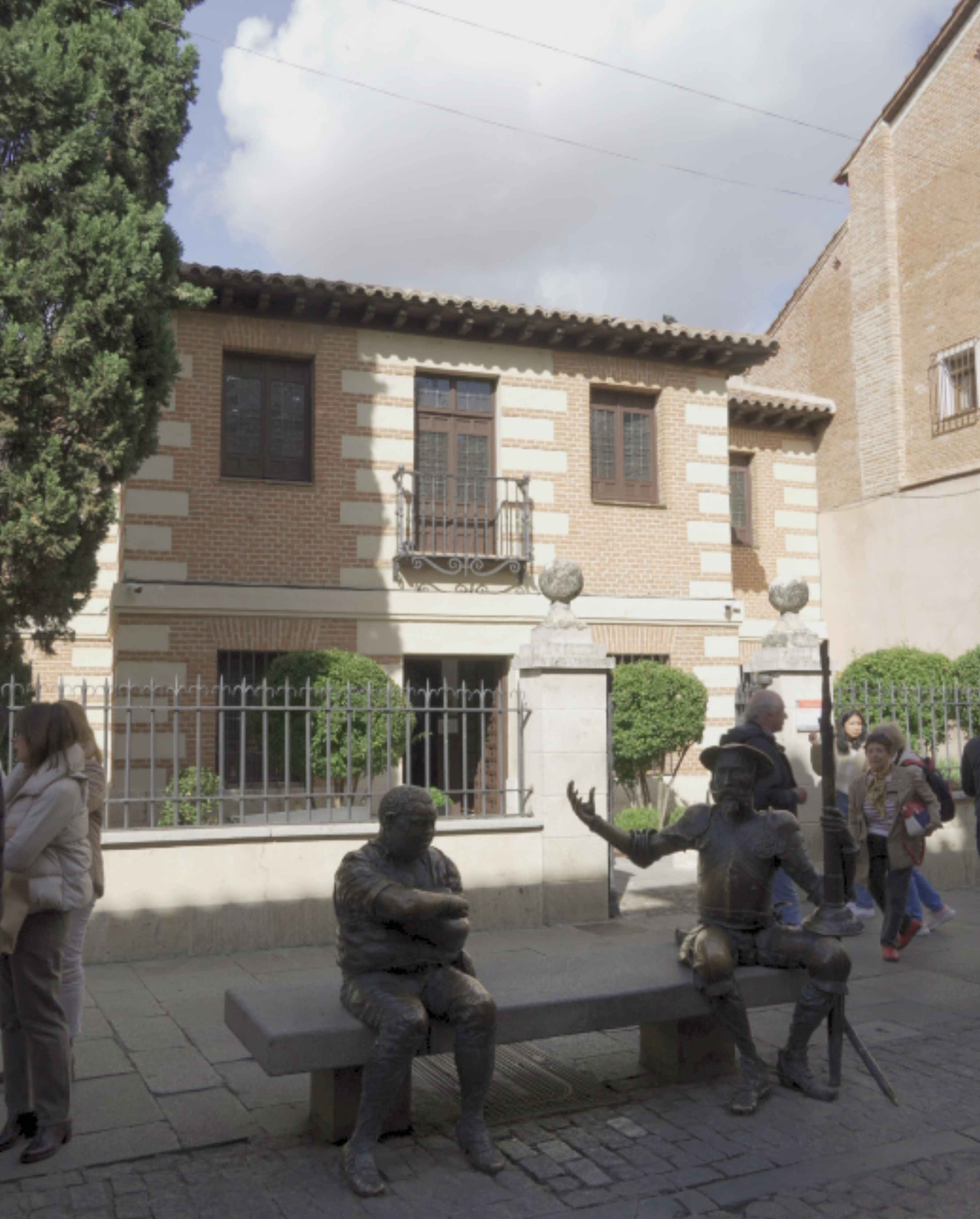 The museum dedicated to the life and works of Miguel de Cervantes, the famous author of 'Don Quixote,' is actually the house where he was born. You can check out a bunch of cool stuff related to the writer, like artifacts and exhibits.
4. Calle Mayor (Main Street)
This cool street is the center of Alcalá's old town, jam-packed with shops, cafes, and historical buildings. It's a great spot to chill and take a walk at your own pace. 
Following the Calle Mayor, we will get to Plaza de los Irlandeses, Plaza Cervantes, and the Cathedral. 
5. Plaques of the Three Cultures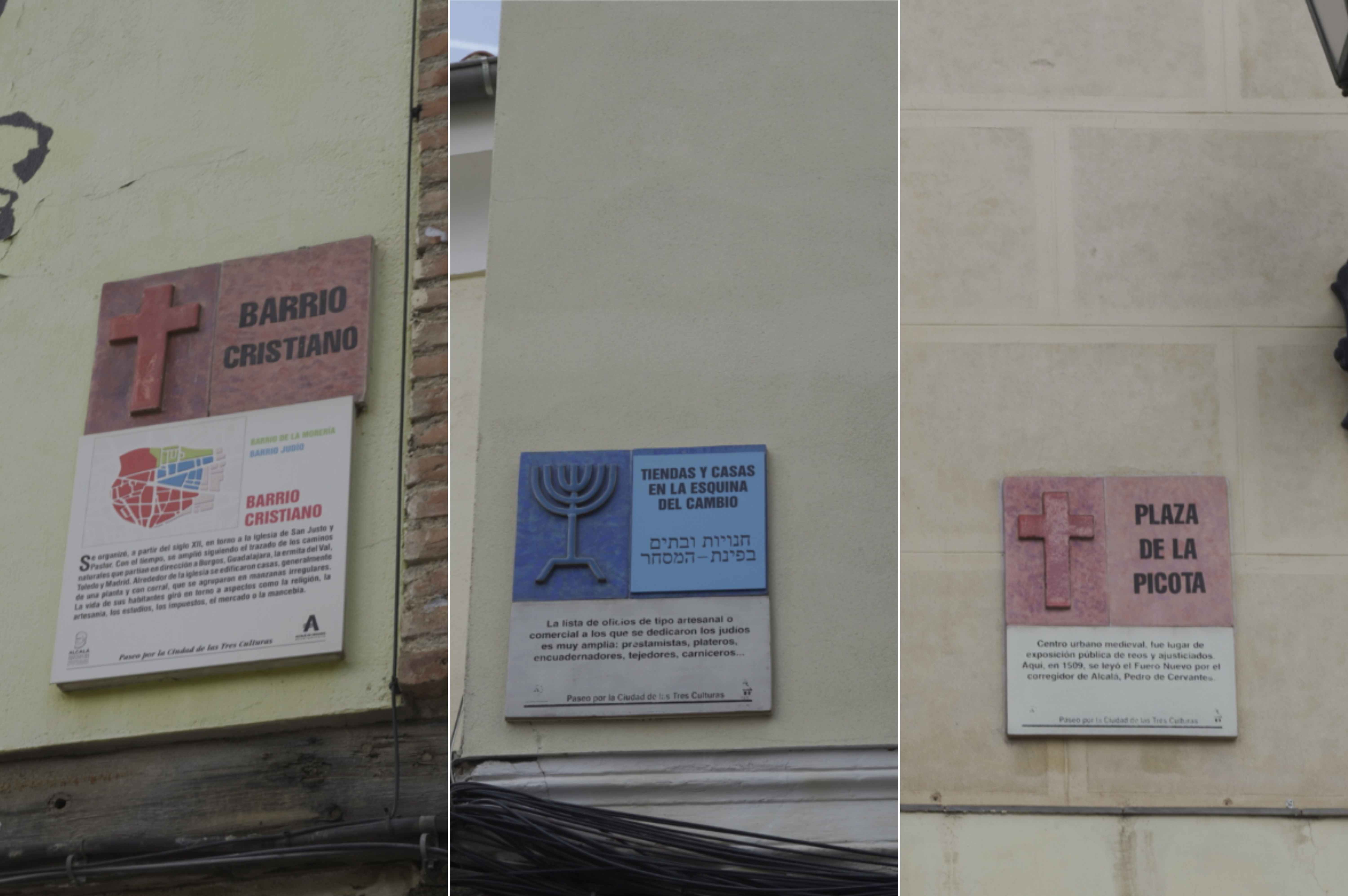 In Plaza de San Diego, some plaques celebrate the coming together of three major cultures - Christian, Muslim, and Jewish - in Alcalá's history. These plaques are a symbol of the city's amazing cultural diversity.
I apologize for I only found two!
6. Plaza de Cervantes & Corral de las Comedias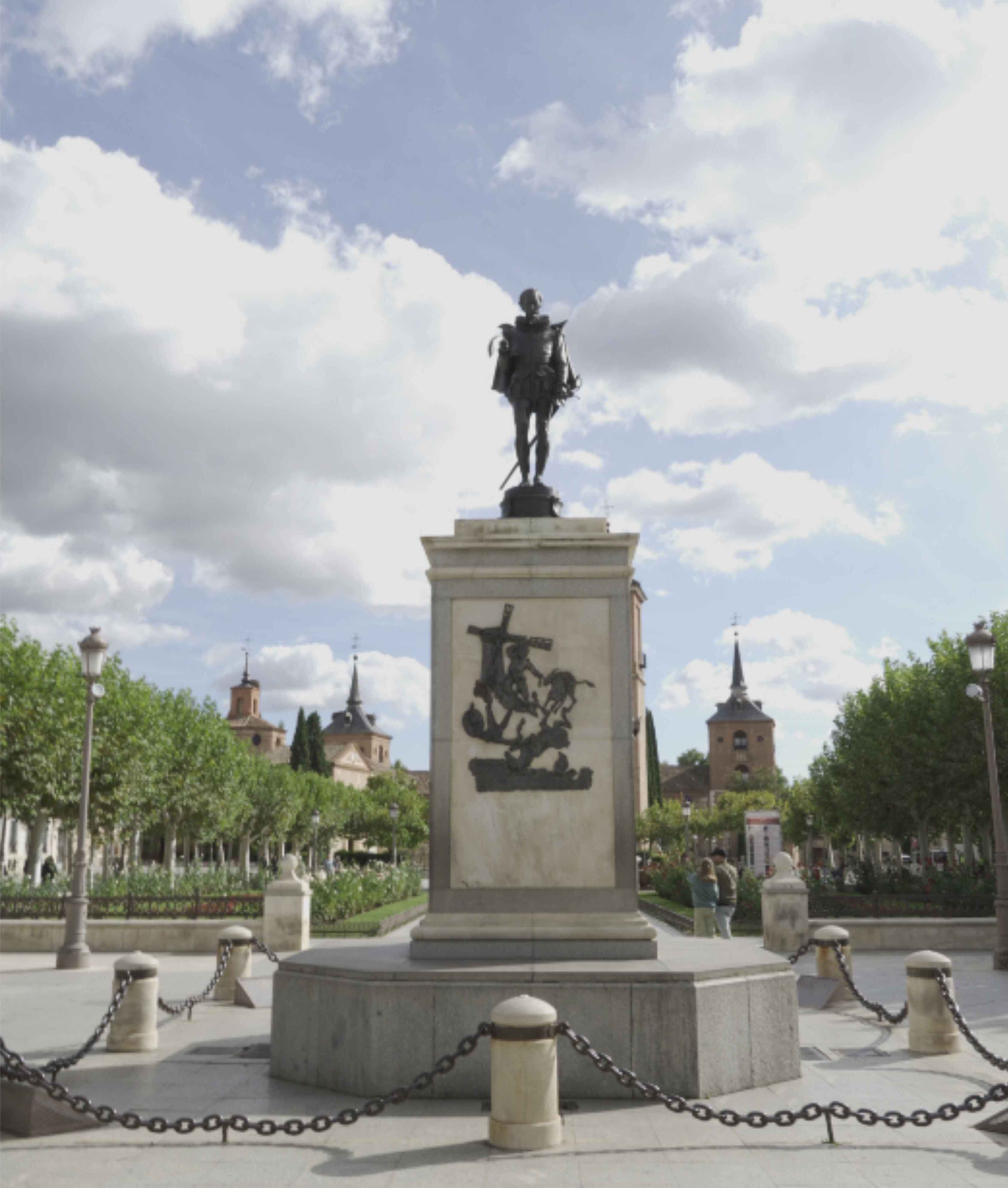 The Cervantes square in Alcalá is a great spot to hang out. It has a statue of the man himself, Miguel de Cervantes, and is surrounded by historic buildings, like the Corral de Comedias, one of the oldest theaters in Europe, dating back to the 17th century. 
7. Magistral Cathedral of St Justus and St Pastor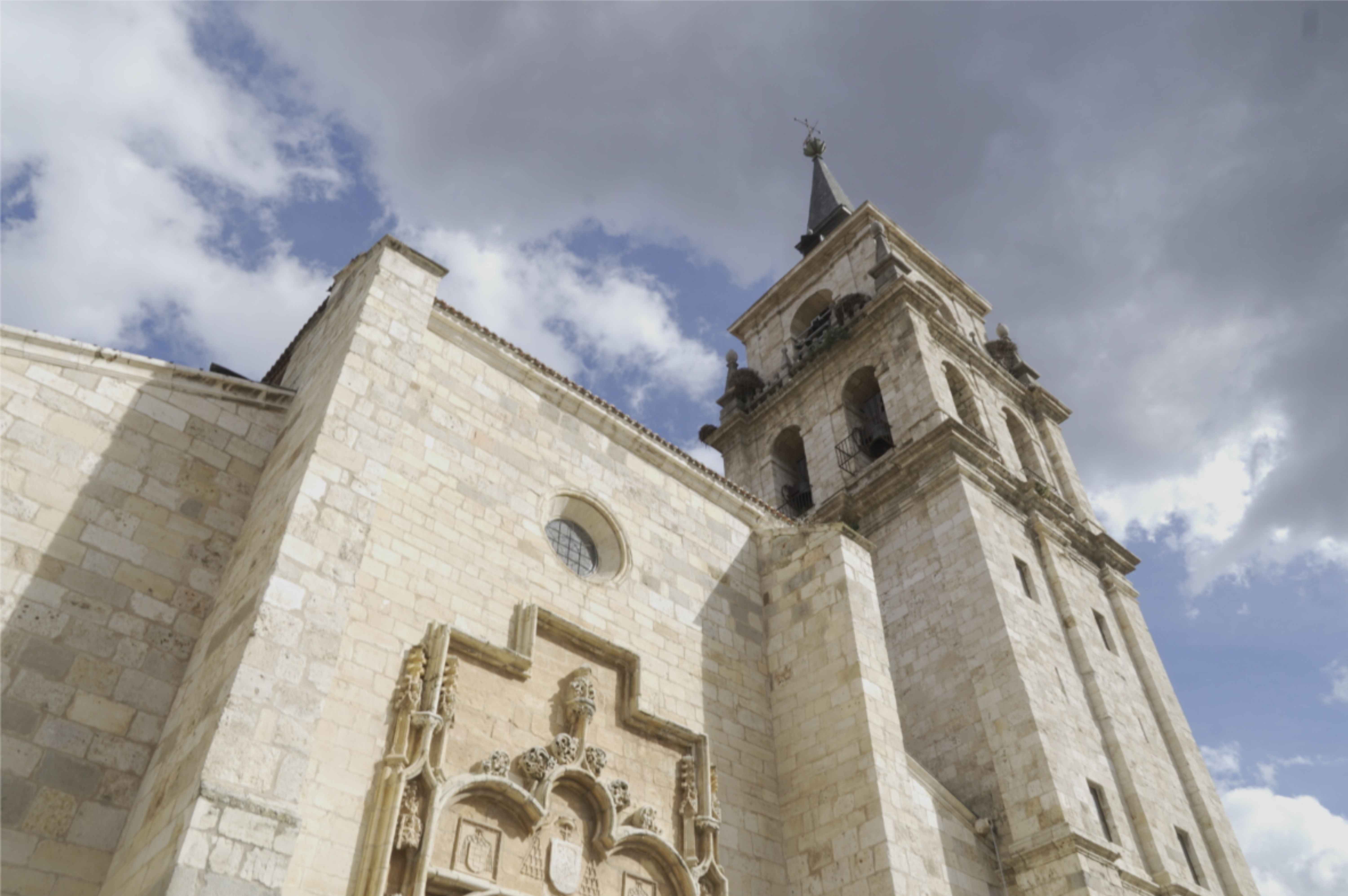 This religious landmark is stunning - a Magistral Cathedral because all the priests that went through it needed to be Magisters.
This Cathedral has a stunning Gothic style and a beautiful bell tower. 
8. Complutum and House of Hippolytus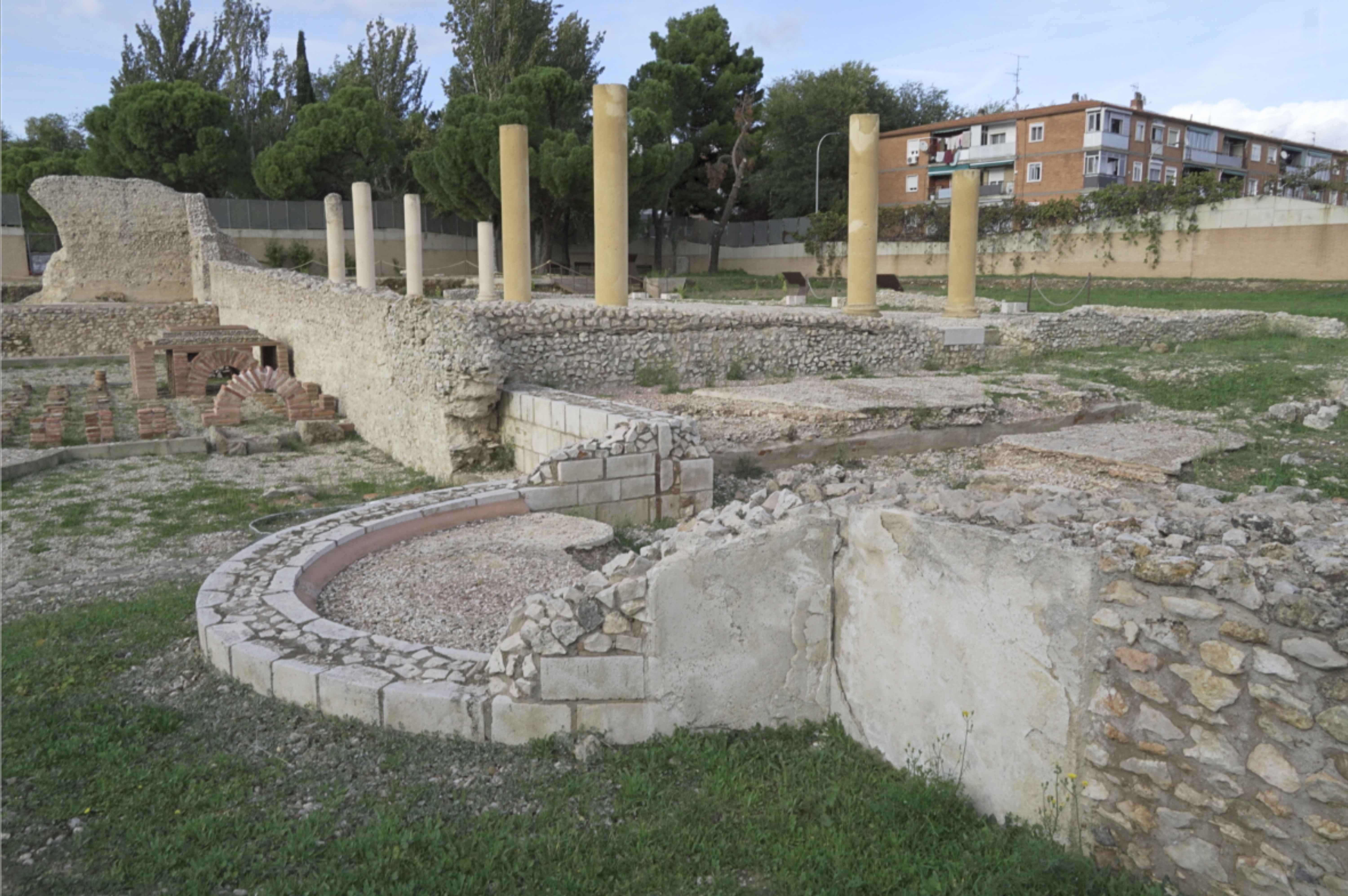 Check out these archaeological sites that show off the ancient Roman city of Complutum. One of the sites is Casa de Hippolytus, a well-preserved Roman villa that shows how people used to live back then.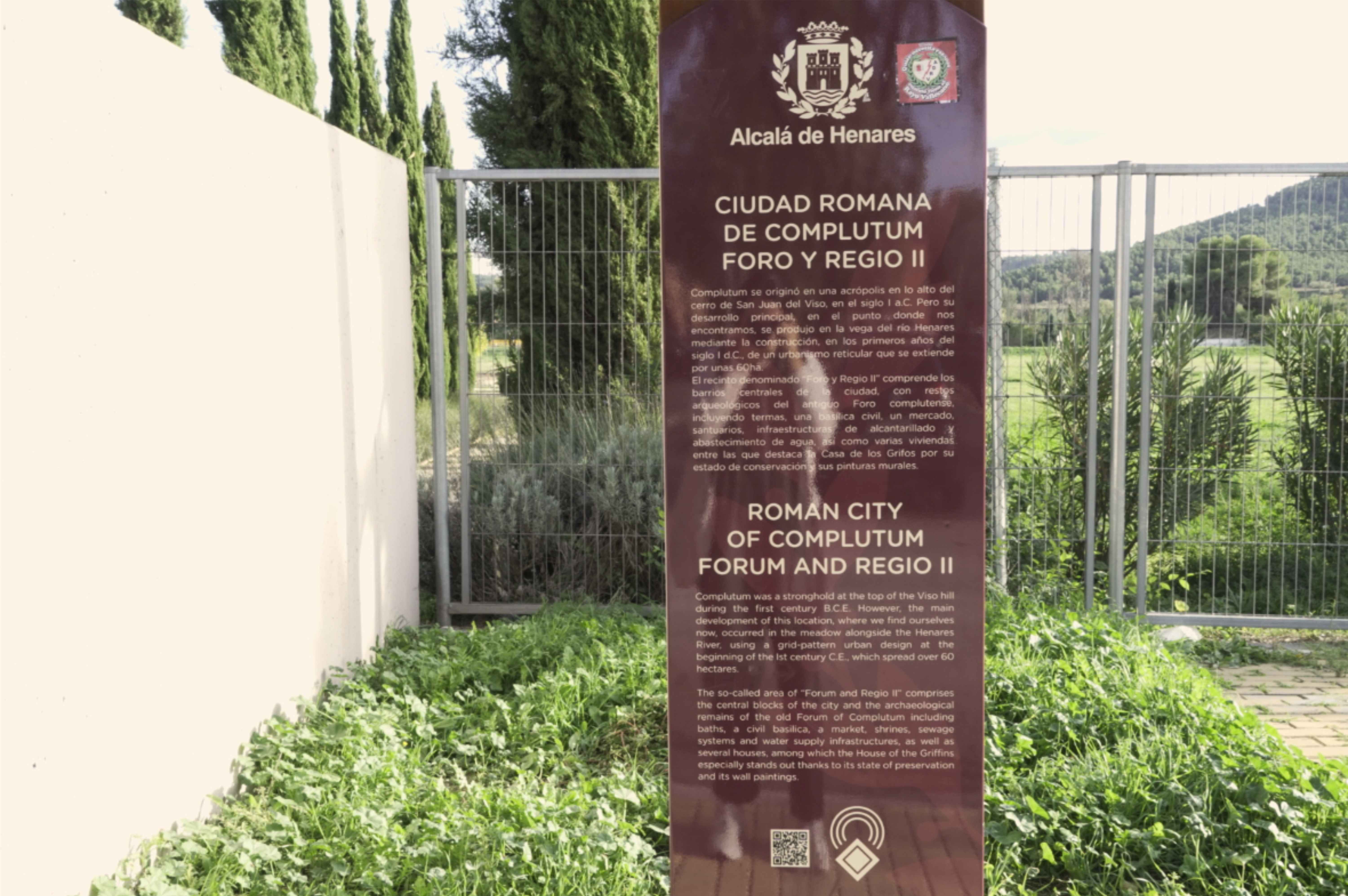 How to Get to Alcalá de Henares
Alcalá de Henares is easily accessible from Madrid - just a 40-minute train ride from Atocha station.
If you prefer working your own time, it is best to rent a car but keep in mind that parking in Spain can be hard to find and expensive. Some options for parking in Alcalá de Henares are Parking San Lucas and Interparking La Paloma, which are paid, and the parking del Ejército Avenue, 33, which is free. These three are pretty spacious and offer a good price-time balance.
Parking San Lucas is in the plaza behind the Parish, take a look at the picture!
Another option for parking would be street parking, but you need to be very patient because those are usually fully used by locals. 
If you prefer to travel by train, a simple ride is available for you. I would recommend taking Bus Line 001 to reach Atocha as it is a free electric bus introduced in Madrid in 2022 to promote the use of public transport. This way, you can make the most of your money while contributing to the environment.
Once in Atocha, you must buy a Cercanías from Renfe from Madrid to Alcalá de Henares round trip. The price will be less than 15 euros, and as I said before, the trip lasts 40 minutes. 
Don't get confused with Alcalá Universidad; it is not the same thing! Your stop is Alcalá de Henares, closest to the train station.
Best Time to Visit Alcalá de Henares
The best time to visit Alcalá de Henares is the beginning of Spring, the whole season of Autumn, and the month of December in winter. 
If you visit during the recommended time periods, you'll experience mild temperatures and a more comfortable walk through the city.
For no reason, visit during the summer because all you will find is scorching heat and no beach to relax in; also avoid winter except for the month of December when the city lights up with beautiful Christmas decorations and markets.
| Season | Max Temperature (°C) | Max Temperature (°F) | Min Temperature (°C) | Min Temperature (°F) |
| --- | --- | --- | --- | --- |
| Summer | 34°C | 93°F | 17°C | 63°F |
| Autumn | 22°C | 72°F | 9°C | 48°F |
| Winter | 13°C | 55°F | 2°C | 36°F |
| Spring | 19°C | 66°F | 6°C | 43°F |
---
Where to Eat in Alcalá de Henares
Alcalá de Henares is a great culinary center where you can enjoy traditional Spanish food, Indian gastronomy, and more! 
In Calle Mayor and all around the Plaza de Cervantes, you will find many restaurants to delight you.
Breakfast
For breakfast, brunch, and most especially, coffee, you must go to San Diego Coffee Co. Irlandeses in the Plaza de los Irlandeses in Alcalá de Henares. This is the only specialty cafe in the city, and you must try it!
Lunch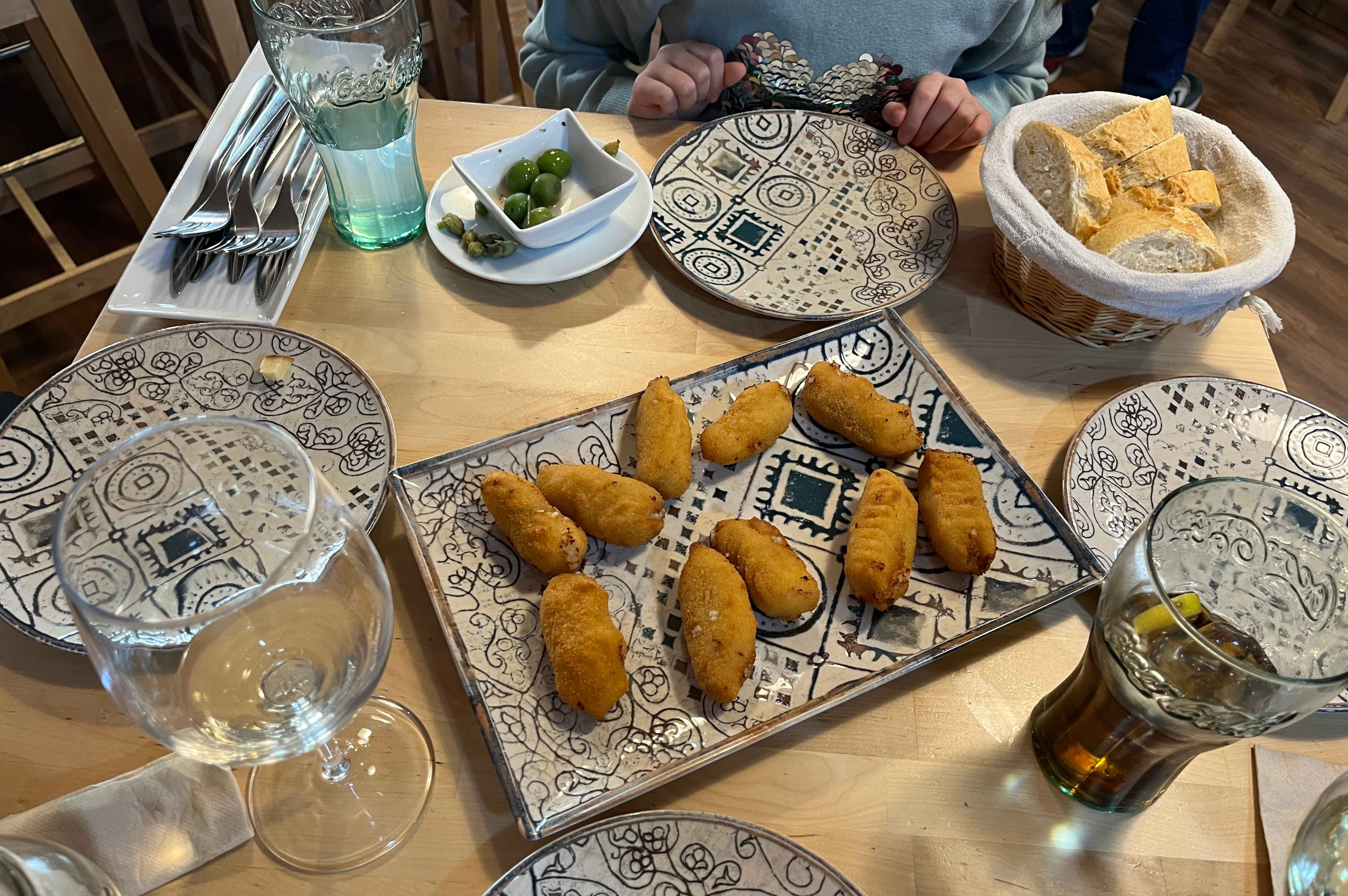 You won't have to move any farther for lunch because your restaurant will be Vinoteca Esencias del Gourmet, also located in the Plaza de los Irlandeses.
This restaurant has an extensive menu of excellent wines and delicious homemade recipes that I am sure you will find irresistible. I visited Alcalá de Henares near Madrid with my aunt, uncle, and 8-year-old niece. 
We decided to share dishes, and it was the perfect decision! We ordered ham croquetas (10 pieces), tenderloin cooked for 6 hours, mellow rice with boletus, three rounds of bread, four glasses of the house Verdejo (white wine), and two more beverages.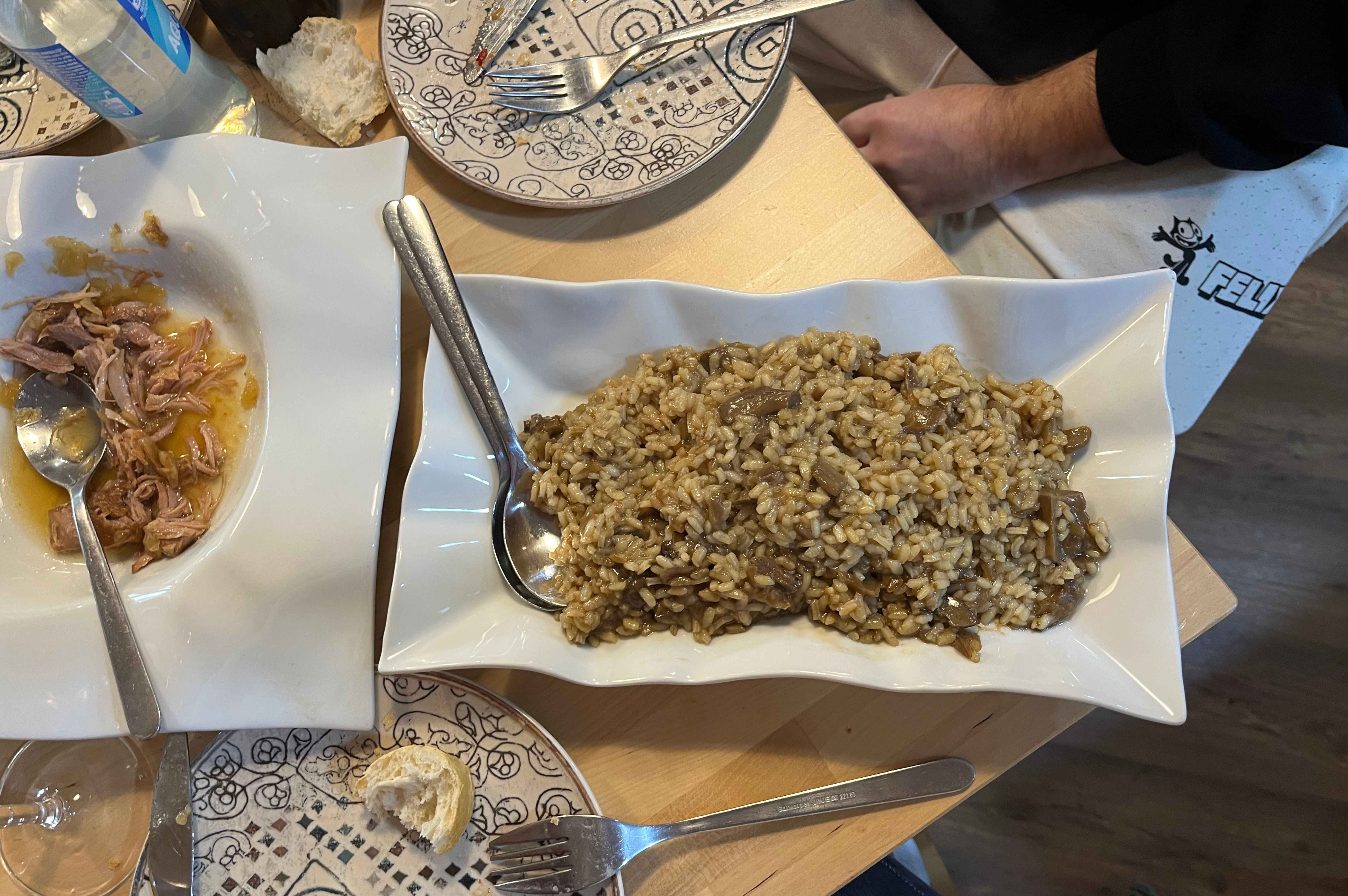 ---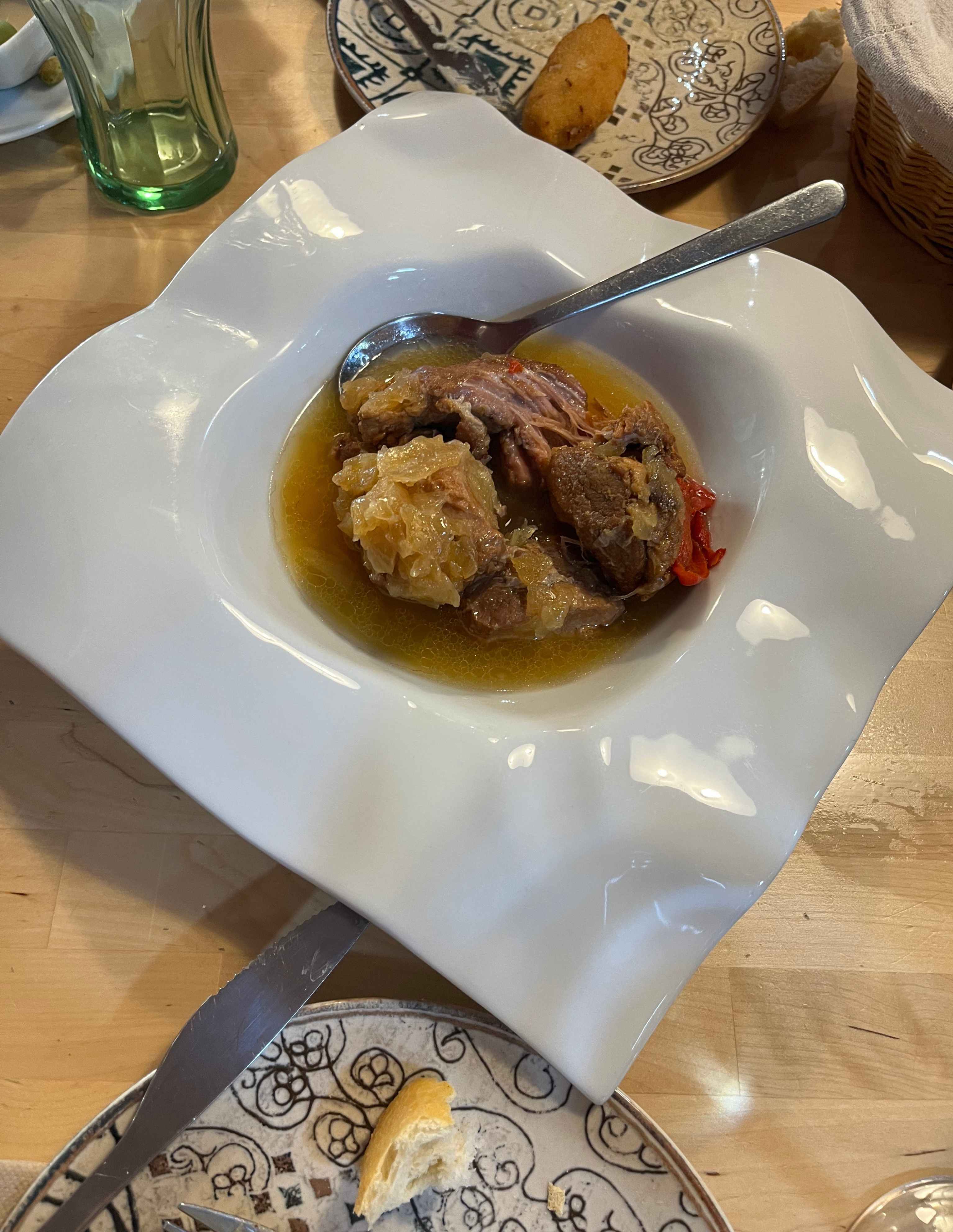 The food was mouthwatering, the waiting time very short, and the staff very kind! Worth the 89 euro bill!
You can do wine tasting with friends and family. Check out the options here!
Dinner & Drinks
I recommend the Restaurant Talanis in Plaza de los Irlandeses for dinner and drinks. The whole menu is spectacular; you should take their croquetas as a starter, the carrillera as your main dish, and their mouthwatering basque cheesecake for dessert.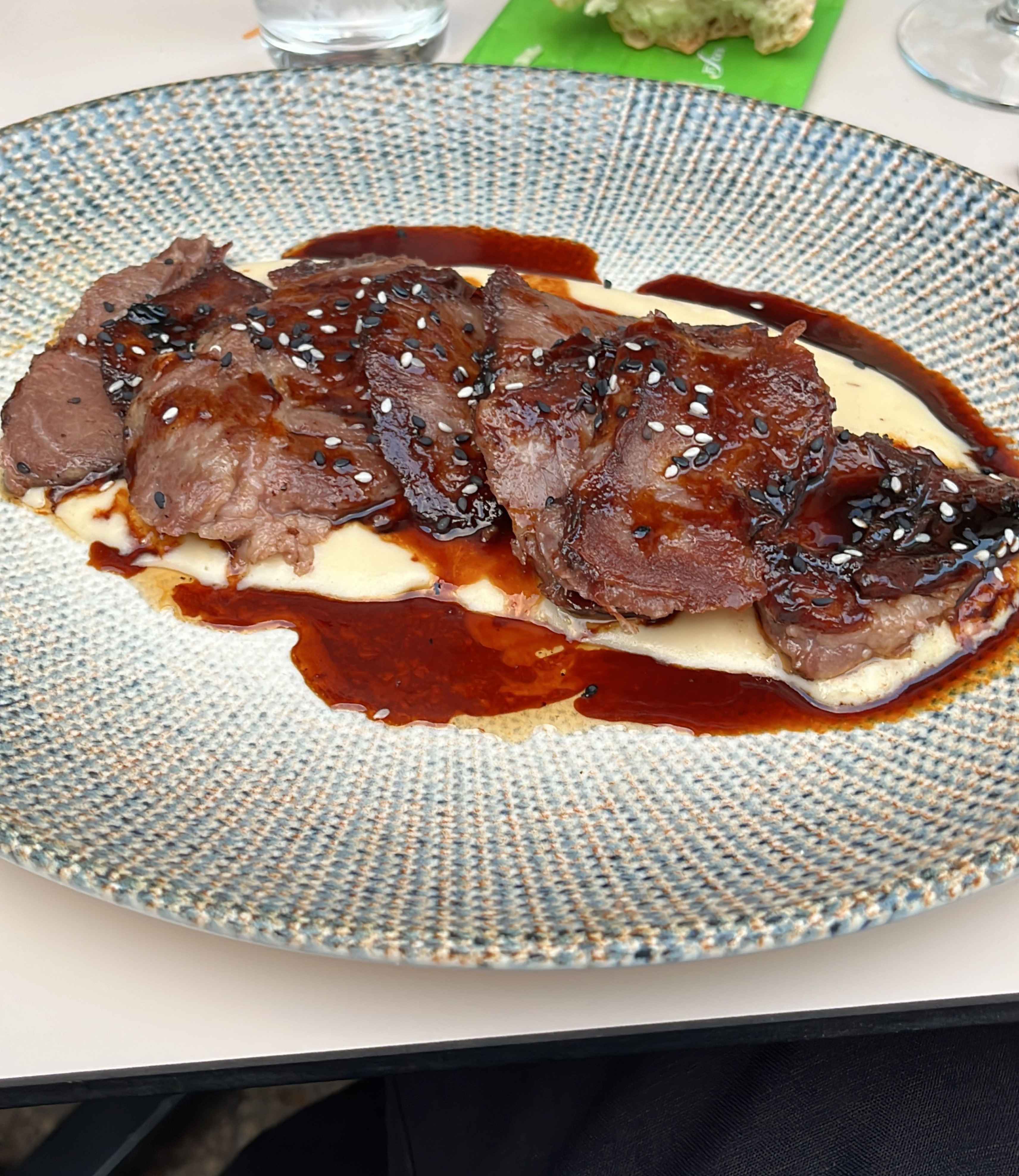 ---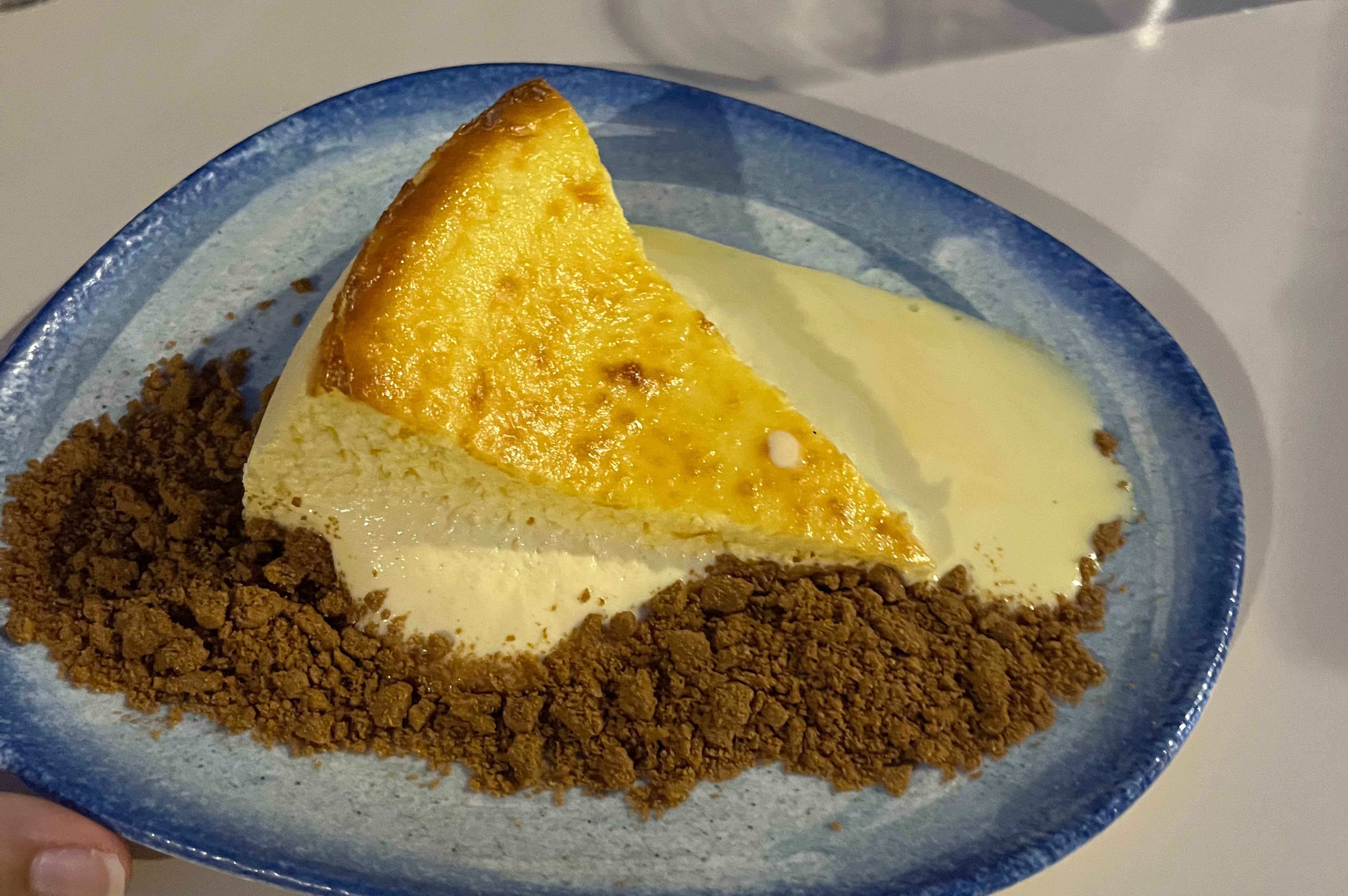 Where to Stay in Alcalá de Henares
These are my top three favorite hotels in Alcalá de Henares. All of them are situated in central locations, making it easy for you to explore the city and return to the hotel for rest.
The Hotel Paradores Alcalá de Henares is located opposite the Plaza Cervantes and is near the "Alcalá de Henares" train station. You can easily take a train to Madrid from here.
The other hotels, Alcalá Plaza and Ibis Budget, are situated near the university. It is best to use the "Alcalá Universidad" train station to access them.
Luxury
Standard
Budget
How Much Does It Cost to Visit Alcalá de Henares?
Request information: hello@sensationalspain.com
How much money you need for your trip to Madrid and Alcalá de Henares depends on many things, such as how many people are traveling, the type of activities you want to do, accommodation, the duration of your stay, restaurants, and most importantly, the time of year.
To help you more accurately, please don't hesitate to reach out to us via email! Share the details of your desired trip to Spain, and we will provide you with a price estimate and offer local advice for all your travel needs.
Choose your Spain Itinerary
1 Day in Spain? 10 Best Things to Do in 24 Hours!
2 Days in Spain: Trip Ideas & Itineraries to Enjoy Your 48h
3 Days in Spain: What's the Best Itinerary for Your Trip?
4 Days in Spain - Best Travel Itineraries for Short Trips
5 Days in Spain: Itineraries to See (almost) Everything!
6 Days in Spain: The 3 Best Itineraries for Your Trip!
7 Days in Spain: The 3 Best Itineraries for Your Trip!
---
Alcalá de Henares is the perfect city to stay in if yuo don't want to find accommodation in busy and loaded Madrid. It offers great hotels, an interesting historic center, and fast transportation to take you anywhere.
If you decide to stay in Alcalá, I must let you know that the last trains from Madrid to Cervantes leave around 11:30; after that, you must take an Uber or taxi back to your hotel.
Happy travels!