Travel to Almería: 6 Best Attractions, Food & Activities
October 23, 2023
Updated:

October 26, 2023
Published: October 23, 2023
Throughout my life, I heard about many Southern cities in Spain, such as Seville, Granada, Cordoba, Cadiz, Malaga, etc, but never did I hear about Almeria until I moved to Spain.
In 2018, I moved to Spain in an apartment with three other girls. One of them, who, with time, became one of my best friends, was from the southern city of Almeria.
So, my first time in Almeria was in April 2019, when I was invited to spend some days of Holy Week with her and her family. Compared to the cool weather of Pamplona, by April, Almeria was already sunny enough to just walk around with a short-sleeved shirt and linen pants.
Before I arrived, I Googled what to do and found out there was not much, but once there, there is a charm that enchants you, and that actually had me come back three years later.
What is Almería in Spain?
Almería is an underrated coastal city in the province of Almería, known for its agriculture and stunning landscapes. 
The Moorish founded Almería between the 8th and 9th centuries, and back then, it used to be the most important port of Al-Andalus. Historians say that the possible translation of its name from Arabic to English is "espejo del mar," which means "ocean's mirror."
The city is located on the southeastern side of Andalusia, closer to the autonomous region of Murcia. 
With around 199,300 people living there, it's a great spot for those wanting to explore Andalucia with fewer crowds. Almeri3a is also one of the driest cities in Europe, with loads of sunshine all year round. So, if you're looking for serious sun, Almería is the place to go!
Best Things to Do in Almería
1. Alcazaba of Almería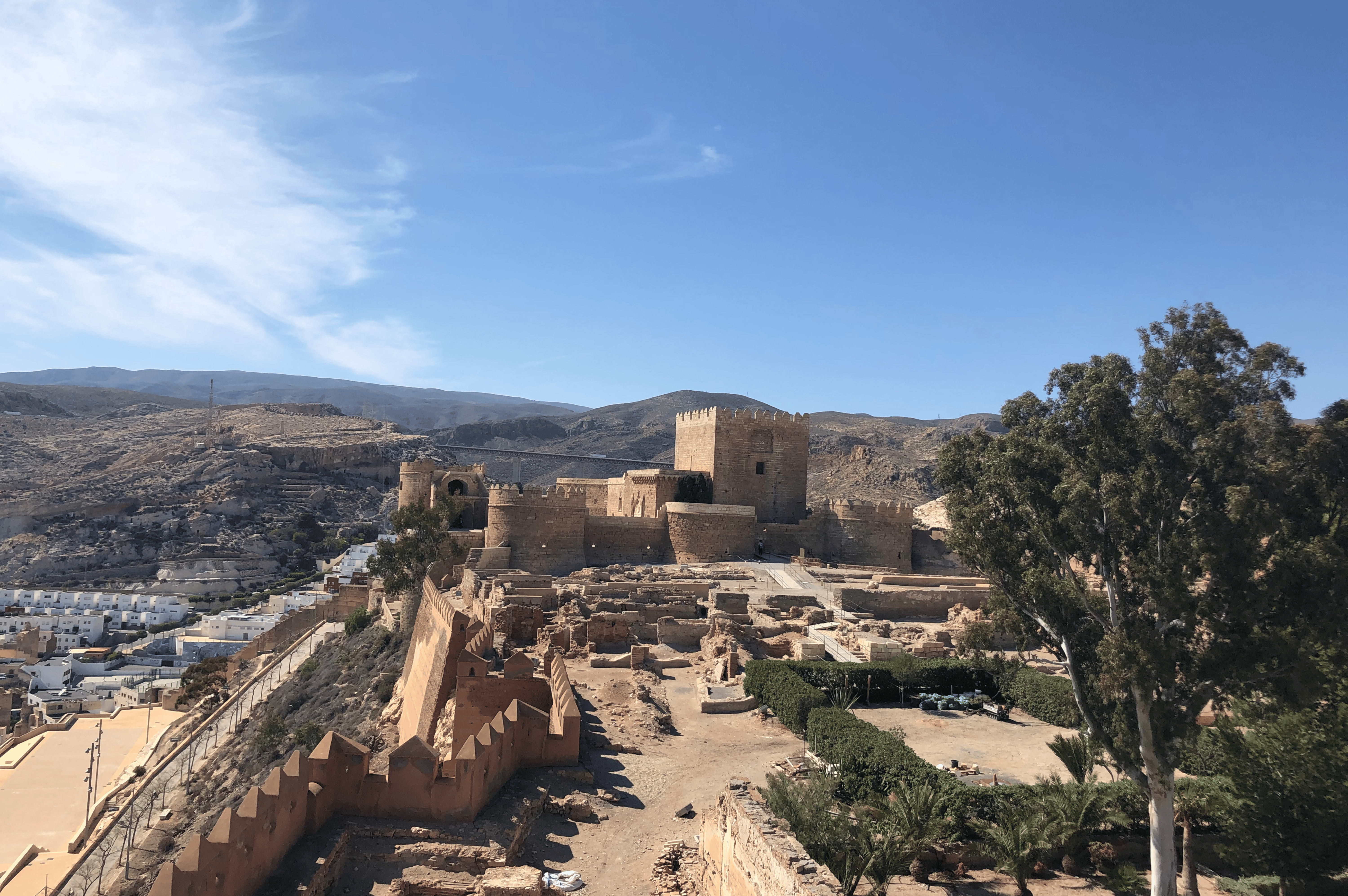 A fortress that dates back to the 10th century, offering panoramic views of the city and sea. Its full title is "Conjunto Monumental de la Alcazaba de Almería y las Murullas de San Cristóbal," referring to this fortress-castle's important and grandiose role for the Moorish defense system. 
The Alcazaba is visible from any point in Almeria city. It offers a free entrance for visitors, and you can take some stunning selfies from there.
There are three ways for you to get to the Alcazaba; first of all, you can take a bus like Alsa L1, which lasts approximately 10 minutes from the city center to the fortress.
Another option is hopping on the Almeria City Tour Train, in which the Alcazaba is one of the main stops. For 3.50€, you get a tour around the city and an extra audio guide with the ride. 
2. Cathedral of Almería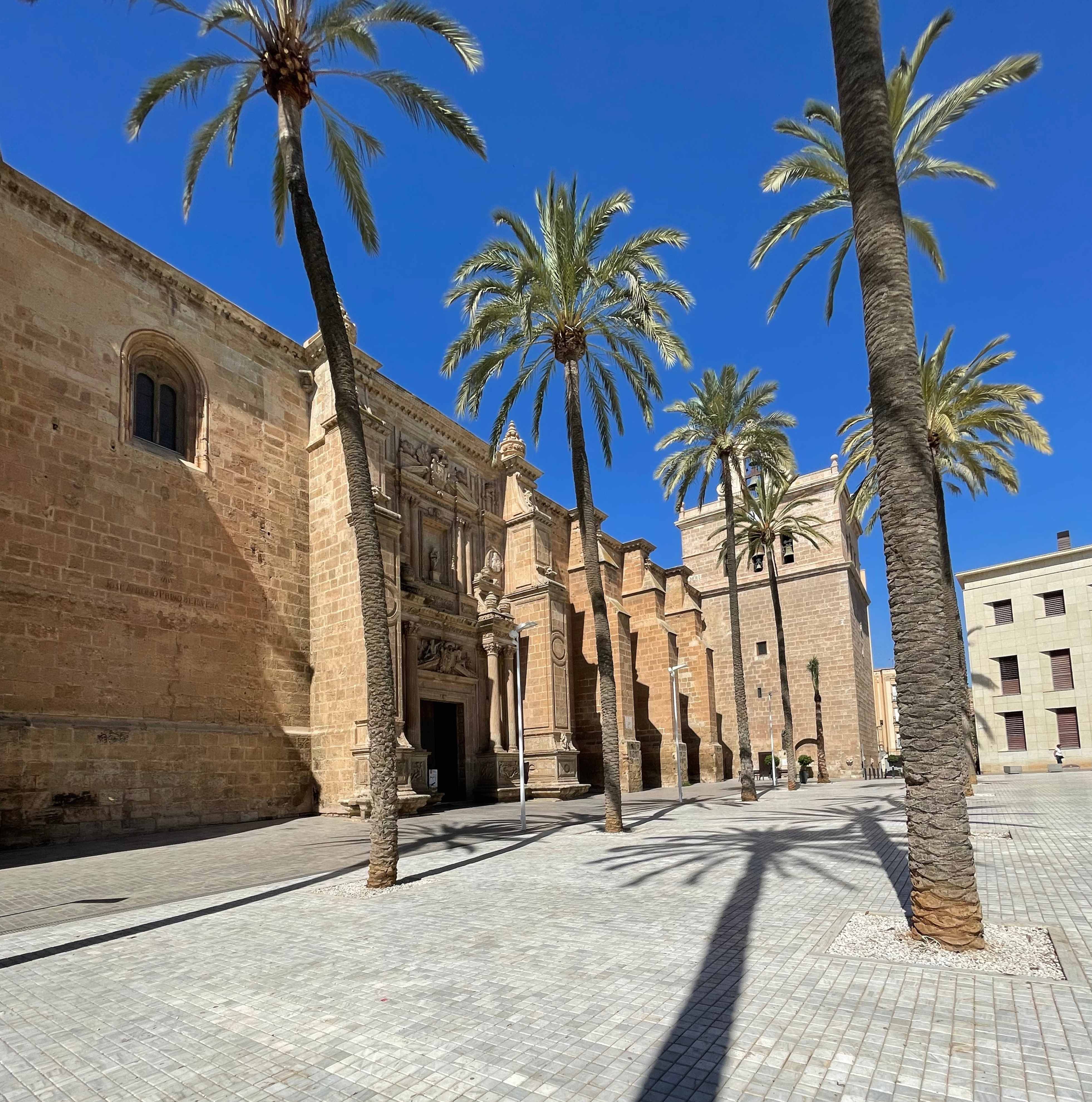 It is an imposing Gothic structure with impressive architecture and a tranquil atmosphere; it was built in the 16th century, its bell tower in the 19th century, and in the 20th century, it was used for a scene in the action movie Patton. 
3. Cabo de Gata-Níjar Natural Park 
Cabo de Gata-Nijar Natural Park is stunning, with many beautiful things to offer. For instance, you can explore the park's marine life with some snorkel or go for more daring choices like renting a buggie and exploring the coast.
For me, the most stunning thing to do in this natural park is enjoy its landscape's natural and unique beauty. You have not only thousands of kilometers of beach, pure crystal clear ocean, and sand but also rocky desertic mountains that make you think you are in an oasis in the middle of the desert. 
Or at leats, that's how I felt!
4. Tabernas Desert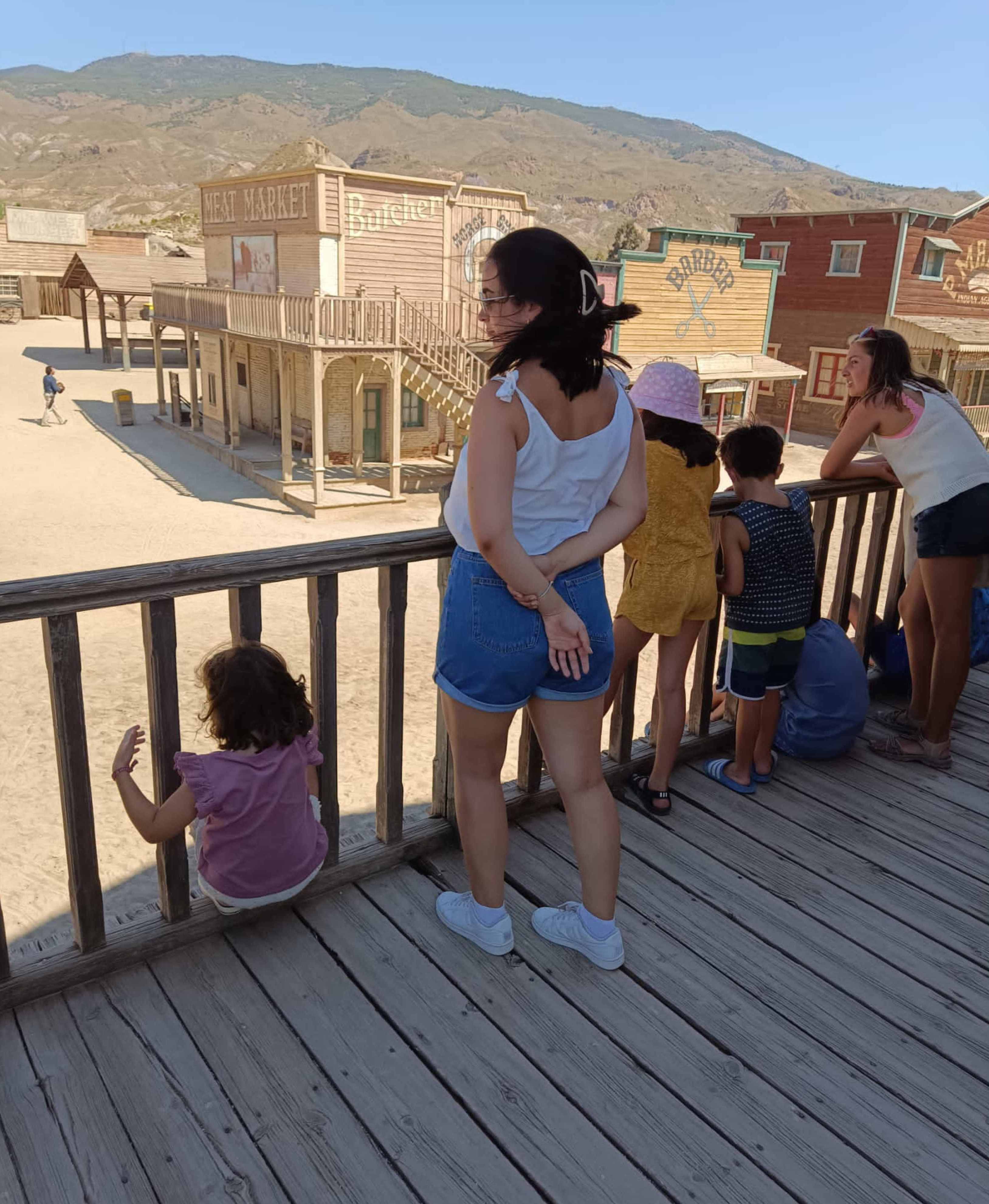 Did you know that the Taberna Desert is the only one in Europe? Countries like Italy or Romania can have some arid areas. Still, none of them compare to or resemble the environment of a real desert like the Tabernas Desert, which is part of the Cabo de Gata-Nijar Natural Park.
Many Spaghetti Western movies were filmed in the Taberna Desert to resemble the American Southwest.
If you want to see a real Spaghetti Western film set, you most visit the Oasis Mini Hollywood park to experience some incredible cowboy shows.
5. Refugios de la Guerra Civil 
Although it's a sad reflection of Spain's history, the underground refuges of the Spanish Civil War are usually fully booked. Therefore, if you want to take a tour, you must purchase your tickets ahead of time.
Find your tickets here!
6. House of Cinema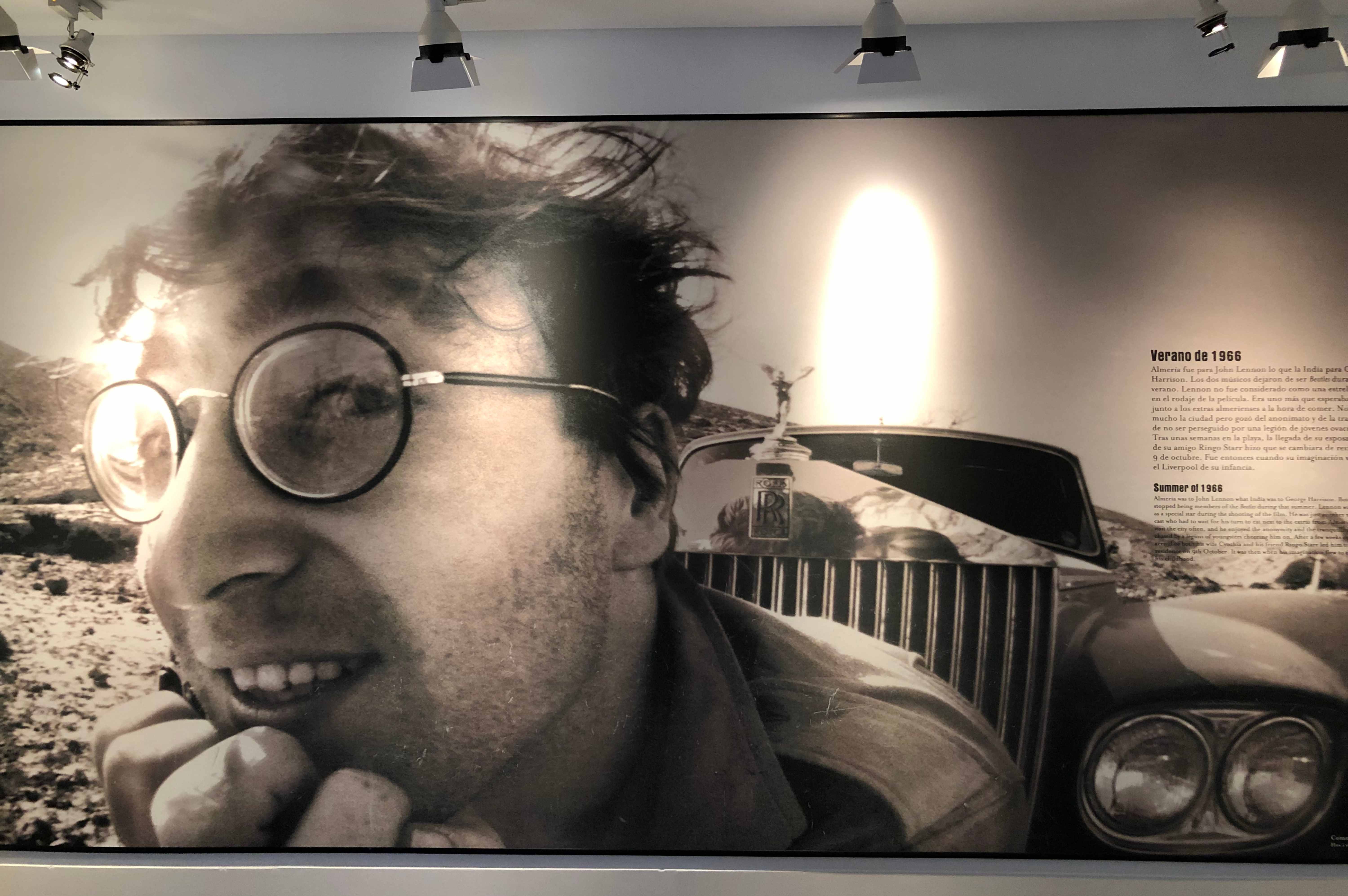 Fun fact: Did you know that John Lennon lived in Almeria back in 1966? It's true! He spent several months in southern Spain while filming the movie "How I Won the War." During his stay in Almeria, he even wrote the famous song "Strawberry Fields."
If you're looking for a fun activity, you might want to check out the House of Cinema. It's a great place to explore movies that were filmed in Almeria and have some fun!
How to Get to Almería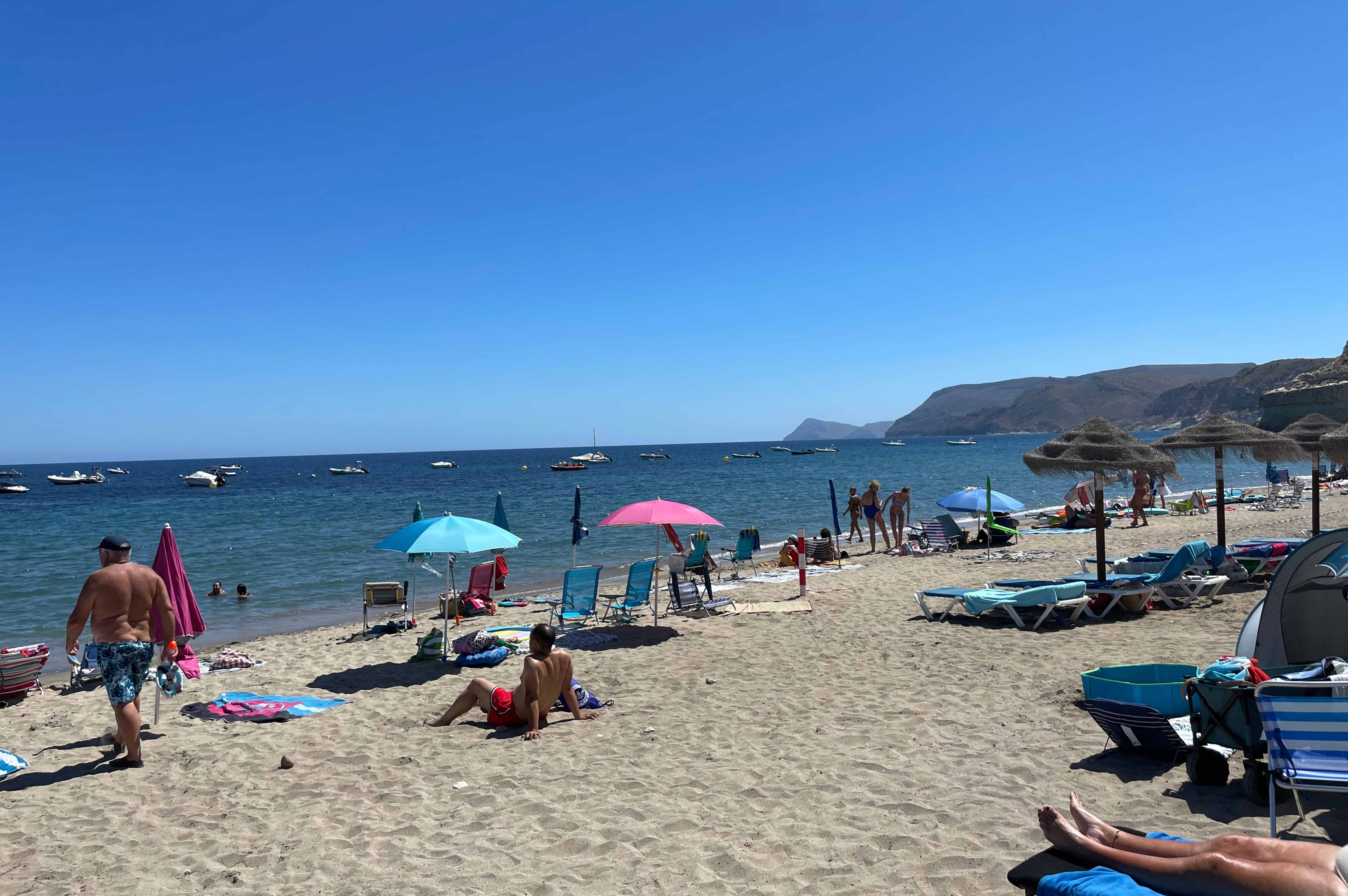 You can get to Almería from Madrid or Barcelona in multiple ways. If you travel from the Spanish capital, you can take a train, or an airplane and rent a car.
If you get your train tickets from Madrid to Almeria in low season, the round trip can be as cheap as fifty euros. The same goes for the plane tickets; if you get them ahead of time, the round trip could cost you 55 euros, but if you don't, especially during high season, the prices can go as high as 200 euros round trip.
The prices are very similar if you take a train or airplane from Barcelona, the main difference would be the amount of traveling time. A train MAD-LEI is 6 hours, while a train BCN-LEI is 17 hours!
You can compare and get your tickets from platforms sucha as:
Omio
Training
Renfe
Skyscanner
Iberia
Vueling
Best Time to Visit Almería
| Season | Max Temperature (°C) | Max Temperature (°F) | Min Temperature (°C) | Min Temperature (°F) |
| --- | --- | --- | --- | --- |
| Winter | 16°C / 60.8°F | 61°F | 8°C / 46.4°F | 46°F |
| Spring | 20°C / 68°F | 68°F | 11°C / 51.8°F | 51.8°F |
| Summer | 30°C / 86°F | 86°F | 21°C / 69.8°F | 69.8°F |
| Autumn | 24°C / 75.2°F | 75.2°F | 15°C / 59°F | 59°F |
---
Almería is a great place to visit all year round, but the best months to go are June and September. The weather is perfect during these months, with a comfortable balance between warmth during the day and coolness at night.
In June, the weather is pleasant, making it easy to explore the city. June offers longer daylight hours, perfect for outdoor activities. The evenings are lovely for leisurely strolls by the waterfront or historic center.
September marks the start of autumn, but the summer spirit lingers, making it a great time for beachgoers and outdoor enthusiasts. 
September also has fewer tourists compared to July or August, so you can enjoy the city's attractions, historic treasures, and culinary delights with more tranquility. It's an opportunity to immerse yourself in the local culture!
I visited Almería during the first week of July 2022; it was scorching hot but not overcrowded. I had the luck to travel with two dear local friends, who took me by car everywhere, and I could avoid public transport to the beaches. 
During the day, the heat was very strong, so a lot of solar protection and shadow is recommended, and during the evening, it would cool enough to make it comfortable. We woul go to the beach from 4 pm tp 7-8 pm to avoid damagin UV rays.
Where to Stay in Almería
Luxury
For those seeking a lavish experience, Almería presents a selection of upscale hotels that redefine luxury; most of the top hotels are located very close to the beach in the area of Cabo de Gata. 
Here, I present two hotels: AIRE in the city's center with stunning views of the Alcazaba and BARCELO Cabo de Gata with front seats to the paradisiac beach experience. 
AIRE Hotel & Ancient Baths is located in the center of Almeria's old town, and it will cost you around 90 euros per night. The food, the rooms, the rooftop, the pool, and the views will enchant you.
BARCELO Cabo de Gata is a stunning hotel in front of the beach that will cost you around 90-100 euros per night. With amazing views and plenty of facilities, there is no way you won't enjoy your time in Almeria.
Standard
HO Paseo de Almeria is another hotel located in the city center with a cute rooftop for night drinks and relaxation.
For around 80 euros the night, you have a spacious room with a kitchen for slow morning breakfast.
Budget
For 40 euros per night, Hotel Sevilla in Almeria will provide a comfortable roof during your visit. Their delicious breakfast is available for only 7 euros, and all of their rooms include free cancellation. Additionally, you will be located in the center of the city!
Where to Eat in Almería
Coffee & Brunch
Bar de Época de Maricastañas
Avenida Cabo de Gata , esq, C. Palos de la Frontera

Lunch
Patio de las Vecinas
 C. Arco, 3
Dinner
La Esquinica
 C. Rbla. Obispo Orberá, 20
How Much Does It Cost to Visit Almería?
Request information: hello@sensationalspain.com
How much money you need for your trip to Almeriía depends on many things, such as how many people are traveling, the type of activities you want to do, accommodation, the duration of your stay, restaurants, and most importantly, the time of year.
To help you more accurately, please don't hesitate to reach out to us via email! Share the details of your desired trip to Spain, and we will provide you with a price estimate and offer local advice for all your travel needs.
Choose your Spain Itinerary
1 Day in Spain? 10 Best Things to Do in 24 Hours!
2 Days in Spain: Trip Ideas & Itineraries to Enjoy Your 48h
3 Days in Spain: What's the Best Itinerary for Your Trip?
4 Days in Spain - Best Travel Itineraries for Short Trips
5 Days in Spain: Itineraries to See (almost) Everything!
6 Days in Spain: The 3 Best Itineraries for Your Trip!
7 Days in Spain: The 3 Best Itineraries for Your Trip!
Map of Almeria
---
Now you have all the essential information yuo need before traveling to Almería! It is a beautiful city that shows Moorish influences and strong agricultural development. Almería is a place in Spain where you can still explore without crazy crowds.
If you have any doubts, let us know! We are happy to help you with your trip (:
Happy travels!