15 Top Beaches in Barcelona & Costa Brava. With videos!
March 20, 2023
Updated:

April 5, 2023
Published: March 20, 2023
Barcelona's greatest advantage over other cities in Spain is its beautiful beaches.
This cosmopolitan city that hosts millions of tourists a year has a privileged seat in front of the sea, making visitors fall in love with it each time they visit.
One of our colleagues from Sensational Spain traveled along the southern coast of Spain. In this article you'll find the best beaches around Barcelona you can't miss.
I have included our beach walks videos from every place, so you can look at the beaches as if you were there and decide which ones best suit your next vacation.
Let me introduce you to the top beaches on the southern coast of Barcelona!
---
1. Platja de Llevant
📍Beach Platja de Llevant, s/n · 43840 Salou · Tarragona / Costa Daurada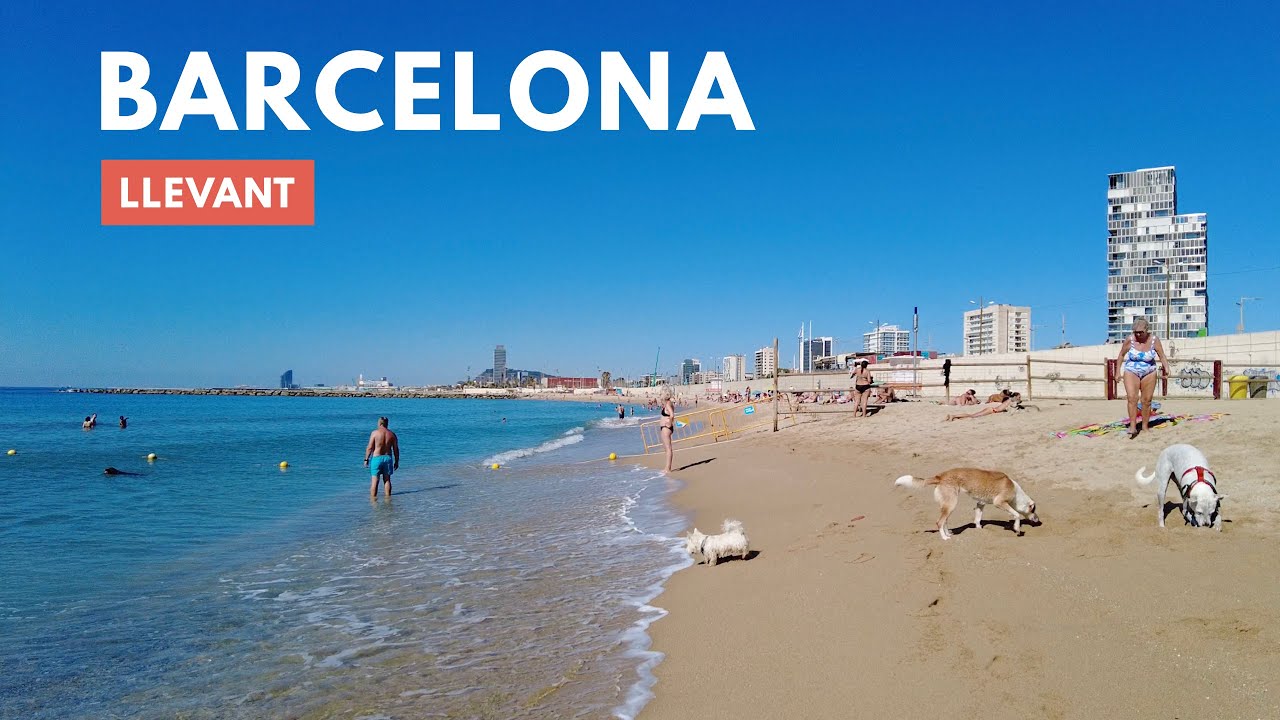 Llevant beach is one of the city's newest beaches. It was inaugurated in 2006 and is a popular spot for travelers and locals looking to relax, take a dip, or chill out in the sun. 
As you can see in the video, it is a fine golden sandy beach, and it has over 1km long. 
It has many practical facilities, such as umbrellas, sun loungers, wifi connection, lifeguards, adapted showers, toilets, car parking, and a spot to leave your bicycles. 
This beach also has a volleyball area near the breakwater that separates it from the Nova Mar Bella beach.
🕒 Opening time: All Day
🚏 How to Get there? 
You can get to Llevant Beach by car along the Salou to Tarragona coastal road. Or, by the intercity bus taking the Salou-Tarragona line, the stop will be 500 meters away. Also, you can go by train, taking it from the Salou station and the Salou-Tarragona line.
---
2. Platja del Bogatell
📍 Passeig Marítim del Bogatell, 80, 08005, Barcelona, Spain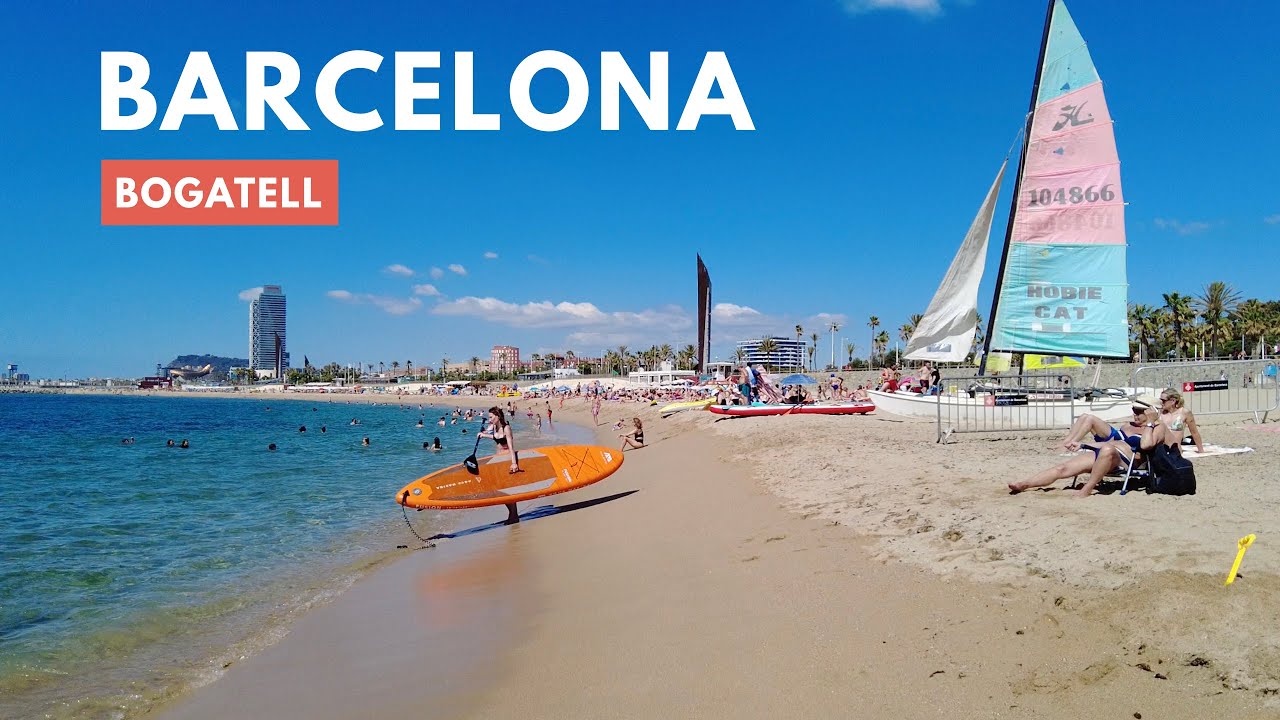 Bogatell Beach is another famous and well-known beach among tourists and residents. They offer many services such as lifeguards, wifi service, a children's games area, local Police, a beach information point, adapted showers, and adapted public toilets, making it the perfect place to visit with kids!
And, of course, it is equipped with sun loungers, beach umbrellas, ice cream kiosks, bicycle parking areas, and restaurants to grab a bite or a drink. 
🕒 Opening time: All Day
🚏 How to Get there? 
By Metro: L4-Llacuna
By Bus: 26, H16, V27
---
3. Platja de Sant Sebastià
📍 Passeig Marítim de la Barceloneta, 2, 08003. Barcelona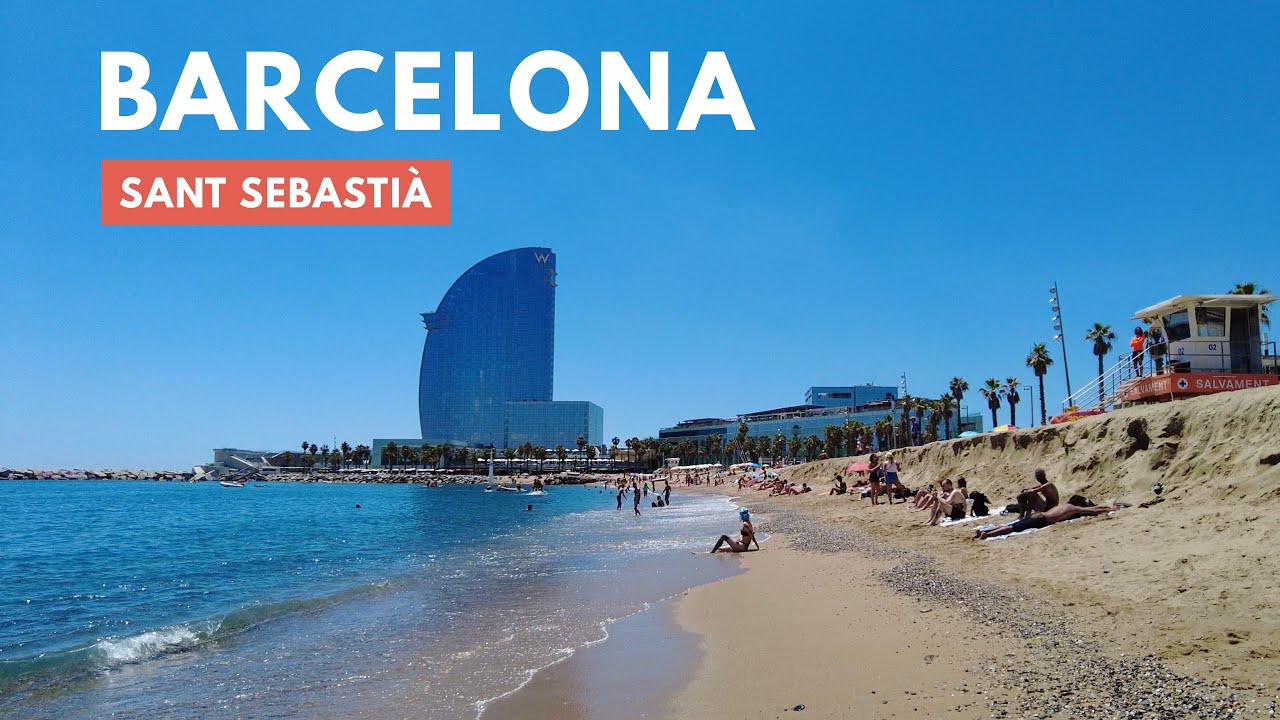 This is a lovely city beach that locals go to. There are plenty of people selling drinks, umbrellas, etc.
It's pretty clean and offers good facilities. You should expect plenty of people selling drinks, umbrellas, and everything you need. 
It features reserved parking areas, adapted toilets, wooden footbridges that reach the water as close as possible and adapted showers with chairs. Also, they offer deckchairs and parasol hire. 
There are also many bars, wifi, and places to eat.
🕒 Opening time: All Day
🚏 How to Get there? 
Also, this beach is very easy to access. You must take the yellow line, L4, in la Barceloneta, turn right when leaving the metro, and walk straight along Passeig de Joan de Borbo for about 10 minutes. You will see the marina area on your right as you walk, and there you go!
If not, take a taxi from the city center to the beach for approximately 7-12 Euros.
---
4. Platja de la Barceloneta
📍 Passeig Marítim de la Barceloneta, 16, 08003. Barcelona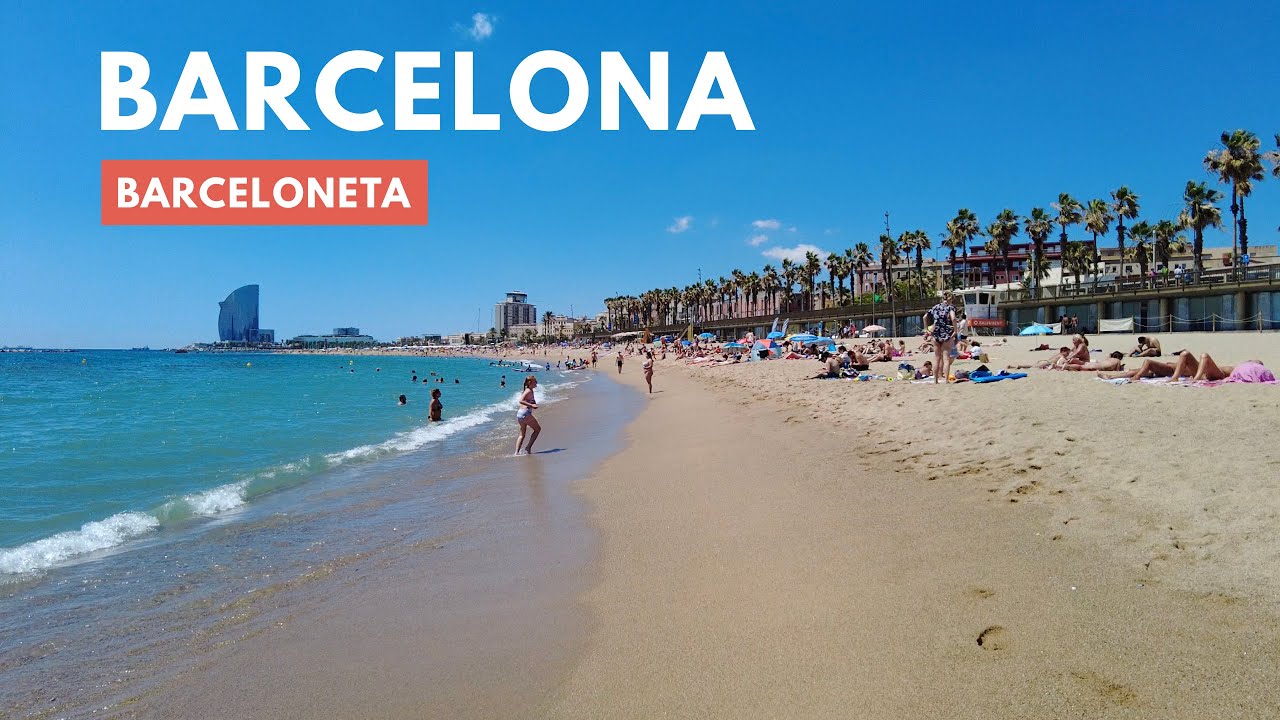 This iconic beach brings life to the Barceloneta neighborhood. It is the reason why this beautiful city has a Mediterranean soul. The beach is in Barcelona's most maritime district, where locals eat fish dishes, seafood, and tapas.
You can't miss visiting this beach as it is one of my favorite spots in the city and among the most important landmarks in Barcelona. The sand is grainy and dry, so it doesn't stick to you. There's a beautiful sight and plenty of cafes and restaurants.
Some available services are an open gym, shower options, lifeguard, information point, luggage storage, adapted showers, public toilets, children's play area, sun loungers, parasols, drinks and ice cream kiosks, bicycle parking, restaurants, and wifi.
Moreover, there is a gym area and a place to play beach volleyball, ta-ka-ta, and ping-pong.
🕒 Opening time:
All Day. Lifeguard services open from: 10:30 am to 18.30 pm
People will generally visit this beach from around 11 am - 12 pm. So I recommend going around 8 am - 9 am. It will be quiet and clean then, but do not anticipate before the hour since you can see many drunk people coming out from clubs!
🚏 How to Get there? 
Bus 45, 59, D20, N8, N28 (Platja de la Barceloneta Stop)
Buses N8, N28 (Platja de la Barceloneta Stop)
Buses 45, 59, D20, N8, N28 (Pg Mariti Stop)
---
5. Platja l'Estanyol
📍Passeig Marítim, 21, 08870 Sitges, Barcelona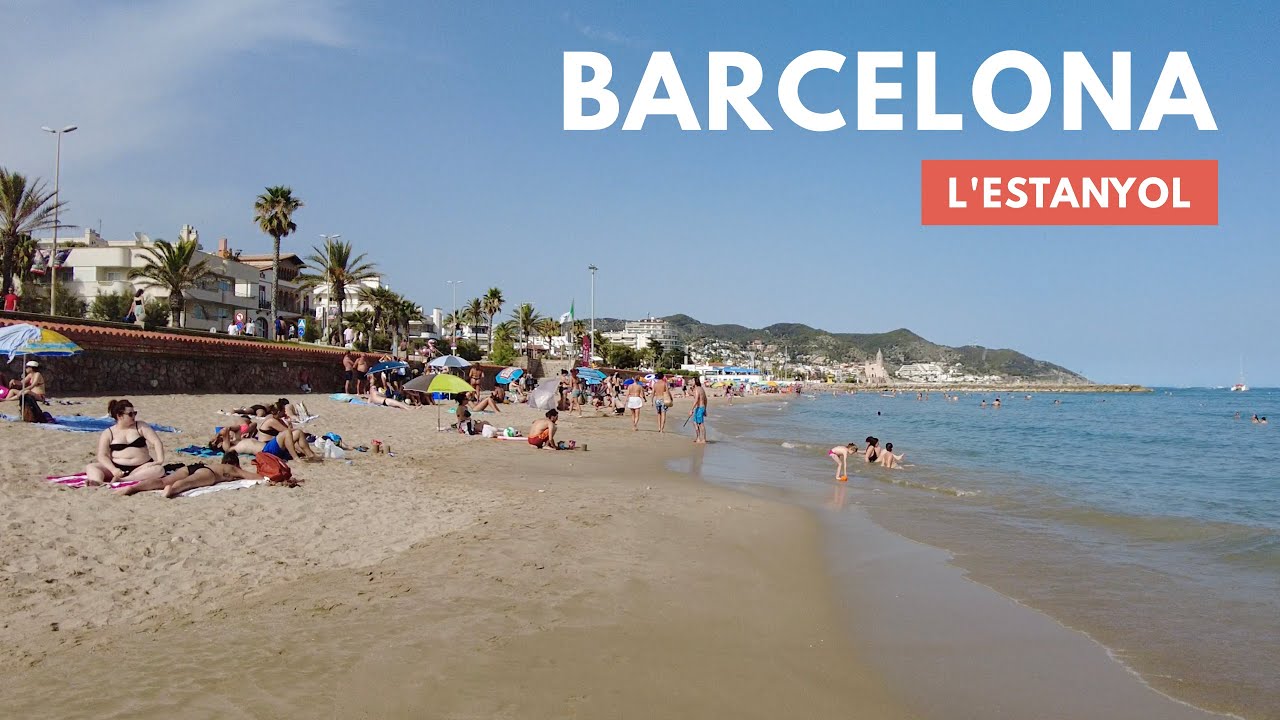 The famous Estanyol beach is one of the longest beaches in Sitges. 
It is a golden sand beach with very calm waters ideal for fishing. Also, it has lifeguards so you can enjoy it safely.
It is located in the center of town and has many services, such as beach bars, hammocks, awnings, and umbrellas. 
I suggest you get there early since umbrellas were already full by 11 am. Also, you can book or reserve for the following day. The average price is around €10 per umbrella and €10 for a lounger.
At the same time, during the summer months, you can enjoy various water activities such as water skating and inflatables. Perfect for kids!
🕒 Opening time: All Day.
🚏 How to Get there?
It is very easy to access by car since the road is well-signposted.
Highway: C-32, C-31, A-16, C-246
Public Transport: R2S (Barcelona Sants - Sitges). Then walk for 15 minutes to Passeig de la Ribera. 
---
6. Platja de la Nova Mar Bella
📍 Passeig Marítim de la Mar Bella, 128 08005. Barcelona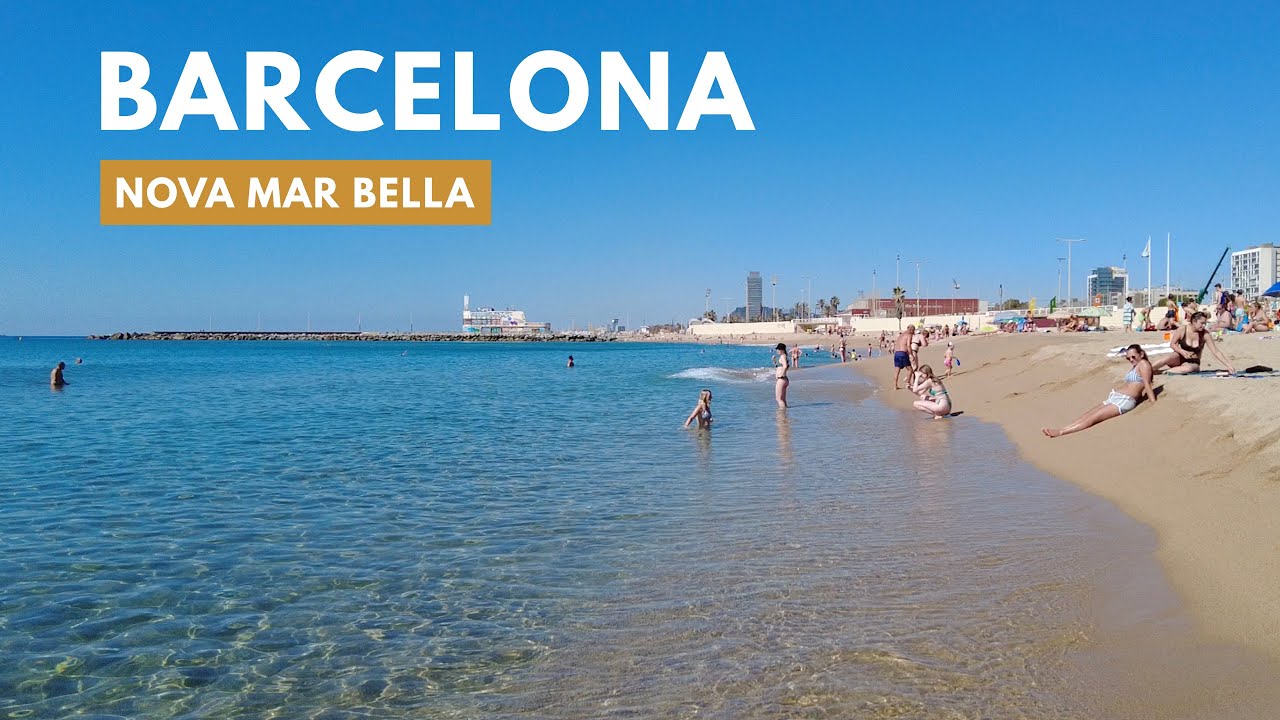 You can take a walk around this beach whenever you feel like it. The sea is much cleaner than in the other parts of Barceloneta, a wide and soothing place. You will find people surfing here.
It has all kinds of services, including two beach bars and a library service in summer! There are also well-kept showers with toilets and the possibility of renting deck chairs and umbrellas.
You should also expect to see occasional vendors and people offering you a massage, but they are zero annoying!
The beach is noted for providing special services for people with reduced mobility. It offers ramps to reach the water, a shower with a chair, an adapted changing room, a lift, and a chair for bathing during summer.
🕒 Opening time: All Day.
🚏 How to Get there?
🚇 By Metro: L4
🚉 By Train: R1R11R2R2N
🚍By Bus: H16V29
---
7. Platja del Garraf 
📍08871 Garraf, Barcelona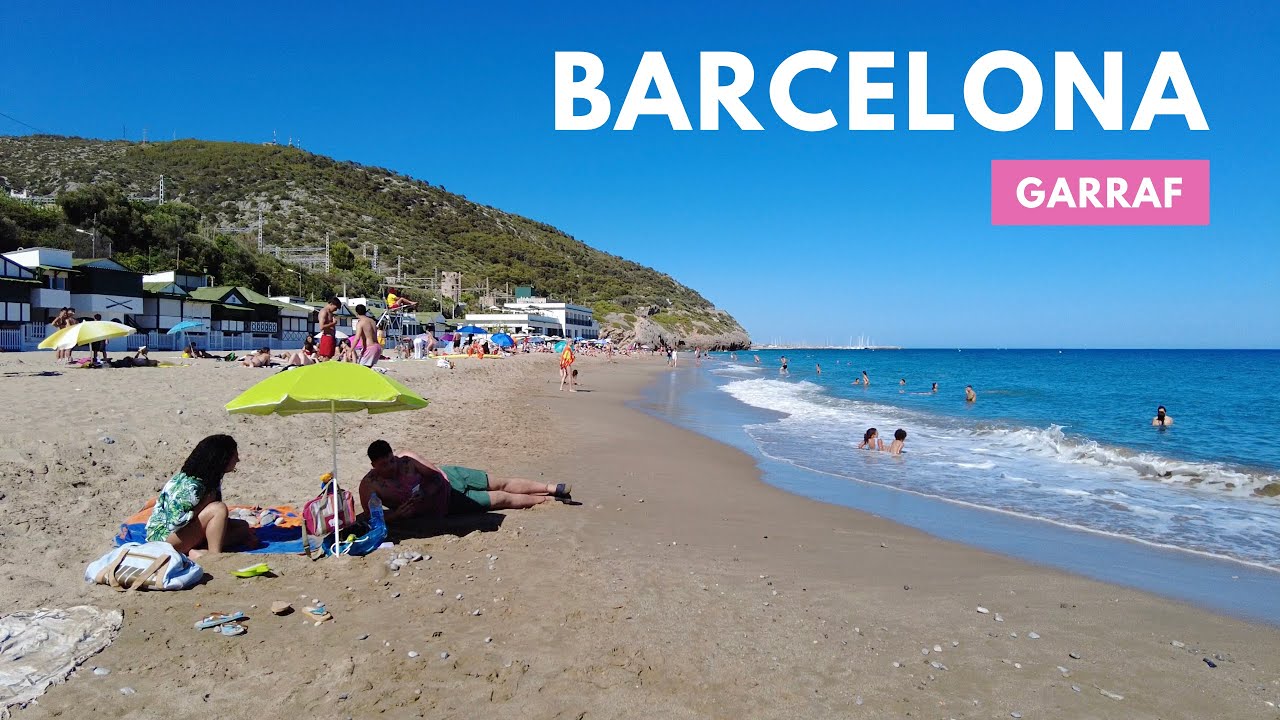 Platja del Garraf is a small, peaceful, quiet beach during the weekdays, although it can get very crowded during the high season in summer.
It is the perfect place to relax and enjoy the sea's sound and breeze.
You can access the beach for free. It offers loungers, umbrellas, and beach restaurants, among other activities you can participate in besides swimming and sunbathing.
You can rent an umbrella for 6€ a day. And, eat food at the chiringuito del Garraf! It's amazing.
It has always seemed a very charming beach to Jimena and I, since it has little houses and picturesque "casetas."
I recommend this beach on a weekday in mid-May for chilling out. But, you should consider something other than this beach if swimming is the main activity you want to do since half of the beach is full of stones.
However, there's a pleasant and lovely atmosphere to enjoy a nice beach day in the town of Garraf.
🕒 Opening time: All Day.
🚏 How to Get there?
🚉 By Train: R2, R2S
🚍 By Bus: L94
---
8. Platja Del Prat
📍Pl. Vila, 1, 08820 El Prat de Llobregat Barcelona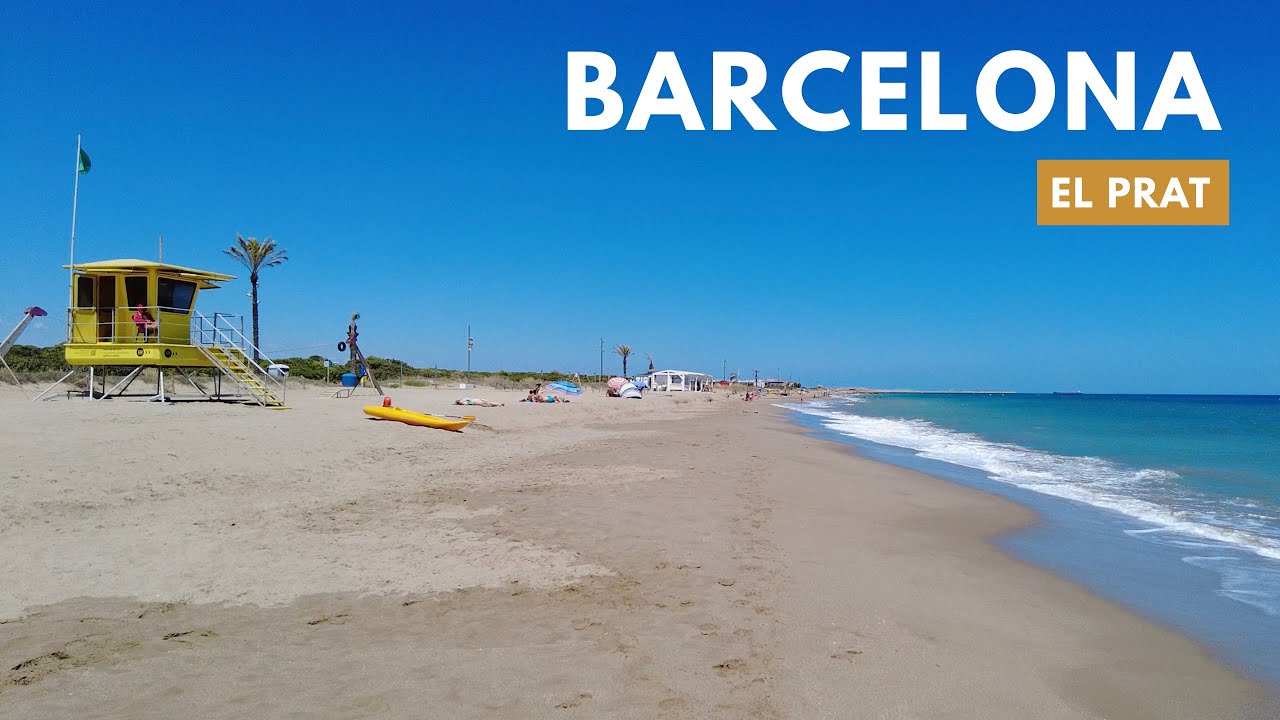 Platja El Prat is the ideal beach for going alone and detoxing on a weekday. Also, it is little known by tourists, so it's perfect for having a beautiful walk or cycle ride from the city center. 
It is a virgin beach since it doesn't have buildings, and plenty of protected natural spaces surround it.
The beach stretches on the sunny coast and has basic amenities. There's public free entry, lifeguards, and recreational areas.
It is perfect for visiting during the summer or on a weekday at the end of August. You'll be able to enjoy fantastic views.
If you'd like to eat paella and listen to live music, then you should visit the Calamar chiringuito. Also, it has a large parking lot close and costs 2€ per hour. I recommend you bring your food because it only has a few beach bars nearby.
🕒 Opening time: All Day.
🚏 How to Get there?
The easiest way to get to the beach is by car or bike, via B-10 from Barcelona.
You can also get there by bus. Take the PR3 line, which has several stops.
From the Airport, take the Tmb, L9s line. It costs 3€ every 10 minutes.
You can also call a taxi to take you directly to the beach. However, keep in mind that it can be more expensive the further away you're saying.
---
9. Platja de Castelldefels
📍Playa Ribera de San Pedro, 1-9 / 08860 Castelldefels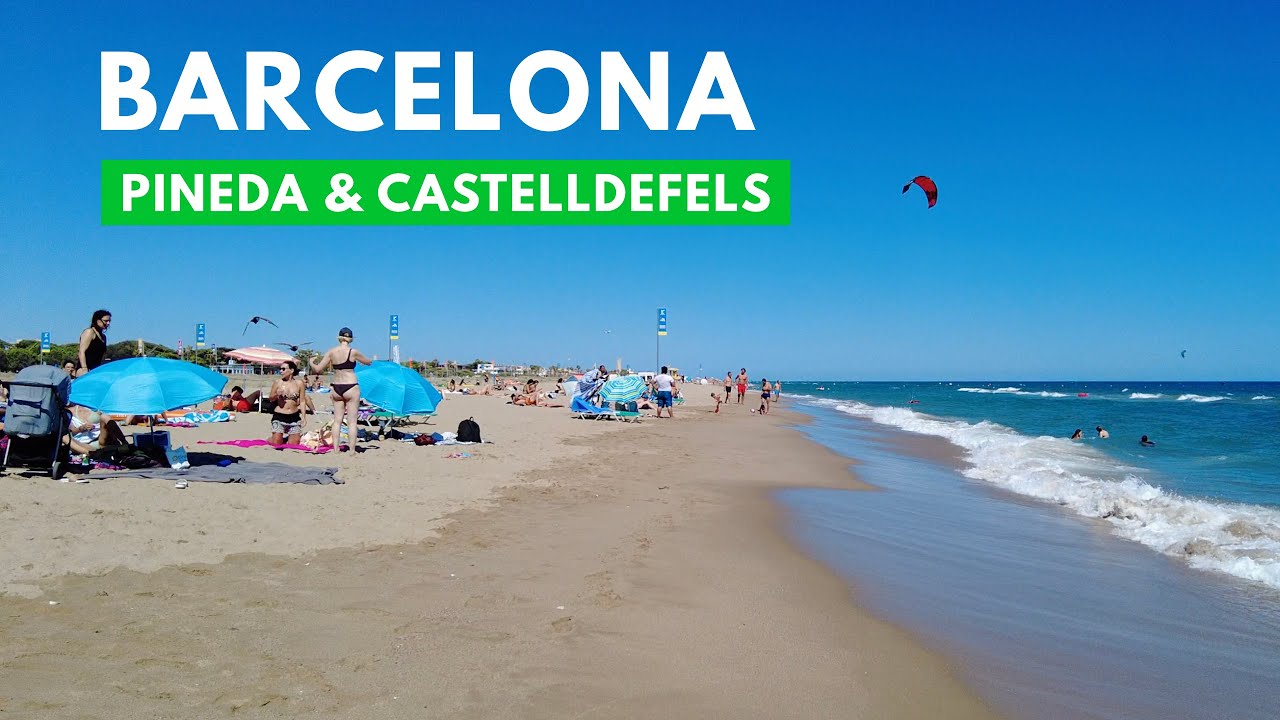 Platja de Castelldefels is a lovely peaceful beach, not overcrowded, and most of the time I've been, it is always clean.
Here you will find everything, children's games, adapted access walkways, bathing area marking, korfball, soccer goals, benches, toilets, showers, volleyball nets, and much more.
You'll see a bar at the entrance, so you can sit down and grab something to eat. However, there are a couple of beach bars with good drinks, food at convenient prices, and access to sun lounges!
To see other beach clubs in Barcelona, read the following article:
Also, this beach has a vibrant nightlife in the Chiringuito beach bars that open until late, providing live music and disco's!
It offers free parking and is very close to the Airport. So, if you're nearby and want to say goodbye to Barcelona one last time, this beach can be the "cherry on top."
🕒 Opening time: All Day.
🚏 How to Get there?
🚉 By Train: R2S
🚍 By Bus: L94, L97
---
10. Platja de la Marina d'Aiguadolç
📍La Marina Bloque 5, 08870 Sitges, Spain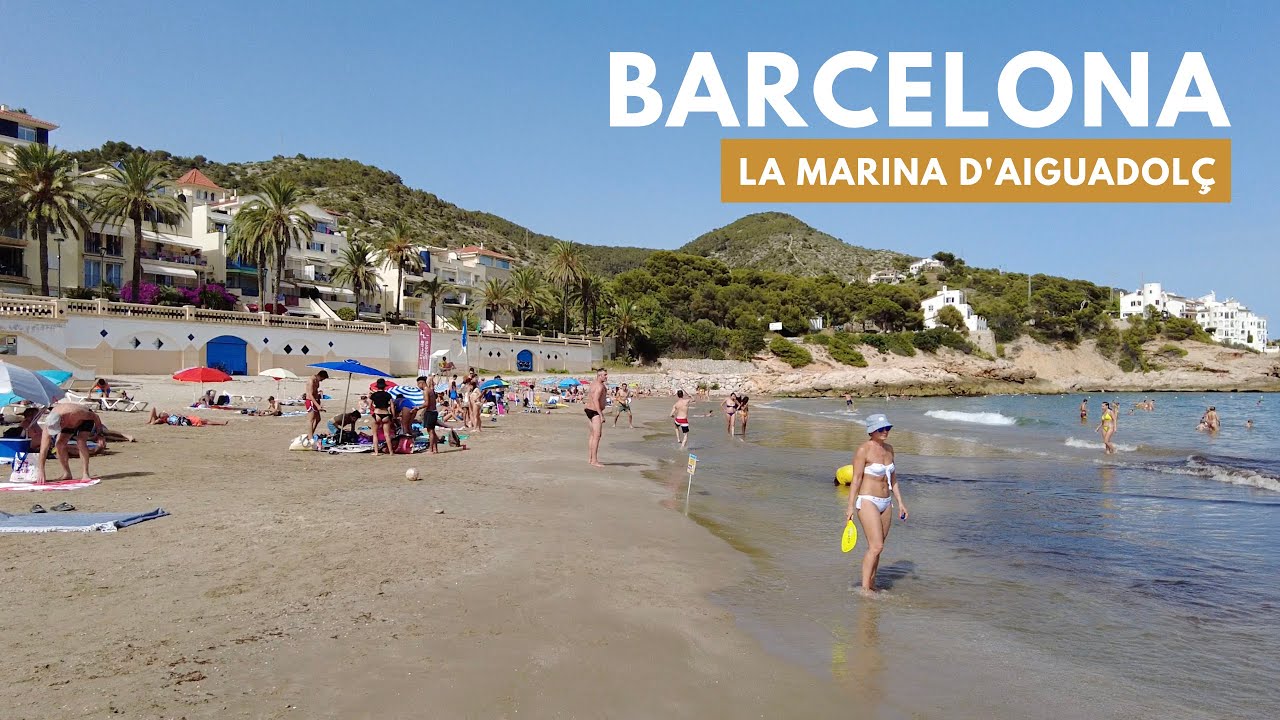 This quiet and family-friendly beach is accessible on foot from the city center, with many cafes and bars nearby.
It characterizes by having clean water and sand with a nice and calm atmosphere.
I recommend this beach for travelers looking to escape the crowds that invade more well-known beaches on summer weekends.
Also, it's an excellent place for kids as you can keep an eye out because it's so small and protected by the bay.
It has beach chairs, available for 6€, a bathroom and a place to buy snacks and drinks, and four-seater pedalos with a slide on the back are fun and cost €15 per hour, along with other boats and paddle boards to paddle.
🕒 Opening time: All Day.
🚏 How to Get there?
You can get to this beach from Barcelona by taking the subway and train. L9S, R2, R2S.
Or by car taking via C-32.
---
11. Platja Sant Miquel 
📍Passeig Marítim de la Barceloneta 10, 08003 Barcelona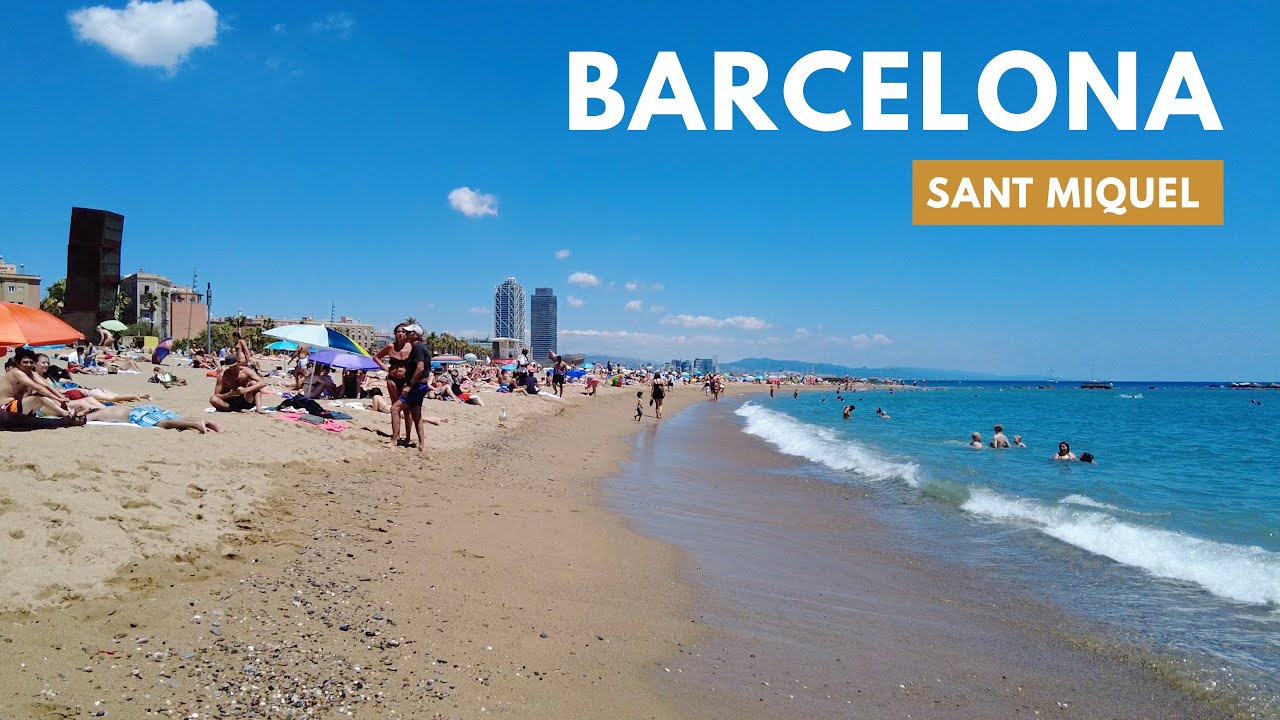 The beautiful beach of Sant Miquel is between the well-known beaches of Sant Sebastià and Barceloneta.
Despite its small size, this central and lively beach is one of the busiest spots on the city's coastline.
The beach is very easy to access from downtown and has plenty of services.
It offers showers, public toilets, fountains, public telephones, lifeguard towers and chairs, motorcycle rental, beach volleyball, and free Wifi.
Also, you will find an umbrella rental, sun lounger rental, and several restaurants to stop at for lunch or a drink.
🕒 Opening time: All Day
🚏 How to Get there? 
🚇 By Metro: L4 🚉 By Train: R15, R2S, R4, S1 🚍 By Bus: 47, 59, D20, V15, V19 🚘 By car: via Via Laietana and Pg. de Joan de Borbó
---
12. Platja dels Pescadors
📍Passeig Marítim, 08911 Badalona, Barcelona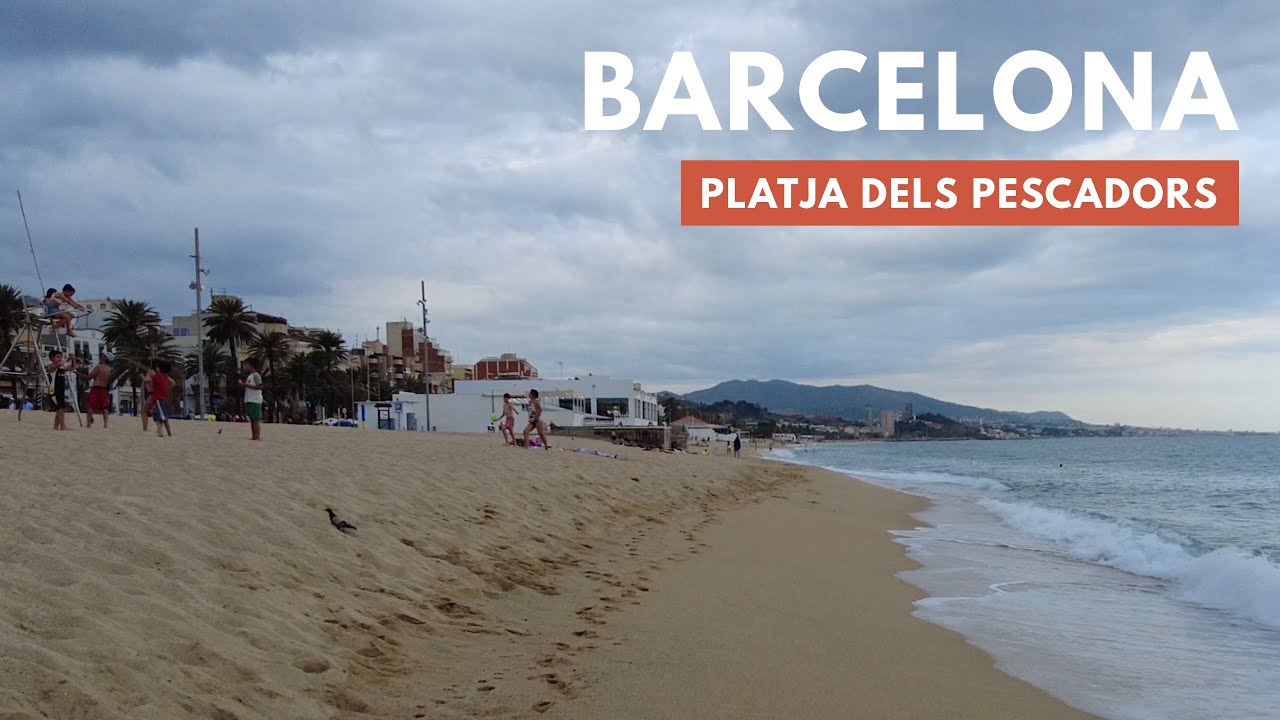 This beach is where many of Badalona's most emblematic places are, like the Club Nàutic Bétulo, the former Titus nightclub, and the Club Natació Badalona.
Platja dels Pescadors has a cozy family atmosphere. There is even a play area for children and free services for the entire family to enjoy during summer, like the Baby Centre and the Mini Beach Club.
Overall, it is a nice beach, very clean and calm, with lovely places to drink and listen to live music!
🕒 Opening time: All Day
🚏 How to Get there? 
🚇 By Metro: L2 🚉 By Train: R1, RG1 🚍 By Bus: B25, B3, M26, M28 🚘 By Car: Via Gran Via de les Corts Catalanes and C-31. Parking: in Calles Eduard Maristany, La Plana and Marina.
---
13. Platja dels Pins
📍Playa dels Pins, s/n. 08397 Pineda de Mar. Barcelona / Costa Barcelona.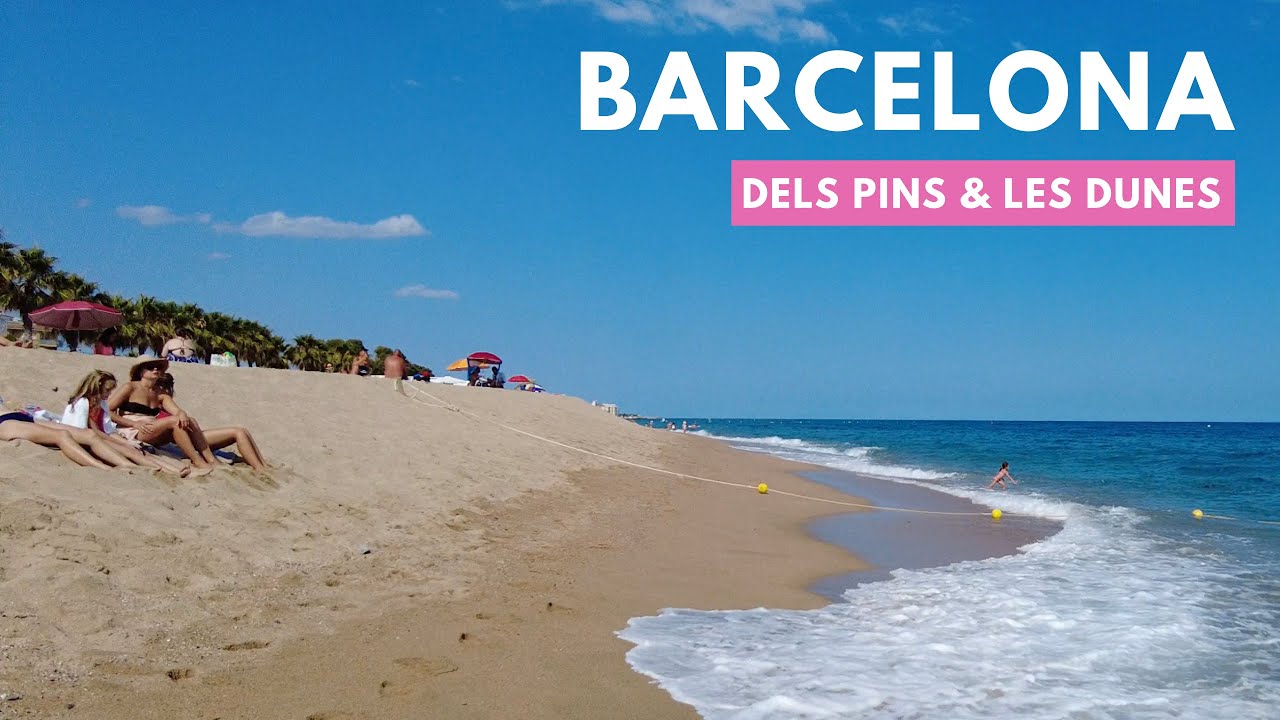 We had such an incredible experience at this beach. It is extensive, with coarse sand, and the bottom of the beach is loose and rocky, so it would be best if you had water shoes.
It is a straight coastline with turquoise water and golden sand.
The only downside is that there are no showers and few options for grabbing food or snacks. Still, if you take a 5-minute walk, you'll find some cafes and restaurants and enough parking spaces nearby.
On the bright side are sections with paid umbrellas and numerous picnic areas to enjoy a pleasant time with friends and family!
🕒 Opening time: 10:00 am to 7:00 pm.
🚏 How to Get there? 
🚉 By Train: R1 🚍 By Bus: Gran Via de les Corts Catalanes - Marina to Av. del Mar - Torrentó de Can Gelat 🚘 By Car: Via C-32
---
14. Platja del Somorrostro
📍Passeig Marítim de la Barceloneta 32, 08003 Barcelona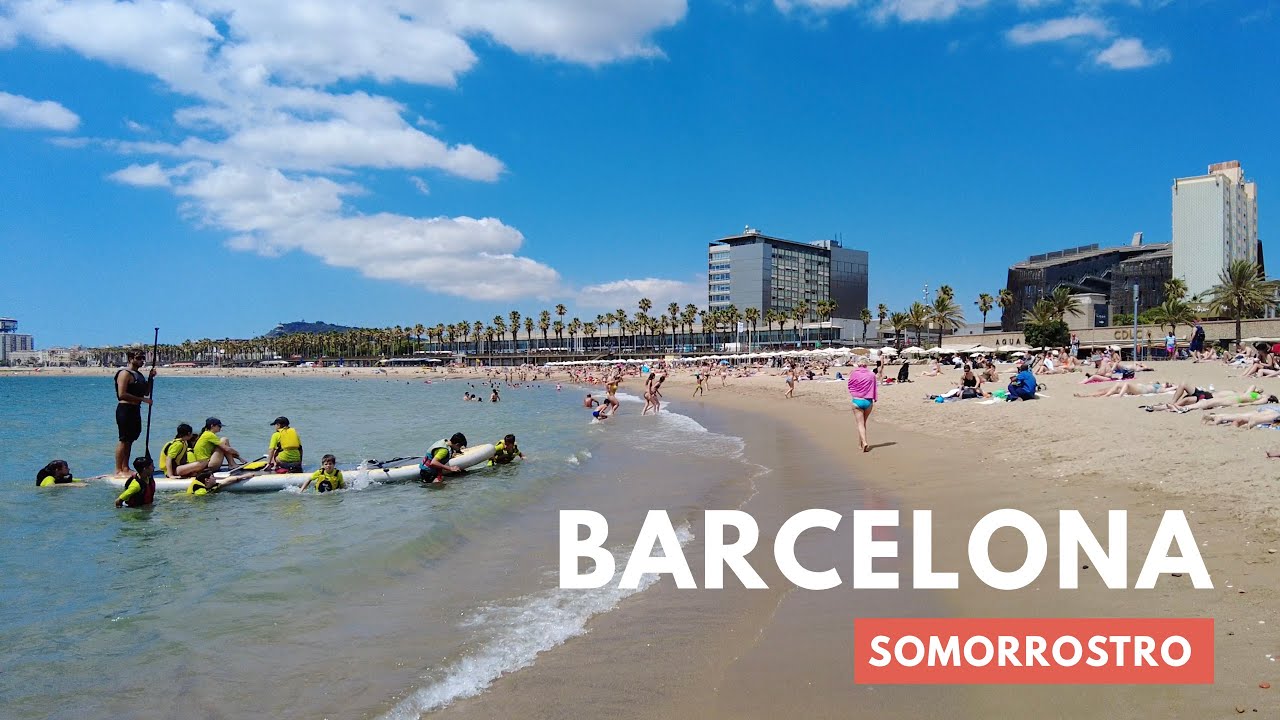 As it is found next to the Barceloneta, the Somorrostro beach is centrally located and easily accessible by public transport.
Besides its incredible beauty, its location has made it one of the favorite and most visited beaches among locals and tourists!
Somorrostro offers public showers and toilets, a children's play area, a gymnastics area, and volleyball courts.
Also, all the famous nightclubs can be found in this area, like Pacha and Opium. For more information regarding nightclubs in Barcelona, visit the following article:
I do not recommend this beach for a beach day but rather for a nice nap in the sand after a long day of walking and right after eating good food.
This is the perfect place to chill since you'll always find a spot to lie down and grab some sun!
🕒 Opening time: All Day
🚏 How to Get there? 
🚇 By Metro: Barceloneta and Ciutadella L4 🚍 By bus: Line 10, 14, 16, 17, 36, 39, 40, 40, 45, 51, 57, 59, and 64. 🚴‍♂️ By bike: bike lanes on the seafront and many Bicing stations in Paseo Marítimo 11, Paseo Marítimo 31 B, Paseo Marítimo 23, and Avenida Litoral 22.
---
15. Platja Gavà
📍Passeig Marítim, s/n. 08850 Gavà. Gavà, Barcelona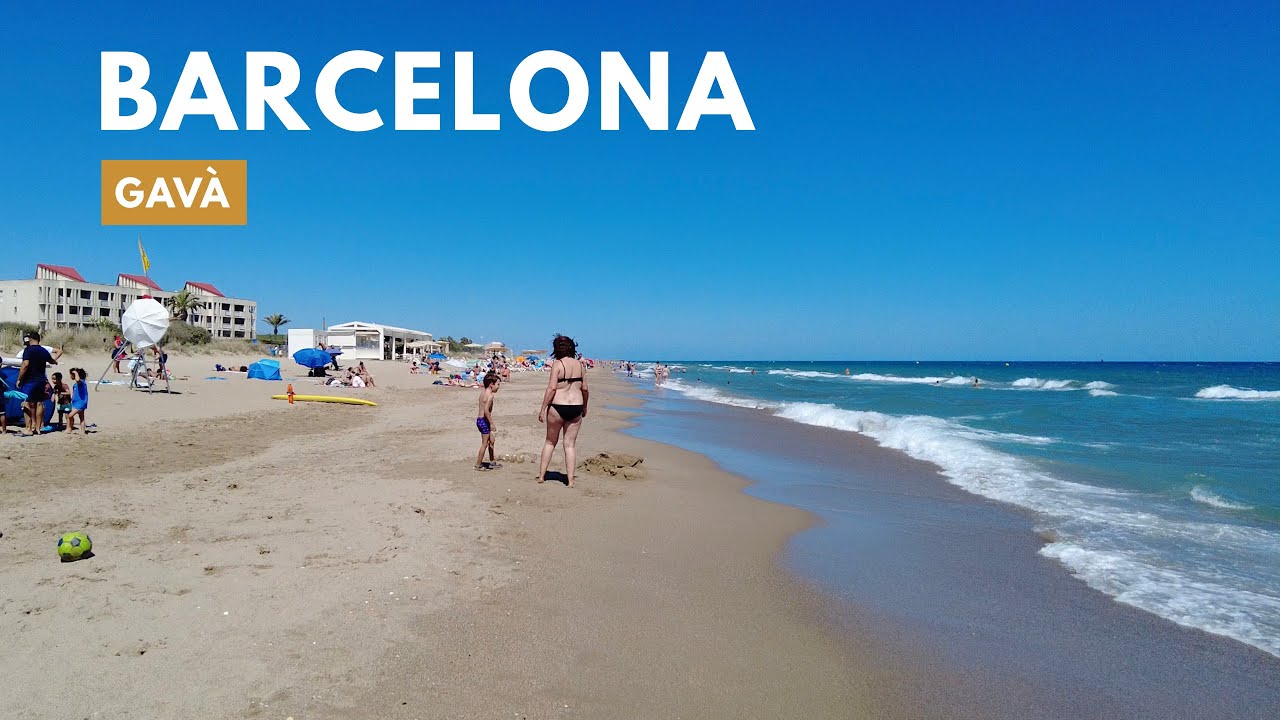 This is a broad, clean beach with good sand to enjoy long walks along the seafront.
Platja de Gavà is between the Llobregat delta and the village of Castelldefels. There is no public transport and few houses in the area, so this beach is tranquil.
The maritime area of Gavà offers visitors all kinds of services and facilities: lifeguards, benches, walkways, volleyball nets, showers and footbaths, football goals, children's playgrounds, and, in summer, beach bars on the beach.
Moreover, the beach has some restaurants nearby. And it has the advantage that you can park your car free of charge, although you must get there early before it runs out of spots!
🕒 Opening time: All Day.
🚏 How to Get there? 
🚍 By Bus: L94, L95, L80, GA1
🚘 By Car: via B-10 and C-31
---
See? Deciding which of these beautiful beaches is my favorite is tough. Each one has a unique charm you'll only understand if you visit them.
I hope this article has enlightened you on which you should pick according to your needs and wants.
Remember to comment on your experience, tips, and recommendations for any of these beaches below!👇🏻 Even more, tell us which one of them you are adding to your bucket list this summer season!