8 Best Cafes in Barcelona for a Unique Coffee Experience
March 20, 2023
Updated:

March 23, 2023
Published: March 20, 2023
I must admit that the first thing on my to-do list when I am organizing a trip is looking for specialty coffee shops and brunch places.
I have visited Barcelona three times in the past years and had the opportunity to taste and re-taste amazing coffee in the Catalan capital.
So, if you are traveling to Barcelona soon, and you like great coffee and good food, you need to save this article and save yourself some searching time during your trip.
This article is my top 8 best cafes and brunch places in Barcelona, I know there are plenty more, but we will leave that for a second edition!
Nomad Coffee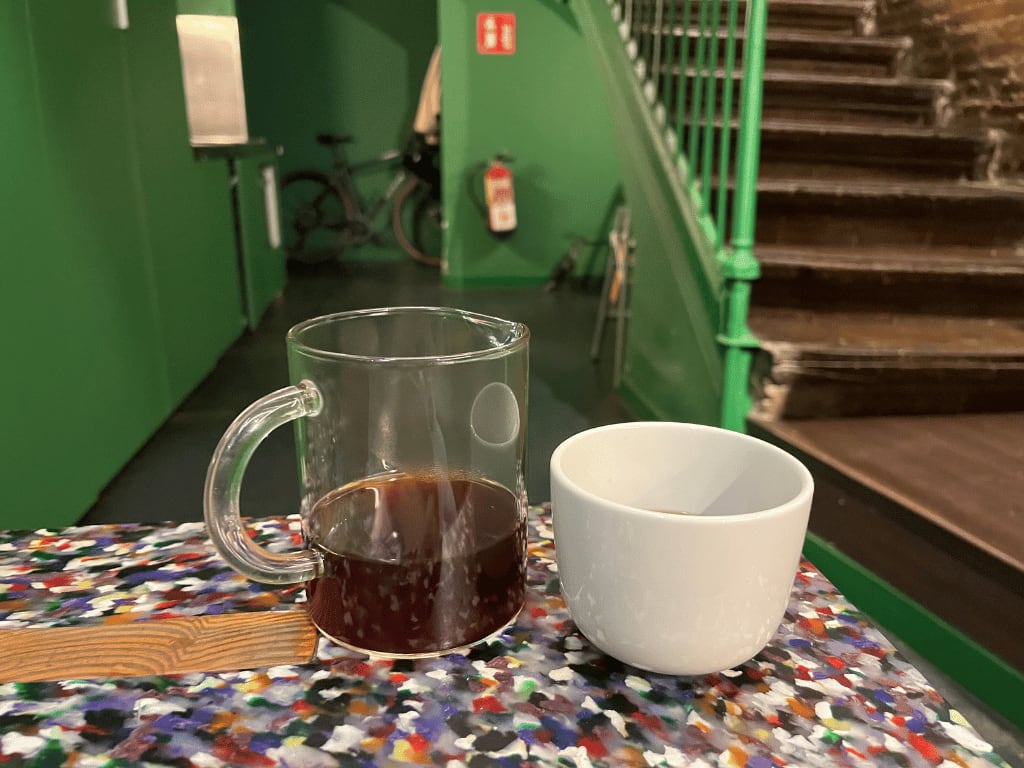 📍Passatge Sert, 12
Nomad Coffee is one of the biggest specialty coffee roasters in Spain, their work is done exceptionally, and their lab is the most unique of all the ones I visited in Barcelona.
Nomad Coffee Lab opened its doors for the first time in 2014 after its founder Jordi Mestre had years of experience in the specialty coffee world and participated in and won several championships in Spain and Australia.
Once you put a foot in Nomad's lab, you know they know. 
Nomad only offers specialty coffee. Their shop is perfectly designed to focus on the coffee, making it the protagonist of the place. Their shop is not the biggest, and it doesn't have tables, only two benches with small side tables on their ends where you can put the coffee.
All the baristas at Nomad are well-trained, and they will recommend a coffee for you if you can't decide for yourself.
The shop offers two types of coffee: filter and espresso. My favorite thing about Nomad is their coffee board because they specify the country of origin, variety of coffee, and farm.
I could keep talking about Nomad, but we need to move on. So! On my last visit, I had a filter coffee from Rwanda with notes of watermelon and chocolate and a flat white from Colombia.
One of the reasons I love visiting them is because they are one of the few cafes in Spain that offer Ecuadorian coffee.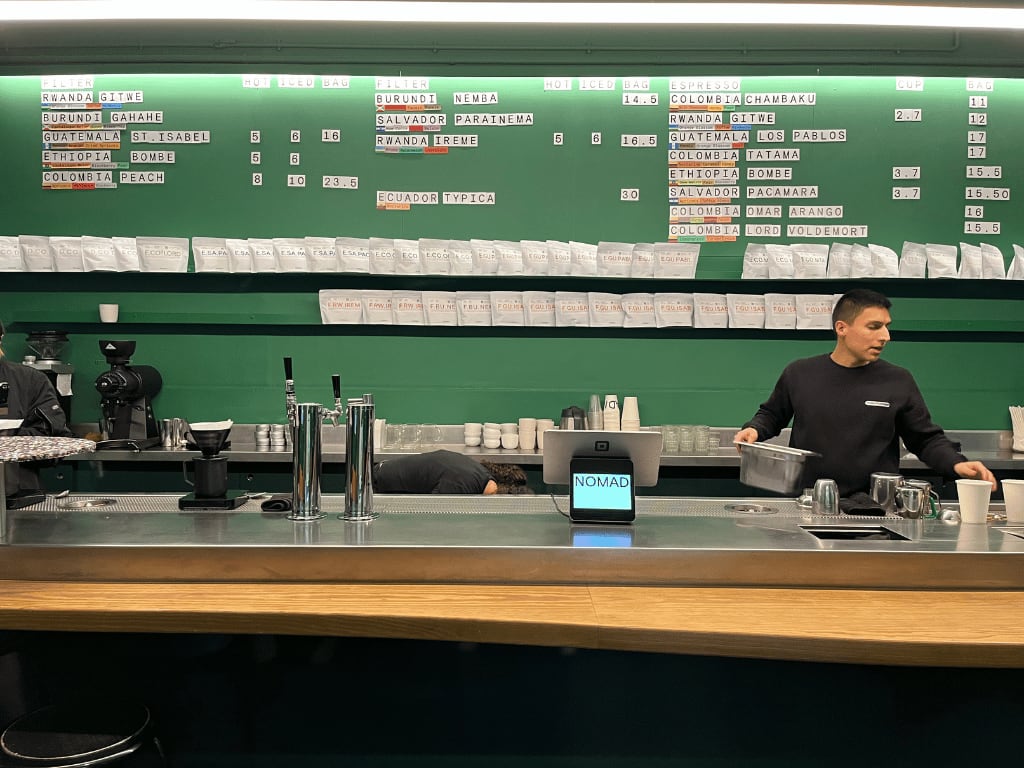 Citizen Cafe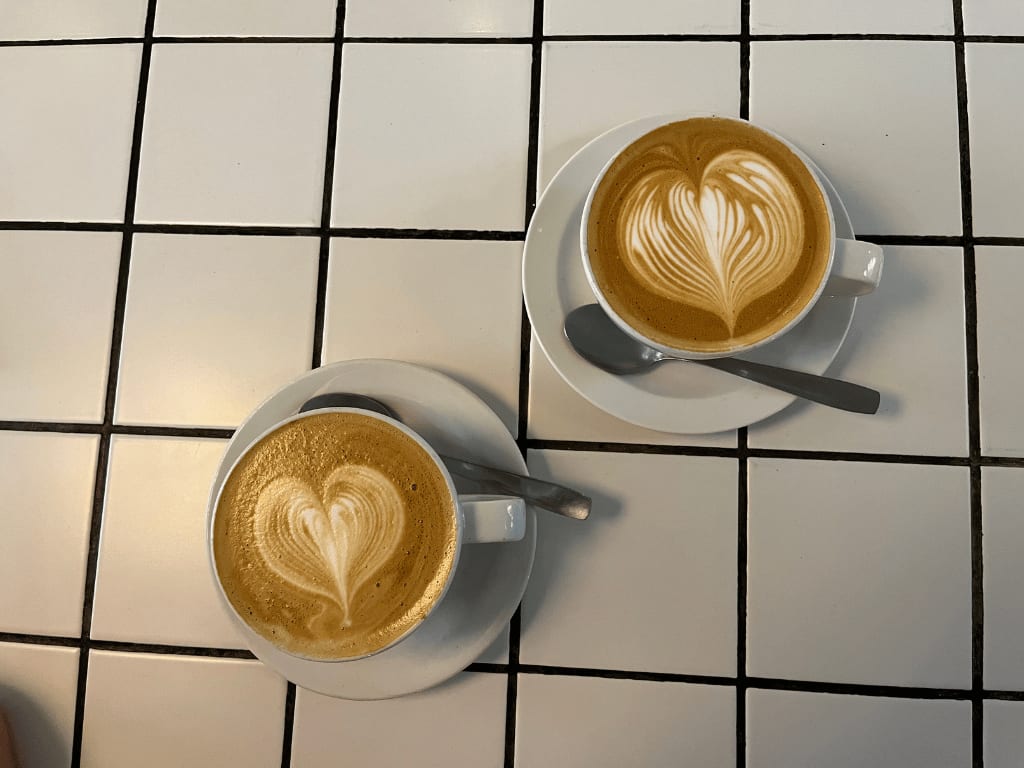 📍Pl. d'Urquinaona, 4
Citizen Cafe is a specialty coffee and brunch spot in Barcelona that you can't afford to miss!
I have visited Barcelona three times in the past year, and for all of them, I visited Citizen Cafe. The first time, I went with two other friends, we were super tired from our flight from Rome, and Citizen was one of the few cafes in Barcelona with an early opening. We sat on the leather couch on the left side of the entrance, which looked like a corner of a vintage house.
The second time I visited Barcelona was with my aunt; I insisted we had to go for brunch at Citizen, and we did; this time, we shared a table with a couple.
The third time was a few days ago; I again suggested the cafe as the perfect place for brunch, we sat at the bar, and I took was has become my usual: the brekkie bagel with avocado, feta cheese, and a flat white. 
Great brunch to start the day!
My flat white was also delicious, as the coffee came from Nomad!
At Citizen, you can expect a friendly, young vibe and a lot of international people. You may find a queue of 10 - 15 minutes, but it moves fast as the place is spacious. 
Additionally, you can go with a medium group because they have bigger tables, unlike other specialty coffee places in Barcelona. 
Here I will leave you the menu! You can picture your spending estimate for your visit.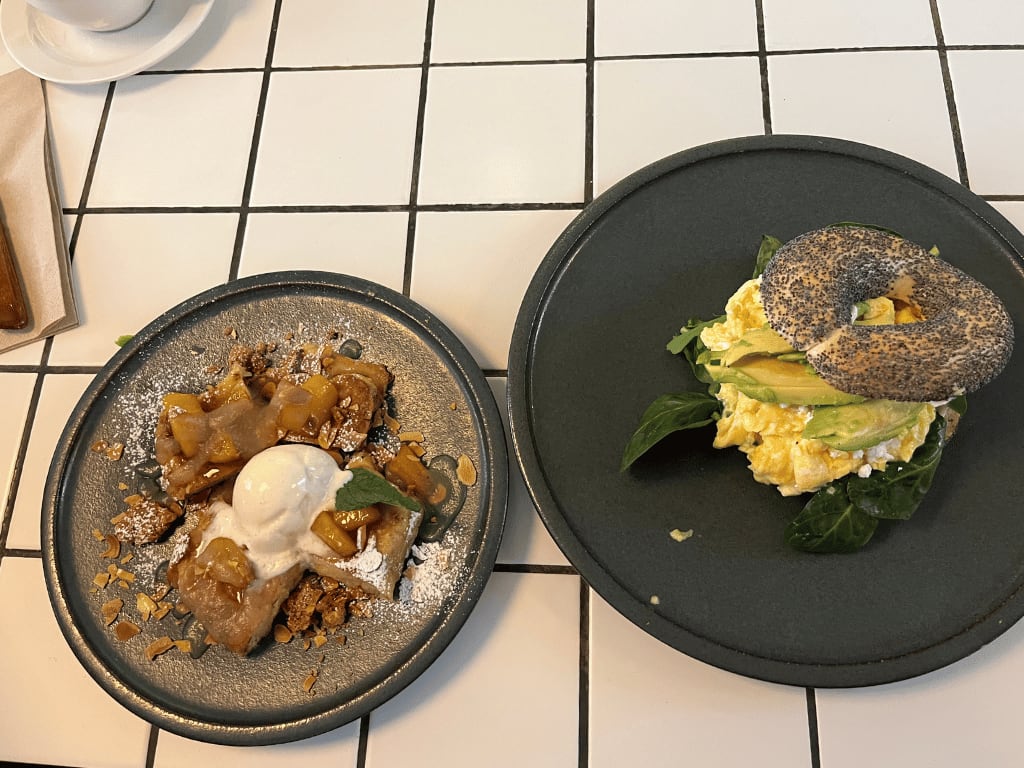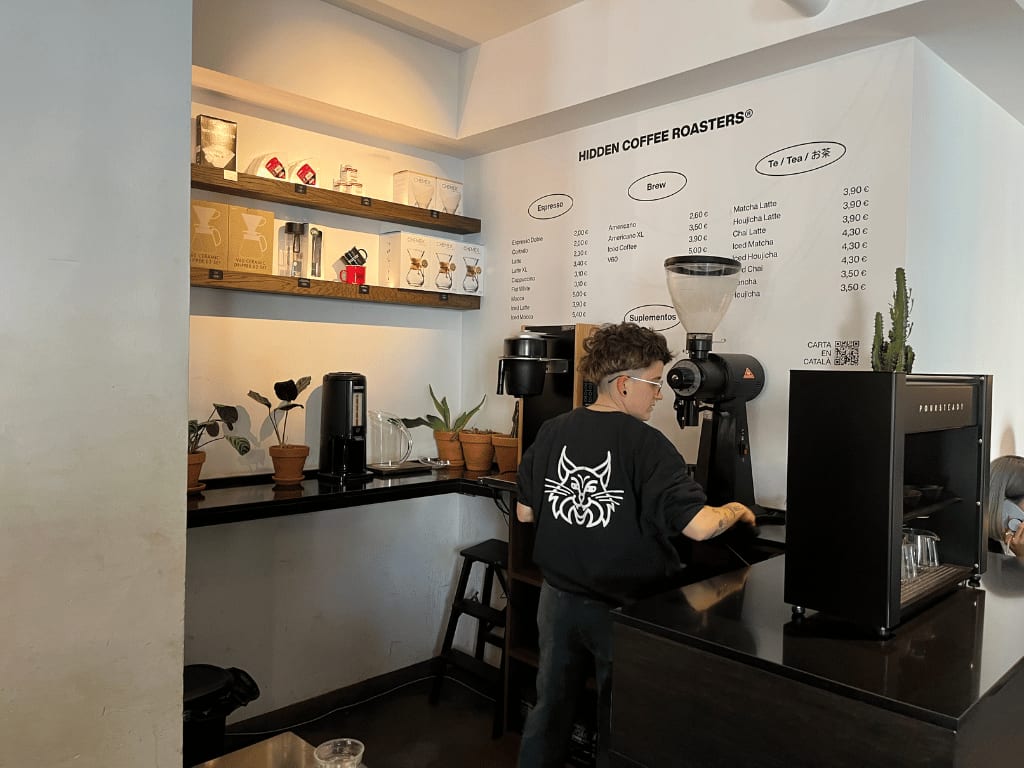 📍Carrer dels Canvis Vells, 1
I remember I ran into Hidden Coffee Roasters while visiting the Basilica de Santa Maria del Mar with a friend because it's just two minutes away. 
Hidden Coffee Roasters is located in the corner between the Carrer del Canvis Vells and Carrer del Consolat del mar. This cafe in Barcelona is comfy and welcoming; it offers a bar and a shared table for people to work on their laptops. 
My favorite feature of the store is its coffee claw machine or toy crane. Yes, you read it right! I didn't try it, but I won't resist it next time!
Again, I have visited this coffee shop three times already, and they have not ceased to impress me. 
The first time I had filtered coffee, the second a flat white, and recently I took their iced matcha latte. My least favorite has been the matcha, but that's because I am used to adding honey to the one I do at home. 
My friend had the chai latte with oat milk, which was insanely good for a lovely spring afternoon. Hidden coffee also offers a wide variety of chunky cookies, muffins, and pastries that make a great addition to your afternoon coffee in Barcelona.
Every time I go to this cafe in Barcelona, I find a nice spot to sit comfortably and chat for a few hours.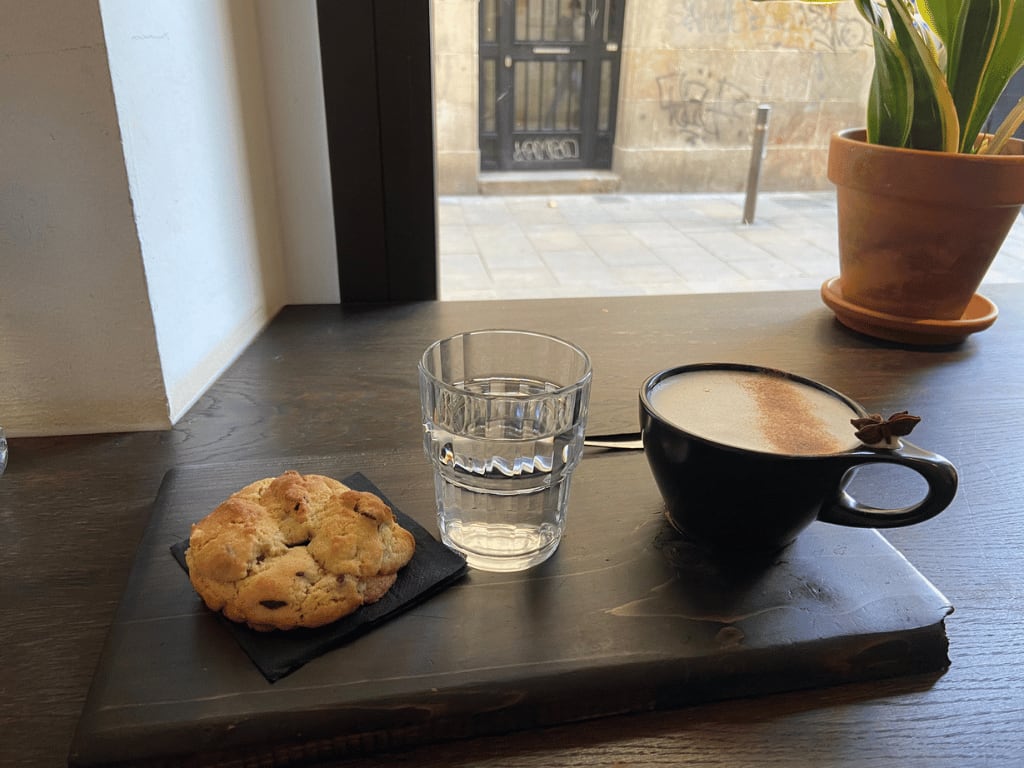 La Papa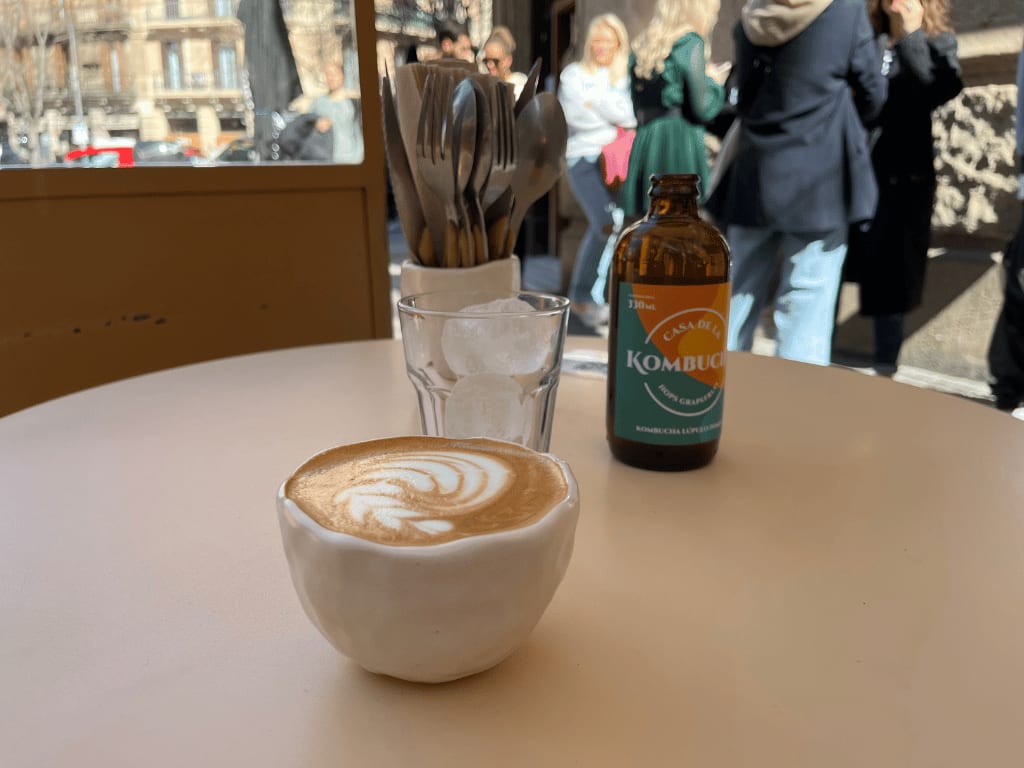 📍C/ d'Aribau, 92
The exact translation of La Papa is "the potato." That is what their minimalist, curved, and warm design reminded me of, a potato. 
A very clean, perfect beige potato, but that is the feeling I got. However, that differs from what the founders, Agustina Prinsich y Hugo Andrelo, intended.
The Argentinian couple opened La Papa a year ago, and it has been a success since then. So much so, that when I visited, we waited 40 minutes to get a table for brunch!
The interior decoration of the cafe is impeccable, meant for the place to be sustainable, visually pleasant, and healthy. The warm beige that covers the entire place is meant to be the background of the colorful and delicious dishes they offer daily from 9:00 am to 6:00 pm. 
But let's get to what matter the most! The staff was friendly, and everyone waiting in line knew where they came from, so one complained. 
I went to La Papa with two other friends to tell you about three dishes. The first and most delicious was the Truffle Mushroom Toast with a poached egg on top; that was the best thing I have ever had for brunch. With it, I took a flat white, it was delicious, and the coffee comes from a family farm in Colombia.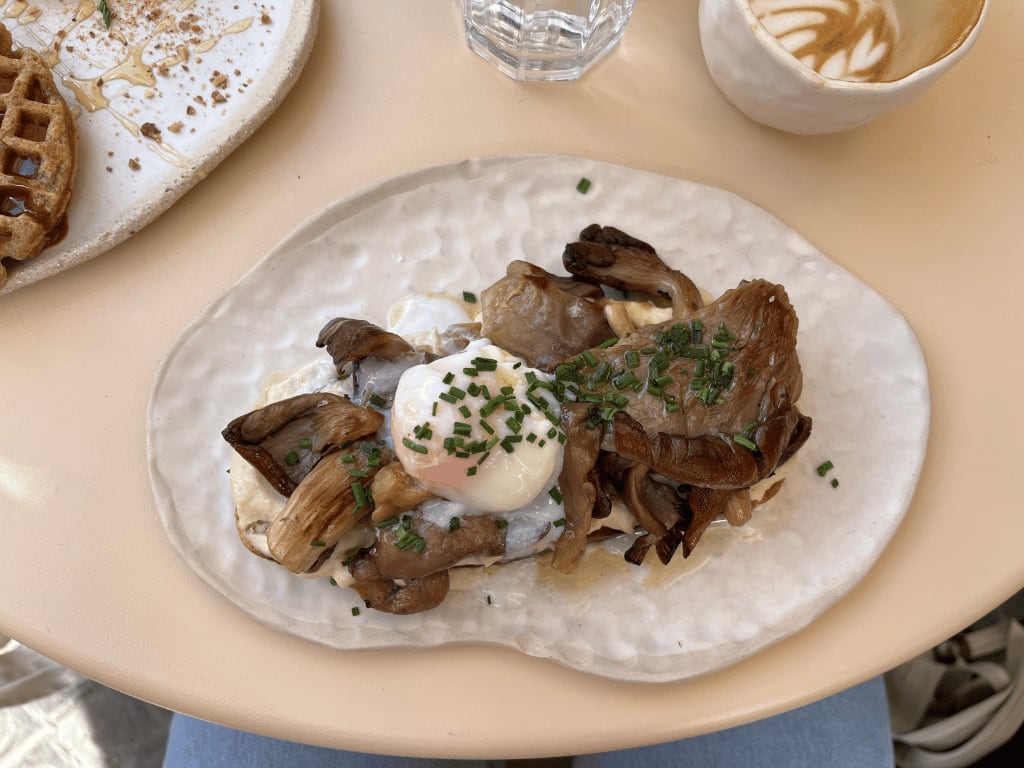 My friends had the avocado toast and the sourdough waffles, both great and filling for the next couple of hours. The waffles were a bit too sweet for breakfast, but that was just me!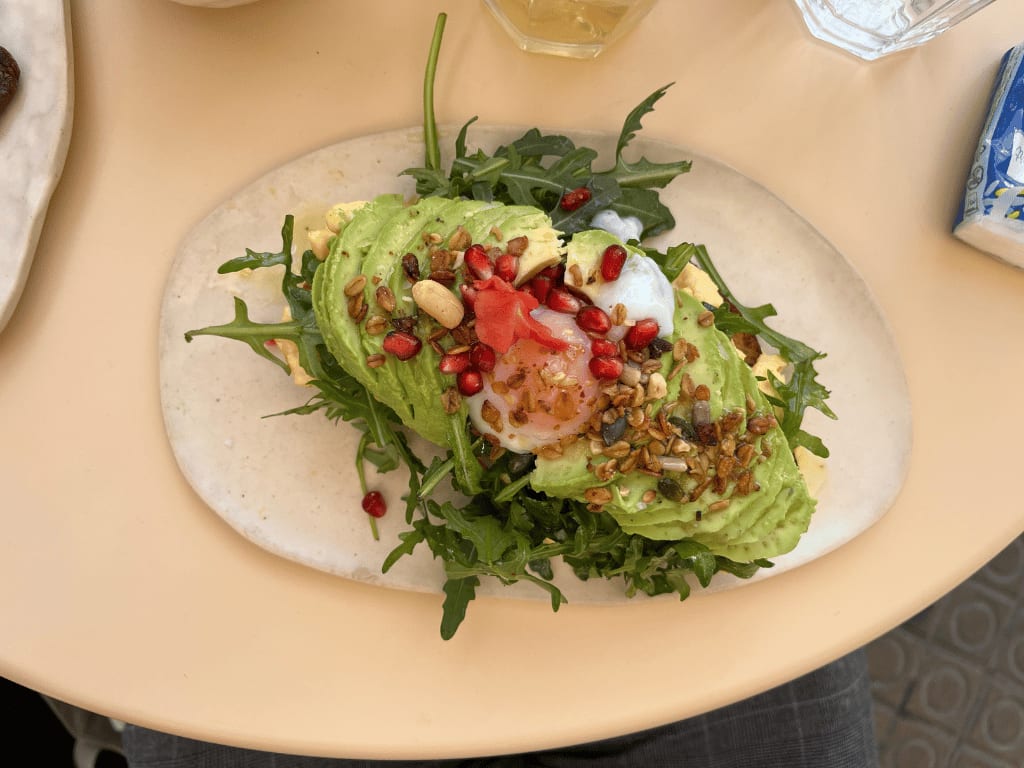 La Papa is not a specialty coffee shop but a great place to share a cup of sustainable, conscient coffee and a vegan dessert with friends, family, or your partner.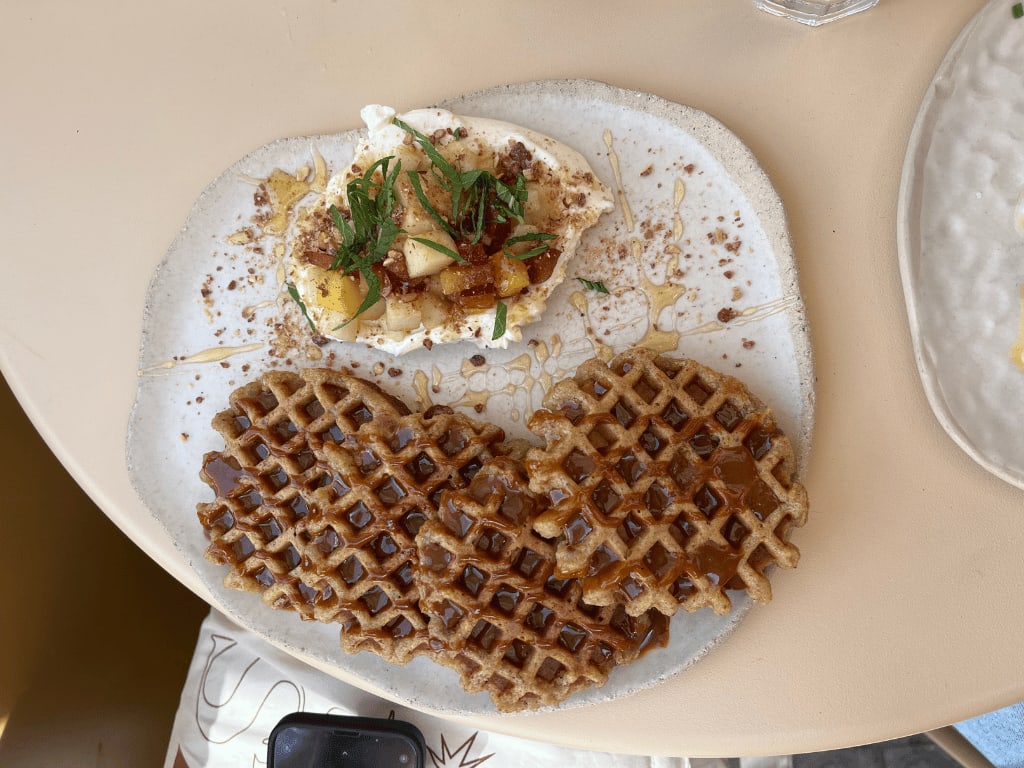 Syra Coffee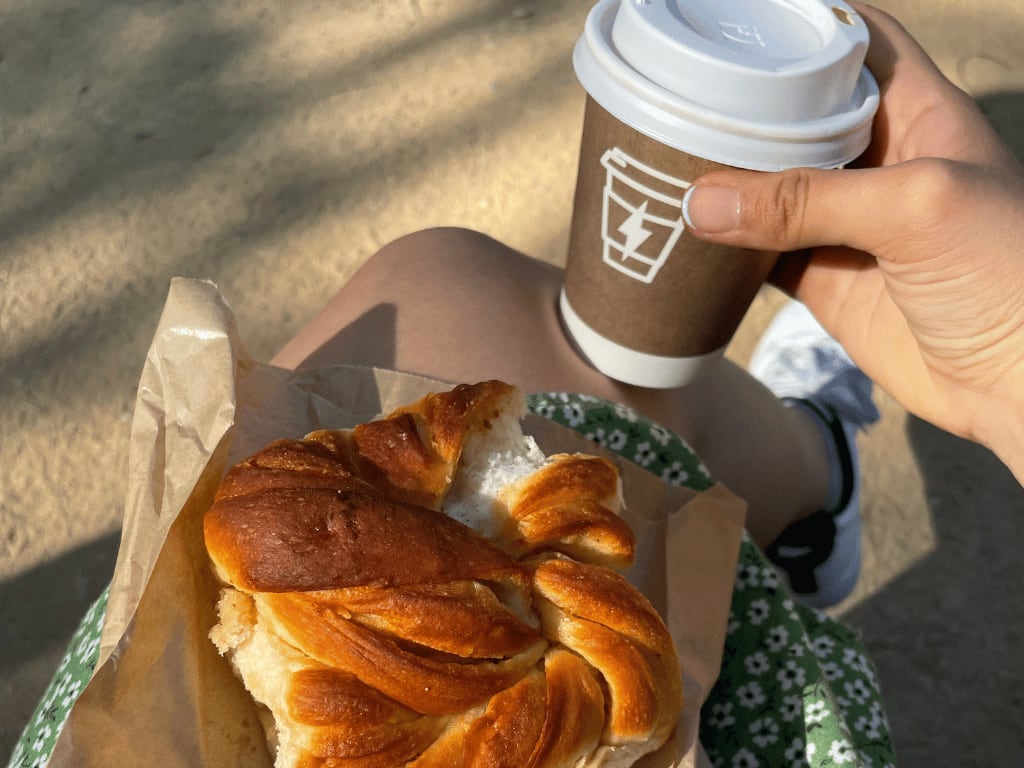 📍C/ de Sardenya, 331
Syra Coffee has also been featured in my article on Madrid coffee, and that is because their specialty coffee is great, and you can trust them to be almost anywhere where you might need them in Barcelona.
Syra Coffee is a cafe originally from Barcelona; they began their journey in 2015 to make good coffee a habit for everyone. One of their guiding principles is democratizing specialty coffee and making a person happy with a well-extracted cup from sustainable, quality beans. 
I have said this before I won't stop sharing it: Syra has the best flat white and babka ever!
And that is only possible because their beans are carefully selected, and great baristas beautifully make their coffee. 
Syra Coffee is my designated coffee to go to, and in Barcelona, it kept me awake in the early mornings. The first time I tried Syra Coffee was by pure coincidence, I was half an hour early for my tour in Sagrada Familia, so I looked around for coffee. 
Luckily I found Syra in Google Maps and thats how I found out they had the best flat white and cardamon babka ever.
I went to the Syra cafe in Barcelona close to La Sagrada Familia, but there are more locations for you to visit!
Cafe Fosc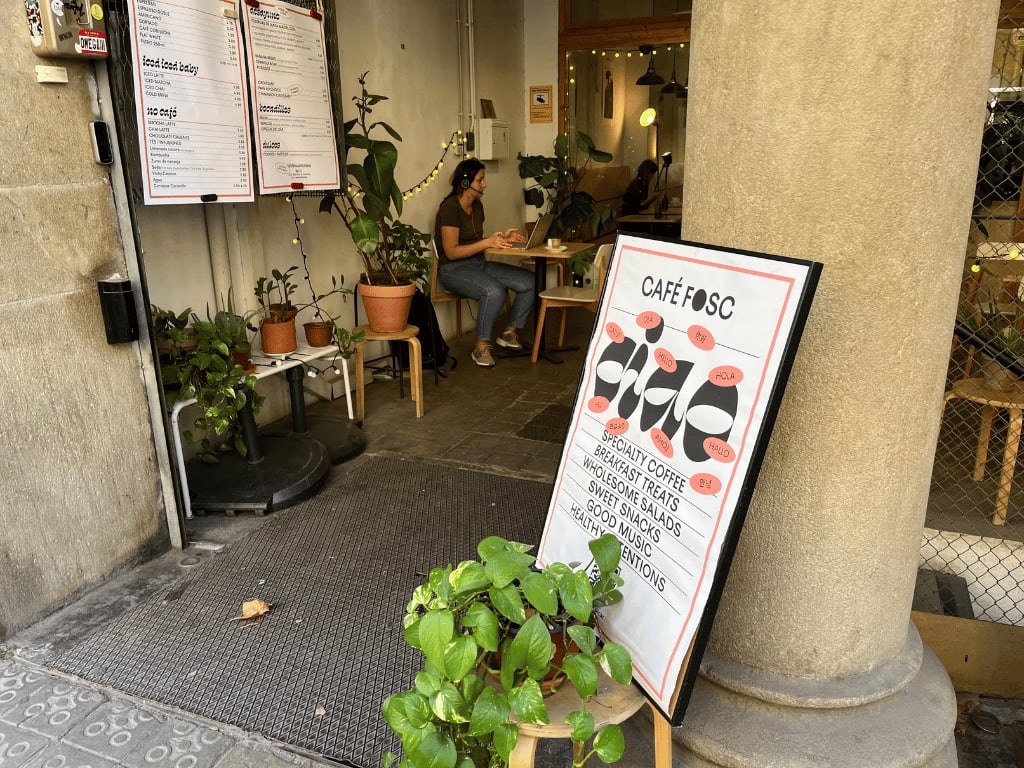 📍 C/ de Bailèn, 11
Finding Cafe Fosc was a coincidence. I was walking around Barcelona when I got this sudden need for coffee. I searched in my Google Maps if any of the cafes in Barcelona from my list were closed, and Cafe Fosc was right on the next street.  
I visited Cafe Fosc around 12:30 on a Wednesday, and it had plenty of tables available. The coffee shop is spacious, the vibe is peaceful, and the staff is friendly. 
Attention! Cafe Fosc is perfect for all the remote workers or freelancers out there! The space and furniture design allows you to work comfortably, and it is connected to MOB, a coworking space for those who need an actual office space. 
My recommendation at Cafe Fosc in Barcelona is the Iced Matcha Latte with oat milk and some honey, and the flat white, of course.
I didn't try their brunch, but looking at their Instagram, it is definitely on my list for my next visit.
Funky Bakers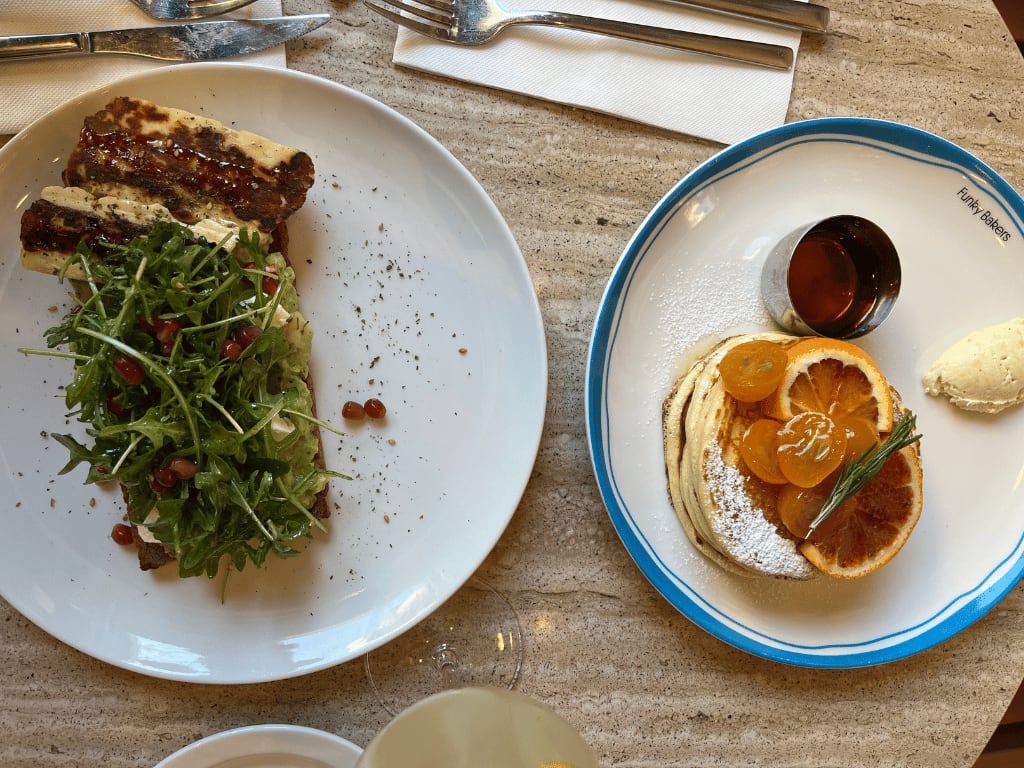 📍Pg. del Born, 10
Funky Bakers has a beautifully located corner store in the Born Quarter. It has a terrace space available for the sunny days of spring and a spacious interior with a pastry table as a centerpiece. 
I would describe the interior decoration of Funky Bakers as home. The furniture, the plants, and the space distribution make it feel comfortable to enjoy coffee. Plus, this cafe in Barcelona has an expansive window that lets a lot of light in. 
I went to Funky Bakers for breakfast with a friend, and my favorites were the flat white and the cardamon babka. My friends ordered the 'Atlas' pancakes which were super fluffy and filling, and I ordered the avocado Smørrebrød with extra halloumi. 
The pancakes were lovely, and the halloumi was delicious, with some notes of honey and oregano, but the avocado on my toast was a bit past its time. 
Next time I will go for an early lunch because this cafe in Barcelona offers many Eastern European dishes like the "Turkish pizza" I need to try. 
Funky Bakers is a great option for brunch, early lunch, or a cup of coffee. Their coffee partner is Nomad, so you will get an excellent specialty coffee cup to start your day.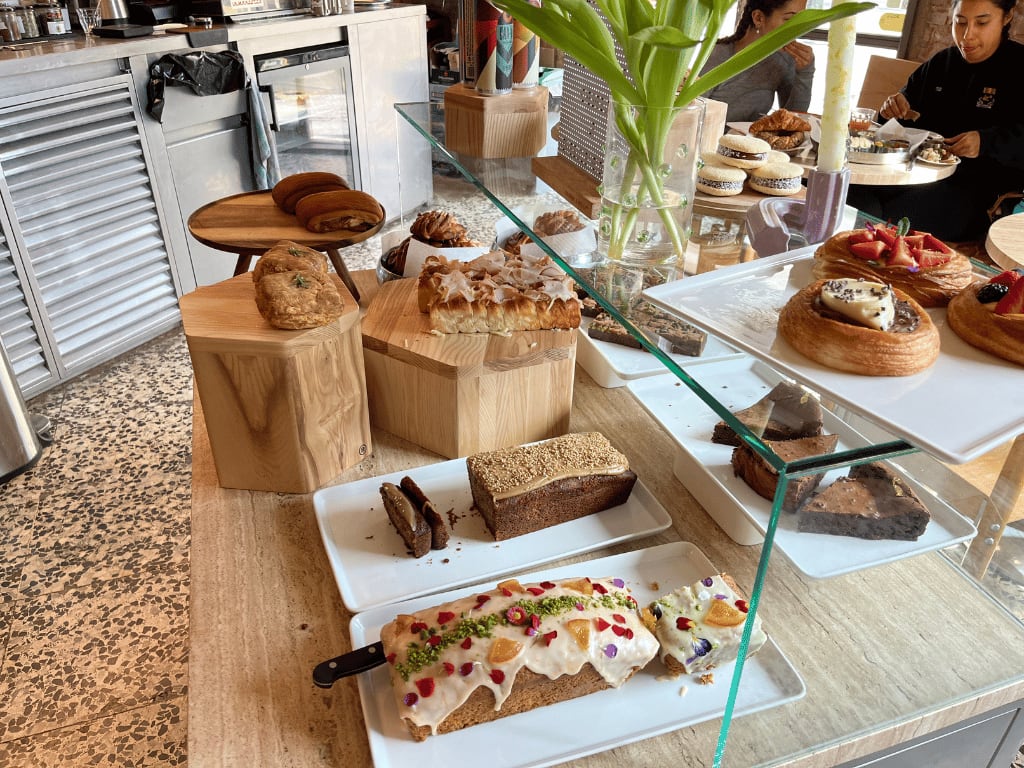 Sabio Infante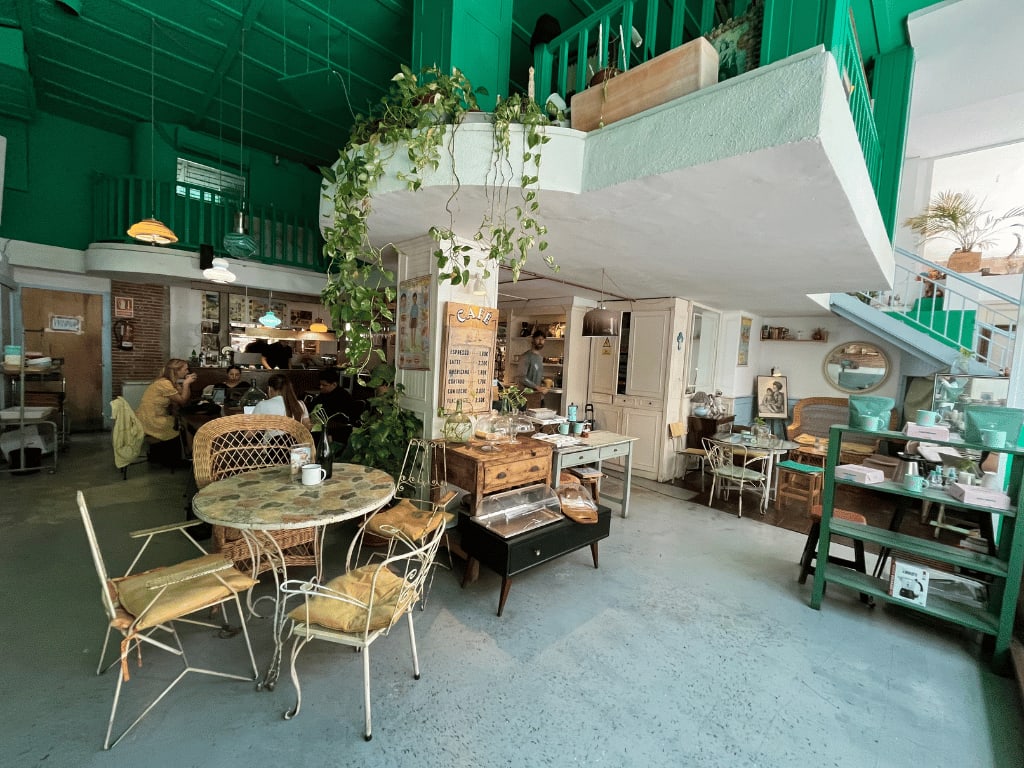 📍Carrer del Torrent de l'Olla, 39
Sabio Infante is a cafe in the neighborhood of Gracia in Barcelona. Their concept is unique; they strive to remind people to slow down, enjoy the present and let their inner kid out from time to time. 
Of all the coffee shops in Barcelona I visited on my last trip, Sabio infante had a unique interior design. The walls are covered in turquoise paint, nostalgic toys, music records, vintage patio furniture, and stunning hanging plants.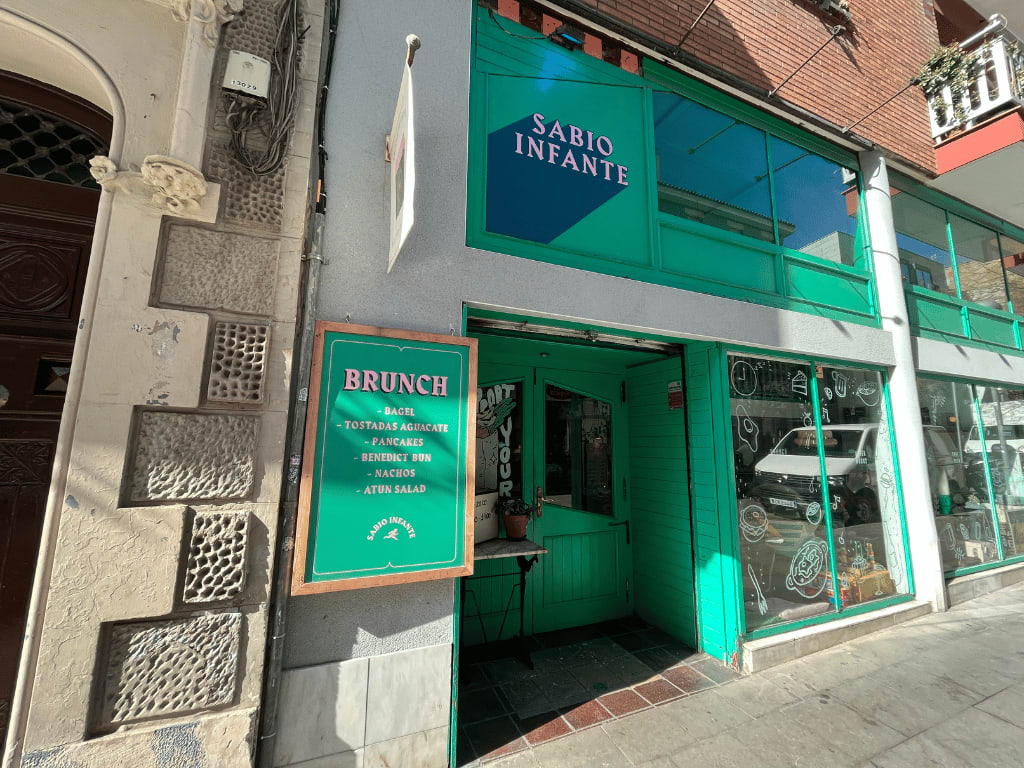 The music gave a 2013 American vibe, a Jason Mraz-type playlist; it wasn't my cup of tea but a comfortable ambiance. 
I changed my white flat for an americano and a cappuccino on this occasion. Both were nice, but not the best I have had. On the other hand, the food was nice; their Delirante Bagel and pancakes were delicious.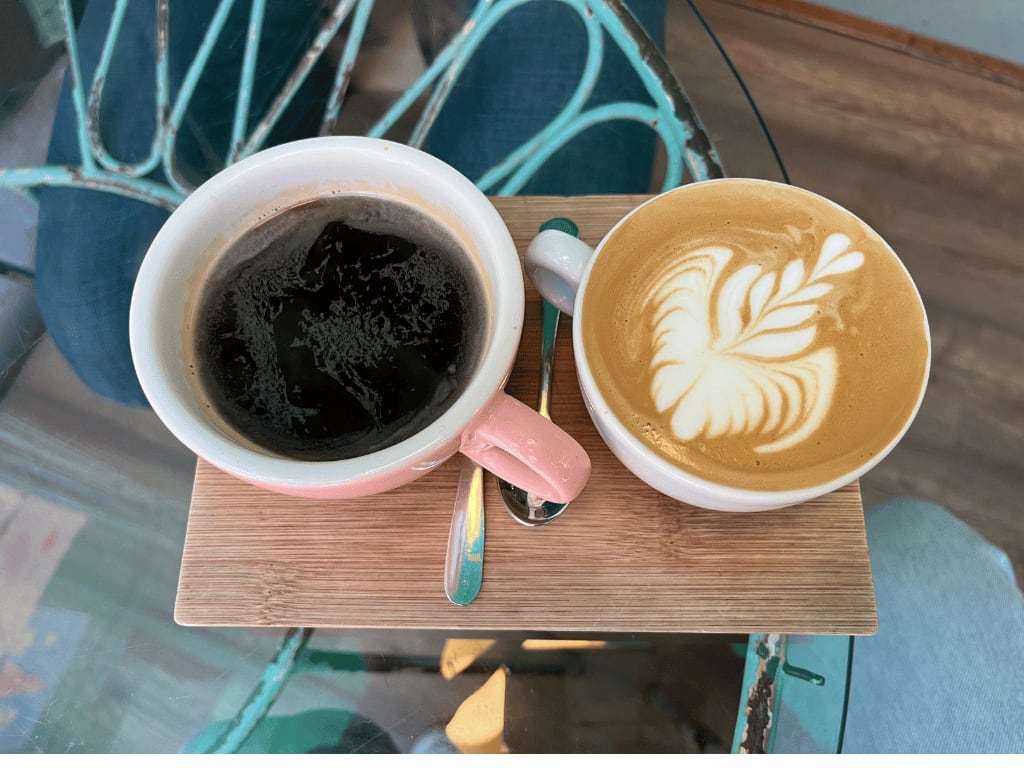 ---
Don't tell me your mouth isn't watering after all the pictures I shared with you! If you could only go to three of the eight cafes in Barcelona I have just listed, I would recommend coffee at Nomad, brunch at La Papa, and breakfast + coffee at Citizen Cafe.
Remember to save or share this article with your travel partners and save yourself some searching time when you visit Barcelona.