Top 3 Itineraries in Barcelona: Let's Plan your Trip!
September 20, 2023
Updated:

September 25, 2023
Published: September 20, 2023
Barcelona is a wonderful city, full of life, history, and culture; I have visited more than four times in the past years, and it never ceases to surprise me.
If you are traveling soon to Barcelona and don't know how to organize your days, I've got you covered.
In this article, you will find one full itinerary to visit travel Barcelona for four days.
On top of that, you will find two other alternatives to twist around the trip and ideas for three more days if you have a longer journey. All of it is in just one post!
By the end of the article, I am also including multiple sources to help you navigate Barcelona as best as possible.
4 Day Itinerary in Barcelona
Four days are perfect for visiting Barcelona as a first, second, and even third-timer. In this city itinerary, you will find the ideal schedule to travel to Barcelona and feel like a local by the journey's end. 
I will give you an overview of what to expect and plenty of resources so you can get the best out of your trip. You will find plenty of activities and alternatives to make your itinerary as personalized as possible; for example, if you prefer sports over culture, you can perfectly replace Park Güell for a tour in Camp Nou. 
In addition, each day will have a recommended place to have breakfast, lunch, or dinner, and at the bottom of the article, you will find links to more resources that will help you navigate Barcelona as best as possible, e. 
Day 1 - Medieval Barcelona
Ideally, you arrive in Barcelona a day before the itinerary starts to have four full days to enjoy the city without rushing to catch an airplane or train to another city.
9:00
I think Barcelona is one of the best cities to eat breakfast! I have traveled to Portugal, France, the Netherlands, and Italy in the past two years, and non of them have the same number of cafes for breakfast or brunch as Barcelona or Madrid (maybe I haven't been enough, but that was my impression).
So, let us start the day with a nice breakfast! The places will depend on where you are staying, but I highly recommend Morning Glory Coffee & Brunch, where you will find a variety of options for breakfasts.
This cafe is located in the Gothic Quarter, and I recommend going for the Spanish version and taking some tostadas con tomate and *olive oil (*toast with tomato) and Iberic ham. 
10:00
We will start our tour there as you are already at the Gothic Quarter! This neighborhood of Barcelona hides wonderful gems and houses historically essential structures such as the Palau Reial Major, which dates back to the 11th century and is testimony of Barcelona's Medieval times. 
It is best if you hire a walking tour around the Gothic Quarter as a guide will be able to walk you through the cobblestone streets while telling great stories of Barcelona's past. 
A walking tour guarantees a better understanding of the neighborhood, cultural facts, and a great time. 
If you prefer walking on your own, make sure you stop by the following landmarks and attractions:
Barcelona Cathedral: An impressive example of Catalan Gothic architecture, known for its stunning façade and intricate details. With the general ticket admission, you can also go to their rooftop and look at Barcelona's skyline. Just Like the picture you see below!
Plaça Sant Jaume: Here you will find the City Hall (Ajuntament) and the Palace of the Generalitat of Catalonia. If I recall my walking tour from last year, this plaça was where all the main roads of the entrance to Barcelona intersected, something Romans did in their times.
Roman Walls: These are located close to Barcelona's Cathedral and are the remnants of Barcino.
Museu d'Història de Barcelona (MUHBA): An archaeological museum that preserves and showcases the city's historical heritage, including Roman ruins.
El Call: This is the Jewish Quarter of Barcelona, where you can explore the medieval Jewish synagogue and learn about the city's Jewish history.
Carrer del Bisbe: You have probably seen it on Pinterest! This narrow street is famous for its neo-Gothic bridge connecting the Generalitat Palace with the Casa del Canonges.
Sant Felip Neri Square: In this place, you will find the church Sant Felipe Neri, whose facade is deeply pitted by the Civil War bombardment in 1948, which killed more than 40 people, including children.  
Basilica Santa Maria del Mar: 13th-century basilica famous for the story of its construction purely done by believers.
12:00
After your tour around the Gothic Quarter is over, take a detour to the Born neighborhood, one of the best places to enjoy some tapas in Barcelona.
The Born is quieter than the Gothic Quarter and Las Ramblas; it keeps the medieval aesthetic and narrow city center streets while having less masses of people. 
Walk down Passeig the Born Street, where you will find many cute, small stores, bars, and benches to rest. 
Lunch
Take a bit at Llamber Restaurant, where you will taste Catalan dishes made with mastery. Likewise, you can go to Calpep, a bar/restaurant with great seafood and tapas. 
15:00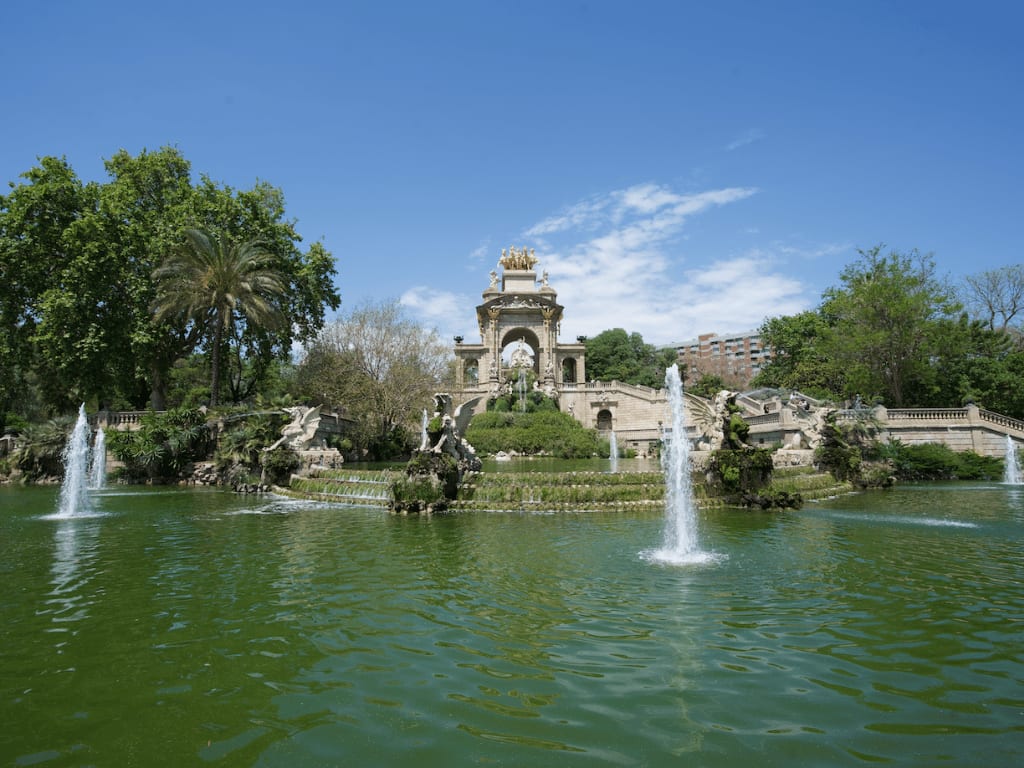 Walk down the food while walking around the Arc de Triomphe and the Ciutadella Park. Both parts of the Born neighborhood are open spaces where you can choose a space to rest and even nap for a few minutes!
After walking through the Arc de Triomphe, go into the Ciutadella, where you must stop by the Fountain of Neptune, the pond, the Parlament of Catalunya, the Plaça of Joan Fiveller, the Hivernacle del Parc, the Castle of the Three. 
17:00 
Take an afternoon dessert at JonCake or a coffee at Lulu & Flynn! Then finish your day with a nice museum. 
You will find the Picasso Museum and the MOCO Museum of Modern Art in the Born neighborhood. Both are great cultural centers where you will explore Picasso's unknown pieces or iconic modern art from great artists. 
19:00 
Go get some dinner and rest for the next day! If you are a night person, I will link you to our best bars and nightclubs recommendations in Barcelona.
Day 2 - Gaudí & Modernism
On your second day in Barcelona, you will enjoy the architectural uniqueness of this city.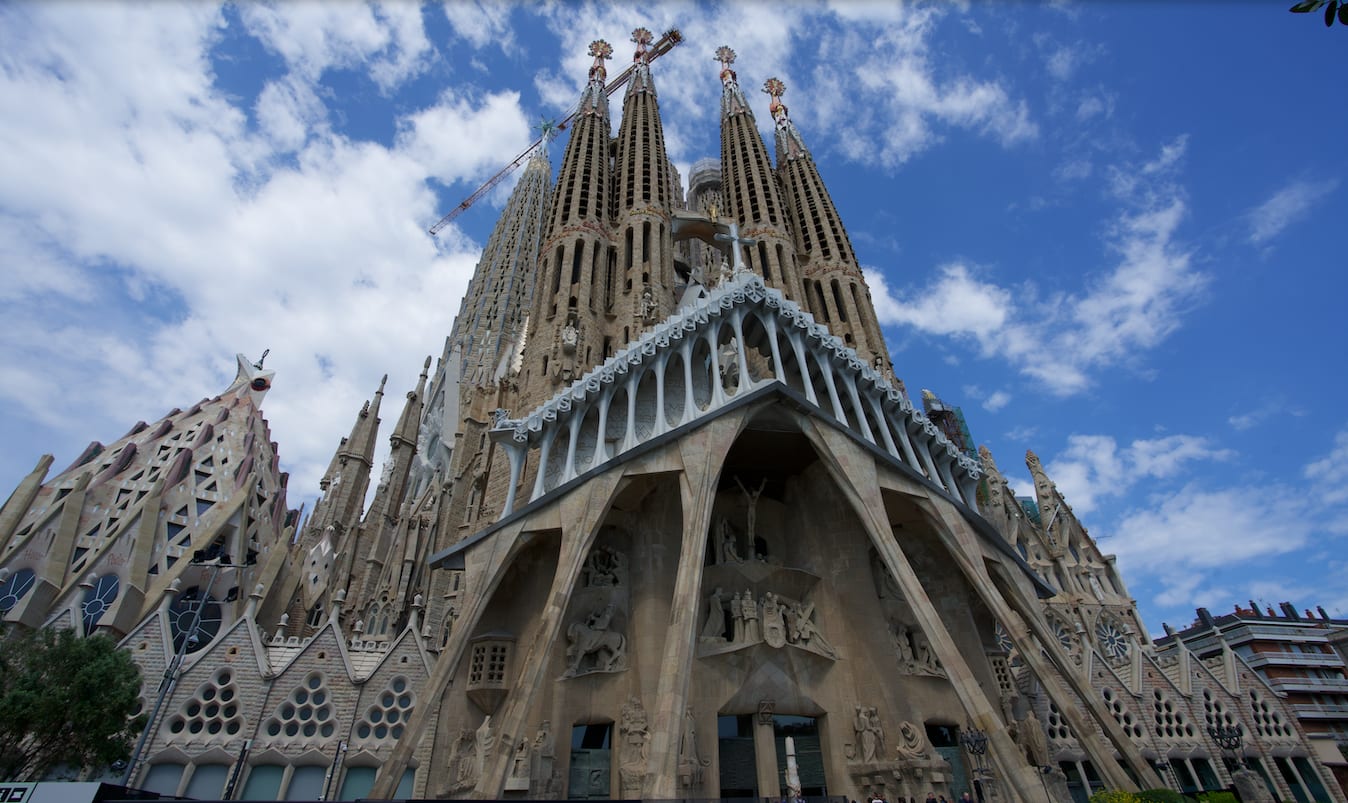 9:00
Today, we start early! If there is no breakfast at your hotel, or you don't want to cook in your Airbnb, then head to La Papa (C. de Pau Claris, 190). I must say that this cafe is simply delicious, and I hope you wake up hungry. 
At La Papa, you must try their truffled mushroom toasts, a tiny dessert, and fat white. Their breakfast dishes will give you enough energy to go through this new day. 
Learn more about cafes in Barcelona:
10:30 - 11:00
Between 10:30 and 11:00, you should be on your tour around the Sagrada Familia. Gaudi's Basilica is 20 minutes away, walking from the cafe or 8 minutes away by taking the train from Diagonal to Sagrada Familia (L5).
I highly recommend getting a guided tour of the Sagrada Familia as the structures hide so many details and symbolism that you will want to have them explain to be able to make sense of all of it. 
12:00
Walk from the Sagrada Familia to the Recinte Modernista de San Pau. This former medical complex is just an eight-minute walk from the Sagrada Familia and is one of the best-hidden gems in Barcelona. 
The Recinte Modernista de San Pau has 16 buildings representing Catalan Modernism; the architect Lluís Domènech i Montaner was responsible for this project.
The buildings functioned as a hospital for many years until, in 2006, authorities established that it wasn't well-equipped to uphold and treat all patients. The sanitary activity was moved to a modern building located on the northern façade of the complex. 
And the rest of the building was taken into a rehabilitation process to keep the structure alive. 
These buildings are a beauty to the eye, and you can visit the complex freely for 16 euros or with a guide for 20 euros. 
15:00
I recommend you eat something after the Recinte Modernista de San Pau. Close by, you will find bars and restaurants; you can try the traditional cuisine of Catalunya in La Yaya de Amelia.
After that, head to Park Güell and enjoy the other masterpiece from Gaudí. At Park Güell, you will notice Gauid's trendcadís techniques at this peak.
You can walk around the different spaces, such as the "Laudy Room Corridor" and the "Hypostyle Room," and don't forget to look at Barcelona's skyline from its lookout. 
17:00
Head to Montjuïc Castle to see one of the oldest medieval fortresses of the city. Montjuic Castle was built in the 17th century and saw several revolts and battles. 
Nowadays, it works as the Municipality hall of the city. 
From the castle, walk towards the cable car and ride to Monjuic's Lookout. After that, take the ride back to Montjuic Park and take a look at the Magic Fountain. 
20:00
Get dinner close to your hotel and rest for the night! I will link you to some restaurants in Barcelona where you can grab a nice bit before a night of relaxing beauty sleep. 
Where to eat in Barcelona?
Day 3 - Vineyards Experience & Shopping
Today is wine day! For your third day in Barcelona, you will visit the Bodegas Torres Vineyards and experience wine tasting with tapas. 
Bodegas Torres is an essential vineyard in Catalunya which was selected as one of the best in the world in 2022. The vineyard is only an hour from Barcelona's city center, and you can get there in two ways: hire a private car or take public transport.
If you decide on public transport, take the Regional Four (R4 - Orange) from Barcelona Sants to Vilafranca Del Penedes Station; the vineyards will be five minutes away by walking.
At Bodegas Torres, you can choose from tastings to exclusive wine tours. If you are interested in more relaxed tastings, choose "Wine Tasting with Tapas" or "Wine Tasting with Cheese."
If you choose one of the above, the English session starts at 10:30, so you'll have a busy morning. 
The vineyard tour and tasting take two hours; you can have lunch in El Celleret's restaurant afterward. Take advantage of that opportunity! 
16:00
After you have finished the tasting and experienced a great lunch at The Celleret, go explore Vilafranca del Penedes.
The town is charming, and you can walk around the center. Take a look at the main square and the Basilica de Santa Maria.
Other places you can visit are:
Olérdola
Palau Reial, el Vinseum (Wine museum)
Palau Baltà
Claustro de Sant Francesc
Casa de la Vila
Cripta de la Basílica de Santa Maria
Casa Miró
Iglesia de Sant Joan
Casa Gomà
19:00
Take a train back to Barcelona and rest for the day. On your fourth day in the city, you still have some significant landmarks to enjoy and plenty of walking to do.
Day 4 - From Passeig to the Barceloneta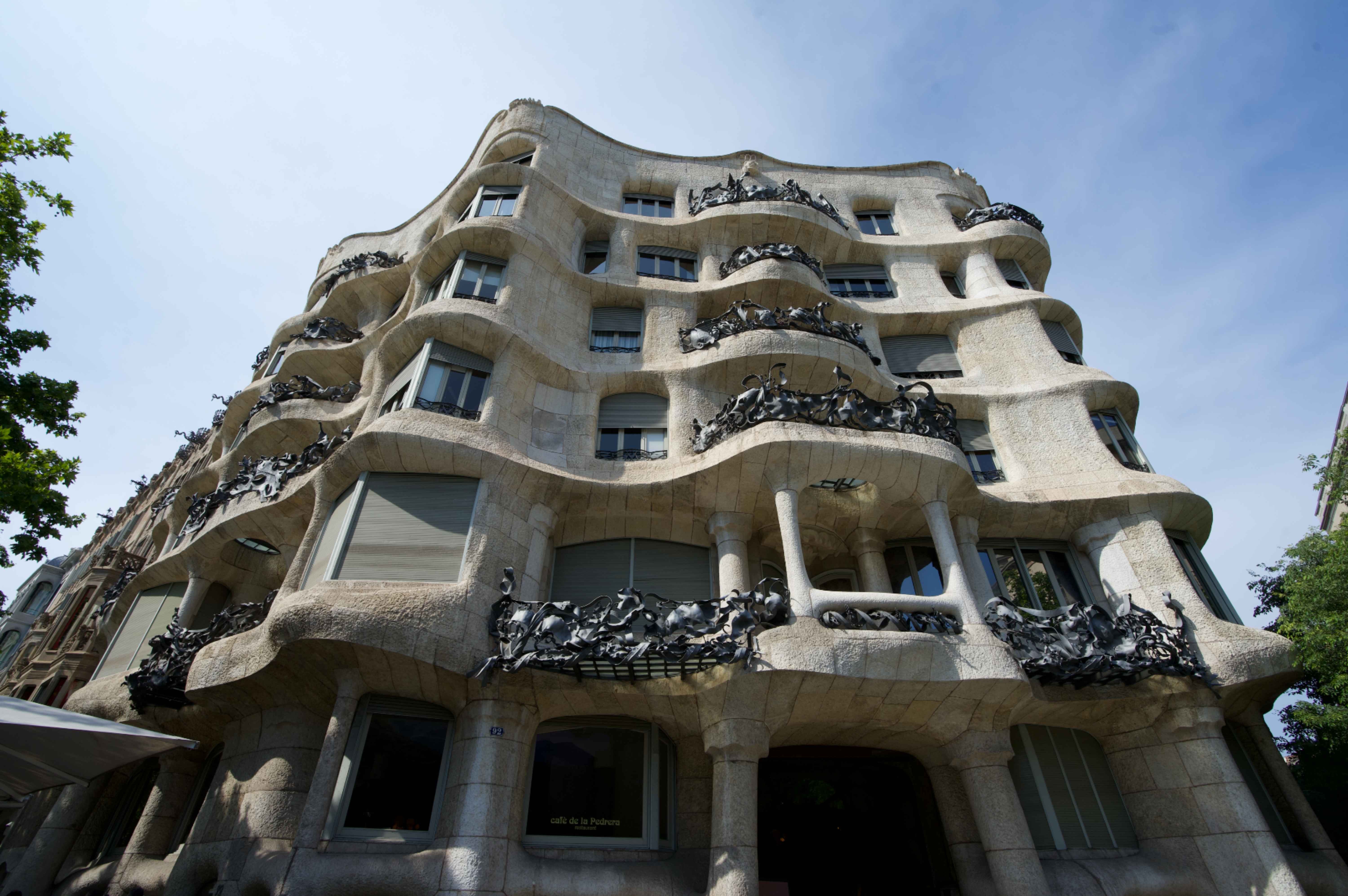 For your fourth day in Barcelona, we have got Passeig de Graçia to the Barceloneta. Today, we are doing a self-walking tour to enjoy the city.
10:00
Today, you can wake up a bit late and start your day with a nice breakfast at Lato (C/ del Bruc, 118). From there, your walking tour begins!
Let's start the day with Passeig de Graçia Lato, which has been strategically chosen so you begin your day with Casa Milà. This Gaudí house, also known as "La Pedrera" for its rough facade, was the last residential building by Antonio Gaudí.
You can either tour inside or just admire it from the outside and continue walking to Casa Batlló. Another residential building for which Gaudi uses the ocean as inspiration. 
If I had to choose, I would get tickets for Casa Batlló. The company that is in charge has tuned this house into an immersive experience that allows you to see how the Batlló Family lived in the 19th-century
There are also other activities, such as digital immersive rooms and music nights. If you are interested in the "Magic Nights" of Casa Batlló, book your visit in the evening and enjoy a nice moment with music and drinks.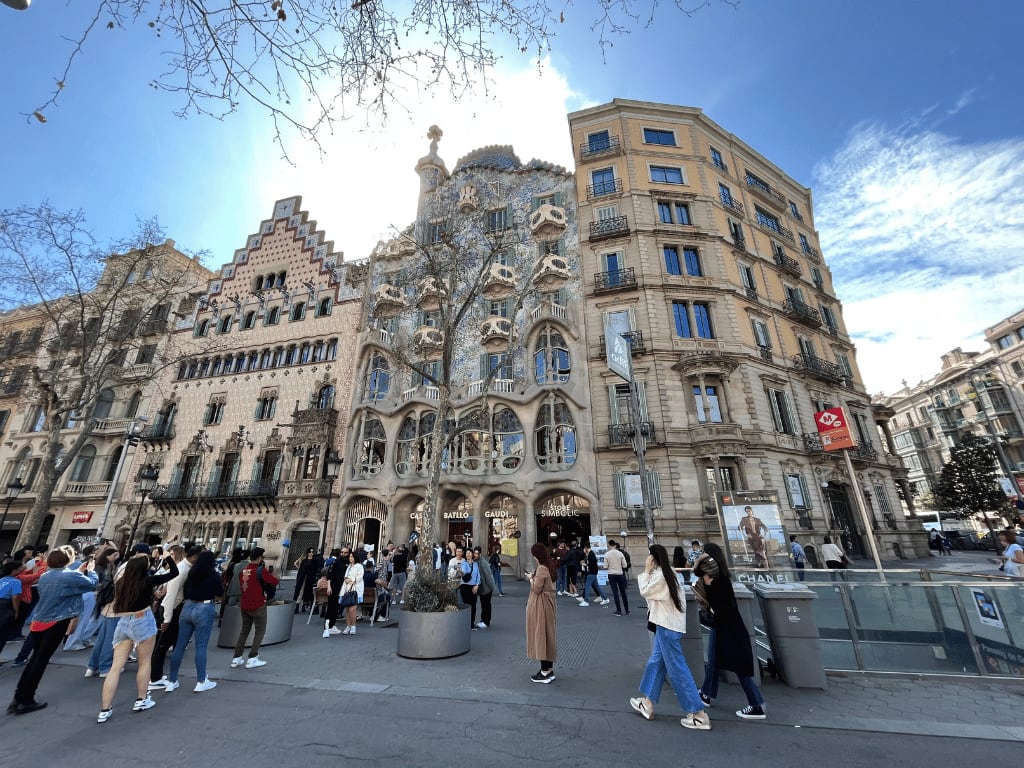 12:00
On your way through Passeig de Graçia, you can enjoy some shopping at one of its multiple stores. 
This road in Barcelona is mainly known for its luxurious stores and famous brands such as Zara, H&M, Nike, UNIQLO, Lego, Apple, and more!
If you walk a bit further and reach Plaça Catalunya, you will find Spain's most famous departmental store, El Corte Inglés. El Corte Inglés is the right place to do all the shopping you want in only one place!
While you are at it, know that close to Plaça Catalunya is Plaça Urquinaona, where you can locate Citizen Cafe, a great place to get some lunch, coffee, and dessert.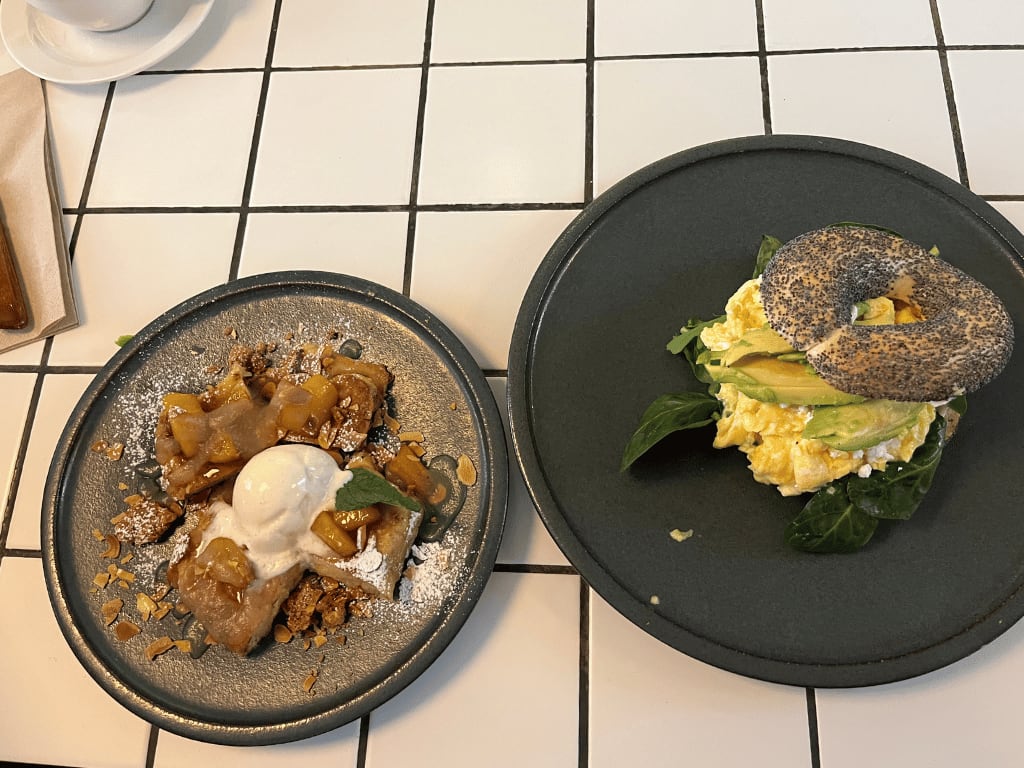 14:00
After you have finished with your shopping, continue walking Las Ramblas! Here, you can choose to do the entire boulevard from beginning to end, or you can walk it a bit while daring to explore the narrow streets of the Gothic Quarter. 
While walking Las Ramblas, stop by the Mercat de la Boquería, the Gran Teatre Liceu, and the Palau Güell. 
As you approach the end of Las Ramblas and before entering the Barceloneta harbor. Take a right to see "Les Drassanes Reiales" and the Medieval Wall.
After that, follow the Christopher Columbus statue and reach the Barceloneta Harbor.
16:00
Enjoy a walk towards the Barceloneta, where, if you wish, you can hire a boat experience and enjoy an ocean view.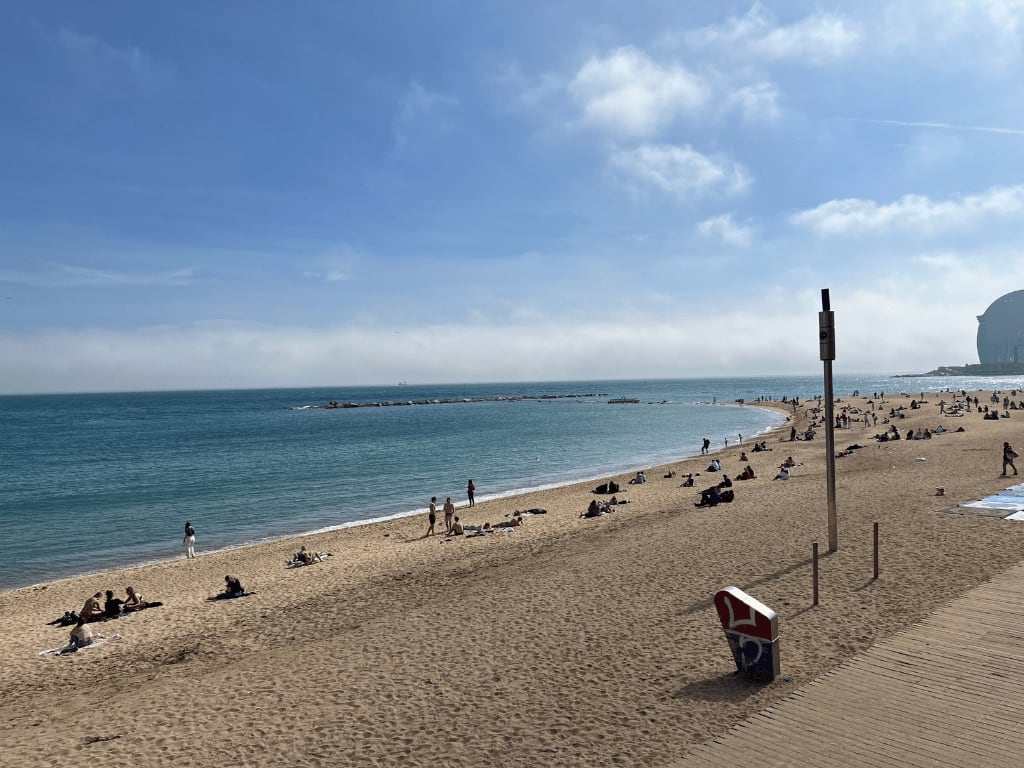 18:00
From now on, you are free in your itinerary to do as you please! You can have dinner at Peix Vela, close to the W Tower, or return to Passeig de Graçia and the Nacional Market. 
Enjoy this time to do anything else on your bucket list, or return to the hotel and prepare for your next adventure!
If you plan to do some heavy shopping, turn this day around! Start with the Barceloneta and then climb up tp Passeig de Graçia, so if you end the day with too many bags, you can leave at the hotel before dinner.
Map
Alternative Itineraries for Barcelona
Itinerary #2
If you are a sportsperson, replace the Montjuïc Castle for a tour of the Campo Nou.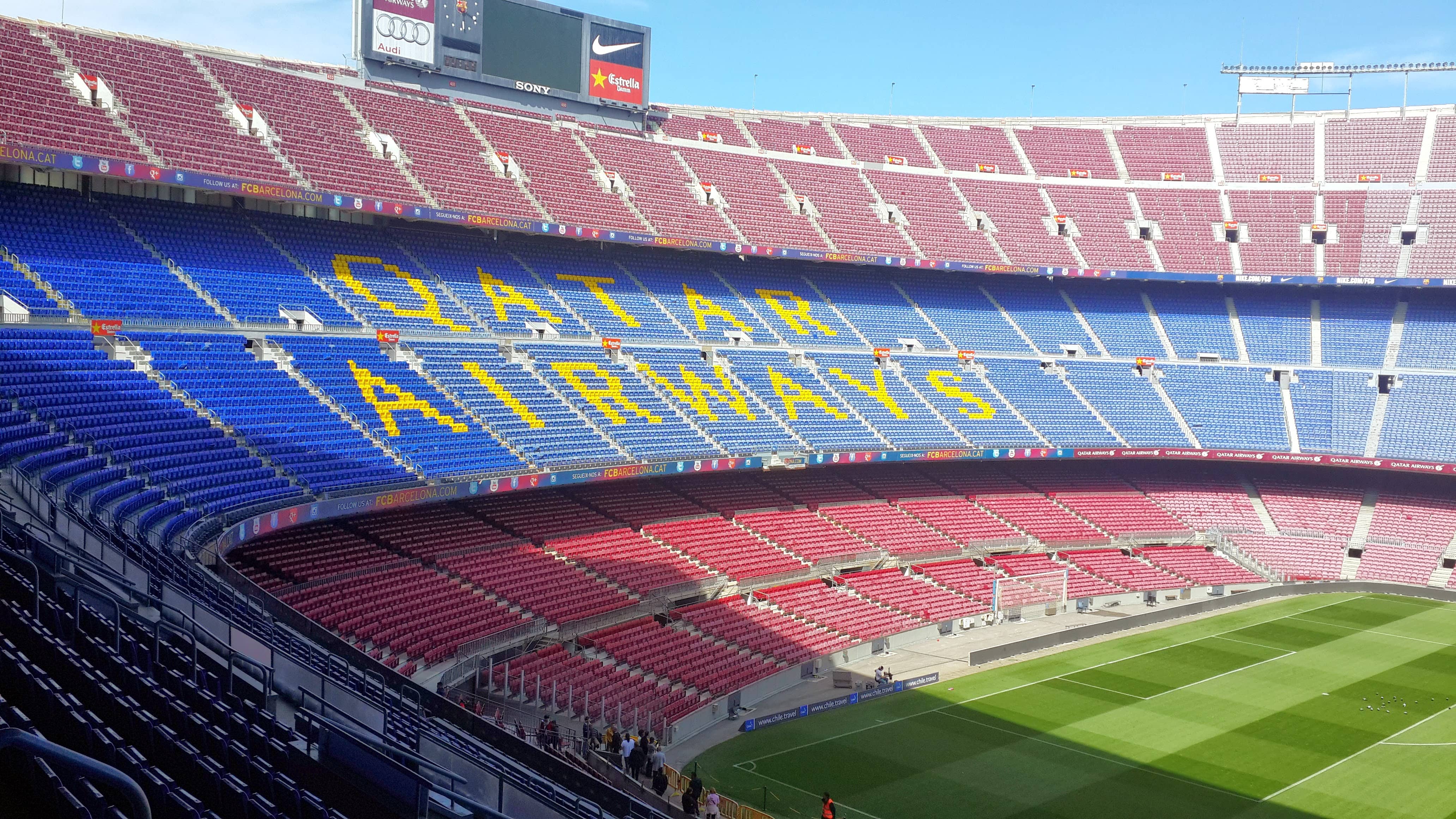 Itinerary #3
If you want to do more day trips and see more coastal towns, replace the Vinyards experience for a day trip to Sitges, Tarragona, or Cadaqués.
Have more time in Barcelona?
Are you staying more than four days in Barcelona? Don't worry we have got you covered. If you need a longer itinerary only for Catalunya, you can take the original itinerary and add the following activities. 
Day 5 - Excursion to the Tibidado
If you have extra days in Barcelona, visit the Tibidadobo! The Tibidabo is a hill that overlooks Barcelona and houses the Temple of the Sacred Heart of Jesus and an attraction park.
It is 512 meters above sea level. To get there, you can take the metro L7 or the bus 196 and then hop on the shuttle (funicular) that will take you to the top. 
Day 6 - Excursion to Montserrat
Montserrat is a mountain range home to the Benedictine abbey, Santa Maria de Montserrat. Beside the abbey, Montserrat is famous for having a Holy Grotto where children in the 9th century are said to have seen the Virgin Mary.
In addition, the views of nature and Barcelona's skyline are worth the trip.
The Best way to get to Montserrat is by taking the R5 from Plaça de Espanya to Monistrol de Montserrat and changing to the cable car to the top. The ride to the top will be between €23 - €25.
Relevant resources for your itinerary in Barcelona
Where to stay in Barcelona
What to see in Barcelona
Day Trips from Barcelona
---
Well, that would be it! In this article, you get one full itinerary for Barcelona plus two more options to personalize as you please.
On top of that, I added three more activities for three more days in Catalunya. I hope you can use this itinerary on your next trip, and we would love to read you if you do so!
If you have any questions, don't hesitate to ask; we are thrilled to help you!
Happy travels!