Prepare for Barcelona's Weather: Advice from a local + 7 Tips!
March 8, 2023
Updated:

March 20, 2023
Published: March 8, 2023
Spain is known for its long sunny days and hot temperatures. Many ex-pats from Northern Europe choose Spain as their second home country, with the weather as one of the main reasons to move.
Actually! There is a town in Barcelona where 35% of the permanent population are from the Netherlands, the United Kingdom, France, and Scandinavia. This coastal town is Sitgets; you can read more about it in the article below!
The second most famous destination in Spain is Barcelona, but people sometimes forget that Barcelona doesn't have perfect weather, and it is definitely NOT sunny 365 days a year.
So, in this article, we ill talk about the average temperature, wind, humidity, and cloudy, rainy, sunny days in the Catalonian capital.
To know more about Sitges!  👉 Barcelona in Spring: 9 Reasons Why It is My Favorite Season
---
Average temperature in Barcelona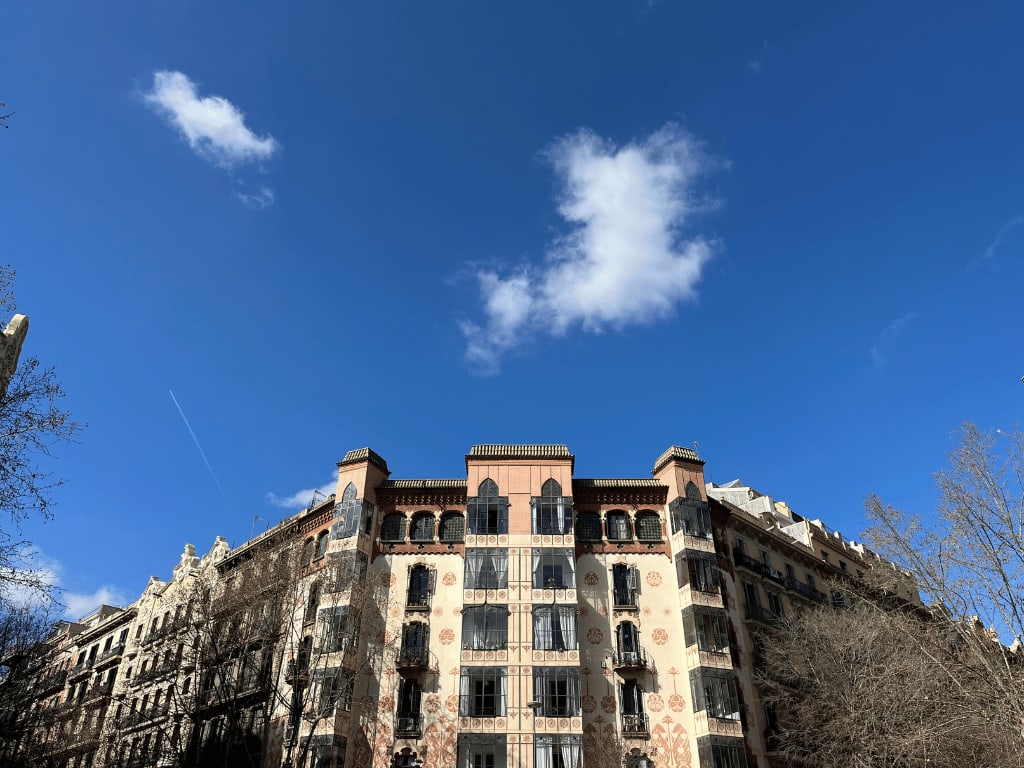 The average temperatures in Barcelona are 40°F to 83°F and are rarely below 33°F or above 88°F.
As a Mediterranean city, Barcelona has hot and humid summers, with the highest temperature being around 82°F in August. And mild winters with temperatures above 32°F, though it's normal for the city to be between 48°F and 59°F, which are low temperatures. 
Still, even in winter, Barcelona will give people some sunny days to make their days brighter. This doesn't mean that you shouldn't take coats or winter clothing; if you want to avoid getting a bad cold, always have the proper garment when visiting the city during its cooler months.  
Spring is a bit more unpredictable than Winter or Summer. At the beginning of the season, you can expect temperatures between 50°F and 62°F and 60°F and 73°F towards the end; there are also some days of rainy and many cloudy skies. 
Finally, Autumn is pretty rainy, and temperatures drop drastically compared to summer. The maximum temperatures are between 64–66 °F and the minimum around 54–55 °F.
Here you can see Barcelona's average temperature and days of rain per month:
| Month | High/Low (°F) | Days of rain |
| --- | --- | --- |
| January | 41/56° | 8.5 |
| February | 42/57° | 7.5 |
| March | 45/60° | 10.7 |
| April | 49/64° | 12.8 |
| May | 56/70° | 9.7 |
| June | 63/76° | 7.9 |
| July | 68/82° | 7.9 |
| August | 68/82° | 10.3 |
| September | 63/78° | 13.8 |
| October | 56/71° | 13.3 |
| November | 48/62° | 9.1 |
| December | 42/57° | 6.4 |
---
Cloudy Days in Barcelona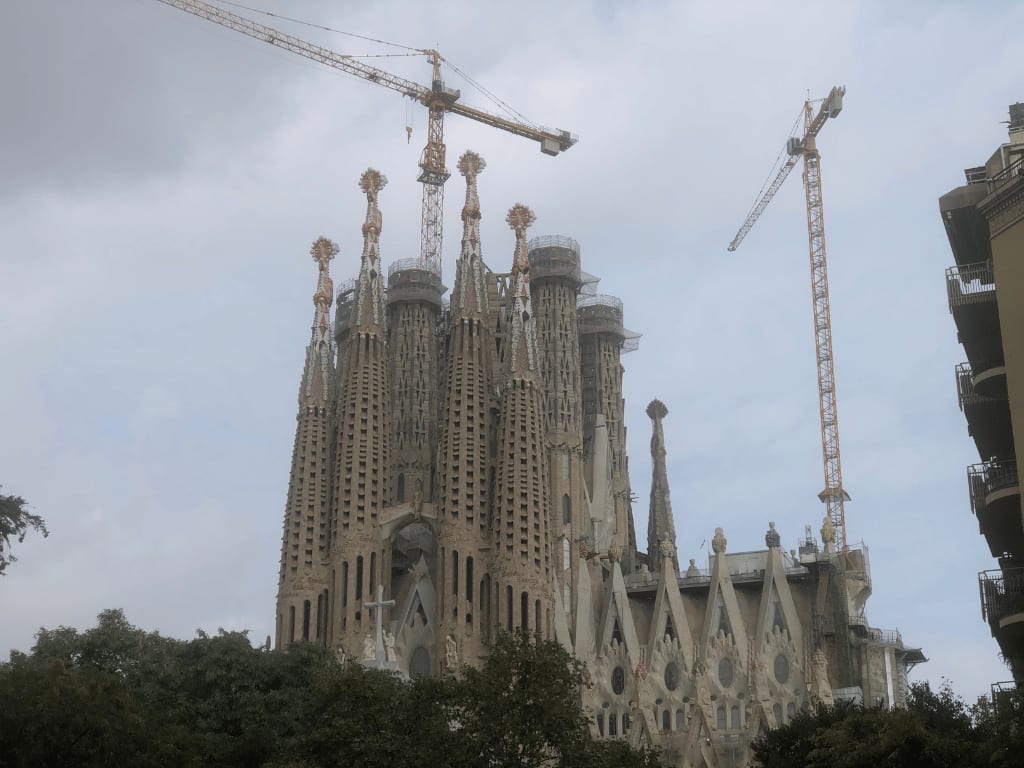 Remember when I said that people relate Spain, in this case, Barcelona, with summer, sunny days, and clear skies? What would you think if I told you Barcelona is cloudy most of the year?
I know it sounds unbelievable, but the truth is that the cloudier season of the Catalonian capital goes from September to June. These are 9.3 months of clouds! Yes, I don't mean to be a party pooper, but clouds take part of 3/4 of the year in Barcelona. 
Now, if you don't mind cloudy days but want to incorporate magic into your trip, I would skip October, as it is mostly cloudy 45% of the time. Instead, visit towards the end of November and December when the cooler days are out-staged by Christmas lights and decorations. 
Tip 1: My best advice for fighting cloudy days is to choose your activities wiser. Again, skip October and visit Barcelona towards the end of Autumn when Christmas vibes hit the city. Also, plan activities that make you feel cozy and warm, like booking indoor shows, spotting dreamy cafes, and enjoying the Autumn vibe in the parks.
Rainy Days in Barcelona
Barcelona has rainy days throughout the year, but as with the cloudy season, the rainfall and precipitation in the Catalonian capital last 9.3 months, from August to July.
Tip 2: My best tip would be to check official weather websites like Met Office and Aemt two weeks before your trip to ensure your journey will face a rainy forecast. Also, add Barcelona to the weather app in your form and have up to date information during your trip!
October is also the rainiest month in Barcelona, with an average rainfall of 2.4 inches. It has 6.1 days of precipitation, and its peak probability of rain is 22%, the highest percentage throughout the year. 
In total, Barcelona experiences 90 days of rain throughout the year.
Tip 3: If you decide to travel in October, I recommend bringing comfortable, waterproof shoes to accompany you throughout your journey.
Sunny Days in Barcelona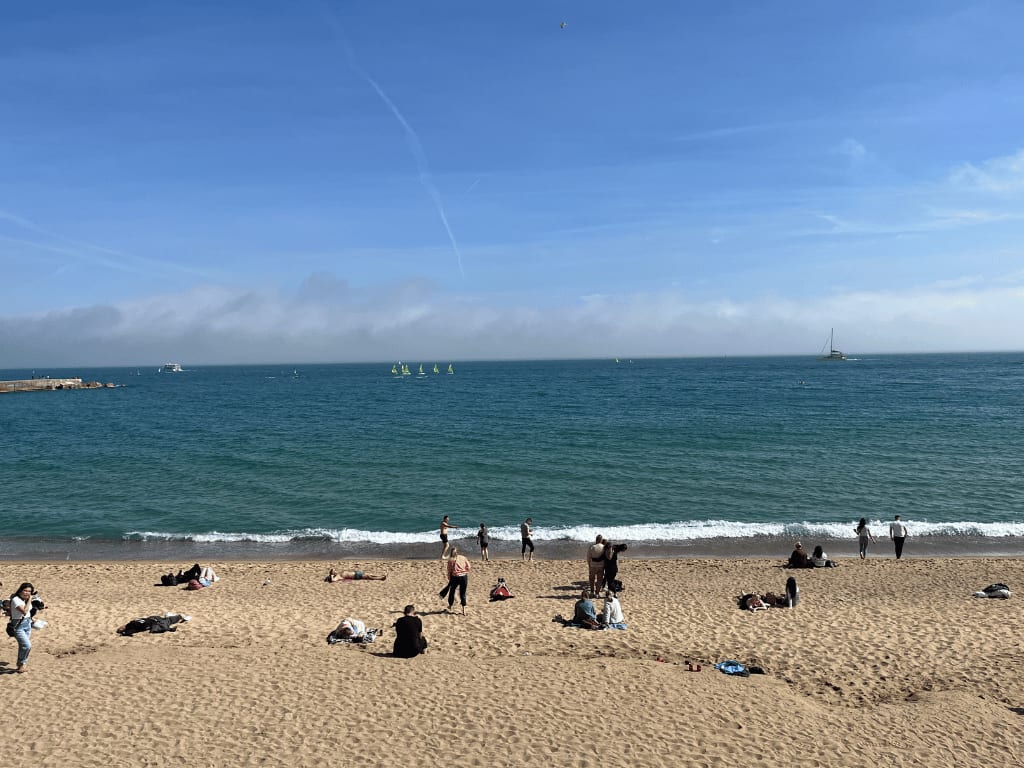 I have to be honest; days from late October to early March are super tough because the hours of sun are the shortest of the year. During the months I mentioned, the sun rises past 8 am and sets as early as 5:20 pm. 
I would say that the perfect months are March, May, and September when temperatures are tolerable; you can wake up with the sun around 7 am and go to sleep with it around 7 pm. But that is my preference; now I will let you know the most exciting weather news!
So, the warm season in Barcelona goes from late May to early October; the warmest months are July and August, with temperatures around 82–84 °F during the day and 72–73 °F at night.
The year's longest day is June 21, with 15 hours and 10 minutes of daylight, while the shortest is December 22, with only 9 hours and 11 minutes of daylight. 
The earliest sunrise is June 15 at 6:17 am, and the latest sunset is June 27 at 9:28 pm. 
Tip 4: Always carry sunscreen with you! June, July, August, and September are the months with a higher UV Index in Barcelona. Even though we all want the Mediterranean tan, please protect your skin from dangerous exposure, and keep hydrated.
Humidity in Barcelona
Humidity is the concentration of water vapor in the air, which Weather Spark classifies into six sensations: dry, comfortable, humid, muggy, oppressive, and miserable. 
Let us make an important remark that humidity is measured with dew points. 
"This is the temperature to which air must be cooled to become saturated with water vapor, assuming constant air pressure and water content. When cooled below the dew point, moisture capacity is reduced, and airborne water vapor will condense to form liquid water known as dew."
Knowing this, the next thing to understand is that humidity, unlike temperature, varied very little from day to night, and "Barcelona experiences extreme seasonal variation in the perceived humidity."
In simple words, Barcelona experiences extreme changes in humidity depending on the season, which affects how a person perceives the heat or cold. 
The muggier period of Barcelona lasts 3.6 months, from June to October, during which July and August can feel oppressive and miserable. On the other hand, the least muggy period is February. 
Tip 5: The same advice as for sunny days, always keep a re-usable bottle of water with you, and if possible, get yourself a fan and refresh yourself during your walks.
Wind in Barcelona
One thing that surprises me the most about Spain is the power of the wind. There are moments when it pushes you from where you are standing!
So, the windier part of the year goes from October to April, a total of 6.9 months, with average wind speeds of more than 7.7 miles per hour. 
In this case, December beats October as the windiest month of all, with an average hourly speed of 8.5 miles per hour. 
In contrast, the period with less wind goes from April to October; July is the month with the slightest breeze, making an average hourly wind speed of 6.8 miles per hour. 
Tip 6: If you plan on visiting Barcelona during its windy season, pack a scarf and a good coat. I want to say that by experience, the worst part of the chilly months of winter in Barcelona is the wind, which can change how you perceive the weather from cold to freezing.
Best time to visit Barcelona
The best time to visit Barcelona can also depend on your preferences for the weather. Someone more into winter will prefer visiting Barcelona in December when temperatures go from 48°F to 59°F, so they can enjoy the Christmas lights, maybe go skiing, or book indoor activities. 
If you visit Barcelona in winter, come the week before Christmas and enjoy the magical vibes of the season under thousands of lights and markets in the city center.
However, according to the tourism score of Weather Spark, the best time to visit Barcelona is from late May to late June and from late August to late September when perceived temperatures are between 65°F and 80°F.
Besides the tourism score, Weather Spark also presents the beach/pool score in which the best time to visit Barcelona is from late June to late August, with temperatures between 75°F and 90°F.
So, according to weather experts, the best time to visit Barcelona would be between late spring and summer, the peak months of Europe's vacationing period. 
Tip 7: Plan ahead if you book a trip during late spring and summer Barcelona! I know I am repeating myself, but that is the highest season of the year, and if you try to book things last minute, you will end up paying double.
What to pack for Barcelona's weather? Advice from a local!
Always!  👉  Pack your adaptor plug. Make sure to pack an adaptor plug if you're coming from a country with different electrical outlets.
What to pack for summer in Barcelona
From June to September
Backpack or big bag. Remember you will be moving around a lot, maybe from the beach to cala, and you need a spacious bag to carry your daily essentials. 
Light clothing like dresses, skirts, shorts, and shirts. The best materials are cotton and linen. 
Comfortable shoes for walking.
Flip flops for the beach.
Sandals or ballerina's shoes for special occasions.
Swimsuits and cover-ups on the beach
Sunscreen with a high SPF, you can get it in Barcelona but keep it in mind!
Sunglasses
Hat
---
What to pack for Autumn in Barcelona
From September to December
Light jacket or sweater. Temperature can be slightly warm during the day, but the nights are chilly. 
Comfortable walking shoes. If yuo can bring, an additional pair of rain shoes or boots will save your life. 
Umbrella or raincoat.
Scarf and hat. September throughout December, temperatures go down, so be prepared for windy days.
Comfortable clothes. Barcelona ( and almost all of the Spanish cities) has a laid-back, stylish style, so pack comfortable clothes to feel in sync with the city and comfortable.  
Sunglasses for the beginning of Autumn. 
---
What to pack for Winter in Barcelona
From December to March
Warm coat. Winter temperatures in Barcelona can be chilly, so a warm jacket is essential to keep you comfortable.
Sweaters and long-sleeved shirts. Pack a few warm sweaters and long-sleeved shirts to layer under your coat. This is why the "onion law" is better to wear layers than freeze yourself throughout the day. 
Scarf, hat, and gloves. Essential accessories to keep you warm. 
Waterproof boots or warm shoes that will protect you from occasional rain and cold. 
Thermal underwear. Always essential for first-timers who spend a lot of time looking around the city. 
Umbrella 
---
What to pack for Winter in Barcelona
From March to June
Light jacket or sweater. As you read before, Spring can be a little unpredictable; the weather is still mild and chilly at the beginning of the season, so don't assume it is hot just because it is Barcelona. 
Spring dresses or light pants. If you travel in May and June, come with delicate clothing that will make you feel comfortable throughout the day. 
Scarf. Besides being stylish, Spring nights can be chilly to provide you warmth. 
Comfortable walking shoes. As all the other lists, Barcelona is a walkable city; your legs will do the exercise of a lifetime! So, bring comfortable walking shoes and a light, more stylish pair for chill days. 
Sunglasses and sunscreen. Spring has a stronger UV index than winter, so wear it daily.
Umbrella. Although it is not the rainiest season, some rainfall can fall on you, so keep a small umbrella in your purse. 
Daypack or crossbody bag. In Barcelona is always important to keep your essentials in a safe backpack or crossbody bag you see all the time. 
---
I hope these four lists are helpful for your next trip! I know that one of the worst feelings ever is getting your day ruined by unpredictable weather, so don't let it!
Consider the tips we shared in this article, download weather apps, check official websites in advance, and pack all the essentials for the respective season.