Travel to Benahavís: 5 Attractions, Food & Activities
October 31, 2023
Updated:

November 2, 2023
Published: October 31, 2023
The privileges offered by life on the Costa del Sol were all granted to Benahavís.
With its Arabic layout, white houses, and colorful pots, the town becomes a delightful spot representing the typical image of a southern city in Spain.
The town radiates peace, inviting us to explore its charming narrow streets and discover its hidden gems.
In this article, let me show you how to experience Benahavís fully! You'll find the best sightseeing activities, places to stay, where to eat, and even share some experiences of our last hikes.
After this, you'll understand why so many people escape to this town to spend their vacation, as the city is surrounded by nature of all kinds and provides the perfect setting for a beautiful break near La Costa del Sol, enjoying the best of both worlds!
---
What is Benahavís?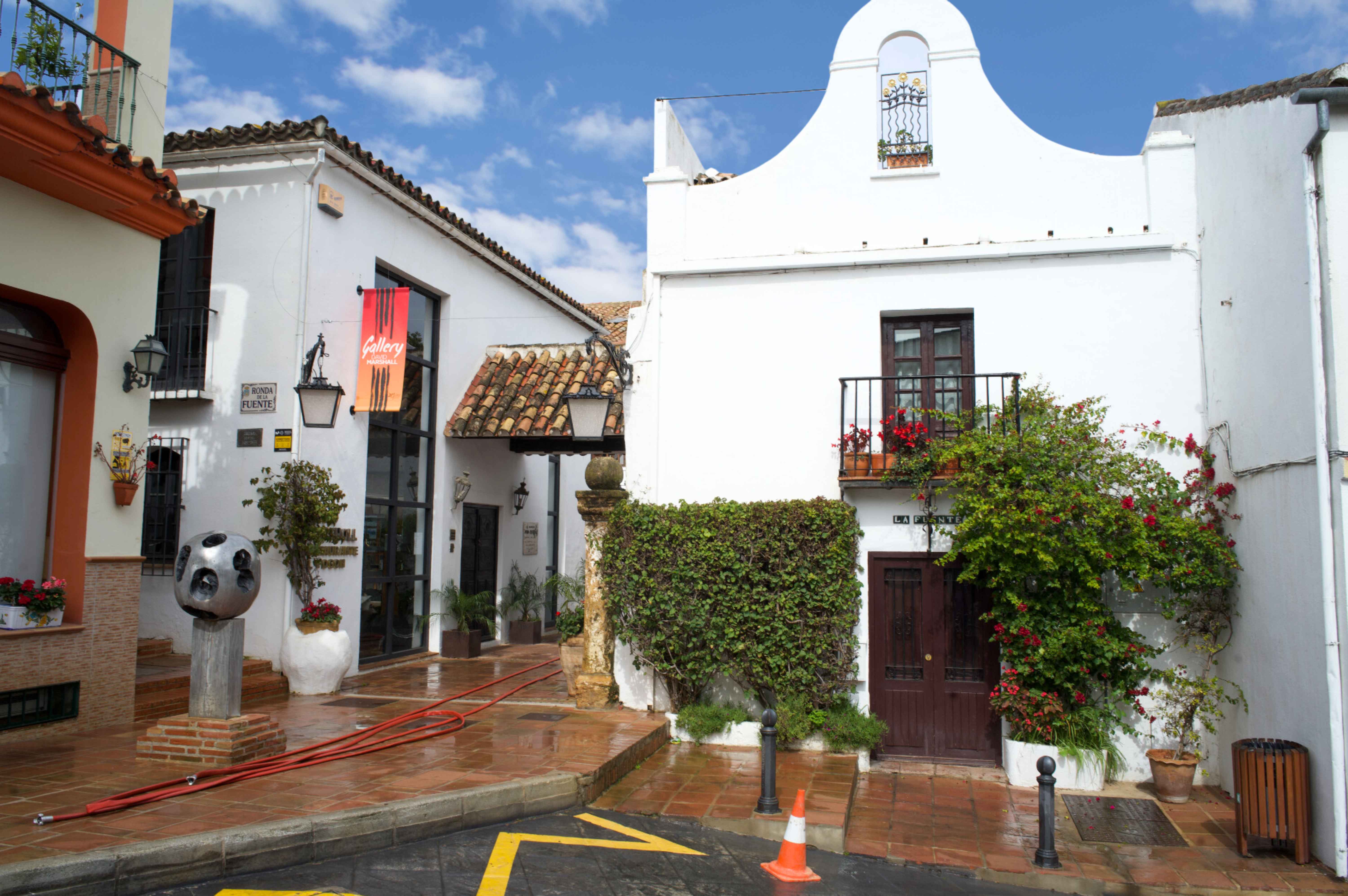 Benahavís is a charming mountain town on the western Costa del Sol in Málaga, Andalucia. It is an inland town close to the coast, making it part of the coastal development.
The town has managed to preserve its authenticity and is of Arab origin, founded during the Muslim domination. It has mountainous lands that extend through the Serranía and is crossed by three rivers, resulting in a varied landscape with incredible natural beauty.
You can find it between Marbella, Estepona, and the Serranía de Ronda, some of the best vacation destinations!
Oh, and despite being a mountain town, it is home to some of the most expensive luxury developments in Spain, which has led to one of the highest per capita incomes in the country.
Best Things to Do in Benahavís
1. Spend an afternoon at Parque Torre Leonera
The Parque Torre Leonera is a fantastic place to spend a summer day and picnic. The park is very well maintained, with lakes, a play area for children, and even a cozy amphitheater.
The best part? The park has a rich history dating back to the Arab period, when the watchtower, Torre Leonares, was used to control access to the Valley of the River Guadalmina. This tower is also one of the five watchtowers built in the Nasrid period to defend the Montemayor castle and is protected as part of Spanish Historical Heritage.
The garden is filled with stunning plants and trees, and the children's play area is safe and clean, with toilet facilities nearby.
It's the perfect spot to breathe fresh air, relax on one of the many benches scattered throughout the park, and enjoy the water features and stone church. It's definitely worth a visit!
2. Get in touch with nature at Canyon of Las Angosturas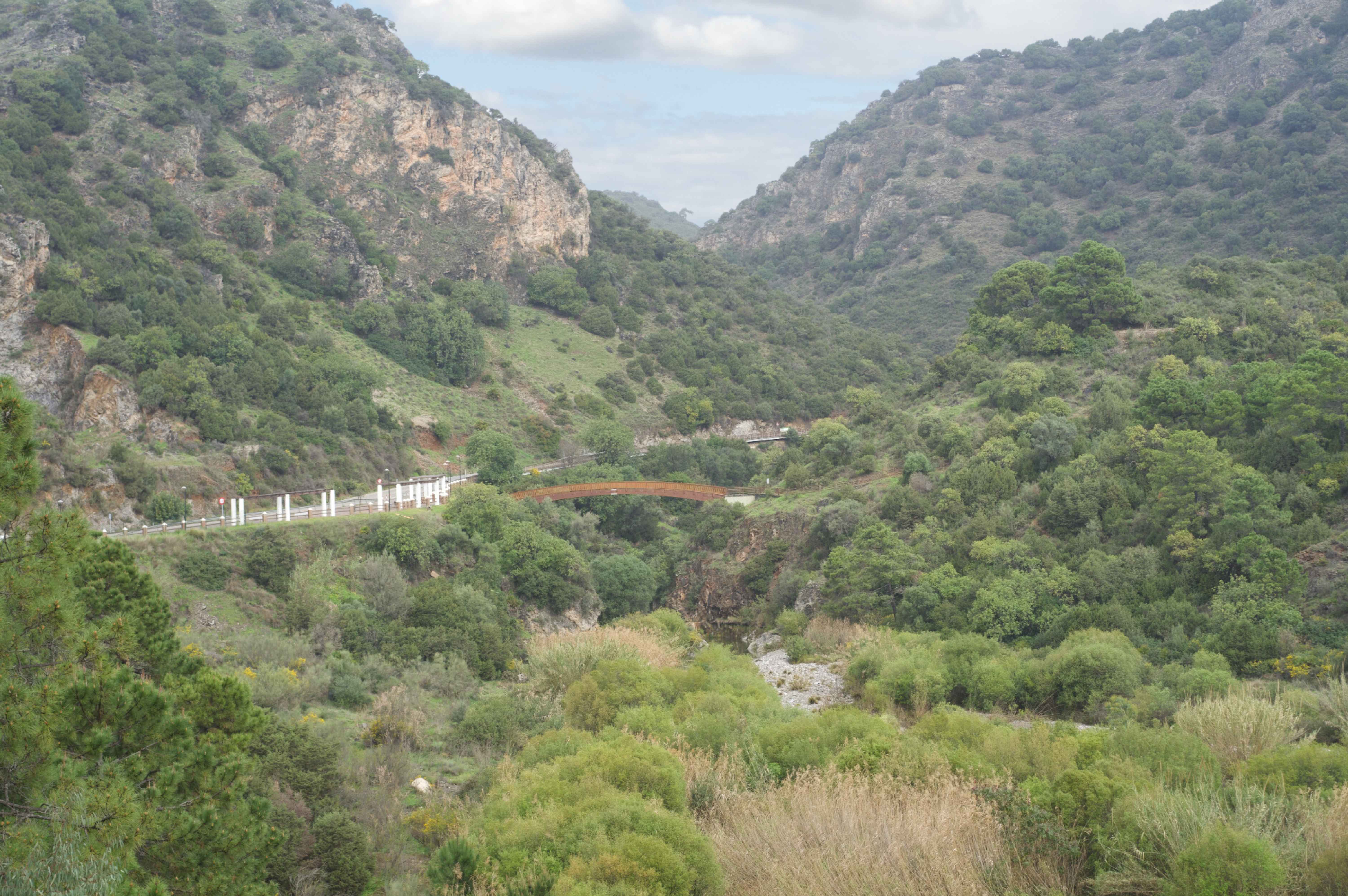 On our last visit to Benahavís, we had a fantastic experience on a really cool hike to the Canyon of Las Angosturas. It is a perfect activity for adventurous people that might even be suitable for kids as long as they are good swimmers. 
The trail we did was simply unique! We got to do cliff jumps, swim in caves, and see breathtaking views. But, it might not be best for beginners. Even though my husband and I are young, there are certain sections where you have to swim for a long time, so if you're not too confident with your swimming, it's better to have a guide with you.
It was a bit challenging but totally worth it! Swimming through those beautiful caves was genuinely breathtaking. Wear trainers instead of water shoes and bring a waterproof bag for your phone and keys. Trust me, it'll make your experience even better! 
All in all, this hidden treasure of Benahavís is an incredible adventure that I highly recommend. Go for it, and let me know how it goes!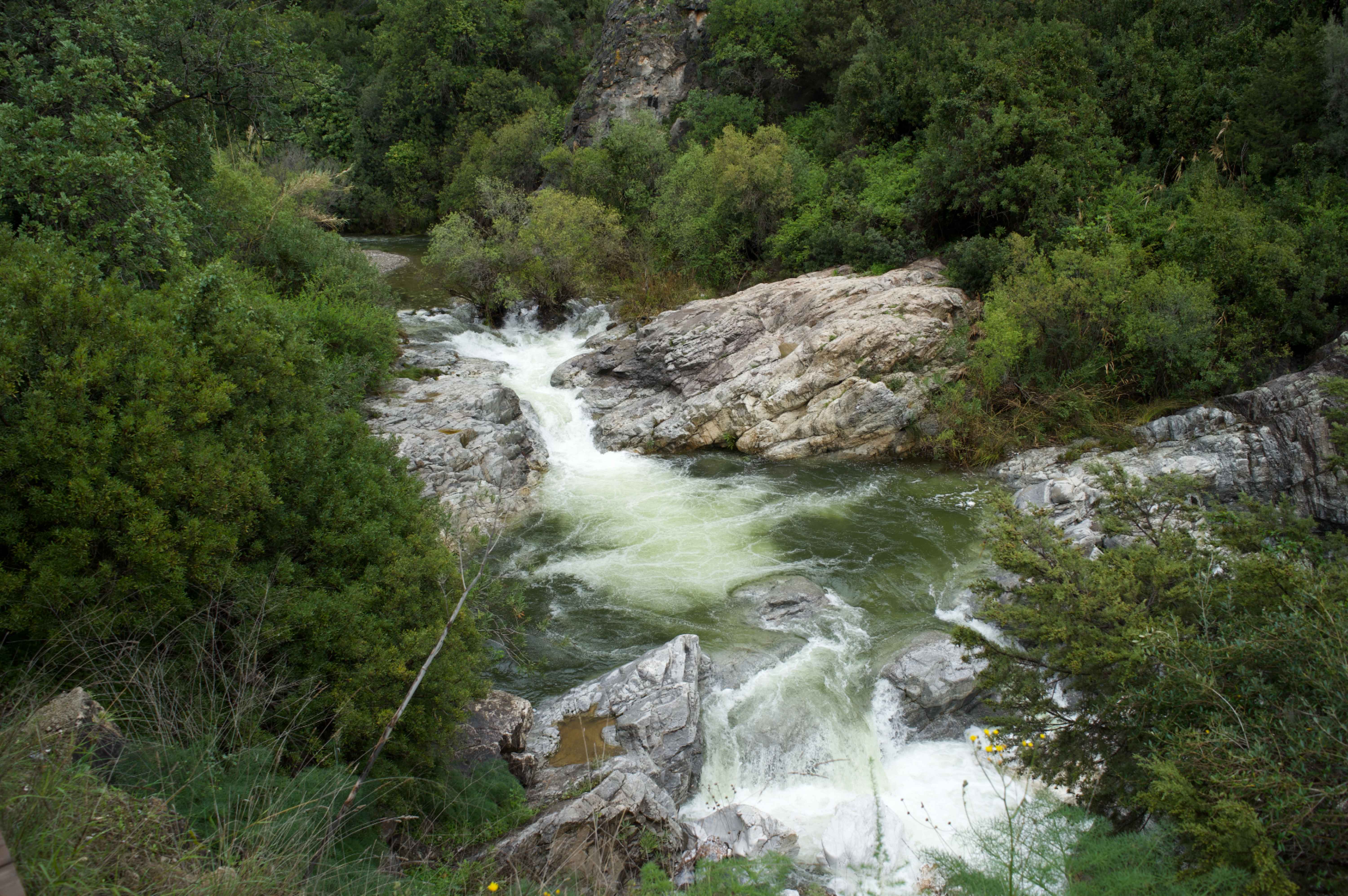 But if you want a quieter hike, I recommend the Acequia de Guadalmina trail; you can walk along the aqueduct, over the canyon and witness a serene and peaceful atmosphere.
You can start at the Tres Pérgolas Viewpoint, located near the access road to Benahavís. It's just 1.5 km from the municipality, and you'll easily spot it where the Guadalmina River descends and ends in a pool known as "La Playa" by the locals. 
3. Watch Stunning Views at El Castillo de Montemayor
El Castillo de Montemayor is an incredible castle with a fascinating history that dates back to the 10th century. It was initially built by the Moors and was a crucial landmark during different periods of Muslim and Christian rule.
Also, it has a beautiful location on top of a hill, which provides breathtaking panoramic views of the surrounding countryside and the Mediterranean coastline. It's a fantastic spot for photographing and admiring the picturesque Andalusian landscape.
The castle's architecture and historical relics provide an insight into the traditions and way of life of the people who once occupied it. Today, it offers visitors a chance to explore the remains of this history, including its defensive walls, towers, and architecture.
The castle can be accessed via hiking trails, which makes it a popular destination for outdoor enthusiasts. So, whether you're into historical architecture or natural landscapes, El Castillo de Montemayor won't disappoint.
4. Play on some of Spain's finest golf courses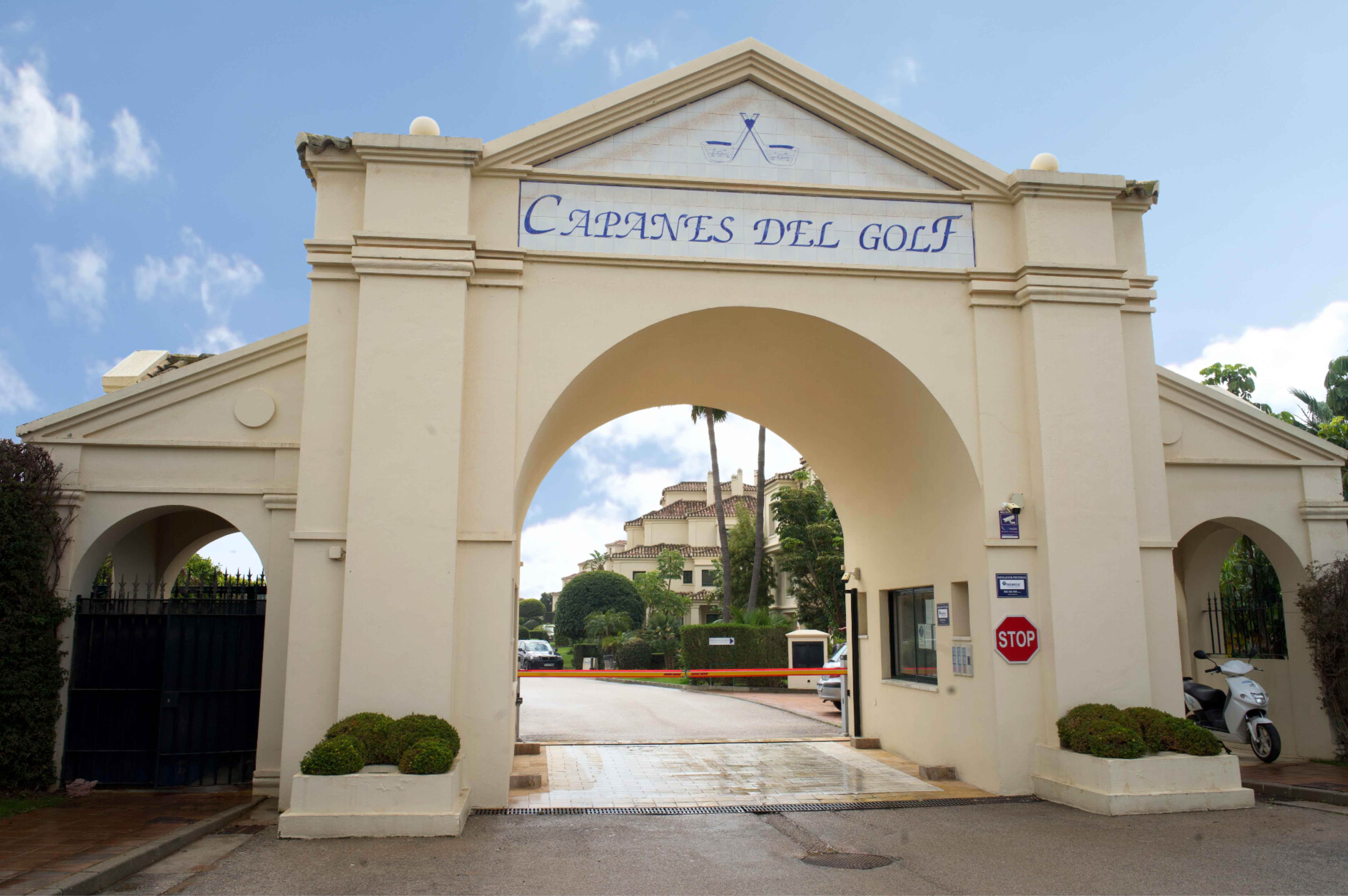 Do you love golf and are planning a trip to Spain? If yes, then you would be glad to know that Benahavís is one of the most popular destinations for golf enthusiasts.
This lovely place is known for its beautiful villas and fantastic golf courses to spend a nice vacation.
Some of the best golf campuses in Benahavís include El Higueral, between the gentle slopes of the foothills of Benahavís and the banks of the Guadalmina River.
It has pretty lakes and amazing views and frequently hosts the Marbella Tour, a weekly event for professional golfers on the Costa del Sol.
Another top golf course in Benahavís is Los Arqueros, designed by Seve Ballesteros (a professional golf player). So, this place is a bit more challenging but has a lively atmosphere at the Los Arqueros Club House.
La Quinta Golf & Country Club is another outstanding golf course a few minutes away from Puerto Banús between the sea and the mountains, ensuring breathtaking views.
Plus, the complex has an exclusive sports club, 5-star hotel, spa, and restaurant, as well as luxurious villas, residential complexes, with safe common areas.
5. Beach getaway? Have a trip to Costa del Sol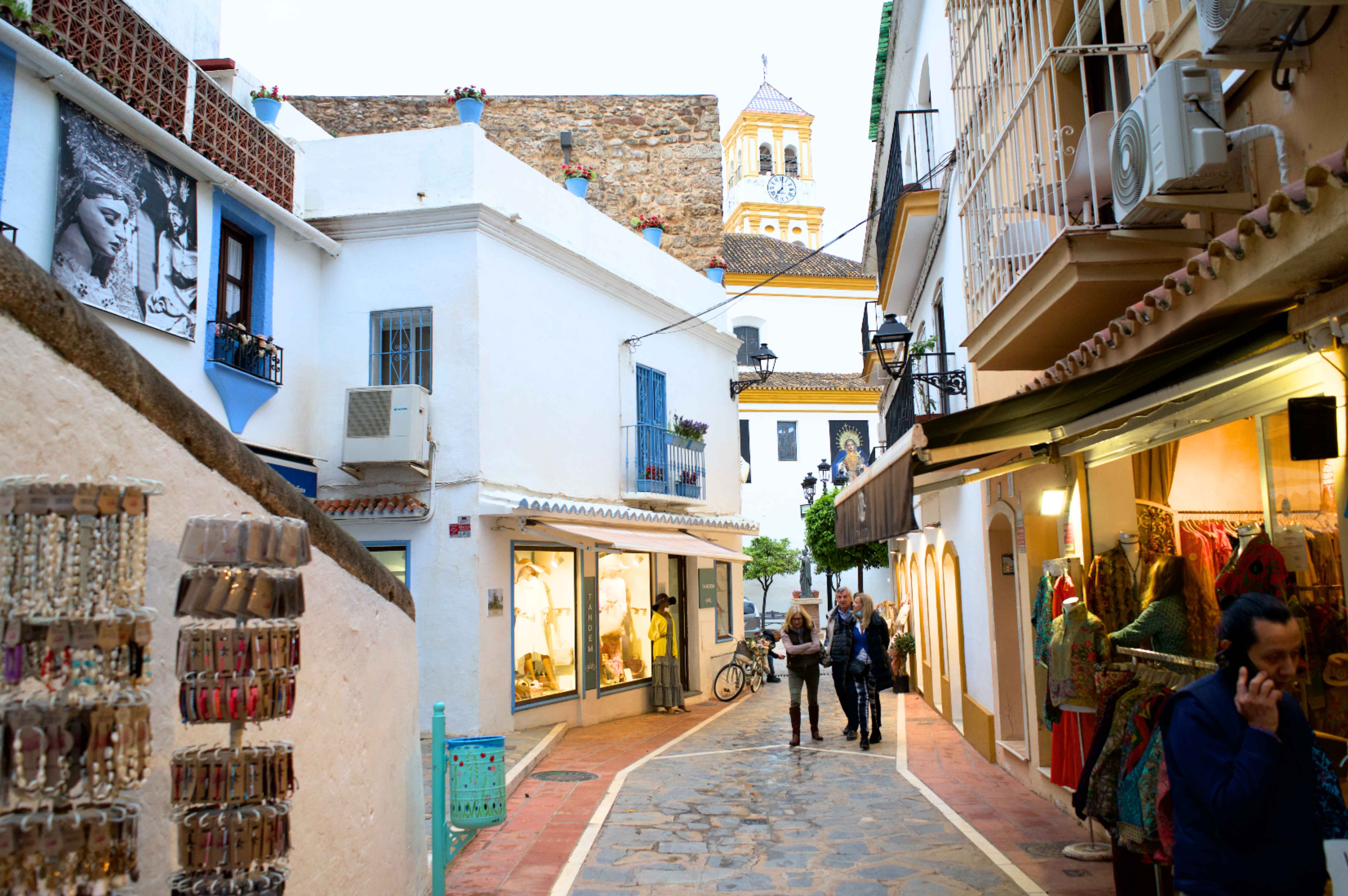 One of the main advantages of visiting Benahavís is its proximity to the beach, just a few kilometers away. This allows you to enjoy a relaxing vacation in a natural setting while also experiencing the lively atmosphere of the nearby coastal towns!
One of my favorites is Marbella, which is literally 15 minutes away from Benahavís. I mean, does it get any better than this?
Puerto Banús is a fantastic place that you cannot miss. It has everything you could ever want, from trendy boutiques and pretty jewelry stores to the most delicious restaurants to have lunch.
And that's not all! You'll also get to see some of the most impressive yachts and high-end cars while walking through this port.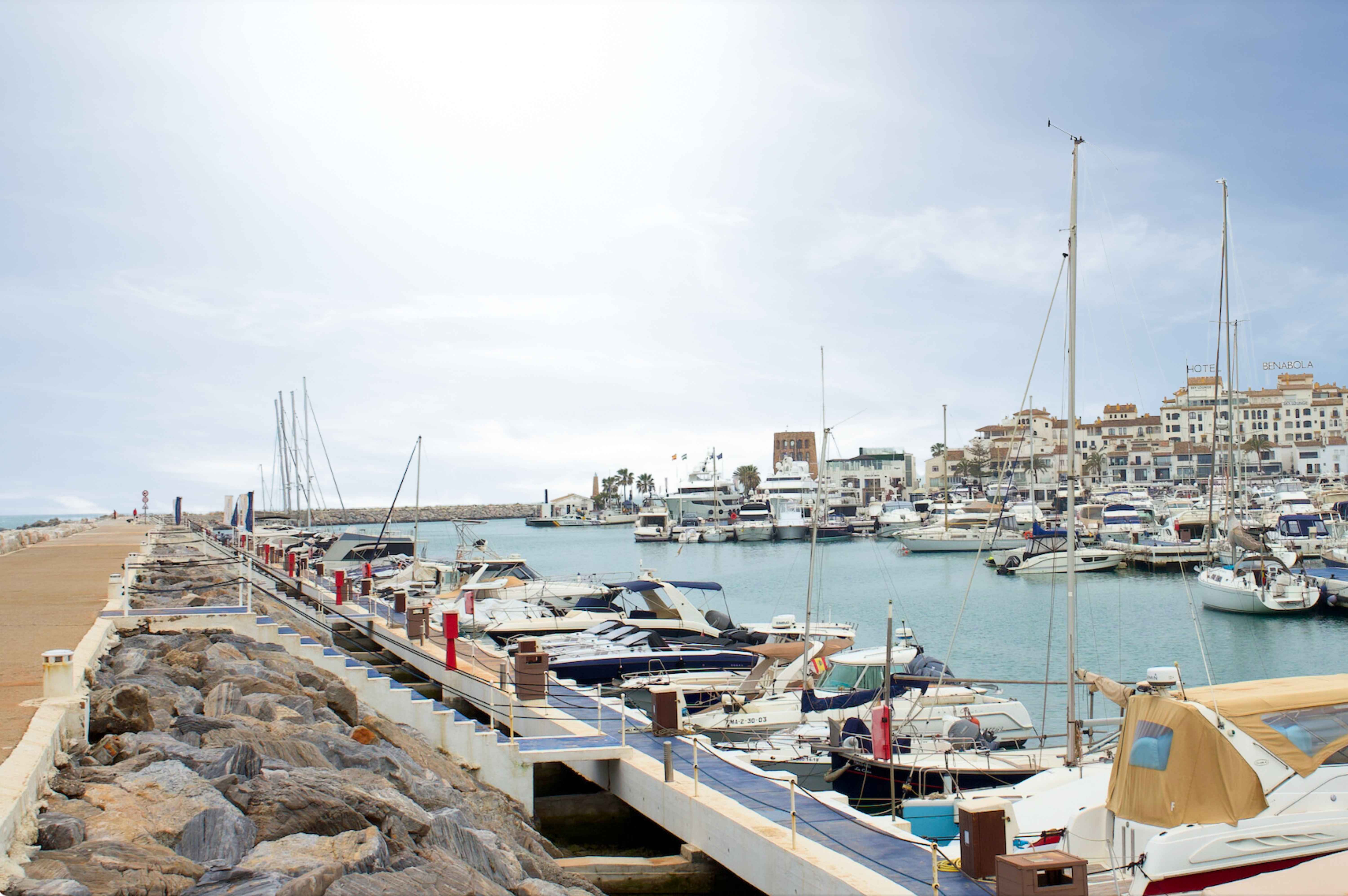 Plus, you can even take a leisurely stroll from its bridge to the center of Marbella. It's definitely worth checking out!
Another one is Estepona, a beautiful white town in Spain. This is your place if you are not into big beach cities or cosmopolitan environments, as the small town has a charming center where you can try its delicious food and taste a bit of the Southern lifestyle in Costa del Sol.
Whether you choose one way or the other, a beach getaway during your stay in Estepona is a must!
Best Time To Visit Benahavis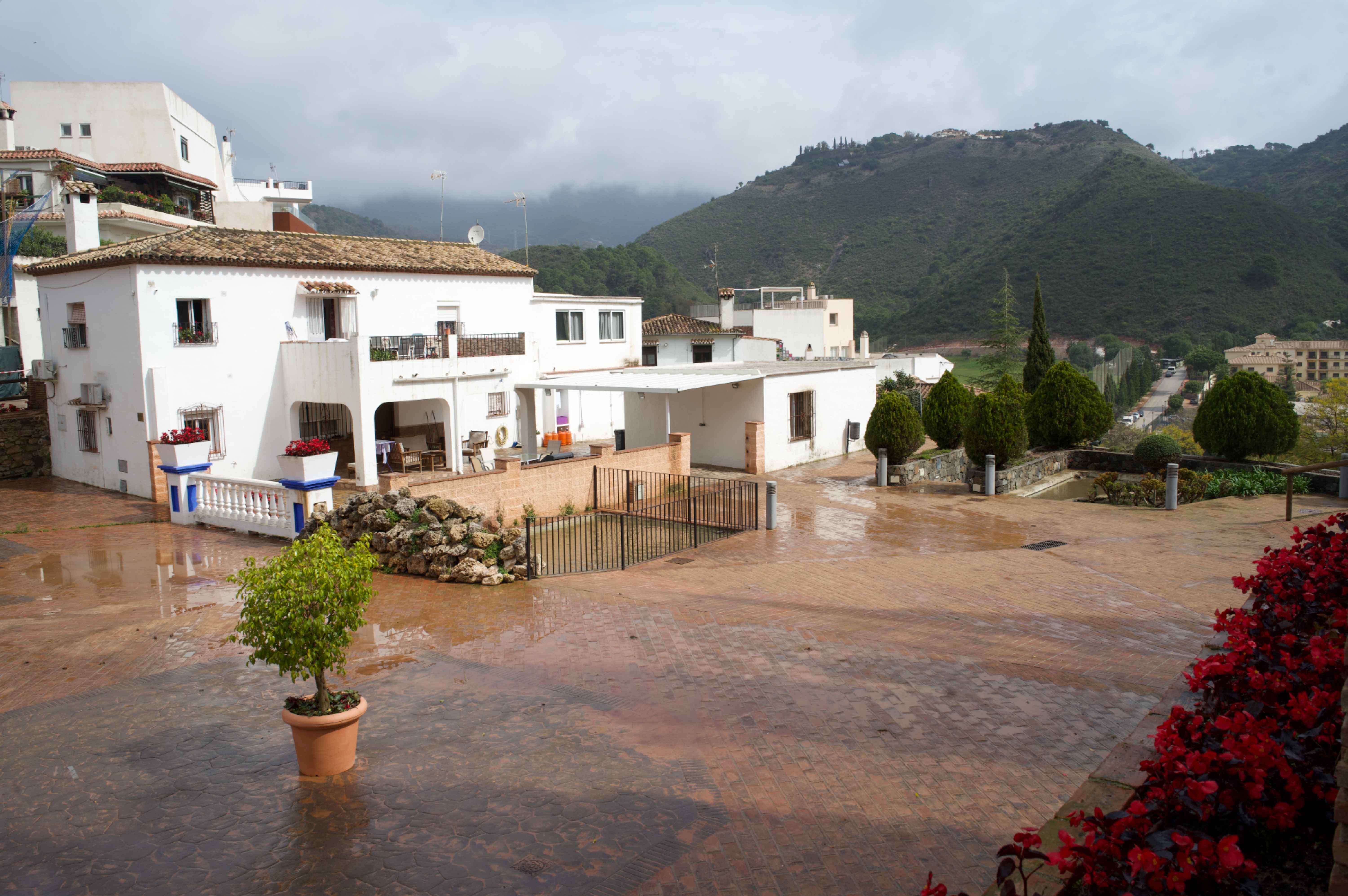 Spring and Summer are undoubtedly the best months to visit Benahavís. During this time, the weather is perfect for different activities such as hiking, relaxing at the beach, or people-watching in a cafe or on a terrace.
Between March and April, the climate is splendid as the temperatures rise and the flowers bloom. As for May and October, the weather is simply perfect!
You get to enjoy the best of both worlds because of the warm sunshine of summer and the pleasant breeze of autumn. Trust me, you won't be disappointed!
From November to February, the weather is passable but still good (at least better than in other places in Spain). Temperatures can rise to 17°C, and there's a bit of rain. So, I would not advise you to come during these times, to be fair.
How to Get to Benahavís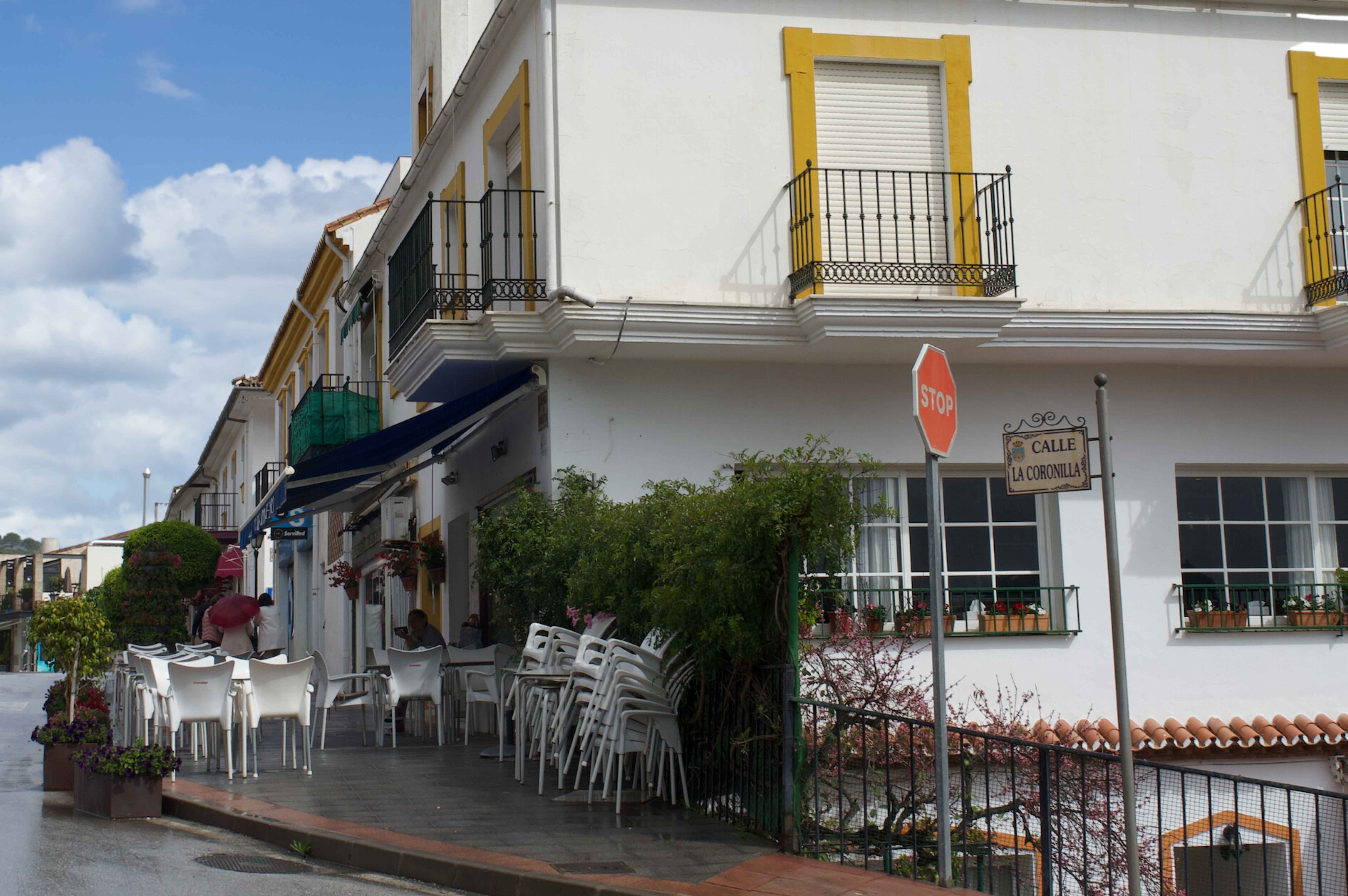 By Car
Benahavís has easy access to the main roads of the Costa del Sol, including the A7 and AP7 highways.
When coming from Málaga, you can reach Benahavís via the A7 Highway, which runs along the coastline. The distance between Málaga and Benahavís is approximately 79 kilometers, and the journey takes around 1 hour by car.
Once you pass Marbella and Puerto Banús, you will find clear indicators to access Benahavís via the A-7175 road. This regional road will take you directly to the urban center of Benahavís.
If you're arriving from the west, take the A7 Highway that runs along the entire coast of Málaga. Then, take the exit for the A-7175 road to reach the city center
By Flight
If you arrive by plane, Málaga International Airport is the closest, only 70 kilometers away. The airports of Gibraltar and Jerez are a bit further away but also offer car rental, bus, private transportation, and taxi services
Of course, after arriving in Málaga, you'll have to drive to get to Benahavís.
By Train
You can also travel by train to Málaga using the Renfe AVE (Spain's high-speed train), which has a lot of connections to many other cities.
Where to Eat in Benahavís
Have a gourmet experience at La Escalera
Try mouthwatering dishes in a great atmosphere at Los Abanicos
Enjoy traditional food at Bodeguita El Chico
Try local dishes at Amanhavis Restaurant
Have lunch with amazing views at Hills Café & Restaurant 
Where to Stay in Benahavís
Relax and unwind at Anantara Villa Padierna Palace
Stay at Amanhavis Hotel, a convenient spot in the city center with a nice restaurant
Rent a luxurious villa in Los Arqueros for a high-end experience
Have a wonderful stay at The Westin La Quinta Golf Resort & Spa, near Benahavís
How much does it cost to visit Benahavís?
Request information: hello@sensationalspain.com
How much money you need for your trip to Benahavís depends on many things, such as how many people are traveling, the type of activities you want to do, accommodation, the duration of your stay, restaurants, and most importantly, the time of year.
To help you more accurately, please don't hesitate to reach out to us via email! Share the details of your desired trip to Spain, and we will provide you with a price estimate and offer local advice for all your travel needs. 
Choose your Spain Itinerary
1 Day in Spain? 10 Best Things to Do in 24 Hours!
2 Days in Spain: Trip Ideas & Itineraries to Enjoy Your 48h
3 Days in Spain: What's the Best Itinerary for Your Trip?
4 Days in Spain - Best Travel Itineraries for Short Trips
5 Days in Spain: Itineraries to See (almost) Everything!
6 Days in Spain: The 3 Best Itineraries for Your Trip!
7 Days in Spain: The 3 Best Itineraries for Your Trip!
---
Seriously, Benahavís is such a great place to spend your vacation since it offers a strategic location to visit other nearby towns in La Costa del Sol while providing a natural environment, a laid-back atmosphere, and a somewhat more local experience.
Happy travels!