7 Books about Spain That Will Make a Cultural Expert Out of You
November 11, 2022
Updated:

February 14, 2023
Published: November 11, 2022
Do you prefer historical books or historical fiction? Personally, I am more into historical fiction, but if you prefer the former, I have got you covered!
If you've been wanting to immerse yourself in Spanish history and culture through books out of curiosity, a future trip, or a project, you have come to the right place.
In this article, I will share with you seven books about Spain that will help you discover the country in more detail.
So, get ready to buy some books and ask your friends for a Kindle gift card because you will want to read one or all of the texts we will cover.
History
1. "Romanos de Aquí: Historias Estupendas de los Romanos Nacidos en Europa" by Paco Alvarez
"Romans from Here: Stupendous Stories of the Romans Born in Europe" is a history book written by Paco Alvarez and published in 2021. Before diving into the book, let me tell you a bit about the author. The Madrileño, Paco Alvarez, is a little bit of everything. He is an advertiser by career, historian, researcher, and geographer by heart. Thank his inherent talent, he has collaborated with influential brands such as National Geographic and Discovery Chanel. 
He writes his books with the single purpose of sharing history with everyone. In an interview with his publisher, he explains that his texts aren't made for academics but for anyone interested in history. He applies a very conversational and friendly vocabulary because people like stories they can understand. 
Summary
"Romans From Here" is a tour around Hispania Romana that will introduce the reader to many vital characters born and raised in the Iberian Peninsula. He describes Hispania as a Golden Age for Spain because of the thinkers, artists, politicians, and other people that transcended thrugh history. Seneca, Trajan, Hadrian, and Egeria are some of the people mentioned. The latter surprised me! I didn't know who she was, and Egeria was the first Hispanic woman to write a book. It is named "The Pilgrimage of Etherea." Paco also explores the fact that Tarragona was the biggest province of the empire and an essential provider of gold and silver. 
So, if you are interested in ancient history but tired of academic tones, this is your book!
This book is only available in Spanish, and if you know the language then I encourage you to check it out in Amazon and iBooks.
2. "Eso No Estaba en Mi Libro de Historia de España" by Francisco Carlos García del Junco
Translated to English as "That Was Not In My Spanish History Book," was published in 2016 by the writer Francisco Carlos García del Junco. He is licensed in History and Geography and has got a Ph.D. in Archeology. His book is 416 and has had 14 editions, so if you are a hsitory lover, this is the perfect text to add to your list.  
Summary
The purpose of this book is to share facts that are not told in most history books or that are taught with only one side of the coin. "Eso No Estaba en Mi Libro de Historia de España" has thirteen chapters with thirteen different topics that the author means to highlight or defend. From a huge naval defeat against the UK to a malaria expedition and the Spanish Inquisition, García del Junco tries to share light on the side of history that we don't know.
However, he also tries to defend certain historical events that are very challenging to put an excuse for. That is why I believe the following review by media researcher Eduardo Madinaveitia is very accurate:
"An interesting but irregular book. More interesting when it is dedicated to highlighting the remarkable and little-known facts of our history than when it enters into arid theses to defend some aspects that are not very defensible. Neither here nor anywhere else has everything been done well throughout history. All histories have lights, and it is good to highlight them and shadows. And there is nothing wrong with recognizing them".
If you speak Spanish I encourage you to check out the book in Amazon.
3. "Una Historia de España" by Arturo Perez Reverte
History of Spain Arturo Perez Reverte is a historical novel published in 2019, and it has 91 chapters. Yes, you read that right. Ninty-one chapters!!! Perez Reverte is a novelist and journalist that worked as a war correspondent for twenty-one years. This writer is talented in many genres adding to his work more than twenty fictional books, nine non-fictional and even screenplays. 
Summary
In his book "Una Historia de España," you will explore Spain from the times of the empty Iberian peninsula to the twentieth century. Just like Paco Alvarez, Prez Reverte doesn't write for academics but for everyone interested in Spain's story. In his book, he uses simple and honest vocabulary that facilitates reading. 
Penguin Random books described it as: 
"An acid, funny, personal and unorthodox story by Arturo Pérez-Reverte about the history of Spain."
Once again, if you speak Spanish and wish to lear about Spain's history with an entertaining language, chek it out in Amazon.
4. "Homenaje a Cataluña" by George Orwell
A Homage To Catalonia is a non-fictional, political book on the Spanish Civil War under the eyes of a British novelist. Eric Arthur Blair, better known as George Orwell, was a British writer famous for his books Animal Farm and 1984.
The writer and his wife visited Barcelona in 1936, and they decided to stay and fight against fascism for "common decency." The book was published in 1938, but it didn't achieve commercial success until his other two novels (Animal Fram and 1984) became acclaimed texts worldwide.
His book is a documentation of the Spanish Civil War in Barcelona. He wrote about his experience fighting, took pictures, and helped the POUM political party. The book has twelve chapters, and he also details the difficulties he and his wife faced to escape from the country.
This book has a very interesting and personal view of one of Spain's most tragic stages.
Fiction/ Historical Fiction
5. Driving Over Lemons by Christ Stewart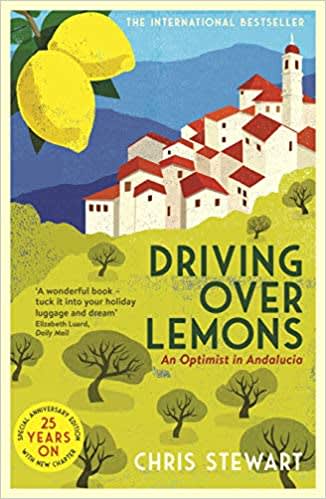 I know what you are thinking, "finally, a book in English." Yes! But you must know this book about Spain is more about our culture than historical facts. 
Chris Stewart is a British musician, farmer, and now author who lives in Andalusia. Driving Over Lemons: An Optimist in Andalusia was published in 1999, and it is the first book of a trilogy, followed by The Parrot in the Pepper Tree and The Almond Blossom Appreciation Society. This book is an autobiography that portrays life in Southern Spain and shares an accurate view of its culture. 
He has sold more than 2 million copies, and there are rumors that it will become a TV series. 
Here you have a review by The Daily Mail UK:
"Funny, affectionate, no hint of patronage, a true portrait of people and place….Tuck it into your holiday luggage and dream". 
Good news! You can get the trilogy in Amazon or directly from Pinguin Random House.
6. "Fiesta" by Ernest Hemingway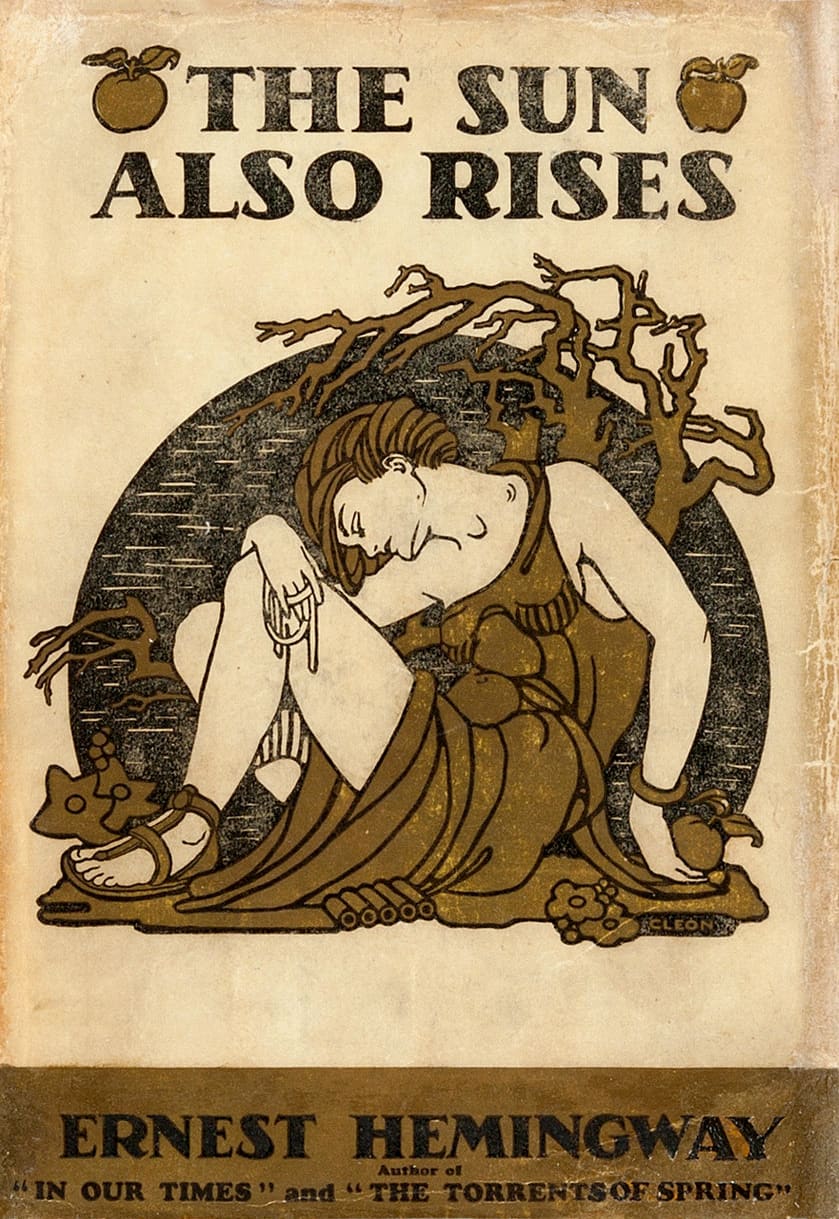 "Fiesta" or The Sun Also Rise, by the American author Ernest Hemingway is a book about Spain that depicts a very important tradition of our country. "Fiesta" was his debut novel, and to write it, Hemingway actually lived for some months in Pamplona and became very acquinted with some "toreros." 
Summary 
The historical fiction novel/ romance was published in 1926 and tells the story of characters from the "Lost Generation," or the generation between the wars. The story follows a group of American and British expatriates from WWI that travel from Paris to Pamplona following a girl. In the city, they experience their first "San Fermines," a very important bull-racing and bullfighting party in the city. 
The book shares a lot about Spain's bull-racing culture and, especially, about Pamplona. A quote from the book that expresses this admiration is, "Nobody ever lives their life all the way up except bullfighters."
The Sun Also Rises has been in print continuously since its publication in 1926 and is said to be one of the most translated titles in the world (The Guardian).
7. "Patria" by Fernando Aramburu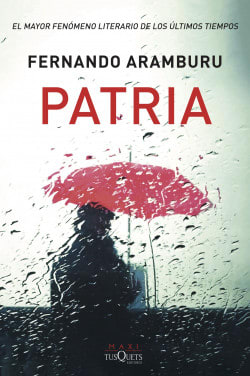 "Patria," or Homeland, is a psychological thriller about the consequences of ETA (Spanish terrorist group) in the small town of the Basque Country. The book, published in 2016, won the National Literature Award for Narrative and also has a short series that anyone can see on HBO. The author, Fernando Aramburu, is recognized as one of the best contemporary Spanish writers that captured the struggles of Spanish people in the Basque Country during the attacks of ETA. I explain everything about the series in the following post:
Summary
The story begins when ETA, which is translated from Basque to "Basque Country and Freedom," announces that they will leave the arms. Bittori decided to go back to her old hometown, where she lost her husband due to terrorist attacks. Her arrival does not go unnoticed; old resentments and unsettled business start to unfold. 
The professor, José Carlos Mainer, describes "Patria" as the following:
"Homeland is, above all, a great and meditated novel. But the tradition of the genre includes the virtue of explaining to its contemporaries something of the world they have lived in or that is part of their heritage: to amalgamate evocation and analysis. Galdós' National Episodes did it just when it was necessary to remember and suture civil discord, and Tolstoy's War and Peace did it when the origin of modern Russia was in danger of being forgotten. Fernando Aramburu's novels are doing the same now". 
To make this list, I had to pay careful attention to those that really depicted our history. I believe the seven books here will provide different perspectives and narratives on Spanish history and culture, which as a result, will make you an expert.
If you decide to read or have already read any of these texts, tell me what you think! Maybe you have some doubts we can help you with. Also, if there is a book that you think we should add, we are very happy to read you!