Madrid or Barcelona? City Comparison for Expats & Tourists
May 11, 2023
Updated:

May 12, 2023
Published: May 11, 2023
Are you traveling to Spain anytime soon? If you are and you found this article, I guess you have just a few days for this amazing country, and now you need to make a tough decision.
Choosing between Madrid and Barcelona is difficult; each city is unique and offers a different glimpse into Spanish history and culture.
In this article, you will find ten key differences between Madrid and Barcelona to help future expats and first-time travelers to choose the best city for them.
If you have enough time, you should do both cities, and I assure you you won't regret it.
1. Madrid has a more traditional vibe, while Barcelona is known for its bohemian culture
Madrid and Barcelona both have a unique personalities. The capital of Spain is a place where modernity meets traditional and offers an authentic Spanish experience for those visiting for the first time. 
Three things mark the main difference between the vibe of Madrid and the vibe of Barcelona, and that is the architecture, the cuisine, and the lifestyle. 
Comparing Madrid to Barcelona, the capital is home to the most beautiful and historic buildings in Spain. Places like the Royal Palace, Plaza Mayor, the Puerta del Sol, and even neighborhoods like La Latina vs. Salamanca are evidence of Madrid's rich mix of architectural styles. The capital combines Baroque, Gothic, and Renaissance styles that create a unique look. 
On the other hand, Barcelona is famous for Gaudi's iconic buildings, part of the Catalan modernist movement. Landmarks like the Sagrada Familia, Casa Batllò, the Pedrera, and Park Güell, combined with the medieval "Basilica de Santa Maria del Mar," give Barcelona a unique bohemian style. 
Another reason Madrid has such a traditional vibe is the presence of Spanish cuisine with dishes such as the cocido madrileño, the huevos rotos, and the bocadillos de calamares, which you will find at any restaurant. Barcelona is rich in international and Catalan cuisine, with pan tumaca, fidebua, and crema catalana.
Lastly, it feels like Madrid has a more relaxed lifestyle, compared to the rush that is felt in Barcelona. 
2. Barcelona has beautiful Mediterranean beaches, while Madrid is inland and has a dry climate
Mediterranean beaches in Barcelona give major points to the Catalan capital. Barcelona is close to the Costa Brava, home to crystal water beaches and golden sand. Beaches like Tossa del Mar or Cadaqués will give you the summer of a lifetime. 
I know it depends on personal preference, but stunning beaches always score higher than peaceful inland views. 
Still, you must know that Madrid and spaces near the capital hide some beautiful and peaceful inland gems worth visiting. 
For example is the Lavander field at Brihuega, an hour away from Madrid center by car. Birhuega is a small town close to the municipality of Guadalajara; if you visit around July and August, you can experience amazing daylight and classic music concerts in the lavender fields. Plus, you can buy a variety of products made of lavender at the town's fair. 
Another stunning flower field is the sunflower fields north of Brihuega; the best times to visit are July and August, with some of them still visible in early September.
3. Madrid is home to world-famous museums
Madrid is home to world-famous museums, while Barcelona houses more unconventional modern art. If you are an art lover, then your choice should incline more towards Madrid than Barcelona as the capital of Spain has an extensive offer of museums with world-famous art pieces.
The Museo del Prado is one of the most visited attractions in the city, with an extensive collection of Spanish art from the 12th to the 19th century. If you visit the Prado, you will observe pieces from Goya, Velazquez, and El Greco, plus more international painters and sculptors.
Very close to the Atocha station, you will find the Reina Sofia Museum, which is home to modern art from the 20th century onwards. One of the most important pieces in this museum is the "Guernica" by Pablo Picasso and all the sketches he created before the final painting. 
On top of this, we have to add the Thyssen Bornemisza Museum and the Sorolla House, the other two great galleries. 
If you want to know more about museums in Madrid, check out our featured articles!
On the other hand, Barcelona has unique museums like the MOCO Museum, the Picasso Museum, and the Joan Miro Foundation, all housing modern art. If you are a fan of Picasso or Miro, both museums are worth the visit; my favorite would be the MOCO because I saw art by Kieth Haring. 
If you want to know more about museums in Barcelona, check out our featured articles!
4. Barcelona and Madrid offer vibrant nightlife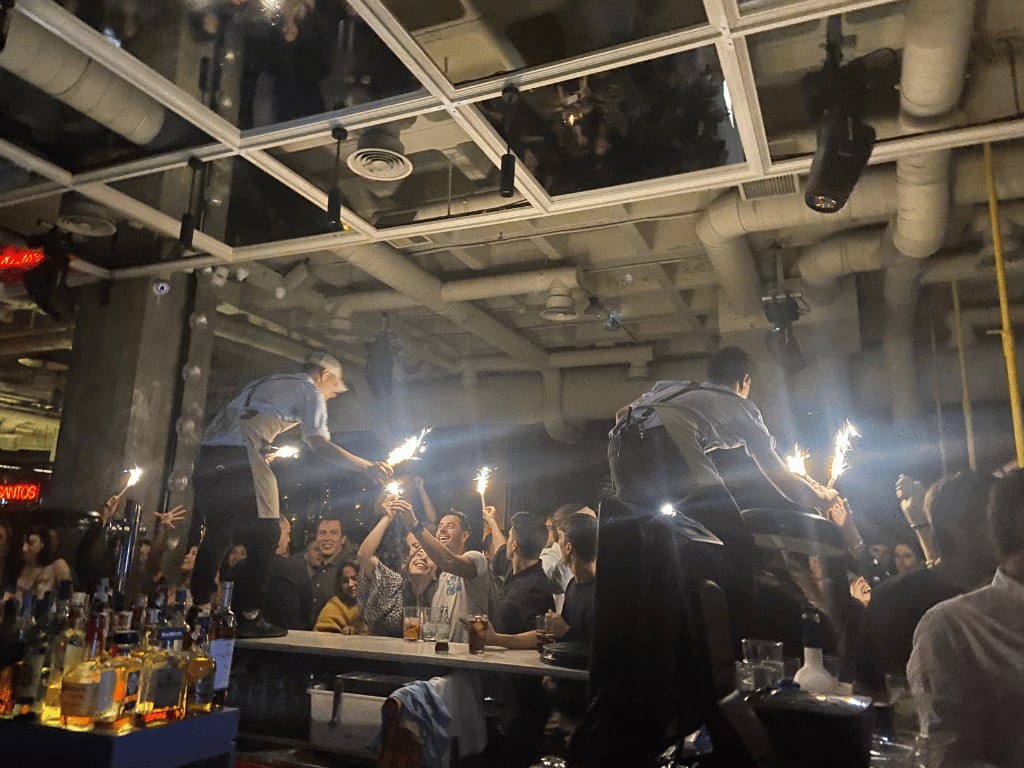 Something that you will have in both cities for sure is great bars to enjoy some drinks and tapas with friends. 
Check out the best bars in Madrid and Barcelona:
In both cities, you will find various nightlife clubs, including Kapital, Teatro Barceló, and Icon, three of the most frequented by locals and internationals in Madrid. On the other hand, Opium, Pacha, and Razzmatazz are three of the most famous in Barcelona.  
The difference between the nightlife and party scene between these two cities is that Madrid has a traditional "botellón" culture, where people gather in public spaces to drink and socialize before heading to clubs and bars. Plus, there are way more rooftop offers to enjoy. 
So! For the tourists out there coming during spring and summer, know that Madrid will have plenty of rooftops for you to enjoy. 
On the other hand, Barcelona will offer great beach clubs for a great day next to the beach and even some partying at night.
5. Madrid offers more green spaces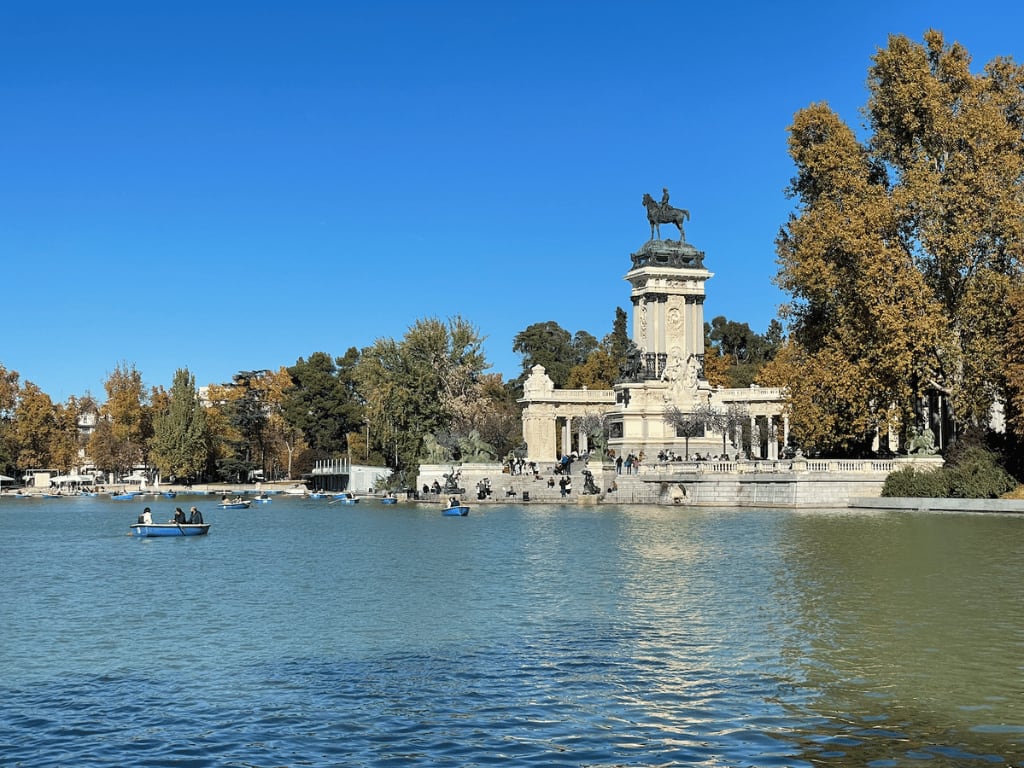 Madrid and Barcelona are big, urban cities with many buildings and noise. Even though Barcelona has Barceloneta Beach very close by, the noise doesn't disappear much, and to be super honest is not the best beach around. 
The Catalan capital offers the Citadel Park as a small green oasis to seek refuge from the city chaos, it's a nice park, but for a tree lover like me, it needs more.
On the other hand, Madrid has five big parks that can offer that extra oxygen that we are missing when we walk the city. The Retiro Park, Templo de Debod, Casa de Campo, Parque del Oeste, and the Parque de Juan Carlos I are five gorgeous green spaces Madrid offers where you can read, take a walk, or do picnics. 
6. Madrid is cheaper than Barcelona in terms of cost of living, housing, food, and transportation.
Disregarding if you are an expat or a tourist, the cost of living and traveling to Madrid or Barcelona will matter for both.
Even though both are big cities with high prices, Madrid still is a bit cheaper than Barcelona in almost every term. I have created a chart to review the average prices for living, housing, food, and transportation, so you can judge which is better for you.
| Cost of Living Comparison | Madrid | Barcelona |
| --- | --- | --- |
| Meal, Inexpensive Restaurant | €10 | €11 |
| Meal for 2, Mid-range Restaurant, Three-course | €45 | €60 |
| Cappuccino (regular) | €1.73 | €1.81 |
| Domestic Beer (0.5 liter draught) | €2.50 | €3.50 |
| Coke/Pepsi (0.33 liter bottle) | €1.63 | €1.89 |
| Water (0.33 liter bottle) | €1.10 | €1.20 |
| Monthly Pass (Regular Price) | €54.60 | €40 |
| Taxi 1km (Normal Tariff) | €1.10 | €1.20 |
| Apartment (1 bedroom) in City Centre | €730 | €975 |
| Apartment (1 bedroom) Outside of Centre | €550 | €750 |
---
7. Is it cheaper to catch a flight from Madrid than from Barcelona
Believe it or not, it is true. Even though both airports are very international, the Madrid Adolfo Suarez Barajas Airpot is bigger, more centric, and receives more international flights than the El Prat airport in Barcelona. 
A recent comparison of plane tickets from Madrid to Paris and Barcelona to Paris shows that traveling from the Spanish capital is cheaper.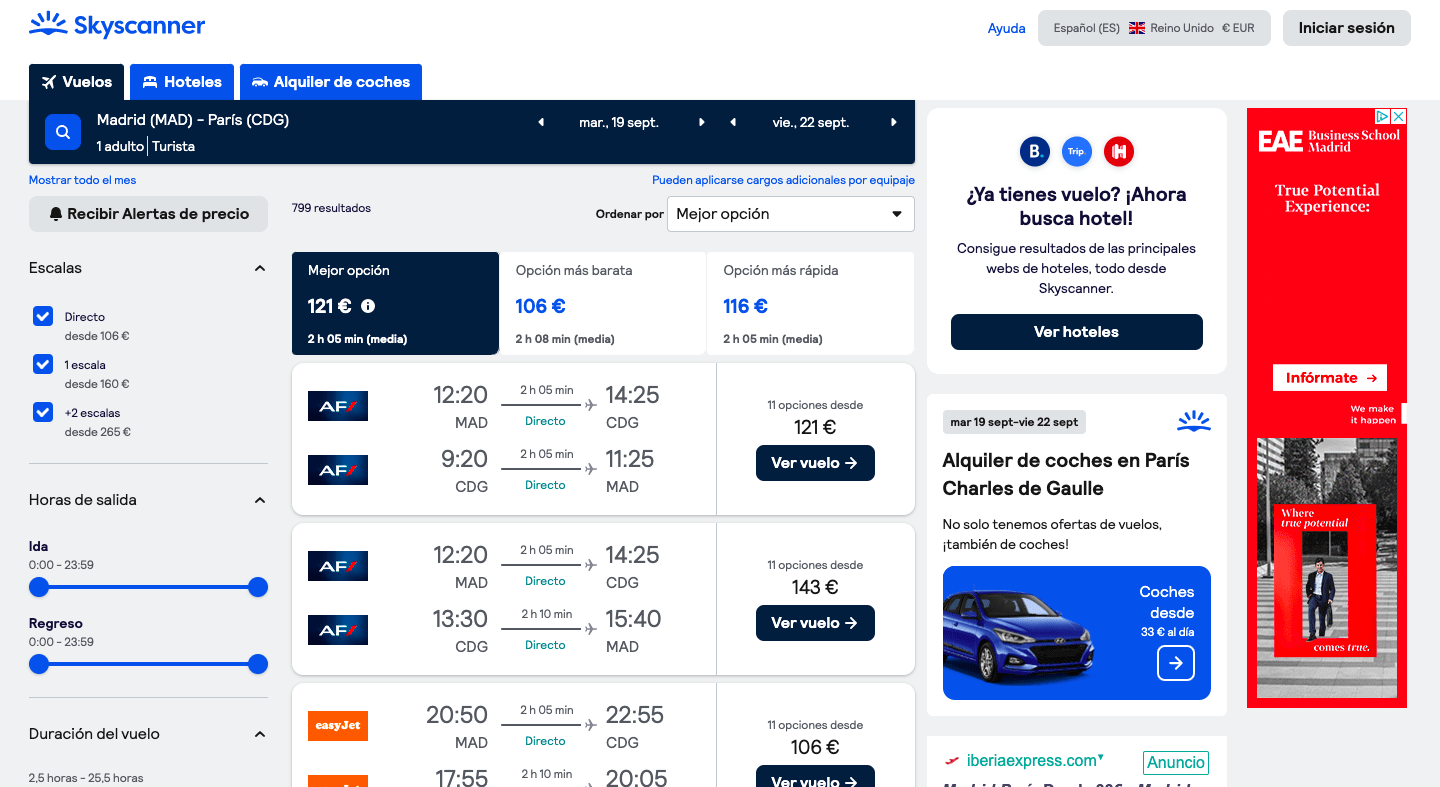 ---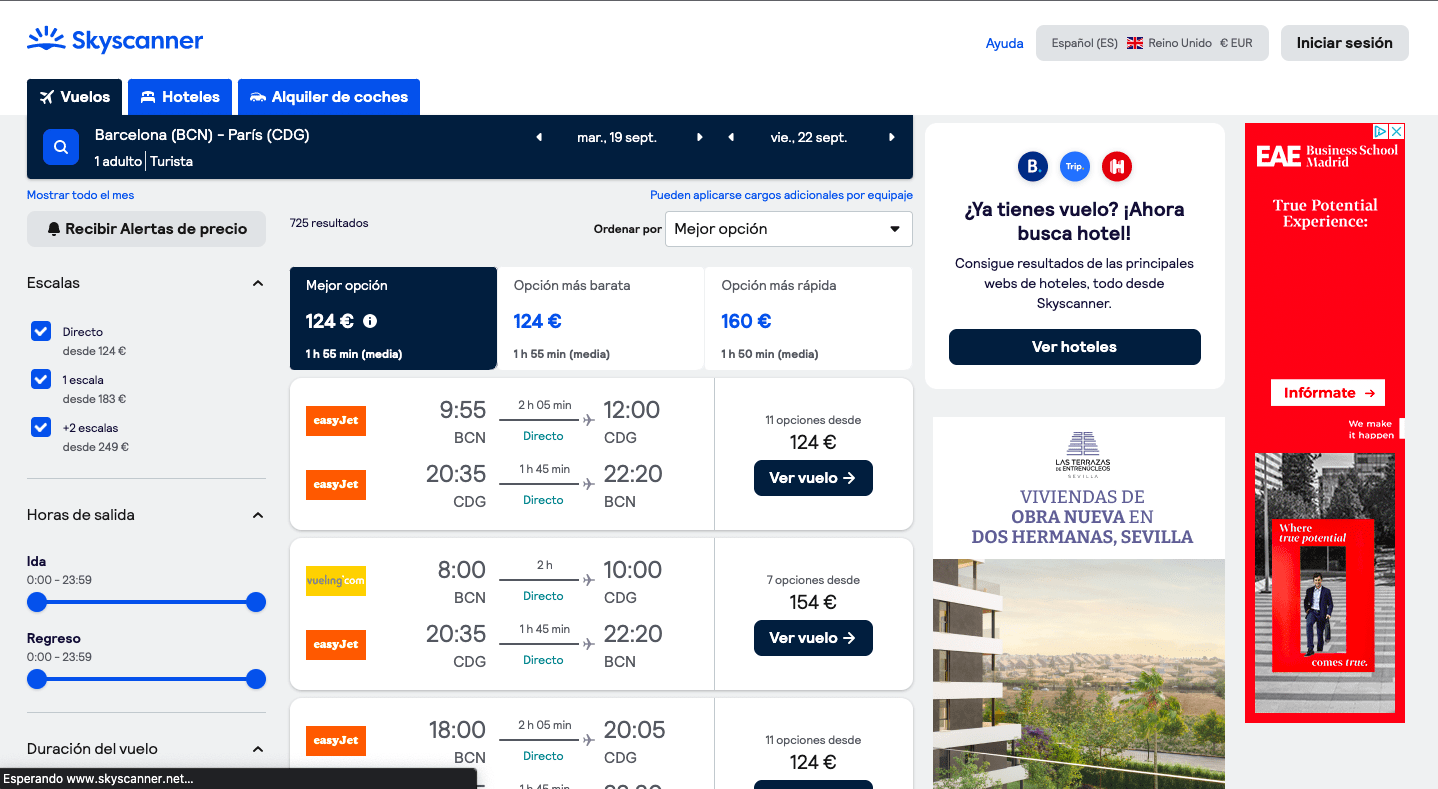 I must remind you that some prices will vary with the destination, but the general trend is that Madrid will provide better offers. 
So, when you are planning to live or visit one city over the other, consider what's best for your traveling budget. 
8. Madrid and Barcelona have great transport systems
Public transportation in both cities is cost-efficient and effective. Barcelona offers 12 metro lines connecting with some outer parts of the city center, running every 2 and 5 minutes. In addition, it has a good bus offer that reaches places the metro doesn't, and the tram system that takes you to villages in the outskirts of Barcelona. 
On the other hand, Madrid offers 13 metro lines with an extensive suburban train network (Cercanias) that reaches the municipalities on the outskirts of the capital. For example, with a quick hour train, you can get to places like Guadalajara or Alacalá de Henares (Miguel de Cervantes' birthplace) and tour around cute Spanish towns. 
Madrid also offers an intercity bus that can take you to neighborhoods further away from the city's old town.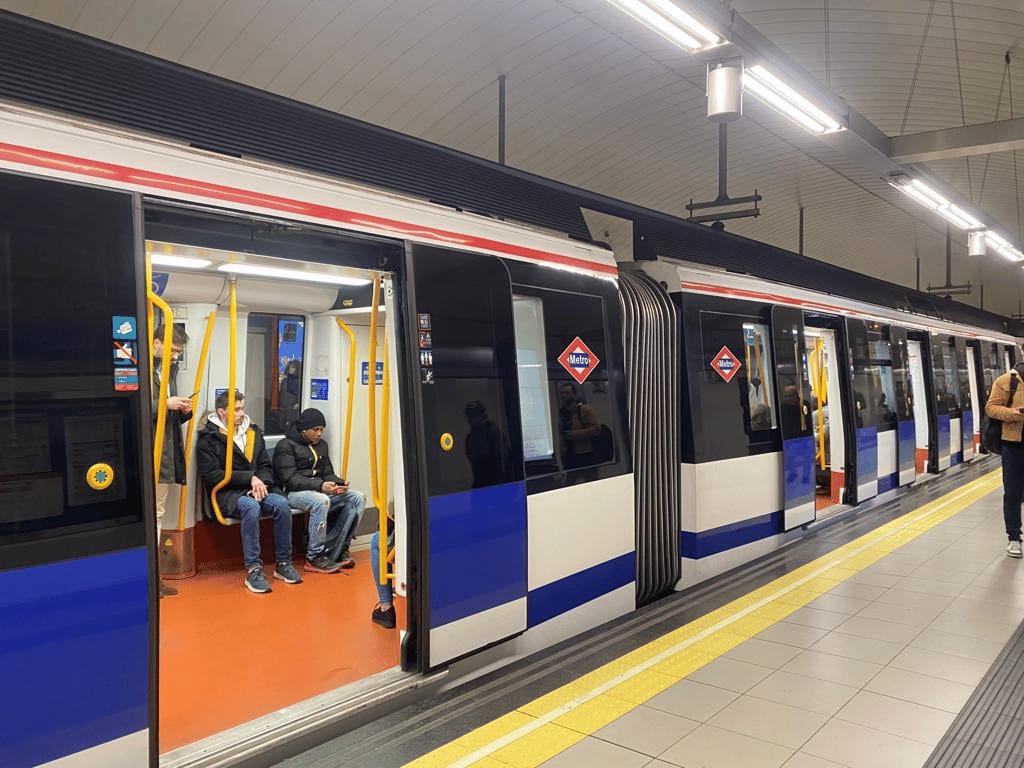 9. Madrid has more markets to get nice tapas and good groceries!
If you are a tourist on a budget, having a variety of markets to buy food from is a great advantage! The same goes for expats; food markets in Spain are great for getting high-quality and fresh groceries that non-supermarkets can compete with. 
Madrid offers more than 12 markets in the city center to enjoy tapas and drinks, buy groceries, and find the unique gifts ever. Right below, I will link you to our featured article on Madrid markets; I recommend you save or share it with your travel partner so you don't forget about it!
Suppose you are a first-time traveler to Madrid. In that case, I recommend the Mercado San Miguel, but arrive a bit earlier than most other tourists; otherwise, you will have no place to enjoy your tapas. 
If you are an expat in Madrid, then you have more than enough time to decide with of the markets in the previous list is your favorite.
Barcelona also offers great food markets. If you decide to live there, you will find a good offer of grocery-type places and can take the freshest food back home. 
10. Barcelona has a more international vibe, with a higher population of foreigners
Let us make something very clear before diving further into this outline; in both cities, Madrid and Barcelona, you will find many international people. Be it expats or tourists, Madrid and Barcelona have become very attractive destinations to travel and live in. 
However, there is always one city that could be considered a bit more international than the other; in this case, it would be Barcelona. 
It is unclear why the Catalan capital is more international, but some speculations indicate that its location is one of the main reasons. Barcelona is next to the Mediterranean Sea, which, historically, has made it a hub for trade and commerce for centuries. 
But, on top of that, it's the starting point to the Costa Brava, a fantastic coast that attracts thousands of tourists. 
Another reason Barcelona is an international hub that hosts many events and congresses that attract big audiences. A great example is the annual Formula 1 Grand Prix performed in Barcelona between May and June. 
Still, both cities have an international vibe that is very palpable in some of their neighborhoods and even in the streets.
---
And that is all! These ten comparisons between Madrid and Barcelona provide many insights for expats and tourists wishing to move and travel to Spain. 
The final decision comes down to personal preferences; remember to check out our articles on Madrid and Barcelona to help you make the final choice.
Don't forget to leave us a comment if you need any more help!