Travel to Cuenca: 5 Attractions, Food, and Activities!
October 28, 2023
Updated:

October 30, 2023
Published: October 28, 2023
A place where time has stopped, the World Heritage City of Cuenca owes its existence to its strategic and defensive location.
Initially, it was a castle surrounded by a wall built between two deep valleys, making it almost unapproachable. The best part? The view is absolutely breathtaking, no matter where you look.
In this article, you'll understand why this place is so attractive for tourists, although it is often overlooked. I promise Cuenca has much to offer, whether you're a history freak, a nature lover, or just want to understand more about Spanish culture and local customs.
Don't hesitate any longer; this is a city you must have on your bucket list for a memorable day trip or weekend getaway!
---
What is Cuenca?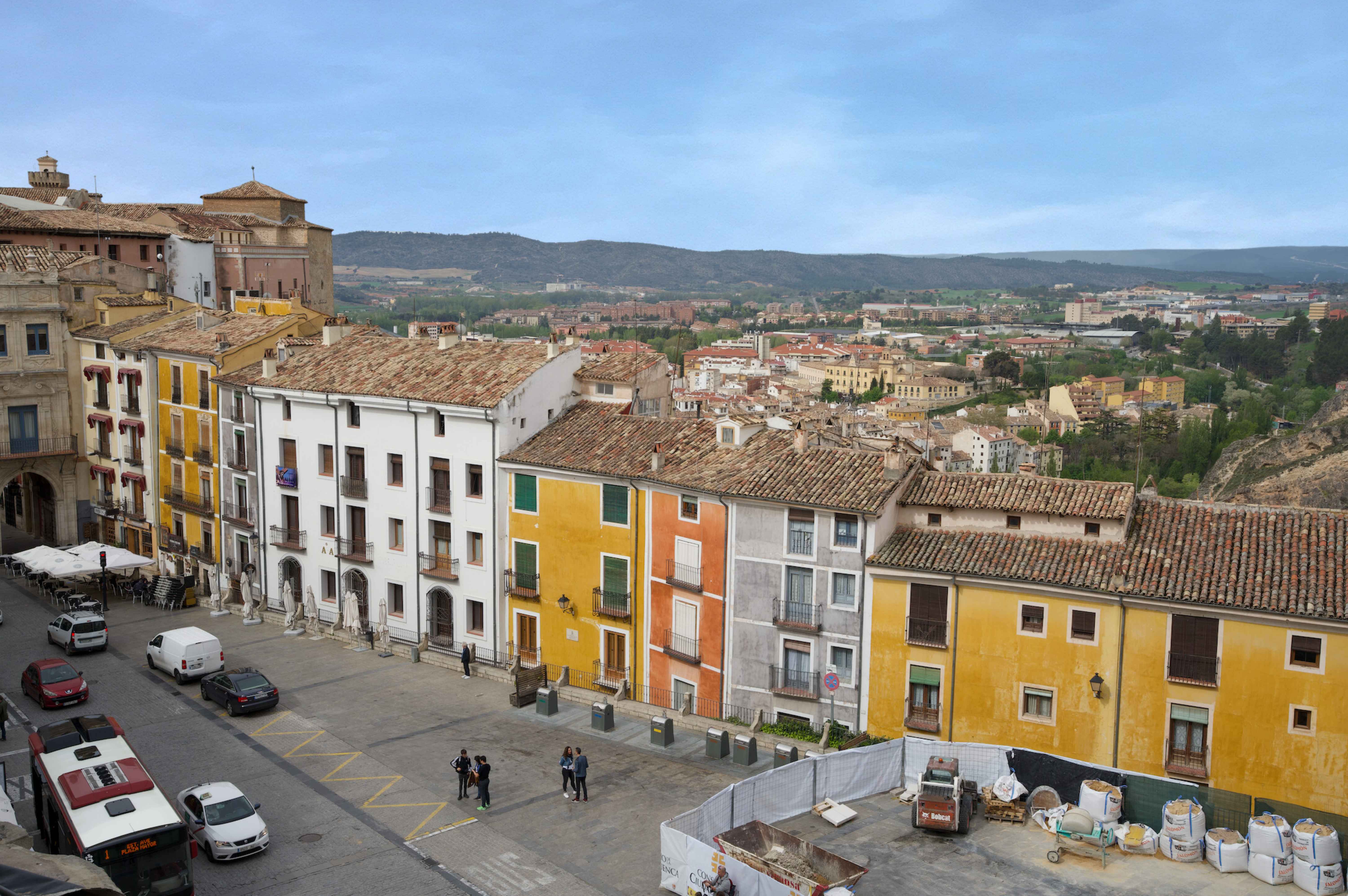 Cuenca is a lovely historic city in the Castilla-La Mancha region of Spain. This beautiful city is renowned for its stunning architecture, dramatic landscapes, and rich cultural heritage. 
The locals are very friendly and always willing to help visitors. Moreover, Cuenca is often called the "City of Hanging Houses" due to its iconic Casas Colgadas, a sequel of houses that cling to the cliffs overlooking the Huécar Gorge. 
If you ever visit Cuenca, you'll see that the people there are strongly attached to their local culture and tradition. Many residents of Cuenca actively participate in religious traditions, and the city hosts religious festivals and processions throughout the year. 
Best Things to Do in Cuenca
1. Mirador del Cerro del Socorro
The Mirador del Cerro del Socorro is a fantastic landmark in Cuenca that you have to see! From there, you can get panoramic views of the city and its famous hanging houses (Casas Colgadas) perched on the cliffs. It's a must-visit spot!
When you're there, you can take in the beauty of the city's architecture and nature. It's also one of the most photogenic places in the region, so remember to bring your camera!
If you love the outdoors, you can even take a pleasant hike from the city center to get to the viewpoint. And if you want an enchanting experience, make sure to head there in the late afternoon or early evening to catch the breathtaking sunset over Cuenca.
2. San Pablo Bridge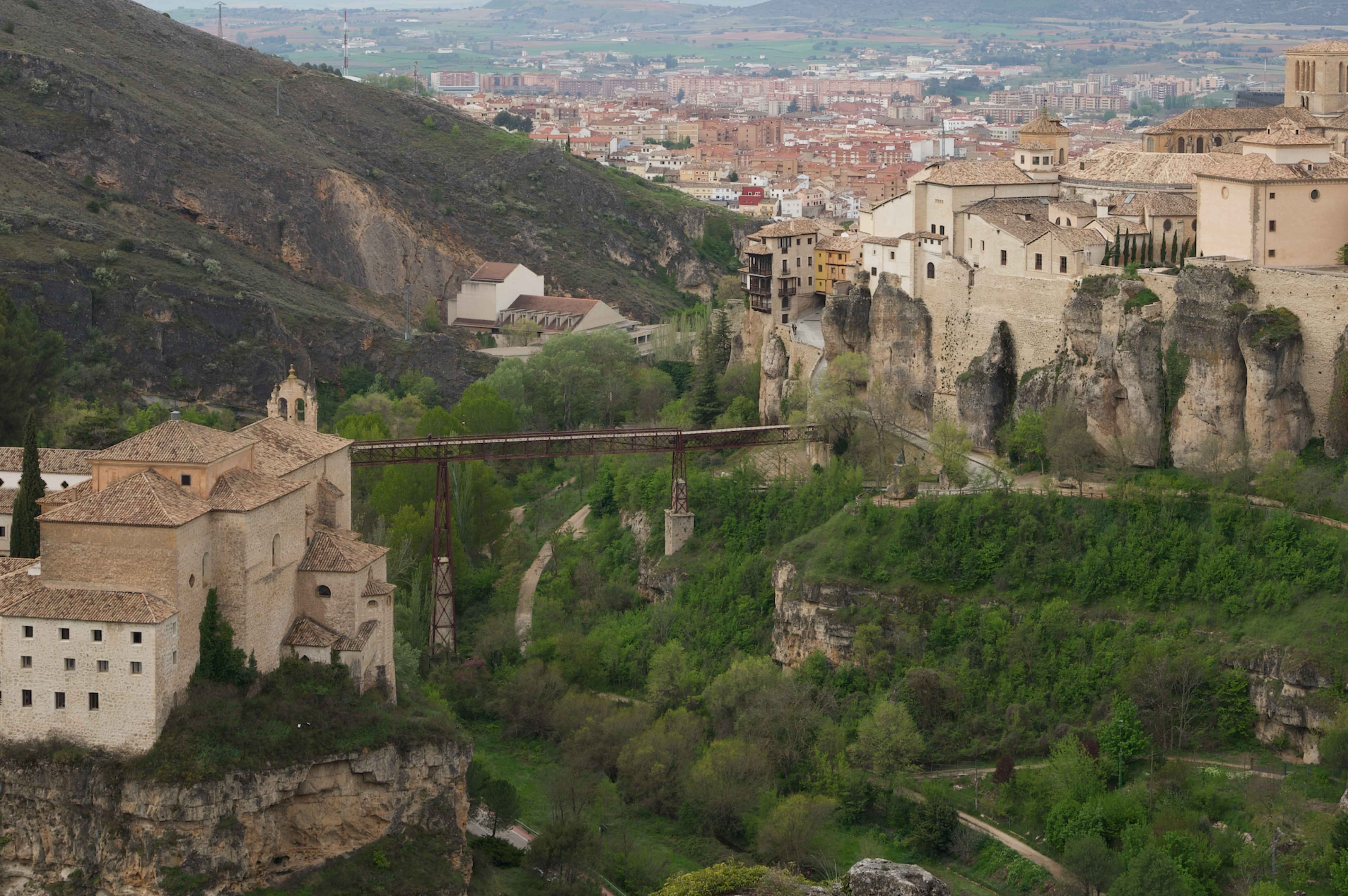 The San Pablo Bridge is an absolute beauty. It has a rich history dating back to the 16th century, and it's a testament to the city's historical heritage since it played a crucial role as a vital transportation link. 
So, make sure you take a moment to appreciate this cute spot in Cuenca, which is an architectural marvel made of iron and stone.
It is near the city center and within walking distance of other attractions, so… adding it to your sightseeing itinerary is easy!
You can sit by the bridge and enjoy the sounds of the river and the natural surroundings. The area around the bridge has a few cafes and restaurants, so grab a bite and drink while enjoying the view. You'll love it!
3. The Old Town of Cuenca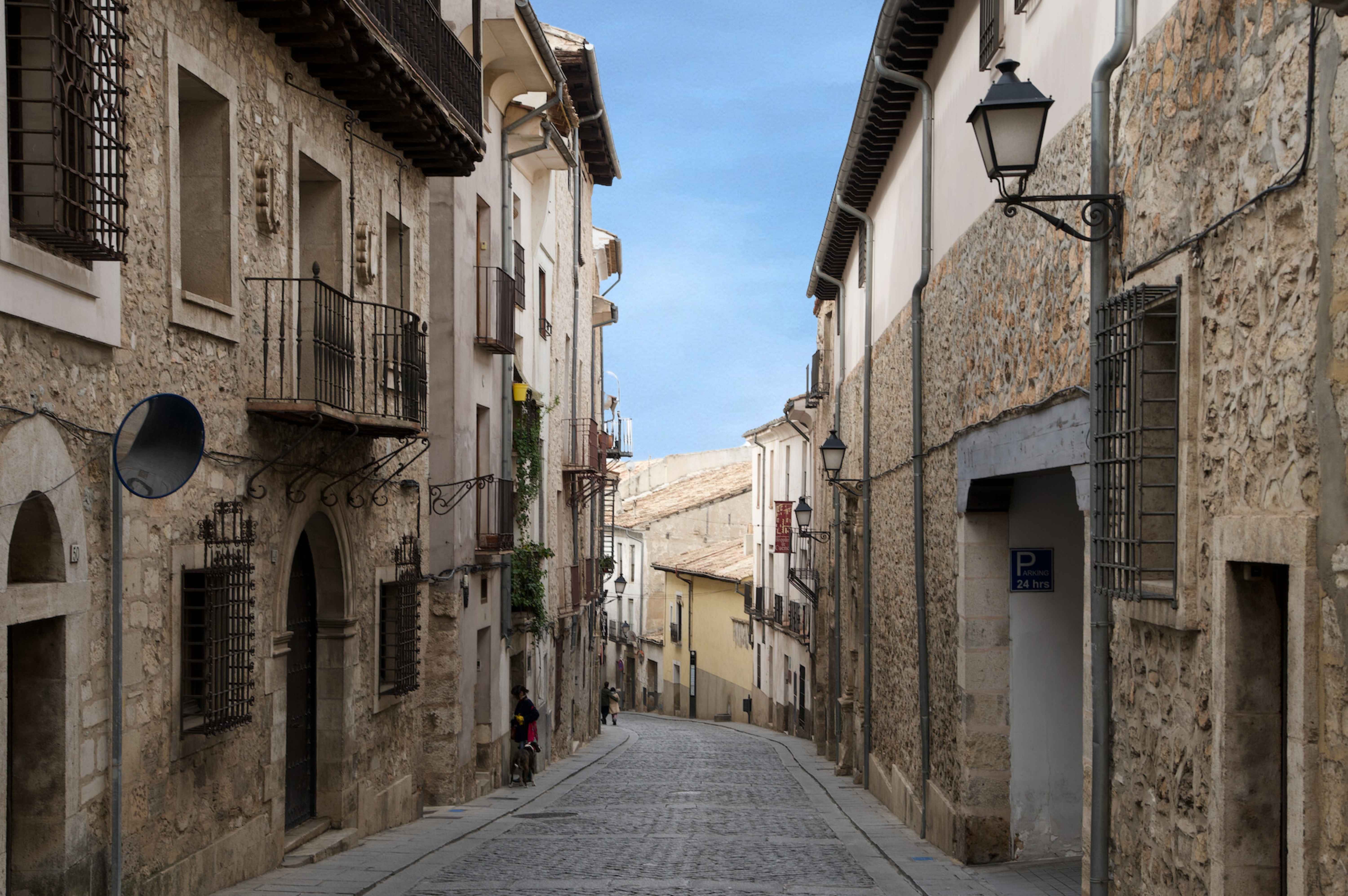 The charming Old Town of Cuenca is the heart of the city and a UNESCO World Heritage Site, known for its breathtaking medieval architecture and narrow streets that take you back in time. 
You'll feel like you're walking through a living museum of the Middle Ages, with many beautiful churches, convents, and museums to explore. And the views of the Huécar Gorge and Júcar River are gorgeous!
The town has a relaxed and friendly atmosphere, perfect for leisurely walks and discovering the local culture. You'll also find many excellent restaurants, tapas bars, and cafes with delicious regional dishes.
Don't miss out on visiting The Cuenca Cathedral, Iglesia de San Pedro, and Iglesia de San Miguel; they're beautiful examples of Gothic architecture with Romanesque and Renaissance elements.
And if you're interested in contemporary art, the town has plenty of art galleries and exhibition spaces to check out.
4. Hanging Houses (Casas Colgantes)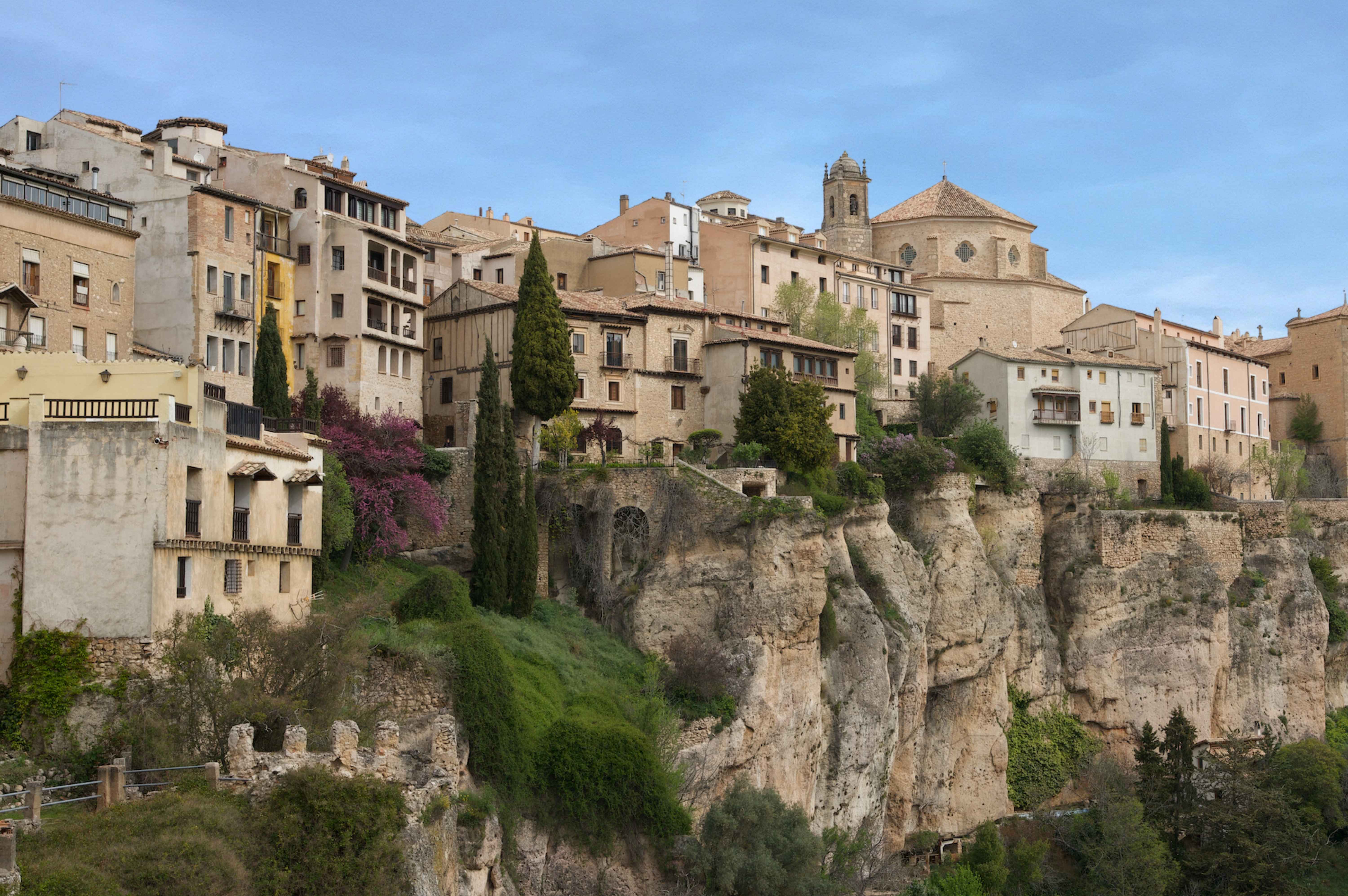 You simply can't miss visiting the Hanging Houses (Casas Colgadas). Trust me, it's an experience you won't forget! 
The Hanging Houses are situated in a location that offers some of the most breathtaking views you'll ever come across. 
You'll experience stunning views of Cuenca's dramatic landscapes, the river below, and the medieval city as you stand on the bridges and take in the view over the gorge.
These houses have a rich history dating back to the 14th century and are an essential part of Cuenca's identity. 
You can visit one of them, Museo de Arte Abstracto Español, my favorite, an art gallery featuring abstract art. And if you plan your visit with time, you can witness a beautiful sunset over Cuenca. 
5. San Nicolas Square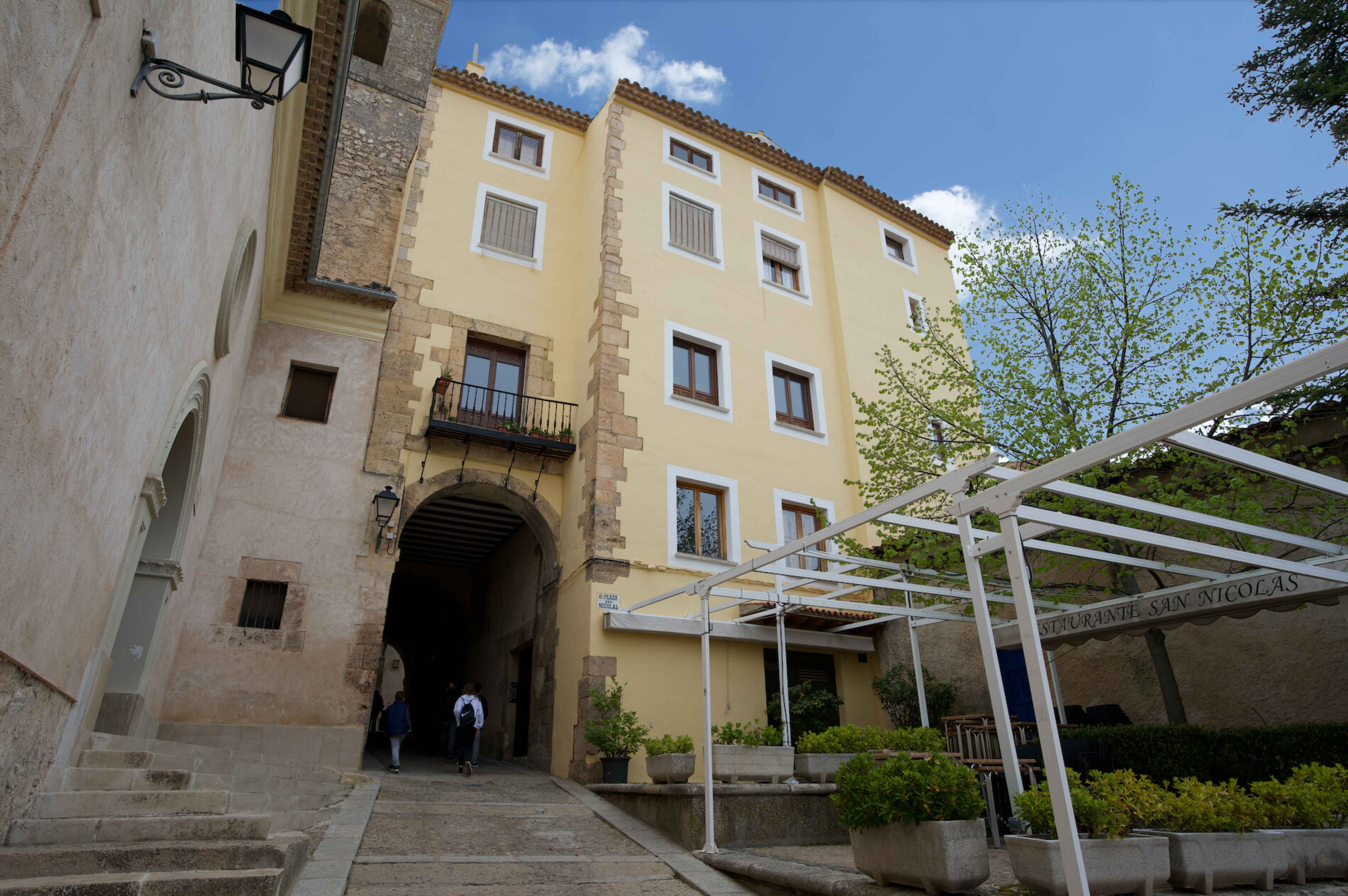 Plaza San Nicolás is a lovely square with a peaceful and tranquil ambiance. It's an ideal spot for a lazy stroll, introspection, or relaxing.
While there, don't forget to check out the local artisans and craftsmen selling their unique souvenirs. You might find the perfect gift to bring your loved ones back home!
The best part is that the plaza is within walking distance of other historical and cultural attractions in Cuenca, which makes it a perfect starting point for exploring the city's Old Town.
If you're feeling hungry or thirsty, there are various cafes and restaurants in the plaza where you can enjoy a delicious meal or a cup of coffee while enjoying the beautiful scenery and the local vibes. 
Don't forget to check out the cultural events and festivals that Plaza San Nicolás often hosts, where you can see Cuenca's vibrant customs and traditions, a great way to immerse yourself in the local culture.
Best time to Visit Cuenca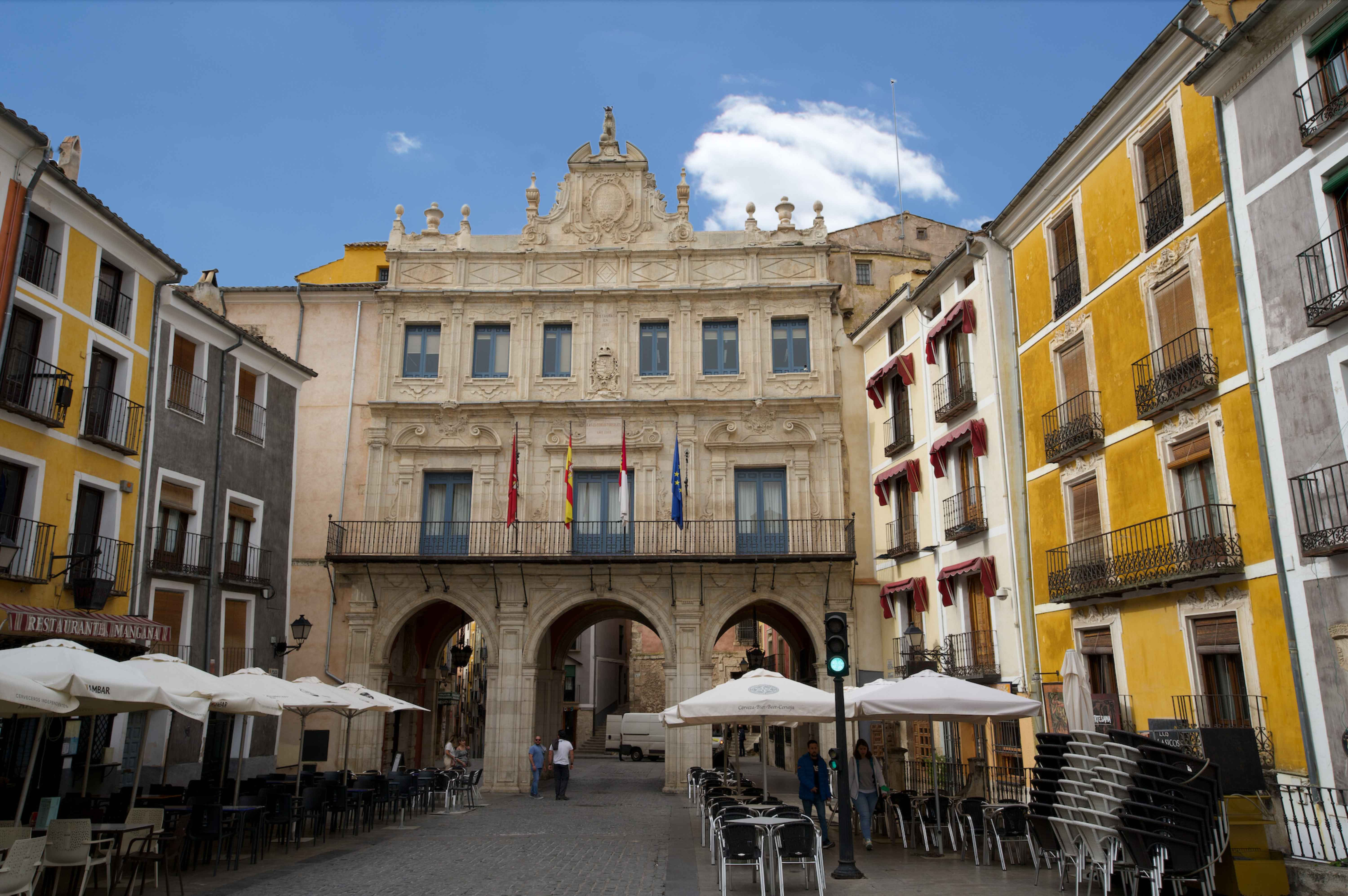 Cuenca is a really interesting destination that you can visit throughout the year. But the best times to visit Cuenca are Spring (late April to early June) and fall (September to October). 
During these seasons, you'll enjoy mild temperatures, vibrant events, and festivals that will keep you entertained and energized.
However, if you're planning to visit Cuenca during the summer months, which are July and August, keep in mind that the weather can get pretty hot, with daily temperatures getting to 35°C and sometimes even reaching 40°C.
But don't worry, the locals take their vacations during this time, making it a great opportunity to explore the city in a more relaxed and less crowded atmosphere.
Winter in Cuenca can be chilly, but it's generally not unbearable. Snow is uncommon, and the prices are the lowest at this point, making it a perfect choice for travelers on a budget. 
How to get to cuenca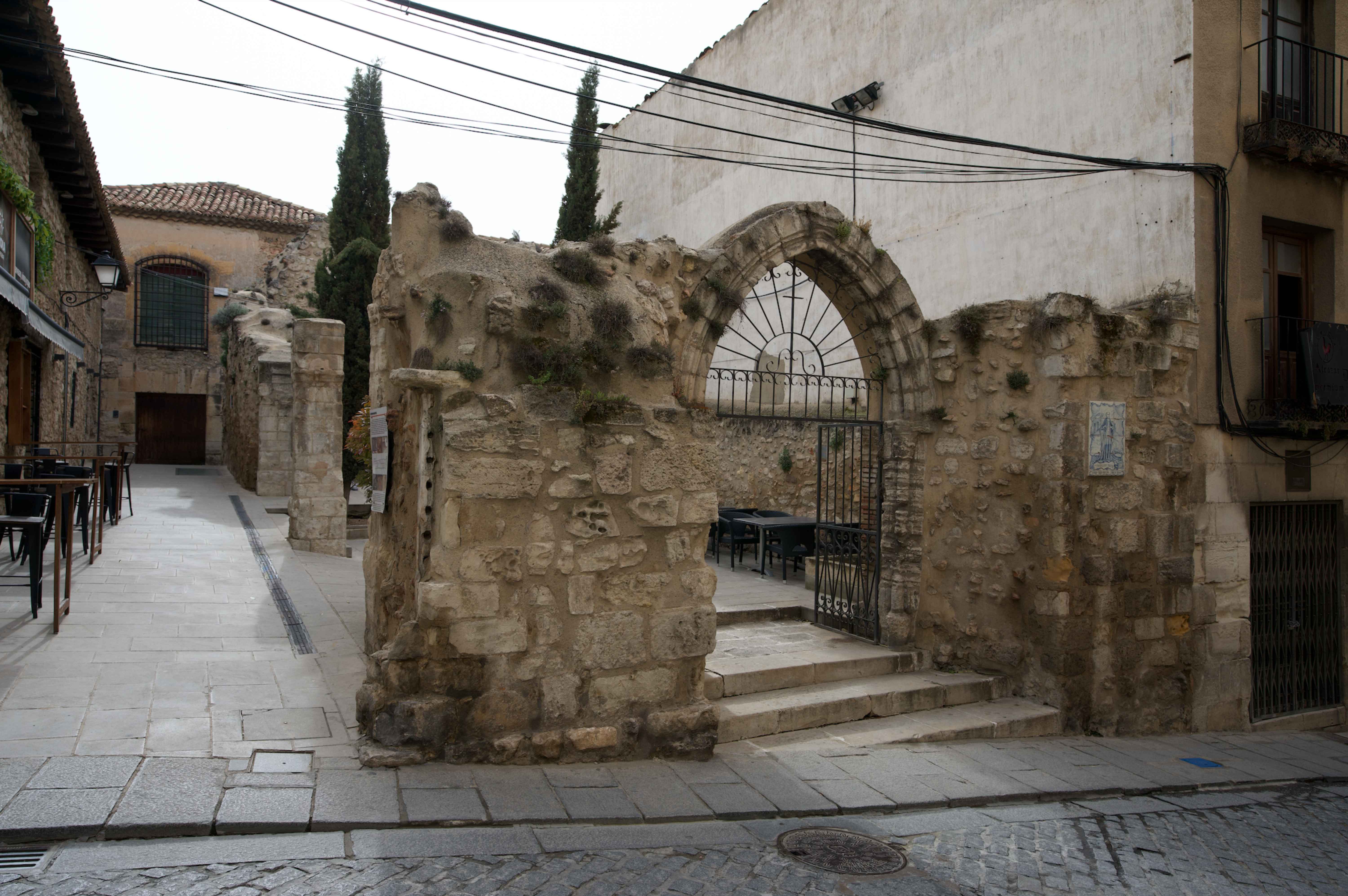 By flight
You can get to Cuenca quickly from many nearby airports. The closest ones are Madrid, Valencia, and Zaragoza. 
If you're coming from Madrid, the most popular options are trains or buses, which will take you to Cuenca in no time.
By train
The AVE high-speed train from Atocha station is the most comfortable and frequently used option, taking less than an hour to reach Cuenca. 
The trains operate throughout the day, usually between 7:00 a.m. and 10:00 p.m., and a direct trip costs about €25.
Once you arrive at the Cuenca train station, you can easily hop on local bus line 1, which will take you to the Plaza Mayor in under half an hour. 
By Car
Another great way to explore the city at your own pace is by renting a car. 
The A-40 Highway links Cuenca with the A-3 highway near Tarancón, and it takes about 2 hours to get there. 
Just keep in mind that there will be additional costs, such as €3.30 for tolls and €14.55 for fuel.
By Bus
If you're on a tight budget, the bus departing from the Méndez Alvaro South Bus Station is a great option. 
Avanza buses operate from morning until night and leave every hour and a half. The trip takes around 2 hours and 10 minutes and costs about €13.
Basically, if you're planning to go from Madrid to Cuenca, the train is the quickest and easiest way to go. But if you're trying to save some cash, taking the bus is a good choice, too. And if you'd like to travel at your own rhythm, you can drive.
What to Eat in Cuenca
Eat local at Taberna Alberto
Delight yourself at Restaurant Trivio
Enjoy delicious dishes at Olea Comedor
Have an extraordinary gastronomic experience at Casas Colgadas Restaurant
Where to Stay in Cuenca
Have a nice stay at Exe Hotels Cuenca by Eurostars
Enjoy a wonderful night at NH Hotels Cuenca
Have a budget-friendly stay at Hostal Cortes Cuenca
How much does it cost to visit Cuenca?
Request information: hello@sensationalspain.com
How much money you need for your trip to Cuenca depends on many things, such as how many people are traveling, the type of activities you want to do, accommodation, the duration of your stay, restaurants, and most importantly, the time of year.
To help you more accurately, please don't hesitate to reach out to us via email! Share the details of your desired trip to Spain, and we will provide you with a price estimate and offer local advice for all your travel needs. 
Choose your Spain Itinerary
1 Day in Spain? 10 Best Things to Do in 24 Hours!
2 Days in Spain: Trip Ideas & Itineraries to Enjoy Your 48h
3 Days in Spain: What's the Best Itinerary for Your Trip?
4 Days in Spain - Best Travel Itineraries for Short Trips
5 Days in Spain: Itineraries to See (almost) Everything!
6 Days in Spain: The 3 Best Itineraries for Your Trip!
7 Days in Spain: The 3 Best Itineraries for Your Trip!
---
If you ever come to Cuenca, you will not regret it. It's a beautiful hidden gem in Spain that is often missed by tourists. 
Write down your experience if you've already been here, and share your best tips with our community so no one misses anything! 
Thank you for reading, and feel free to ask us any questions; we are always happy to help you!