7 Cultural Differences Between Spain and the Rest of Europe
December 13, 2022
Updated:

June 15, 2023
Published: December 13, 2022
The Spanish culture is made up of all the cultures that it comprises from the different regions. Those cultures are different as they are not neighbors and are geographically far from each other. But still, everything has a point of union that unites in difference. And we can extend this logic to the rest of Europe.
Western culture is said to be the same, but customs, traditions, religion, language, and lifestyle can vary considerably from country to country. Also, Europeans share a common heritage that allows them to adapt to other countries without much effort, except for the language barrier.
In this article, I'll explain some of the differences Spain has from other European countries. First, considering that Spain is just a country and Europe is a whole continent with different countries having their own culture.
Get prepared because our Eurotrip is about to begin!
---
Is Spain in Europe?
Spain is a country located in the extreme southwest of the European continent: between the Atlantic Ocean and the Mediterranean Sea, between Europe and Africa, and between the temperate zone of the planet and the subtropical zone. It shares the Iberian Peninsula with Portugal and has the territory of the Balearic Islands, the Canary Archipelago, and the Spanish cities in North Africa: Ceuta and Melilla. To see related articles, I suggest you visit these posts:
Spain Borders: The Neighbors that share our peninsula, oceans, and controversy

Is Spain in Africa? The 5 Spanish Territories in The African Continent
Is Spain part of the European Union?
Spain has been part of the European Union since 1986, but the signing of the Accession Treaty in Madrid took place in June 1985.
In addition, the first request to join the European Economic Community was made in 1962 by the then Minister of Foreign Affairs, Fernando María Castella.
Later, in June 1989, Spain incorporated its national currency into the Exchange Rate Mechanism of the European Monetary System, already established by France, Italy, Denmark, the Netherlands, and Luxembourg in 1979.
Consequently, in 1995, the name "euro" was agreed upon in Madrid for the common European currency and successfully introduced in January 2002.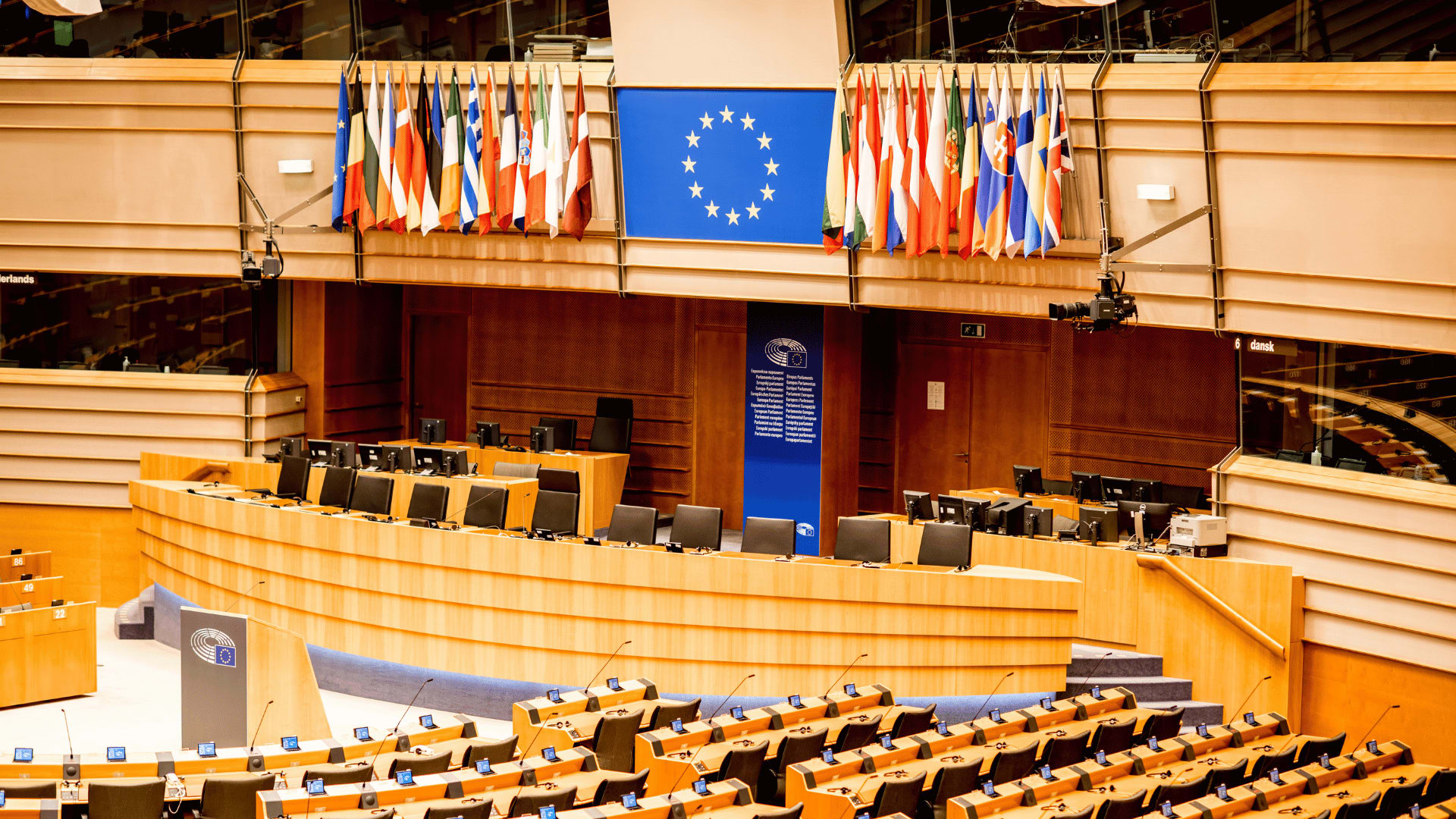 But what is the European Union?
After World War II, an organization aimed to promote economic cooperation based on the idea that trade produces interdependence between countries, reducing the chances of a conflict; the result was the European Economic Union, created in 1958, with the initial goal of increasing economic cooperation among six countries: Belgium, France, Germany, Italy, Luxembourg, and the Netherlands. Since then, twenty-two more countries have joined, and a huge single market (also known as the "internal" market) has been created and continues to move forward to realize its full potential.
The EU's main economic engine is the single market, which allows most goods, services, people, and capital to move freely. The Spanish economy is the 4th by size in the European Union and the fourteenth worldwide in nominal terms. And, in purchasing power terms it is also among the largest in the world.
Official Source: OP Europa
Countries in the European Union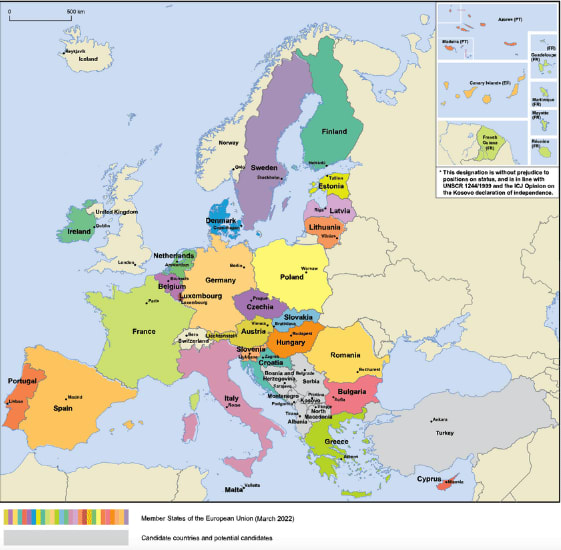 ---
Is Spain part of the Council of Europe?
Spain has been a full member of the Council of Europe since November 24, 1977.
The European Council is responsible for deciding on the EU's general political orientation and priorities but does not legislate. It deals with complex or sensitive issues that can't be solved at lower levels of intergovernmental cooperation.
Are Spanish European Citizens?
Spanish people, or Spaniards, are citizens of the European Union since this name is given to anyone holding the nationality of a Member State of the European Union. Citizenship of the Union, therefore, joins their national citizenship without replacing it or vice versa.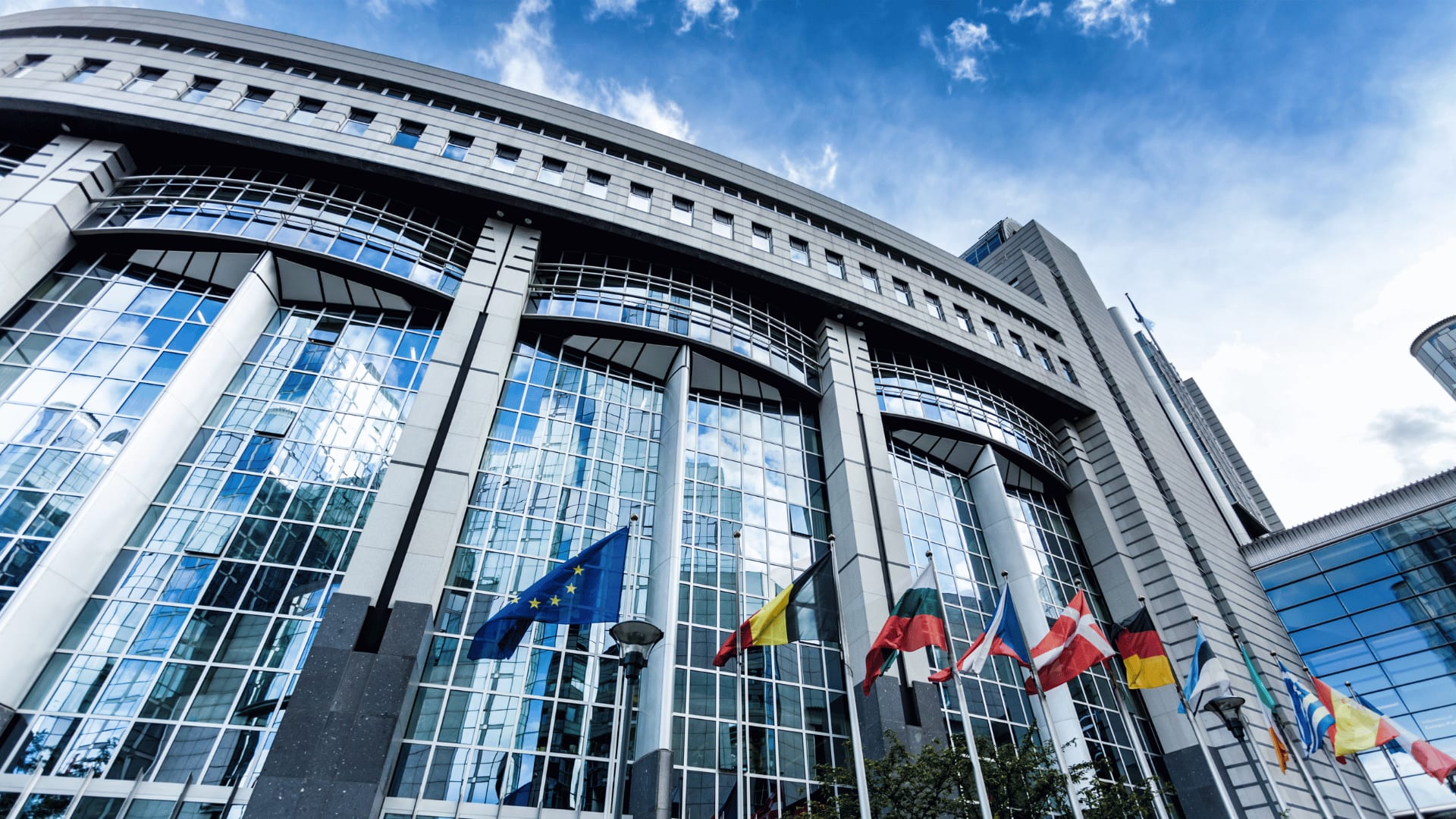 Do Spanish Look European?
The Spanish Facial features are the ones of the Mediterranean race. This means having an aquiline nose, pinkish-white to light-tan skin, and short to average height. Also, dark hair is prevalent (brown or black), and dark eyes or light (brown, hazelnut, honey tones, and to a lesser extent, green or blue). And, an average Spanish Men above 18 years old is about 176.11 cm (5 ft. 9 in). While Average Spanish Women above 18 years old are 162.03 cm (5 ft. 4 in). According to World Population Review.
It is true that other Europeans (especially as they go further from the west), in general, have lighter skin, more defined facial features, are taller and mostly have blonder hair. But, they share a lot of history and civilizations with Spain that make them have similarities in some aspects. I mean, in a crowd of Europeans you would not be able to tell who is the Spaniard unless he or she has particular features among Europeans. Still, in that case you would not be able to tell he/she is Spanish and not something else.
To obtain more extensive and in-depth information on this topic, I recommend you go through these posts. Here you're going to grasp the idea of how Spanish people look like:
5 Easy Ways to Recognize a Spanish by how they look

Are Spanish People Tall? Data, Comparissions and 10 Peoples Opinion
---
7 Cultural Differences Between Spain and the Rest of Europe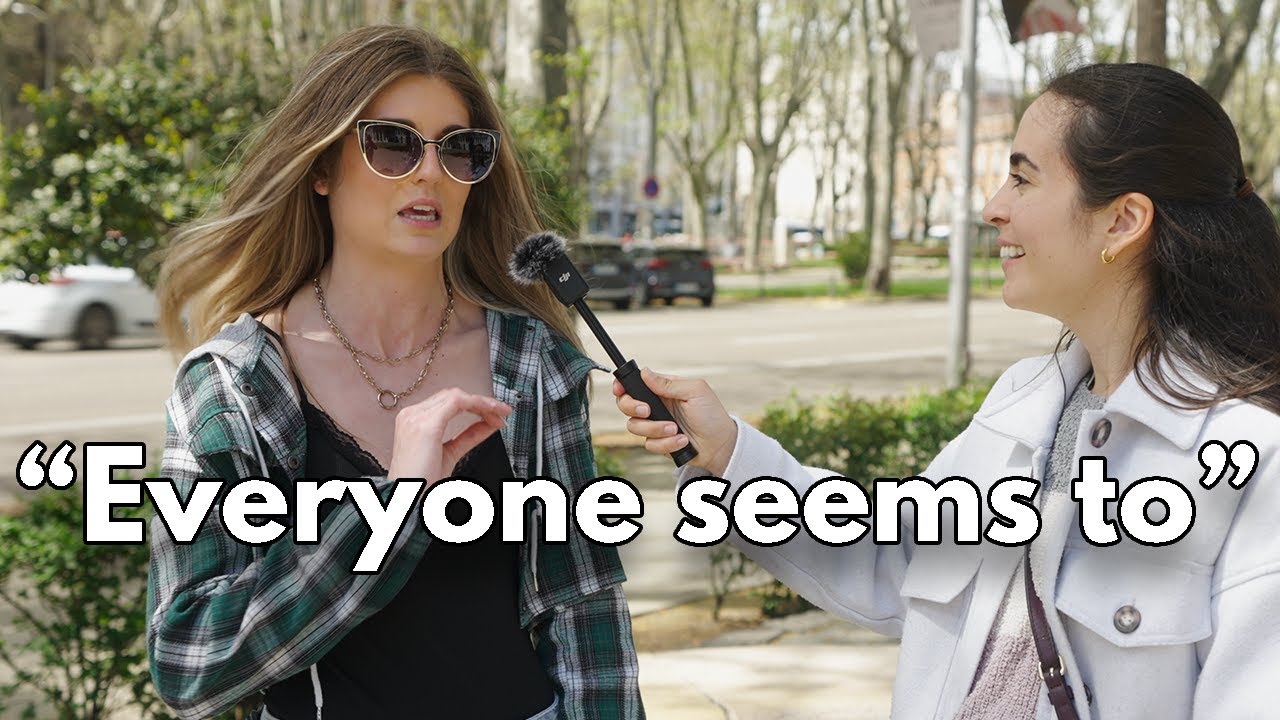 In a crowd of Europeans you would not be able to tell who is the Spaniard unless he or she has particular features among Europeans. Still, in that case you would not be able to tell he/she is Spanish and not something else.
1. The Mediterranean Culture is not present everywhere in Europe
To begin to highlight the cultural differences between Spain and the rest of Europe, it is essential to start with its geographical position.
Spain is located in the extreme southwest of the European continent which is characteristic for being home to the first Mediterranean civilizations, which have given form to a unique culture of its own. Proximity to the sea, the amount of fertile crop areas, the stable temperature and the land are key for variety in the Mediterranean ingredients and gastronomy, which still are vital pillars of the society.
It is shared by Spain, France, Italy, Croatia, Albania, Greece and northern Turkey. While from Africa: Egypt, Libya, Tunisia, Algeria and Morocco. Sharing the Mediterranean culture with other European countries makes them inevitably similar. (obviously) but, it should be noted that this is not like this with the rest of the European countries. Consequently, there are more similarities between Spain and Mediterranean culture countries in Europe while others are as far as talking about another continent.
2. Spain is a collective and friendly society
A great way to analyze the cultural differences a country might have compared to others is through the Hosfede Country Comparison tool, which has international recognition as an excellent framework for understanding other nations.
Spain, in comparison with the rest of the European countries (except for Portugal), is Collectivist. It refers to a society where social and individual ties are strong, and people are part of strongly cohesive groups, where "we" rather than "I" is predominant as loyalty. However, Spain can be seen as an individualist country compared with others worldwide. Still, it is easier for a Spaniard to relate to non-European cultures, whereas most European countries are perceived as aggressive and rude.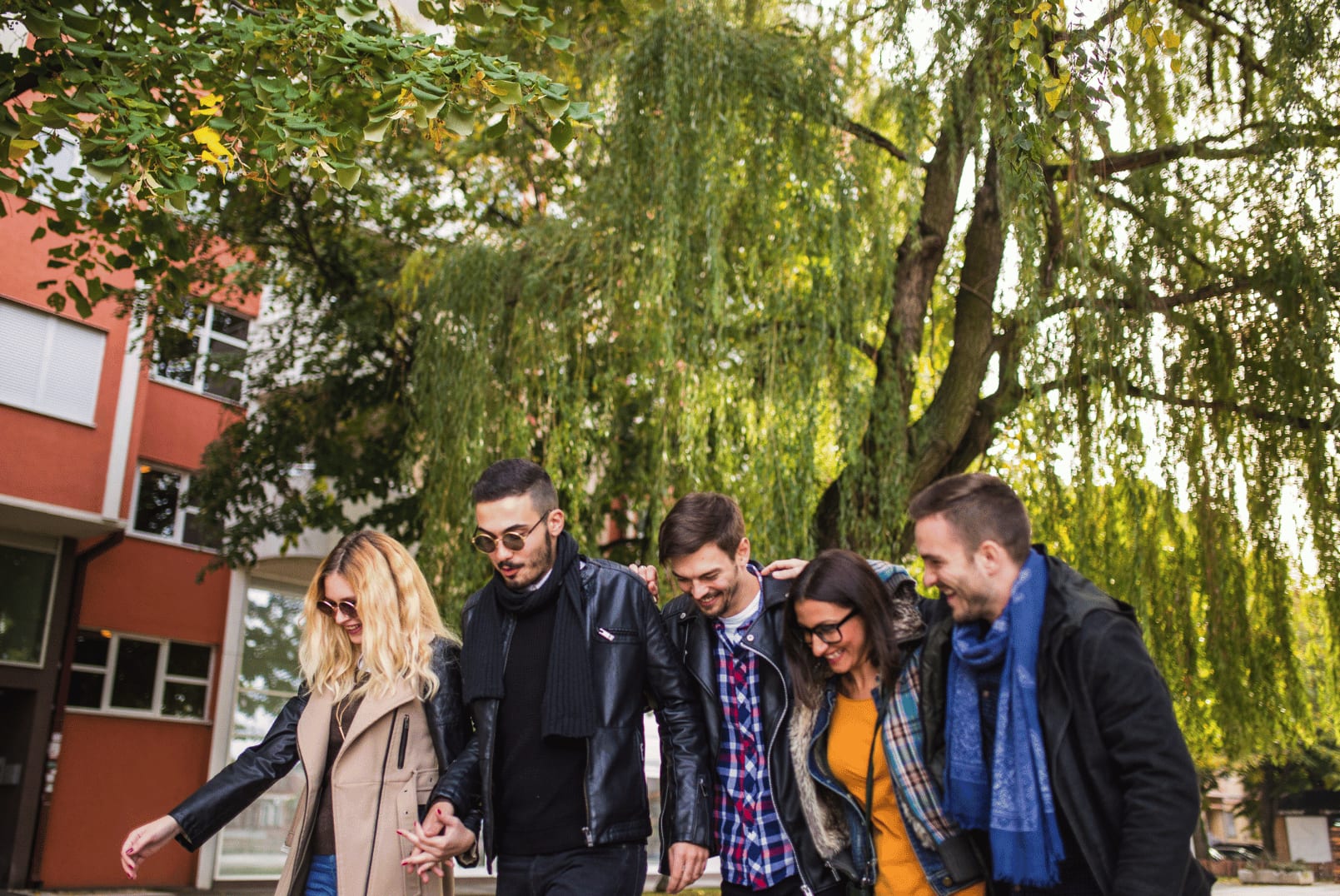 In Spain, personal relationships with family, friends, and loved ones are vital, and these ties are maintained throughout life. So most of the celebrations and traditions already part of the Spanish culture contain perfect examples of a collective society. If you are interested in knowing more about this info about Spain, I recommend you look at these posts:
Spanish Culture 101: Heritage, Languages, Religion, Customs and Traditions, Manners, and more
---
3. Spaniards may be closer to some Hispanic-American cultures than to those of Northern/Eastern Europe
(There are exceptions)
Hispanic cultures are born from the era of colonization. This means that language, culture and customs are still shared by both.
For example, it is easier for Spaniards to empathize with people and cultures like Argentina, where they are heirs of a Spanish culture, their conquerors arrived in the Rio de la Plata or Asuncion were from Southern Spain (many descendants of Arabs and Andalusians) and of humble origin. For this reason it could be said that an Andalusian is much more similar to an Argentinean than an Andalusian to a Danish.
Another example is the Venezuelan accent, which is pretty similar to the Canarian accent and has many common words that are characteristic of both regions. On the other hand, Asturias has many blood ties with Mexico and even have mariachis and eat typical mexican food in some countryside parties.
Moreover, it is usually easier for a Spaniard to speak with a Latino than with other Europeans since the language is the same. Hispanic Americans, as the word describes, share the Spanish language with Spain —although there are many differences in terminology and so on— For more additional information visit the following posts:
Spanish in Spain vs in Latin America: 5 Differences to English speakers

Is All Spanish the Same? One Language, Huge Differences!
---
4. Spain is considered the noisiest country in Europe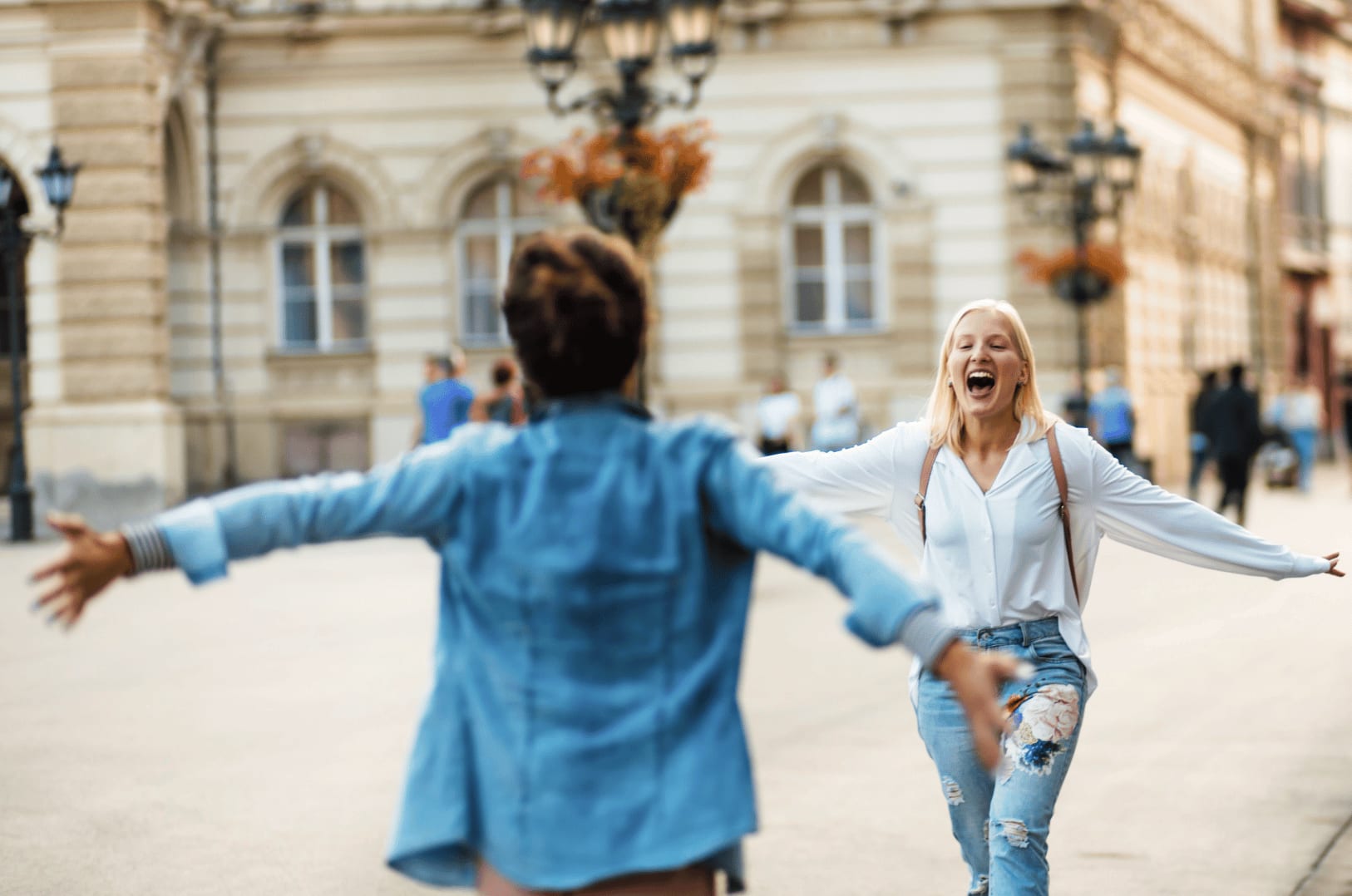 Not only do Spaniards talk super loud, but they are also the noisiest country in the European Union according to the WHO. It is estimated that in Spain more than 9 million Spaniards live daily with noise levels above 65 decibels (dB), the maximum level recommended by the World Health Organization.
In addition to the noise in buildings, streets and public places, Spaniards also contribute a little to this result… They can be very loud and interrupt each other when talking. If you ever see an intense conversation between two Spaniards, they're probably just talking about something exciting for them. Even if it looks like it, we are not fighting. Instead they are expressing themselves in a loud tone. This is similar with their closest neighbors in Italy, France, Portugal and some others, who have the same reputation. See our most characteristic habits and manners here:
---
5. Young Spaniards are among the latest to leave their parent's house.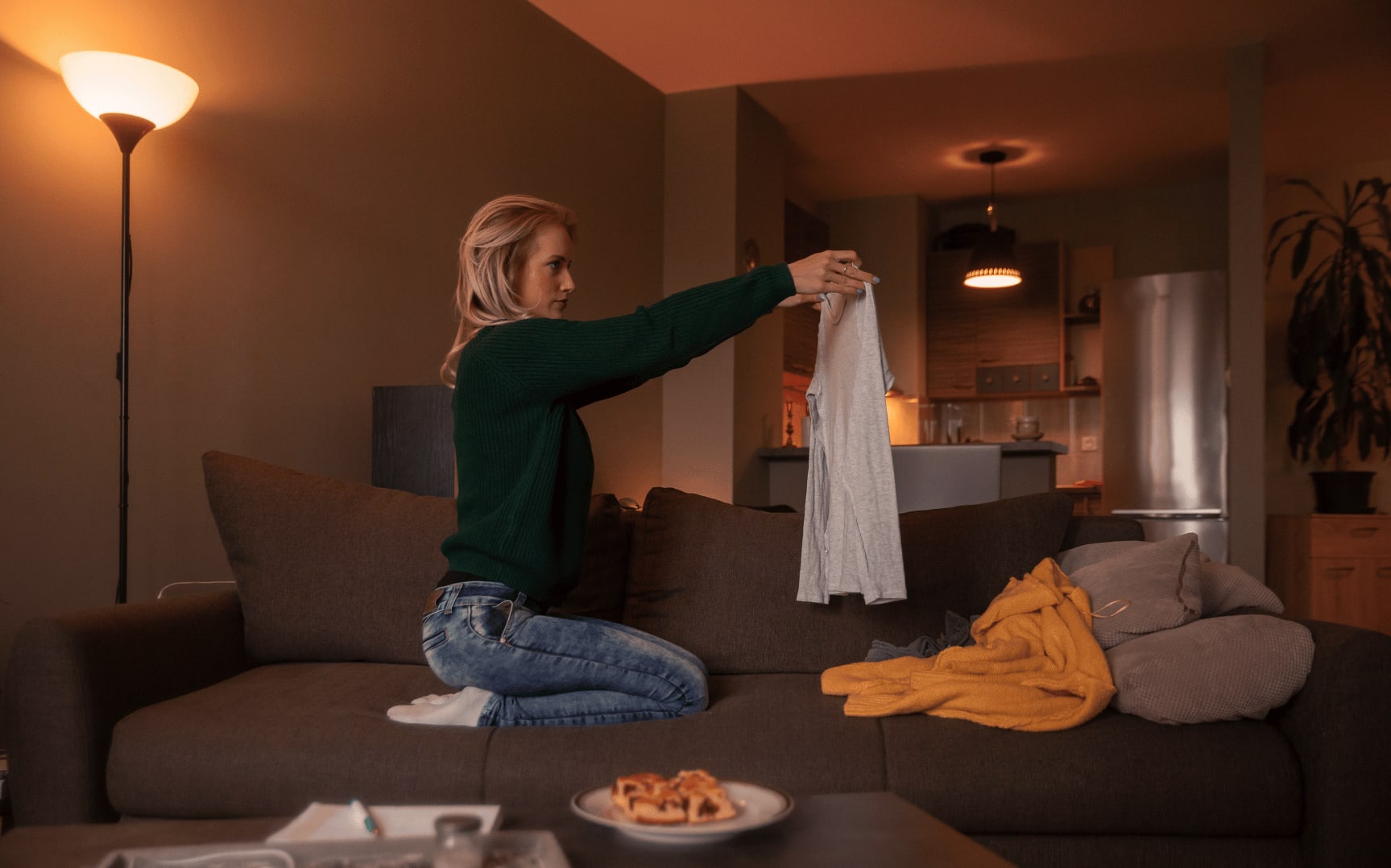 Becoming independent, leaving home, starting a life with a partner or on one's own is a challenging task considering the current economic climate. This is said to be the most compelling reason why Spaniards are leaving their parents' house "so late" compared to other European Countries. Unfortunately there is a youth unemployment rate of 52% in Spain, the price of housing is high in the big cities of spain such as Madrid and Barcelona, which are excellent cities to live in with plenty of academic and professional training, but for many Spanish people it is still inaccessible without the help of their parents.
While in countries like Finland, the average age of emancipation is 22 years, while in Spain it is 29.8, according to Eurostat. They are not even thinking about leaving their parents house at 18 or 22. 
Added to this, young Spaniards are very afraid of having to return to their families house if they do badly, because it is considered as a failure. That is why they delay and take more care of that moment to do it when they are sure of the decision. Even more, in this culture, this moment is usually accompanied by a stable partner with whom they plan to have a family life as a couple.
| Country | Year | Men | Women |
| --- | --- | --- | --- |
| Sweden | 19,0 | 19,2 | 18,8 |
| Finland | 21,2 | 21,9 | 20,4 |
| Denmark | 21,3 | 21,5 | 21,0 |
| Estonia | 22,7 | 23,2 | 22,1 |
| Netherlands | 23,3 | 23,9 | 22,7 |
| Germany | 23,6 | 24,4 | 22,7 |
| France | 23,6 | 24,4 | 23,0 |
| Lituania | 25,2 | 26,2 | 24,2 |
| Austria | 25,3 | 26,3 | 24,4 |
| Czechia | 25,9 | 27,1 | 24,7 |
| Belgium | 26,2 | 27,0 | 25,4 |
| European Union Average | 26,5 | 27,4 | 25,5 |
| Lithuania | 26,6 | 27,2 | 25,8 |
| Luxemburg | 26,8 | 27,4 | 26,3 |
| Chipre | 27,2 | 28,0 | 26,5 |
| Hungary | 27,3 | 28,6 | 26,0 |
| Ireland | 27,9 | 28,3 | 27,4 |
| Romania | 28,0 | 30,3 | 25,6 |
| Poland | 29,0 | 30,2 | 27,7 |
| Slovenia | 29,6 | 30,9 | 28,1 |
| Spain | 29,8 | 30,8 | 28,9 |
| Malta | 29,8 | 30,8 | 28,7 |
| Italy | 29,9 | 30,9 | 29,0 |
| Bulgaria | 30,3 | 32,0 | 28,5 |
| Greece | 30,7 | 31,8 | 29,6 |
| Slovakia | 30,9 | 32,2 | 29,5 |
| Serbia | 31,4 | 33,9 | 28,9 |
| Croatia | 33,3 | 34,9 | 31,8 |
| Portugal | 33,6 | 34,4 | 32,7 |
As we can see, Spaniards leave home much later than the European average. And this has hardly changed in the last 20 years!!!
---
6. Living costs are lower in Spain than in other European countries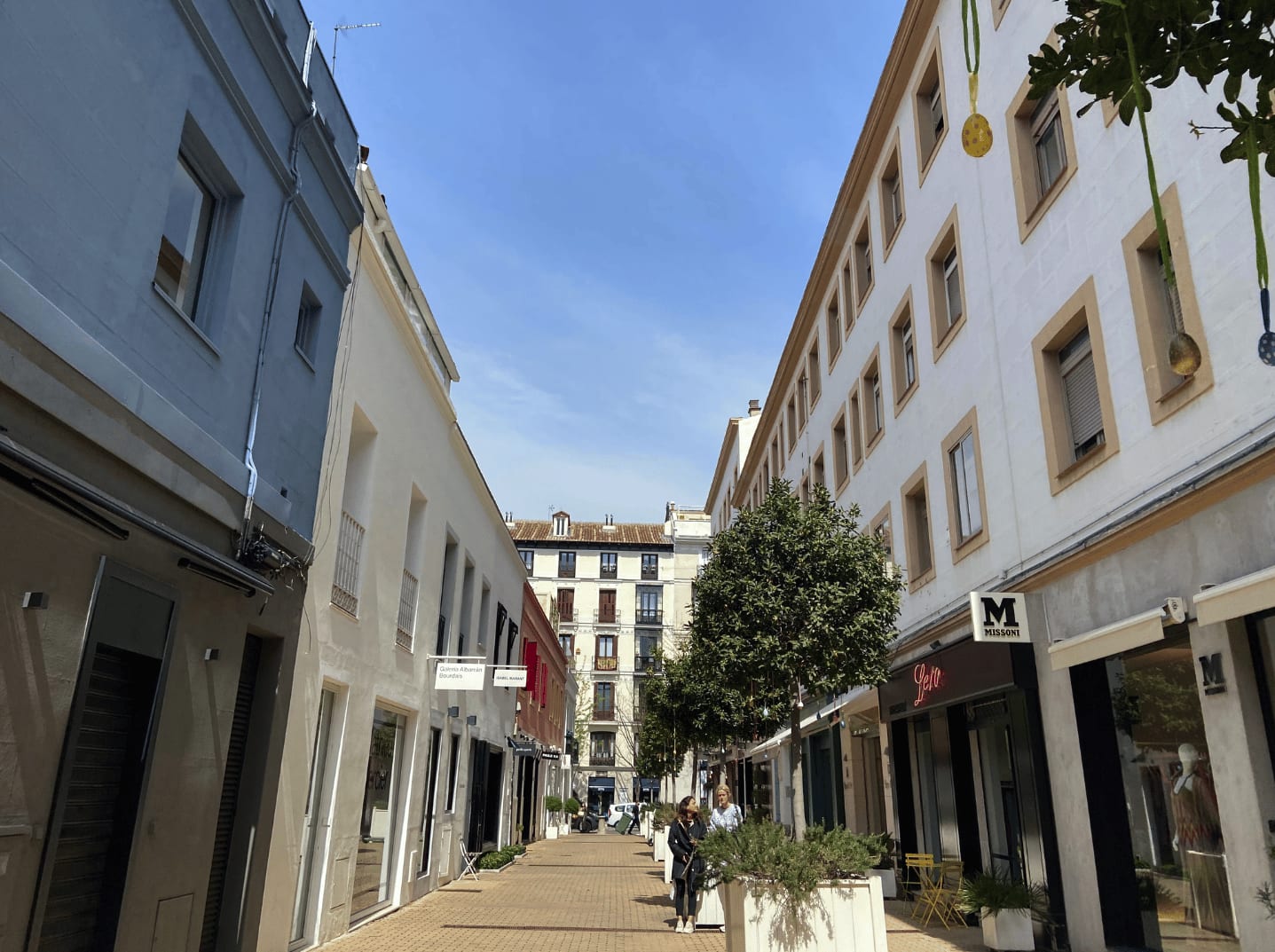 Living in Spain is 11% cheaper on average than in other countries such as Germany, Ireland or the United Kingdom. The cost of living in Spain is about 818 euros per month, compared to the 920 euros it costs to live in other European countries, according to Eurostat data. The research takes into account the average cost of renting an apartment, extra expenses (which include electricity, water and gas, among others), the price of the transport pass and the gym, as well as what it costs to have an ocassional beer.
Price differences are evident between countries. However, there is an exception of the cost of rent. Spain is the third country with the most expensive rent in Europe. A typical apartment with up to two rooms, located in the center of a city is around 600 euros per month.
In Spain, this expense amounts up to 622 euros, and it is the country with the third most expensive rent in Europe, and, compared to Belgium, Germany and France, whose rent ranges between 598 and 614 euros per month. Yet, the costs of electricity, water and all the extras of the flat are much cheaper in Spain than in the rest of Europe.
Moreover, transportation costs are also very cheap. Spain is the second country in Europe where it is more affordable to buy a transport pass, with an average monthly fee of 43 euros, according to the same study.
---
7. Spain has a different gastronomy than the rest of Europe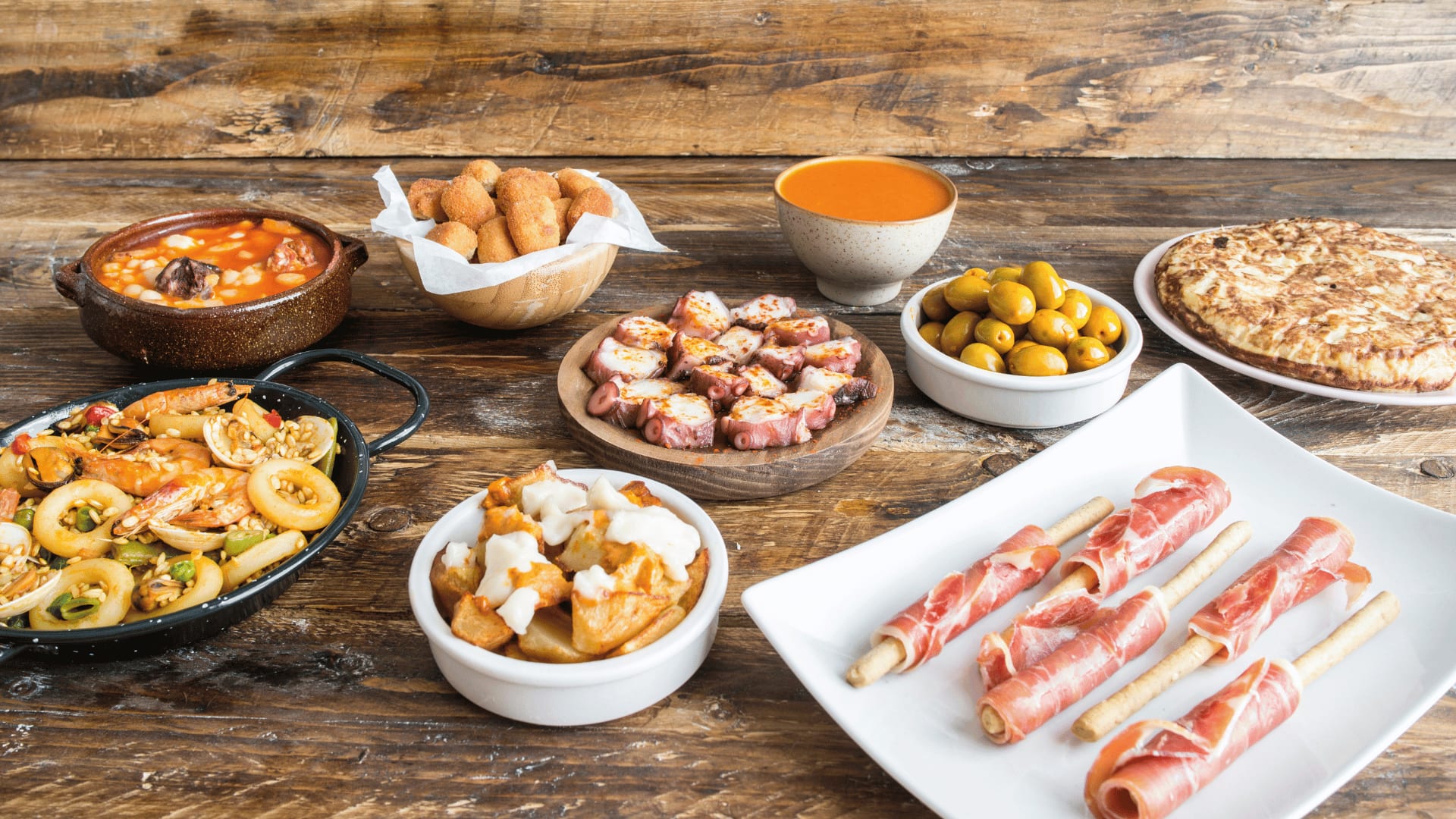 Western Gastronomy is a generalized term referring collectively to the gastronomy of Europe. But it is incorrect to say that there's a single gastronomy that represents all Europe since every country has their own traditional dishes and customs. The gastronomy of Eastern Europe, in countries like Romania and Bulgaria where vegetables and meats predominate and there is a significant influence from other European countries, is not the same as the gastronomy of Portugal, Spain or France, for example.
However, if we can highlight that there are certain similarities since they are Mediterranean countries. The foods that predominate in Spanish dishes par excellence are olive oil, which can never be missing from a toast in the morning, wine, since Spain has excellent wine-producing areas of high quality and international recognition, shellfish, fish typical of the coasts, roasted meats, sausages such as Serrano ham that can never be missing from an authentic Spanish meal, cured cheeses, bread, pasta and an immense variety of fruits, vegetables, rice, accompanied by spices and condiments to create iconic dishes that taste the palates of millions of visitors who are impressed by experiencing such delicious cuisine and typical of each region.
13 Delicious Foods My Spanish Family Eats on New Year
13 Spanish Christmas Foods You will Love: Call Your Santa Bakers!
---
The Spanish culture itself is very diverse. I invite you to visit our articles related to the culture of Spain so you can continue familiarizing yourself with the Spanish people and their lifestyle. It is important to emphasize that our comparisons about Spain and other countries are made from empathy and the desire to improve, not to label each other.