Famous Spanish Painters: The 9 Old (& Modern) Masters of Art
November 16, 2022
Updated:

July 11, 2023
Published: November 16, 2022
Have you ever heard the saying, "art washes away the dust of everyday life"? It is supposed to be said by Pablo Picasso, which is precisely what this article is about.
What do you interpret from this phrase? Would you agree? I actually do, or haven't you been in those blue days when you instantly resort to music, books, or series to comfort yourself. I think we'll have, and the artist I will share with you today did the same and created timeless masterpieces.
In this article, I will list the nine famous Spanish painters that mastered the brush. There is a combination of old and modern masters that I am confident you will love.
So, get your pad and pencil! After reading this, you'll be so inspired you will want to try drawing something yourself.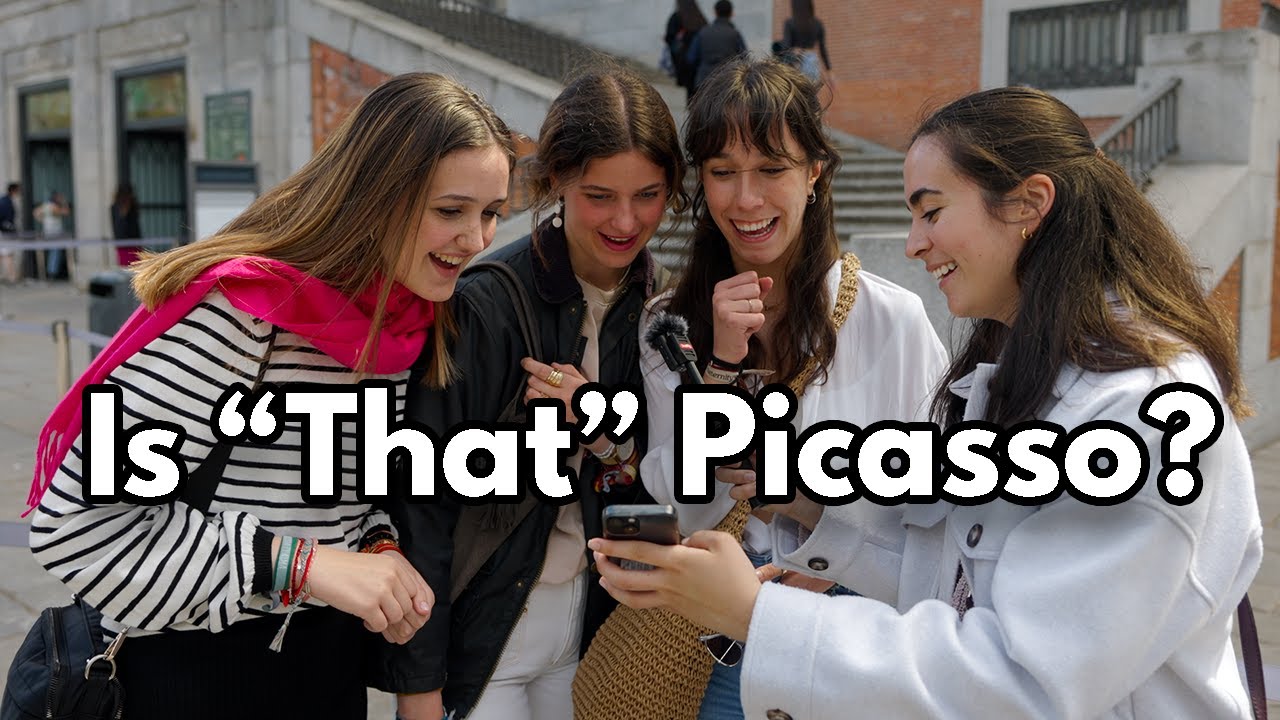 El Greco
Okay, this is a fact many people complain about when "El Greco" is listed as a Spanish painter: he was not Spanish. He was Greek. However, many of his great paintings were done in Spanish territory, so he must be part of this list.
Doménikos Theotocópulos, best known as "El Greco," meaning the greek, was born on October 1st, 1541, in Creta; and died in 1614 in Toledo. The Spanish gave him his nickname because it was easier than his real name. 
"El Greco" didn't come to Spain until his late 40s. At age 26, he left his town to move to Italy, where he experienced the Renaissance and came in contact with mannerisms.
In 1577 he decided to settle in Toledo, where he lived and worked for the rest of his life. In Toledo, his art went through a considerable evolution. In the first stage, he remained faithful to his Italian sources. But it was in 1600 that he intensified the artificial and unreal elements of his works, fundamentally anti-naturalistic such as elongated human figures. A clear example of this would be The Burial of the Count of Orgaz, painted in 1586 and can be found in the church of Saint Tomé in Toledo.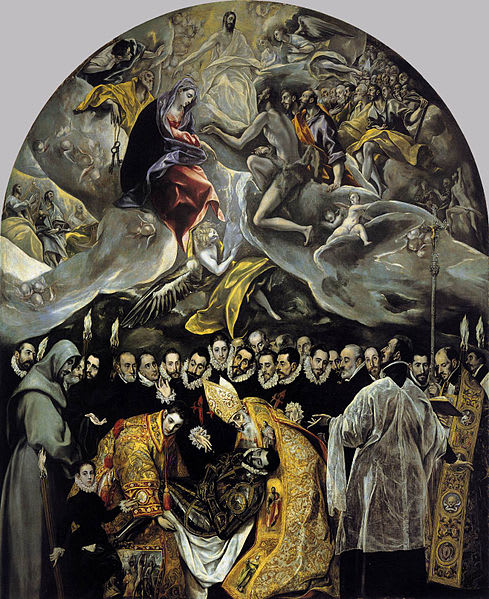 More stunning paintings from this artist are "El Expolio" (1577–1579), and The Assumption of the Virgin (1577–1579).
You can see his paintings in Toledo in Museum El Greco, in Madrid, there are several paintings in Prado Museum, in Budapest in the Museum of Fine Arts, and in New York in the Metropolitan Museum of Art, among many others.
Diego Velázquez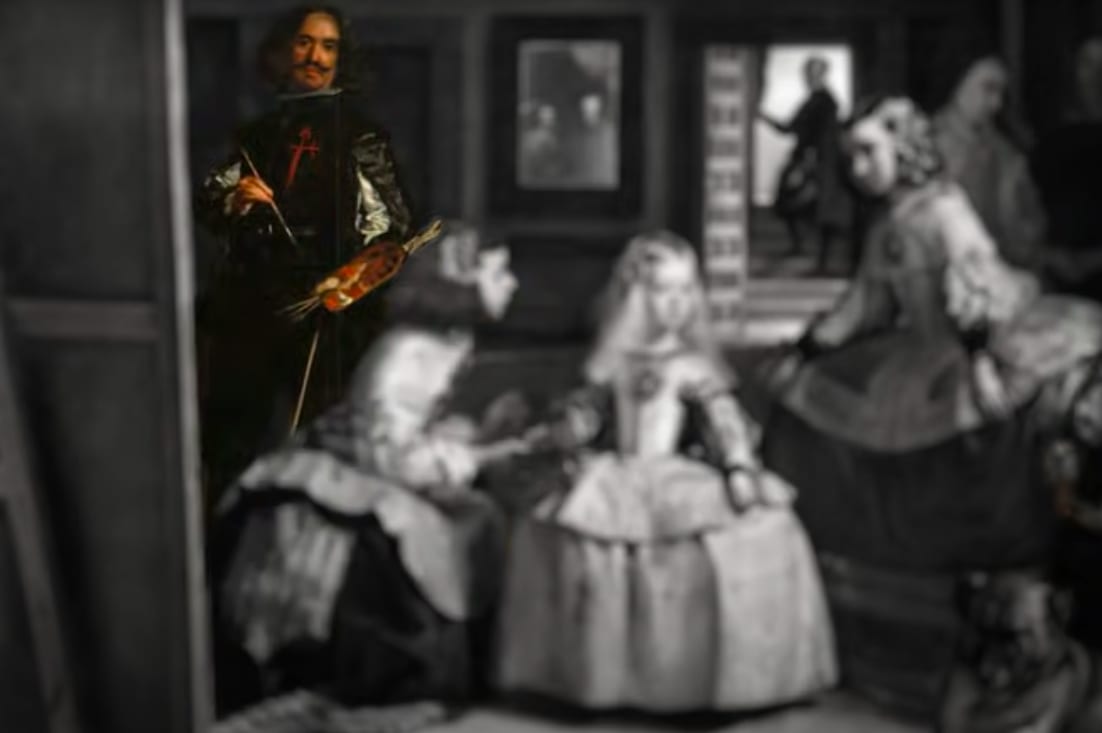 Diego Velázquez is one of the most recognized painters of Spanish art. He is especially famous for "Las Meninas" and his master portrait. 
Velázquez was born on June 1599 in Seville and died at 59 in Madrid. This Spanish painter began his career as a very young boy; he was 11 years old when he got an apprenticeship with a local painter. 
Velázquez's early works were of traditional religious themes, but he became influenced by the naturalism of the Italian painter Caravaggio. In 1622, Velázquez moved to Madrid, where he had the chance to paint a portrait of the Count-Duke of Olivares. The count-duke then recommended Velázquez's services to King Philip IV. He then moved to the royal court, which gave him access to a vast collection of works and the opportunity to contact influential artists. 
Velázquez traveled to Italy twice, where he was influenced by the region's great artists and portrayed Pope Innocent X. 
In 1656, he produced his most famous work, "Las Meninas", a clear example of his dimensional studies and perfection in perspective. His work is categorized as Baroque. In 1660 he became very ill and dies; nevertheless Velázquez is remembered as one of the great masters of Western art.
Other iconic pieces you should check out are Rokeby Venus (1650), and Apollo in the forge of Vulcan (1630). 
His most important paintings are in Padro Museum in Madrid. Outside Spain you can see his paintings in the National Gallery, The British Museum, The Wallace Collection among others.
Francisco Zurbarán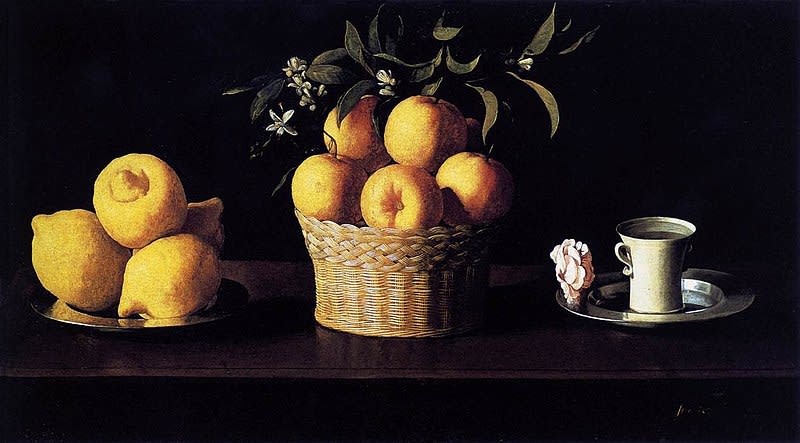 FranciscoZurbarán was a friend and contemporary of Diego Velázquez. Unlike his fellow artist, Zurbarán focused on religious themes illustrating tenebrous styles with the incredible contrasts of lights and shadows he created. His paintings also followed a Baroque style. 
This Spanish artist was born in November 1598 in Badajoz (Extremadura), and died at 66 in Madrid. As mentioned, he excelled in religious painting, creating great visual strength and deep mysticism. He was a representative artist of the Counter-Reformation, probably started in pictorial art, in his hometown's school of Juan de Roelas. 
Before entering the school, in Pedro Díaz de Villanueva's workshop, he met Alonso Cano. He had a really good relationship with Francisco Pacheco and his students. Zurbarán paintings were influenced by Juan Sánchez Cotán. His style evolved to approach the Italian mannerist masters. His representations also moved away from the realism of Velázquez, and his compositions were characterized by chiaroscuro modeling. One of his greatest paintings is The Immaculate Conception (1632), which is conserved in the National Art Museum of Catalonia. 
Otherimportant pieces are **"**Agnus Dei" (1640), "Crucificado" (1627), "Bodegón con cidras", and "Naranjas y Rosa" (1633). 
You can see his paintings in one of the most famous museums in Madrid, Prado Museum in Madrid, or you can also see his paintings in the museum of Carmen Thyssen in Malaga or in the institute of art in Chicago.
Bartolomé Esteban Murillo
Bartolomé Murillo was a fellow Sevillian of Velázquez born on January 1618 and died in his hometown at 64. 
 In 1633 he began his training in the workshop of Juan del Castillo. His work, along with Valdés Leal's, represents the last phase of the Spanish Baroque, which were primarily religious themes. He also painted delicate scenes of children, adolescents, and portraits. Van Dyck influenced his paintings in many ways, adapting to Spanish taste and devotion and becoming a trendy artist. 
Murillo's influence on Spanish painting extended into the 19th century, mainly in Seville. In addition, part of his legacy was a prestigious art school founded in 1660. 
Three of his incredible paintings are "Joven Mendigo" (1650), "Inmaculada de Soult" (1678), and "Vendedores de Fruta" (1675). 
His painting can be found in the Arzobispal Palace of Seville, Museum of Fine Arts in Seville, and Prado Museum in Madrid.
Francisco de Goya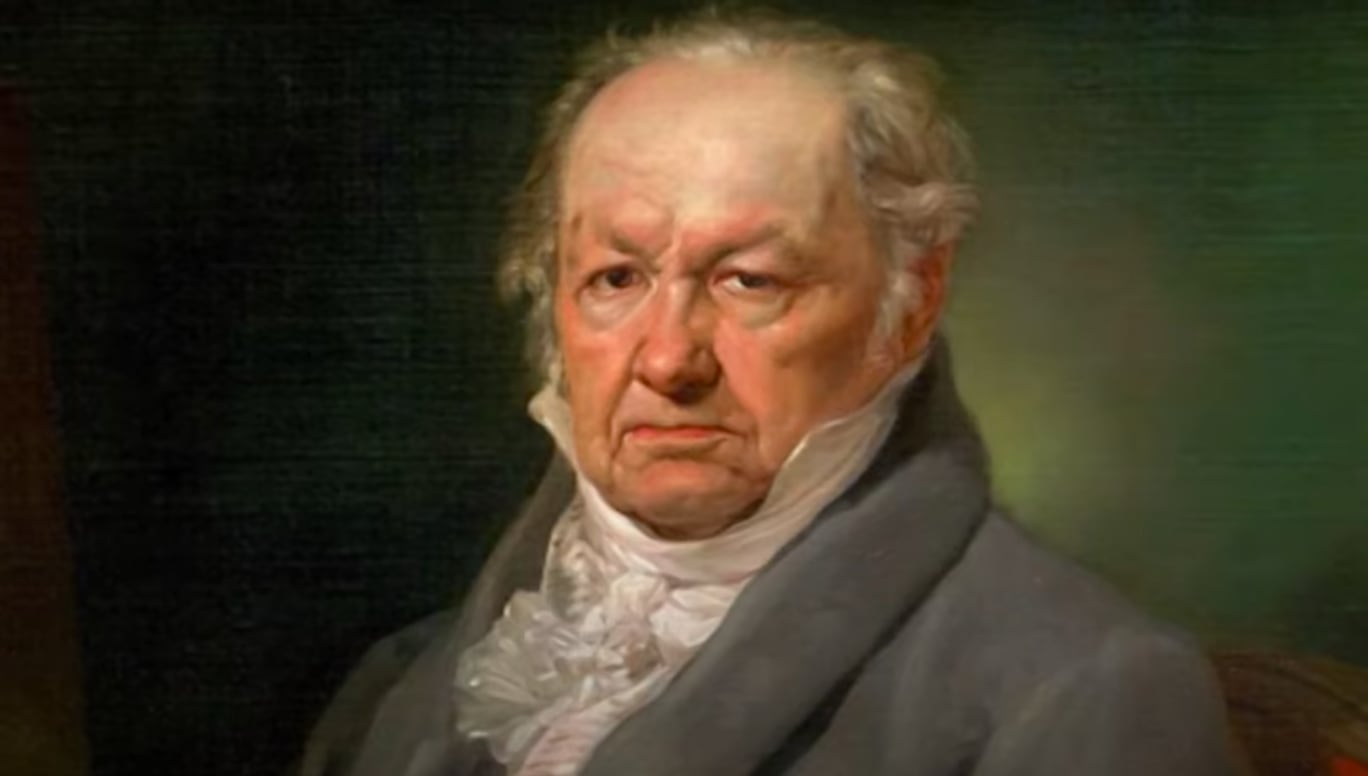 Like Velázquez, Francisco Goya is another Spanish painter who deserves to be in the top three (this list goes chronologically, but you get what I am saying). His art belongs to the Romanticism and Rococo art styles.
Goya was born in Spain on March 30, 1746, and died at 84 in France. Since he was a kid, he shared the ideas of the Spanish Enlightenment. During his first stage as a painter, Goya stood out as a religious painter, a genre he would practice for the rest of his life. 
In 1774 he settled in Madrid and began as a court painter, protected by Francisco Bayeu. Even though he started as a tapestry designer for the Royal House, he grew to become a portraitist and the King's personal painter. Another critical skill of this artist was those of an engraver. 
In the years before the French invasion, he returned to drawing, a stage to which his series of critical engravings belong. It is here where evolution is perceived. Goya reflected on the turbulent times that Spain lived during the French Invasion and the Spanish Inquisition. This changed his style into tenebrism and realism. His paintings are universal because he understood suffering and showed deep compassion for those in the most significant pain through his art. 
A painting that reflects the latter is The Charge of the Mamluks (1808), preserved in the Prado Museum. 
Overwhelmed by the absolutist reaction that followed the War of Independence, he went into exile in Bordeaux, where he died in 1828.
More of his paintings are "The Nude Maja" (1797-1800), The Clothed Maja (1798-1805), and Charles IV of Spain and his family (1800-1801). 
You can see his paintings in the Prado Museum in Madrid, Meadows museum in Texas, and the National Gallery of Art in Washington, DC.
Joaquin Sorolla
If you are in Madrid, then Sorolla's museum is a must! It is a gorgeous house with its most essential pieces in one place!
Joaquin Sorolla was born on February 28, 1863, and died in 1923. He began his artistic career in 1877 with the sculptor Cayetano Capuz and later studied at the Escuela Superior de Bellas Artes de San Carlos.
Since he was a kid, he was interested in sculpture and painting outdoors, with which he tried to capture the Mediterranean luminosity, both in the Valencian orchard and on the beach, as did the French impressionists. 
He finished his education in Paris and Rome, returned to Spain in 1890, and settled in Madrid. It was here where he began a career marked by successes, awards, and substantial commissions. Among his favorite themes was his dedication to the Levantine landscape, the coastal environment, always with a human presence, which he depicted with an absolute prominence of light. 
Four of his most important pieces are ``Portrait of Alfonso XIII'' (1907), "Paseo a orillas del Mar" (1909), "El baño del caballo" (1909), and ``Lighthouse walk at Biarritz'' (1906).
You can find his paintings in the Sorolla's Museum in Madrid, the Valencian Institute of modern art, and the Spanish Society of America in New York, among others.
Pablo Picasso
Picasso was one of the artists that opened the way to avant-garde in the world. He knew art so well and knew all his rules, only to be able to break them entirely through Cubism. 
Pablo Picasso was born in Malaga on October 25, 1881, and died at 82 in France. Between 1901 and 1907, he developed his work's blue and pink stages. These stages were characterized by those colors and his theme of isolated figures, with gestures of sorrow and suffering. 
Picasso became interested in Cézanne. Based on this, he developed a new pictorial formula, and with his friend Braque, they developed Cubism. However, he was also inspired by Surrealism and modern art. 
The outbreak of the Civil War and the bombing of the town of Guernica led him to create one of the most famous works of contemporary art named after the destroyed city of the Basque Country. In his last years, he worked in a very personal style, with bright colors and strange shapes.
Picasso has plenty of paintings worth mentioning, but here I will give you the leading three Ladies of Avignon (1907), Guernica (1937), "El sueño" (1932), "And Tres músicos" (1921). 
Picasso's paintings can be found in the Reina Sofía Museum in Madrid, the Picasso museum in Málaga, Barcelona, another in Paris, the Tate Modern museum in London, and MoMA Museum in New York.
Joan Miró
Joan Miró isn't as famous as Picasso or Dalí, but he sure shared ideas and passion with them. Miró was also a good friend of the American writer Ernest Hemingway, who admired the Spanish painter very much and with whom he practiced boxing.
Here you can find out more about the book that Hemingway wrote while staying in Spain:
7 Books about Spain That Will Make a Cultural Expert Out of You
Miró was born on April 20, 1893, and died at 90 in 1983 (I thought the coincidence in numbers was very curious!). 
He studied at the Escuela Superior de Artes Industriales y Bellas Artes, until 1910, with Modest Urgell and Josep Pascó, other famous painters of the time. In his work, he reflected his interest in the subconscious, the "childish," and his country. 
Miró would let himself starve to be inspired. He was never at risk but the feeling of hunger gave the hallucinations he looked for when painting.
At first, he showed Fauve solid, Cubist, and Expressionist influences, moving on to a matte painting with a certain naïf air. He was self-exiled in Normandy during the civil war. In 1975 he created the Joan Miró Foundation, the headquarters of one of the most emblematic buildings of Catalan rationalism. The purpose of the Foundation, which houses much of his work, is to disseminate new trends in contemporary art.
The paintings listed below are a mix of his different "La Masía" (1922), "El campo Labrador" (1924), "Paisaje Catalán-El Cazador" (1924), and "El Oro del Azul" (1968).
You can see his paintings in the Museum of Joan Miró in Mallorca, Reina Sofía Museum in Madrid, MoMA Museum in New York among many others.
Salvador Dalí
There was nothing Salvador Dalí couldn't do. He was a painter, sculptor, stage designer, and writer. 
Dalí was born on May 11, 1904, in Girona and died at 85 in his same hometown. 
Dalí was part of a group of poets and artists known as the Generation of '27. He was surrounded by great poets and writers! You read about most of them in the article below:
Top 9 Spanish Writers That Speak from their Hearts - 5 Nobels!
The painting of his beginnings, the Yellow Manifesto (1928), and his articles and conferences (1930) all provoked violent reactions as he was very explicit with his work. 
He lived in Paris since the late 20s, where he became a leading figure of pictorial Surrealism. He met Paul Eluard's wife, Gala Helena Diakonova, whom he married. 
Dalí's art style was Surrealism, but he was expelled under allegations of being a fascist. After that inconvenience, he moved to the United States in 1939, alternating his stays in Portlligat, whose landscape became the central motif of his work. On his return to Spain in 1948, he claimed to follow the spiritual tradition of Zurbarán and the great mystics of Spanish literature. 
Dali 's most famous paintings are "El gran masturbador" (1929), "La persistencia de la memoria" (1931), and "Jirafa en llamas"(1937).
You can find Dalí's work in the Dalí Museum in Florida, Reina Sofía Museum in Madrid, National museum Thyssen in Madrid and Museum of Dalí in Girona.
And you can check out some of two of his sculptures right here!
Discover the 13 Best Sculptures in Spain You Need to Check Out
That is it for today! Now you know the 9 old and new masters of Spanish art. We have gone from the Renaissance to Modern art, mentioning the artists that worked from their hearts to be on this list.
We hope this was helpful, and don't forget to check out more about Spanish Art!