Free Things to Do in Spain: Top 23 Activities & Attractions
June 20, 2023
Updated:

June 21, 2023
Published: June 20, 2023
There's no such thing as free lunch. But Spain is the exception. In this country, you'll get a range of exciting and cost-free activities throughout the different regions.
From cultural experiences to natural wonders and architectural marvels, this article provides exciting and convenient tips for those who want to experience memorable adventures without breaking the bank!
You'll see that the travel vacation of your dreams is possible if you come to Spain, one of the few countries where they give you free food for your pretty face right after ordering your drink. Although not all Spanish cities are so cool to do that… follow this guide to know where to get the best deals!
I hope you can do the most since they are all worthy of your bucket list.
---
1. Immerse in Spain's Most Important Museums for Free!
The most significant art museums in Europe, but many tourists are deprived of visiting them because the general entrance fees are usually expensive. In Spain, many museums are open several days a week for free.
In Madrid, the Prado Museum has free admission from Monday to Saturday from 18:00 to 20:00 hs, and Sundays and holidays from 17:00 to 19:00 hs.
The Reina Sofia Museum is free from Monday to Saturday from 7:00 pm to 9:00 pm and Sundays from 1:30 pm to 7:00 pm. Admission to the Palacio de Cristal and the Palacio de Velázquez is always free.
In Barcelona, the National Art Museum of Catalonia is free on Saturdays from 3 pm and the first Sunday of the month. Also, the Museum of Natural Sciences of Barcelona has free admission on the first Sunday of the month, all day, and every Sunday of the year from 3 pm.
And like these many other museums in Spain provide free time slots and months for visitors to learn about our culture for free! Here's a full list for Barcelona:
📌 Read more: 15 Best Tips & Tricks to Discover Barcelona like a Local
2. Experience Magic at Sunset on Benirràs Beach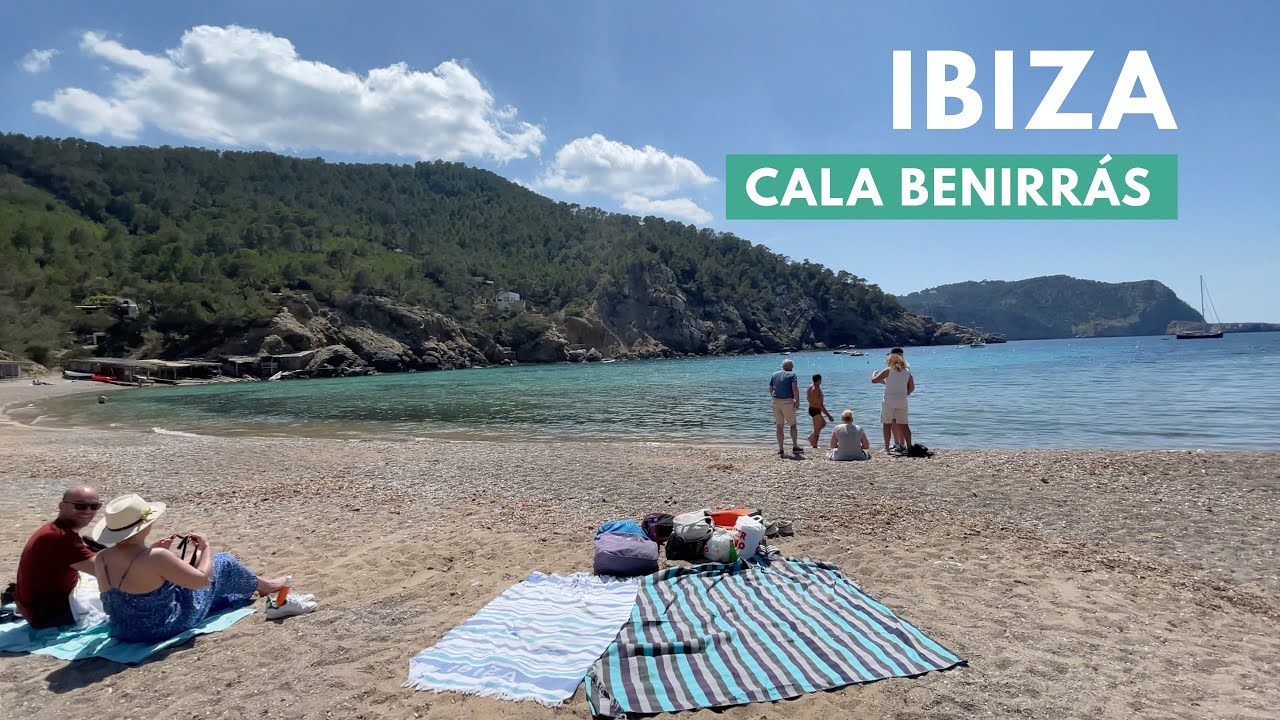 Benirràs Beach is one of the most famous beaches in Ibiza, and it has many charms that make this place an exceptional place.
Benirràs is a beach known worldwide is its sunset. All sunsets are magical on the island of Ibiza. This beach maintains a hippie atmosphere not experienced anywhere else on the island.
The most popular day is Sunday; they usually gather many hippies with their drums in what is known as the party of the drums of Benirràs. People go to the beach and stop to enjoy the rhythm of the music, watching how the sun is melting into the sea.
Undoubtedly, watching the sunset in Benirràs is one thing you must do on your vacations in Ibiza.
📌 Read more: Ibiza vs Mallorca: 5 Key Differences for Tourists!
3. Walk the Last 20 km of the Santiago de Compostela Pilgrimage Route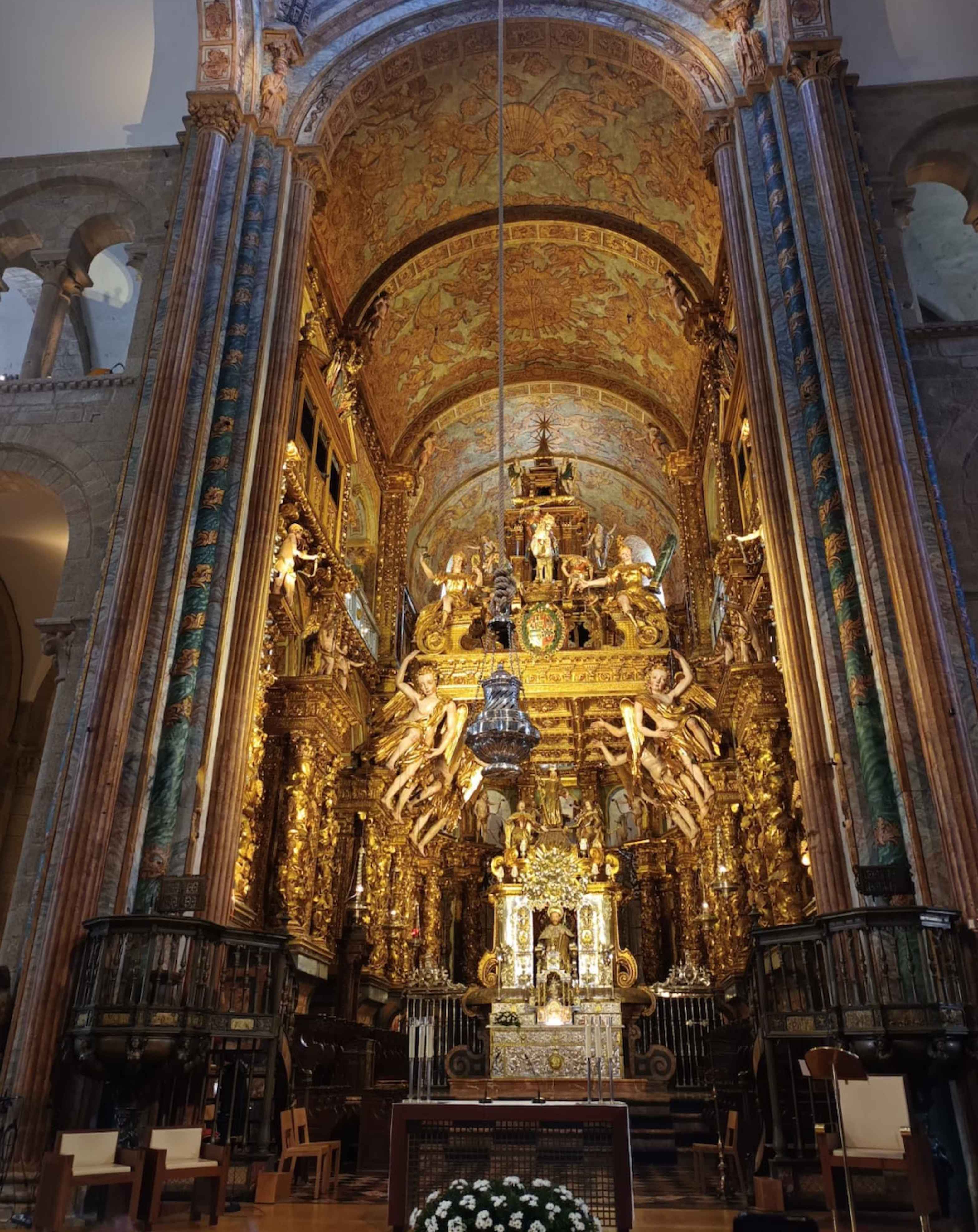 The Camino de Santiago is an ancient pilgrimage route traveled by hundreds of people every year to visit the relics of the Apostle St. James, which are located in the capital of Galicia, Santiago de Compostela, in Spain.
Everyone can do the Camino de Santiago without any limitations. Its routes are accessible to all ages and conditions.
If you are on a budget, a good idea is to do the last 20km as you can start early in the morning and finish at the cathedral of Santiago in the afternoon. This way, you will be able to experience first-hand this route and know if you would like to do it in the future.
📌 Read more: 21 Things to Do in Spain: Top Attractions, Food & Activities
4. Enjoy Free Accommodation Options in Madrid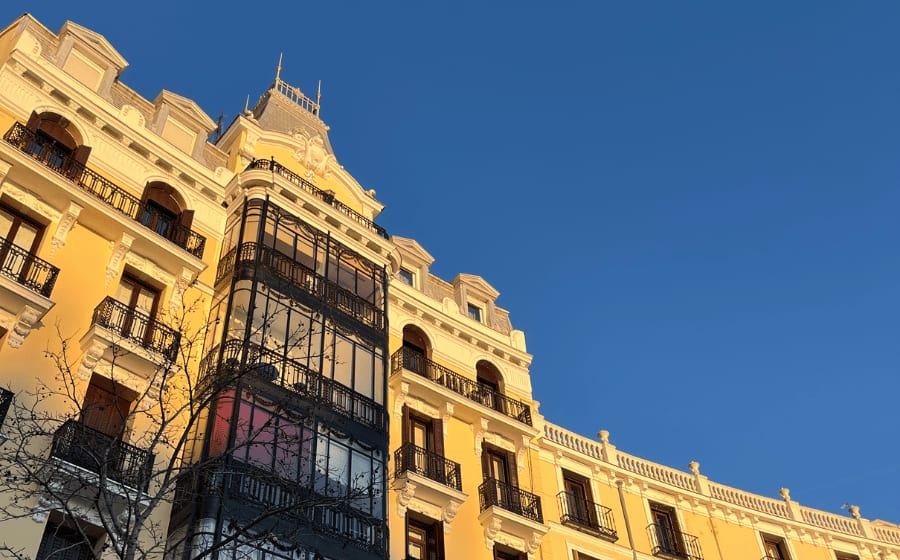 The budget can impede spending a long time in Madrid, so I bring you a great option to enjoy the city for more days.
There is a way to stay in Madrid without paying for accommodation to be part of a volunteer program.
There is a platform where there are many vacancies for volunteering in Madrid. You will get free accommodation in exchange for volunteering. There are hostels where you can be part of the staff helping with tasks like reception and preparing breakfast, to holistic centers in the city's outskirts.
You will help a few hours a day with days off in these volunteering programs. As a reward, you will have accommodation and, in many cases, food included.
What I like about these hostels is not only that you can get free accommodation, but it also allows you to meet many people and have a cultural immersion since you will be living with locals.
If you need help finding accommodation in Madrid, I hope this episode on our Podcast might help you:
5. Embark on a Free Guided Tour - Explore Spain's Rich Heritage
A free tour is a guided tour of the main points of a city in which visitors are not required to pay a fixed fee. Depending on their economic possibilities and evaluation of the tour, each person gives a tip to the guide at the end of the visit.
You can find them all over Spain; Madrid, Barcelona, León, Mallorca…
📌 Read more: 45 Interesting Culture (and History!) Facts About Spain
6. Witness the Changing of the Guard at the Royal Palace
Changing the royal guard palace is one of the best activities in Madrid; what is better is that it is free. Dressed in dress uniforms -blue, white, and red- similar to those used by the Spanish army in the times of Alfonso XIII, they perform a relay every 30 minutes, and a drum performs military marches, following the regulatory orders and voices.
The act lasts approximately 50 minutes. The timetable for the Changing of the Guard is as follows: every Wednesday and Saturday from 11:00 to 14:00. They perform a change of guard every 30 minutes.
📌 Read more: 30 Best Things to do in Madrid: Fun Activities & Food!
7. Spend a Blissful Day on the Beach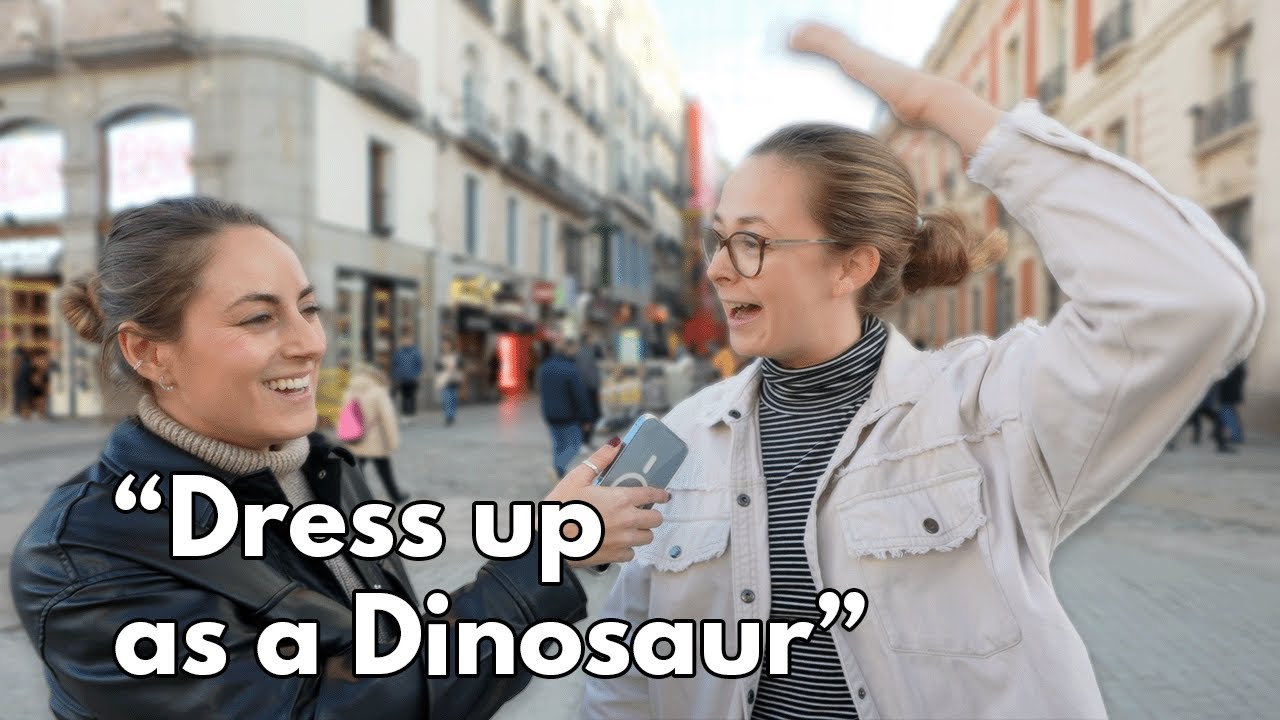 Spain tops the world list of countries with the most blue flag beaches.
In Spain, you will find beaches to see beautiful sunsets, white sand beaches and turquoise waters, wild coves, sandy beaches protected by their biological richness, or beaches with many waves for surfing.
Some of the best beaches are: Playa de las Catedrales, Ribadeo (Galicia), Playa de Papagayo, Lanzarote (Islas Canarias), Cala Saladeta, Ibiza (Islas Baleares) and Playa del Silencio, Cudillero (Asturias), Playa Nosa Señora (Cíes), Playa de Ses Illetes (Formentera), Cala Aigües Blanques (Ibiza), Caló des Moro (Mallorca) and Punta Paloma (Tarifa), among many other beaches.
📌 Read more: 15 Top Beaches in Barcelona & Costa Brava. With videos!
8. Marvel at the Stunning Sunset at Parc Natural de l'Albufera
The Albufera Natural Park is a beautiful nature Valencia's province of Valencia. It is known for its extensive wetlands, lagoons, and rice fields and offers a stunning setting to enjoy nature.
If you want to watch an incredible sunset, I assure you you will see it in the Albufera Natural Park. It is possible to experience a spectacular scene. With the sun descending on the horizon, the skies can be tinged with various colors. The atmosphere is filled with natural sounds, such as birdsong.
9. Admire Art Exhibitions at Palacio de Cristal in Retiro Park in Madrid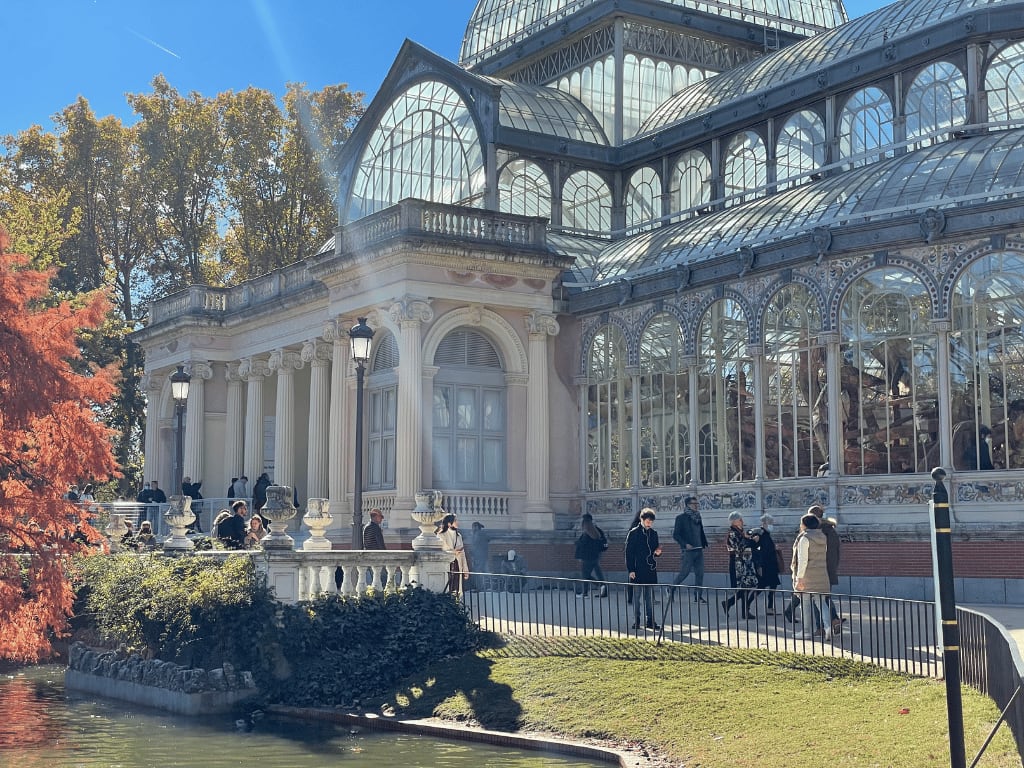 Suppose there is a magical space that attracts the attention of everyone who visits it. In that case, that is the Crystal Palace of Madrid, a gigantic metal and glass structure located in the Retiro Park in Madrid.
The Crystal Palace in Retiro Park hosts exhibitions of the Reina Sofia Museum every month. Beautiful exhibitions in which I am sure you will want to take several pictures there. Like all the plans I recommend, these exhibitions are also free.
📌 Read more: The Best 13 + 1 Museums in Madrid: It's Not All About Art!
10. Breathtaking Views of Barcelona on top of Gaudí's Masterpiece
Parc Guell has become one of the main tourist attractions in Barcelona. In 1984 it was declared a World Heritage Site by UNESCO.
It has undulating forms, tree-like columns, animal figures, and geometric shapes. Most surfaces are decorated with mosaics made of small pieces of colored ceramics.
You will find the Calvary Monument in this park, where you get the city's best views.
📌 Read more: 15 Best Tourist Landmarks in Barcelona Worth Your Visit
11. Explore Free Exhibitions and Cultural Offerings in Barcelona
The price of tickets cannot be the excuse for not visiting exhibitions. Yes, it is true, in Barcelona, there are museums with overpriced tickets, but most art galleries are free admission.
Some free exhibitions include La Brossa, In Parallel, Hipertèlia, and Línies Dures in the Museu Nacional d'Art de Catalunya (MNAC), Museu Picasso and Museu d'Història de Barcelona (MUHBA).
12. Relax in Natural Pools in Valencia's Picturesque Nature
In Valencia, you can go to one of the many natural pools that are distributed throughout Valencia. Here I am going to recommend 3 of the best pools:
El Gruñidor - Sot de Chera: This natural pool is located in the natural park of Sot de Chera. It is surrounded by mountains and forests and also has a couple of historical monuments of great value,
Oliva: It is located on a subway spring of thermal waters. This means you can bathe here in summer and winter at an average temperature of 23ºC.
El Azud - Pozo de las Escaleras: beautiful pool in nature. In addition, if you go up a little, you find a small space in which the waters have formed a small lake.
13. Watch the Show at the Spectacular Magic Fountain of Montjuïc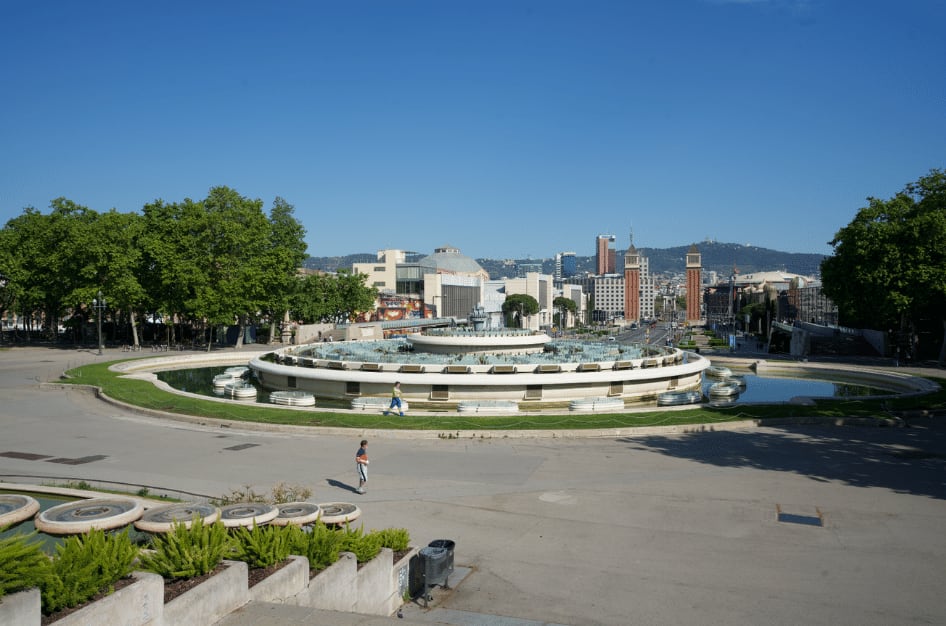 The Magic Fountain of Montjuïc is a famous tourist attraction located in Barcelona. It is located on the hill of Montjuïc, which offers stunning panoramic views of the city and the sea.
The Magic Fountain is known for its lights, water, and musical spectacle. During the night, shows are performed by combining water jets, colored lights, and synchronized music. It is an impressive visual spectacle that attracts thousands of tourists and locals.
14. Step Back in Time at Europa Park in Madrid - An Immersive Experience
This park often hosts many cultural events for free!
The Europa has reproductions of the most emblematic monuments of the leading European cities, different leisure and multi-adventure areas, and a cybernetic fountain, which performs a grand spectacle of water, light, and sound.
The park has replicas of 17 European monuments and an original fragment of the Berlin Wall. Among them are the Brandenburg Gate, the Greek Theater, the Belém Tower, the Trevi Fountain, the Eiffel Tower, and the London Bridge.
Best of all, admission is free, so will you miss this experience?
15. Discover the Charming Village of Valldemossa
In the Sierra de Tramuntana, you will find the most charming villages of Mallorca. One is Valldemossa, with its picturesque stone houses and steep streets. It is in a magnificent location, in the middle of the mountains, surrounded by Mallorca's most characteristic flora and fauna. It is one of the most beautiful villages in Mallorca.
📌 Read more: 7 Most Beautiful Towns in Mallorca: Authentic Local Gems
16. Witness Architectural Wonders in Barcelona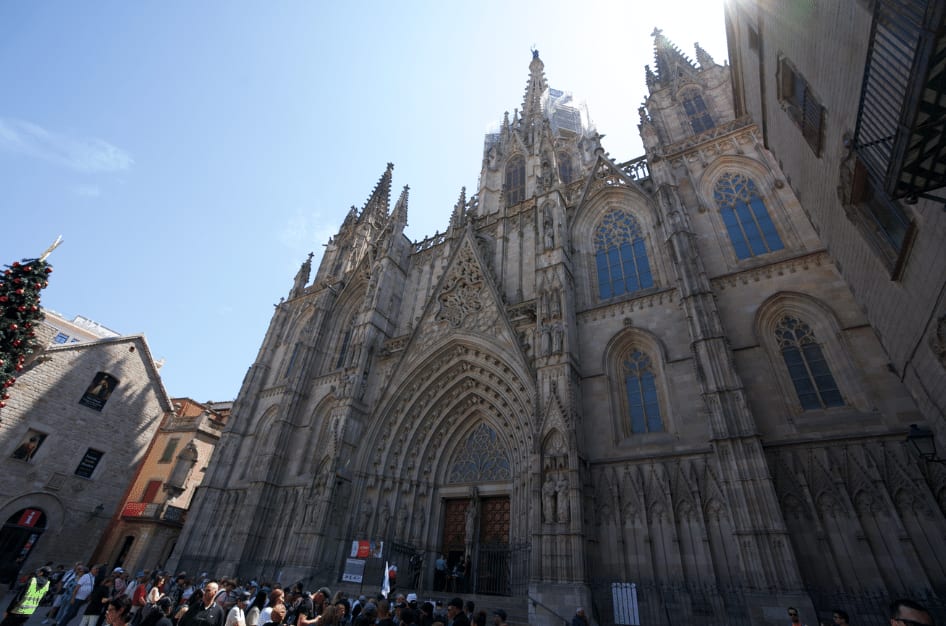 Antoni Gaudí was at the forefront of the Art Nouveau movement in Spain. His works in Barcelona have become important symbols of the city. Gaudí pioneered his field, using color, texture, and movement in ways never before imagined.
To get to know all his works, I invite you to take a tour of the works of Gaudí.
Some of the most essential works in Barcelona are; Casa Batllo, Sagrada Familia, Casa Vicens, Casa Mila, Parc Guell, Colegio Teresianas…
17. Escape to the Historic City of Toledo - A Day Trip from Madrid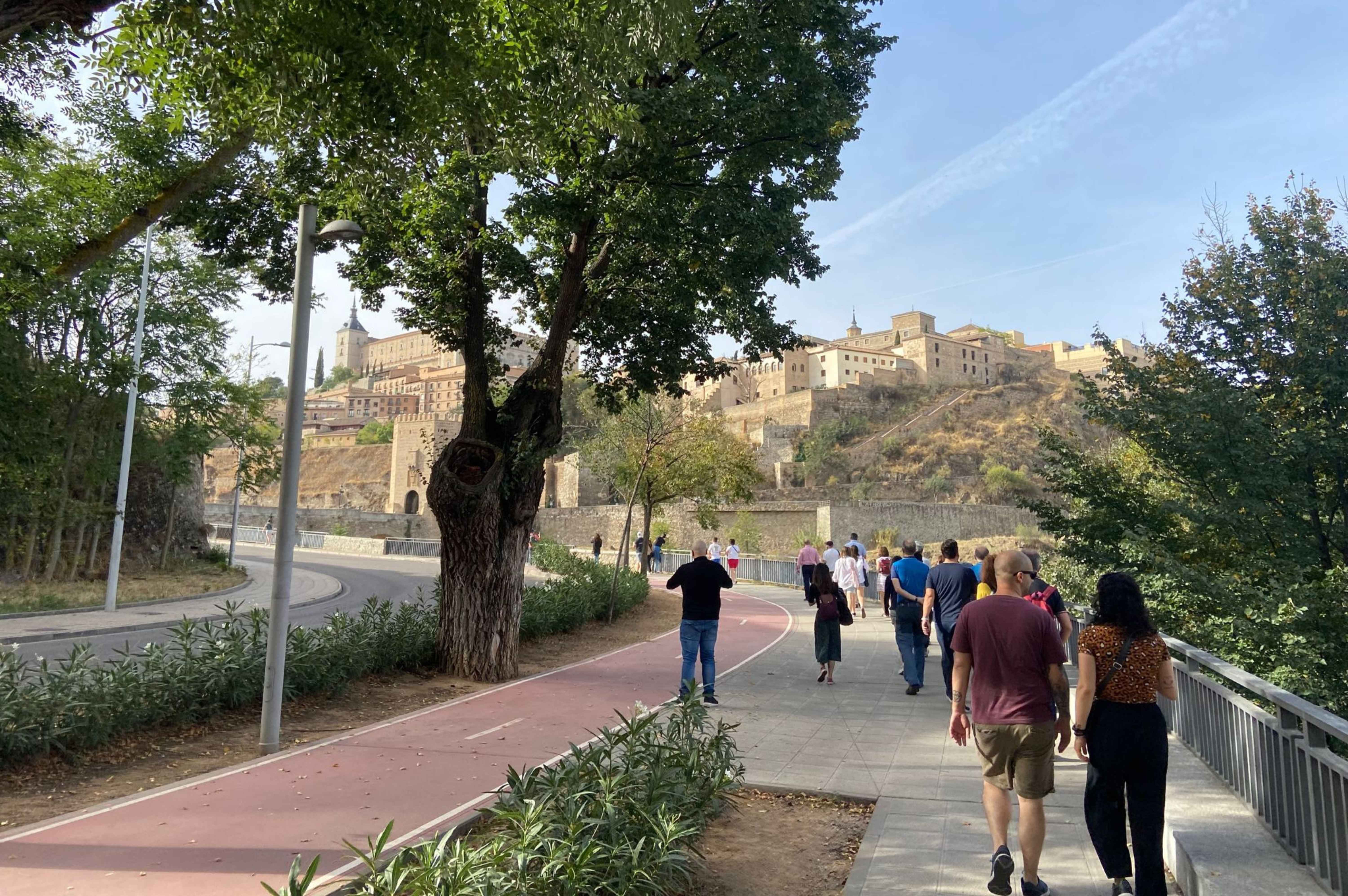 Toledo was declared a World Heritage Site by UNESCO in 1986. It was the recognition of a city where Jews, Muslims, and Christians had left their mark. It is only 70 kilometers away from Madrid.
Strolling through its narrow cobbled streets is like stepping back in time, as numerous medieval, Renaissance and Baroque buildings are preserved. Among the most outstanding places is the Cathedral of Toledo,
Toledo is a city where churches, synagogues, and mosques are found. The famous Alcazar of Toledo, a hilltop fortress, offers panoramic views of the city and houses the Army Museum.
Take advantage of the opportunity and discover Toledo!
📌 Read more: 10 Charming Towns in Spain for a Unique Day Visit
18. Bike through Beautiful City Parks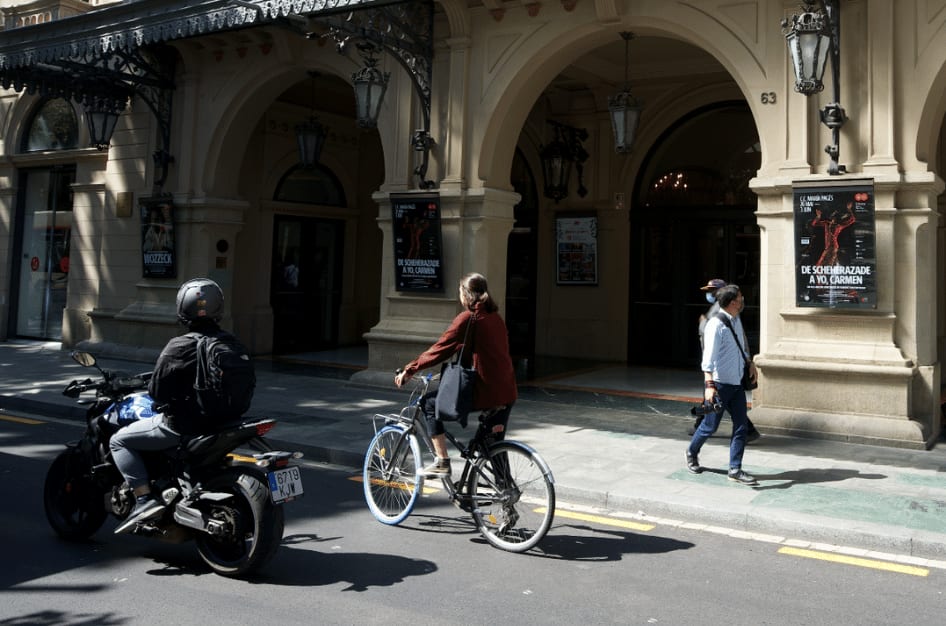 Spain is full of parks that can be visited by bike, which makes it a perfect plan.
Some of these parks are: Parque de la Alameda (Santiago de Compostela), Parque del Retiro (Madrid), Parque de la ciudadella (Barcelona), Parque federico garcía lorca (Granada)…
And, the Bicimad Bikes you see around Madrid's streets are FREE until October 2023! Take this opportunity and grab them without paying a thing.
19. Catch Waves and Surf on Spain's Incredible Beaches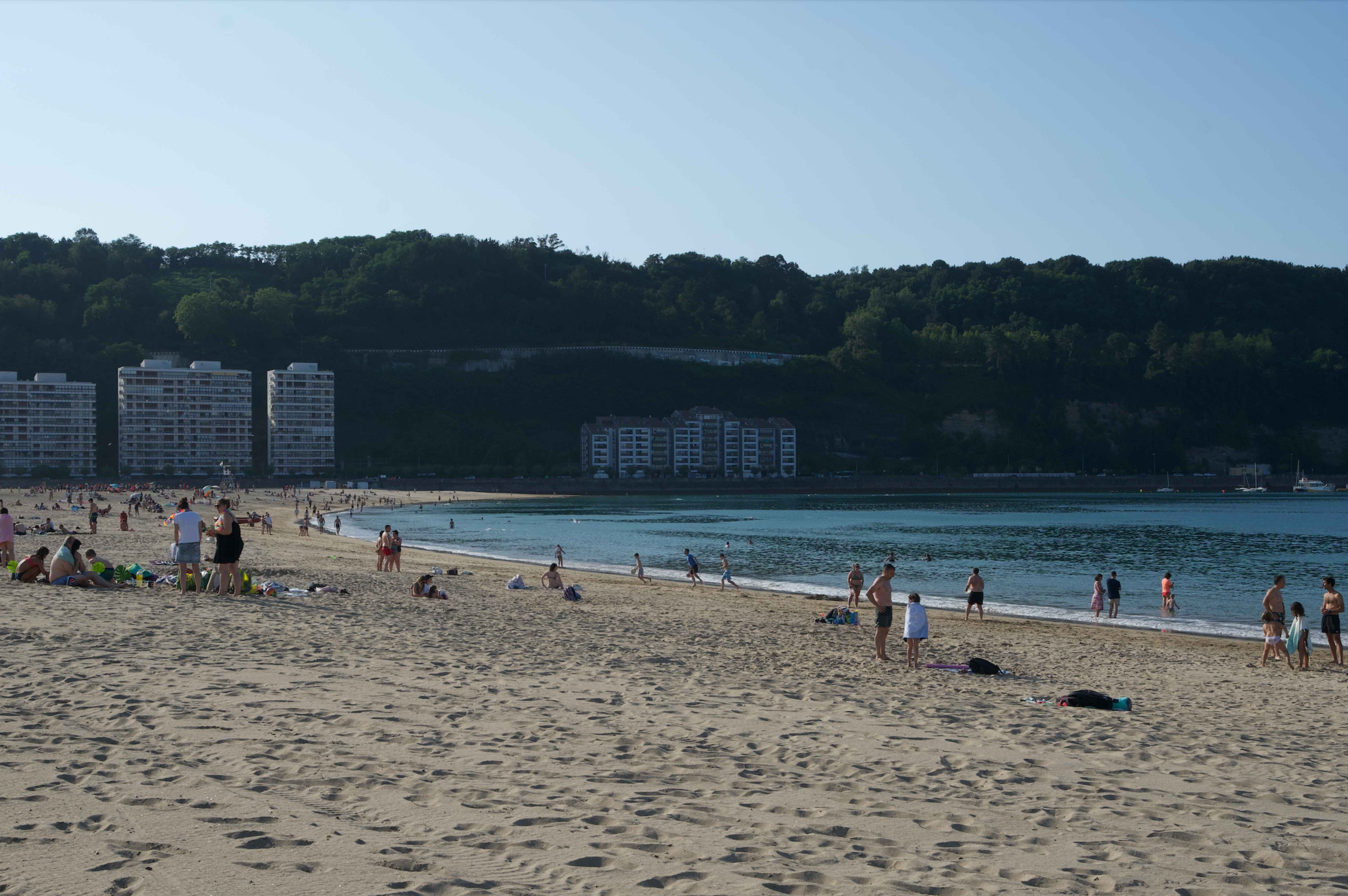 Surfing is a sport that is usually practiced, especially in summer, and that is why I will leave several recommendations of beaches where to surf.
Mundaka (Basque Country), Salinas (Asturias), Zarautz (Basque Country), Somo (Cantabria), Playa de Famara (Lanzarote), Sopelana (Basque Country), Hondarribia (Basque Country), and many other beaches.
📌 Read more: 9 Best Beaches & Hidden Calas in Mallorca by a Local
If you are in Bilbao, you can't miss doing a route through the city's churches. The Church of San Antón is one of the most famous temples of Bilbao. It is in a privileged location, next to the market and the bridge with which it shares its name.
You should also go to the Church of San Nicolas, one of the most important monuments of the Old Town, which stands out for its baroque facade.
Another recommendation is going to The Church of the Sacred Heart; it is one of the most original churches of Bilbao, built in neo-Gothic style and characterized by the reddish and white tones of its façade.
And lastly, a trip along the Zubizuri Footbridge is something you can't miss, especially during sunset.
21. Embark on a Mountain Adventure in Gran Canaria
Gran Canaria has thousands of activities, and one of my favorites is making a route through one of its mountains. These are my favorites:
Tauro: The route that I like the most is the one that starts at the Salto del Perro reservoir. It is a circular route of 10 km and of low technical difficulty in general.
Inagua Integral Reserve: It is an area of great ecological value because they contribute to the collection of water in the ravine areas, fixes the soil, and is a refuge for endemic endangered species of flora and fauna. The reserve extends over several mountains, including the Inagua Mountains.
Nublo Rural Park: It's a must-see for the beauty of its natural environment. There are several routes to climb to the base of the rock, and one of them is relatively short and easy. On clear days you can see the island of Tenerife as if suspended between the sea and the sky.
22. Admire the Magnificence of the Cathedral of León
The Cathedral of León is one of Spain's most important and impressive religious buildings. It is also one of Spain's most refined Gothic cathedrals and the most visited monument in the city.
It is a French-style Gothic building built in the 13th century on the ruins of ancient Roman baths. Carved porticoes, colorful stained glass windows, glorious rose windows, one of the oldest choirs in Spain, and on the inside, it has sculptures of great beauty.
This is why you can admire the cathedral from the outside; you will be impressed.
23. Eat for free after ordering drinks on a terrace bar!
Yes, rumor has it that Spanish bars give out free food for those who sit on a terrace and ask for a cup of wine or beer. It is true.
Long live the Spanish cities where they give you a free tapa for your pretty face. That's how nice we are in Spain, although not all Spanish cities are so cool… The best places for free tapas in Spain are Granada, Almería, Jaén, Ávila, Salamanca, and many others.
📌 Read more: What to Eat in Spain: 31 Tasty & Traditional Dishes
You can choose the tapa in some bars. While in others, they give you the typical famous tapa, and in others they have a different one every day. But you won't say no to what's free either, right?
---
Let me know in the comments which activities you didn't know were free, and mention your favorite things to do when traveling on a budget or just saving for spending on other experiences.
Thank you for reading us; I hope you visit us soon! Don't forget to contact us if you have any questions regarding your trip to Spain.