Travel to Guadalupe: 5 Attractions, Food & Activities!
November 14, 2023
Updated:

November 14, 2023
Published: November 14, 2023
All countries have certain regions that remain mysterious to outsiders. In Spain, Extremadura might just be one of those regions.
Still, you'll be surprised to know that Guadalupe city has the royal Monastery of Santa María de Guadalupe, where Christopher Columbus came to give thanks after discovering the New World. From here, the devotion to the Virgin of Guadalupe spread to other American countries, such as México.
In this article, you'll see all the incredible things to do in Guadalupe, so you can add this place to your road trip when visiting Spain.
It's a very walkable city with stunning viewpoints, and it's perfect for visitors who want to immerse in the culture and spend their days at a local taverna eating delicious migas extremeñas.
Now, get ready to learn all the heritage hidden in its towns and the beauty of these places for senders and admiring nature.
---
What is Guadalupe?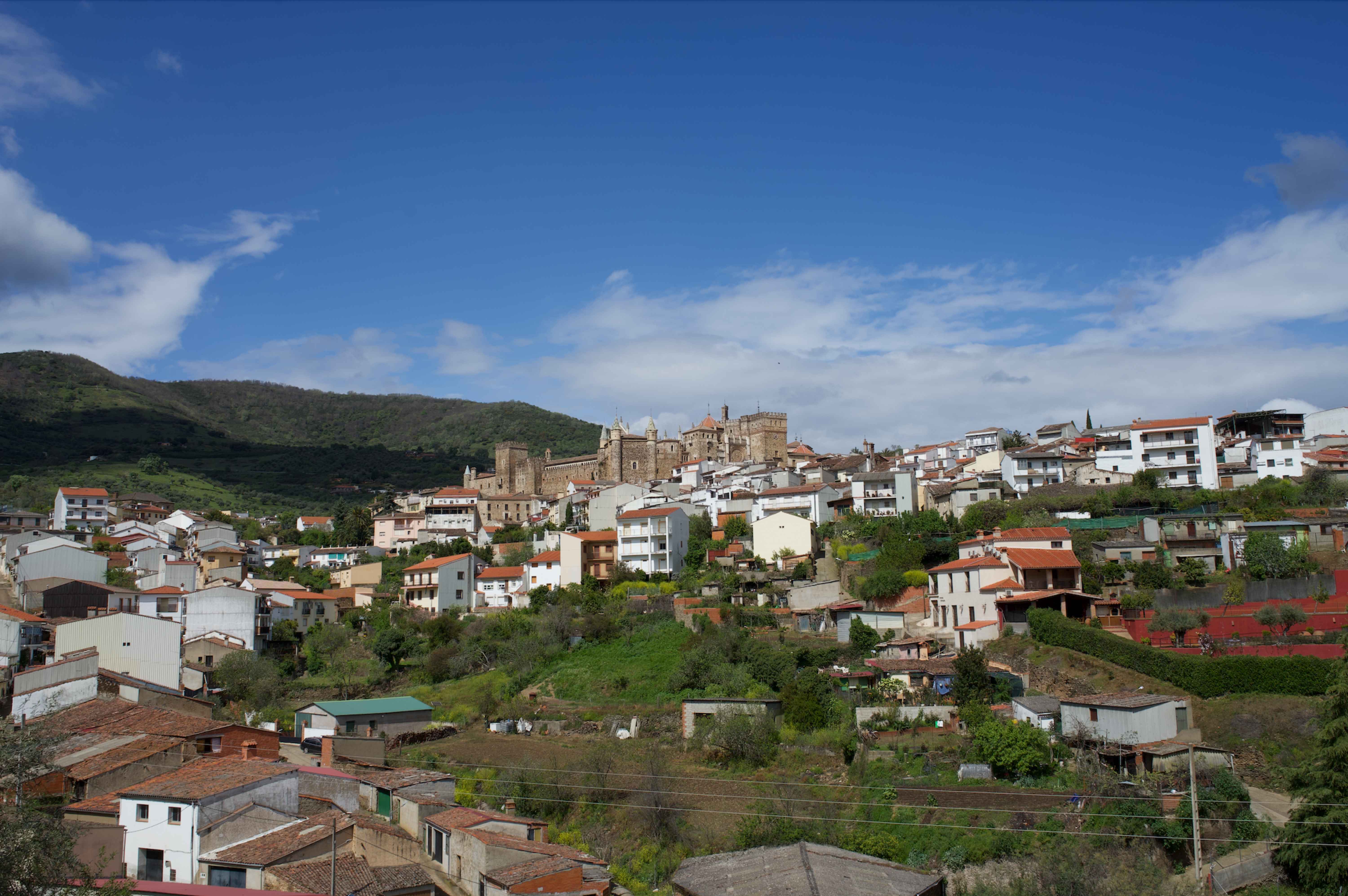 Guadalupe is a hidden gem in the Cáceres province of Spain's Extremadura region, soaked in rich history dating back to the early 14th century.
The town and the famous Monastery were built around the image of the Virgin of Guadalupe, making it a significant cultural and religious site. And it's got these cute little medieval-style streets with archways!
Back in ancient Rome, Extremadura played a vital role in the Iberian Peninsula. This region was located on a major trade route that facilitated the commerce of tin and copper, which passed through Roman Iberia from the north coast to the rest of the country.
This place is right in the middle of the Villuercas-Ibores-Jara UNESCO World Geopark, so you're surrounded by nature on all sides. This region has hardly any people, so there's plenty of open countrysides and empty space to explore.
Best Things to Do in Guadalupe
1. Explore Monasterio de Nuestra Señora de Guadalupe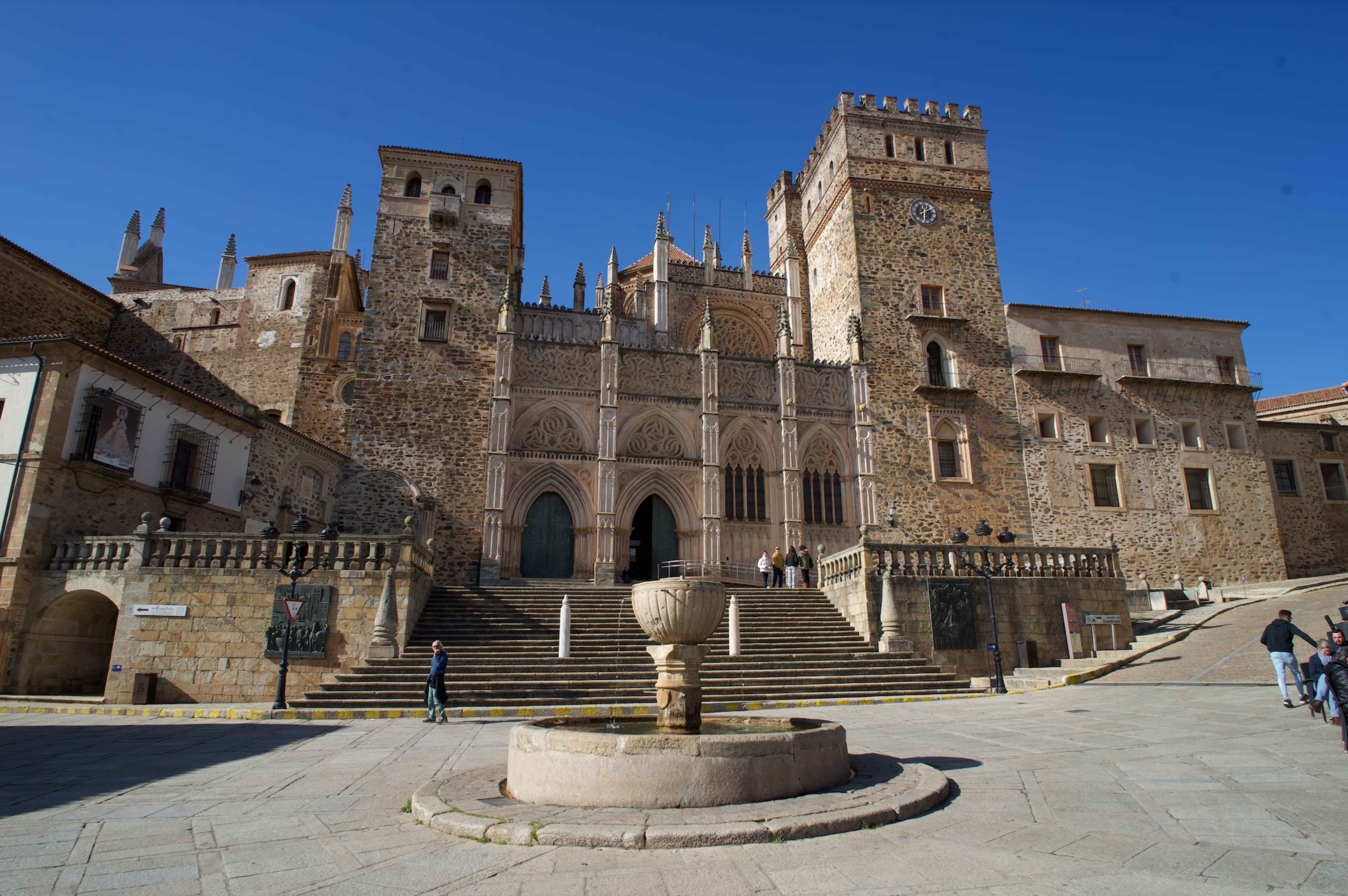 Dominating the small town of Guadalupe, at the foot of the mountain range of the same name, stands this impressive mosque and sanctuary where thousands of pilgrims come every year to prostrate themselves before the image of a dark-skinned virgin.
After the victory against the Muslims in the Battle of Salado, King Alfonso XI ordered the construction of a temple where the image could be venerated, next to which the convent would grow.
The convent was occupied by monks of the order of San Jerónimo who came from the mother house of the order in Lupiana.
Together with the monastery of El Escorial, its characteristics and history made it one of the most important Hieronymite monasteries in all of Spain.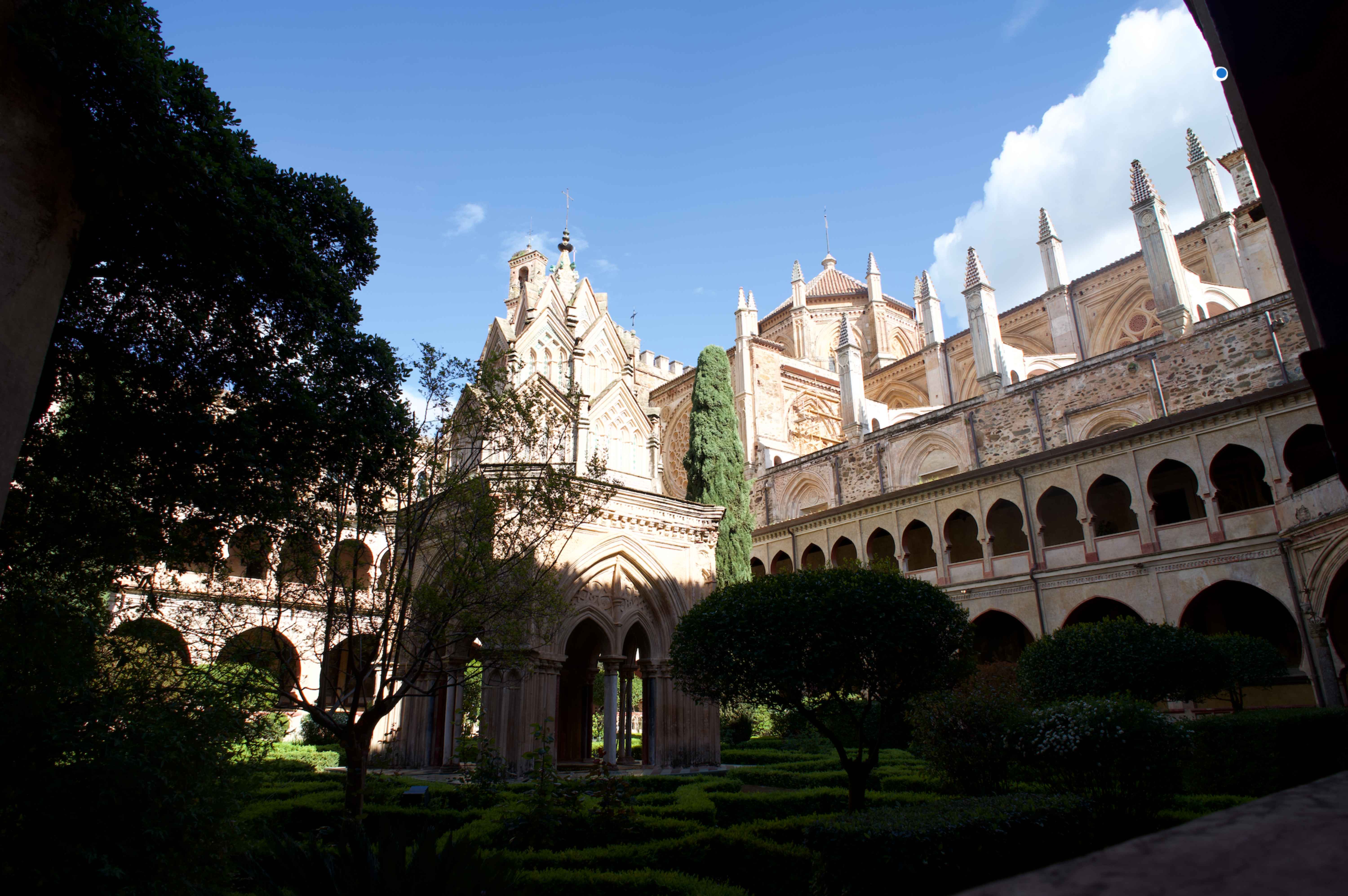 The monastery preserves two cloisters: the Gothic one, which must have been built at the end of the 15th century or the beginning of the 16th century, and the Mudejar one.
The latter is one of the Spanish convents' most beautiful and unique patios due to the Moorish character of its brick factory and horseshoe arches.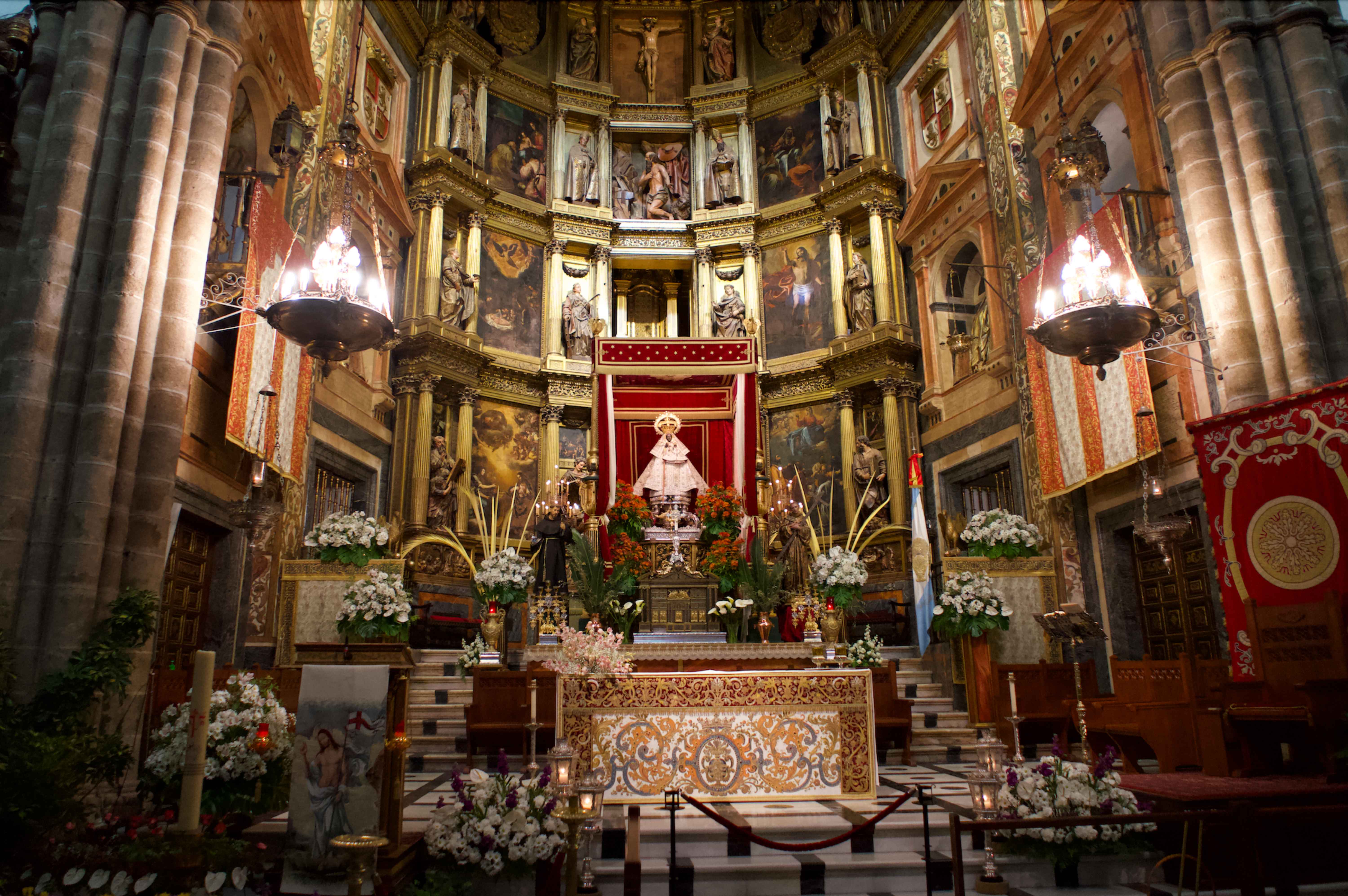 The access to the church is by climbing a large staircase at the end of which the large Gothic-Mudejar façade of the temple appears, flanked by two asymmetrical solid towers.
The doors that close the temple, made in the 15th century, are an excellent example of bronze work with large carved figures.
Right next to the sacristy and attached to it is the chapel of Sa Jeronimo. Both sets form one of the most beautiful examples of the architecture of this monastery.
2. Experience Stunning Views of the Region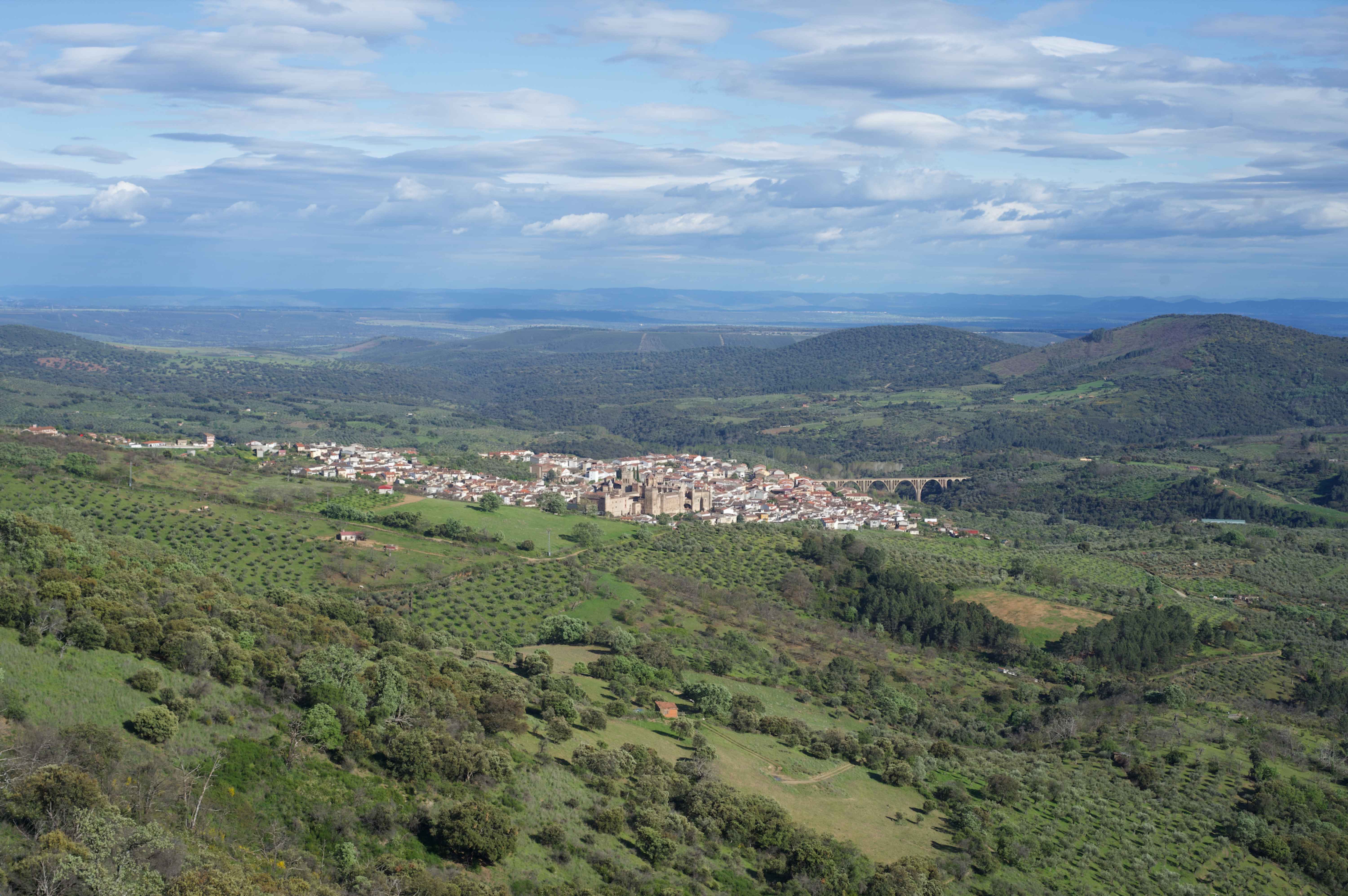 We came across this stunning landscape on our way to Guadalupe and just had to snap a picture.
You can get pretty views in the Guadalupe viewpoint, the most popular and well-known spot. It shares its name with the town and can be conveniently accessed by car or foot. It is located in the southernmost part of the town. 
From there, you can check out the old town and the houses around it, it provides the best and most comprehensive view of Guadeloupe.
Plus, if you visit during late Spring or Autumn, you can see the lush green areas in all their splendor.
3. Savor Local Flavors in Plaza de Santa María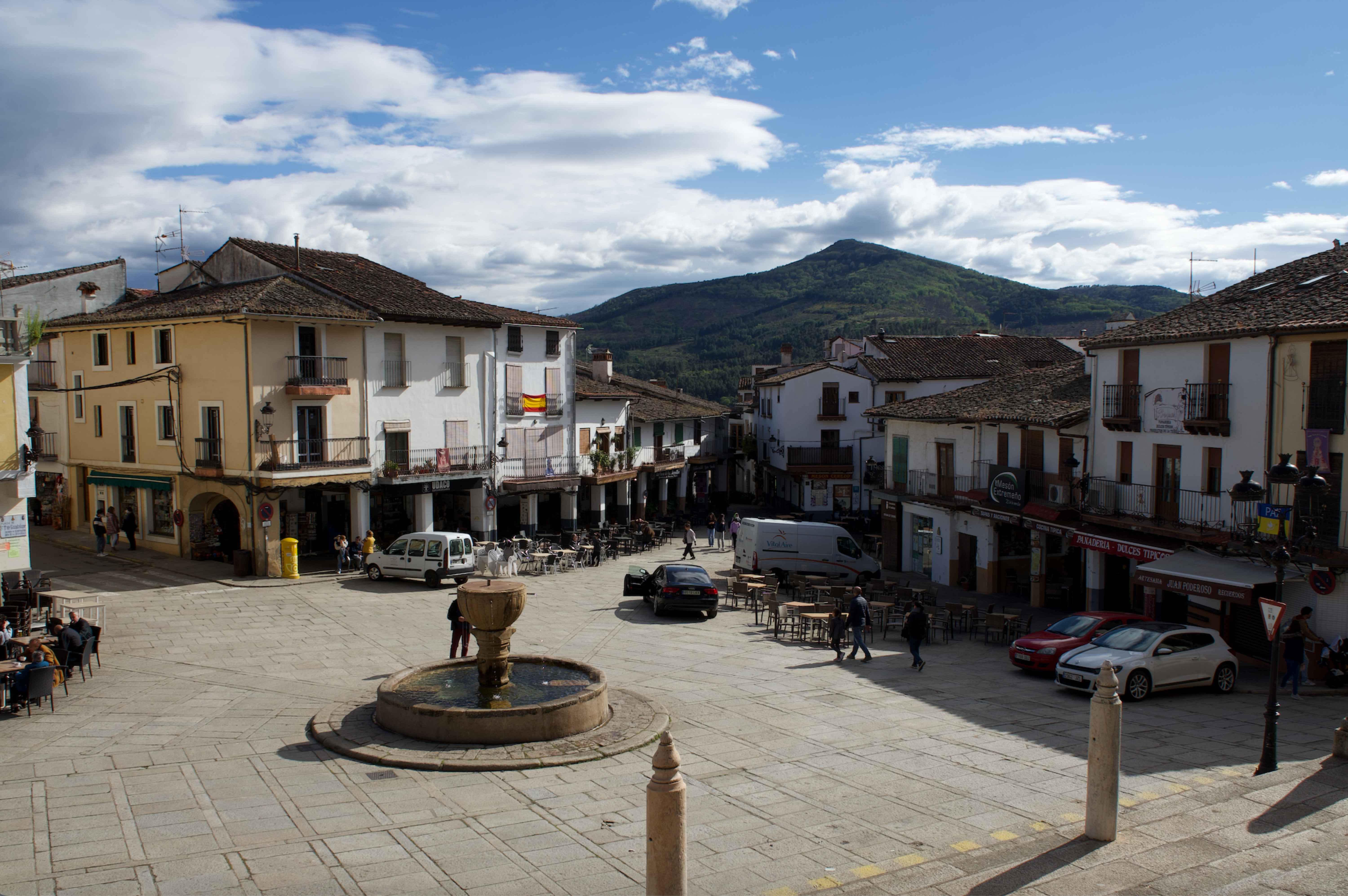 This is one of the liveliest and most vibrant spots in the town, as it's the gateway to the monastery. You'll find pilgrims and locals alike gathering in this square, which is surrounded by cozy restaurants and bars. 
You can savor the delicious flavors of traditional cuisine, like the mouth-watering migas! And if you're lucky enough, you can enjoy a refreshing drink while soaking in the breathtaking view of the monastery on a clear day. 
The best part is that it has been through many changes since the Middle Ages, which is cool because you can see all these different styles added over time, like Mudejar, Baroque, Renaissance, Gothic, and Neoclassical. That's what makes it so unique!
The square has been a part of Humanity's heritage since 1993. In the middle of the square, there's a fountain. The upper part of the fountain was originally a baptismal font inside the basilica. 
Back then, Christopher Columbus brought two Indians from America, and they were baptized in this fountain, naming them Christopher and Peter.
I recommend visiting Casa Pachi for a delightful meal with stunning views of the Monastery.
4. Stroll Through Streets with Magnificent Arches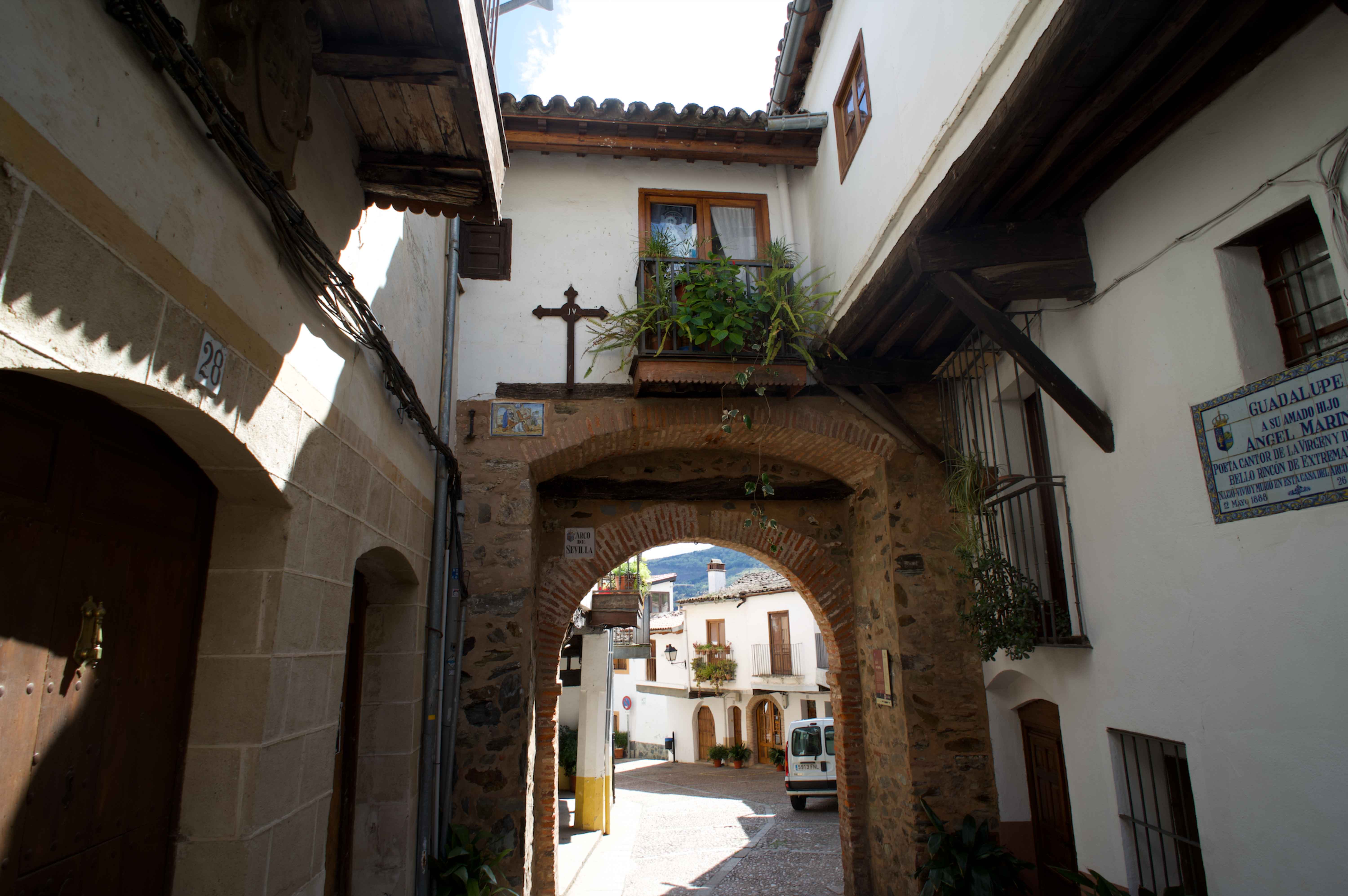 Walking through the old town's small streets and balconies is a must-do activity. It allows for easy sightseeing of landmarks along the way.
You will notice that the city is filled with arches, which are fantastic attractions and a symbol of the town's spirit. Trust me, you will feel this place's vibe once you visit them!
And don't worry about huge, steep roads since the town is super walkable and easy to navigate. You can easily spend a morning or afternoon exploring everything. 
During your walk, you'll come across the Arch of Seville. It was built in the 16th century to close the first defensive belt of the Monastery. The purpose was to ensure the pilgrims' safety and manage the area's commercial activities.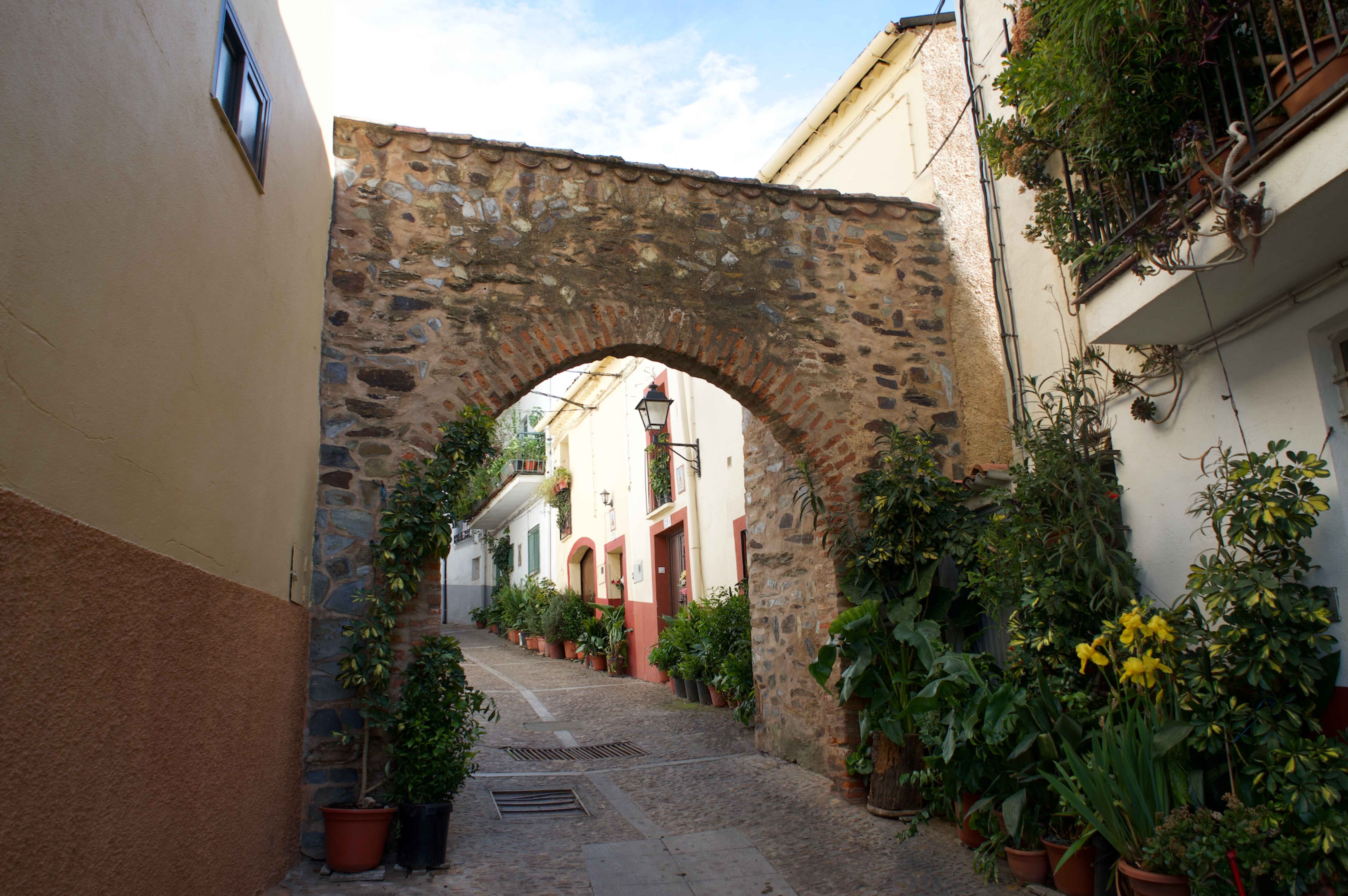 There's this other called Arco del Tinte, named after the old dye factories in Puebla. It's one of the many guilds that existed there. The arch has been around for a long time; it has Mudejar influence and still stands strong.
Arco de las Eras is another one that caught my attention since its architecture still preserves remains of the old battlements that protected its access.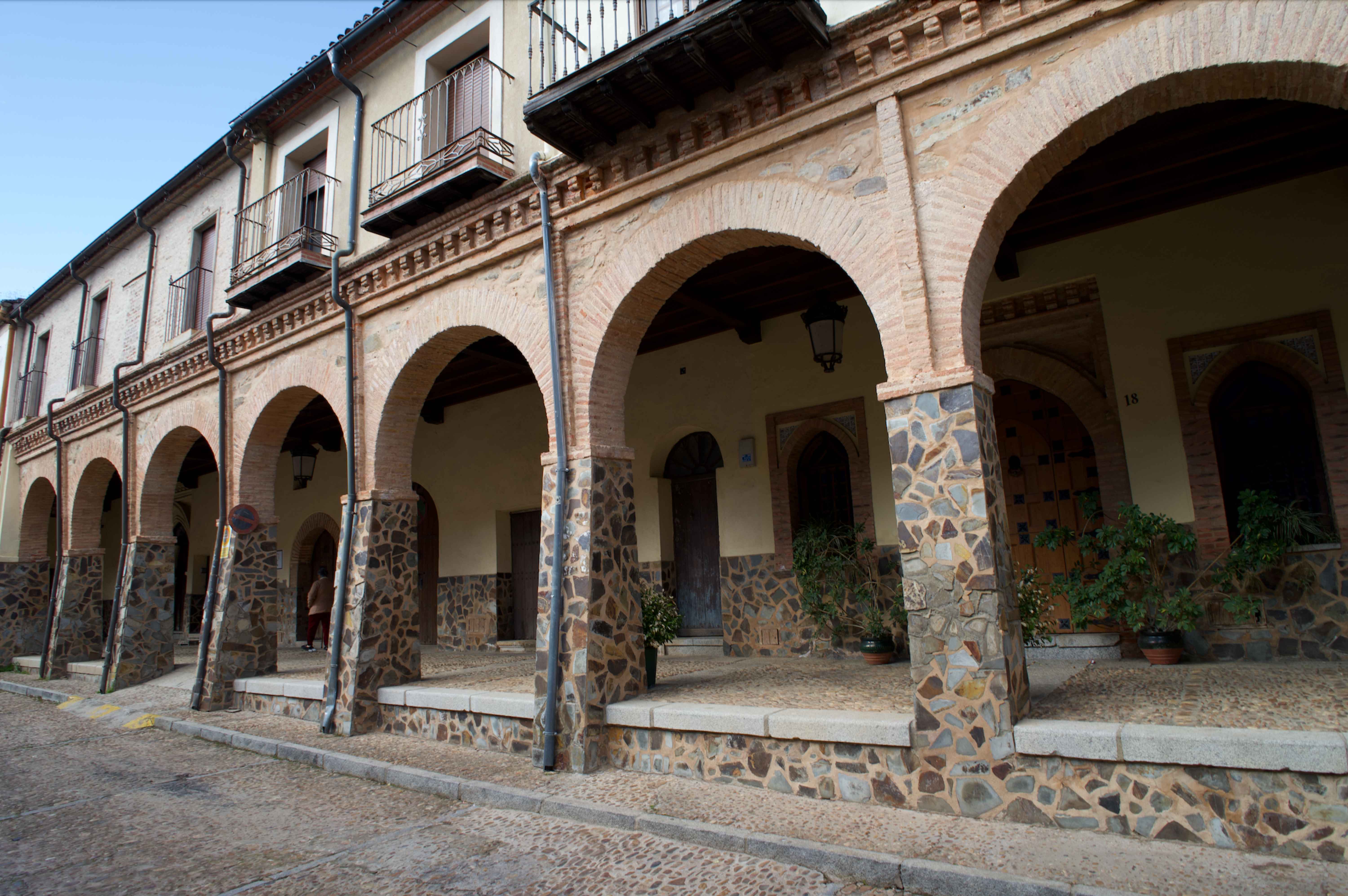 Alright, enough with the arches. Let's check out another cool spot in the city center: The Mudéjar Gallery. 
The building has a stunning entrance with Mudejar-style architecture, and it's been around since the 15th century. When you're there, you have to see the House of the Good Christian. 
Rumor has it that a Moorish named Fatima used to live there. She was taken captive in Tangier but later converted to Christianity after being freed. It's a pretty exciting story if you're religious!
5. Discover Scenic Routes and the Viaduct of Guadalupe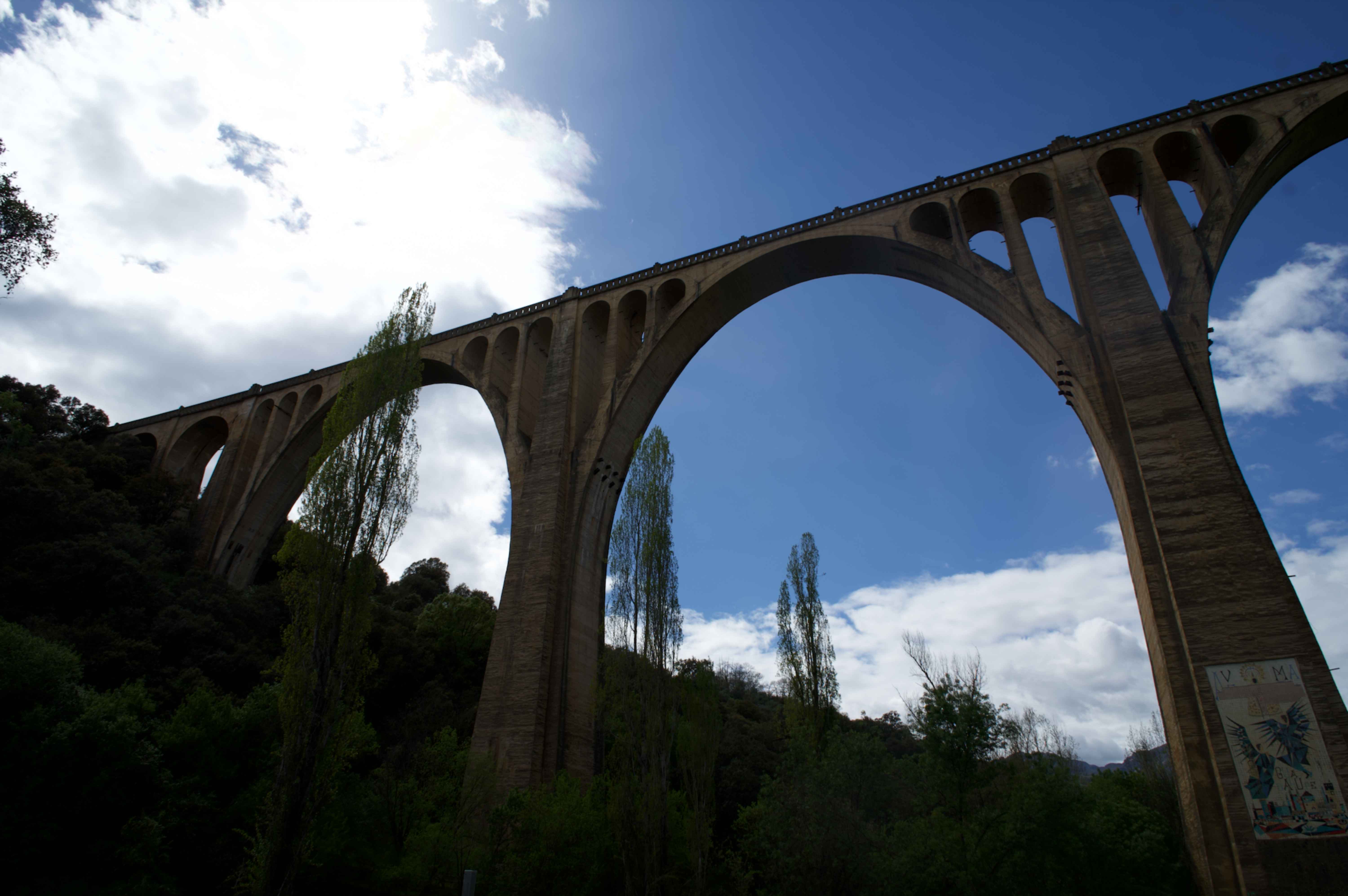 Did you know that in the 1920s and 1930s, there were plans to build a railway route between Badajoz, Madrid, and Huelva that would pass through Villanueva de la Serena and Talavera de la Reina?
Nevertheless, the project was abandoned after thirty years due to the challenging terrain of the Villuercas foothills. 
Today, as a reminder of the failed railway project, we can still see a beautiful viaduct on the southern edge of the town that spans the entire Guadalupe Valley.
You can follow a well-marked hiking trail from Guadalupe to the hermitage of San Blas and then to Santa Catalina, enjoying picturesque views.
I would rate this trail as moderate, ideal for nature lovers with multiple scenic lookout points.
Oh, and I highly recommend watching the sunset at Santa Catalina before descending to Guadalupe!
Best Time to Visit Guadalupe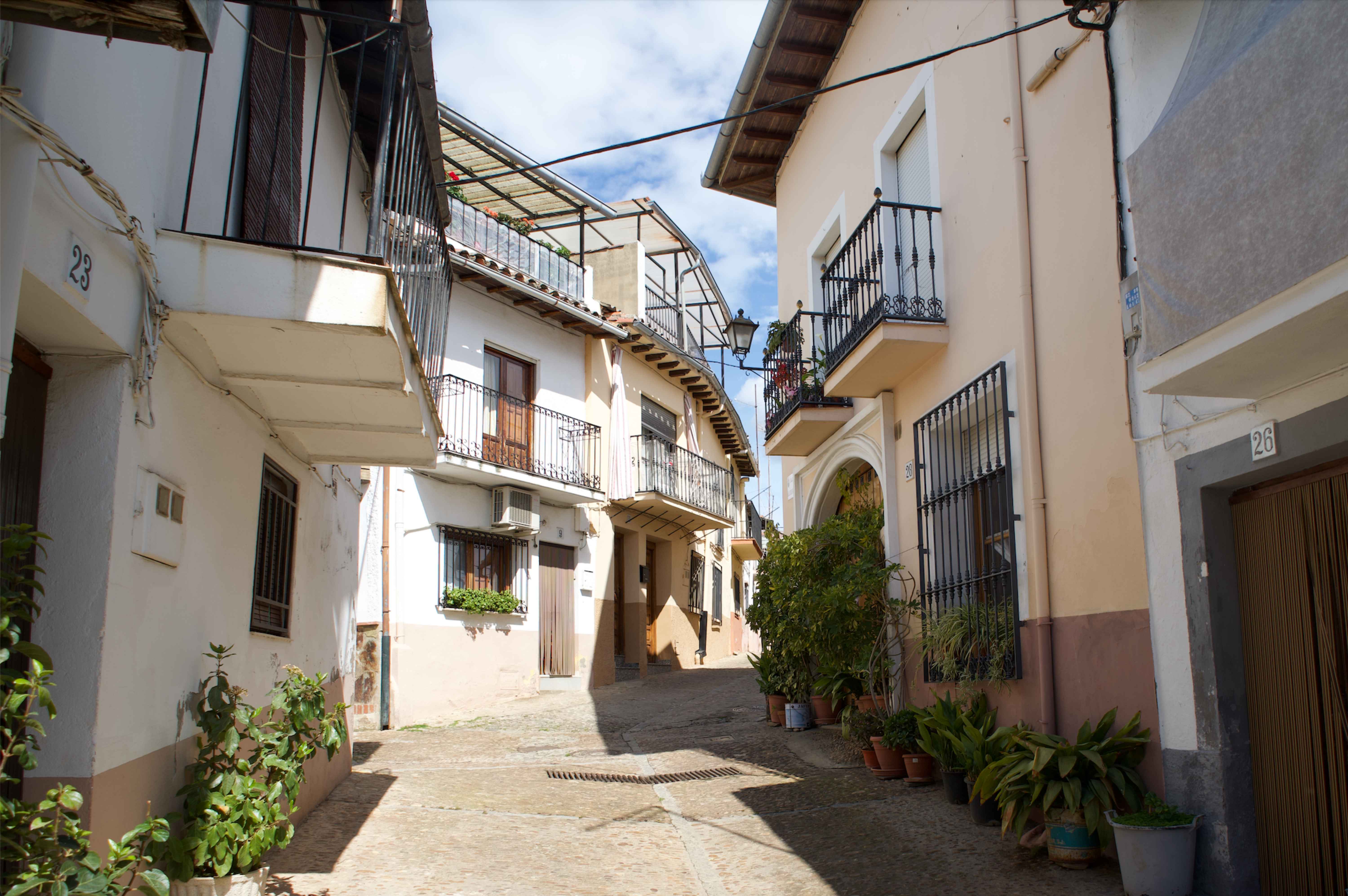 If you're looking to experience the charm of Guadalupe, it's best to plan your visit between late May and late September. The weather is usually pleasant during this time, with clear skies and temperatures ranging from 65°F to 80°F.
Perfect for all your outdoor activities and adventures and, most importantly, to see the green valley as nature blooms in color.
The vibe is fantastic, and you can fully dive into the cultural richness of Guadalupe without worrying about the weather.
But wait, Guadalupe is super famous for its amazing Christmas lights in December! So, if you're looking for a fun way to spend a day before Christmas, this charming destination is worth checking out.
Also, prices are affordable on these dates, but it's worth noting that this isn't a tourist-heavy city. Therefore, prices tend to be generally low at almost any time of the year.
Besides this, millions of people visit the city every year to see the grand Monasterio de Santa Maria, which is a sight to behold!
Where to Eat in Guadalupe
Eat local dishes at Posada del Rincon or Mesón Isabel
Try the best Migas Extremeñas at Restaurante Guadalupe - Jordá
Taste Calderetas Extremeñas de Cordero at Hospedería del Monasterio
Where to Stay in Guadalupe
Stay at the beautiful Parador de Gudalupe Hotel
Have a nice stay at Hospedería del Monasterio de Guadalupe
Stay at a budget-friendly Restaurant Hostel Altamira
How to Get to Guadalupe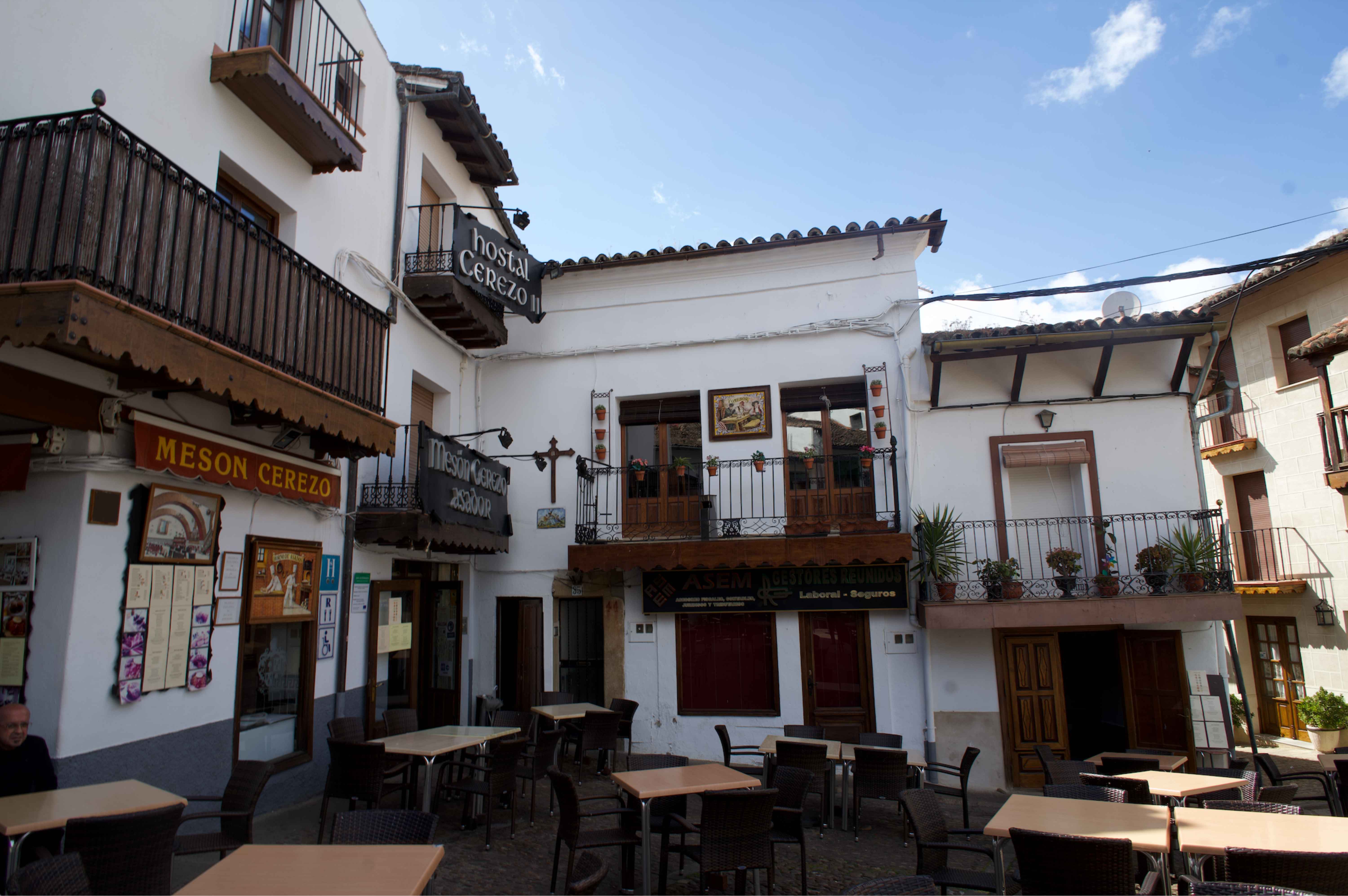 By Car
If you're up for a road trip, heading to Guadalupe is worth it for the beautiful Spanish countryside views. The roads are in perfect condition, so you can quickly get there using a GPS or a map. If you're starting from Madrid, it should take about 3 hours to get there via the A-5 highway.
By the way, Guadalupe is actually a really small town and doesn't have an airport, but the best way to get there, in my opinion, is definitely by car.
That way, you can also explore other nearby towns in the region!
By Bus
You can easily and affordably travel between Guadalupe and major cities by hopping on a bus operated by companies like ALSA. Prices start up to 25 €, and the journey lasts around 4 hours.
How much does it cost to visit Guadalupe?
Request information: hello@sensationalspain.com
How much money you need for your trip to Guadalupe depends on many things, such as how many people are traveling, the type of activities you want to do, accommodation, the duration of your stay, restaurants, and most importantly, the time of year.
To help you more accurately, please don't hesitate to reach out to us via email! Share the details of your desired trip to Spain, and we will provide you with a price estimate and offer local advice for all your travel needs. 
Choose your Spain Itinerary
1 Day in Spain? 10 Best Things to Do in 24 Hours!
2 Days in Spain: Trip Ideas & Itineraries to Enjoy Your 48h
3 Days in Spain: What's the Best Itinerary for Your Trip?
4 Days in Spain - Best Travel Itineraries for Short Trips
5 Days in Spain: Itineraries to See (almost) Everything!
6 Days in Spain: The 3 Best Itineraries for Your Trip!
7 Days in Spain: The 3 Best Itineraries for Your Trip!
---
So, to sum it up, Guadalupe is a real hidden gem in the Extremadura area. I hope you enjoyed this spot and please let me know your thoughts! Our aim is to post more of the places we've visited to motivate you to explore all the amazing hidden places in Spain that are stunning and rich in history.
If you need any help, don't hesitate to ask in the comments!