Is Spain Warm? How to Survive the Spanish Heat Like a Pro
October 4, 2022
Updated:

January 23, 2023
Published: October 4, 2022
Spanish heat can be a terrible nightmare or the most miraculous blessing, depending on who you ask.
Spain's climate has a little bit of everything. And I'm here to tell you how warm Spain is, in which months, places where it gets the hottest in the whole country, and places to escape from the warm summer temperatures.
And if you're wondering how hot it gets in summer, let me tell you in advance that we have four classifications: hot, really hot, hotter than hot, and this can not be real hot.
Last year, we reached some extreme temperatures that I don't even want to remember because I might get chills (no pun intended)
So, sit somewhere comfortable, grab your Spanish Abanico, and read carefully!!
1. Is Spain Warm?
Spain is considered a warm country. It reaches maximum temperatures during July and August with approximately 2,500 hours of sunshine yearly. The climate is predominantly Mediterranean while perceiving the different seasonal changes and an average temperature of 59°F (15°C) to 64.4 °F (18°C) per year.
2. Warmest Places in Spain in Summer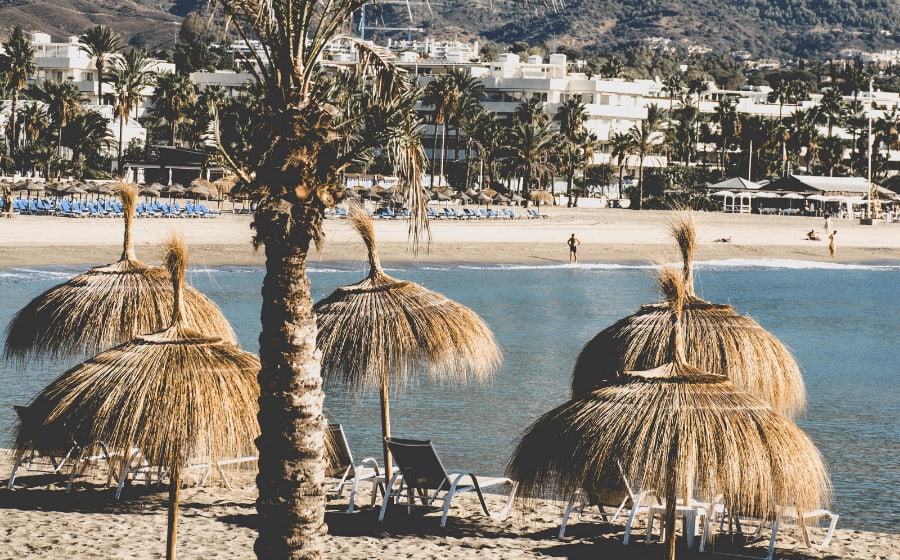 In the Autonomous Community of Andalucia, Almeria is undoubtedly known for being one of the regions in Spain with the hottest temperatures. Either in Summer or Winter. 
Especially in "La Costa del Sol", "El Cabo de Gata". And also in Canary Islands and "Costa Blanca".

However, if you want to spend a pleasant summer without extreme weather conditions, then here is a list of the best places to go to spend a not-so-hot-summer 
Ezcaray, in La Rioja: La Rioja is one of the best wine regions in Spain. It locatesin a valley of the mountains that make up the north face of the Iberian System. 
Alp, in Girona, Catalunya: Here, summers are short, comfortable, and dry. While winters are long, freezing, snowy, and partly cloudy year round. 
Griegos, in Teruel, Aragón: This town is in a natural area dominated by wild pine forests and high mountain meadows, known for having decent temperatures compared to Madrid, Almeria, and the rest of Spain's summer.
3. Warmest Places in Spain in Winter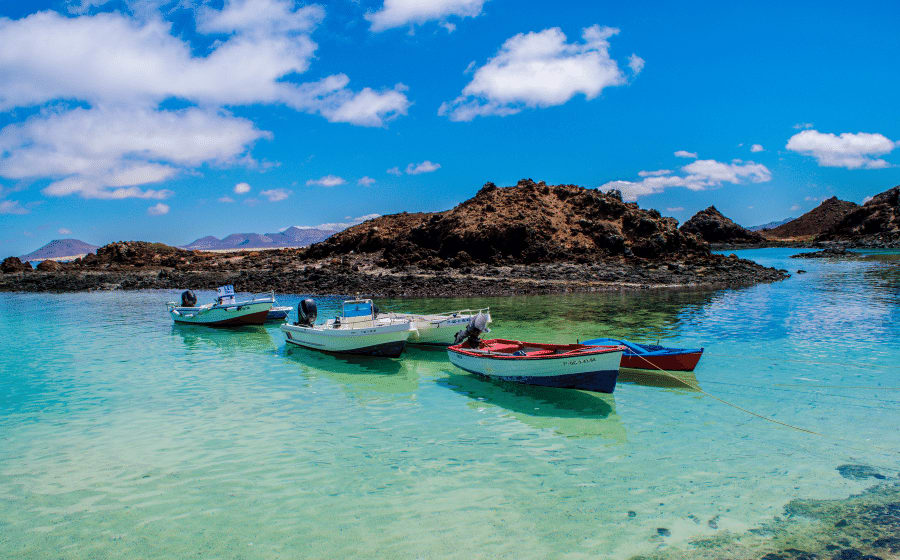 If winter blues gets you moody, then you should know the warmest places to Spend a cozy Winter without freezing.
We have different options when talking about hot places to go in Spain during the winter. A very demanding one is Fuerteventura, where temperatures are between 64.4ºF (18ºC) and 68ºF (20ºC), although it's very windy.
You can also visit Murcia, where temperatures are around 62.6ºF (17ºC) in the winter.
But if you really want to feel an August climate during winter break, then Almería, in Southern Spain is your place. Especially to Sevilla! I have friends who always spend their holidays there and assure me it is the best time to visit this beautiful city. Also, temperatures in February are around 64.4ºF (18ºC), allowing you to see all the charms that Sevilla has to offer.
4. Warmest Temperatures Ever Recorded!
The highest temperature ever recorded in Spain is 117.68°F (47,6°C) on August 14, 2021, In La Rambla, Córdoba, in the Autonomous Community of Andalucia.
Data: Warmest Temperatures Ever Recorded in Spain Source:

*Agencia Estatal de Meteorología*, Aemet,

| Date | Temperature | Location |
| --- | --- | --- |
| August 14, 2021 | 117.7 °F (47.6 °C) | La Rambla, Córdoba in Andalucia |
| July 13, 2017 | 117.1 °F (47.3 °C) | Montoro, Córdoba in Andalucia |
| August 1964 | 116.6 °F (47.0 °C) | Badajoz, Extremadura. |
| August 6, 1946 | 116.6 °F (47.0 °C) | Sevilla. |
| August 24, 1996 | 116.6 °F (47.0 °C) | El Hierro, Canary Islands. |
5. Things you should know to survive the Spanish heat
"Gazpacho": It is like a soup (or a drink) that everyone in Spain drinks during summer. It is a mixture of tomatoes, cucumber, peppers, garlic, olive oil, and onions. It is served cold, so it's very refreshing. Gazpacho originated in Andalucia, Southern Spain.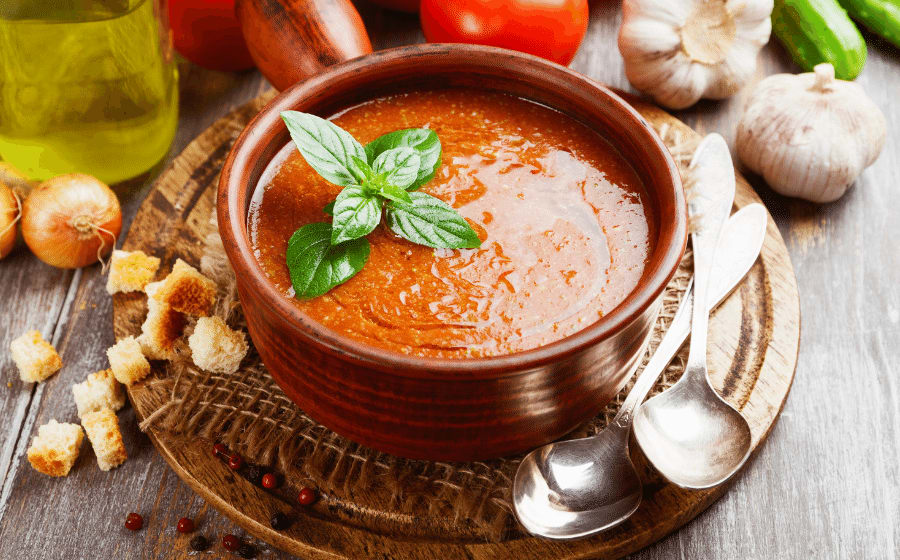 "Abanicos" (Fans): Spaniards use them very often. They became trendy in the 17th century. Since then, the tradition has been from generation to generation. Spain's oldest store of "Abanicos" opened in 1858 in Madrid. It is called "Casa De Diego" and continues to manufacture fans.
"Tinto de verano": It is a very famous drink, Spanish people usually drink it in the summer, and you can find it at any restaurant. It is made by mixing red wine, ice, and lemon soda, or "Casera" in Spanish. If you want to spice up your drink, add a splash of vermouth and some oranges. This drink was inspired by the Spanish Sangria, which was popular among Romans while celebrating. 
Blinds down: During the day, having the blinds down will help keep the hot temperatures outside the house. When the sun is gone, they open the windows and put the blinds up to get some fresh air into their homes.
Outdoor cinema: An excellent plan that many Spaniards make in their cities/towns/villages is to go to an outdoor cinema. They are getting g very popular, and it's an ideal way to combat the hot weather. They're usually at night when the temperatures have dropped a little bit. Some of the typical outdoor cinemas in Spain are in Madrid in the "Parque de la Bombilla" or "Autocine de Madrid." While in Seville, you can find them in "Patio de la Diputación de Sevilla." And in the Center of Contemporary Culture of Barcelona, in Catalunya. 
6. Best places to survive the Spanish heat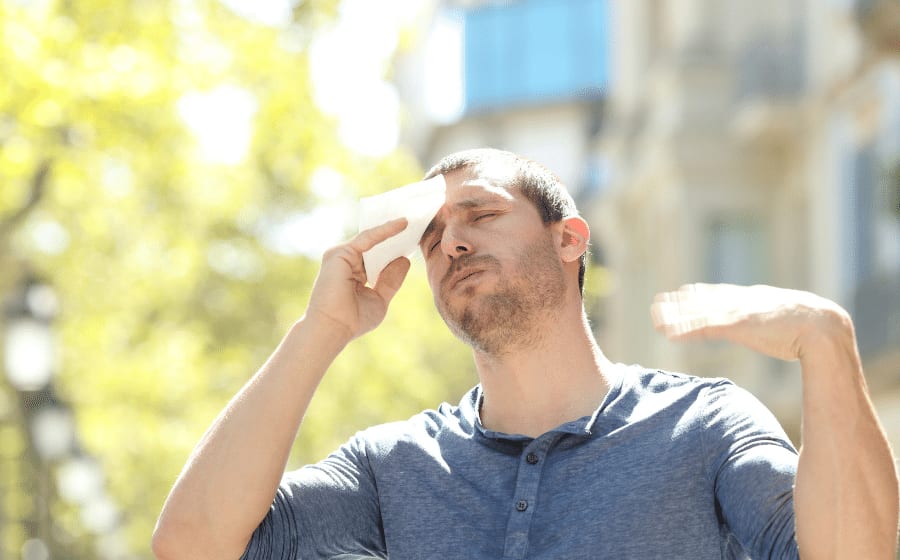 In 2021, 65% of Spanish people spent their hot summers at the beach. 34% went to a countryside location (Spaniards usually go to their second houses, which are commonly villages) While 21% went to the mountains to get some fresh air, according to published research by Forbes in 2021.
Irene, 31 years from Madrid: Some good options for a beach getaway among Spaniards would be those in Mallorca, for example, "Playa de Muro."

In Cádiz: "Playa de Bolonia" "Cala Roche" "Zahara de Los Atunes" or "Punta Paloma".

In Northern Spain: "Playa de Rodas" in Cíes Islands, "Playa de las Catedrales" in Lugo, Galicia. "Playa el Sardinero" in Santander, Cantabria. (nice place to go surfing) "Playa de la Concha" in San Sebastian, Basque Country. And "Playa del Silencio" in Castañeras, Asturias.