How are Kitchens in Spain? A Look at the Beautiful Mediterranean Style
November 15, 2022
Updated:

January 23, 2023
Published: November 15, 2022
One of the first concerns when traveling to another country is knowing how the kitchen looks beforehand. Sometimes it can take us by surprise when we arrive, and then we find ourselves wondering about the meaning behind some weird stuff we see.
That is why I will show you what an authentic Spanish kitchen looks like in today's blog. Starting with the modern family kitchen, continuing with the more practical kitchens, the ones you will probably find if you come to Spain and stay in a flat or apartment in the city. And finally, what an authentic Spanish kitchen looked like with its traditional characteristics that I am more than sure you have not seen before in any other country.
So get ready because we are about to walk through one of the most beloved spaces of a Spanish house, its kitchen!
---
What does a modern kitchen in Spain look like?
Modern kitchens in Spain tend to be smaller in size than in the United States. They are characterized by being functional, simple, and practical. A highlight could be having the proper storage capacity without neglecting the design and aesthetic. Something that surprises tourists and expats is that the washing machine can be found in the kitchen of many apartments in the city or flats (and not by mistake).
Let's see how a modern kitchens in 2023 looks like!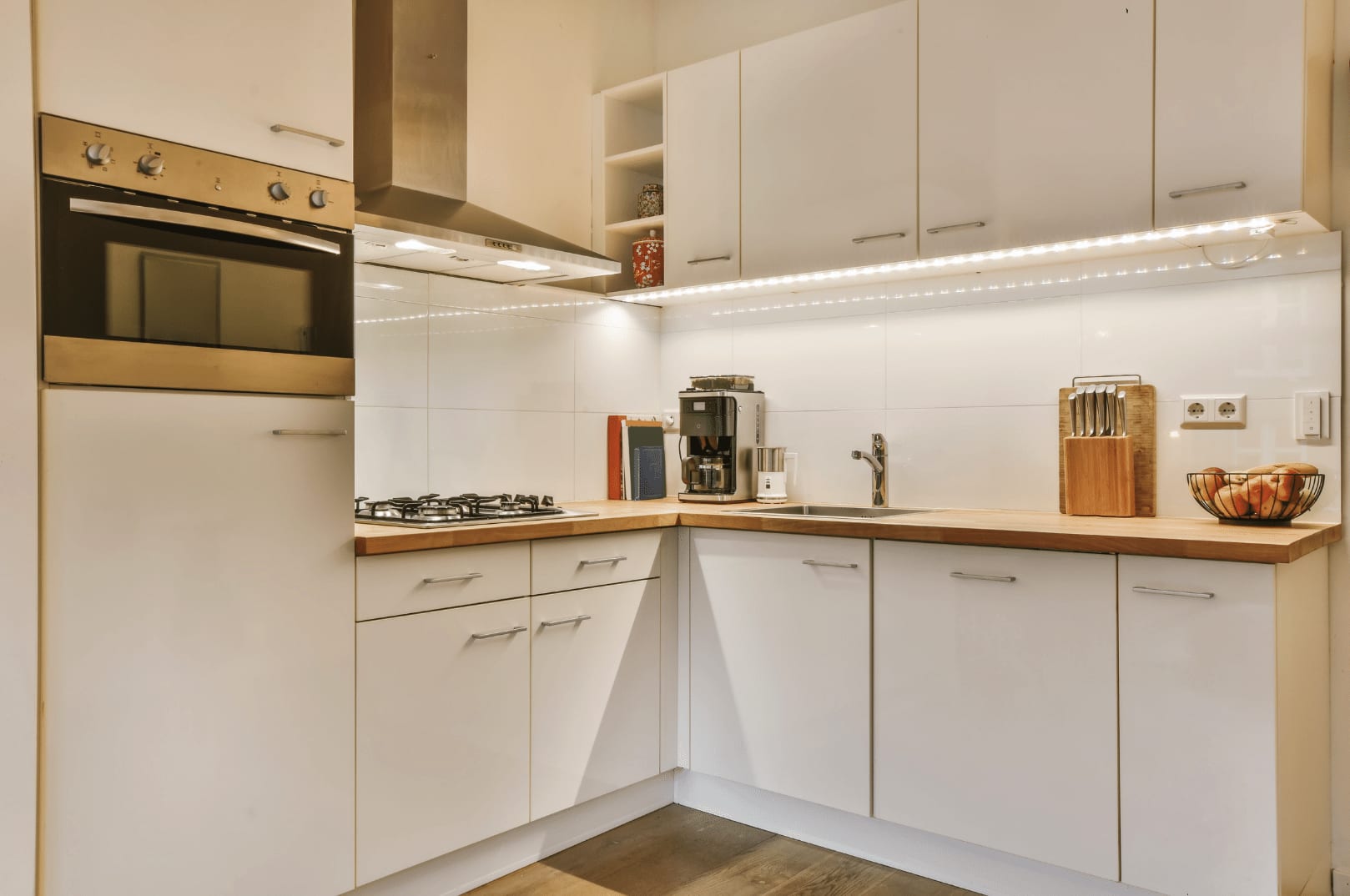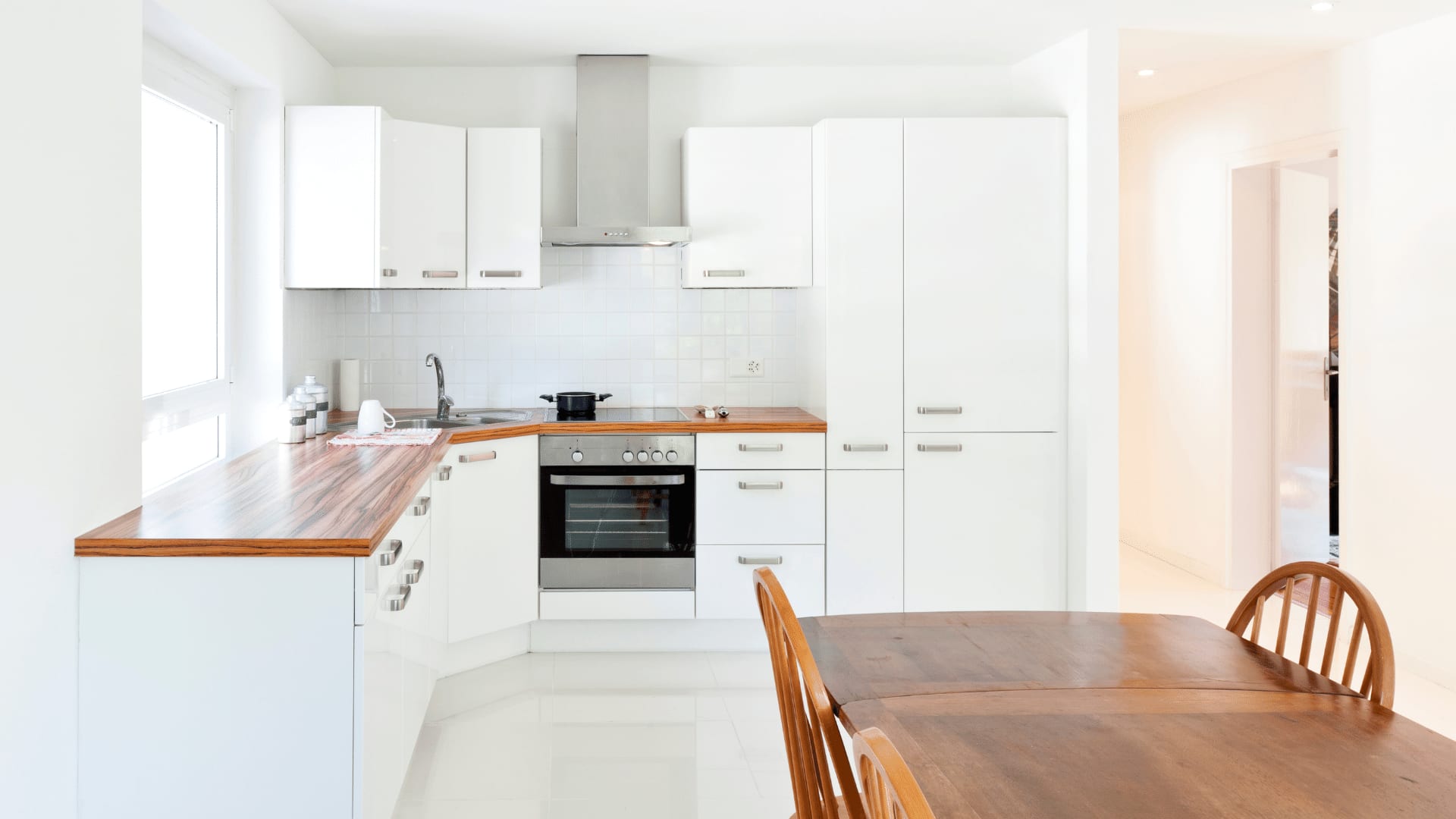 and also like this…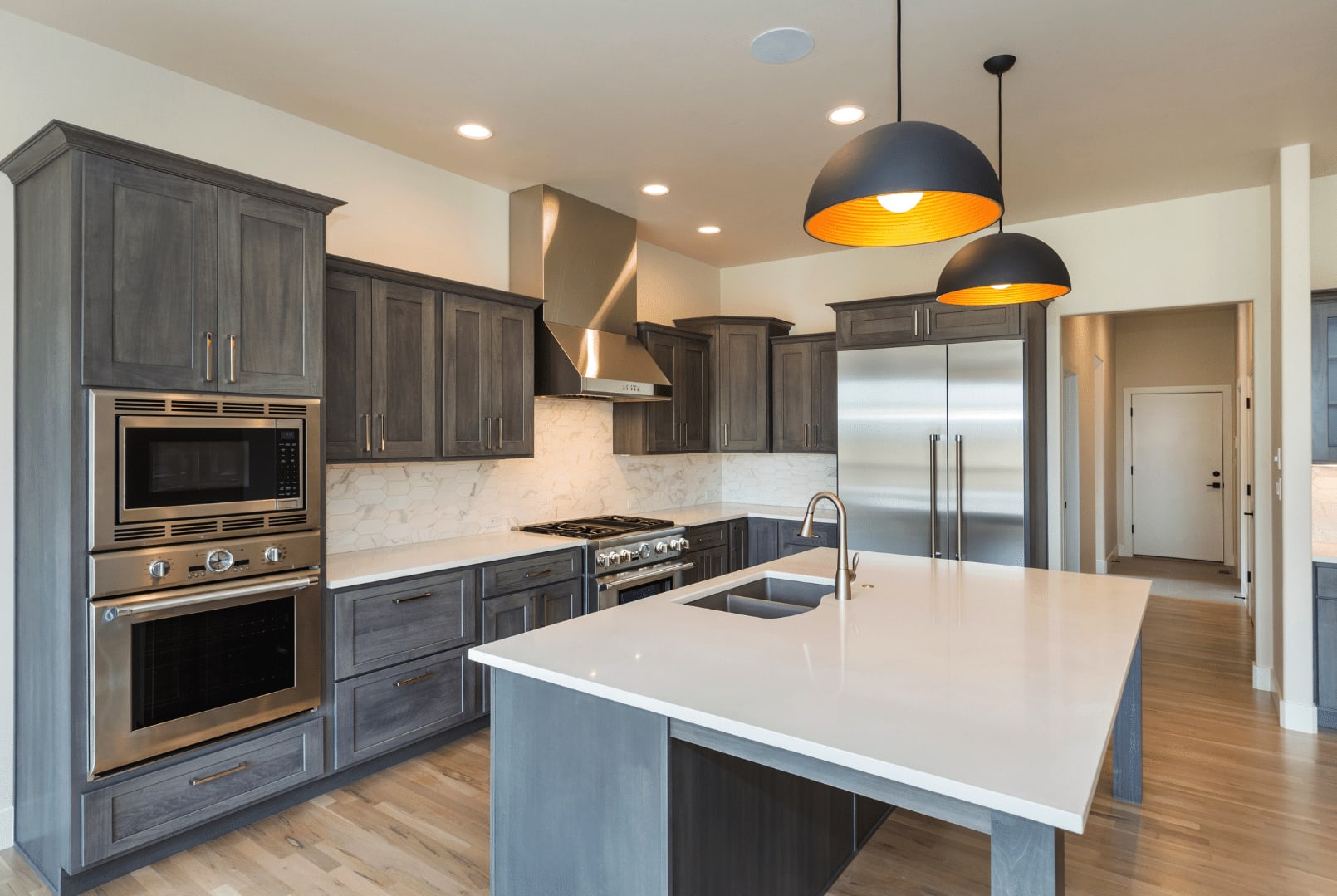 See? They look very standard to me. Nowadays, houses, kitchens, and apartments have adopted an international style. Meaning that what you'll find in an ordinary kitchen in Spain would look the same as in other places in the world. But this doesn't mean that it has always been like that. Some differences stand out, and you will see how kitchens maintain their own Mediterranean touch.
Here are some examples of modern tableware. IUKA is a brand of handcrafted ceramics designed by them and made in Spain by the best potters. It is owned by a good friend of mine. They are committed to recovering and enhancing craftsmanship as opposed to the mass production of most of today's brands.
---
What does an ordinary kitchen in Spain look like?
Ordinary kitchens in Spain are characterized by having furniture that has not been renovated but is in good condition. Most of the time, they are linear, characterized by having all the furniture, surfaces, appliances and decorative or storage elements lined up on one wall. We also find two-side kitchens, which arrange their furniture by dividing it into two walls facing each other. And there's also the angular or L-shaped kitchen, which plays with two adjoining walls. These divisions are done to save space in city apartments that are a bit small.
Yes, you're seeing it correctly. The washing machine is in the kitchen and not by mistake.
This would be a typical flat in the center of a big city.
---
What does a traditional kitchen in Spain look like?
Now let's talk about the traditional style of Spanish kitchens many years ago! Here are the main characteristics:
Traditional kitchen utensils are made out of clay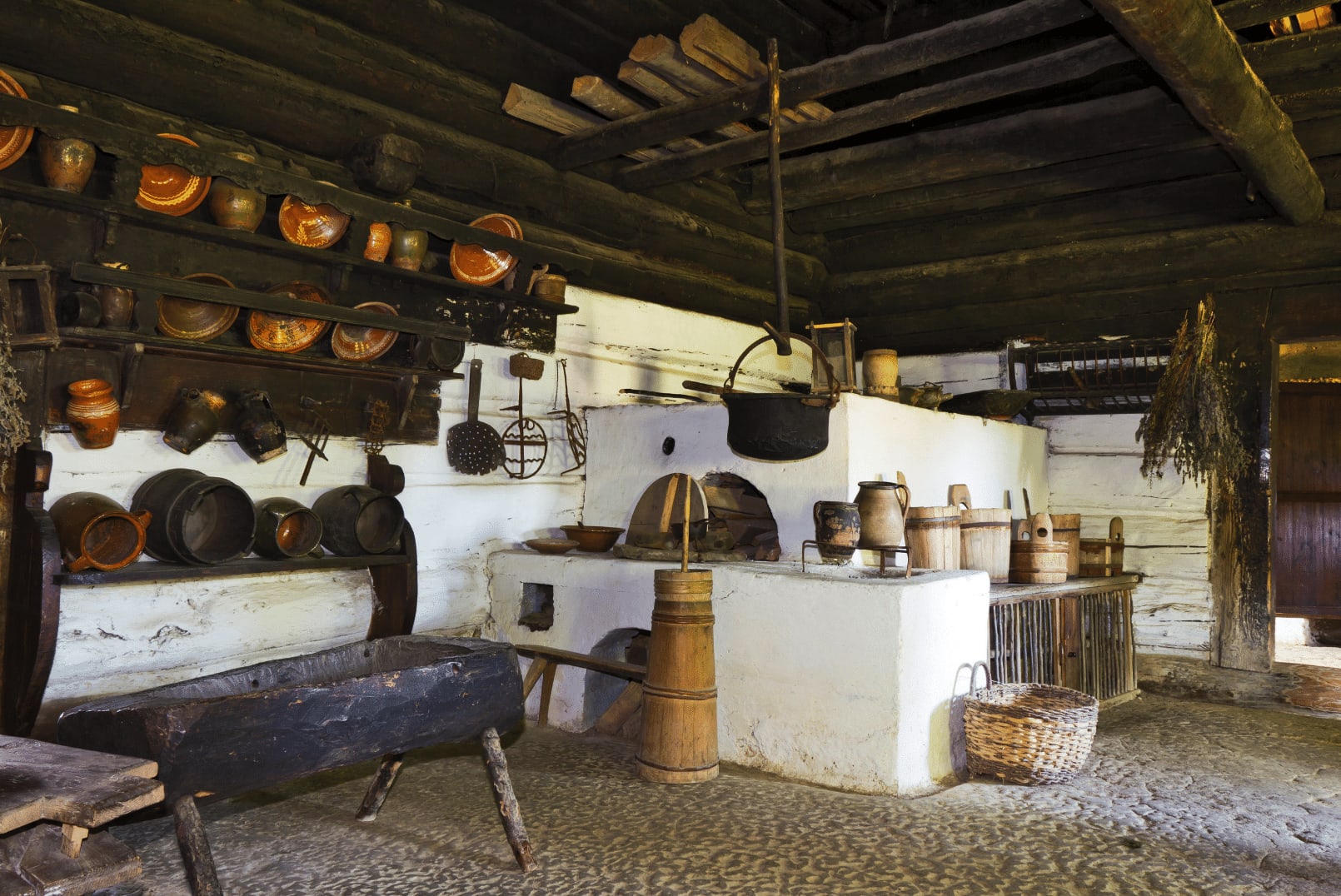 Kitchens usually have stone walls and wooden beams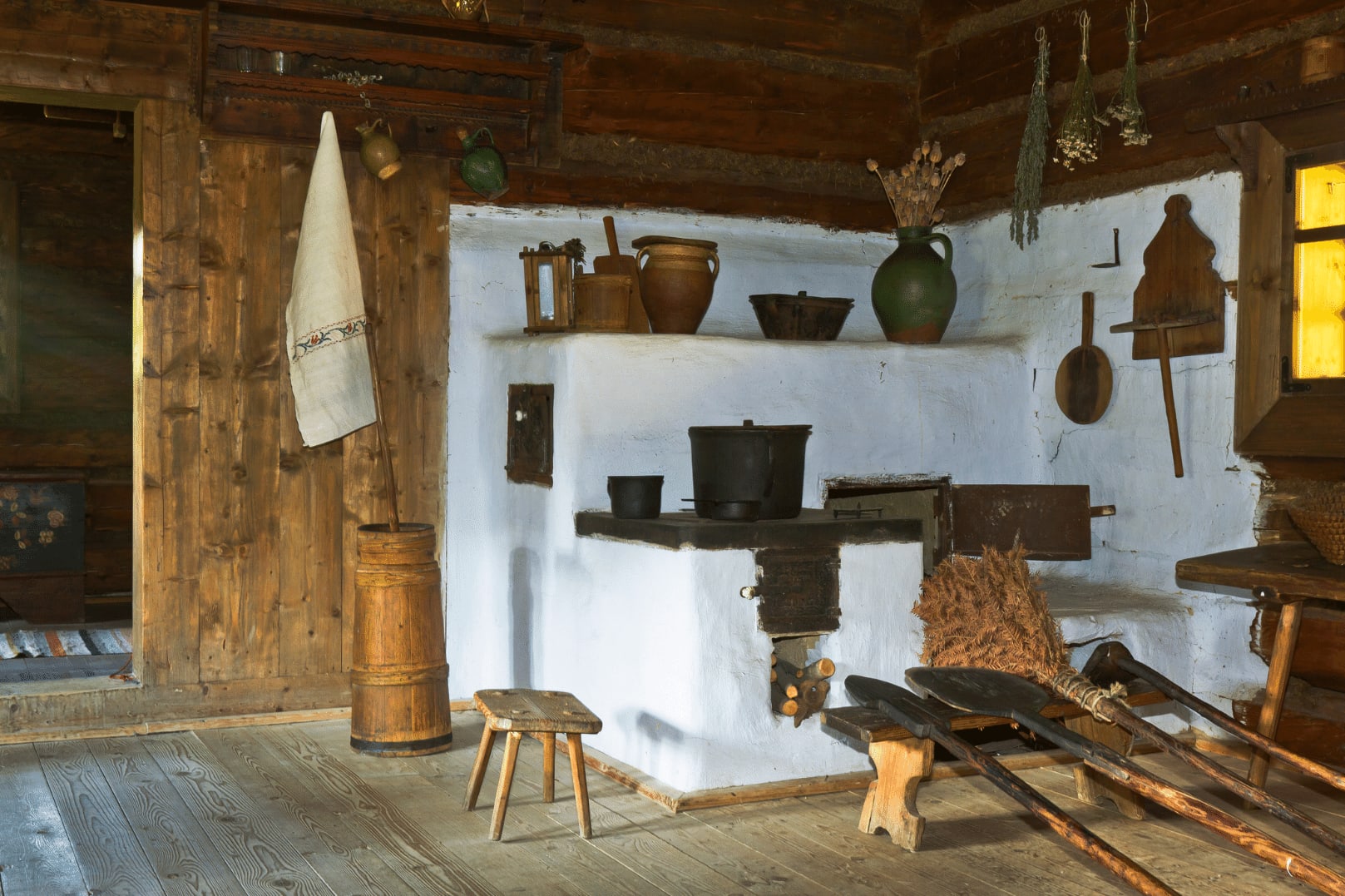 Beige-colored furniture is predominant
A Spanish Kitchen feels more intimate and familiar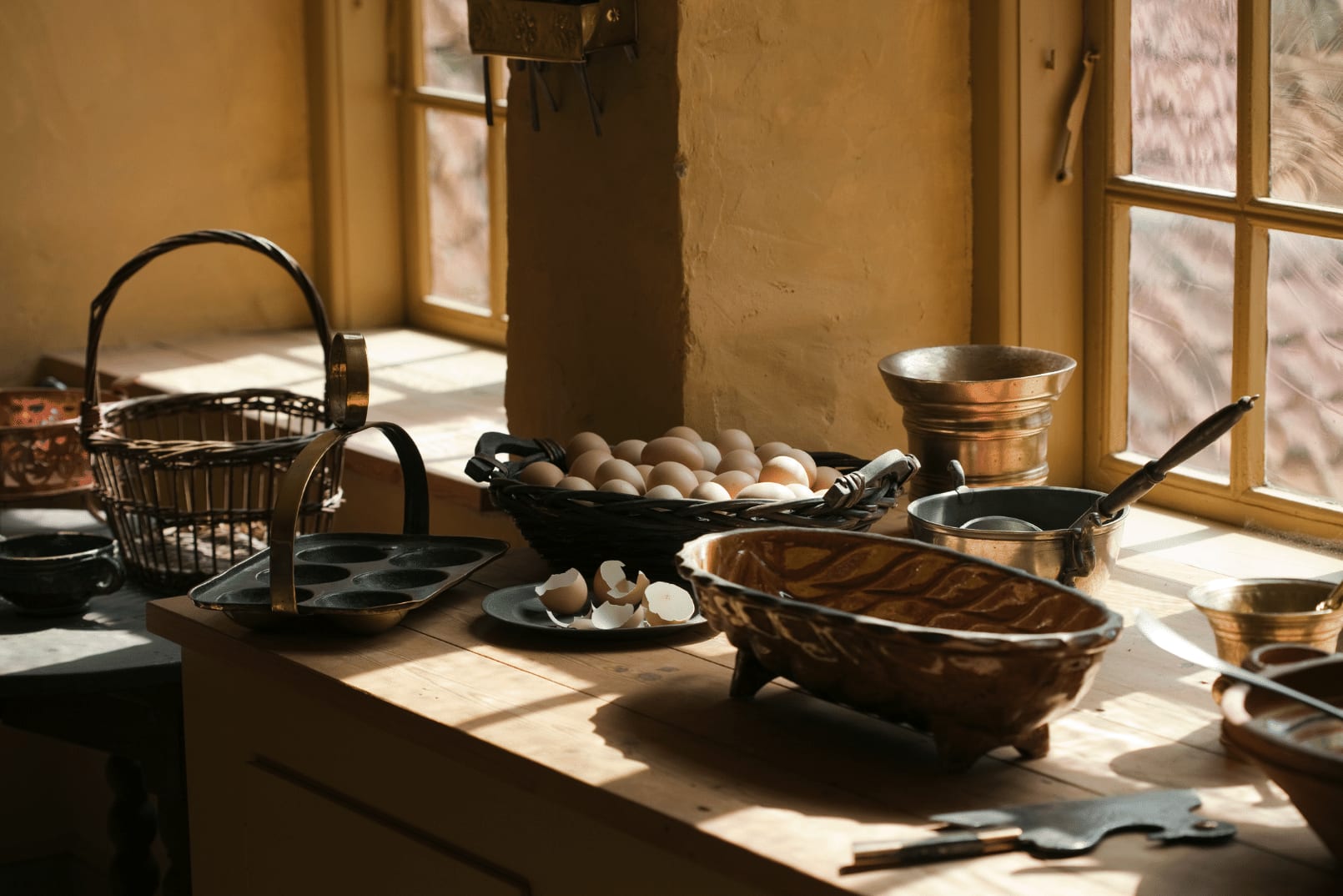 In the 19th century, the kitchen was the workshop of the home, the space par excellence of domestic work, where food was prepared and where cleaning took place. At that time, women were housewives.
If you're interested in more about Spanish culture and the role of the family, I suggest you take a look at the following posts:
Family Values in Spain: 7 Key Aspects that Matter to Us

Spanish Culture 101: Heritage, Languages, Religion, Customs and Traditions, Manners, and more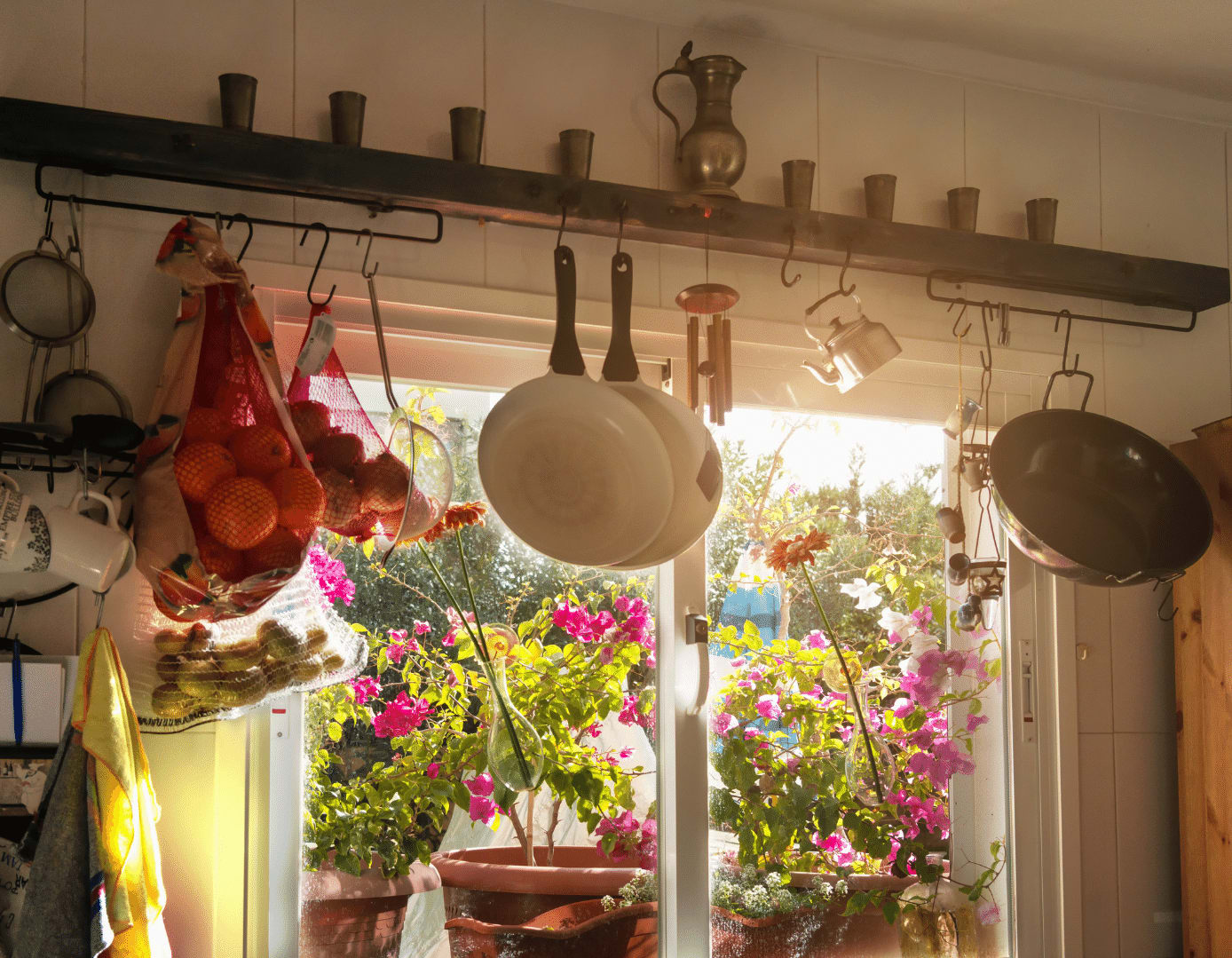 Vintage extractors are prevalent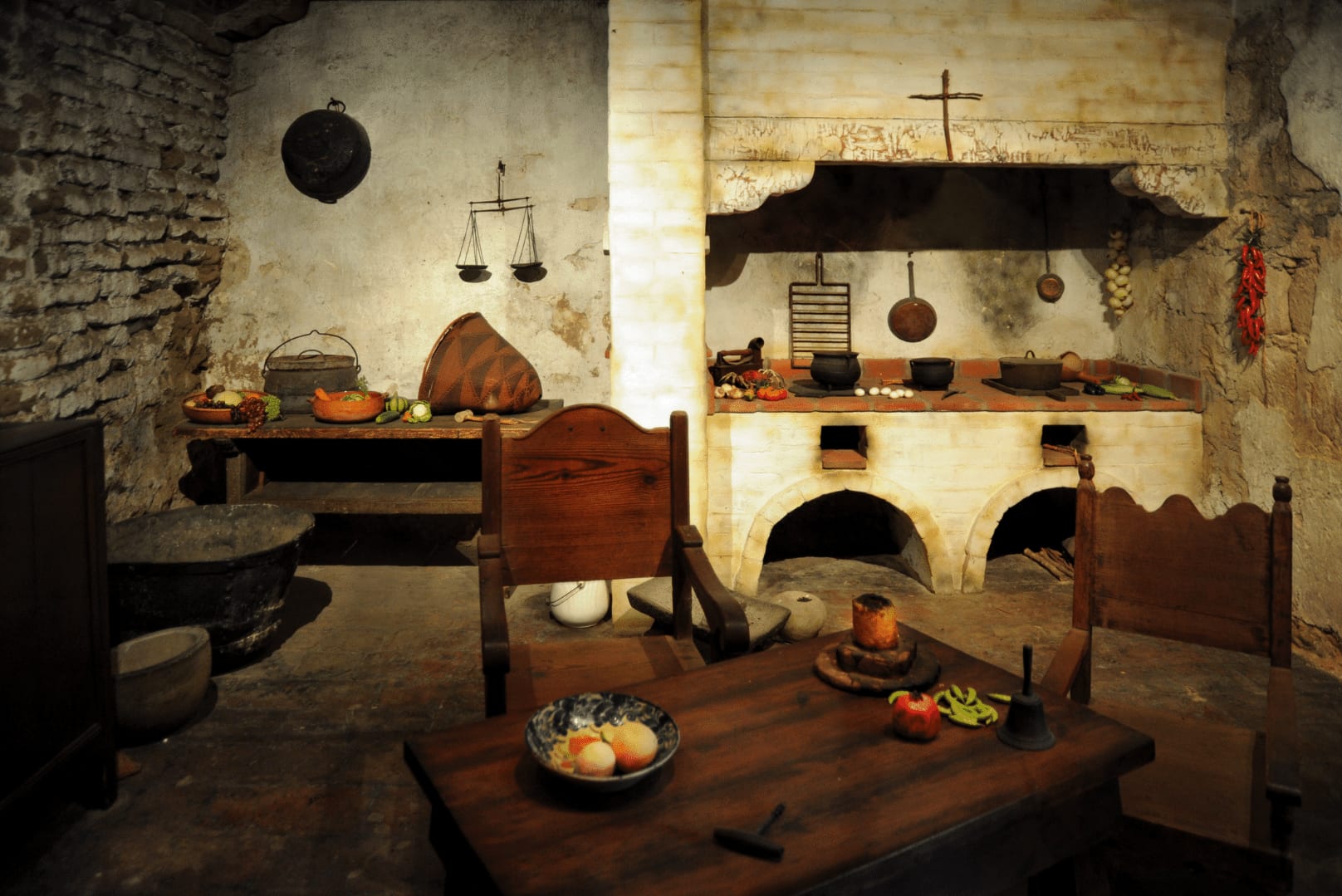 Pottery, Clay Pots, and Vessels are characteristic
As time progressed, pottery appeared, making it possible to cook food and thus make possible the consumption of other foods that were not yet eaten, such as vegetables.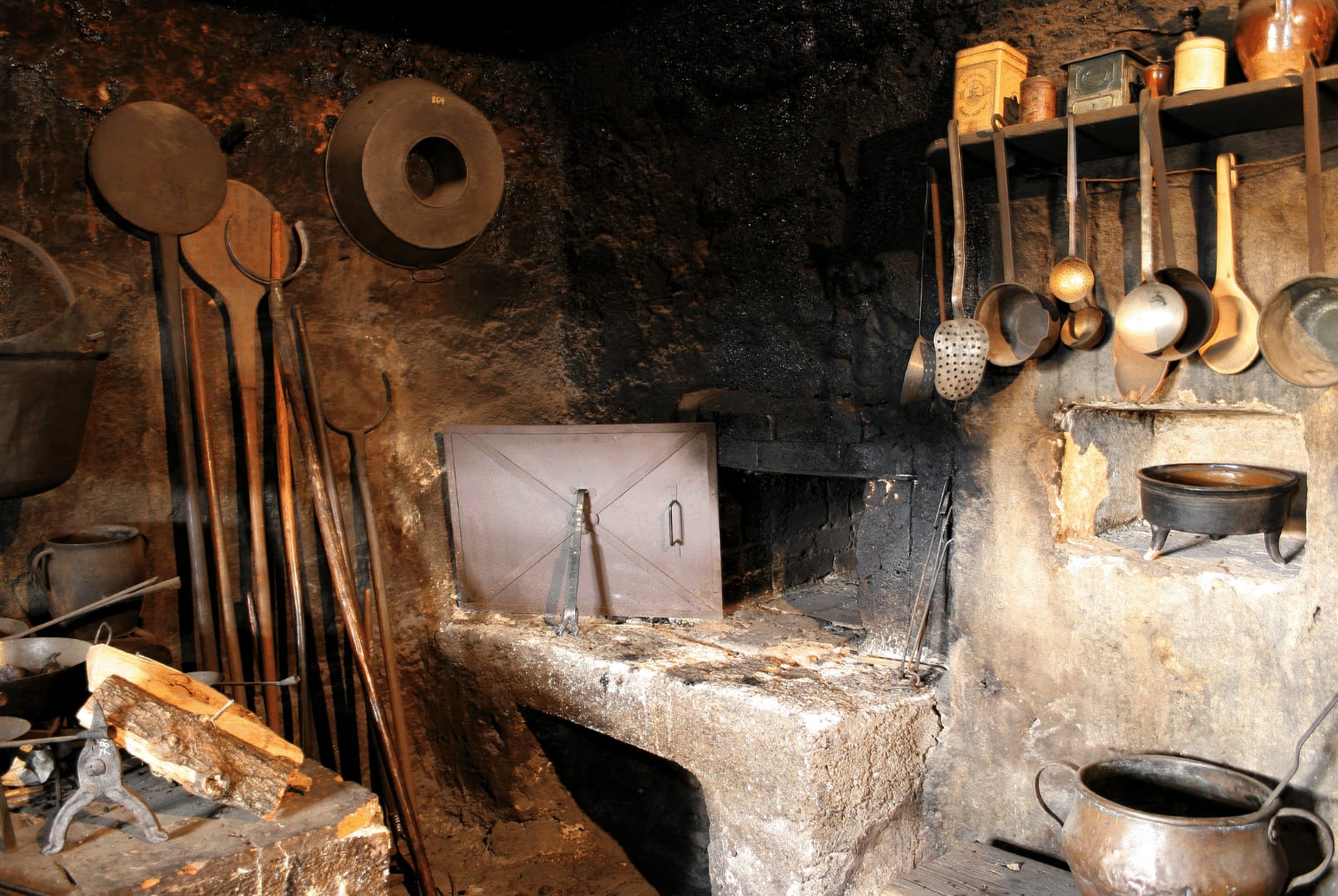 Kitchens have wooden furniture with a rustic appeal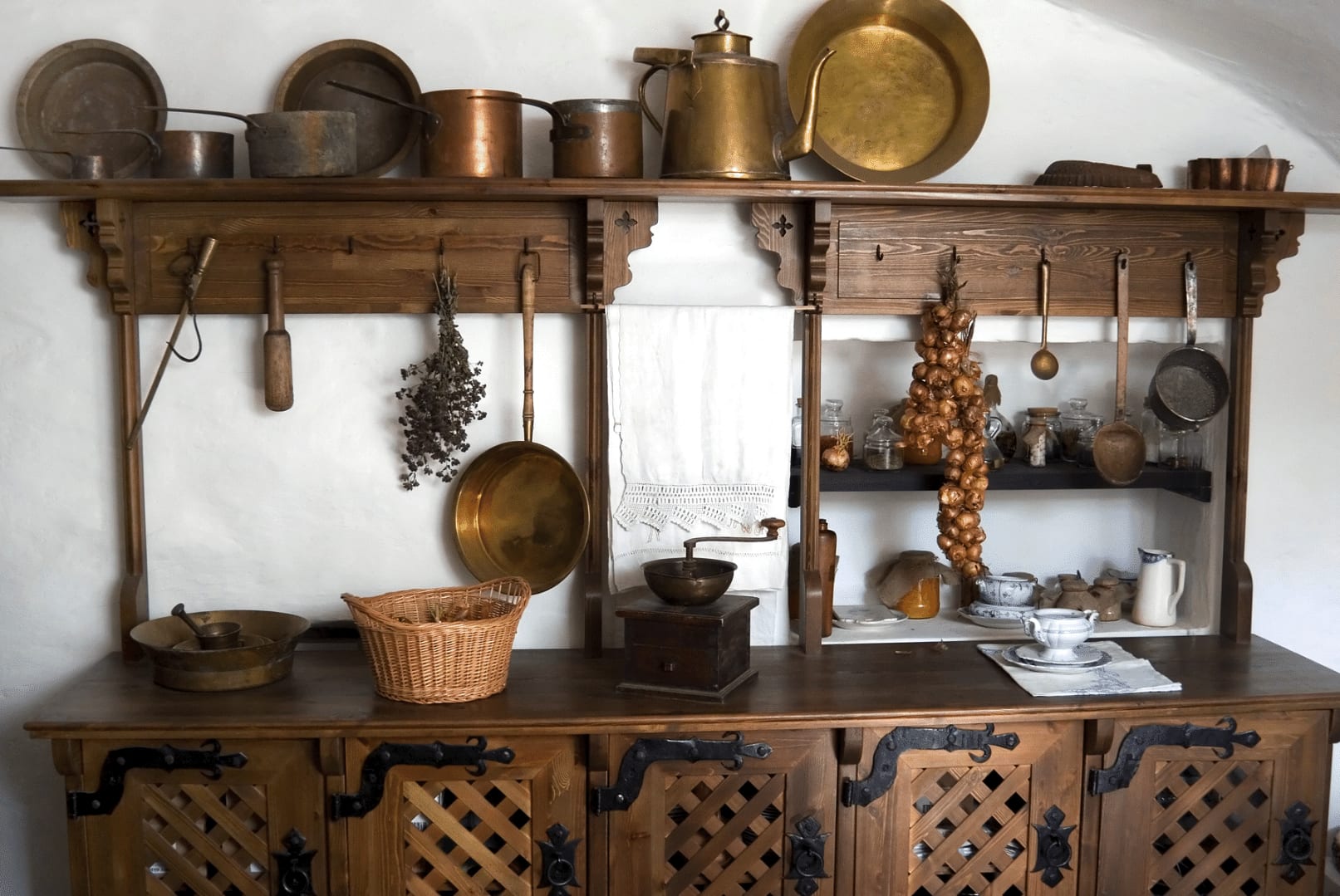 Handmade backsplash, a traditional Moroccan design
One of the influences of the classic Spanish aesthetic.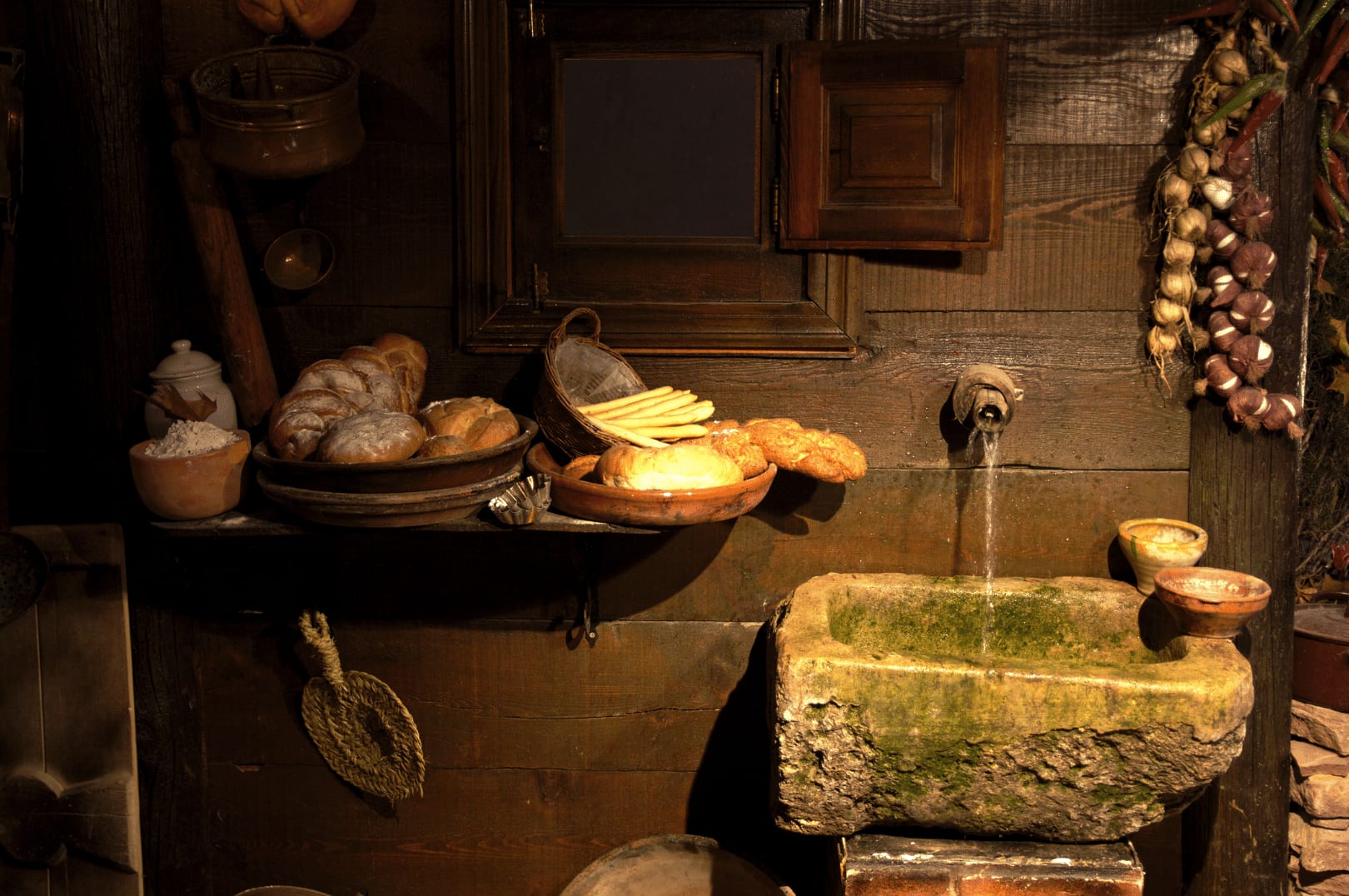 As you might see, the kitchen is the heart of the home. By this, I mean that each house has its "own world" and, therefore, each country is another world as well.
So, I'm glad you came here to learn how kitchens looked before and now in Spain. Let me know in the comments how your kitchen looks in your country!