12 Best Tips for Living in Madrid: Real-Life Pros & Cons
February 21, 2023
Updated:

May 3, 2023
Published: February 21, 2023
What are your expectations about Madrid? How do you picture your days in the Spanish capital?
If you are coming to Madrid, you must have seen that we are in the middle of Spain. Like literally in the middle. Madrid was strategically consolidated right in the country's center because it used to be where the previous Spanish kingdom bordered each other. Madrid is a city that connects people. 
There are many beautiful and not-so-beautiful things to say about Madrid, so if you have idealized your life in the Spanish capital, I am here to tell you the good and bad so you can make a more informed decision.  
I have yet to meet one person who lived in Madrid who doesn't miss the city. Maybe you will be the first, maybe not. I want you to know these 12 things and tips before moving to Madrid. 
1. Be ready for heavy smog days
Maybe you are considering moving to Madrid as a digital nomad, for a sabbatical, exchange, or permanently. No matter the reason, I hope you know that Madrid is not near the beach, it is located between mountains and is very dry.
People idealized Spain for its Mediterranean qualities. And cities like Barcelona, Alicante, and Valencia will give you that, but not Madrid.
Madrid is a cosmopolitan city; there are days when you can feel the smog, and it is not a pretty feeling. I am not trying to scare you; I am just stating the facts!
I love Madrid! And this is coming from a coastal kind of person. I enjoy the magic of its sunsets, the charms of its neighborhoods, and the gastronomic scene it offers. So, for me, that outbalances days of smog. 
Scape to the parks. Madrid offers plenty of parks where you can leave the city's smog behind. The ones that best resemble nature are Parque del Oeste, Campo de Moro, and Casa de Campo. Now, if you rent a car, you can visit plenty of places like the Natural Park Sierra de Guadarrama.
2. Set a budget before you come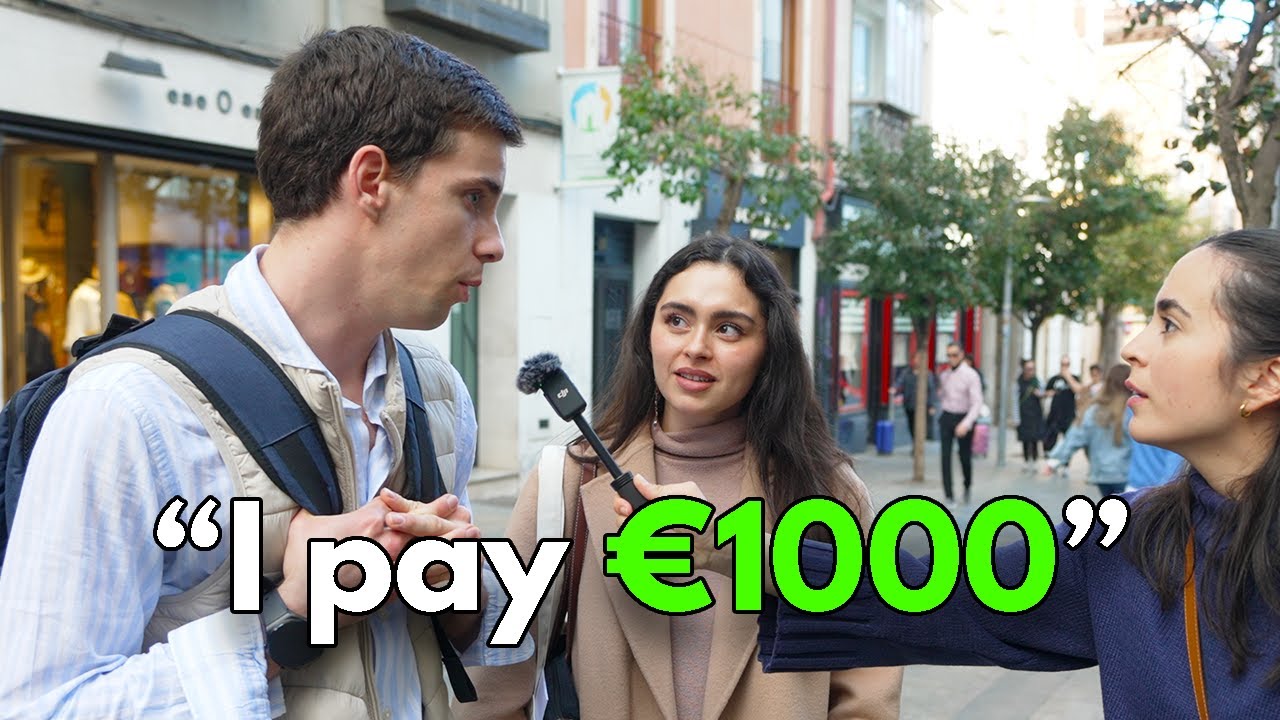 If you have visited other European capitals like London, Paris, Rome, or Amsterdam, you would definitely be impressed with how cheaper Madrid is compared to them. 
But, we are going to compare Madrid with other cities in Spain. Madrid is the second most expensive city in Spain after Barcelona. And every other city after the Spanish capital is way cheaper.
After living in Madrid for quite some time, I can say that to live comfortably, with nights out, food with friends, groceries, transportation, and occasional shopping, you need around 1,300€ to 1,500€. 
If you deprive yourself of certain stuff like clubs and dinners at restaurants and choose an apartment a bit farther from the city center, you would probably make it through with around 1,000€ to 1,200€. 
So, if you want to live in Madrid as a student or an expat, check your budget and plan a bit. 
3. You will never get bored in Madrid
Something that you should know for sure is that you will never be bored in Madrid. This city hosts activities every single month! Be it a concert, a play, a football game, a party, or an excursion. You name it!
If you want to start a hobby, Madrid is the place. So, if you have been dreaming about living in Madrid, know that it will be super easy to fill your days with different activities and get to know new people. 
4. In Madrid, always be aware of pickpockets!
Madrid is a safe city. As in any other big capital, there are minor crimes, but if you find yourself in neighborhoods closer to the city center, you can walk around knowing that nothing will happen to you. 
However, always be aware of pickpockets! I got my phone stolen and didn't even notice when the thief grabbed it from my purse!
So, before moving to Madrid, you should know some basic street rules. 
Never lose sight of your belongings.
When on public transport or on crowded streets, wear your purse or backpack in front of you.
Never put a valuable object in your outer pockets.
Never hang your belongings from a chair when sitting on a terrace (avoid at restaurants, too!). 
If you keep this in mind, you will be fine!
5. Research the Madrid neighborhoods before booking an apartment
So, Madrid is famous for its charming neighborhoods, each one with particular characteristics that could make your living in Madrid better or worse. 
I know reserving an apartment can be tiresome, and you want to get it done as soon as possible. But before you do, research where your potential accommodation in Madrid will be. 
For example, while Malasaña is a bohemian neighborhood with parties all night long, Ibiza is a quiet area close to Retiro, where many families and students decide to make their homes. 
If you are a student, I recommend booking an apartment in Argüelles. It has plenty of metro and bus stations so that you can move to your institution. Another option would be getting a room in a building close to a metro station to get you as close as possible to your university.
6. Don't expect English to be widely spoken in Madrid
Madrid is a capital, yes. But that doesn't mean that English is widely spoken. 
If you hear our podcast episode on the experience of studying in Madrid, you will hear that one of the main issues is that most Spaniards need more fluid English. 
The truth is you will have to meet Spanish people in Madrid halfway, meaning that learning some basic Spanish will help you understand broken English in Madrid. 
Download Duolingo and watch our Youtube videos! Duolingo will give you the basics to manage at supermarkets, restaurants, and even school, and our Youtube interviews will provide insight into how madrileños express themselves 😌.
7. Ask for your transport card with time
If you are coming as an expat or a student, and your arrival time is September and the beginning of October, make an appointment for your transport card with time!
September and October are peak dates because the bachelor's and master's start in Madrid, and the high number of incoming students delay every single administrative process during those dates.
Read more about it here!
10 Things I Wish I knew Before Studying Abroad in Madrid
I remember that a friend requested her transport appointment the second week of September, and she was given one at the beginning of October. 
That is a lot of money for someone who must take two to three public transport daily. 
Make the appointment with time right here 👉  Tarjeta de Transporte Público de Madrid.
If you are coming as a student, ask your university for help! Many institutions deal with administrative processes for their students, so ask what they can help with and save yourself some time!
Learn how to get around Madrid and be ready for your stay!
How to Get Around Madrid + 8 Tips I Wish Someone Told Me
8. Be ready to adjust your life schedule
Spanish people have a slower type of lifestyle. It is balanced, but nothing in this life is too perfect. 
Everything happens later in Spain, and Madrid is no exception. You might have to adjust your life schedule slightly if you are used to having early morning, early meals, and completing 8 hours of sleep. 
In Madrid, lunch breaks take around 1h30 to 2h00 hours, so work ends later in the evening. Spaniards have dinner around 9:00 and go out partying at 1:00. So, if you are used to start your day earlier, you must be prepared to change your lunch hour from 1:00 to 2:00, your dinner from 7:30 to 9:00, and your partying schedule from 1:00 until 6:00. 
I am kidding, maybe you won't need to change your own schedule, but you have to aware that your new environment does everything later in the day.
Find your balance! If you don't like to do everything late, then create your own schedule and find a balance between Spanish timetables and yours! Just remember to be open to the differences that bring Spanish culture.
9. Salaries are lower than in other European capitals
The average yearly salary in the European Union is above 30,000€; in Spain, the annual average wage is a bit more, surrounding the 31,000 € yearly. Also, salaries bump don't happen very often.
Nevertheless, Madrid is becoming a hub for entrepreneurs, and with the new immigration laws, digital nomads are now invited to live here. Both are lifestyles you might want to consider when choosing to live in Madrid. 
You plan to live in Madrid as an expat and work in a Spanish company; plan what you want to earn, in what neighborhood you want to live, and how much you would like to get paid for your job.

Sources: Reinis Fischer
10. Madrid is an international hub
Madrileños are very open and friendly, but here comes the ugly truth: making Spanish friends as a first-year student or an expat in a Spanish company is easier than when you come to live in Madrid as a digital nomad or exchange student. 
The good thing is that Madrid attracts a lot, and I mean many international people. So, even if you don't connect with Spaniards in the first few months, you will have people in the same situation as you are, ready to make friends. 
I believe each person has its way of connecting and approaching people, but here are some suggestions:
Choose a co-living apartment that will automatically connect you with more internationals. 
Visit co-working sites where you might find people in similar situations.
Start a hobby! Join a class for an activity you want to try out and meet new people in it!
11. Be ready for bureaucracy in Madrid
Do you know what everyone's worst nightmare is? Cita previa (prior appointment). Remember what I said about the public transport appointments being chaos between September and October? Well, that needs a cita previa, just like anything else in Madrid.
I have had friends that hire gestores or administrative advisors to handle the processes for them. Others hire lawyers that take charge of absolutely everything. 
⚠️ Attention: The bureaucracy for EU citizens is a bit less tedious, but if you are one, I will better warn you that processes in Spain can be very slow.
If you have any friends or know anyone who lives in Madrid, ask them for help, it's easier to get this paperwork done if you have an insider to guide you through it.
12. Traveling to other cities is very easy
This is my favorite thing about living in Madrid; it is also a traveling hub! 
It is very easy to move from Madrid to any other Spanish city by train; and to any European country by plane. Even though living in Madrid is amazing, Spain has a lot to offer, and you have got to move around.
Renfe is the public transport company in Spain and offers all the possible lines to all cities in Spain. Another way to move around Spain is by taking the bus; you can check trips on websites like Alsa (leading bus company) or Omio (intermediary). 
Instead of buying from Trainline or Omio, check the prices in Renfe first. If you buy directly from the platform, tickets are usually cheaper.
---
These are the 12 most essential things and tips before moving to Madrid. Living in the Spanish capital is an incredible experience; you will fall in love with the orangeish and pinkish sky during sunsets, the lively street vibe, and the merge between local and international cultures. 
If you live or have lived in Madrid, we would love to hear about your experience. Also, if anything needs to be added to our article, let us know! We want our readers to have the best information possible.