London vs Madrid: 12 Pros and Cons for Expats
May 16, 2023
Updated:

May 31, 2023
Published: May 16, 2023
I must admit that London is one of my favorite cities in Europe. It has a vintage charm that overtakes you the moment you set foot outside the airport, making you feel like a movie. 
On the other hand, Madrid is my home, and there is also something about this city that enchants anyone that visits. 
Both cities are unique and very different, but if you choose one, I will make the most effort to get you good arguments and comparisons. 
So, pay close attention to the following 12 pros and cons between London and Madrid, and find the best city for you!
For a more comprehensive comparison, check our article on Spain vs the United Kingdom:
1. Everything in Madrid is cheaper 
Everything is cheaper in Madrid, and these are some prices comparison between Madrid and London:
Housing in Madrid compared with London is 88% more expensive. Entertainment is 41% more expensive in London than in Madrid. 
Personal care in London is 31% over that in Madrid. 
The price of transportation in London is 140% higher than in Madrid. 
The cost of living in London is 73% more expensive than in Madrid.
This comparison is based on consistent data with 2.682 prices entered by 458 people.
The cost of accommodation in Madrid is typically lower than in London. You can find several options at relatively affordable prices, from budget-friendly hostels to mid-range hotels. On the other hand, London is known for its higher accommodation costs.
Madrid often provides more affordable options for entertainment, such as museum entry fees, theater tickets, and guided tours. London, a larger and more tourist-oriented city, may have higher prices for popular attractions and shows.
Check what to do in Madrid if you are on a budget!
2. Madrid is located in a fantastic geographic location
Madrid is located in an excellent geographic location. Madrid is located in the center of Spain, so it is an ideal place to start exploring other parts of the country. It is easy to access cities and regions such as Toledo, Segovia, the Basque Country, and Andalusia from Madrid. 
On the other hand, London is more geographically isolated and may require longer trips to explore other areas of the United Kingdom.
3. There are more museums in London 
London is a fantastic destination for museum lovers. 
It is one of the world's cultural capitals, with more museums and art galleries, with more than 200. Madrid, the capital of Spain, is also a perfect place for museum lovers as in its 45 museums, it hosts some of the most important museums in the world.  
Here are some of the best museums in Madrid
Traveling to London and not visiting the city's museums is like never having been to the town. These are some of the most important ones:
British Museum: I'm sure you have heard about the British Museum as it is one of the world's largest and most visited museums. It houses an extensive collection of artifacts and works of art from different cultures, such as the Rosetta Stone and the Parthenon friezes.
Natural History Museum: It is famous for its impressive collection of natural history specimens, including dinosaur skeletons, fossils, and a gallery dedicated to human evolution. 
National Gallery: Located in Trafalgar Square, this gallery houses an impressive collection of European paintings ranging from the 13th century to the 19th century. You will find paintings by Van Gogh, Da Vinci, Rembrandt, and Monet.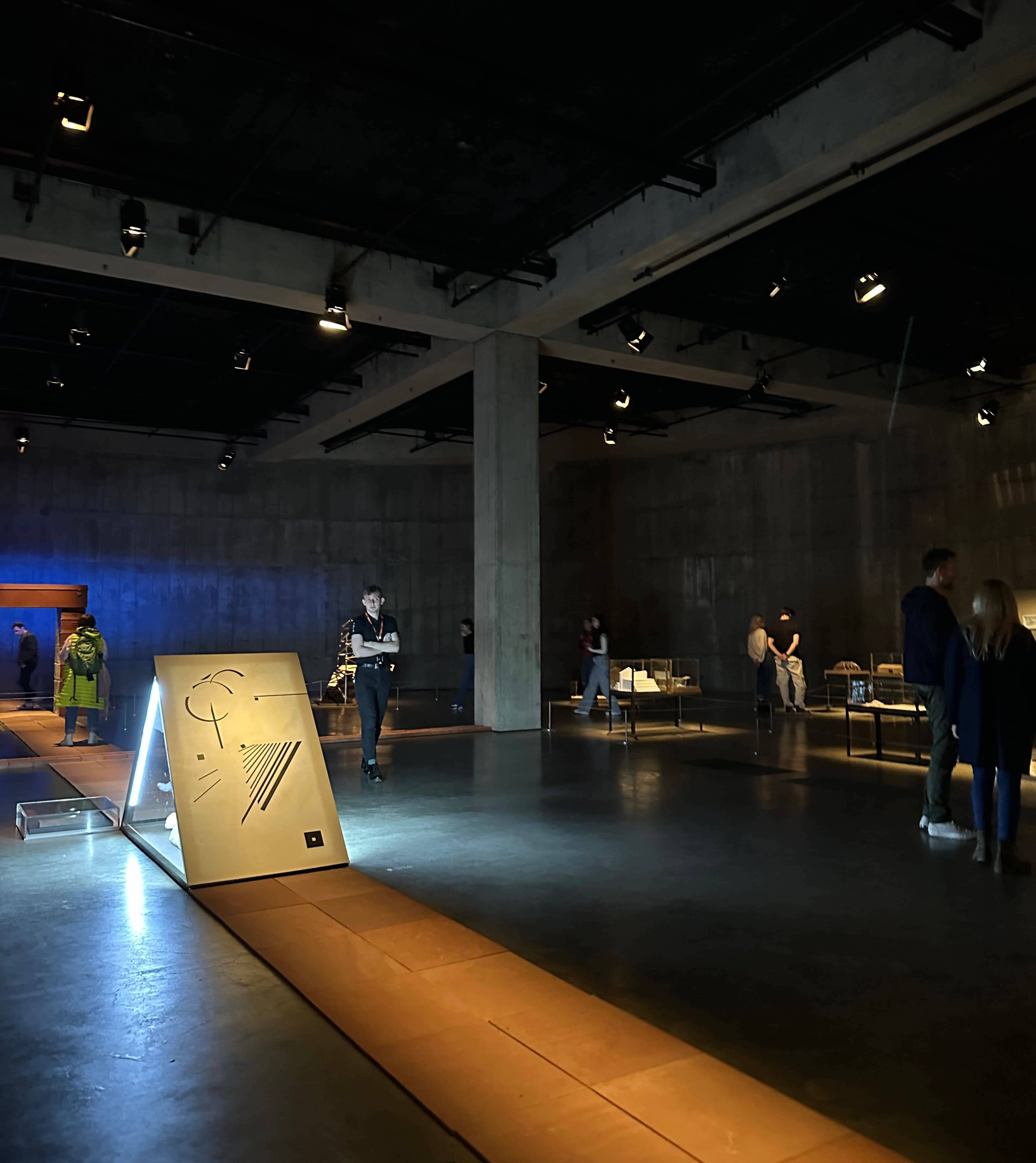 4. Christmas in London is unique
Christmas in Madrid is spectacular, but London is known for its unique Christmas.
During this holiday season, the city has charming Christmas markets offering everything from handcrafted gifts to delicious food and drinks. 
The Winter Wonderland market in Hyde Park is a must-see, where you'll find a variety of stalls, an ice-skating rink, fairground rides, and a festive atmosphere.
London lights up during Christmas with beautiful lights and festive decorations. The major shopping streets, such as Oxford Street, Regent Street, and Carnaby Street, are filled with dazzling light displays that create a magical atmosphere. 
5. You have fantastic career opportunities in London
Both London and Madrid are important economic centers and offer a wide range of job opportunities. However, London has a more extensive and diverse economy, meaning more options in sectors and companies. 
Suppose you are looking for opportunities in industries such as finance, technology, or media. In that case, London may offer a wider variety of positions. The city offers many employment opportunities and renowned academic programs, attracting large companies. 
London could also be the right option if you are one of those people that are looking for a challenging and competitive work environment. The city attracts talented professionals from various industries, encouraging innovation and professional growth. 
Although Madrid also has thousands of positive factors for working in the capital. But if you want a more challenging experience, I recommend going to London. 
6. Madrid is an ideal shopping destination
Madrid is an ideal shopping destination, with a wide variety of stores ranging from fashion boutiques to department stores and street markets. 
The Gran Vía and the Salamanca neighborhood are known for their high-end shopping options, where the most famous national and international brands and designers have their doors open. 
Walking around the Salamanca neighborhood, you will find Louis Vuitton, Gucci, Chanel, Zara, Tiffany & Co, Carolina Herrera, Loewe, Pedro del Hierro, Adolfo Dominguez, and many other stores 
Walking through Madrid streets, you will be wrapped in fashion and design. One of the things I like most in Madrid is going shopping in its beautiful streets, getting lost in the city, and finding unique stores.  
One of the most famous markets in Madrid is The Rastro, a famous flea market where you can find unique treasures, and you can't miss visiting Madrid.
7. There are better weather conditions in Madrid 
There are better weather conditions in Madrid. 
Madrid generally has hotter summers and colder winters compared to London. Summers in Madrid can be very hot, with temperatures around 33°C or higher. Winters are colder, with average low temperatures occasionally dropping below freezing. 
In contrast, London has milder summers with average highs around 20°C and relatively mild winters with average lows above freezing.
London is known for its relatively higher rainfall throughout the year. Madrid, in exchange, has a significant number of sunshine hours compared to London. 
It experiences more sunny days throughout the year, particularly during summer. London has a relatively lower number of sunshine hours and more cloud cover throughout the year.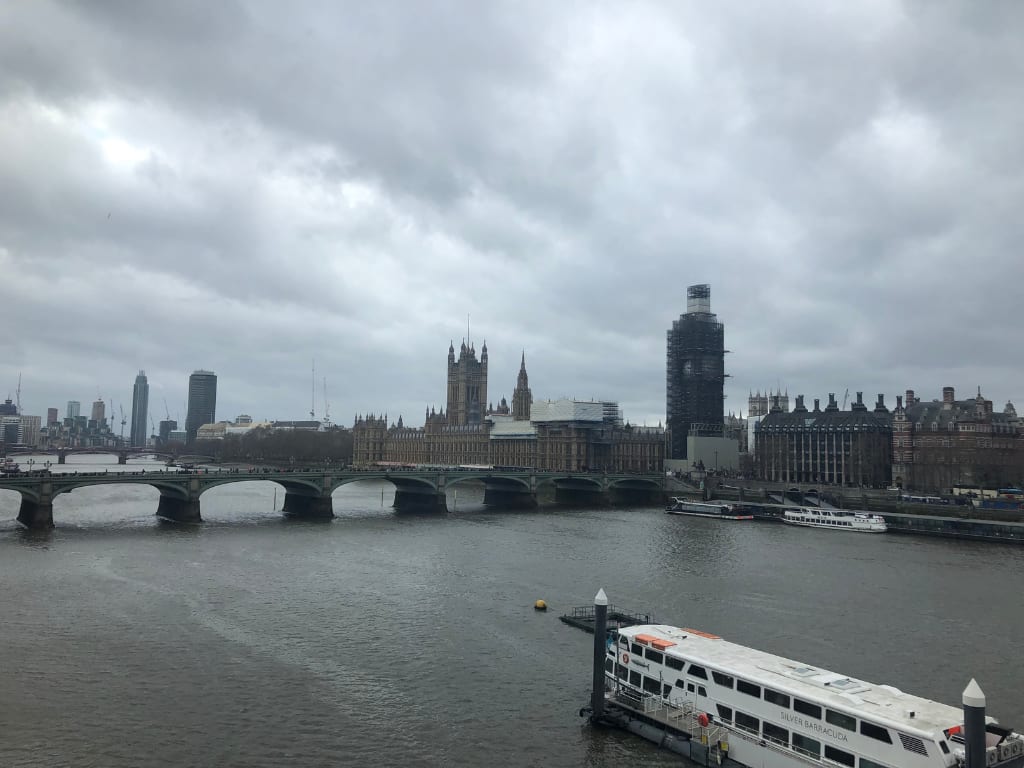 8. London has excellent diversity and multiculturalism
London is a truly global city with a mix of cultures and traditions worldwide. London immerses you in different cultures and experiences, from its varied gastronomic offerings to cultural festivals.
In London, you can visit the cool area of Chinatown in Soho where you can taste incredible restaurants, and explore stores. Another interesting area is Candem, which is full of Spanish and South American restaurants.
Maybe Madrid's diversity is not as palpable as London, but you will also find a mix of different cultures in the capital of Spain. People all around the world move to Madrid to work or study; and you can notice the diversity in the emerging international restaurants, mostly in the neighborhoods of Malasaña, and Lavapiés.
For example, you must try places like Tiki Tako with traditional Mexican taco for 1 euro! In Malasaña, you can also eat at Kinza, a Georgian restaurant, or try some amazing Lebanese food from Macán in the street of Velázquez.
Know more about Madrid's neighborhoods in our feature article!

10 Best Neighborhoods in Madrid: Students, Expats & Tourists
9. Madrid is full of parks and green spaces
Madrid, the second city in the world with the most trees in a line, received the distinction of 'Tree City of the World' for the third consecutive year. In Madrid, you will find parks with a lot of history, others of recent creation, and gardens with a lot of charm.
Whether looking for historical parks worth visiting for their monuments, gardens to have a picnic, parks to go with kids, places to watch beautiful sunsets, or green areas in Madrid, you will find more than five hundred choices. 
It has many parks and green areas where you can relax and enjoy nature. The Retiro Park is one of the most popular, with its lake, gardens, and famous Fallen Angel monument. But many other outstanding parks exist, such as Casa de Campo, Juan Carlos I Park, Parque del Oeste, and El Capricho Park. 
London also offers some pretty green spaces such as Hyde Park and St. James Park, but let's just say that Madrid won over this category.
10. People are very similar in London and Madrid 
People in Madrid tend to be less conservative and more global-minded than those living in more rural areas. London and Madrid, in this sense, are very similar. 
People living in Madrid and London usually have a liberal outlook, are very educated, and are more culturally understanding than in other cities.
It is true the fact that people in Madrid and London tend to see themselves as having slightly more "higher status" than others in less urban environments. Still, you will find that people are open and friendly once you gte to know them.
11. Major events and festivals take place in London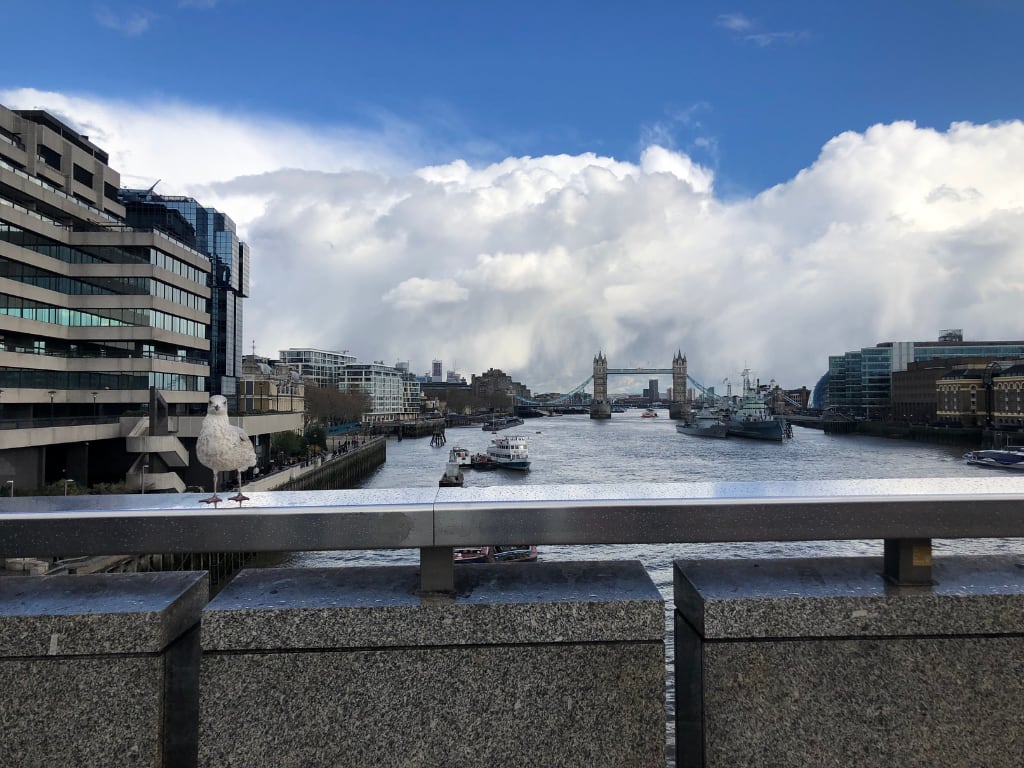 London hosts various events and festivals throughout the year, from sporting events like Wimbledon and the London Marathon to music festivals like the British Summer Time Festival and the Notting Hill Carnival.
Just like Madrid wins the park category, London is better at hostings events. Still, plenty of festivals and traditional parties take place in Madrid. For example, in summer you can enjoy the Mad Cool Festival. Throughout the year, there are plenty of business events such as the Fair of Fruits and FITUR (International Tourism Fair).
More on Madrid festivals:
12. You will find incredible gastronomy in Madrid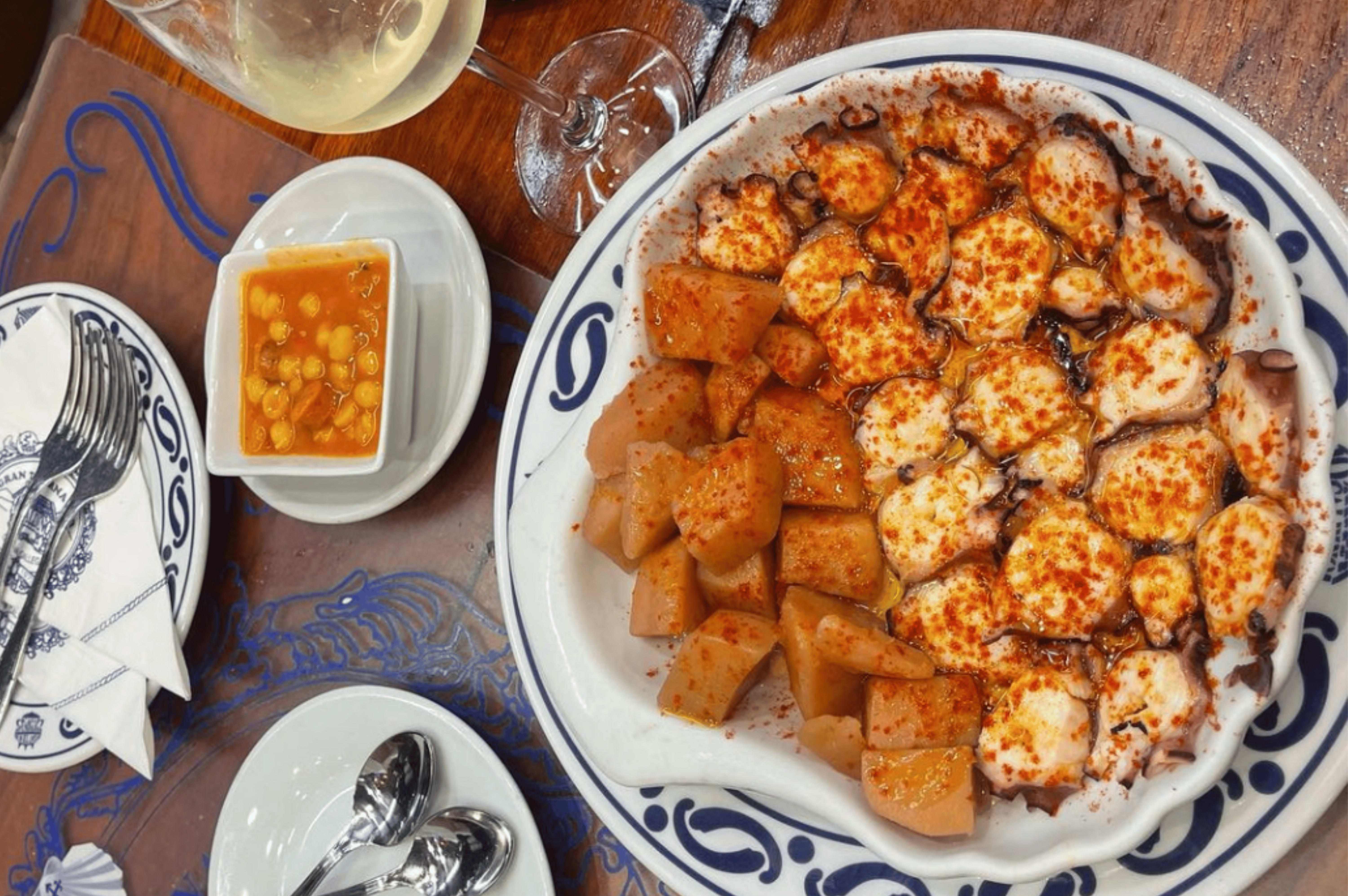 Local dishes at restaurants can be tried in both London and Madrid. London has several restaurants where you can try national dishes. However, the food here was once the source of several jokes. 
In exchange, Madrid is always at the top of any foodie's travel list. The city has traditional dishes from all over the country—a mix of flavors that come from all over Spain. 
It won't be difficult to taste the best bean stew from Asturias, delicious sucking pig from Segovia, tasty calçots from Catalonia, or the best Galician-style octopus. It is also a perfect opportunity to try the traditional Valencian paella and Spanish omelet.

Read more about where and what to eat in Spain, and the best restaurants in Madrid!
---
So, did you make up your mind? I hope this list of pros and cons between London and Madrid helped you make your next travel decision.
You should visit both cities if you have enough time (and budget!). If you think the article is missing another pro or con for Madrid or London, comment to us! We love reading what you have to say (: