11 Top Festivals in Madrid: Tickets & Tour Dates
February 23, 2023
Updated:

March 29, 2023
Published: February 23, 2023
Just a heads up! In this article, we talk about all types of festivals. If you thought this was only about music, let me tell you that we are one step ahead and include the coolest festivals in Madrid from different categories.
Be it music, traditional, cultural, or gastronomic, there will always be an outdoorsy activity to enjoy in Madrid.
The great thing about all these festivals in Madrid is that you will experience the multicultural vibe of the city. Imagine taking a sabbatical or becoming a digital nomad in Madrid for one year; can you imagine the amount of stuff you could experience?
All the festivals below are just one more activity to add to your to-do list in Madrid!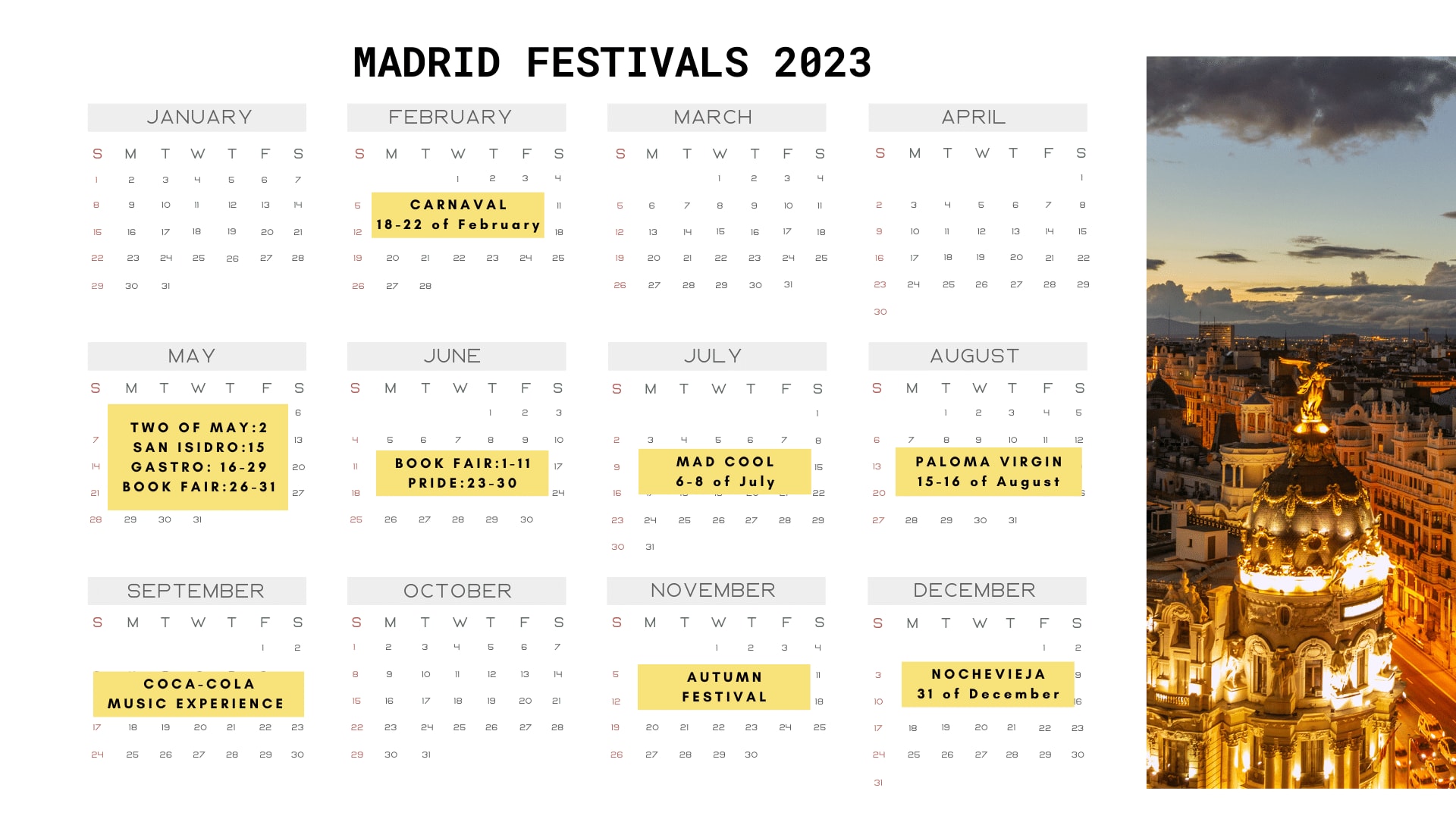 1. MADCOOL
🗓️ Month: July
🎊Category: Music 
💸 Prices: 80€- 190€
Mad Cool is one of my favorite festivals in Madrid. It's a music festival with many genres, such as rock, indie, electronic, pop, art, fashion, gastronomy, and tourism are all reunited in this festival. 
The festival was born in 2015 to make different artistic expressions coexist in the same space, strengthening the tourist muscle of Madrid.
The first time the festival took place was in 2016; it was so popular that in 2018 they had to move the festival to a bigger space. Due to the success of the second edition and sold out tickets for 55.000 spectators months before the celebration of the festival. 
As a result, they decided to move the festival to a new place (the extension of IFEMA) located in the neighborhood of Timon with a capacity for 80.000 spectators. Since then, it has been celebrated yearly, except in the edition 2020 suspended due to the COVID-19 pandemic. 
Every year the festival is celebrated in July, two weekends after the Madrid Pride. 
This year it's observed from the 6th to the 8th of July. The event lasts four days and attracts 60.000 people each day. Some of the big names that have been part of this festival have been The Who, Pearl Jam, Garbage, Foo Fighters, Vampire Weekend, and Lauryn Hill have played here,
This is an excellent opportunity to go to a music festival where you will find many of your favorite artists.
Get tickets here! → MadCool Festival 2023
2. SAN ISIDRO
🗓️Month: May
🎊Category: Tradition
💸Prices: 0
One of Madrid's most popular festivities is the San Isidro festive. It's a patron saint festival in honor of Isidro Labrador, the patron of Madrid. This celebration includes pilgrimages, festivals, attractions, and various traditional shows.
 It's held every year around May 15. 
It consists of the relationship between water and the saint. The epicenter of the pilgrimage takes place in the Pradera de San Isidro, continuing the tradition all over Madrid. It is very common for the chulapos and chulapas to drink the "water of the saint" that springs the Ermita de San Isidro. 
This tradition is mixed with eating donuts and lemonade in the meadows of San Isidro (immortalized by Goya in his paintings).
In 1619, the inauguration of the Plaza Mayor was documented on the occasion of the celebration of these festivals. In 2021, the Community of Madrid declared the festival as an Asset of Cultural Interest (BIC) in the category of cultural fact.
The promenade leading to the hermitage is filled with stalls with many different gastronomic elements of Madrid's cuisine, such as fried redfish and entresijos, squid sandwiches, various pickles, banderillas, and olives.
San Isidro is an authentic tradition in Madrid that you should take advantage of if you come to Madrid on those dates. 
3. PRIDE WEEK 
🗓️Month: June
🎊Category: Culture
💸Prices: 0
Pride Week is an annual celebration of the LGTBQIA+ community with live entertainment, parades, games, food, and fun. Madrid is one of the best LGTBIQA+ destinations in the world. It's so popular that it attracts around 2 million people. You will see a wide program of protest, cultural and recreational activities.
It takes place in the Chueca neighborhood in late June, as June 28 is International Pride Day, commemorating the StoneWall riots that mark a before and after as it was the beginning of the LGTB collective's demands. The festival lasts for a week, as the name indicates. It's one of the biggest Pride festivals in Europe.
The most important day during the pride week it's on the afternoon of the first Saturday of July with the excellent state demonstration (from Atocha to Plaza de Colón). It is such a big and popular event that it has even hosted the International World Pride. 
The Madrid Pride Week is considered one of the best in the world; you can join the party easily and have a great time.
4. COCA-COLA MUSIC EXPERIENCE   
🗓️Month: September
🎊Category: Music
💸Prices: 30€- 50€
As the name indicates, the festival aims to be a total experience so that whoever buys a ticket will return with several fun memories to share. 
Let's know everything about this festival.
The Coca-Cola Music experience is a very cool festival, I've been going in the past years, and I love it! It started in Madrid in 2011, and since then, it has been non-stoppable. It's usually celebrated the first week of September. 
Over 30 artists from different genres, such as pop, rock, reggaeton, and electronic music, perform yearly. Some singers were: Sebastián Yatra, Nicki Nicole, Manuel Turizo, Tini, Ana Mena, Rocco Hunt.
As soon as you enter, artificial turf is all over the enclosure, so you can sit or lie down while watching your favorite singers sing. You can do many activities here; you can use the Ferris wheel, bumper cars, a pool of bags and trampolines, a booth dedicated to make-up, and airbrush tattoos to decorate any part of your body. 
I can assure you that you will not get bored if you come because you have many things to do!
If you could not go to the concert, last year in the 2022 edition, through Coca-Cola's official YouTube channel, they were doing a live show where you could view the concerts. More than 280.000 people watched it, but I recommend you go to the festival because you will have an incredible experience first hand. 
Get tickets here! → Coca-Cola Music Experience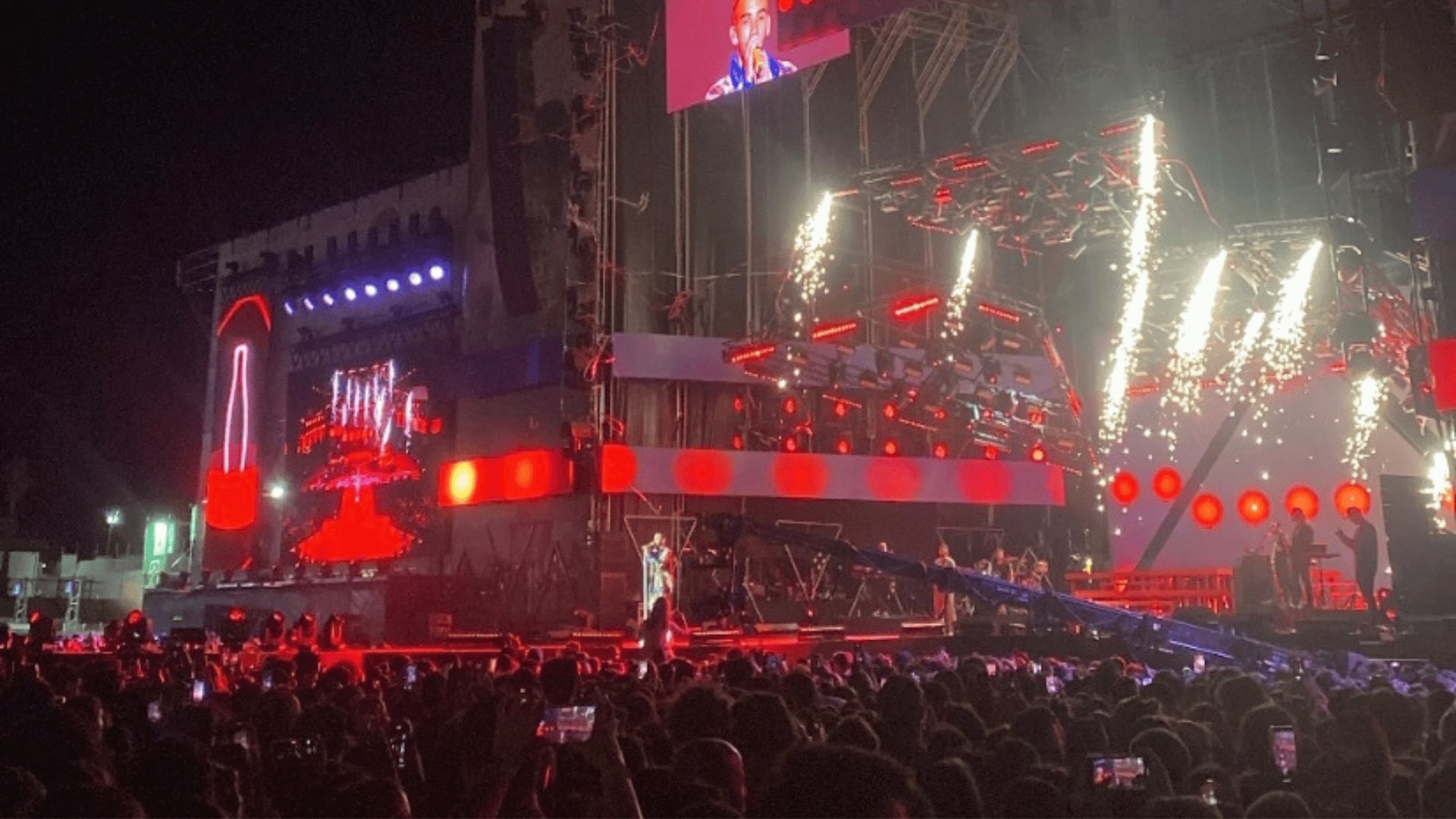 5. TWO OF MAY    
🗓️Month: May 2
🎊Category: Culture
💸Prices: 0
Two of May is a celebration of Madrid's uprising against French occupation. It's an exceptional date for the Community of Madrid.
This day is a regional holiday filled with festivals, block parties, and events commemorating the moment when Spain gained independence from France. 
It is similar to the Mexican Cinco de Mayo or the American Independence Day. But in this case, it commemorates May 2, 1808, when the people of Madrid rose against Napoleon's oppressors.
Nowadays, the celebration includes a floral offering to the heroes of May 2, 1808, in the Florida cemetery and a parade in Puerta del Sol with the laying of a wreath to the plaques of gratitude to those who fought on May 2, 1808. They also offer this day to the citizens who helped the victims of the attacks of March 11, 2004.
The celebrations usually occur in the Plaza del Dos de Mayo, Malasaña. Everyone has a great time as the City Council, associations, bars, and stores in Malasaña and other areas organize many activities to celebrate it.
6. PALOMA VIRGIN    
🗓️Month: August
🎊Category: Religious 
💸Prices: 0
La Virgen de La Paloma is a lively event held to commemorate the day on which, it is said, an apparition of the Virgin Mary took place. 
It's a curious mix between a religious festival and a block party.
The Paloma virgin is traditionally considered the "popular patron saint of the Madrilenians." She is also the patron saint of the firefighters of Madrid. The image of the Virgin is a canvas instead of the traditional carving. The painting is in the center of an altarpiece in the Virgen de la Paloma parish church and San Pedro el Real.
This event takes place in one of the oldest areas of Madrid, in La Latina. This is not only a religious tradition, such as the procession of the Virgin, but there are also contests and music of all kinds on open-air stages, and you can do a tapas tour. People are dressed in the traditional costume of chulapa and dance the chotis. 
If you want to be part of this festival, attend on August 15 in the La Latina neighborhood. Especially after sunset, people go out to have fun, drink in the bars set up outdoors and see the streets decorated with lights and garlands.
7. AUTUMN FESTIVAL
🗓️Month: November
🎊Category: Arts
💸Prices: 9€ - 25€
The best arts festival in the Community of Madrid is the Autumn Festival. It's also one of the leading music festivals in the country. 
For three weeks, you can see live performances and attend prestigious shows by top names, all in the main theaters and venues of the city.
This festival includes some of the most famous national and international artists, last year there were 40 shows, 20 were international, and the rest were with national promises. Big names such as Robert Lepage, Wadji Mouawad, Gabriel Calderón, Tiago Rodrigues, Christiane Jatahy…It takes place in different venues throughout the center of Madrid. 
The autumn festival's wide-ranging program includes various disciplines such as theater, dance, circus, object, and puppet theater. In addition, performances from different countries are distributed around Madrid.
This is an excellent opportunity to live a great experience which I highly recommend you go to. You have a lot of time to go as it lasts three weeks!
Get tickets here! → Madrid's Autumn Festival
8. CARNAVAL
🗓️Month: February
🎊Category: Tradition
💸Prices: 0
Carnival is one of the biggest parties in the country; they celebrate it every year in many different regions of Spain, especially in Madrid.
The Madrid Carnival is a fun festival that offers extravagant costumes, dancing, parades, masked balls, and live entertainment. 
Of course, this celebration is quieter here than in other places, so it is also a great festival to go to with your family. Its program includes activities explicitly designed for kings. 
As in the rest of the world, Madrid's festival occurs in February. You can't miss going to the Masked Ball at the Círculo de Bellas Artes, the Grand Parade, and the ceremony of the manteo del pelele. The festival's epicenter changes every year. However, Matadero is the most popular place to celebrate it in Madrid, where a huge selection of DJs and bands play. 
There are street performances. The city of Madrid is filled with parades, during these days, filled with color and fun. It ends with the symbolic burial of the sardine, which ends the festivities. 
Carnaval in Madrid is very popular, and you should go to one of the parades in the city; take advantage of this opportunity!
9. NOCHEVIEJA 
🗓️Month: December
🎊Category: Tradition
💸Prices: 0
The New Year's Eve party in Madrid attracts thousands of people; it's a trendy festival, and people worldwide come to Madrid to live this incredible experience. 
Nochevieja in Madrid is famous for the chimes, live entertainment, and the 12 grapes. As you may already know, eating the grapes occurs in a televised event that the rest of the country follows from their houses. 
If you want to leave the complete experience, you can enjoy it live if you go to Puerta de Sol on December 31. You have to go with enough time because thousands of people congregate to eat them; there is a capacity of 8.000 people. 
Every December 31, the Puerta de Sol is crowded to welcome the new year and eat the lucky grapes to the sound of the twelve chimes that mark the Real Casa de Correos clock.
After eating your 12 grapes, the party breaks out in the city center with dancing, music, and various events. Where people love to go to nightclubs, this day is one of the biggest days to go partying in Madrid and lasts until the wee hours of the morning on New Year's Eve. 
I don't particularly appreciate going out on this day because there are many people, but I also think you should go partying at least once in your life in Nochevieja.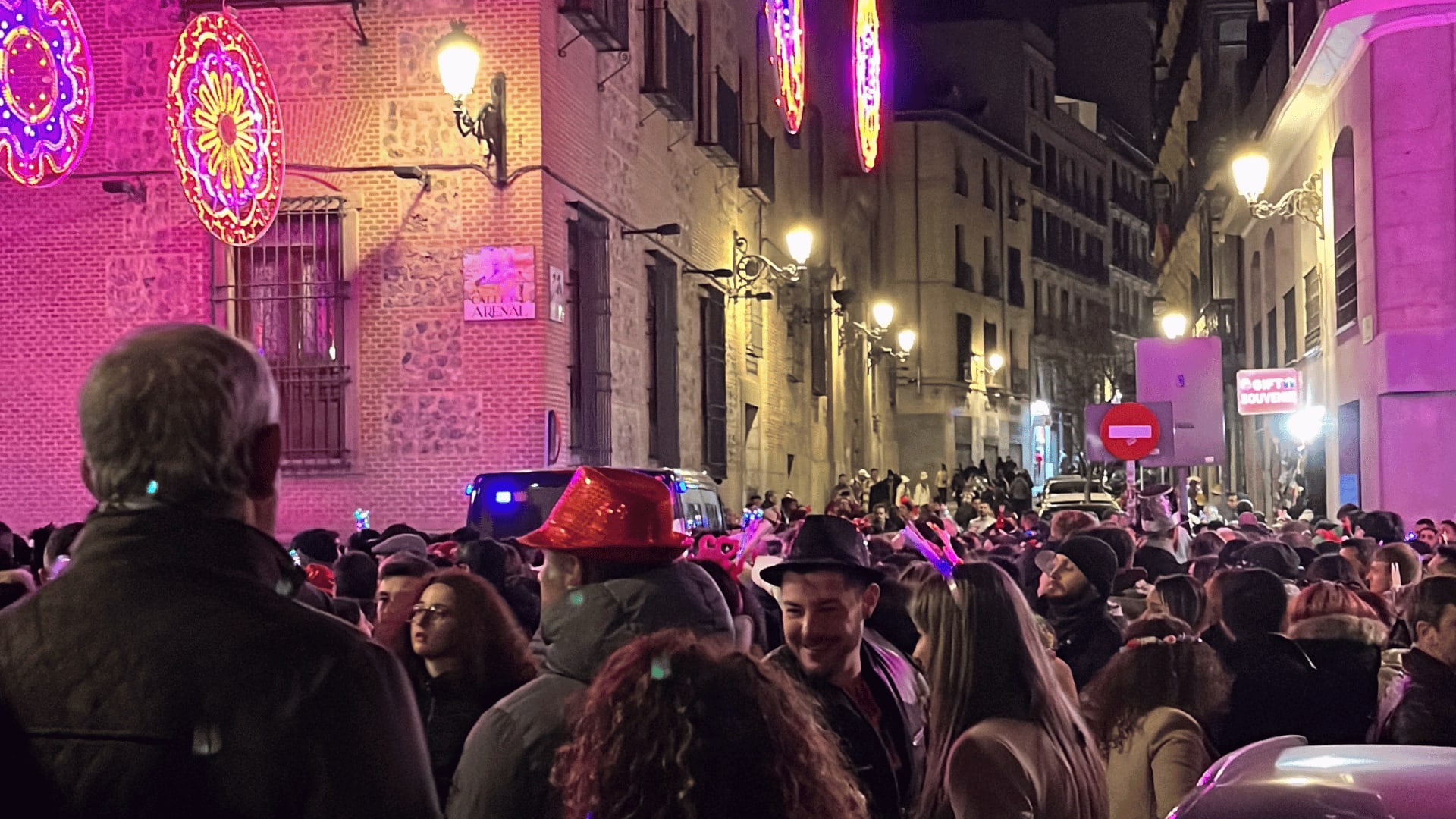 10. BOOK FAIRE
🗓️Month: May/June
🎊Category: Culture
💸Prices: 0
The Madrid Book Fair is a must-go. It celebrates Spanish-language literature worldwide with hundreds of printed books, reproductions of medieval texts, food, and events. 
This is one of the most popular events in the capital; it attracts thousands of people. Since its beginnings in 1933 in Paseo de Recoletos, the Book Fair has continued growing. 
The increasing number of requests for participation from booksellers, publishers, and distributors made it necessary to look for a new location. In 1967 the Fair moved to Retiro Park, where you can find it today.
The purpose of the Fair is to promote books, reading, and the activity of companies, entities, and institutions engaged in the publishing, distributing, or selling of books to the public. Readers get a 10% or a 20% discount on books if they buy at the Fair. 
If you come, you will have the opportunity to talk to authors and publishers. Ask them about their books or talk about whatever you want. 
Something exciting they do every year is to promote Spanish-language literature; they highlight a guest country each year and include their works in the festivities.
It is usually held from the end of May to the beginning of June. The Fair offers books and other activities such as book presentations, literary encounters, storytelling, creative workshops for children, or puppet theater performances for the little ones.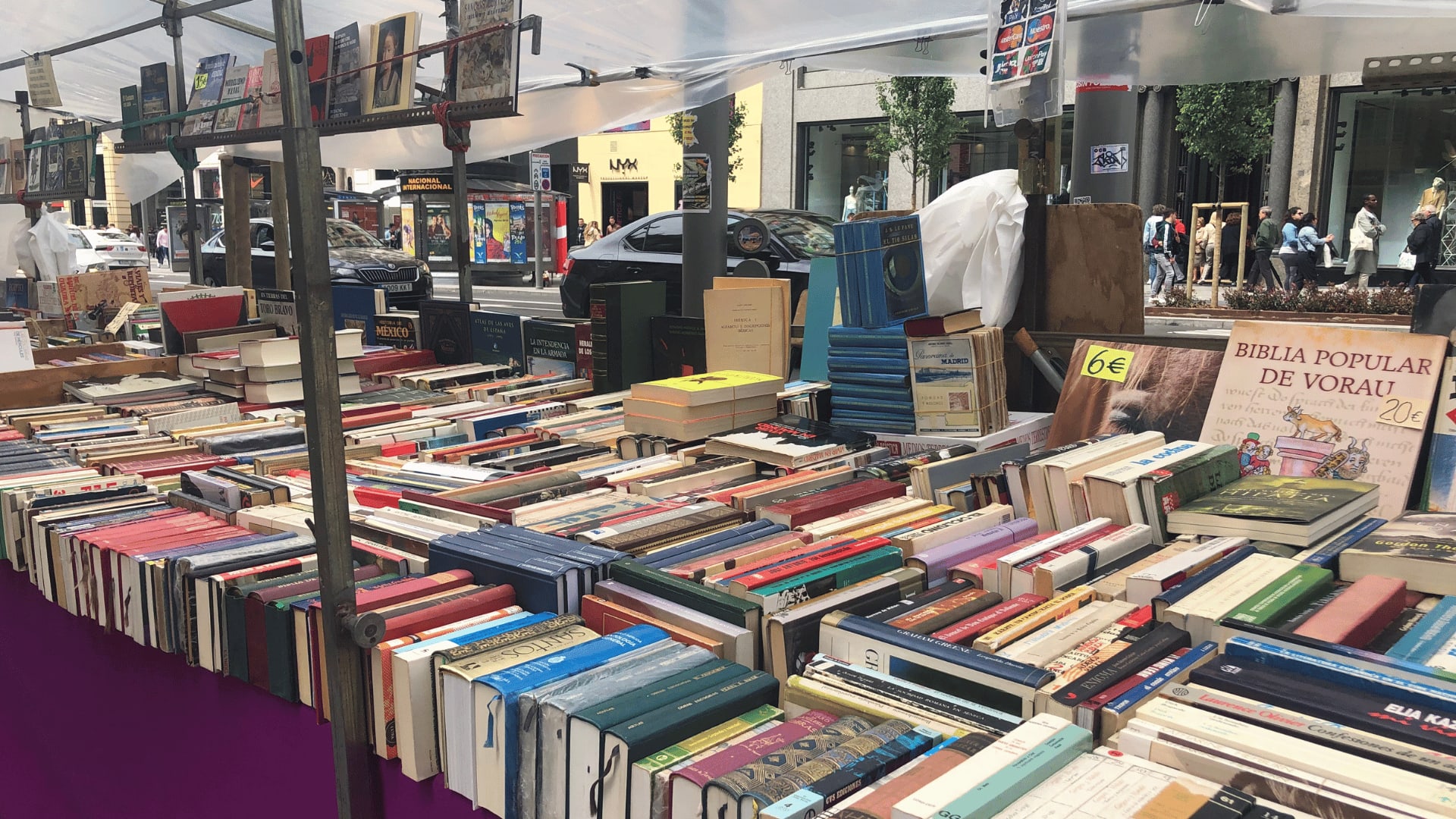 11. GASTRO FESTIVAL
🗓️Month: May
🎊Category: Tradition 
💸Prices: It depends
Gastrofestival it's a perfect festival to attend in Madrid. This event is focused on gastronomic tradition and culture. Enjoying a program that includes everything from cooking classes to literature, design, art or fashion, and even charity events is possible.
There is no exact location where this festival occurs, as it takes place all over the city in restaurants, bars, museums, and cultural spaces. They participate in more than 450 institutions over 16 days, and more than 550 different activities are held during May.
The Gastrofestival includes events such as Gastrocultura, Gastrofashion, Madrid Gastronómico, Gastrosalud, Gastrofestival Solidario, Enocultura, or Experiencias Sensoriales. This is a great option to go with your family or friends.
From restaurants, bars, and gastronomic establishments to museums, cultural centers and leisure spaces, stores, hotels, bakeries, bookstores, cinemas, and theaters.
Some of the main activities that will take place during the two weeks are special menus, workshops, culinary routes, guided tours, samplings, food and wine, and conferences. Some things are free, so what are you waiting for?!!
Get tickets here! → Gastro Festival Madrid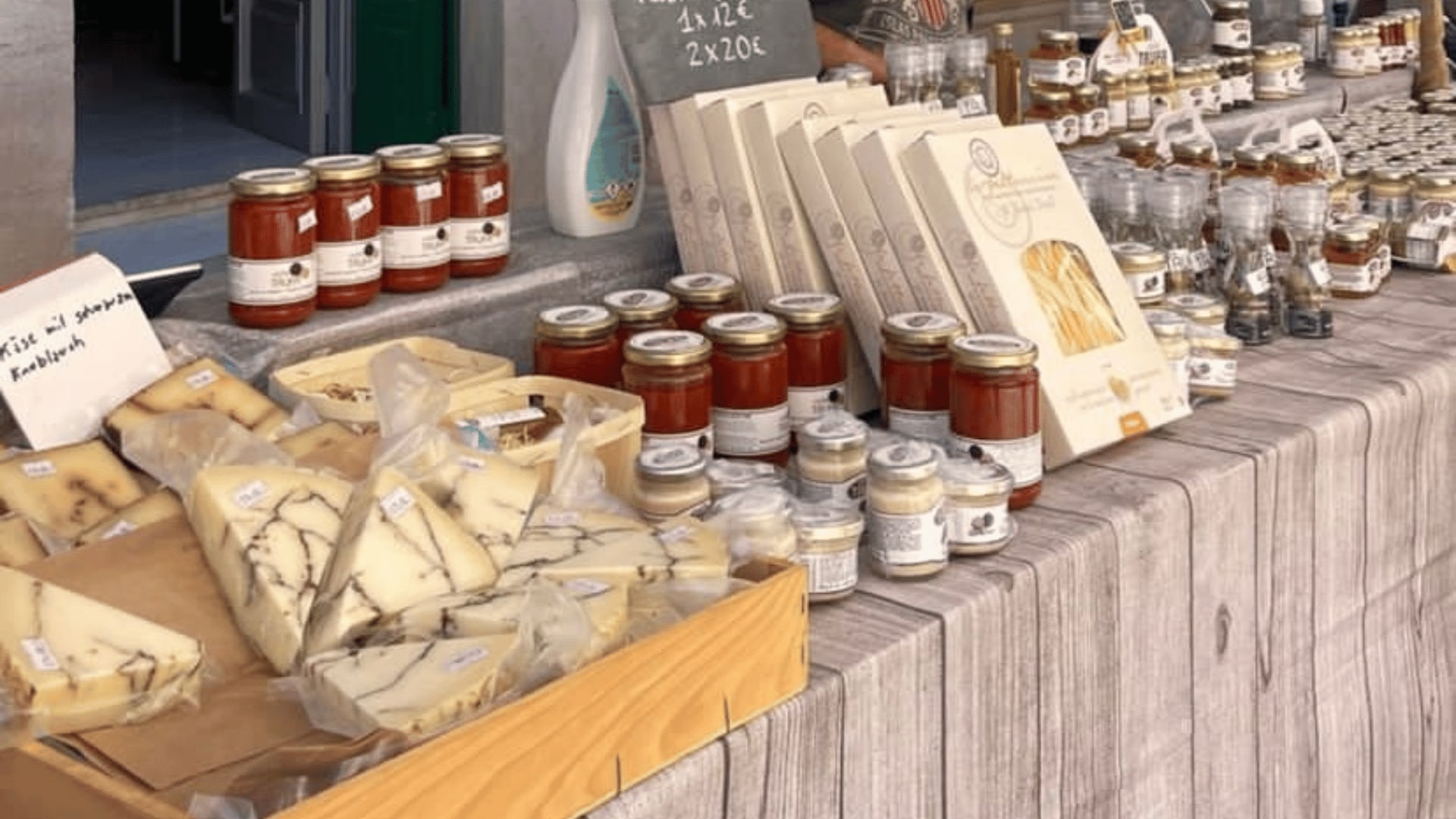 ---
Did you decide on one? MadCool is usually everyone's favorite, but I got to say that the "Fiesta de la Paloma" festival in La Latina is also a fantastic way to immerse yourself in the madrileño culture. 
Last year I accidentally ran into the festival and loved to see the community of La Latina (and a bunch of internationals) partying, singing, and having some drinks in the streets. 
If you want to share your experience about one of these festivals, we would love to read you!