The 3 Best Itineraries in Madrid: Let's Plan Your Trip!
September 21, 2023
Updated:

September 25, 2023
Published: September 21, 2023
Madrid is one of those cities you just fall in love with. But it surely can be a bit overwhelming for many travelers, especially those visiting for the first time.
With consistently pleasant weather, vibrant streets, incredible nightlife, endless attractions, world-class museums, beautiful architecture, gastronomic experiences, and warm hospitality, Madrid is more than unique.
So, let me introduce you to the itinerary that will guide you through your days in this city. I believe 4 days is just the perfect amount of time that I recommend anyone to spend here.
If you have more time than this, I encourage you to explore other charming destinations in the south or travel to Spain's second-largest city, Barcelona, which is amazing!
Find out more: Top 3 Itineraries in Barcelona: Let's Plan your Trip!
And, as the saying goes, "De Madrid al cielo," let yourself climb to heaven with this guide that will help you fully embrace the experience.
---
Day 1 - Madrid de los Austrias
10:00 am
Your adventure in Madrid will begin at Puerta del Sol, one of the most famous squares in Madrid, home to some of the most important buildings!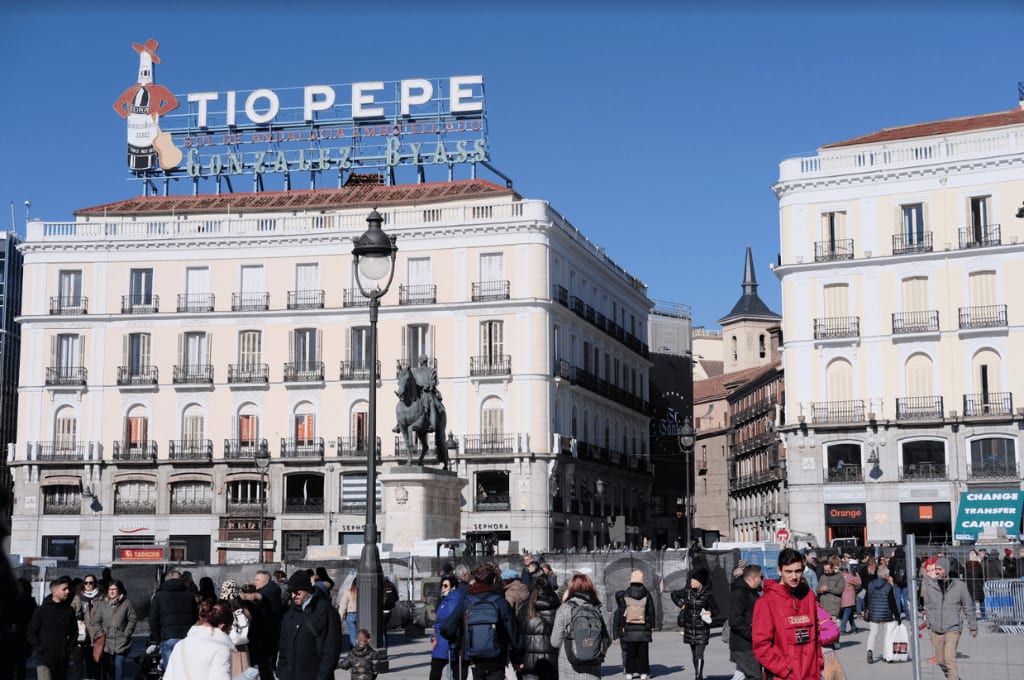 I believe this is a strategic place to begin your journey since it's in the city's heart.
Among them is the Real Casa de Correos, an impressive and ancient structure built in the 18th century, now housing the government's presidency for the Community of Madrid, and the famous "Kilometro Zero" plaque on the sidewalk next to the Post Office. 
Make sure to take a picture with the iconic "El Oso y el Madroño" statue representing the city's coat of arms. Take a photo, continue your walk, and officially declare this day as started!
Do yourself a favor and stop at La Mallorquina pastry shop, founded in 1894, and try the Napolitanas de Chocolate, the Magdalenas, and palmeritas if you haven't eaten anything.
Still, if you wait a little longer, you can eat the most iconic churros in the city that I will mention later.
10:45 am
Now, just a few minutes away is the most iconic Plaza Mayor.
It's a very iconic place to visit if you're coming to Madrid for the first time because, as you might know, the concept of "Plaza Mayor" refers to the main square of some localities in Castilian and Hispanic American urbanism.
At Plaza Mayor, you'll spot the Statue of Felipe III, Casa de la Panadería, and Arco de Cuchilleros. And guess what? This square hosts the famous New Year's celebration, which is unique and (for some) a bit unusual.
📌 Read more: Spain in Winter: Weather, Destinations, Tips & More
Once you're here, you've got options! Wander around the surrounding streets, absorb the vibrant atmosphere, or treat yourself to a classic breakfast of churros con chocolate at Chocolatería San Ginés.
This traditional spot has been an emblem of the city's timeless traditions and a must-try for any visitor.
12:00
The iconic Mercado San Miguel is an attraction for any traveler since the Spanish culture is full of food traditions and customs around cuisine. 
Visited by over 10 million people yearly, this market is a foodie's paradise famous for its gastronomic offer, which blends the concepts of a traditional market with high-end tapas and drinks such as beer and wine. 
It has 33 stalls, and its top-selling offers in this market are cheese, ham, wine, and oysters.
My top picks are the mushroom and ham croquetas from Arzabál Croqueteria cart, the oysters from Daniel Sorlut, and the baos from Boale.
📌 Here's a guide that will help you choose the right dishes: What to Eat in Spain: 31 Tasty & Traditional Dishes
1:00 pm
The Royal Palace of Madrid, also called the Palacio de Oriente, is the largest in Western Europe and one of the largest in the world! 
It was established as the Spanish kings' residence in 1764 with Charles III. Today, it is used exclusively for receptions, ceremonies, and official acts, since the kings of Spain reside in the Palacio de la Zarzuela.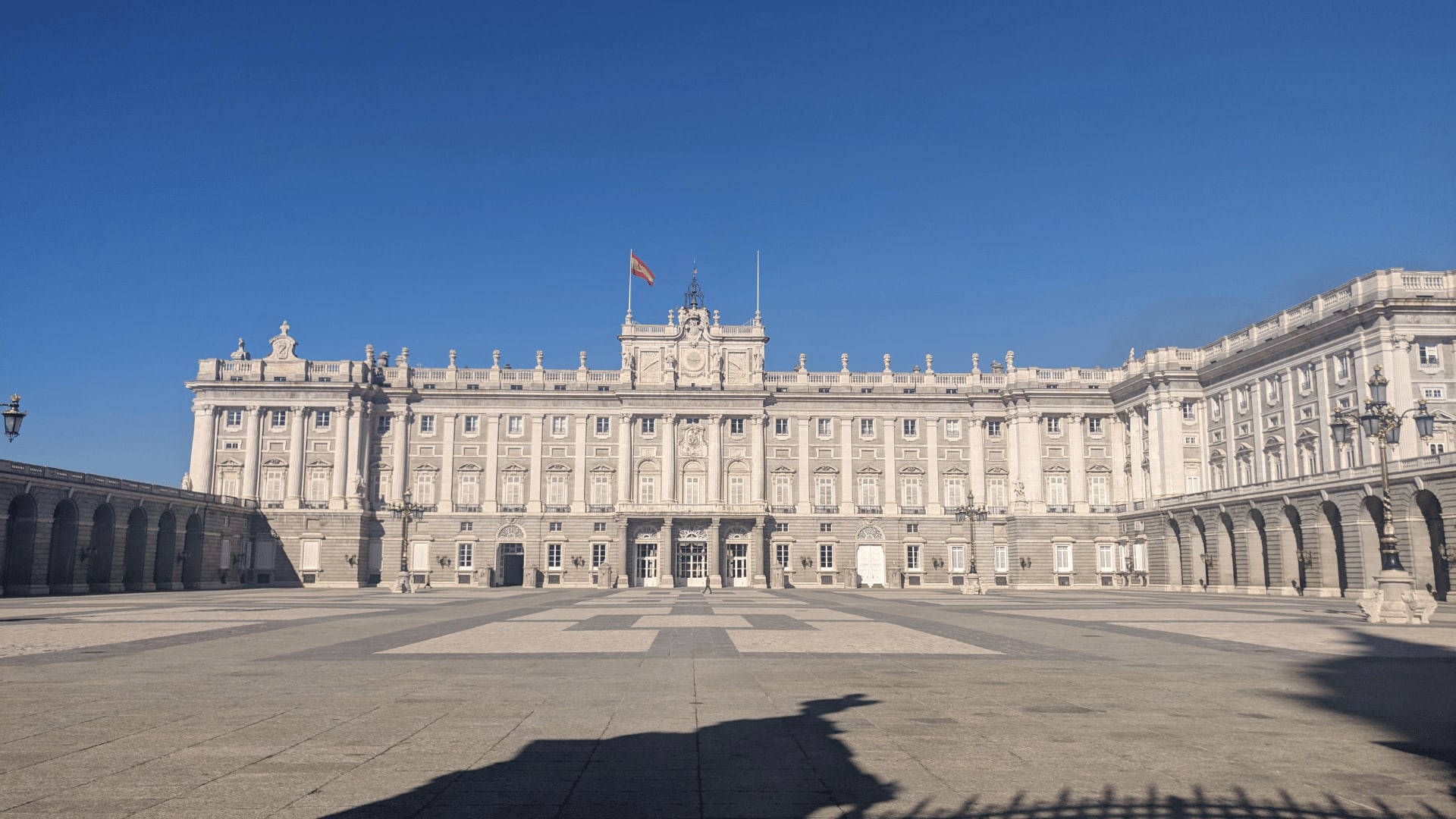 Learn more about it: 18 Best Landmarks in Madrid Worth Visiting in 2023
It is free from Monday to Thursday, from 5 to 7 pm (from 4 to 6 in winter) if you are a citizen of the European Union, resident, or holder of a work permit.
3:30 pm
Plaza de España is one of the most beautiful squares to sit down before hitting the streets of Madrid, as it has a privileged location next to Gran Via and other important roads. So it's a fantastic starting point to get to know the surroundings!
It is an ample garden space in Madrid, where you can see a monumental fountain dedicated to Miguel de Cervantes. Depending on whether you go during the day or at night, you can enjoy two different settings.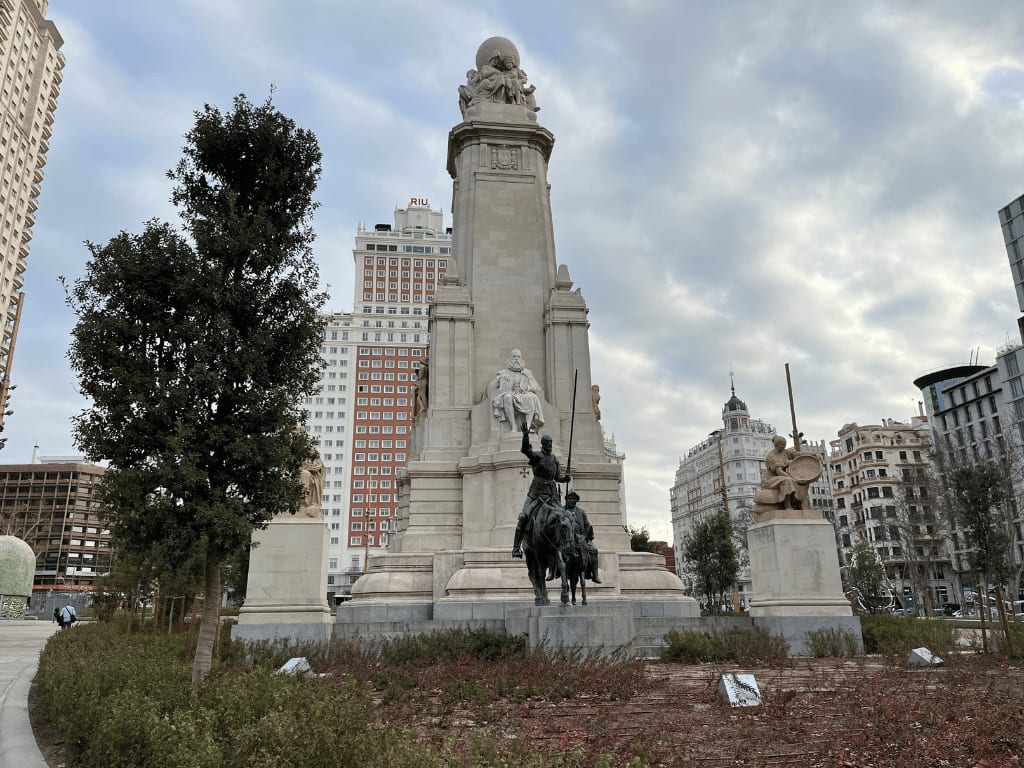 It is integrated with the Royal Palace or the Temple of Debod (ideal for visiting at sunset, which I'll mention later)
At Christmas, it gains color, lights, markets, and activities of all kinds. In front of the square is the "Edificio España," one of the largest towers in the center of Madrid, where you can visit impressive views from the top of the Hotel Riu.
Also, just below, you have the largest Zara in the world! Perfect for shopping.
4:00
Madrid's Gran Vía begins on Calle Alcalá, very close to the fountain of the goddess Cibeles (which we all know from the Real Madrid celebrations), and ends at Plaza de España.
But we'll do it the other way around. Starting in Plaza de España, ending in Cibeles.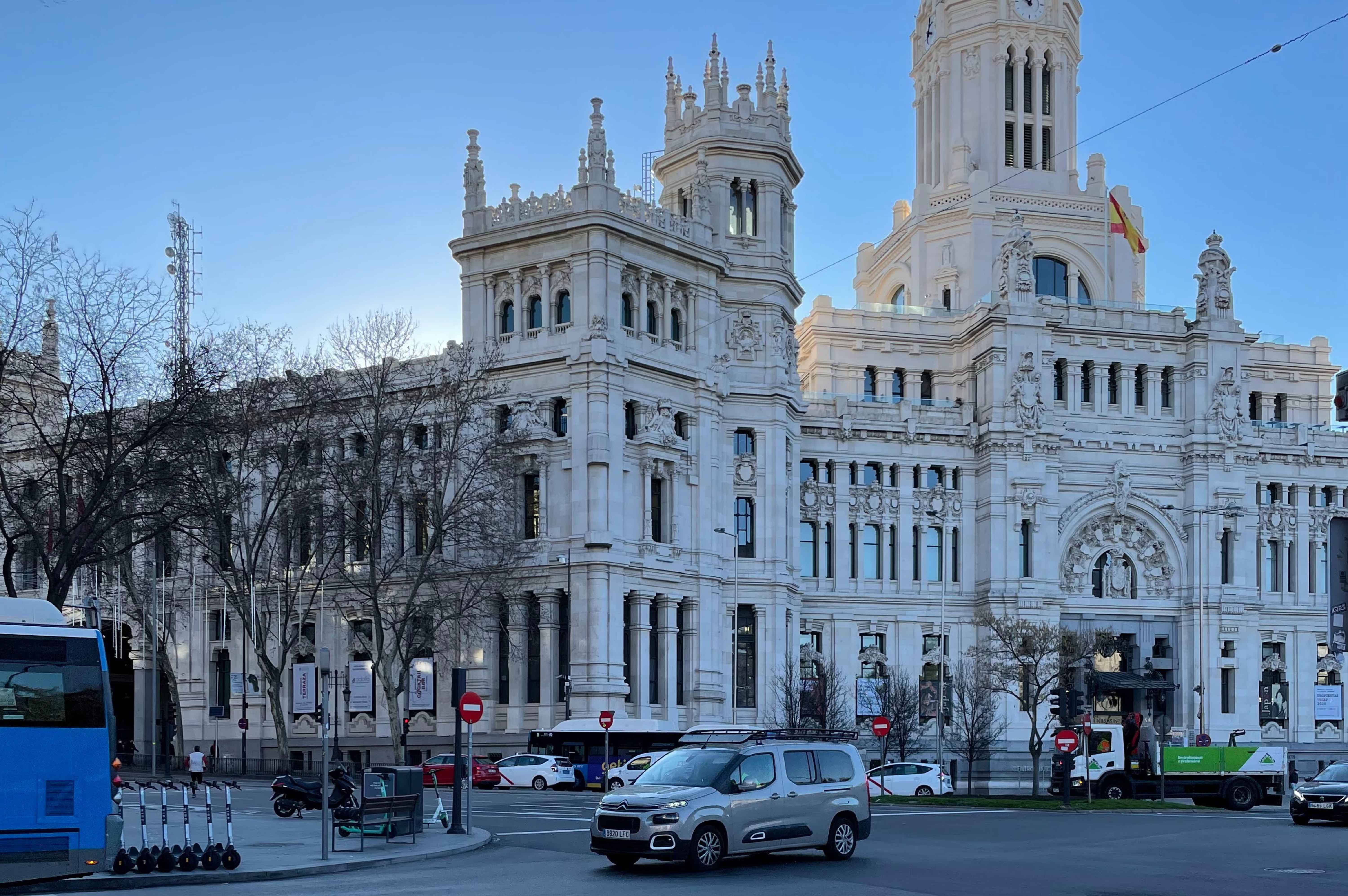 Gran Vía is one of the city's most important streets. It has monumental architecture, a shopping area, and it's in the city's tourist center.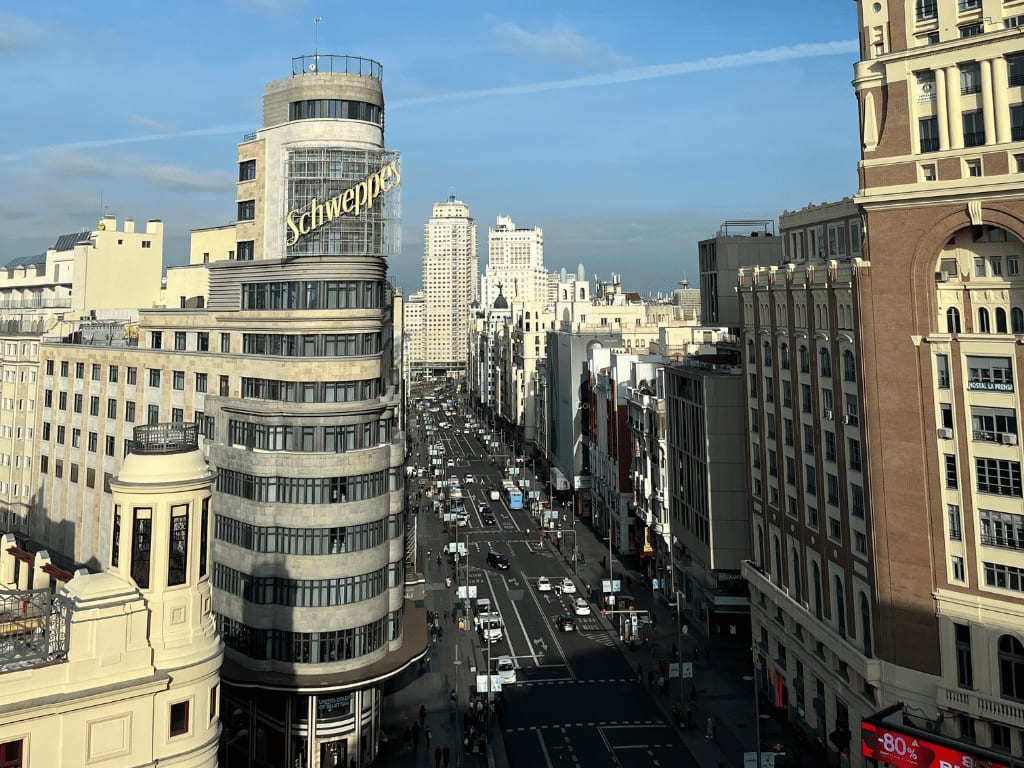 You can see the famous Metropolis building, the Sweepes Building, the Telefónic Building, and the Grassy Building with the iconic Rolex advertisement, among other important streets that are full of life and activities of all kinds (theatres, cinemas, entertainment venues, entertainment, nightclubs, bars, food, everything!)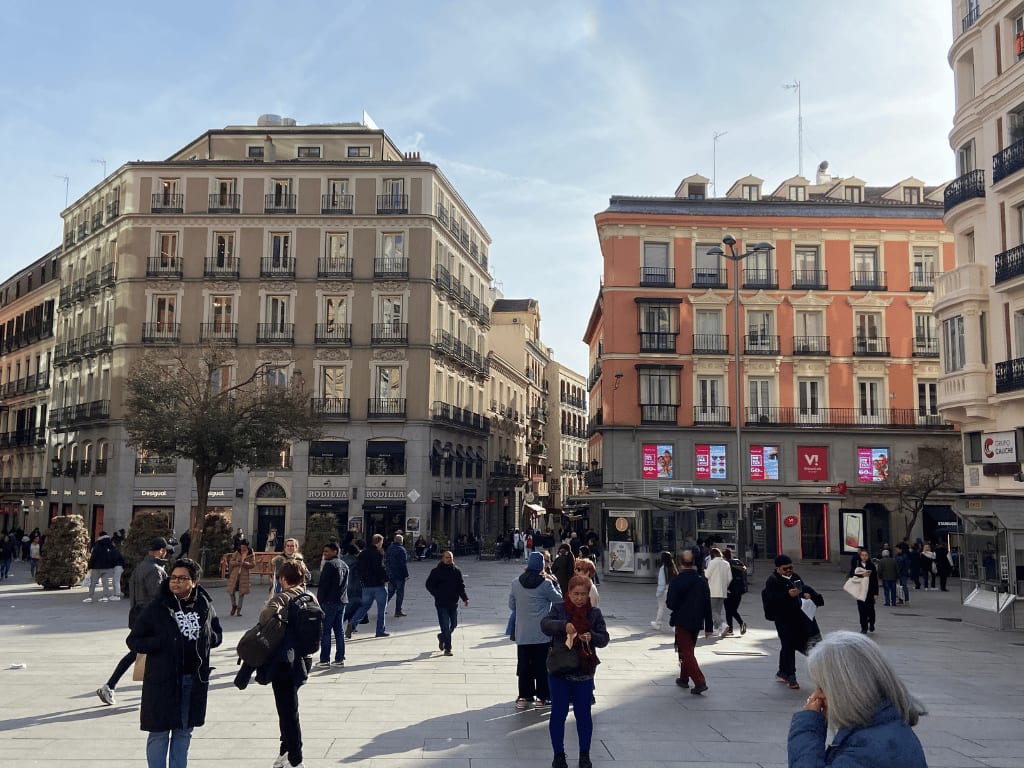 If you continue walking along the Gran Vía, you will run into the famous Plaza de Callao, always full of people, shops in the surroundings, and the pedestrian streets towards Puerta del Sol.
Don't know where to eat? The 21 Best Restaurants in Madrid: A Food Lover's Guide!
Then, you should finish your day strong by enjoying great drinks and tapas, that may be even end up with a night out
Have fun in Madrid! 17 Best Places in Madrid for a fun Night Out
Day 2 - Immerse in the Neighborhoods
One of the best ways to get to know a city is by wandering and getting lost in its neighborhoods. I suggest you spend day two immersing in the culture, strolling little streets, getting into cute stores, and taking time to understand our culture by experiencing its different areas. 
Malasaña is the most modern and bohemian neighborhood in Madrid. Here's where you'll find the absolute best specialty coffee shops, vintage stores, crazy bars, iconic restaurants with cool concepts, and more! I really recommend HanSo café for brunch.
Read more: 9 Best Specialty Coffee Shops in Madrid (and Brunch!)
Then, go to Chueca, an alternative area for those who like lively and colorful streets, a great atmosphere at all hours, and diversity. 
This neighborhood was born next to Gran Vía and is home to cool places like the Museum of Romanticism, the Museum of History of Madrid, and the best bars, often compared to SOHO in New York.
Nearby you'll find Justicia, a small neighborhood where you can have an amazing bar experience. I really recommend Macera Taller Bar for international atmosphere.
Then you'll walk to Lavapiés, which is undoubtedly one of the most multicultural areas of Madrid. You will find yourself surrounded by many people of different nationalities, international food, and narrow streets. Go to Antón Martín Market to find local products!
Lastly, we have the famous area of La Latina. This is a very active neighborhood with lively streets, and if you want to experience it like a Madrilenian, start your day with this neighborhood and spend a Sunday morning at the Rastro, the capital's street market par excellence!
Day 3 - Day Trip to a nearby town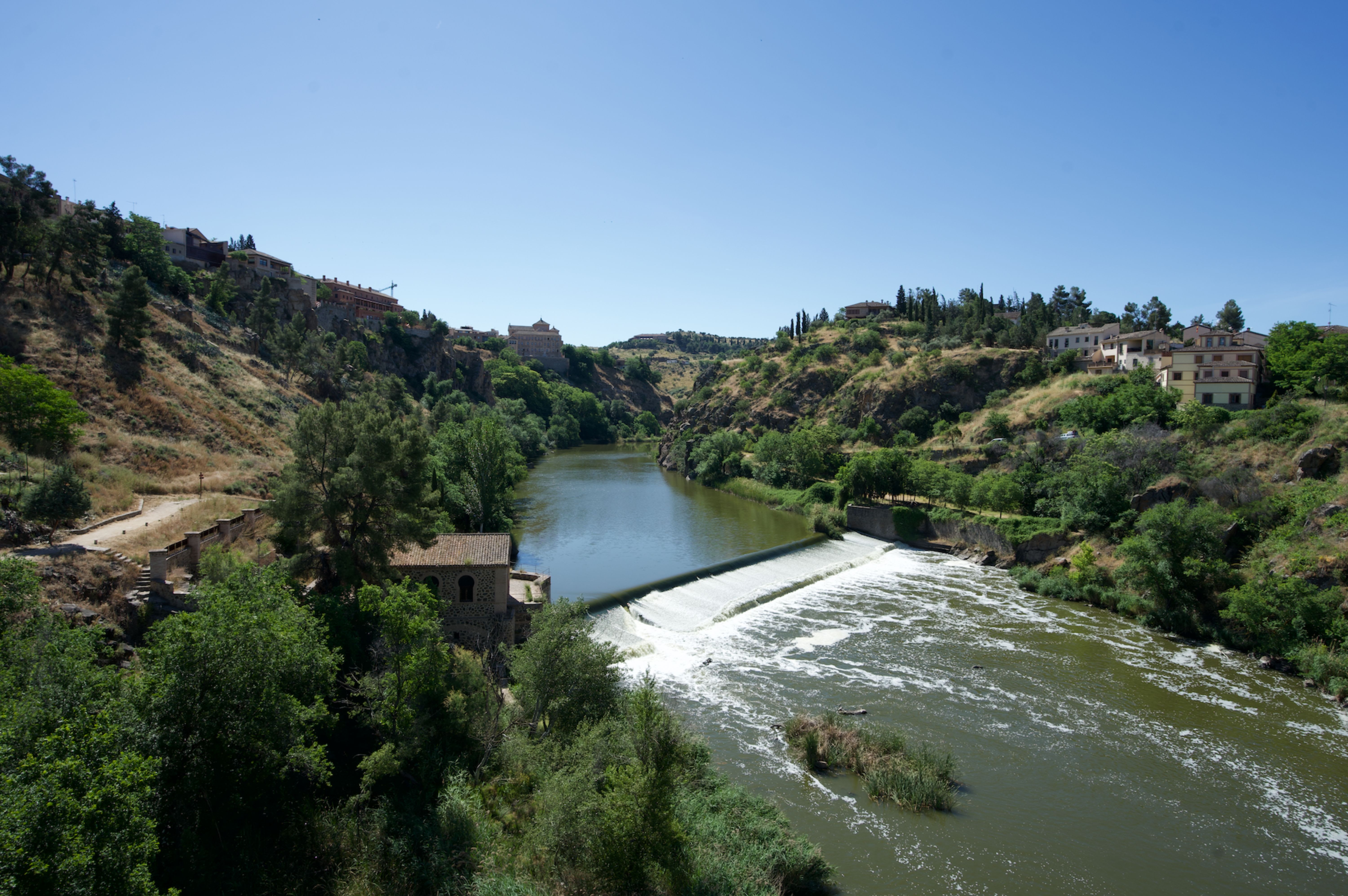 Madrid offers easy access to nearby towns since it is located in the heart of the country, many of which are just half an hour to an hour away. You can explore these cities in a day or less without hassle.
Some of the most typical places are Segovia, Toledo, and Salamanca. Find out more: 11 Most Beautiful Towns Near Madrid worth Visiting!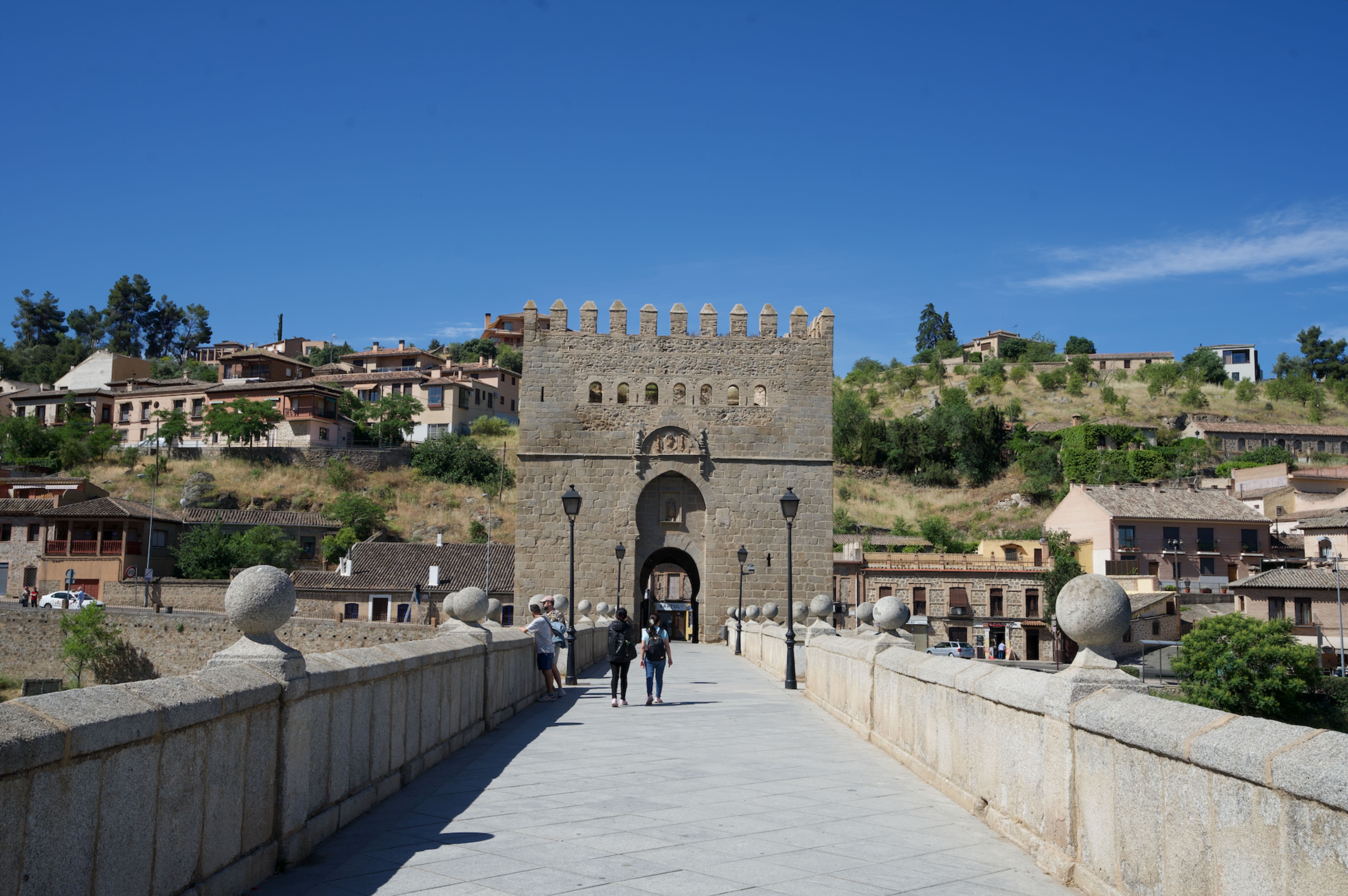 The choice is yours, but if I were you, I would opt for Toledo due to the charm of its medieval town. It's incredibly worth it, drowned in history, and has a lot of outstanding cuisine.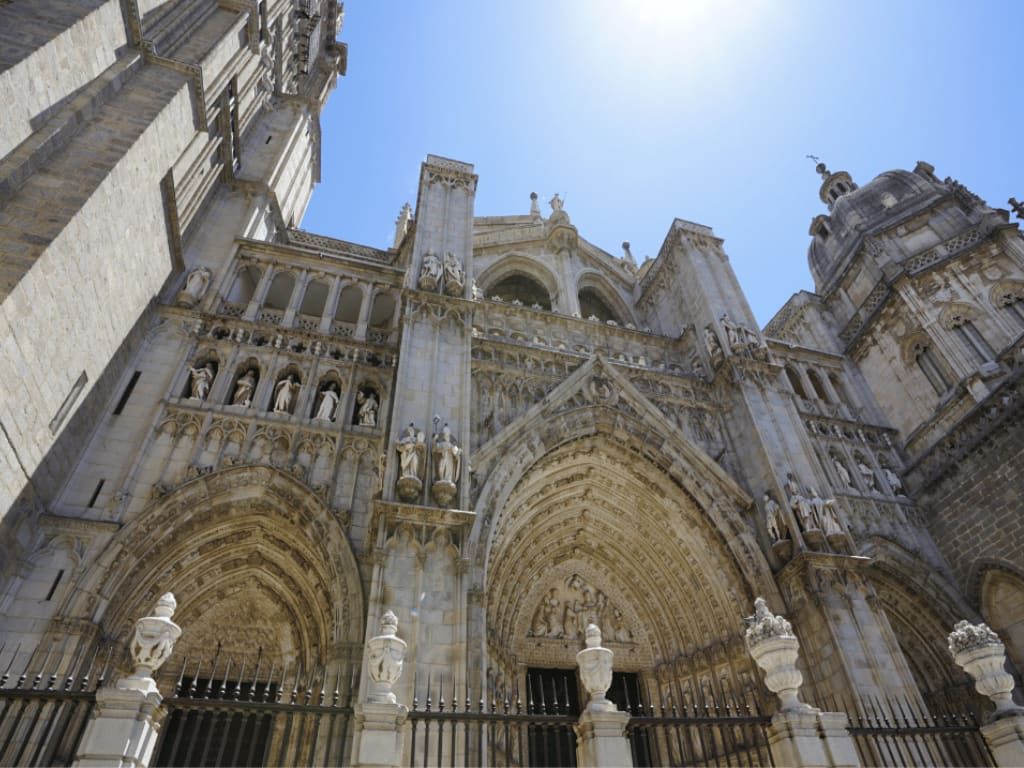 If that's your case, the main attractions you must visit are: the Toledo Cathedral, El Greco Museum, the Royal Alcázar of Toledo, Puente de Alcánta, Plaza de Zocodover, Monasterio San Juan de Los Reyes, and stroll through the Jewish Neighborhoods.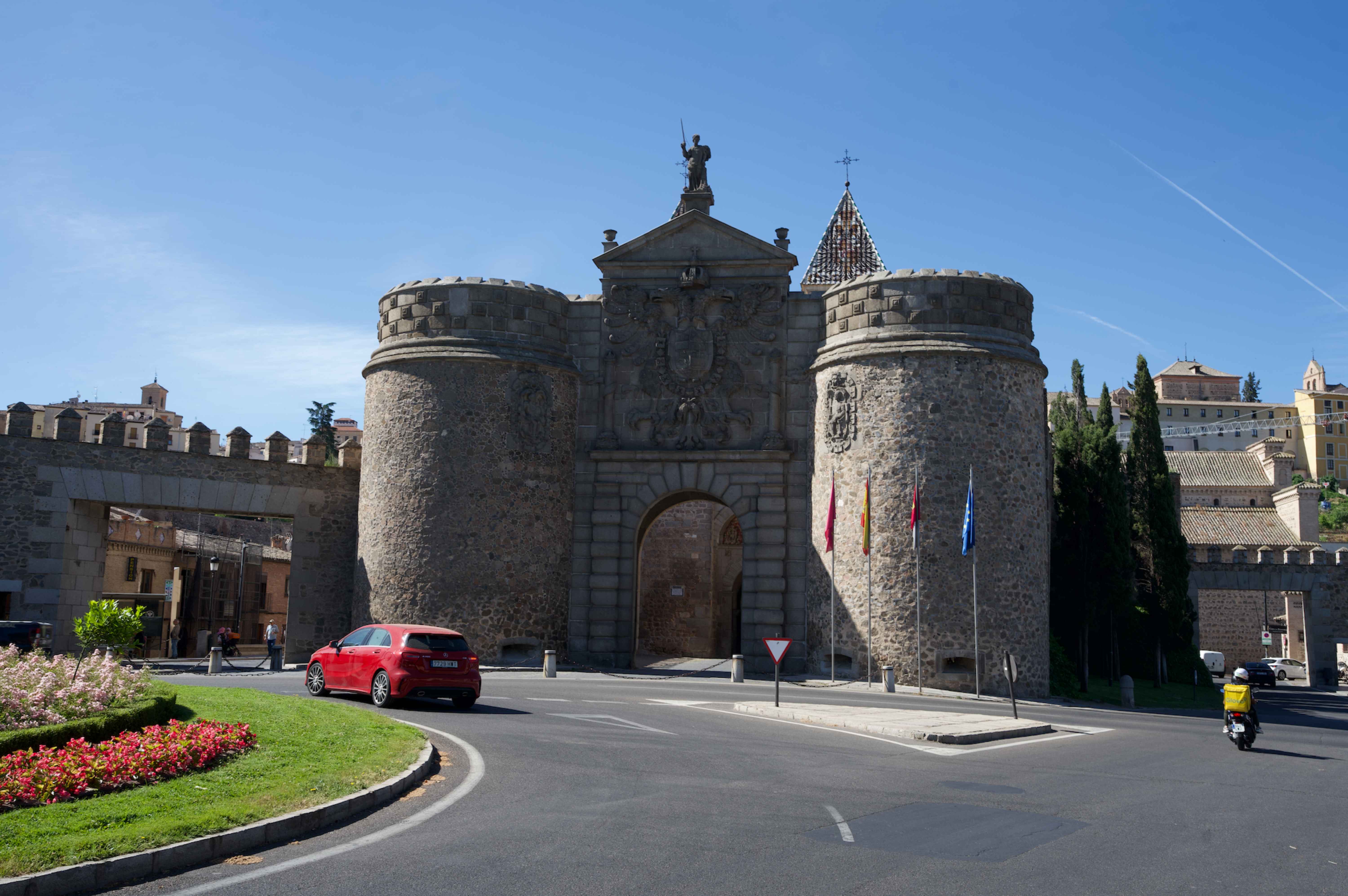 It can be perfectly done in a day, or even half a day. It depends on your preferences, how much you want to walk, and the activities you'd like to prioritize.
Also, the city's views are amazing so I recommend stopping at the viewpoint Mirador del Valle, Mirador Alcántara, Mirador de Toledo, and so on.
Day 4 - Explore the Art Triangle and the Retiro Park
Day 4 is all about discovering Madrid's most important museums, the Prado Museum, the Reina Sofía, and the Thyssen —Also known as the art triangle!
10:00
First, you can visit the Prado Museum. With more than 3 million annual visitors, it is considered the most famous museum in the capital and a worldwide reference.
It houses the most extensive collection of Spanish paintings, which makes it an art lover's dream. As a consequence, it's the most visited museum in Madrid.
The museum has the most famous paintings by painters such as Velázquez, El Greco, Goya, Titian, Rubens, and Bosch. It has the most extensive collection of Goya in the world. The most famous works are "Las Meninas" by Diego Velazquez and "Third of May 1808" by Francisco Goya.
1:00
Afterward, it would be best if you continued with a lovely walk in El Retiro Park, Madrid's green oasis; when you reach the exit at Puerta de Alcalá, take pictures of this landmark and grab food with views towards El Retiro.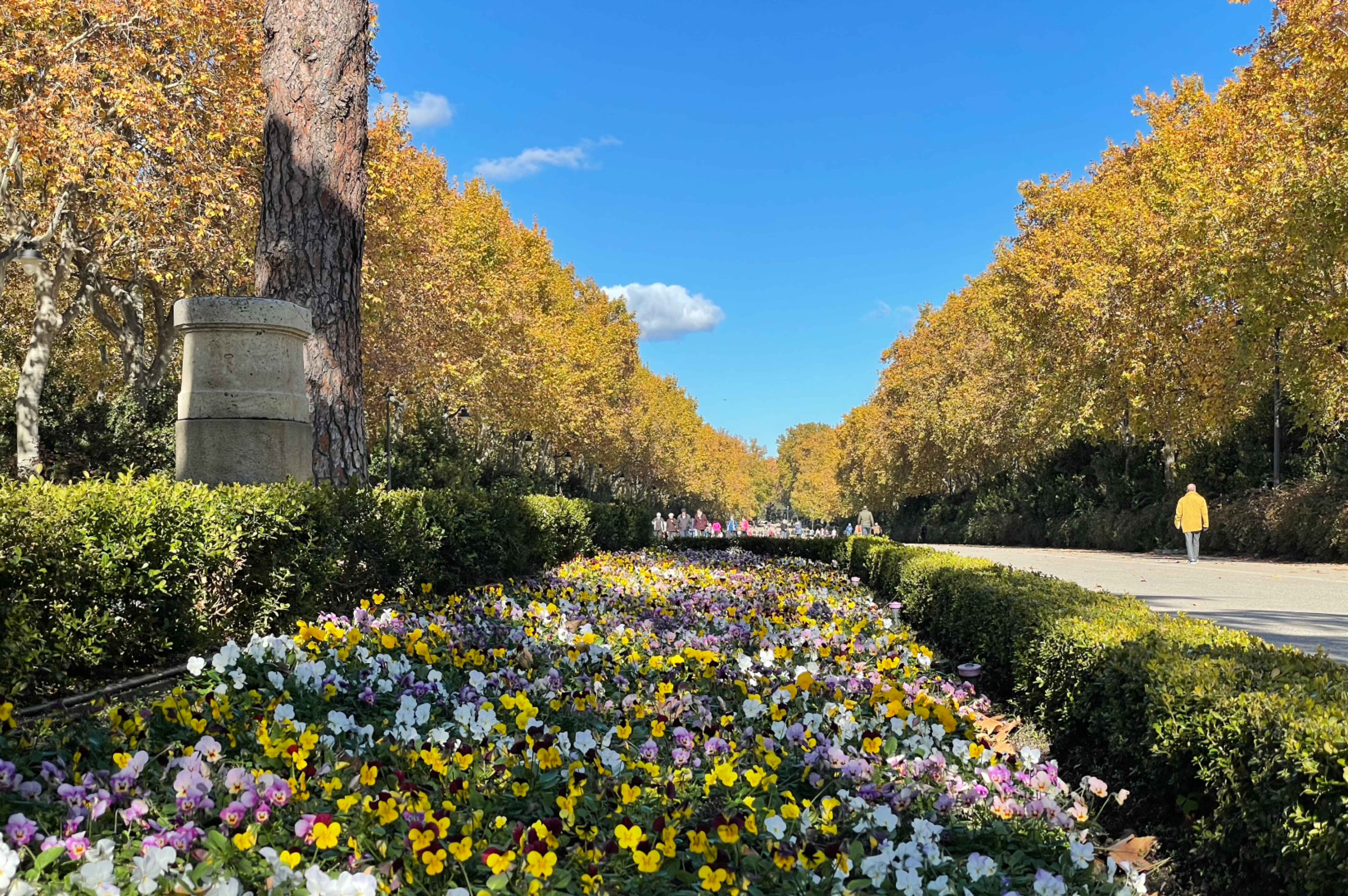 Either Capuccino, Patio de Leones or El Perro y la Galleta will work. These places are great for stopping by and having a nice lunch.
4:00
Then, continue to the Reina Sofía Museum, which has paintings from the 20th century of some of the greatest artists in the world, such as Pablo Picasso, Salvador Dalí, and Joan Miró.
It also has surrealist art, with paintings and pictures of René Magritte, Oscar Dominguez, and Yves Tanguy; and cubism, with a collection of Picasso, Juan Gris, Georges Braque, Robert Delaunay, and expressionists such as Francis Bacon or Antonio Saura.
6:00
Lastly, visit the third most important museum in Madrid: The Thyssen-Bornemisza Museum, where you can find over 1,000 paintings of foreign artists (featuring European art) that you won't find in the Prado or Reina Sofía museums.
Some works date back to the Medieval period, others to 19th-century American paintings and modern pop art. You will find some of the greatest artists, such as Monet, Van Gogh, Picasso, Dalí, Duccio, and Richard Estes, among many others.
Madrid Itinerary Map
Alternative Madrid Itineraries
Itinerary #2 - Santiago Bernabeu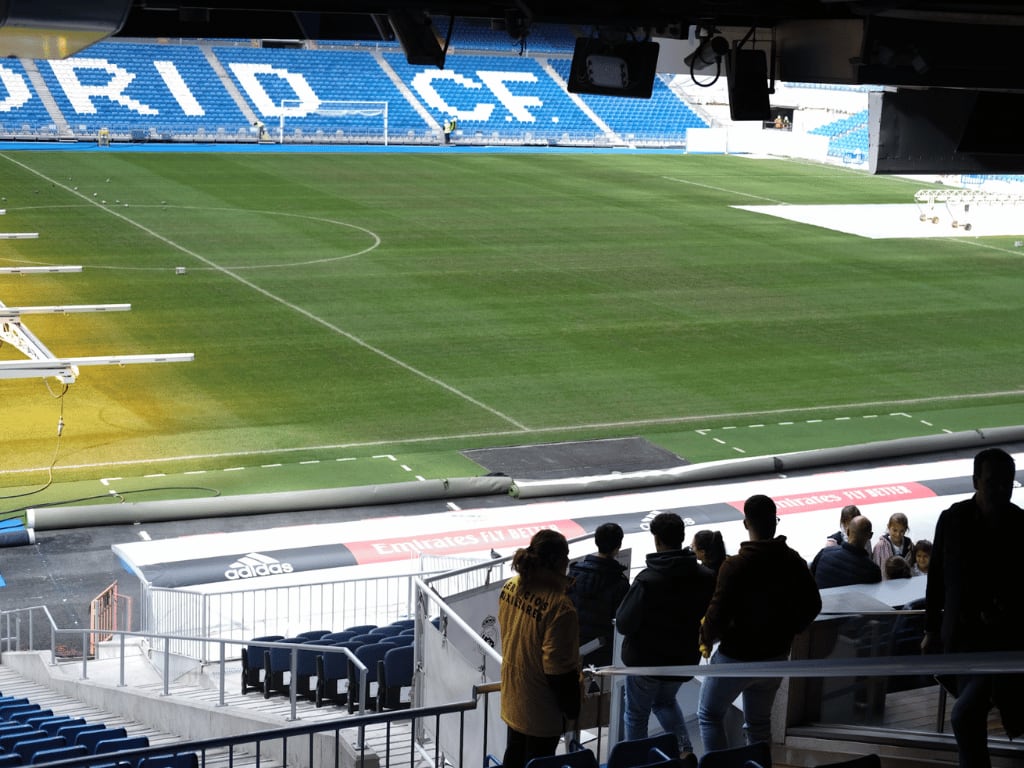 If you're a football enthusiast, you HAVE to visit the Santiago Bernabeu Stadium, home to the best team in the world, Real Madrid. (zero bias) 
Besides getting to know iconic places of the white coliseum, such as the dressing rooms, dugouts, or the box, you can also enjoy the Real Madrid museum, the third most visited museum in the capital of Spain, only behind the Prado and the Reina Sofía!
Itinerary #3 - Casa de Campo Lake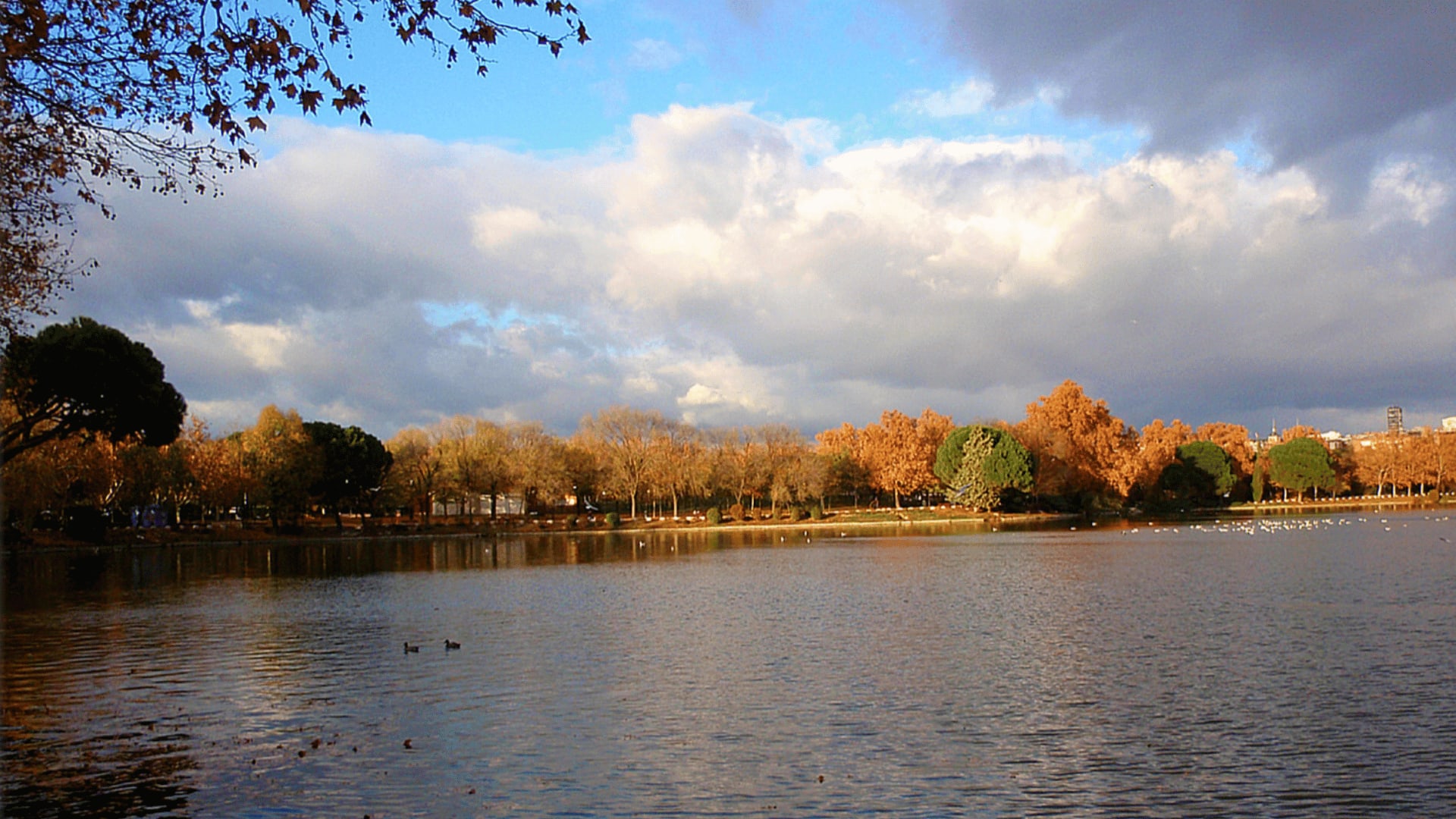 If you're seeking a natural getaway from the city center, Casa de Campo is your ideal destination. Here, you can engage in various outdoor activities like hiking, cycling, and enjoying picnics.
Additionally, the park has the Madrid Zoo and the Parque de Atracciones amusement park, making it an excellent choice for families with young children.
Have more time in Madrid?
Day 5 - Shopping Retreat: Serrano & Las Rozas
Madrid has everything from the most exclusive to the most unusual for all tastes and pockets. Also, most places are surrounded by green areas, places to eat, and unique locations to grab lunch or a snack.
Read more: 11 Best Shopping Places in Madrid: Streets, Outlets & More
The Serrano street is one of Madrid's most expensive and exclusive streets. You will find the best luxury stores offering premium and high-quality products here.
As it is the fashion hub of the city, it has become one of the main tourist destinations. Serrano is a vibrant and energetic street full of people most of the time.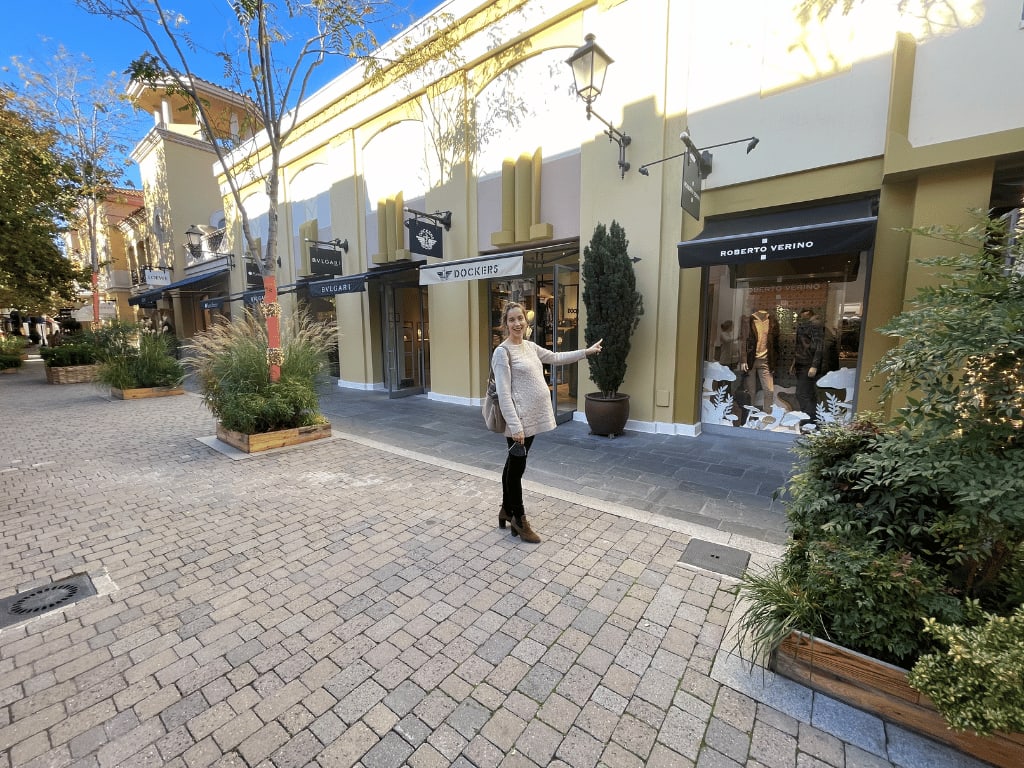 If you're more into outlets, visit Las Rozas Village! Besides having the most exclusive shops at discounts, it is located in a beautiful green area on the outskirts of Madrid.
Day 6 - Have fun in Parque Warner
If you have more time in Madrid, I highly recommend the renowned Parque Warner in Madrid for those more adventurous!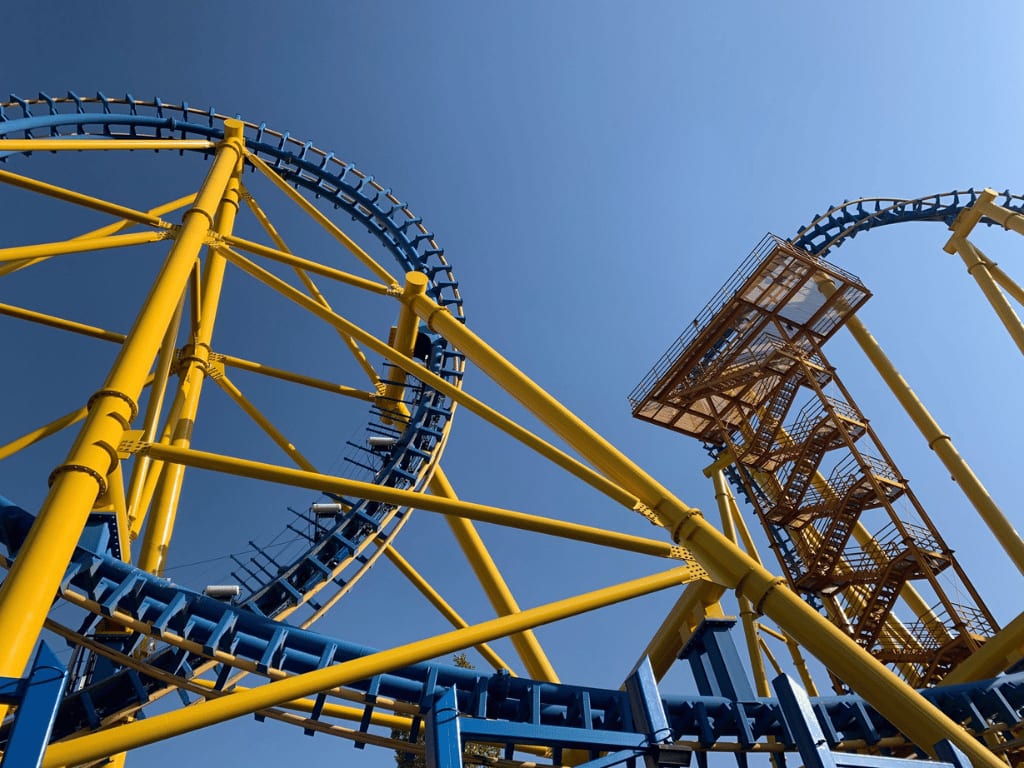 It's an amusement park on the city's outskirts that offers one of the most fascinating experiences for kids, friends, and families. I had so much fun last time, and there are restaurants, and places to grab food inside, (they won't let you bring your own)
Useful resources for your Madrid Itinerary
Where to stay in Madrid
10 Best Neighborhoods in Madrid: Students, Expats & Tourists
What to see in Madrid
30 Best Things to do in Madrid: Fun Activities & Food!
Best time to visit Madrid
Best Time to Visit Spain: Monthly Guide & What to Expect
---
You are ready to begin your journey in Madrid! I gave you a lot of valuable insights for you to follow this itinerary and have a blast. But you can always adapt it to your needs and preferences.
Let me know in the comments which activities you are up to for your next trip. Remember, if you need help planning your trip, ask away!
Either way, I still believe this is the ideal itinerary to travel to Spain and get to know EVERYTHING. (Read more)