Spring in Madrid: 13 Best Places To See & Things To Do
February 10, 2023
Updated:

March 29, 2023
Published: February 10, 2023
Are you traveling to Madrid in Spring? I bet your schedule must be busy, but if you are visiting the Spanish capital during the second season of the year, then you have to do more than the traditional sightseeing. 
Madrid is a welcoming city that allows anyone to immerse themselves in the culture. So, to feel like a madrileño, you should try at least one of the following thirteen activities in Madrid during Spring. 
Once in the city, remember to always, and I always say, check the weather. The weather will evolve from cooler to hotter as it gets closer to summer, and you must be prepared. 
We don't want you traveling with cute sweaters and pants if you are coming by the end of June!
1. Enjoy Activities in Retiro Park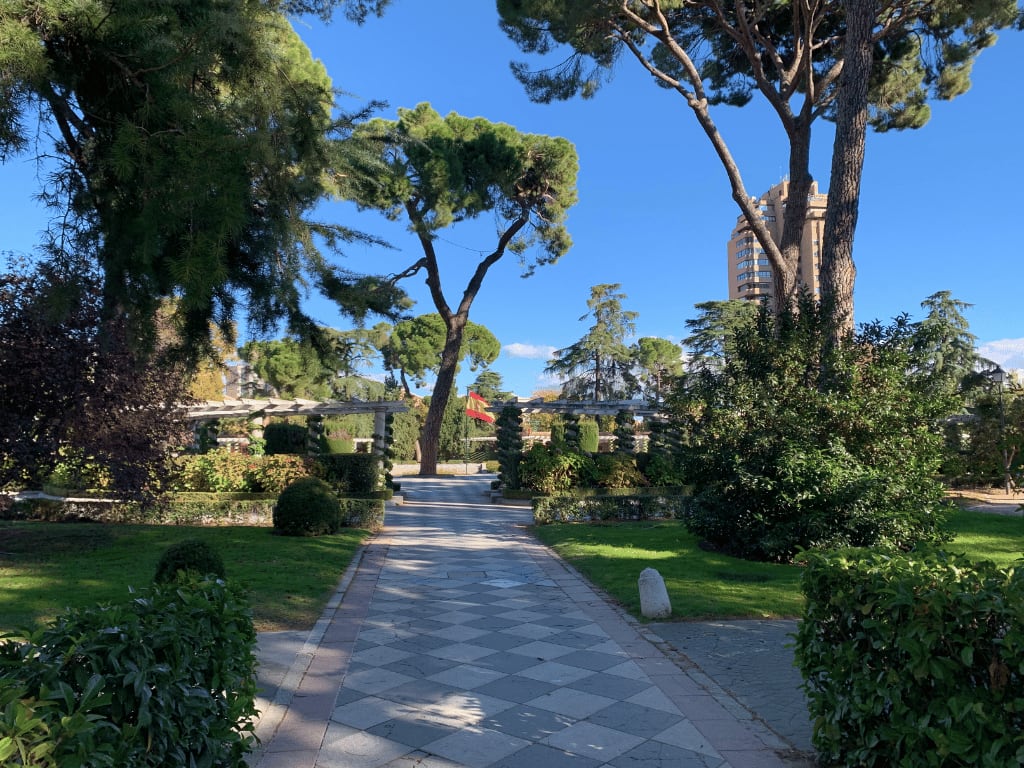 I'm sure you've heard about the popular Retiro park as it's one of the most important parks in Madrid. It's one of the lungs of our city.
In Spring and summer (April to September), the park opens from 06:00 to 24:00. People come here to practice sports, go for a walk, enjoy some of the activities that take place here, eat ice cream, or have some drinks.
These are the top best things to do in Madrid in Spring:
The Retiro Puppet Theater: 
It's a perfect plan to entertain children while they have fun and learn many exciting things. Your kids will have a great time. Please take a look at the official website teatrotiteresretiro.es to see the program.
 One of my favorite things to do when I go to the park in springtime is rent a boat. You can do this activity no matter what year, but Spring is the best time because you can see the trees' great colors. 
If you rent a boat, you will have a great time with your family or friends. But remember, you can't swim in this pond. Renting a boat from Monday to Friday costs 6€ and from Saturday to Sunday a cost of 8€.
Note: You don't have to pay anything to enter; it is all free!
2. Ride the Cableway to Casa de Campo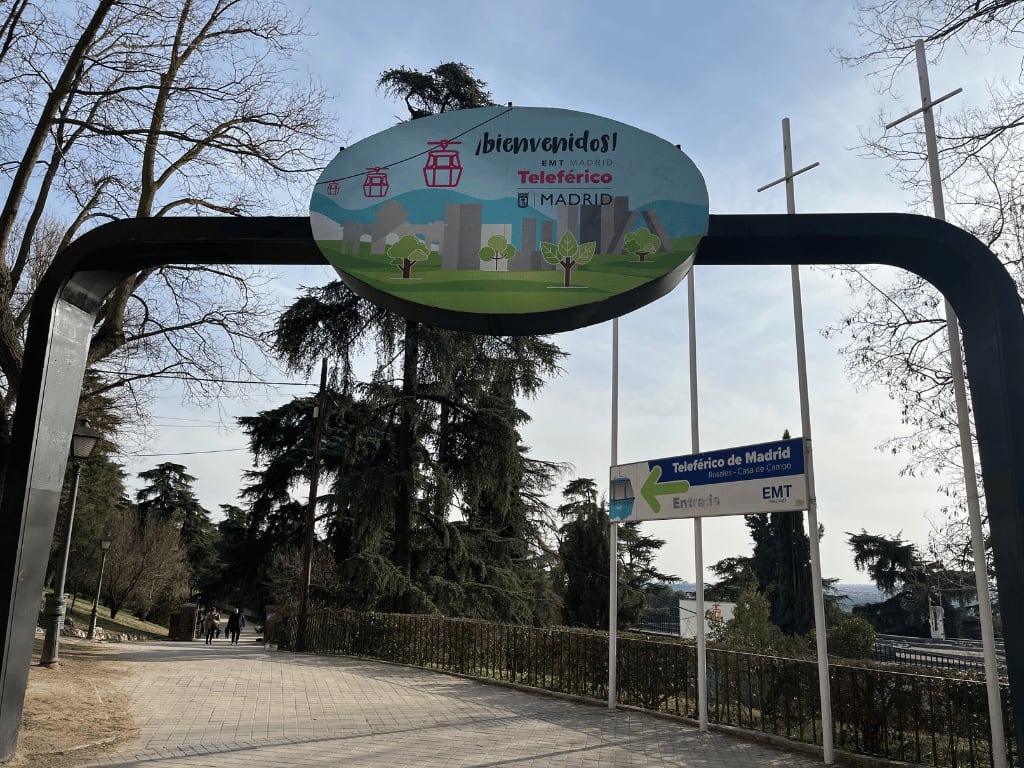 In Casa de Campo, there are many things to see and do. So as you know, it is one of the largest urban parks in the world (it is even much bigger than Central Park in New York). It has more than 1.700 hectares, and for many people, this park is more than a typical park. It is a Mediterranean forest. 
A great and fun option to get to this park is by taking the cable car in Paseo del Pintor Rosales Parque del Oeste. This cable car will take you to Casa the Campo; you can see Madrid from the heights, with extraordinary views of this part of the city.
At the beginning of the cable car ride, a recording starts talking about the views of Madrid at every moment: the monuments, the landscape, and relevant historical facts.
When you get there, you will explore the authentic park and its oaks, pines, poplars, and many small animals, where you can walk and enjoy the outdoors. This great activity can be done throughout every season of the year, but I recommend you go during springtime. 
Prices
General
Round trip: 6 €
One way: 4.5 € 
Children under 12 or people over 65: 
Round trip: 5 € 
One way: 4€  
Children under four years old ride for free. 
3. Stroll through Campo del Moro
Campo del Moro is one of my favorite gardens in Madrid. It's a historical garden whose creation is due to Felipe II. 
It is one of the hidden and most unique corners of Madrid. Located in a green axis with more than 20 hectares, and what is even better, you can get inside these gardens for free.
I feel immense inner peace whenever I go to Campo del Moro gardens. I like to take thousands of photos and relax while looking at this garden's spectacular views.
The gardens are populated by 70 species of trees, some more than 150 years old. Some of them stand out for their age and height and therefore have been listed as Singular Trees by the Community of Madrid.
It also has magnificent animals, such as peacocks, pheasants, and turtle doves. There are several fountains, ponds, flowerbeds, sculptures, and some buildings, such as El Chalé del Corcho, El Chalecito de la Reina, the Carriage Museum, and the Estufa Grande.
In 1931 it was declared a Historic Artistic Monument.
Spring is the best time to visit this garden as the trees will look gorgeous, and you will enjoy this garden much more than if you visited it in another season. 
4. Experience the Best Sunset in Madrid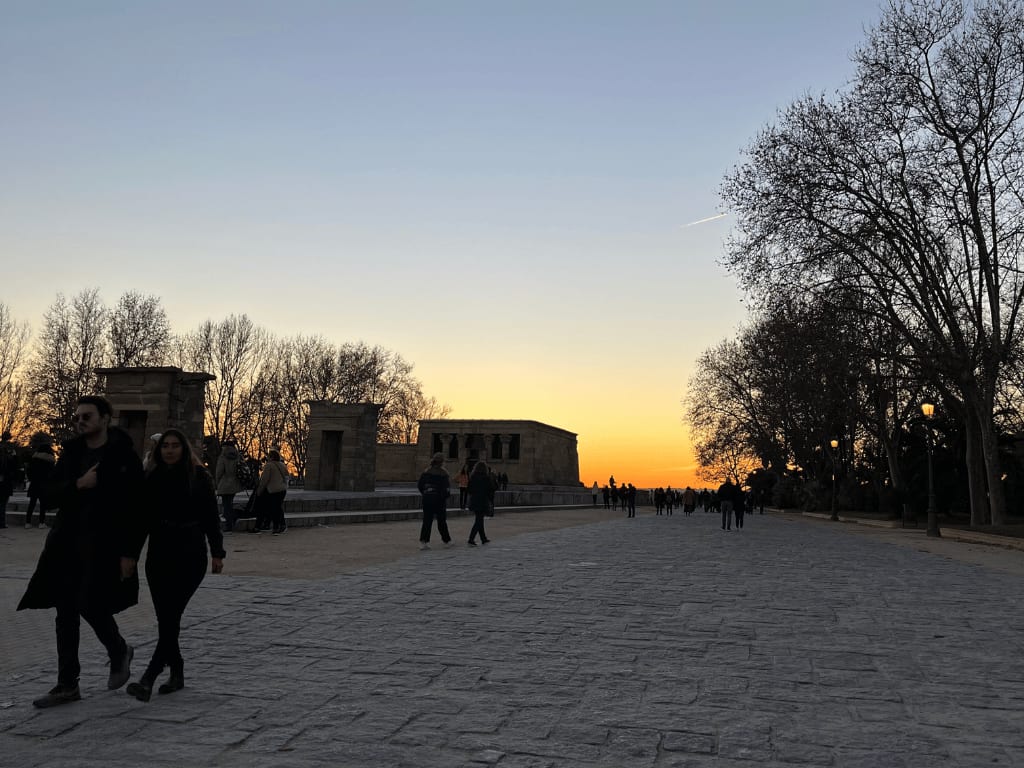 Spring means that days become longer in Spain; the sun shines early in the morning and sets around 8 pm. 
The Temple of Debod is one of the most spectacular places to contemplate a beautiful sunset from Madrid. It is common to see how dozens of people consider such a unique spectacle in Spring and summer.
You can appreciate such a beautiful sunset due to the place where it's located. To the west of the city, you can see the Casa de Campo, the themed park, and then on the other side, there is the Almudena Cathedral and the Royal Palace. 
The Temple of Debod is in the central part of the mountain of Principe Pio. You should walk around the Egyptian temple donated to Spain by the Egyptian government to prevent it from being flooded after the construction of the Aswan High Dam. 
5. Enjoy the Almond Blossom at La Quinta de los Molinos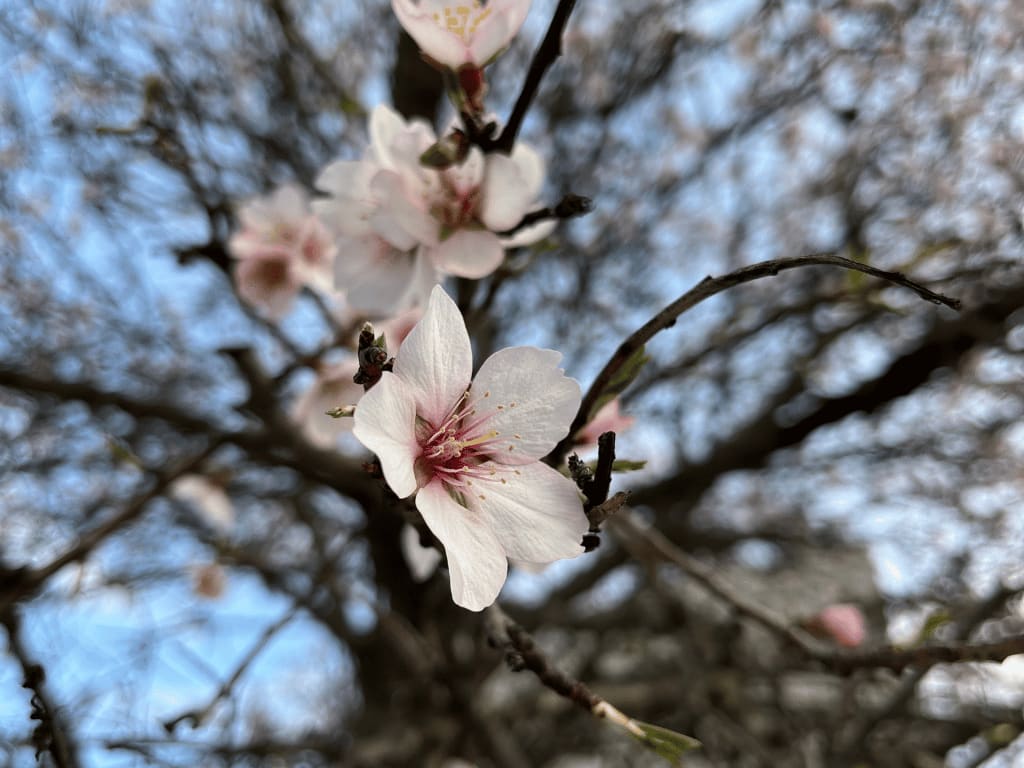 If I had to choose a place to welcome Spring, it would undoubtedly be the Quinta de los Molinos. This is an incredible place to go with family, kids, and friends.   
Spring is a time to enjoy the new blossoms, and in the big city, there is space for it. The Quinta de las Molinos is a park in Madrid full of almond blossoms; it's little known and has a unique charm, which is worth visiting. You can come with your dog, and if you want to spend your day here, you can have a picnic.
There are many almond trees in the Quinta de los Molinos, and you can enjoy this spectacle of white flowers, which I'm sure you will love. 
The park includes large extensions of trees, in which we can find many species (olive trees, pines, eucalyptus), although the park star is the almond trees, which bloom in February and March, offering a fantastic show.
When you go to the park, you will note that it is divided into two differentiated zones: the northern zone with a romantic landscape style and the southern area with an agricultural character.     
My favorite thing to do? Take a picnic blanket, sunscreen, tanning lotion, water, a snack, and a good book, and lie down in the blooming paradise. 
6. It's Time for Some "Terraceo"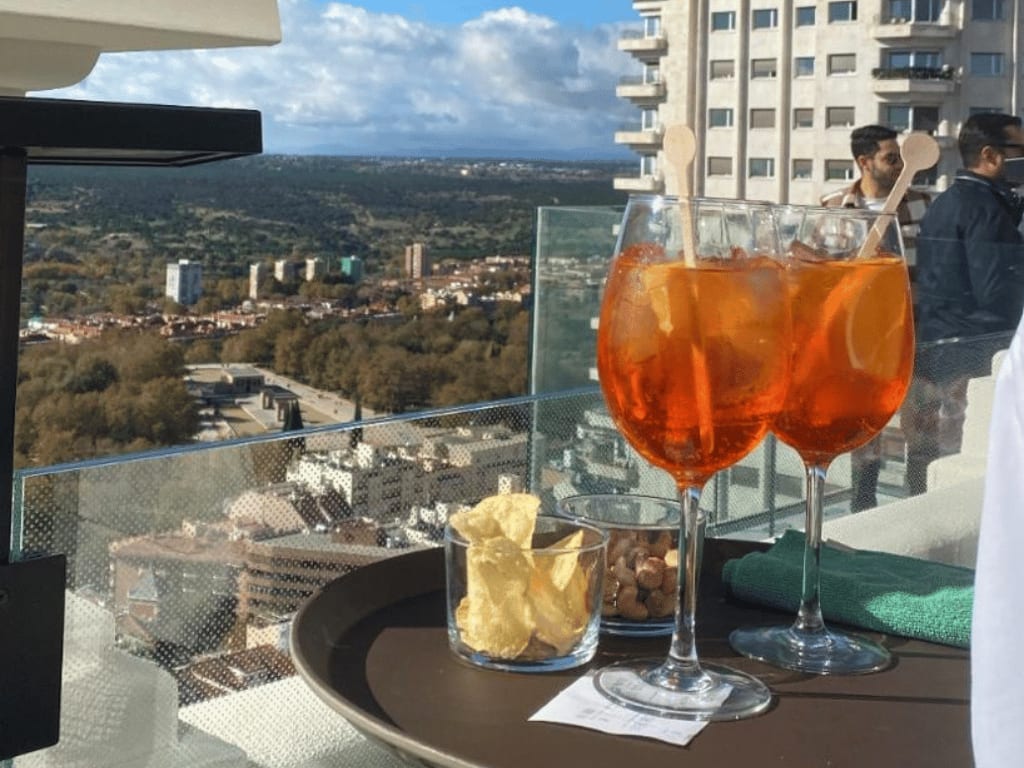 Although if what you want is something more than just having a beer, you can start to put into practice a term increasingly common in Madrid: The "Terraceo," which means having a drink and an appetizer. 
In this case, you can enjoy the "Terraceo" in unique places, usually with beautiful views and the most relaxed atmosphere to enjoy the Spring in Madrid. 
My top two terrace recommendations in Madrid:
Ginkgo Sky Bar is one of the trendiest terraces in the capital. It has all kinds of luxuries and 360º views of the city. In addition, they hold an immersive show in which you will feel like you are on a trip in a private jet, and you can enjoy a select menu of themed cocktails and live music.
Admission: 22€ (including one drink). 
It's a traditional tavern where many Madrilenians decide to spend their evenings in Spring and summer. Viva Madrid is a tavern-cocktail bar in the neighborhood of Las Letras. The bar consists of high tables on two levels and a terrace. You can have vermouth, a beer, or wine or enjoy an extensive range of cocktails. In addition, there is a fantastic snack menu.
There is no admission fee on this one, so enjoy away!
*Terrazas Madrid 
7. Hop on a Spring Gateway to Chinchón
If you make your way to Chinchón, you will have earned a diploma on 'How to be a good local.' When Spring comes to the capital, there are many things you can do. Chinchón is an excellent option to escape the city one day. We find this authentic town just 45 kilometers from Madrid (less than an hour away!).
Chinchón is one of the most beautiful villages of the Community of Madrid and belongs to the organization of the most beautiful villages of Spain. And just for its medieval Plaza Mayor, considered one of the most beautiful in the world, it is worth the visit. 
Chinchón is also worth it for its gastronomy and its cobbled streets. The trip to Chinchón is very classic; many people go on Sundays. If I were you, I would avoid this day, so it's not crowded. This is always an excellent resource to spend a day out of the capital.
The jewel of Chinchón is its Plaza Mayor. An enclosed area surrounded by 3-story houses with arcades and over 200 green wooden balconies. The first houses with arcades and terraces were built in the 15th century.
8. Get a Free Tour around Madrid
Spring in Madrid is synonymous with pleasant temperatures, that is why I'm going to tell you one of the best things you can do in the capital during this time.
Free tours are becoming very popular lately. A free time is a route led by a local tour guide through specific points of a city and, generally, following a particular theme to which a fixed price is not set in advance. Still, the customer is allowed to pay according to the degree of satisfaction of the activity through direct tips.
Madrid has thousands of free tours, which vary according to your preferences. 
9. Take advantage of discounts at Rozas Village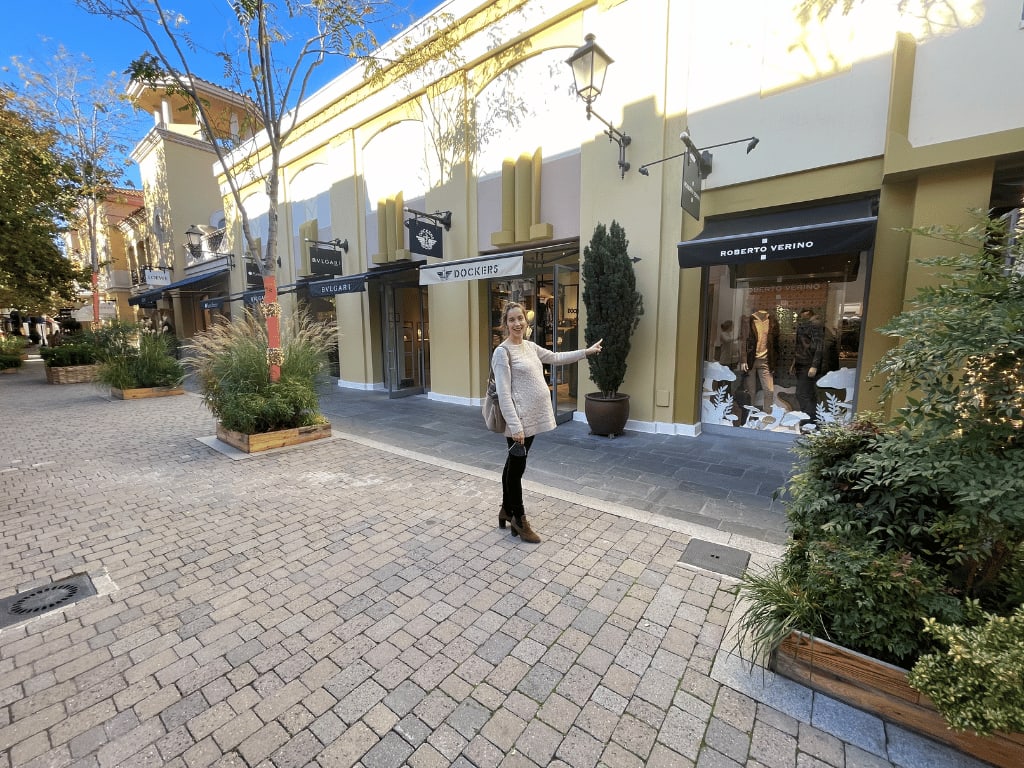 Just 25 minutes from the center of Madrid, we find Rozas Village. A small village is tailor-made for shopping lovers. A place to find items for adults and children and, of course, for the home. It's an outlet with more than 100 shops, including some of the most luxurious ones. 
It's a relatively new place, founded in 1992, and I have been trendy since that moment.
Here you will find the best national and international fashion and lifestyle brands with discounts of up to 60% off the original price throughout the year. Some of the stores are Hugo Boss, Montblanc, Gucci, Prada, Ray-Ban, and Vans.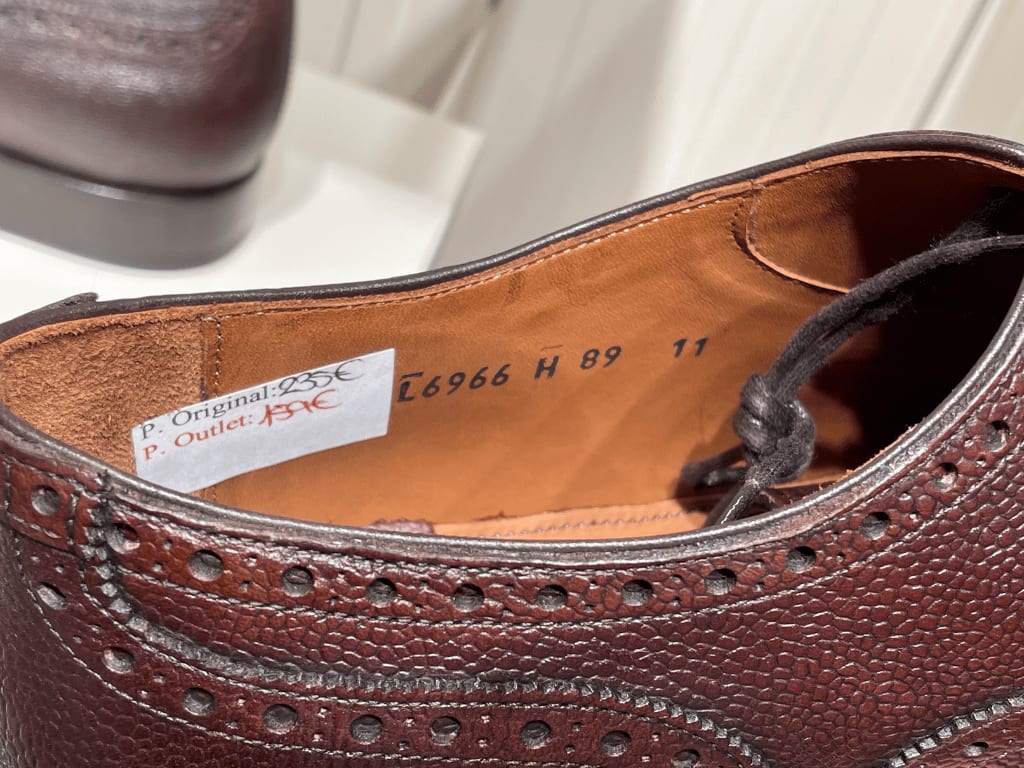 For example, a pair of Persol sunglasses usually are 200€ in the shop, here you can buy them for the price of 140€. 
Las Rozas Village has become an essential destination for all lovers of fashion, trends, creativity, and gastronomy. If you decide to spend the day here, you should go and eat in the Mentidero restaurant, which is an obligatory stop during shopping; the quality of the product and the service are incredible.
This is an activity in Madrid you can do throughout the season, but there are plenty of excellent options in Spring to get you ready for the summer. 
10. Experience Holy Week during Spring in Madrid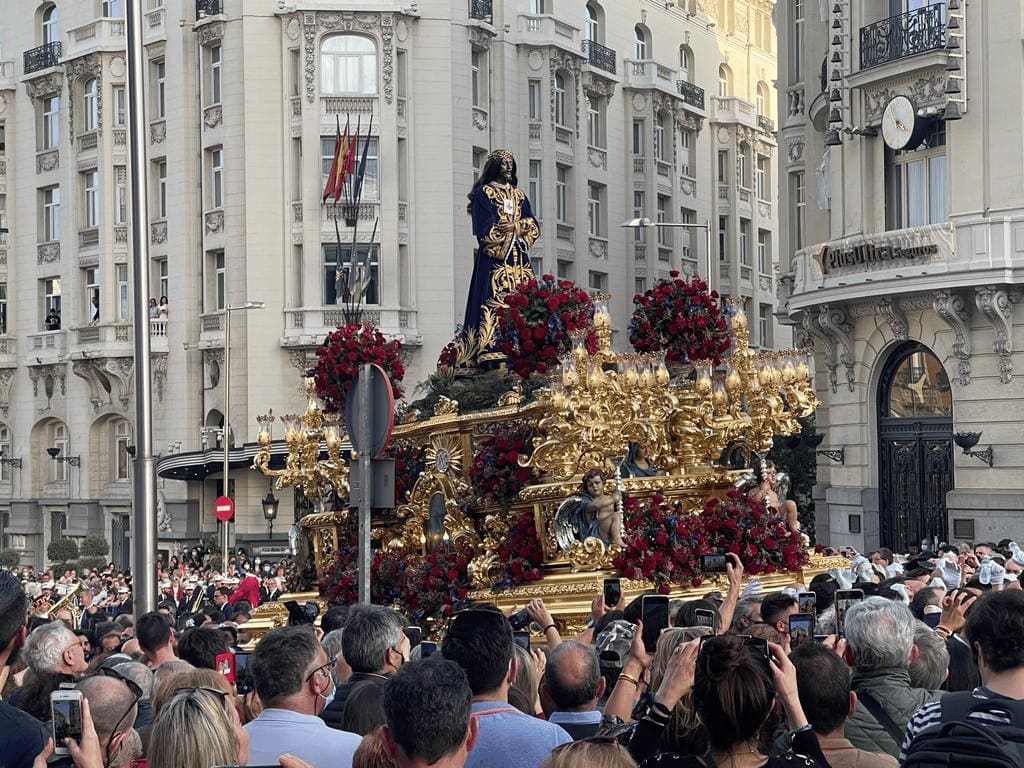 If you couldn't get any reservation made for Holy Week in Andalusia, don't worry because Madrid is also the place to enjoy it! In Spain, it's celebrated during the Holy Week, which is during the springtime (May- April); it's the popular celebration of the passion, death, and resurrection of Christ in the capital of Spain.
The processions of the Holy Week in Madrid, organized by the different brotherhoods, carry images adorned with numerous candles, flowers, and richly embroidered cloaks.
In Madrid, more than 20 processions walk through the capital's streets during Holy Week. 
One of the most visited processions is the colorful Good Friday procession, which departs from the Basilica of Christ of Medinaceli in the Plaza de Jesus to Puerta del Sol and Plaza de Cibeles.
Easter Week in Madrid takes place annually and is usually full of free acts and events. From Palm Sunday to Easter Sunday, thousands of people come to the city to attend the various processions that run through the streets of Madrid.
A cool activity you can do on Easter Sunday is to enjoy the traditional Tamborrada, with more than 100 drummers who are the rhythmic finishing touch to these festivities.
Holy Week is one of the best ways to immerse yourself in local life.  
11. Visit the Enchanted Forest 
The Enchanted Forest is a magnificent garden 60 kilometers away from Madrid. I can promise you that the trip is worth it. 
It is a unique Botanical Garden in Europe, where you can relax and lose yourself peacefully in its paths, enjoying the beauty and magic of the more than three hundred living sculptures. The tour takes around 2 hours.
The park is home to more than 500 species of plants from all over the world planted in the garden. It is a place of fantasy inspired by the movie Edward Scissorhands.
The Enchanted Forest is complemented with labyrinths, cactus exhibitions, bonsais, and aromatic plants in which children, and those not so children, can spend unforgettable hours in a magical environment. 
Price
For adults, the entrance fee will be 11€ for children from 3 to 12 years old, and for retired people or groups of more than 18 people, 8€.
12. Visit Madrid's Lookouts during Spring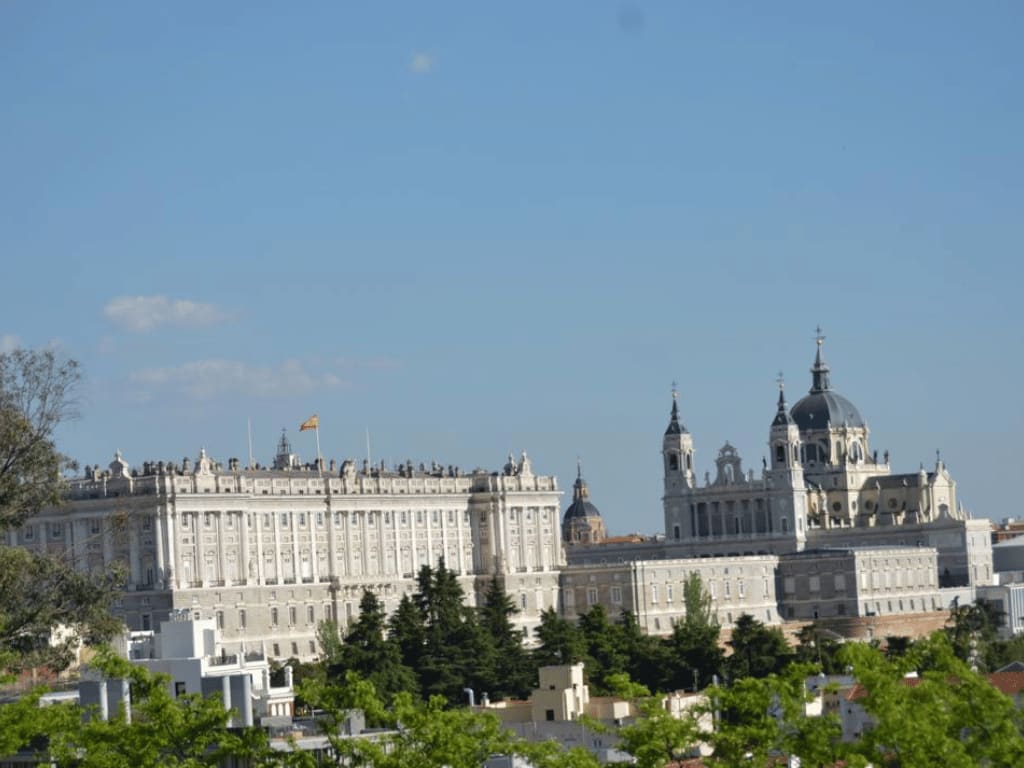 When Spring arrives, you have to see it from Madrid rooftops. Madrid has many incredible viewpoints, but I will tell you my favorite ones to go to during Spring: 
Hotel RIU plaza de España
A vertigo-inducing terrace with a glass walkway triggers adrenaline because it is located 28 floors high, equivalent to a total of 117 meters. These panoramic views of Madrid are unparalleled: they are a spectacle. You can see the emblematic street of Gran Vía, the Plaza de España, and other viewpoints.
Admission fee: 10 €
Picalagartos of my favorite rooftops in the city. It is the rooftop of the NH Collection Gran Vía. This is the best possible balcony overlooking the capital's most emblematic street during springtime. Its terrace will transport you to the modern classicism of Madrid from the 1950s. 
Admission fee: Free
The Cibeles Palace not only houses the Madrid City Hall. In addition, on its eighth floor, there is a viewpoint from which you can see the Plaza de Cibeles and the entire surrounding urban area with a privileged 360º view. Around the terrace, you will have maps to facilitate the city's interpretation. 
Unlike the RIU's admission fee, the Cibeles Terrace includes one drink. You can expect most beverages to be 8 € onwards, but it is an excellent place to hang out and enjoy your spring afternoon. The last time I was there, I got a decent Aperol Spritz. 
 Admission fee: 10 € (one drink included)
13. Develop botanist skills during Spring in Madrid.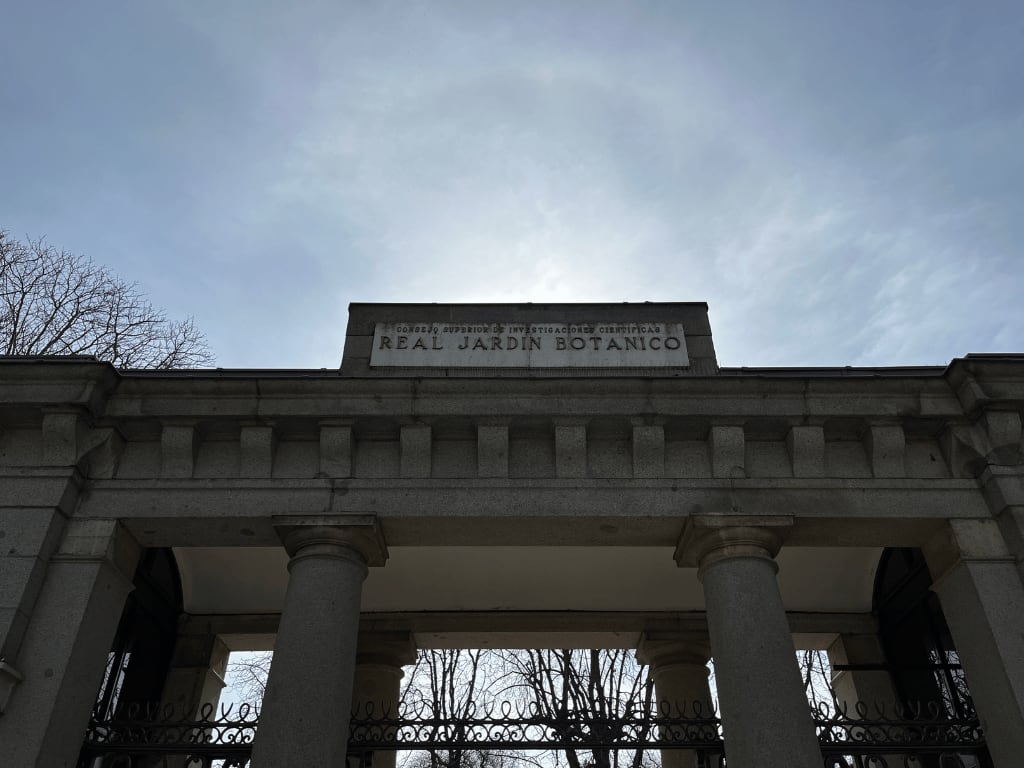 Spring is the best time of the year to visit the Royal Botanical Garden of Madrid, as well as a host of activities to do in it. Here visitors will learn about the garden's famous tulips, workshops to go to individually or with your family and friends, art and botanical exhibitions, and book presentations.
The Botanical Garden of Madrid is a natural oasis in the city's heart. Located a few meters from the Prado Museum and the Atocha station, it is one of those little-known tourist places that always surprises those who drop by.
The best thing to do is to lose yourself in these gardens for a couple of hours, appreciate the beauty around you, and enjoy a spectacular landscape.
If you want to learn everything about its plants and trees, you can always sign up for guided tours for groups, as well as educational tours, a great idea if you are traveling with your family. 
Please take the opportunity to accompany the little ones to discover the carnivorous plants or the Bonsai collection, an experience they will not forget.
Admission fee:
4 € for those over ten years old, student discounts, large families, and people over 65 years old.
---
If you didn't know how to spend your time in Madrid during Spring, this list has got you covered!
In Spring, the weather is pleasant; you got days of sun and a few cooler ones, but Madrid is usually very welcoming in Spring. I hope you can enjoy one of these thirteen activities on your next trip! Remember to mention us if you do.