Summer in Madrid: 10 Fun Activities You Can't Miss!
February 6, 2023
Updated:

March 29, 2023
Published: February 6, 2023
Summer is everyone's cup of iced tea. And one of the most wholesome feelings I've ever experienced is having a nice walk through Madrid's streets in June and July.
Also, days are long enough to eat dinner at the usual "Spanish hour" as if it was something normal. Many hours of sunshine are left to take a walk, go to the pool, and maintain the perfect city tan.
At this time of the year, Madrid becomes the ideal hub to spend the long summer days making fun plans. This article will guide you on the best and most popular activities you can't miss when planning your visit to the city in summer.
You can literally feel the joy in the streets as there are many leisure offers between terraces, gastro bars, cultural activities, and even attend the most popular festivals that different neighborhoods hold each year!! (which are fantastic!)
Either way, you'll understand the hype after you come and live it yourself, so let's dive into it!
1. Enjoy refreshing drinks on a Rooftop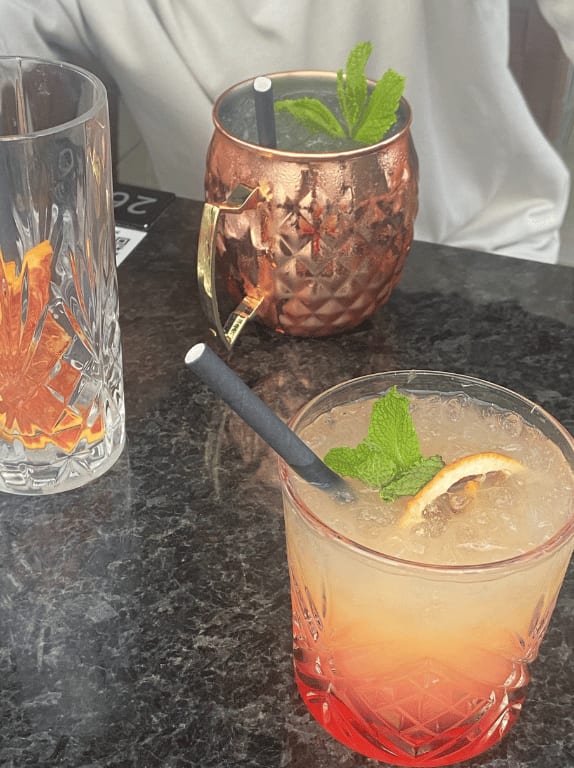 Imagine enjoying the sun, with a cold drink in your hands and an incomparable view of Madrid. Sounds great, right?
What if I told you could also party during a hot summer night, having cocktails with Madrid lights surrounding you? Yes, even Better. 
Going to a rooftop is one of the best plans in summer if you want to spend a great day with friends, colleagues, or family. The ambiance makes the experience so relaxed that it will be unforgettable.  
Moreover, the entrance to most of these spaces is free, and you only have to pay for your drinks (even if it's a soft drink.)
Just make sure you go during sunset time, so you can watch the sun go all over the city until the light show begins on the buildings.
Some of the best Rooftops in Madrid are:
360º Sky Bar - Riu Plaza España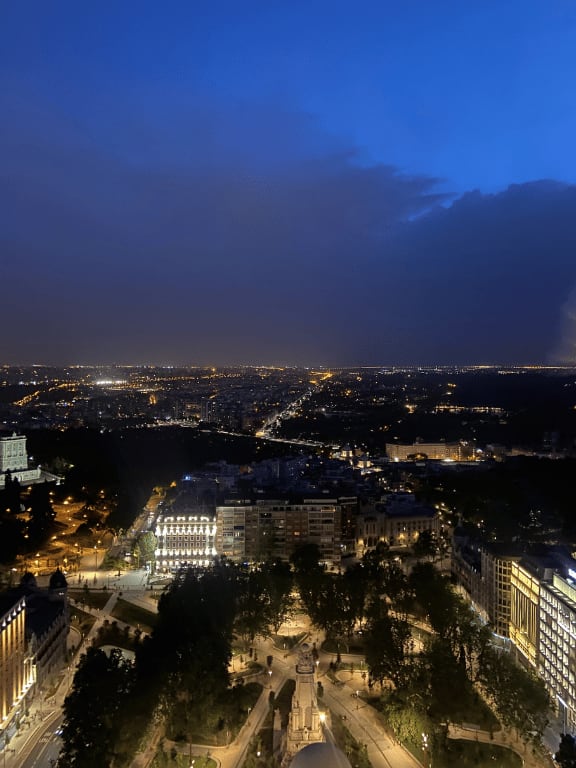 Here you can enjoy live music, concerts, and sunsets, the best cocktails, drinks, snacks, and great food options for dinner! 
Tip: the rooftop has a catwalk, so you can have a glass balcony to experience Madrid at your feet.
The Entrance fee from Monday to Friday is 5€ until 5pm. After 5pm, it costs 10€, also from Saturday to Sunday and holidays. It gives access to the terrace, the 360º Sky Bar, and El Edén Gastrobar.
These are only a few. But the city is full of incredible Rooftops you definitely must visit. This article will help you choose the right one for you:
10 Best Rooftops in Madrid to Enjoy the Sunset in the Spanish Skyline
Circulo de Bellas Artes
This rooftop is known for its spectacular view of one of the most emblematic areas of Madrid. The price is around 7€ per person, including the exhibition entrance and the rooftop. Inside are spaces to eat delicious food and enjoy refreshing drinks for the summer heat.  
And don't worry. If you're afraid of heights and rooftops are not your thing, then terraces are also an ideal plan!
If you visit Madrid in Summertime, you'll definitely see everyone outside casually drinking tinto de verano at 4pm.
2. Go to Hipódromo de la Zarzuela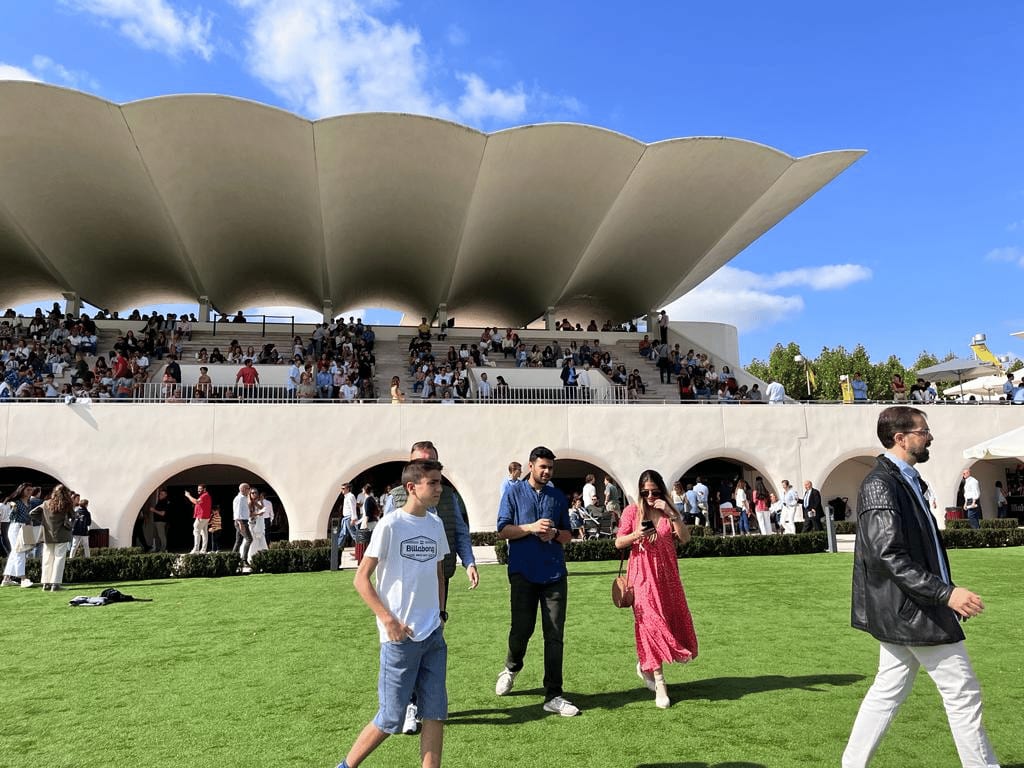 The Hipódromo de la Zarzuela became the epicenter of Madrid's most trendy meeting place for spending a fantastic summer night. It combines a horse racing spectacle with music and gastronomy.
The large central esplanade becomes a picnic area, and it is common to sit between races to drink a beer or eat a snack.
But I recommend you to go to the paddock area, where the horses are exhibited a few minutes before the start of the race. It is the social meeting point par excellence and also helps to examine the condition of the horses before betting.
Once the race is over, you can also watch the horses pass by. And there are food trucks with hamburgers, hot dogs, octopus, and Iberian Jam to grab food and drinks.
The entrance fee varies according to the season. The general morning ticket is priced at €8, while in summer and special days, it usually goes up to €12.
There is also a Premium ticket for €65, with specific dress code rules, and includes a catering service and open bar for 4 hours, as well as an exclusive betting box office.
Also, inside the Hippodrome, you can find Panthera Madrid, a restaurant and club that fills Madrid's summer nights with life.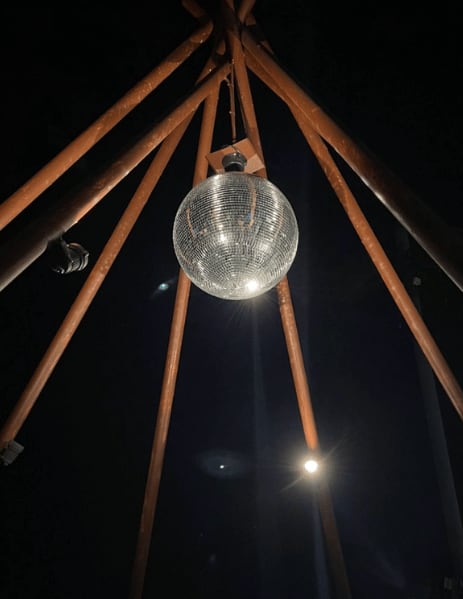 This is the "place to be" for enjoying the best deep house, signature cocktails based on tequila and mezcal, incredible food, the best racetrack views, and an excellent plan for enjoying an exclusive activity with a group of friends.
3. Visit Warner Park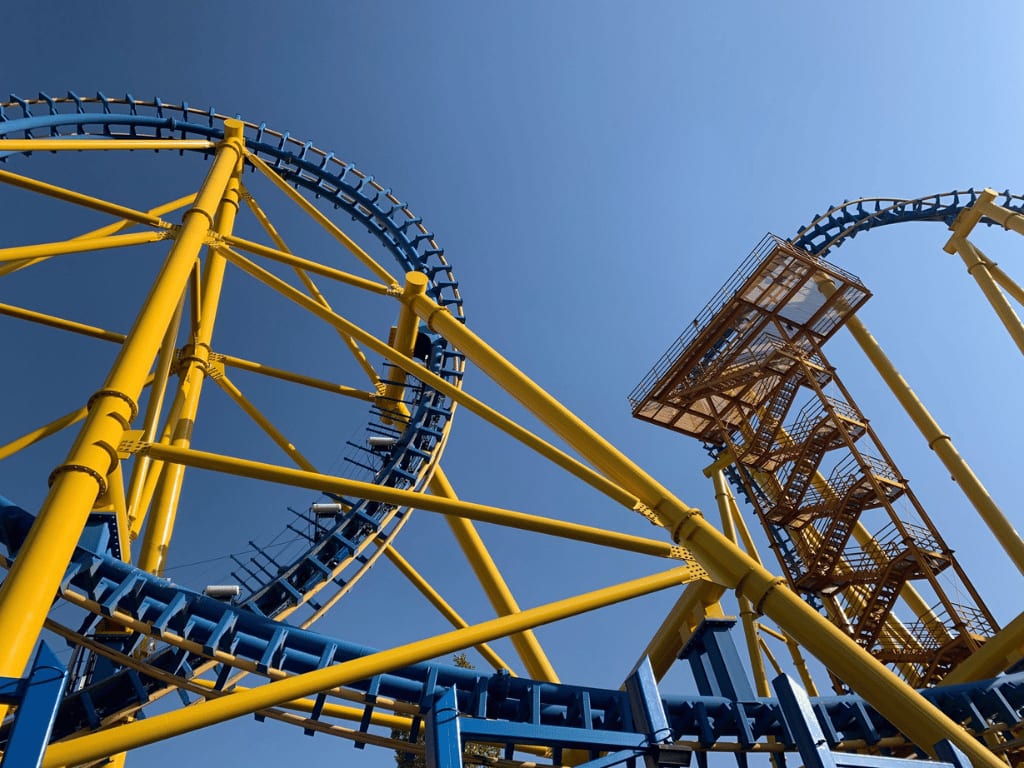 The best time to visit Parque Warner is undoubtedly summer (like most theme parks). Not only because the good weather allows you to make the most out of these long days, but you can also enjoy water attractions without getting cold!!
Visiting Warner Park is the perfect activity you can't miss if you visit Madrid with your friends, family or children.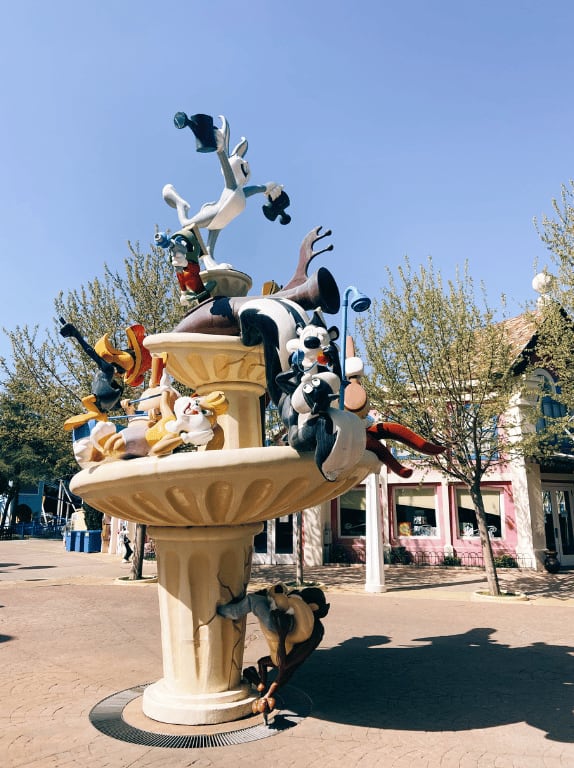 Once inside the themed park, you can enjoy many attractions, such as rollercoasters (heavy ones) and more chill attractions for infants and kids who are more likely to be entertained by animated cartoons and characters.
Its main themes are Old West Territory, DC Super Heroes World, Movie World Studios, Cartoon Village, and Hollywood Boulevard.
If you are an adrenaline lover, I recommend starting with the Superman or Stunt Fall attractions.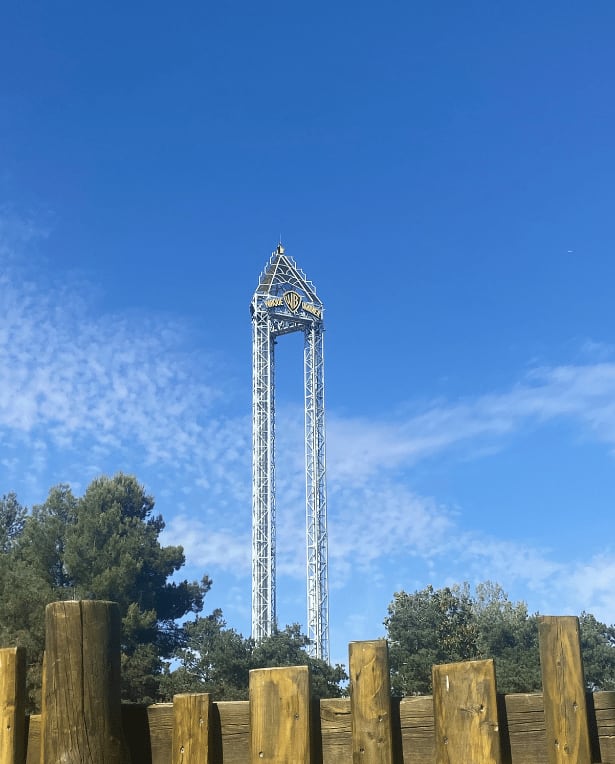 The entrance fee to the park is 47,90€. However, there have days with discounts reaching up to 30%, leaving the price at 29,90€. There are also reduced prices for children under one meter forty.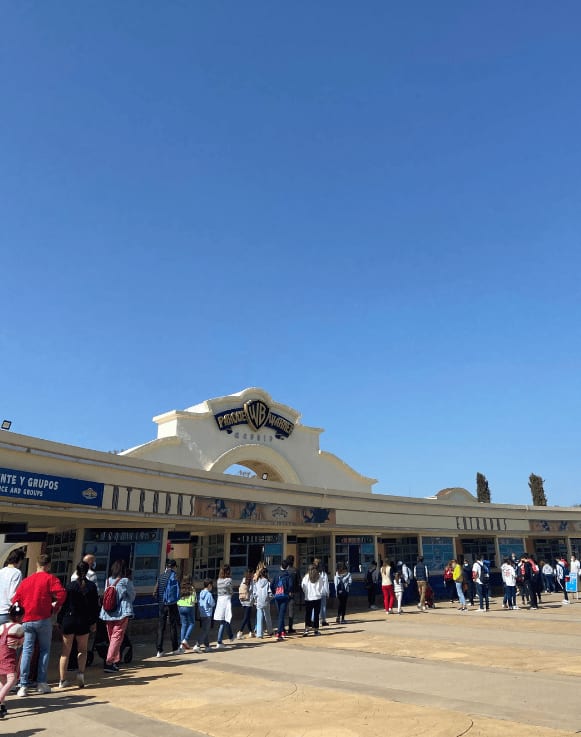 Also, the park has many options for lunch or snack, such as Fosters Hollywood and Starbucks.
Also, make a little stop to enjoy the famous llaollao ice cream. This Spanish place sells frozen yogurt, slushies, and milkshakes, and believe me, they are just what you are looking for on a hot day in the park.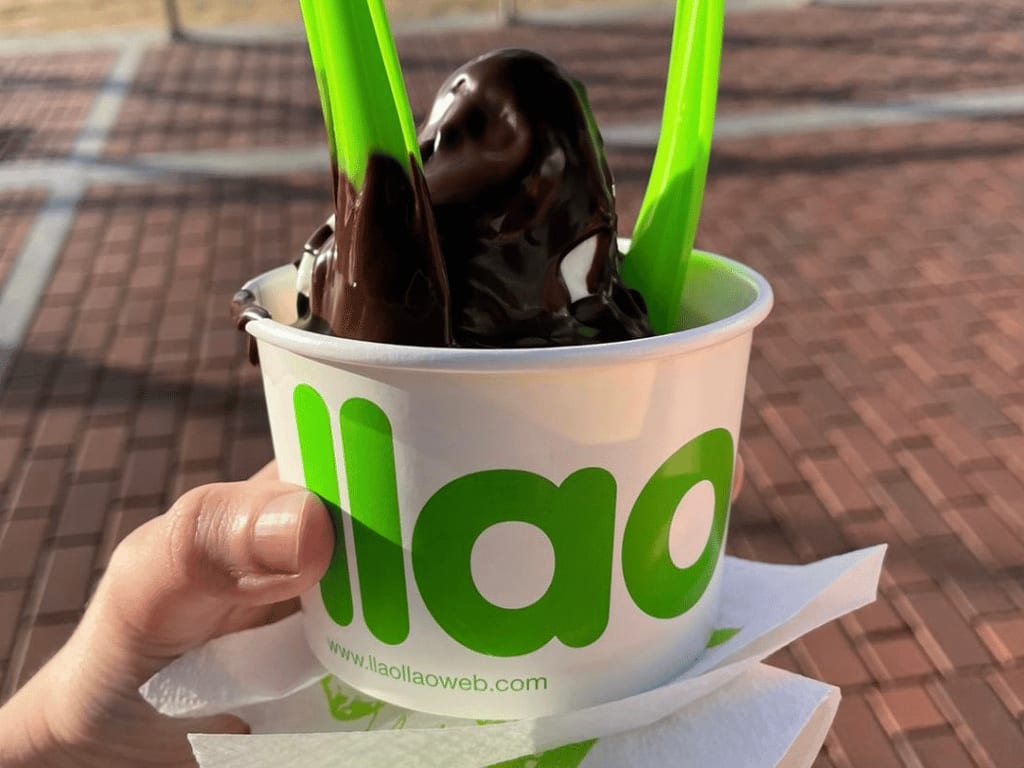 4. Stroll through El Retiro Park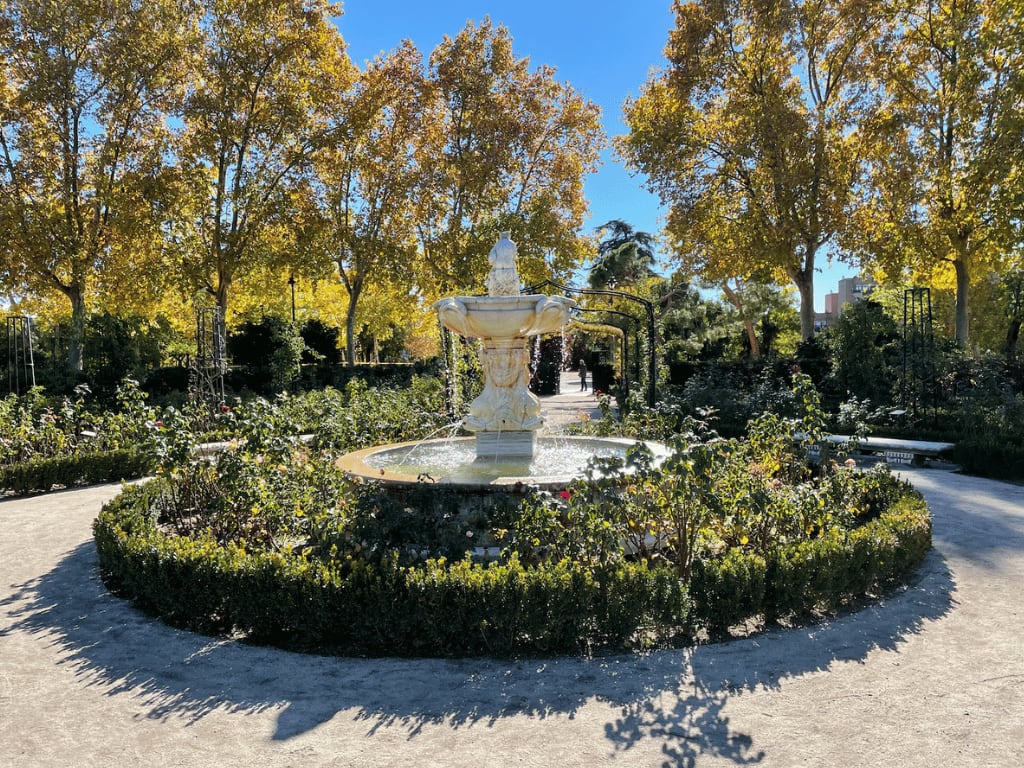 The iconic Retiro Park is one of the most frequented locations during summertime.
People go there for a pleasant afternoon stroll, exercise, practice yoga, run, visit art exhibitions, or have a picnic.
If you are planning a meeting with a large group of people, this place should be at the top of your list, also if kids are included. They won't get bored and will have options for snacking.
This park is a go-to when you need help figuring out where to go and want to enjoy the outdoors, green spaces, sunny days, and different activity options.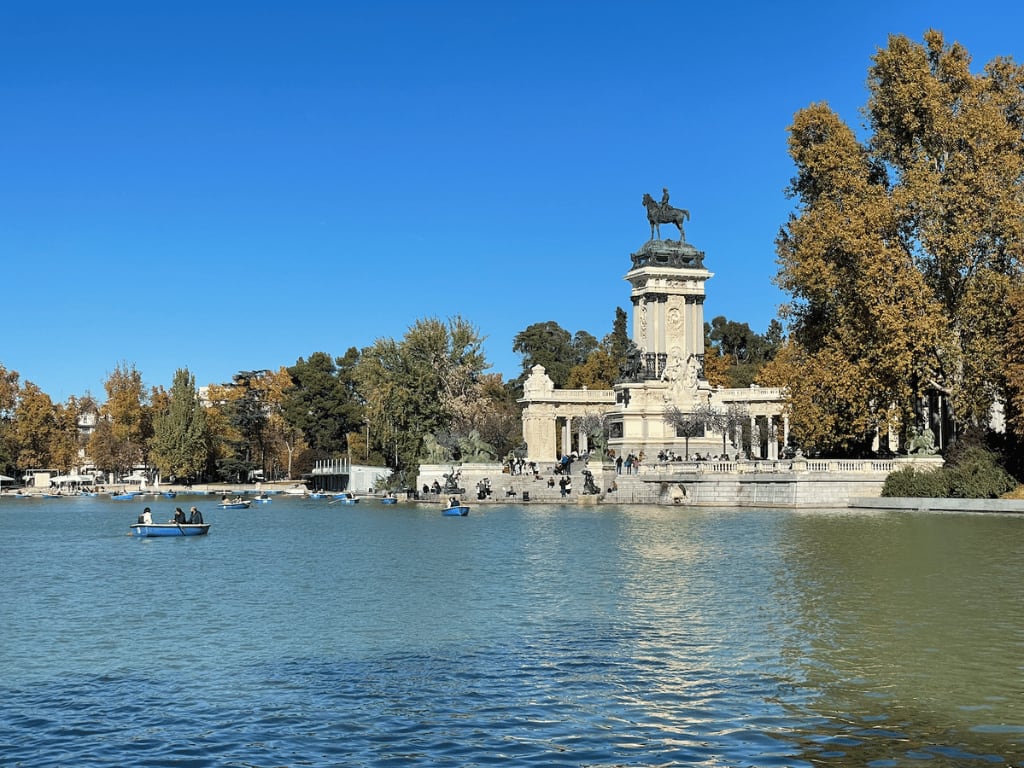 You can take a boat ride on the large lake of the Retiro, visit the Crystal Palace, or listen to the street performers in the park. The complete tour of the park takes about 2 to 3 hours, so pack your water bottles and experience it yourself!!
To learn more about this famous Madrid Landmark, visit the following article:
5. Autocine
Popcorn, fresh air, a drink in your hands? Sounds like the perfect entertainment plan to spend the summer nights feeling like you're living in an 80s movie.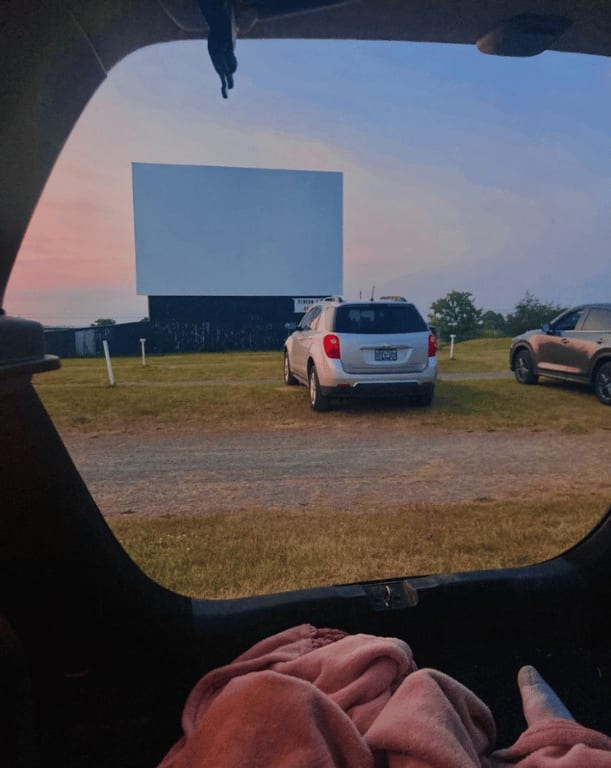 In the drive-in movie theaters, you can have a unique experience in which you go with your car to enjoy the best movie classics and premiers on a giant screen where you tune your radio station in the car.
You can also enjoy the hammock area, which is only available in summer.
In addition, there is a 50's American-style restaurant with food service delivered to your car.
It is located in: Calle Isla de Java 2, Fuencarral el Pardo - Madrid
There are also free options, such as those at Casa Museo Lope de Vega, Cineplaza de Matadero, Casa de México, la Terraza Paco Rabal, and the district's summer cinemas.
6. Dinner in Casa de Campo Lake
Okay. I have to admit it.
I'm sure you've heard that some summer nights in Madrid can be sweltering hot.
One way to escape without going too far from the center of Madrid is to go to Casa de Campo Lake.
There are bars, kiosks, and a parking area which is perfect for an outdoor dinner, considering that you are next to the water and surrounded by lots of greenery.
You can even take an electric bike tour or ride on the boats. These have a maximum capacity of 4 people, cost 8 euros per boat on weekends, and last 45 minutes. It's fun whether you want to exercise or have a good time.
This place is ideal for spending a relaxing evening at sunset with the reflection of the big city, and it is best to avoid going on a weekend or holiday because it is very crowded.
7. Attend a Music Festival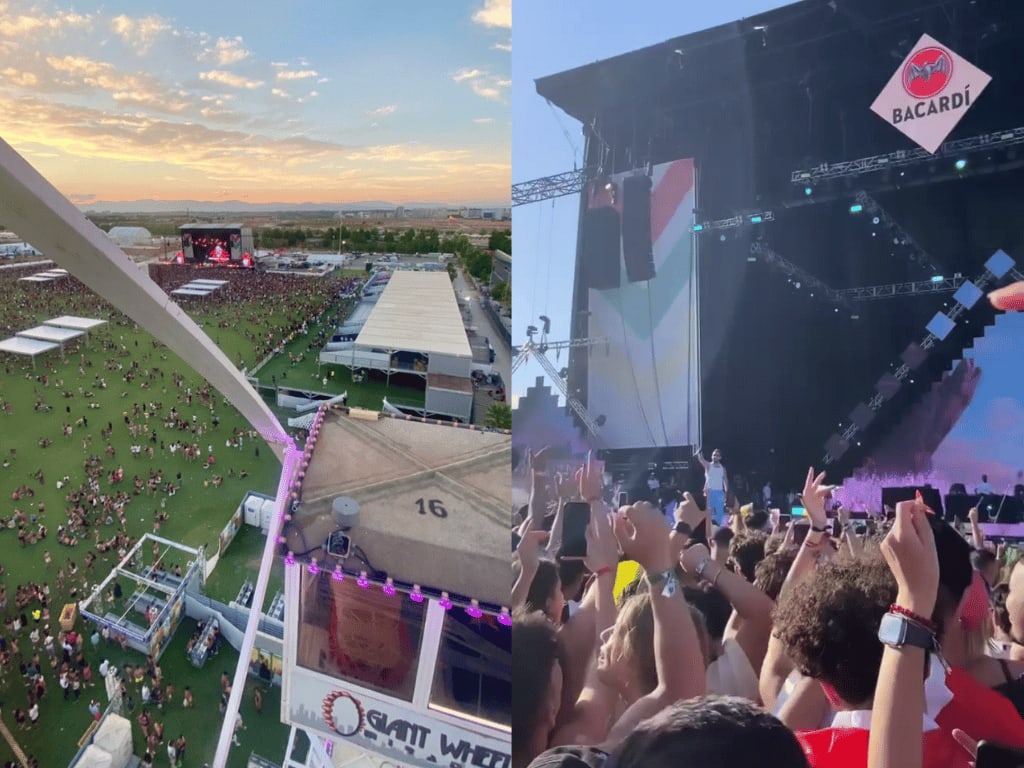 As expected, we could not continue this list without mentioning attending music festivals to party for days like authentic Spanish.
These are the best and most popular ones to go to with your friends:
A Summer Story festival will be celebrated on June 23 and 24, 2023. It welcomes some of the biggest artists and DJs of the genre.
The Botanical Nights festival will take place during June and July in the Royal Botanical Garden of Alfonso XIII, located in the Complutense University of Madrid. This natural space is home to the festival with jazz, Latin, flamenco, rock, and pop music.
MadCool, another favorite, holds its festival from July 6 to 8, 2023. It features a wide range of artists, including Red Hot Chili Peppers, Robbie Williams, The Black Keys, Lizzo, Sam Smith, Queens Of The Stone Age, The 1975, Franz Ferdinand, Liam Gallagher, and The Prodigy.
Reggaeton Beach Festival: This is the largest Urban Beach Festival on July 22 and 23 (for reggaeton lovers). It has a large beach with inflatables, water attractions, food stalls, and workshops. 
8. Eat the Best Ice Cream of Madrid
A classic that does not fail.
It is often the only thing we need on a hot day to recharge our batteries and continue walking through the streets of Madrid.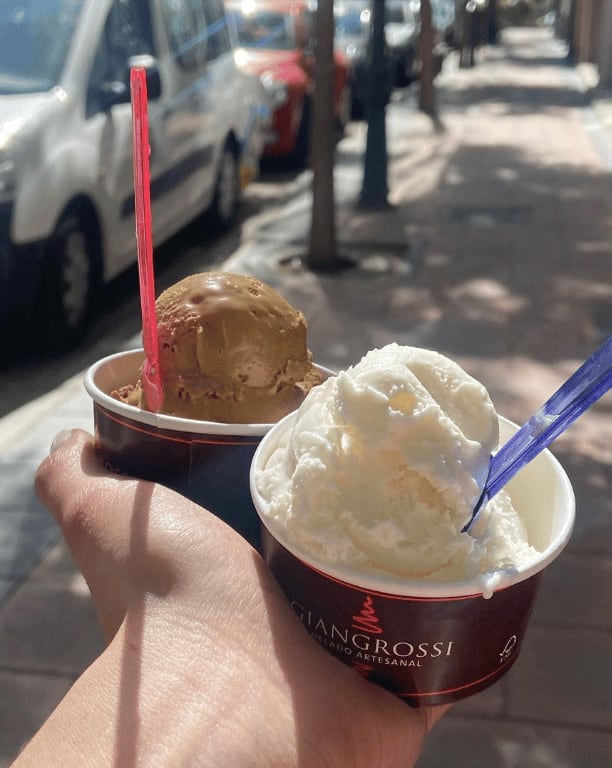 Here is a complete map list of the best ice cream in Madrid.
You have no excuses. I'm sure there is one close to you, so you can make a small pit-stop to spoil yourself.
This is one of my favorites!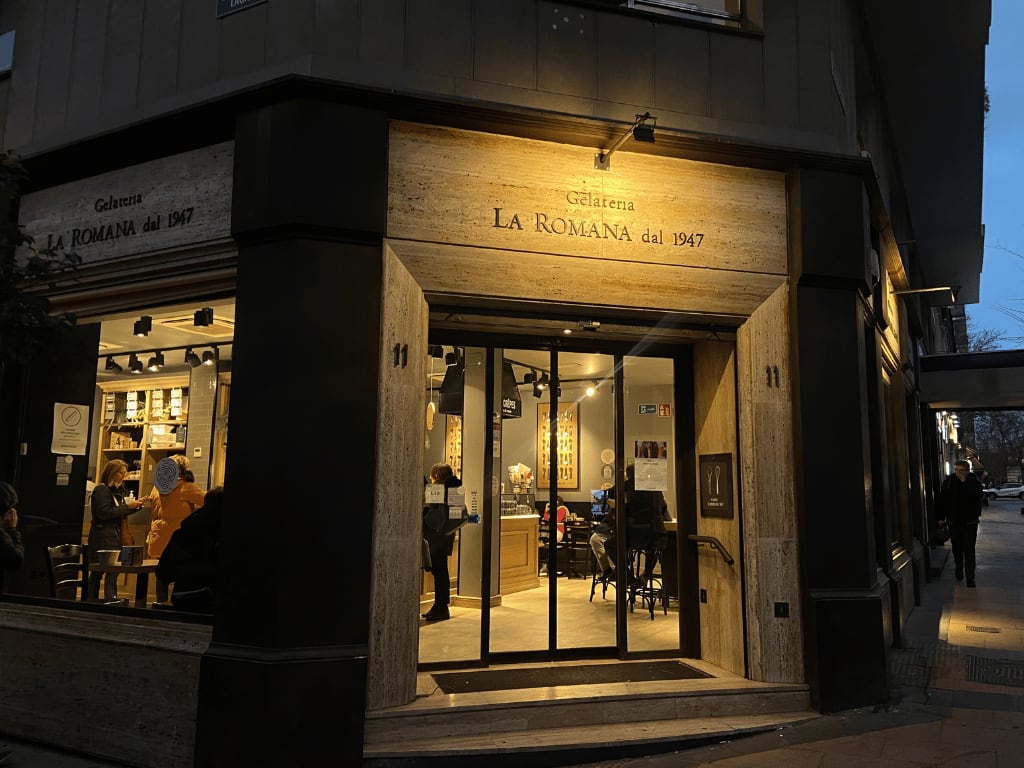 9. Spend an afternoon in El Pardo Park
El Pardo is a magical place to enjoy natural landscapes, history, and fabulous restaurants to taste the best Spanish gastronomy.
A day of walking through El Pardo is one of the most beautiful activities. It is highly recommended by Marileños (Madrid locals.)
Moreover, if you want to continue the afternoon you can a grab a drink at "La Quinta" you will eat phenomenally, it is an experience that is really worth it if you want a change of scenery in Madrid during summer.
10. Take a Swim in a Pool
Another classic. Summer = Pool time!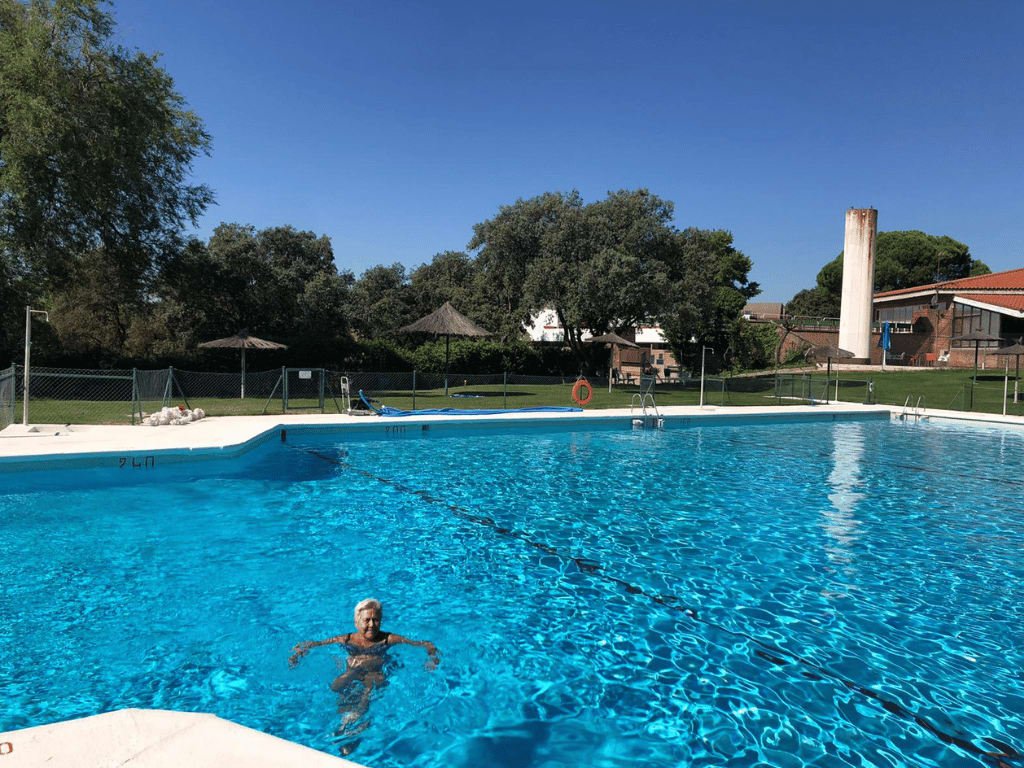 The 2023 season for public pools in Madrid will start around May 15. But keep in mind that they might often be too crowded, so you can also consider going to Hotels that include Pool Terraces instead.
These are some recommendations for Pools in Madrid:
El Pardo Shooting Club: It has two pools linked by a peninsula of plants and trees in the middle, and It has a very convenient schedule.
If you want to swim above the Madrid skyline, the pool at the Hotel Emperador is for you. It has the largest rooftop pool in the city and includes a beach Club, a restaurant, a cocktail bar, a solarium, and a swimming pool.
The entrance also includes a towel, a Balinese bed, and a glass of champagne to complete the high-end experience.
Casa de Campo sports center is one of the most desirable municipal swimming pools in Madrid, thanks to its privileged location. It is surrounded very close by the Casa de Campo lake (which we saw earlier.)
Vicente del Bosque Sports Center: This complex has two 50-meter outdoor pools and another for children, along with another indoor pool.
Las Encinas de Boadilla Club: Just 10 minutes from Madrid, this club offers many sports, leisure, entertainment, and cultural activities for all ages.
It is also a very good option since it has volleyball, beach volleyball, tennis, skating, hockey, indoor soccer, and badminton courts, as well as weights and martial arts room.
As you can see, I showed you a bit of everything so that you can choose the activities that best suit your needs this summer. Well, now you have no excuses for coming to enjoy the warmth in Madrid.
Hope this article was helpful, and let me know in the comments which other activities you are craving to do this summer!