Travel to Mérida: 5 Unique Attractions, Food & Activities
November 8, 2023
Updated:

November 10, 2023
Published: November 8, 2023
I have the most amazing memories of my trip with Jimena to Mérida! It's such a fascinating place that truly embodies the spirit of Roman Spain.
If you're ready to learn about Spanish culture, explore our rich past, or just looking for a fun-filled travel experience, then Mérida is an absolute must-visit on your itinerary!
It's important to avoid the common mistake people make of thinking that they should only visit mainstream cities on their first trip.
Don't make the mistake of thinking, "I should only visit the main cities in Spain on my first trip. Merida is too out of the way." Trust me, that's not true! Merida is where ancient Roman ruins still stand tall and strong, defying the test of time.
It's where you can find a mix of culture, history, contemporary streets, stores, and delicious food, creating an unforgettable experience for travelers. You will not forget your visit to this place, let me show you why:
---
What is Mérida?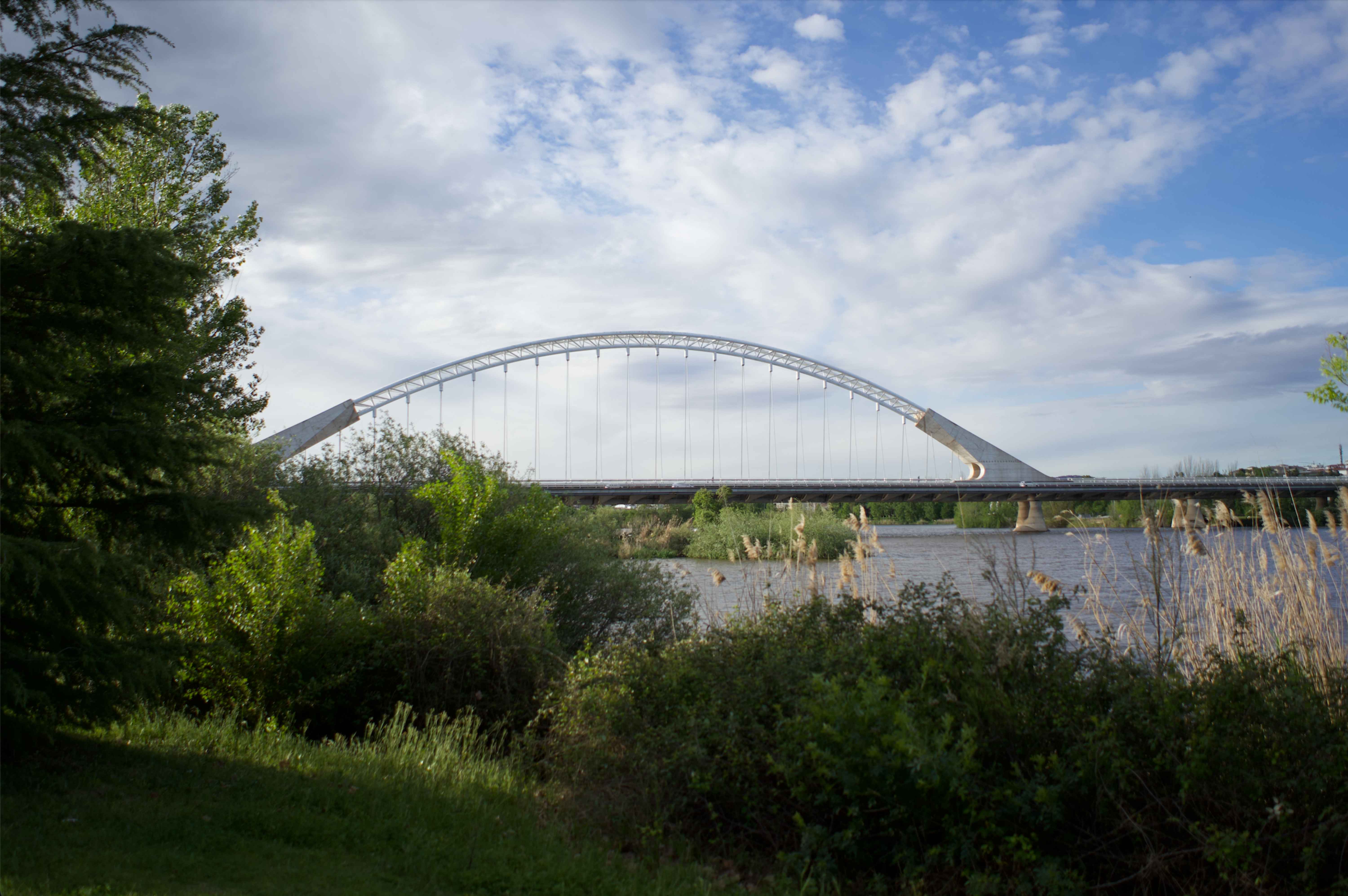 Mérida is the Capital of the Autonomous Community of Extremadura. It is famous for remarkable architectural masterpieces resembling Spain's Roman heritage.
Did you know that the name of the Spanish city Mérida has an interesting origin? It actually comes from the Latin word "Emerita"! The Romans founded this city over 2,000 years ago and named it "Emerita Augusta" after Emperor Augustus. Even more interesting, it was initially populated by retired soldiers called "Emeritus."
It is strategically located in a valley at the confluence of the Guadiana and Albarregas rivers, which provide fertility to its lands.
The city's central location allows it to serve as the region's hub for economic, cultural, architectural, and ecological activities.
Best Things to Do in Mérida
1. Travel in time to the Roman Ruins of Mérida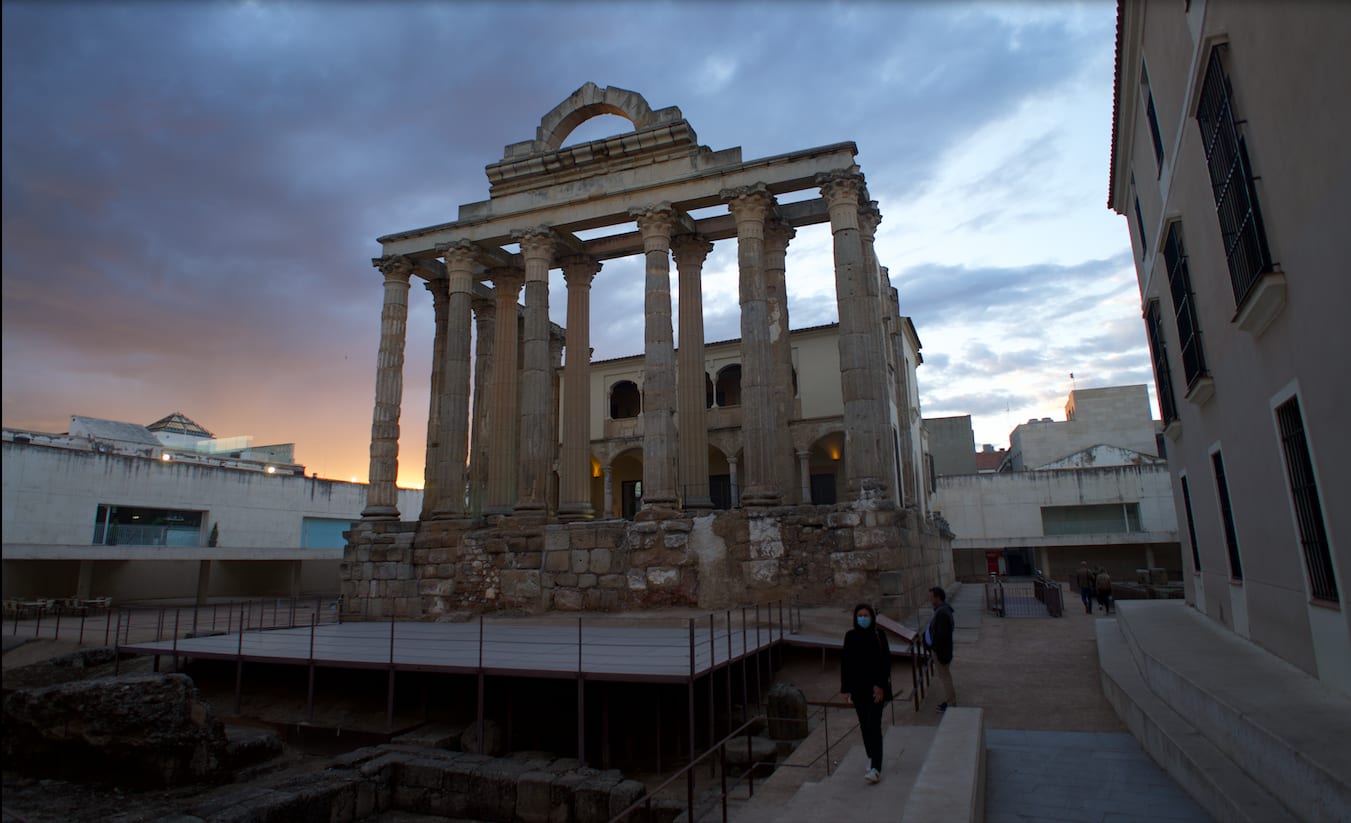 The Roman ruins in Mérida are like a trip back in time. We're talking about one of the largest archaeological complexes in Spain, if not the most.
You can stand in the ancient Roman Theatre, built between 16 and 15 BC with the support of Agrippa, Augustus' son-in-law, or walk under the grand Arch of Trajan, just as people did centuries ago.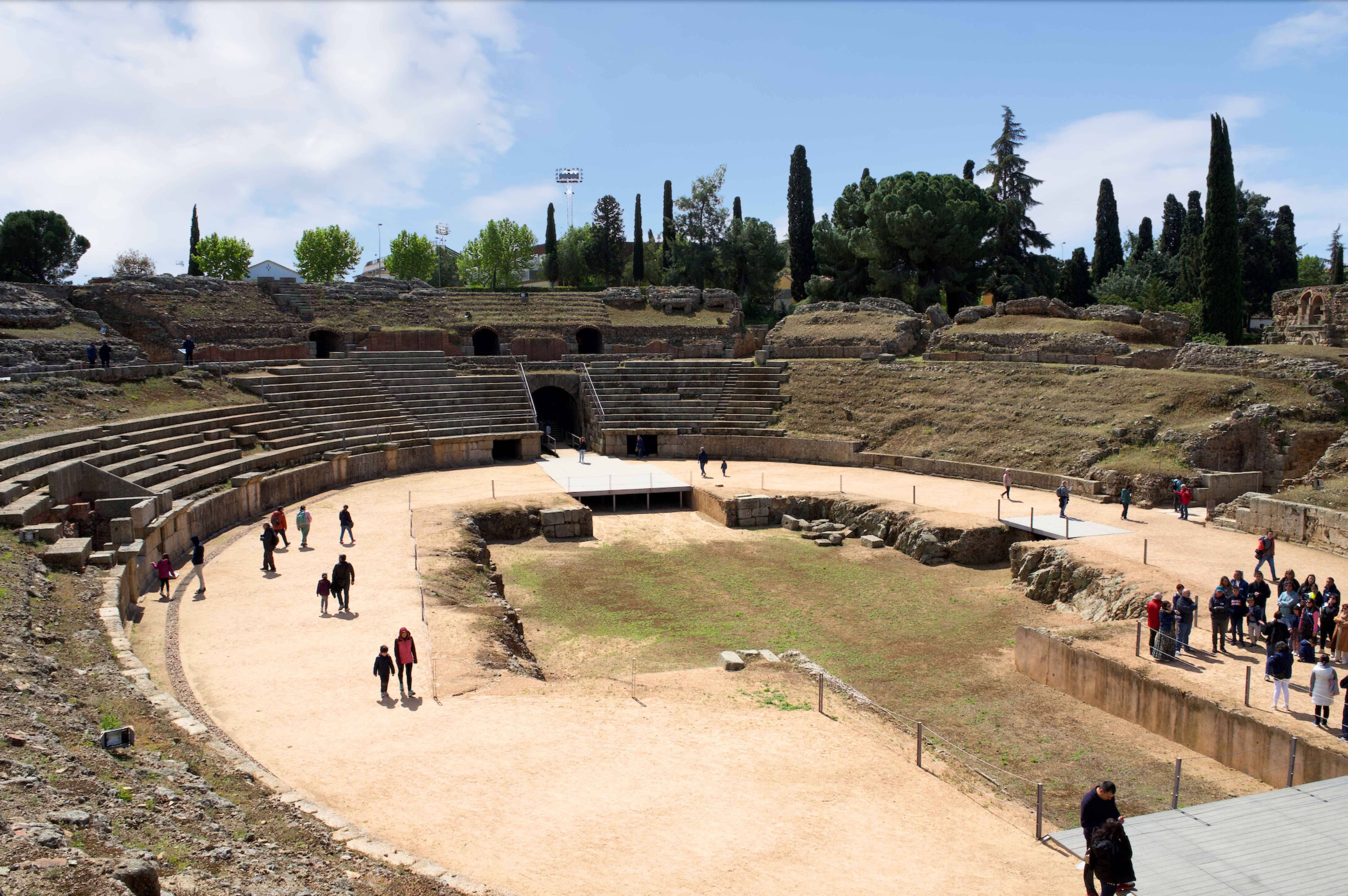 Even though the Romans weren't particularly interested in theater, it was still crucial for a respected city to have a stage game building, so they made sure the city had its own.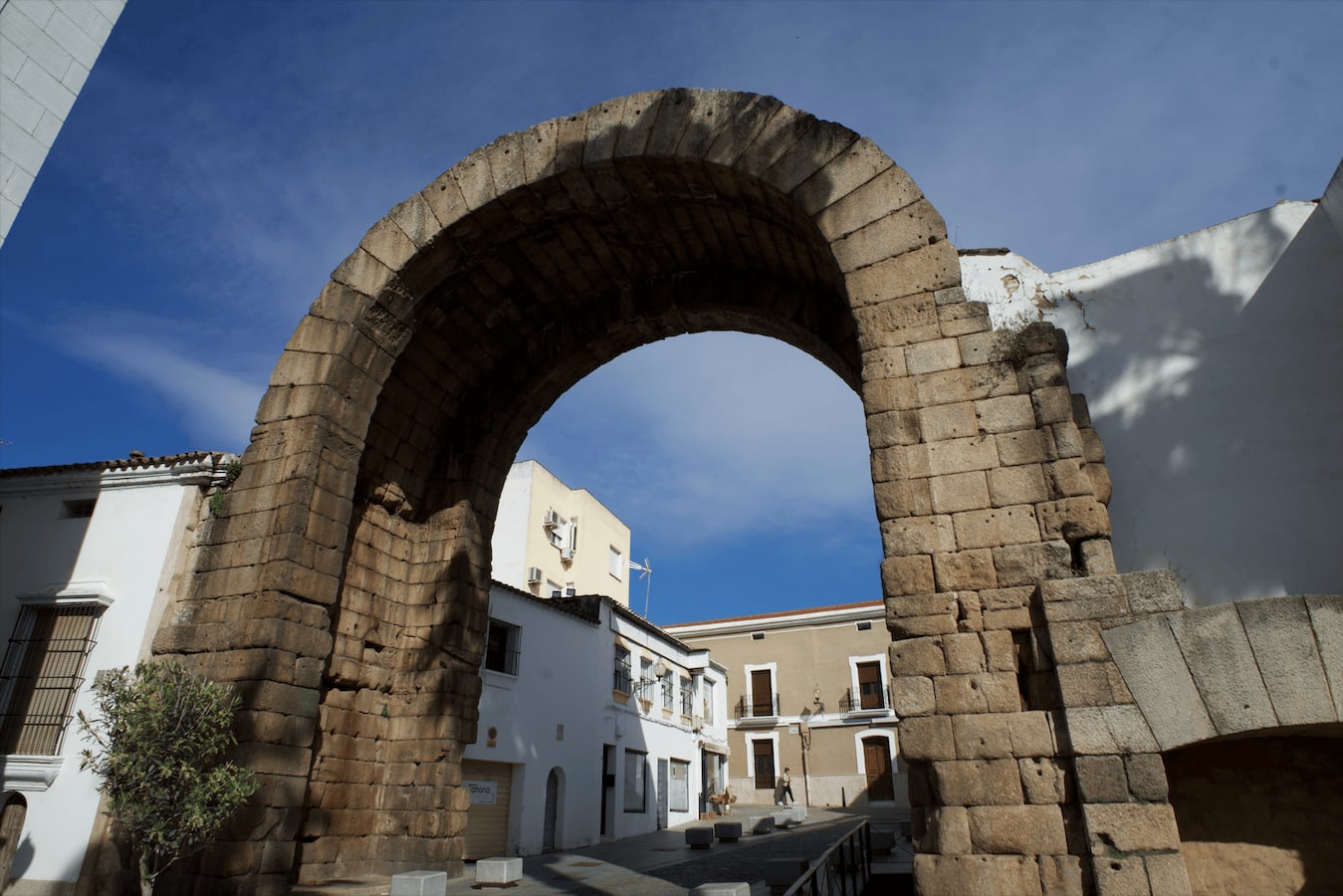 On a visit, you can witness the incredible engineering accomplishment of the Aqueduct of the Miracles with its towering arches!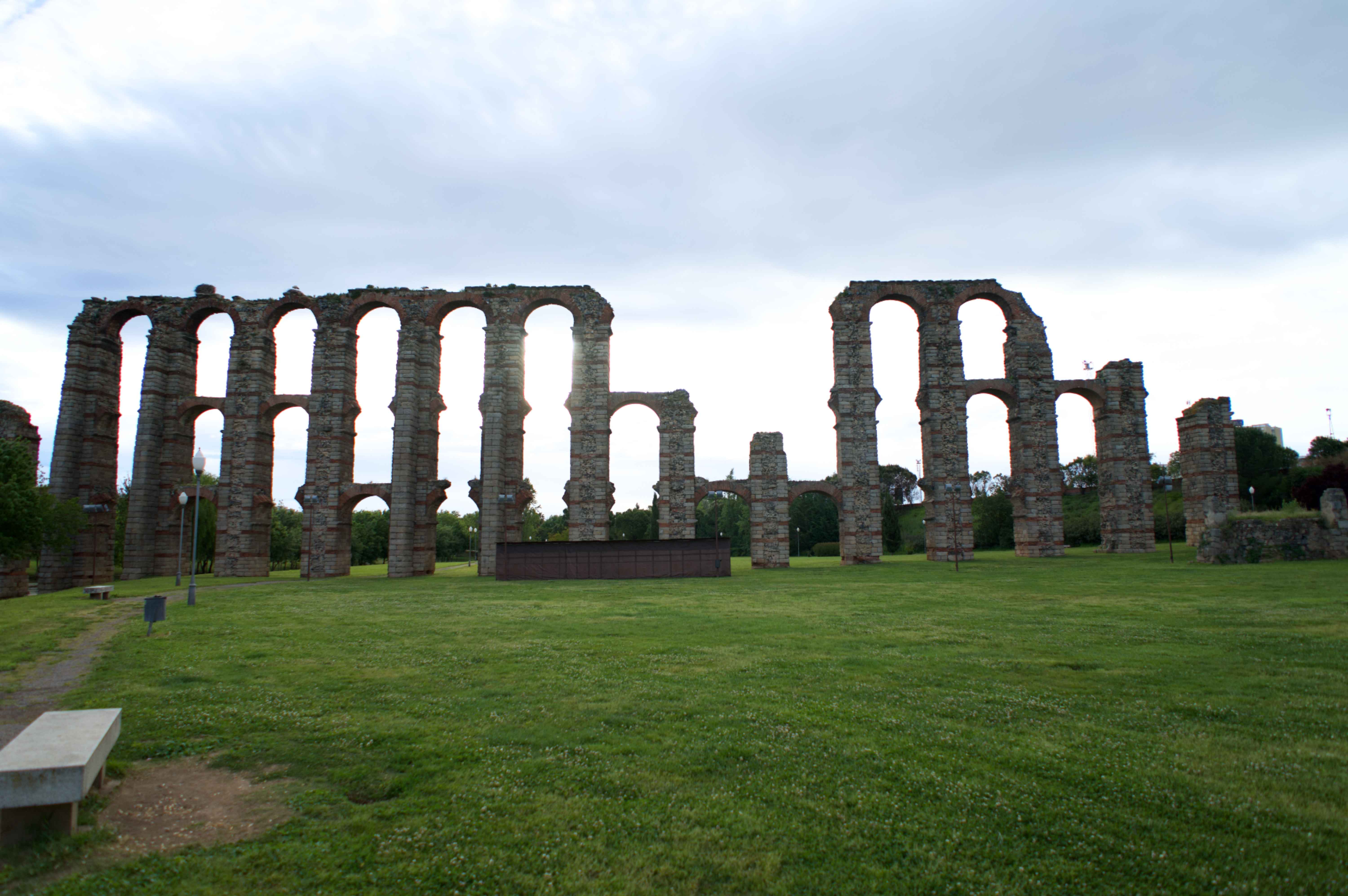 Then you can also visit the Diana Temple, a beautifully ruined temple where Romans worshipped the goddess Diana.
Now, let's talk local advice. You can't miss a stroll around the Alcazaba. It's got this incredible mix of Moorish and Roman vibes. And the views from up there are Insta-worthy! But we'll get there a bit later.
And this is only the beginning, and Mérida is not just about old rocks; it's about diving into history, feeling the energy of ancient stories, and, of course, getting some cool pics along the way. 
2. Have a romantic sunset stroll on Puente Romano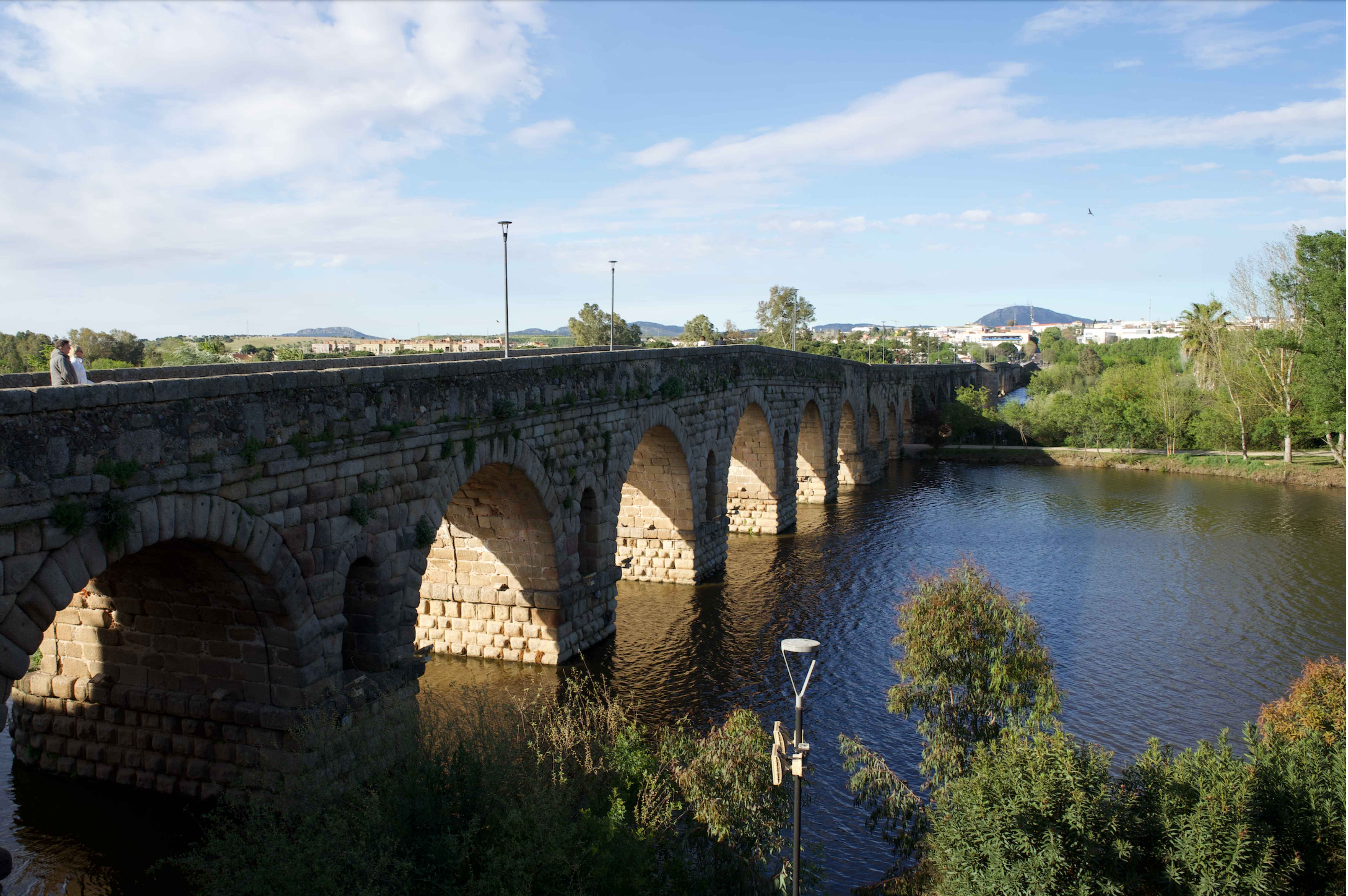 Some say the Puente Romano is a gateway to the city's ancient past and a must-visit for any traveler.
I agree it's a living testament to Roman engineering marvels… but let's be honest: it's the perfect spot for a romantic stroll with your loved one! And we all know vacation is about spending it with the ones you love most. 
Can you believe this bridge has been here since the 1st century BC? It's crazy to think we're walking the same path as the Romans did over two thousand years ago!
Oh, and the bridge is not just a way to cross the river since you'll also get to see the beautiful views of the Guadiana River and the surrounding landscape!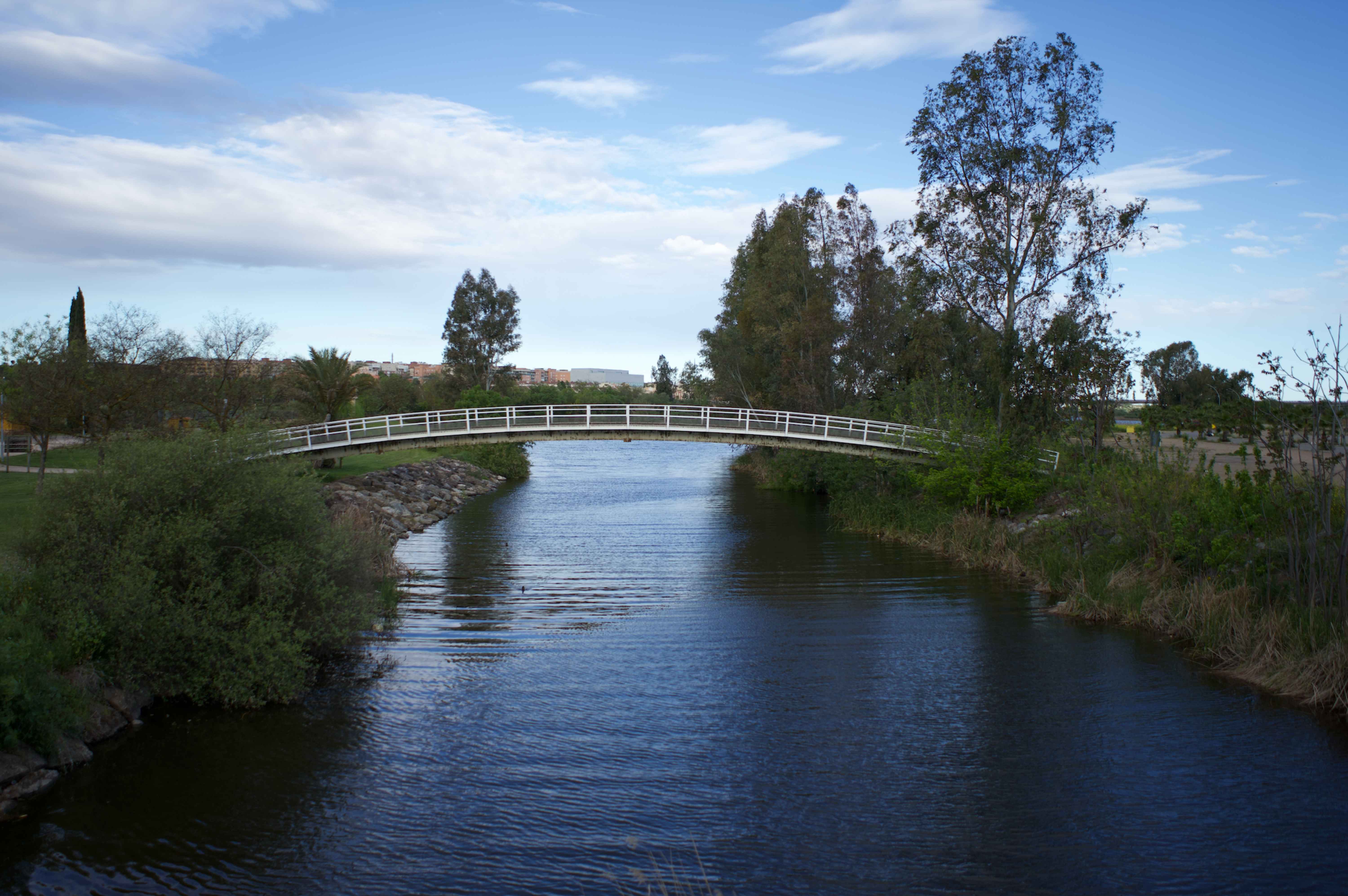 Plus, it's got some incredible history. And if you're lucky enough to catch the sunset, then your vacation is officially made. 
Also, locals love to hang out at Puente Romano; it's such a chill spot, perfect for feeling the timeless charm of Mérida. 
3. Explore the Alcazaba of Mérida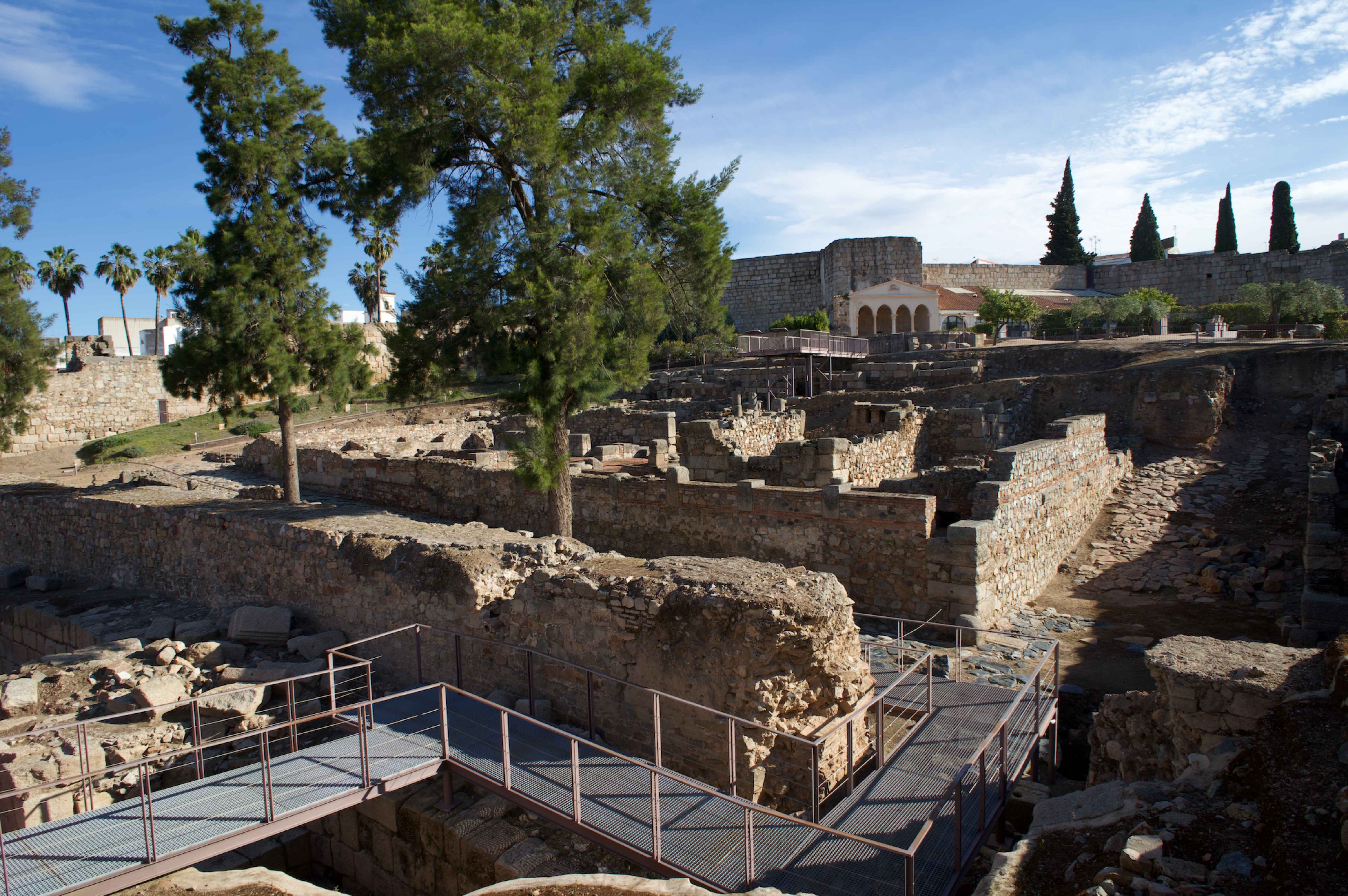 And talking about historical treasures, you also have to check out the Alcazaba of Mérida. 
It's a fascinating blend of a Moorish fortress and Roman influence that will definitely amaze you. It is located on Cerro de la Alcazaba, the perfect spot to explore and learn about Mérida's rich history.
When you're there, don't rush, and make sure to check out the incredible architectural details. The walls, towers, and gates are strong and have been around for centuries. 
As for the view, this spot at the top of the hill offers panoramic views of Mérida and its surroundings, making it great for history lovers and those looking for delight with views. 
4. Discover the beautiful National Museum of Roman Art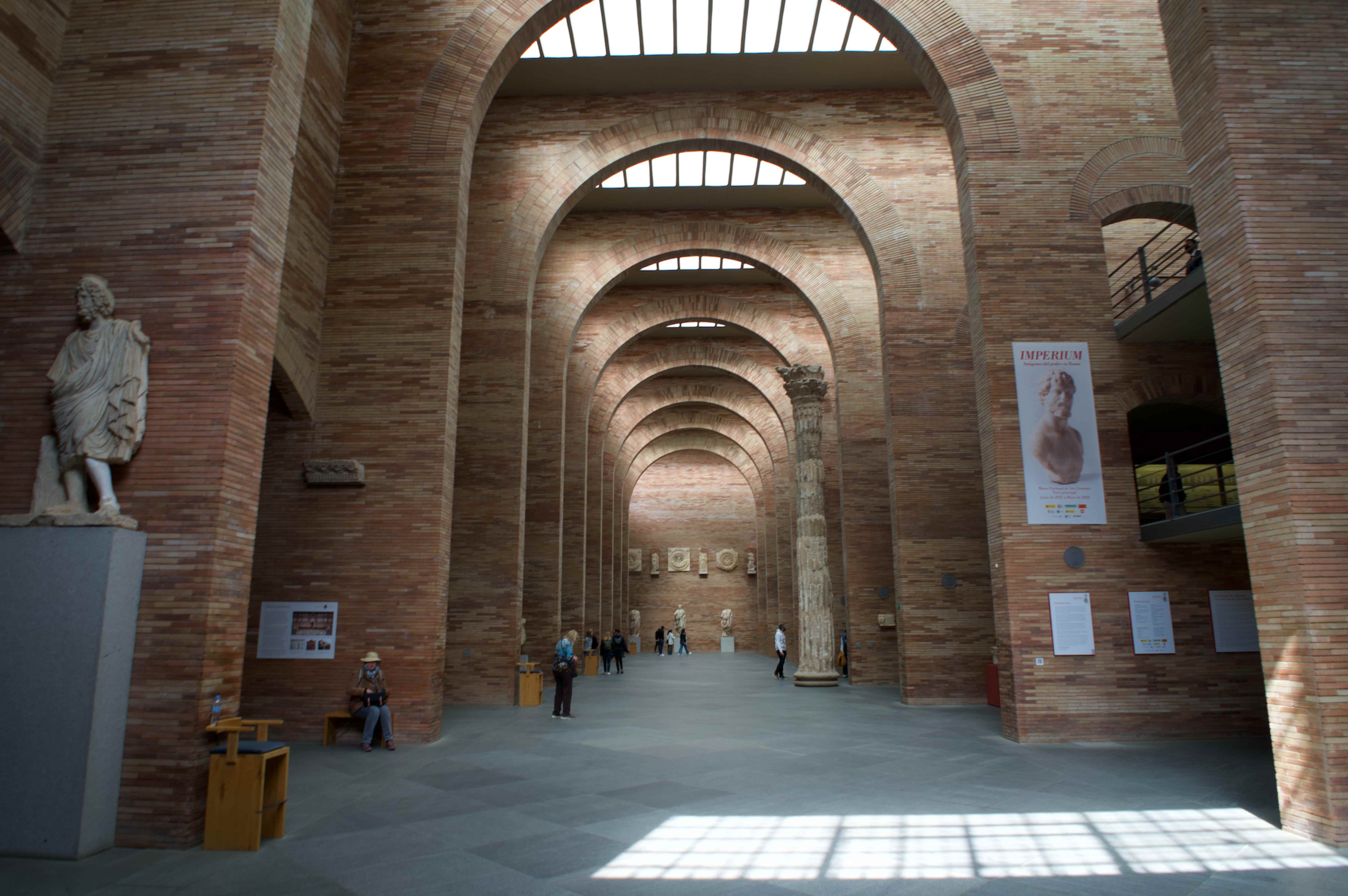 If you're a history or art lover, you'll love the National Museum of Roman Art in Mérida. It's basically a treasure trove of artifacts from the Roman period that you would not expect to see in places other than Greece or Italy. 
The museum showcases a wonderful collection of Roman sculptures and statues representing various aspects of Roman life, including emperors, mythological figures, and everyday scenes. 
You cannot miss their huge collection of Roman mosaics, which will give you a fascinating insight into the daily life, beliefs, and cultural influences of the Roman people of Mérida. 
You can also see objects such as pottery, glassware, and tools, which provide a glimpse into the daily routines and customs of the ancient inhabitants of Mérida. 
Oh, and don't forget to check out the architectural elements from Roman structures, like columns and capitals. They're breathtaking! The museum often has thematic exhibitions that delve into specific aspects of Roman culture, history, and art, which are always super interesting. 
If you want to learn even more, you might want to consider taking a guided tour to enhance your experience!
5. Visit the iconic Plaza de España square in the old town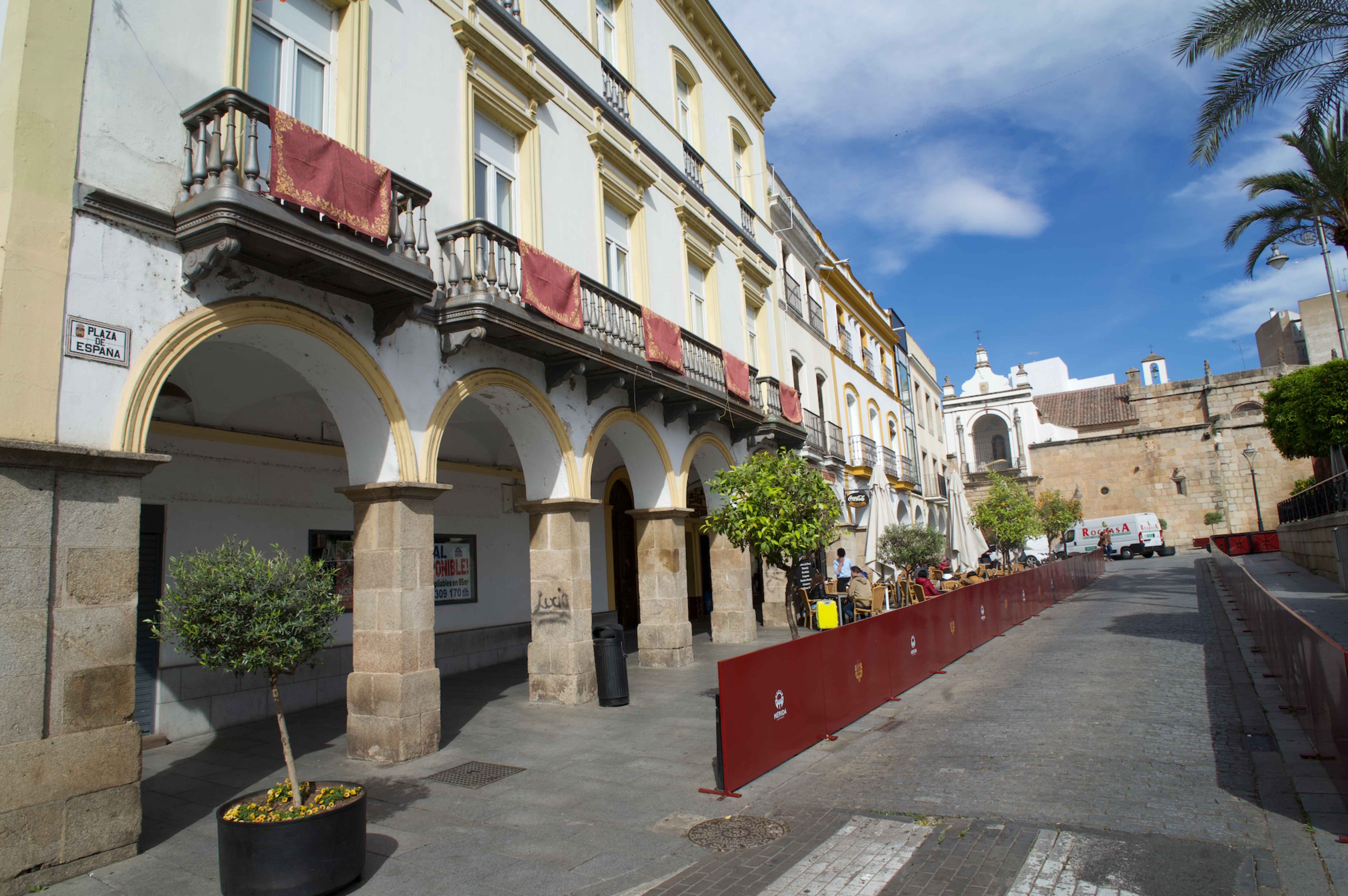 The Plaza de España in Mérida is an iconic historic square at the city's heart. It's full of unique features and surrounded by outstanding architectural landmarks. 
In the heart of the square, there's a fabulous fountain perfect for cooling off and taking a break. You can hear the sound of the water flowing, which makes everything feel super chill and calming.
All around the plaza, you'll find some lovely cafés and restaurants with outdoor seating, making for a lively and welcoming atmosphere. You can hang out, grab a bite to eat, or socialize while you enjoy the scenery.
The cool and big building you'll spot right in the plaza's center is the Extremadura Regional Government. Its architecture has a touch of traditional Moorish design. But at the same time, it is a really classy building that adds a touch of elegance to the square and shows off the different influences that have made Mérida what it is today.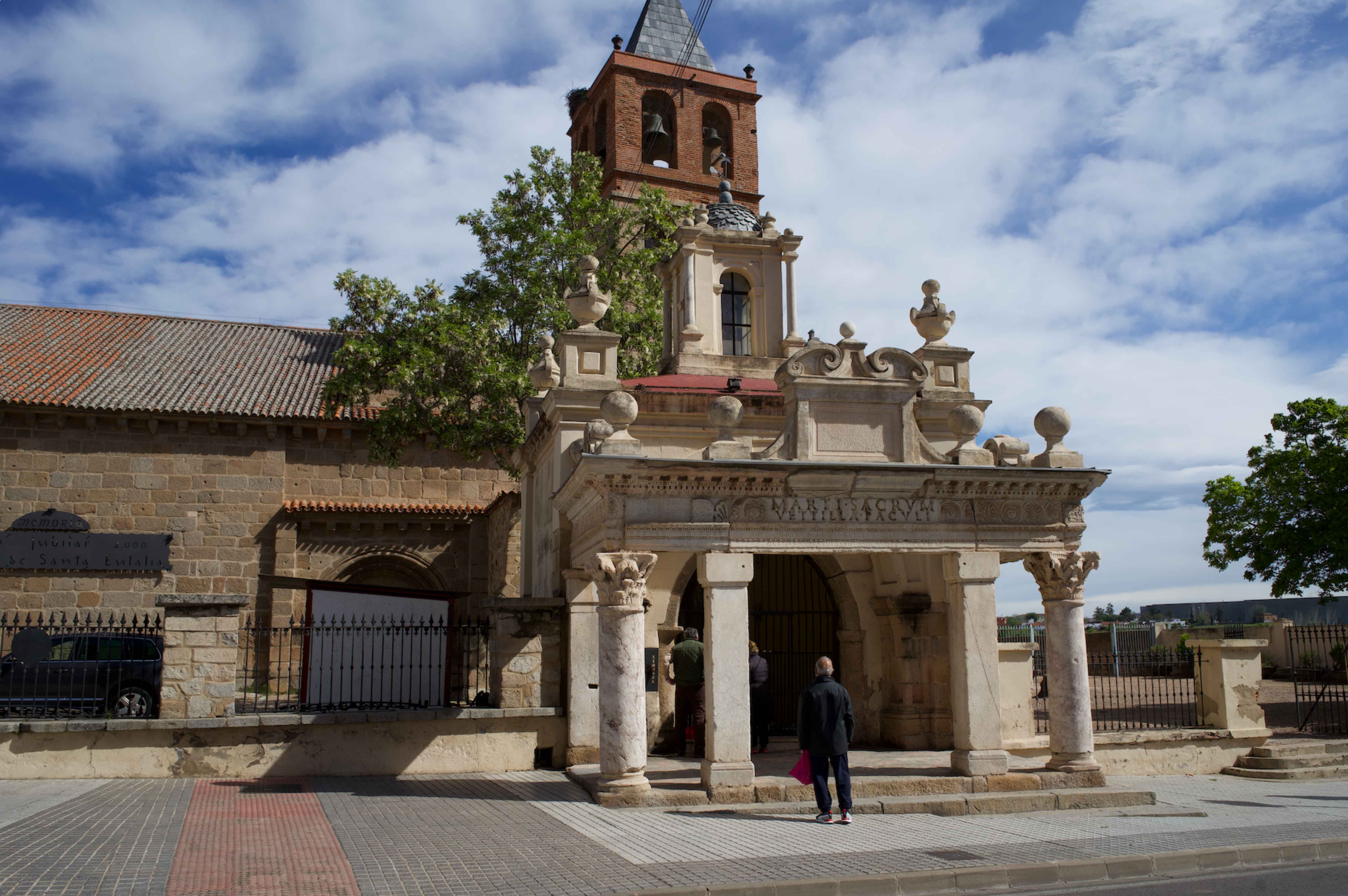 The area around the government building is surrounded by other cool buildings and structures that are part of Mérida's history. (very close is the Mérida Cathedral) It's a beautiful place that makes you want to explore and learn more about the city.
Best Time to Visit Mérida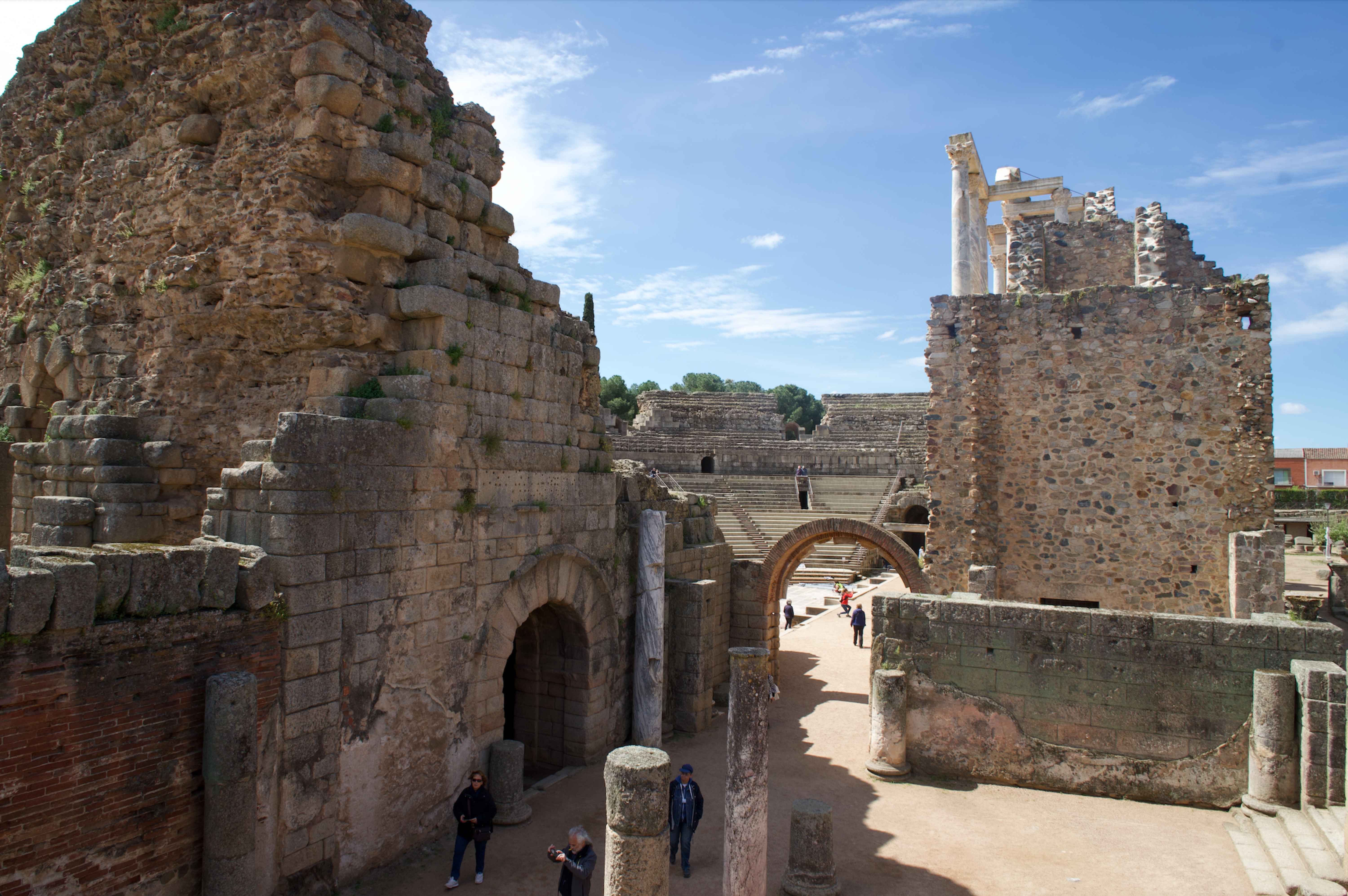 Autumn and Spring are the best seasons to visit Mérida to experience great weather, a pleasant atmosphere, and green landscapes.
The highest average temperature in Mérida is 35°C in August, and the lowest is 13°C in January. So, you should expect lovely days to discover all the places we've covered in the article.
The mildest months are July and August, while January and February are the coldest. You should pack a light jacket for those months. Also, the rainiest months are January through April and then from October to December. So, May and September are the best months for your visit.
These months are also favorable if you want to see dense green areas and enjoy hiking. The weather is excellent for taking routes, tours, and visiting towns. This is an ideal time for people who love outdoor activities and exploring new places!
How to Get to Mérida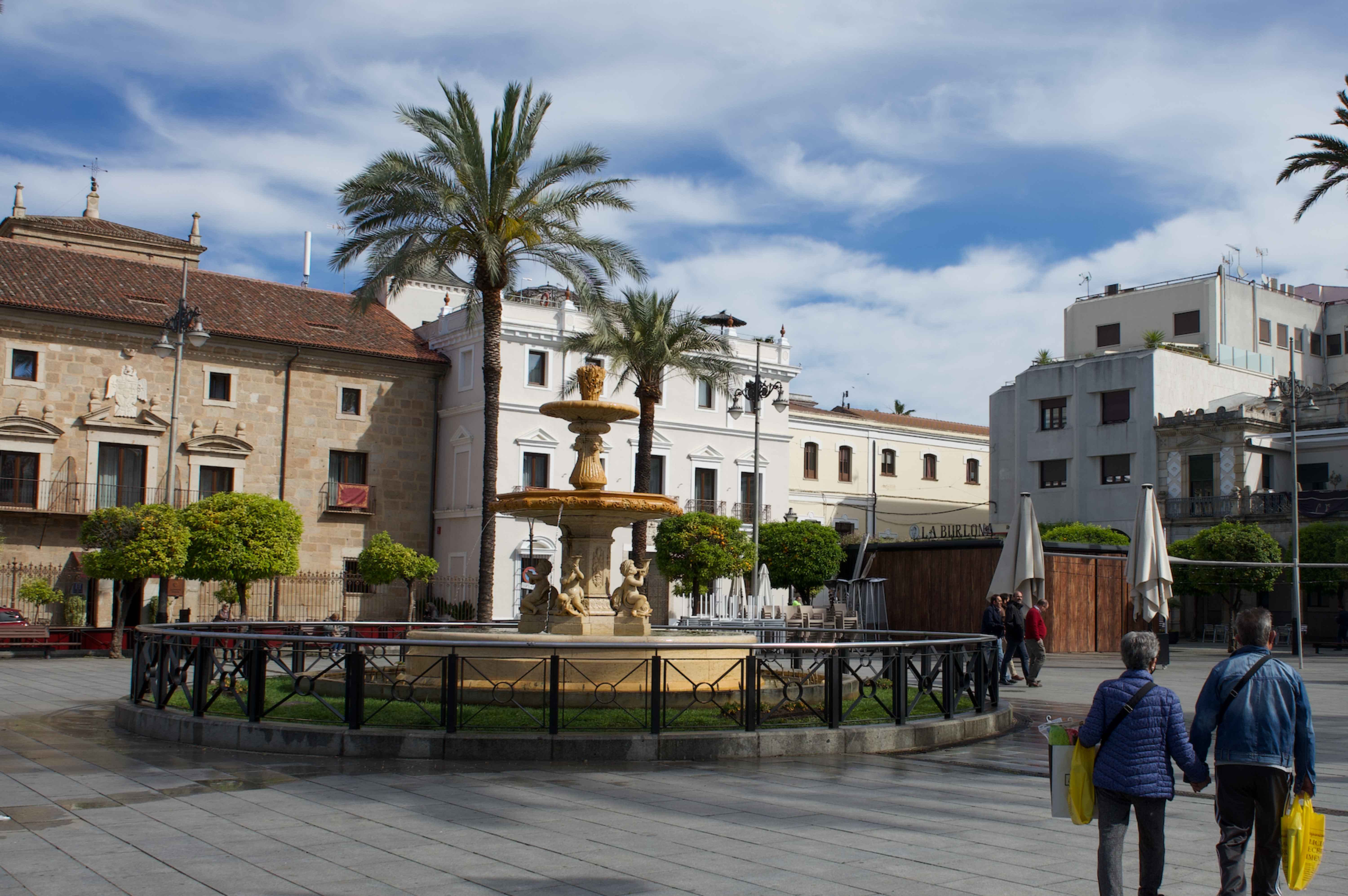 By flight
If you're planning to fly to Mérida, you need to know that there's no airport in the city itself. But don't worry, the closest airport is in Badajoz, just 50 km away.
You can grab a direct flight to Badajoz Airport from major cities like Madrid, Barcelona, or Palma de Mallorca. The ticket prices vary depending on the dates, but you should expect to pay around 110 € for a one-way ticket.
By Train 
Taking the train to Mérida is the way to go. It's super easy, convenient, and affordable. RENFE has direct trains from cities like Madrid, Cáceres, Badajoz, Sevilla, and Ciudad Real. You can get a one-way ticket for as low as 35 €, but make sure you book ahead for even better deals.
By Bus
Buses are your best bet if you're trying to save money while traveling. AvanzaBus has a bus line from Madrid to Mérida, Badajoz, and even Lisbon. 
You can also take Alsa buses from Sevilla to Mérida, connecting you to Cáceres, Salamanca, and Santiago. 
Leda is another company that you can use to travel from Sevilla to Mérida. The roundtrip fare is less than €50, but the journey takes around 4.5 hours.
Carpooling
You can also carpool to Mérida through Blablacar; it's a very cheap option if you're solo traveling or backpacking. You can get a trip for 25 €, lasting about 3 hours from Madrid. 
These transportation options offer flexibility depending on your starting point and travel preferences. Whether you prefer the speed of a plane, the convenience of a train, or the scenic route by bus, Mérida is well-connected to major cities, making it accessible and easy to reach from various locations.
What to Eat in Mérida
Have a delicious lunch at Tuétano
Taste yummy local tapas at El Puchero de la Nieta
Try the best rice at Barbarossa Restaurante
Where to Stay in Mérida
Stay at the beautiful Hotel Palace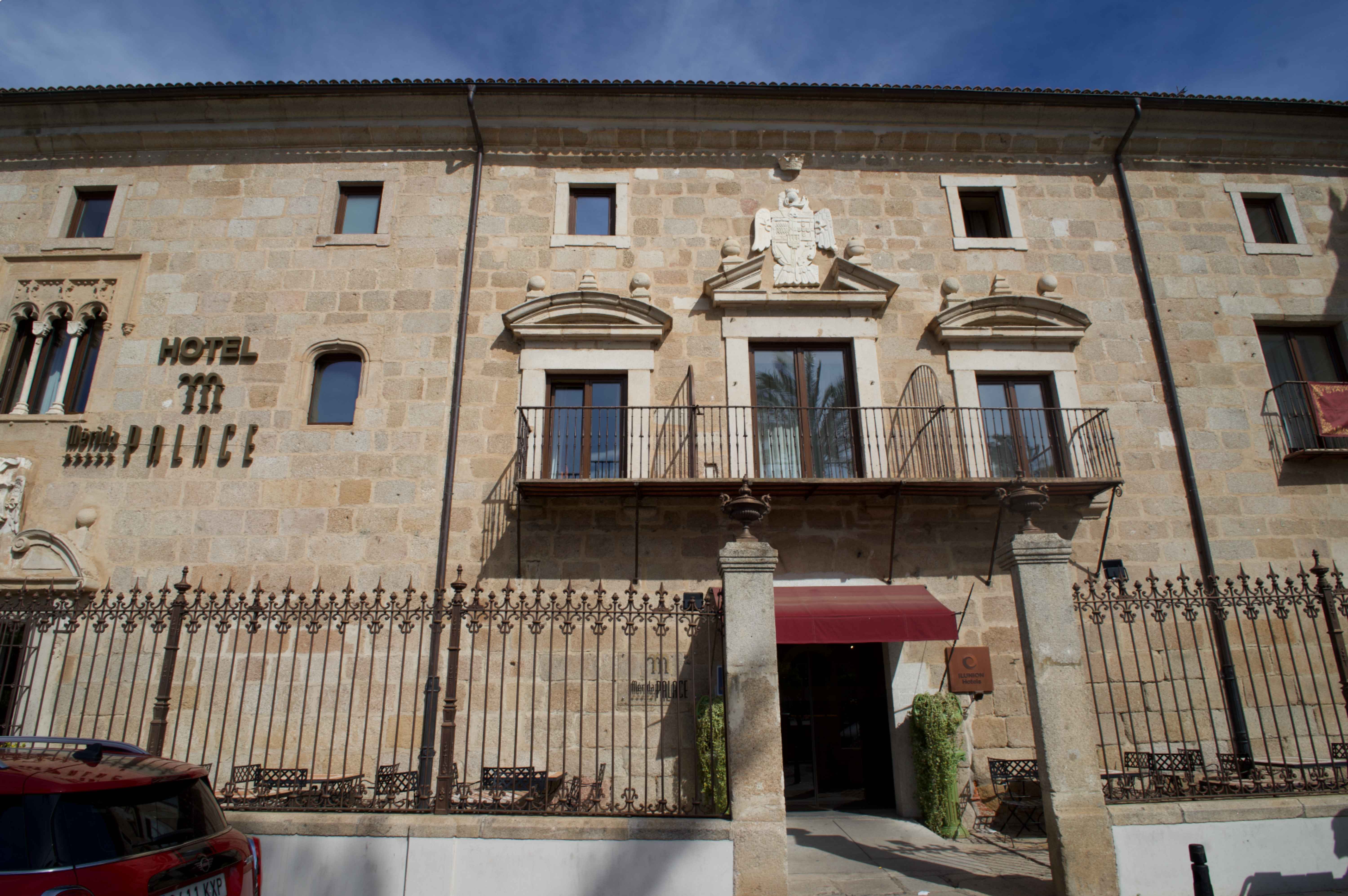 Spend your days in the ruins of a Roman Temple at Hotel Paradores
Enjoy a budget-friendly stay at Vettonia Hotel
How much does it cost to visit Mérida?
Request information: hello@sensationalspain.com
How much money you need for your trip to Mérida depends on many things, such as how many people are traveling, the type of activities you want to do, accommodation, the duration of your stay, restaurants, and most importantly, the time of year.
To help you more accurately, please don't hesitate to reach out to us via email! Share the details of your desired trip to Spain, and we will provide you with a price estimate and offer local advice for all your travel needs. 
Choose your Spain Itinerary
1 Day in Spain? 10 Best Things to Do in 24 Hours!
2 Days in Spain: Trip Ideas & Itineraries to Enjoy Your 48h
3 Days in Spain: What's the Best Itinerary for Your Trip?
4 Days in Spain - Best Travel Itineraries for Short Trips
5 Days in Spain: Itineraries to See (almost) Everything!
6 Days in Spain: The 3 Best Itineraries for Your Trip!
7 Days in Spain: The 3 Best Itineraries for Your Trip!
---
The city is amazing and one of the places you must include on your first visit to Spain for a deeper understanding of our history and culture!
If you have any other question about planning your trip to Spain, write it down or send us an email. We're always happy to share with you our local secrets.
Happy travels!