Travel to Pamplona: 9 Best Attractions, Food & Activities
October 13, 2023
Updated:

October 17, 2023
Published: October 13, 2023
Although many believe the year is divided between "before and after San Fermin," this beautiful Navarrese town has much life besides July 7.
In this article, I will provide all the necessary details to help you plan your visit to this modern, green, traditional and secure city, which boasts a huge variety of gastronomic delights.
This place may not have the best weather, but it's still got its own charm. Just follow my local advice, pick the right dates, (have faith or cross your fingers) and you'll probably end up with some great weather to enjoy!
Pamplona is a unique city that blends calmness and liveliness. But if there's one thing that makes this city unique is its residents, who are extremely devoted to their customs and deeply admire their roots and traditions.
Whether you're a local or a visitor, you'll feel right at home in Pamplona. And I'll show you how to experience it to the fullest!
---
What is Pamplona?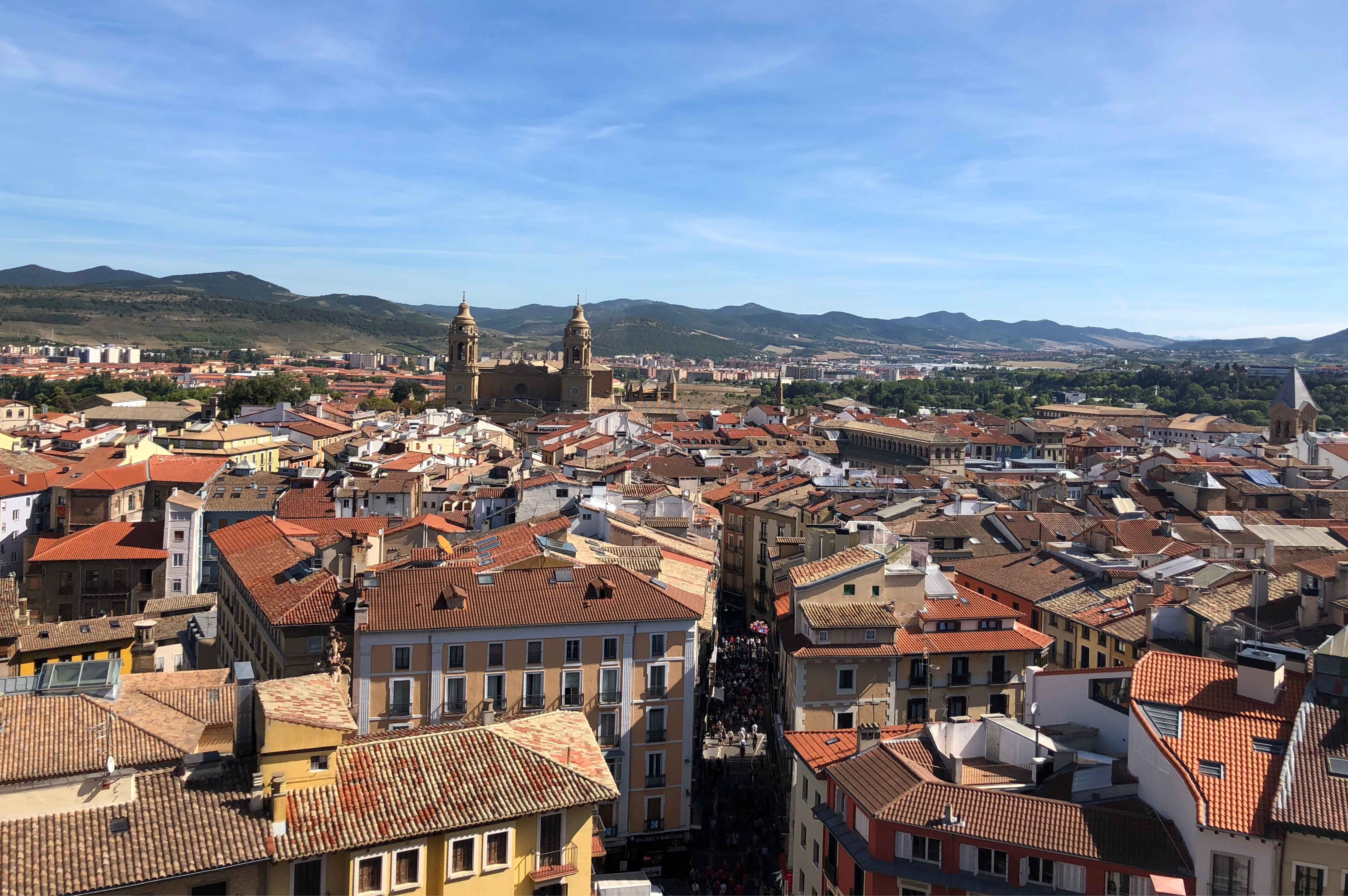 Pamplona, which is also known as Iruña in Basque, is a city located in the northern part of Spain and serves as the capital of the autonomous community of Navarra.
The city has a rich history and an interesting blend of traditions, making it a unique destination that offers visitors an unforgettable experience.
You'll find mostly elderly population mixed with young students, as traditional families make up a significant part of the community. The quality of life, security, and health standards in Pamplona are exceptional, making it one of the best places to live in Spain.
Others might know this city for the University of Navarre, which is renowned internationally and has a huge green campus worth visiting even if you're a tourist.
This makes it a lively place where young locals and international students come every year to fill the city with some extra joy.
In this article you'll also find some iconic places worth visiting in the Navarra region. As Pamplona is the main capital, it becomes an ideal setting for hiking and nature excursions.
What better opportunity to discover some of Spain's natural wonders than this?
Best Things to Do in Pamplona
1. Experience the running of the Bulls at the San Fermin Festival  
San Fermin is one of the biggest fiestas in the world, held in Pamplona from the 6th to the 14th of July. 
This famous festival is dedicated to Saint Fermín, and the main event in San Fermin is the running of the bulls. It consists of running in front of a group of brave bulls released into the streets of Pamplona.
Thousands of people participate in this exciting and somewhat "extreme" event, running alongside the bulls from the pens to the city's bullring.
In addition to the running of the bulls, San Fermin offer numerous activities and events throughout the week. There are parades of giants and big heads, live music, traditional dances, fireworks, and various cultural and sporting shows and activities.
2. Explore the Old Town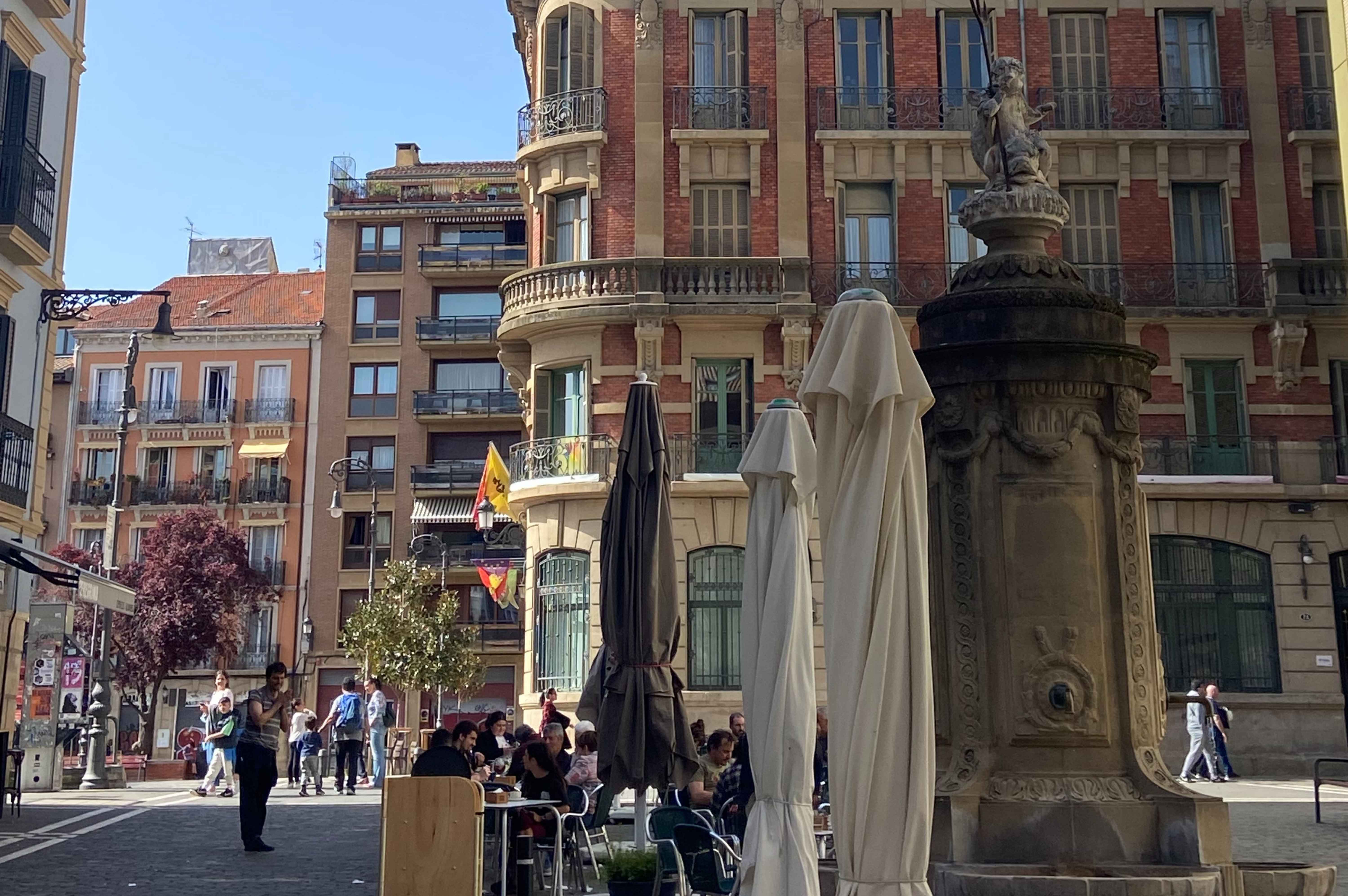 The old town of Pamplona is where you will want to get lost on a walk to grasp the essence of the place, soak up the Basque culture, how life unfolds in the streets, and the characteristic smells of the regional dishes.
Among the most important attractions you will find are La Plaza del Castillo, the iconic center of the capital of Navarra, probably the main image that comes to mind when you think of Pamplona.
You can see the Navarra Palace, surrounded by charming neoclassical and historicist-style buildings, and in the center, a kiosk.
Unlike many other large cities in Spain, the city center is not a tourist scam when it comes to authentic dining spots.
Pamplona's narrow streets are filled with many bars and restaurants, making it perfect to savor the best traditional food!
You have the Pamplona Bullring and the outstanding Town Hall Headquarters a few meters away, where the chupinazo occurs every year during the San Fermin festivities.
3. See the Murallas de Pamplona
It is one of Spain's best medieval remains of walls and fortifications. It was built long ago to protect the city with a fortified ring. 
To see it, you can start in the Media Luna Park, where you cannot miss the monument to Pablo Sarasate, the Ronda Obispo Barbazán, and the Portal de Zumalacarregui. 
Don't forget to go to the medieval Magdalena Bridge and finish your tour by walking through the Taconera Gardens, reaching the iconic La Ciudadella Park. 
This place was initially built as a Renaissance fortification by Philip II to protect the city. Later on, it was transferred to the City Council to serve as a public cultural and leisure space.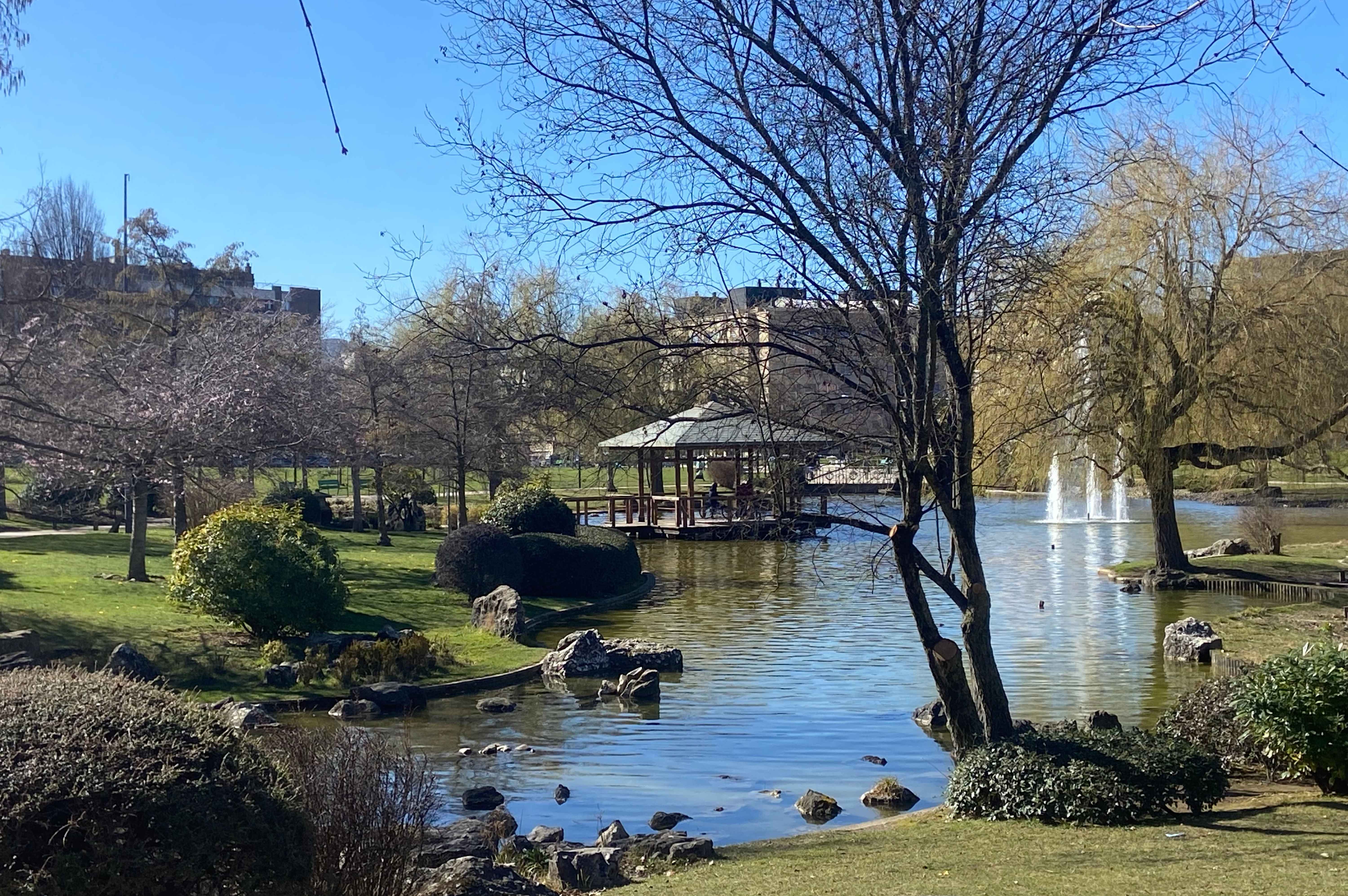 Take advantage of this opportunity to relax and enjoy a picnic after a long day of walking!
4. Catedral de Pamplona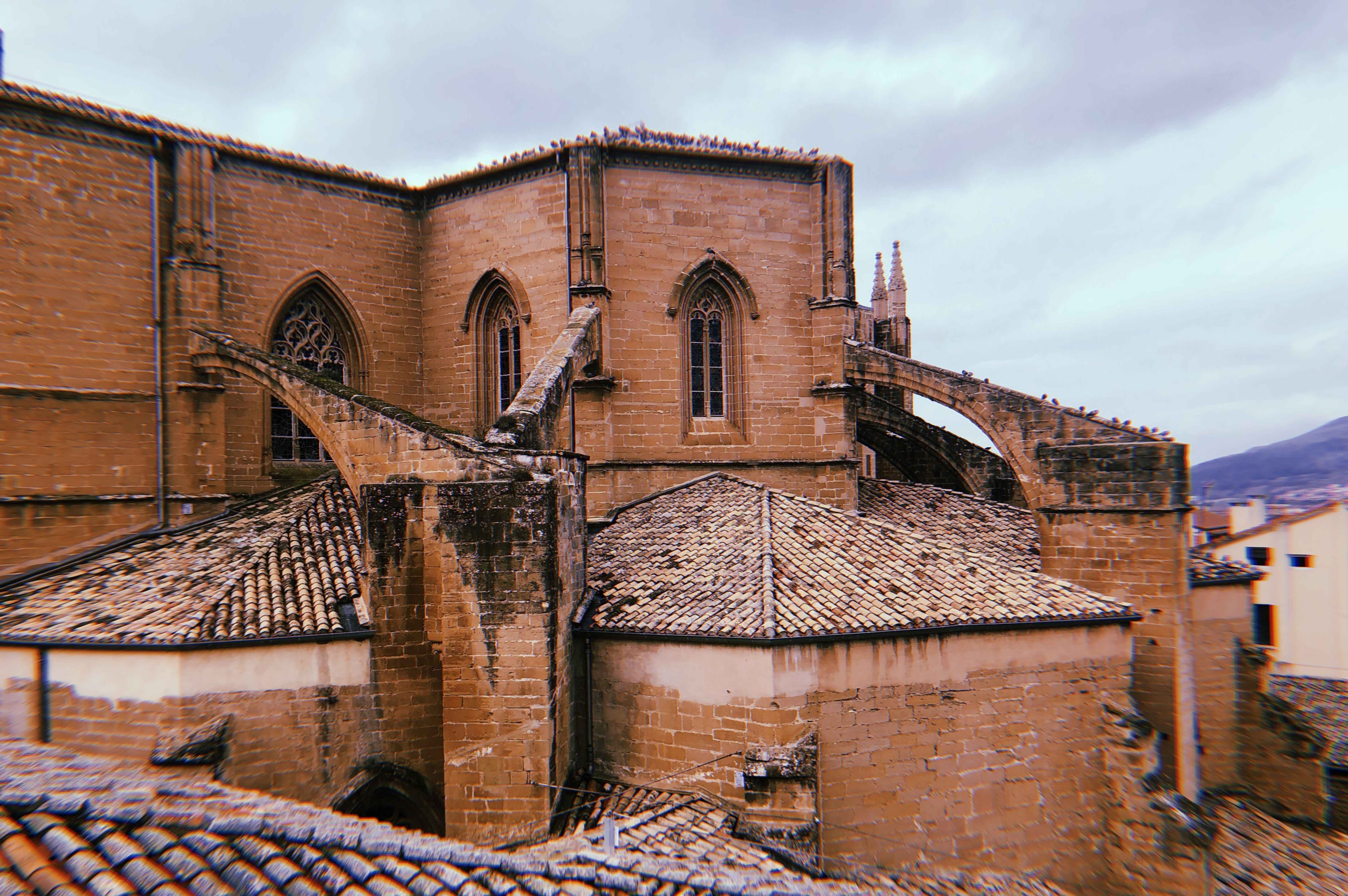 The Cathedral of Santa María la Blanca stands in the old town of Pamplona. It is the most important Cathedral in the city and was built in the 11th century by order of Sancho el Mayor and Bishop Pedro de Roda.
Although the diocese itself is much older, the current Gothic building was constructed between the 14th and 16th centuries on the foundations of the original temple consecrated in 1127, with San Fermín as the first bishop of the diocese in the year 80 of the Christian era.
It is worth a visit since it's located on a unique uphill street called Calle Curia. It offers a picturesque image of the Cathedral, housing one of the most iconic pastries shops on its road, called Pastas Beatriz.
The Museum of Navarra currently has the few remaining Romanesque ornaments from the Cathedral.
5. Have drinks like a local and enjoy Juevintxo
In Pamplona, it is a traditional activity to go out and enjoy pintxos on Thursdays. You can find these delicacies in the streets near the city center and the Bullring.
I have explored every corner of the city to find the best food. I can confidently say that Bar Gaucho, Katuzzarra, Iruñazarra, Basserriberri, El Temple, Bar Urrizelki, Chez Belagua, and La Cocina de Alex Múgica serve some of the best pintxos I have ever had.
Once you immerse yourself in Pamplona's culture, you will realize they are very social and attached to their groups, or "cuadrillas." They say that once you make a group of friends, it becomes an inseparable crew.
You will see the city filled with people socializing while enjoying beers, pintxos, and zuritos outdoors. (Zuritos are the equivalent of espresso but with wine.)
6. Visit the Best Museums in Pamplona
Museo de Navarra
You can find the Museo de Navarra in the heart of the old town, which houses an impressive historical relic collection.
This museum has a diverse collection of artifacts, including Paleolithic and Iron Age items, artistic samples from Roman, pre-Romanesque, Romanesque, and Muslim Navarre, Gothic and Renaissance art, Spanish and foreign paintings from the 17th and 18th centuries, works by Francisco de Goya, as well as Navarrese paintings from the 19th and 20th centuries.
Museo de la Universidad de Navarra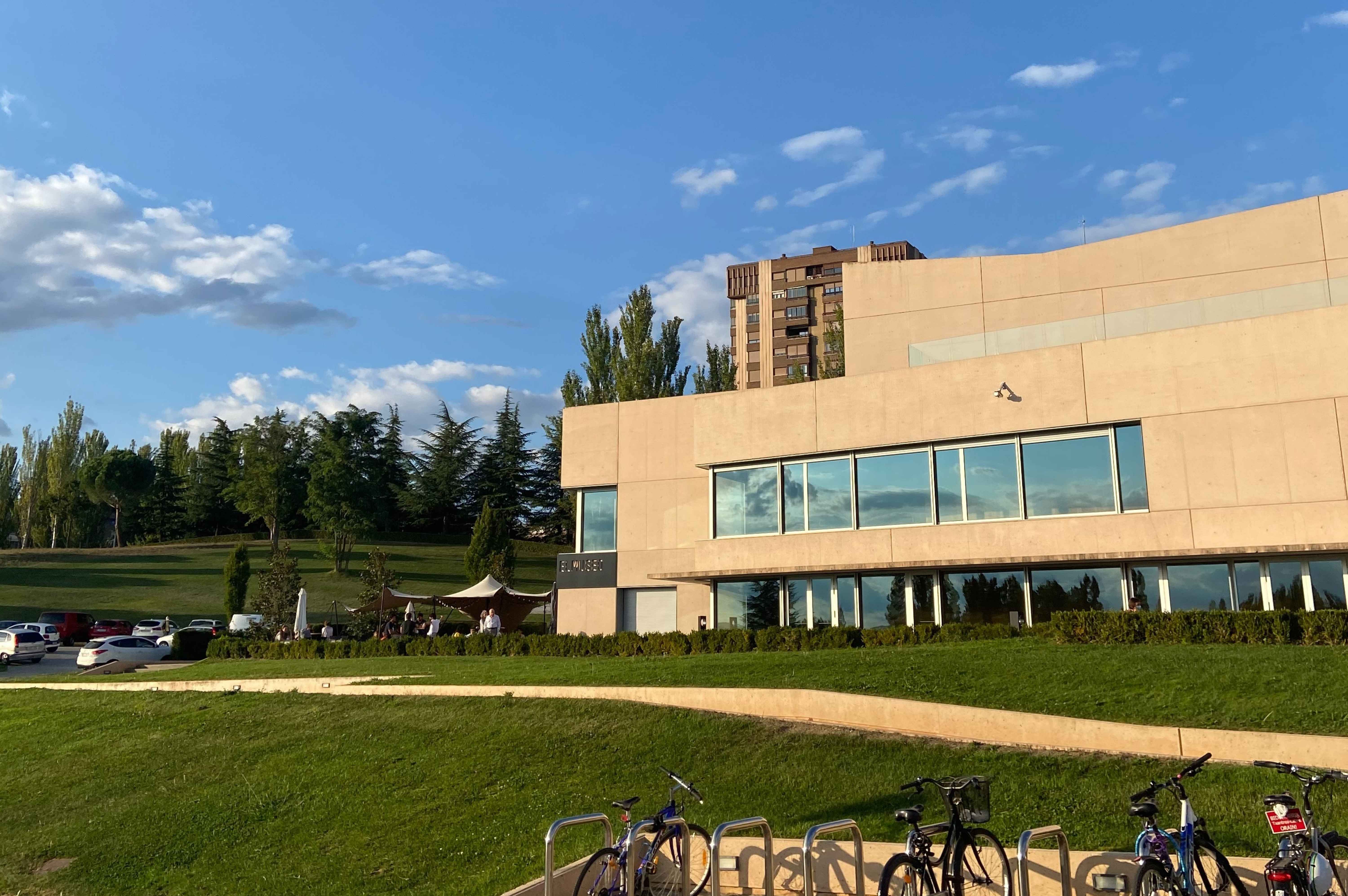 Then you have the Museo de la Universidad de Navarra (inside the University complex), which is one of the most fantastic university campuses in Spain, with the greenest area you'll find! It has a gorgeous view of the countryside and is located in Pamplona. 
I recommend you visit this contemporary art museum designed by architect Rafael Moneo. It serves as a bridge between the cultural and creative life of the region of Navarra, the university life, and the rest of the world. 
Very interesting, the views are worth it, and it has a cafeteria to grab lunch outside on a terrace. 
7. Embark on a hiking route to Foz de Lumbier
Navarra brags about some of the most stunning landscapes in Spain. If you're looking to explore a popular yet less touristy natural reserve, then La Foz de Lumbier is the place to be.
Along with the Sierra de Leire and the Foz de Arbayún, it forms one of the most picturesque landscapes in the region.
It takes about an hour to complete the journey without any stops. You will reach the third tunnel after 30 minutes, and then it will take another 30 minutes to return.
8. Make a trip to Bardenas Reales
A dessert in one of the rainiest places in Spain, like Navarre? Yes, there is. 
The Bardenas Reales is a Natural Park and has also been recognized as a Biosphere Reserve. If you love hiking and the outdoors, this is the perfect place. 
It's actually a semi-desert natural wonder with naturally sculpted formations resulting from the erosion of clay soils, sandstone, and gypsum that will leave you speechless. 
There are numerous routes to explore it on foot. Some of them are:
El Fraile Route: Begins in Corrales de Bea and has 4 and a half km, including a visit to Cabezo del Fraile, from where you have views of the old fortress. 
Circular route: a 34 km loop that will take you one or two hours to complete. Begins at the entrance to Arguedas, heading towards the Castil de Tierra.
From South to North: visiting the entire extension of the Bardenas Reales, including Castil de Tierra, the Caldero track, the Roncaleses ravine, and the monument to Pastor Bardenero.
9. Explore nearby towns, San Sebastian and The Olite Castle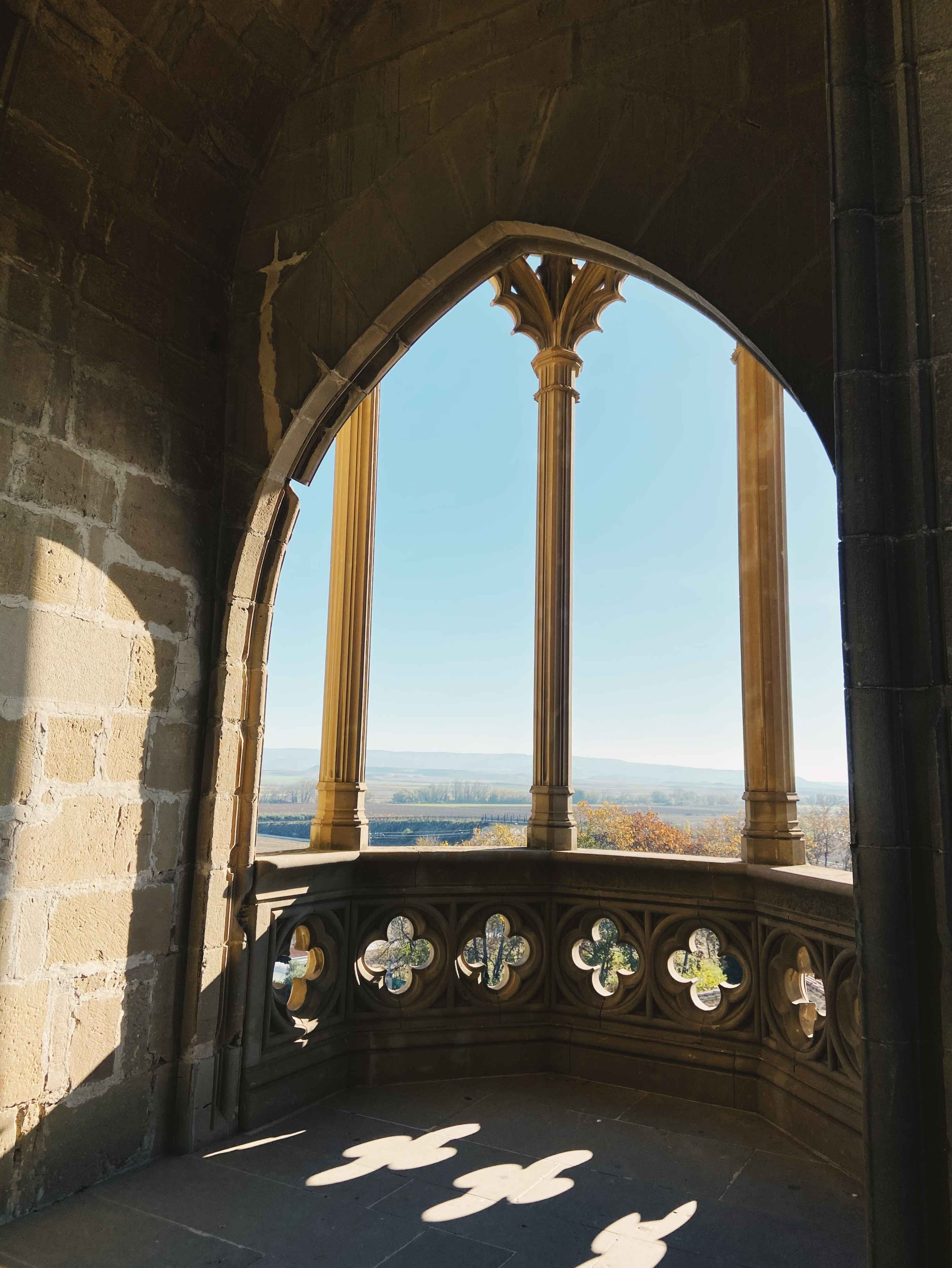 If you are in Pamplona, take the chance to visit one of the most iconic castles in Spain: The Royal Palace of Olite, located in a nearby town. This impressive architectural complex is perfect for a romantic getaway or a day trip with your partner.
It has a rich history, home to viceroys and the nobility throughout the centuries. After being settled by the Romans and Islamic groups, the palace was rebuilt on the site of an old fortress that had witnessed the French occupation and many other important historical events.
Read more: 20 Best Castles to Visit in Spain: Fairytale Sites!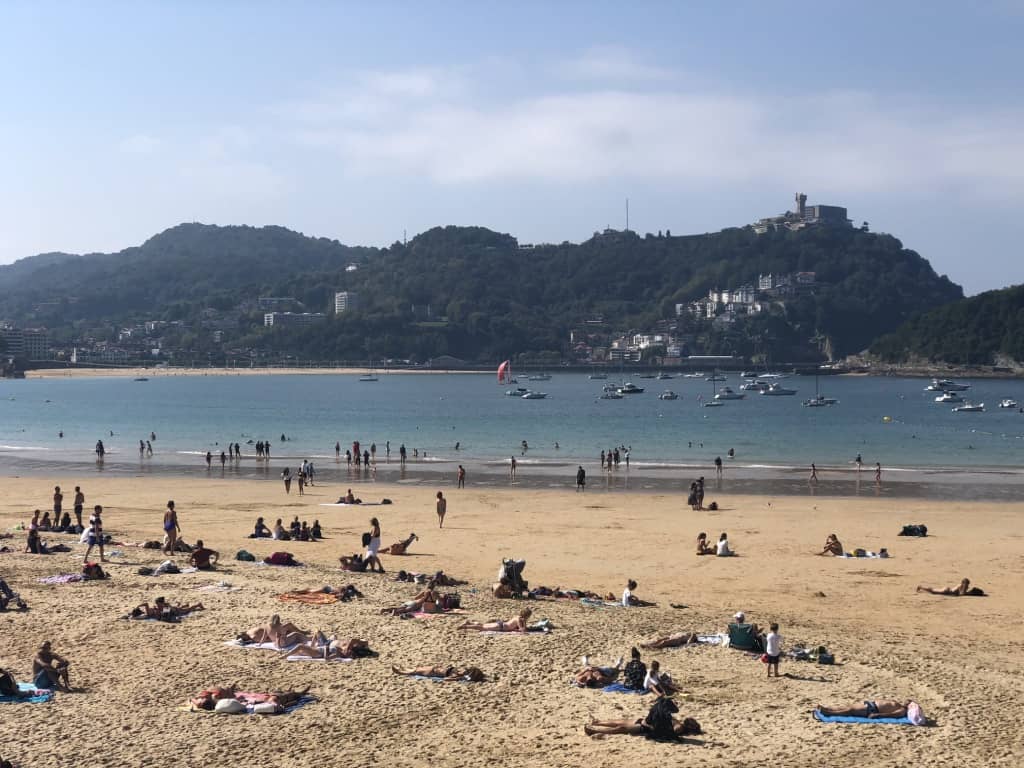 Moreover, you can get a beach getaway to San Sebastian and delight yourself with basque gastronomy, one of the most delicious cuisines in the country. 
This small town is among the top 10 places to visit in Spain, and it happens to be less than an hour away from Pamplona!
This location is home to the San Sebastian International Film Festival and has some exclusive restaurants for authentic gastronomic experiences.
If you need help planning your trip, let me offer you some guidance!
Read more: Travel to San Sebastian: 7 Activities, Food & Attractions
Best Time to Visit Pamplona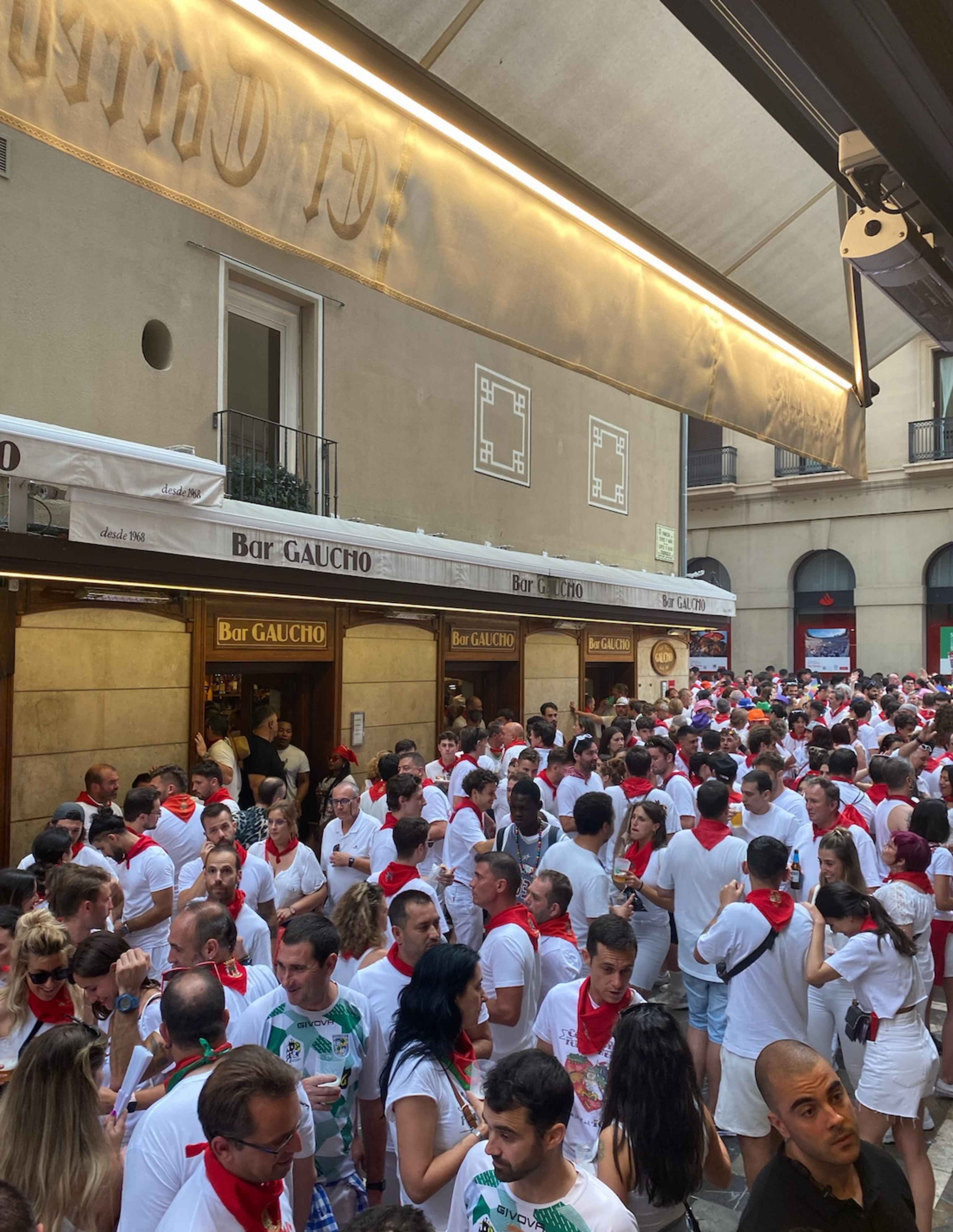 If you plan a visit to Pamplona, go between May and October. During summer and early autumn, you can expect pleasant temperatures with little rainfall.
The city's most important festivities are held in July, offering a unique cultural experience. Also, late August and early September are great times to visit for leisurely hikes in the peaceful surroundings.
Read more: Spain in July: 7 Travel Tips, Activities & Weather
If you are looking for a warm climate, travel to Pamplona in July, where the average temperature is 21 °C and the maximum can reach 28 °C. Additionally, this month is when the city prepares for the most anticipated week of the year, San Fermin.
However, June and the first week of July are the most expensive months to travel, and it can get a bit harder to find accommodation, so book in advance or begin your journey in mid-June.  
How to Get to Pamplona
By high-speed train (Renfe)
Renfe is the railway company offering connections in Pamplona, and it is one of the best options to reach the city in terms of price/quality.
The train journey from Madrid to Pamplona takes about 3 hours, costing around 56€ for a one-way ticket. However, if you book in advance, tickets can be way cheaper. 
The train journey from Barcelona to Pamplona takes about 3 hours, costing around 50€ for a one-way ticket.
Tip: If you're taking a taxi to your accommodation, RUN to the parade after you arrive. It is right next to the entrance after leaving the train station. You'll probably see everyone else running in the same direction. 
Still, the station is very well communicated with bus lines that provides easy access to many places in the city. 
By flight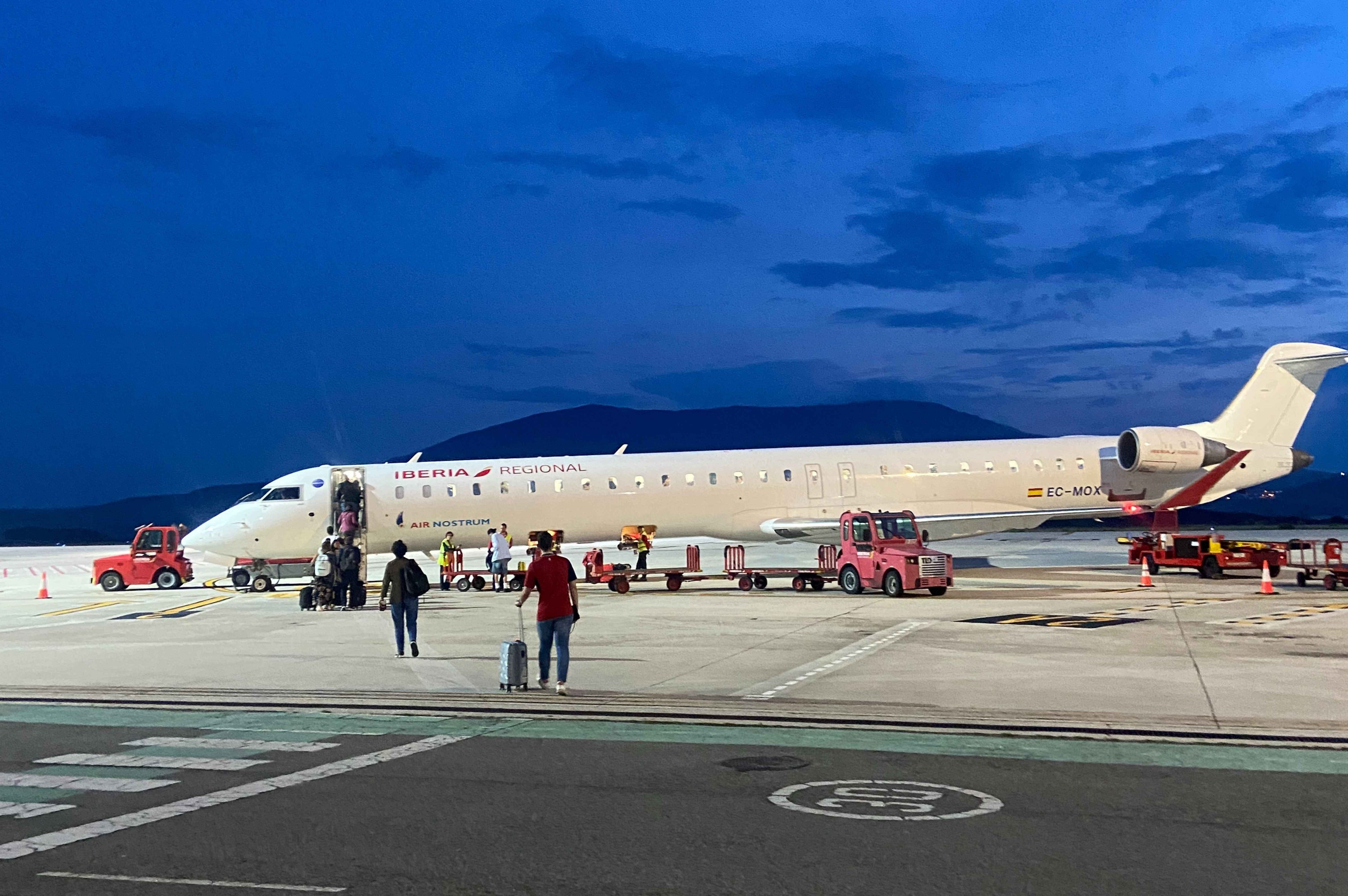 Pamplona has its own airport, located only 5 km from the city center. It is small but has national flights from American Airlines, Avianca, and Iberia Airlines. It also has a few connections with international airports, but they are uncommon. 
It is a 45-minute trip from Madrid to Pamplona and usually costs around 80€ for a one-way ticket. But it depends on the season and whether you book them in advance. 
By Bus
There are several bus lines that operate to Pamplona, including Bus, ALSA, and FlixBus. 
If you're traveling from Madrid, the cost of the bus ride to Pamplona is approximately 53€ and takes around 5 hours and 20 minutes.
If you're coming from Barcelona, the ticket price will be around 58€, and the journey will take about 4 hours to reach the most popular bus station called "Pamplona Estación de Autobuses," which is located in the city center.
If you're traveling from San Sebastian, the bus journey is approximately one and a half hours away, depending on the bus you take, and it will cost you around 16€ for a round trip.
By Car
Another option to get to Pamplona is to rent your own car. You can find many options in your typical car rental agencies. 
Where to Eat in Pamplona
Taste a "Pintxo de Foie" at Bar Gaucho
Enjoy Pintxos at Baserriberri
Try the best "garroticos" at Pastas Beatriz
Traditional Chuletón Navarro at Asador Olaverri
Where to Stay in Pamplona
Stay in La Plaza Mayor at 5-Star Hotel La Perla
Stay at Hotel NH Iruña Park
Budget-friendly hotel in Pamplona
How much does it cost to visit Pamplona?
Request information: hello@sensationalspain.com
How much money you need for your trip to Pamplona depends on many things, such as how many people are traveling, the type of activities you want to do, accommodation, the duration of your stay, restaurants, and most importantly, the time of year.
To help you more accurately, please don't hesitate to reach out to us via email! Share the details of your desired trip to Spain, and we will provide you with a price estimate and offer local advice for all your travel needs. 
Choose your Spain Itinerary
1 Day in Spain? 10 Best Things to Do in 24 Hours!
2 Days in Spain: Trip Ideas & Itineraries to Enjoy Your 48h
3 Days in Spain: What's the Best Itinerary for Your Trip?
4 Days in Spain - Best Travel Itineraries for Short Trips
5 Days in Spain: Itineraries to See (almost) Everything!
6 Days in Spain: The 3 Best Itineraries for Your Trip!
7 Days in Spain: The 3 Best Itineraries for Your Trip!
---
Either you visit Pamplona during San Fermin or any other time of the year, I'm sure you'll have a wonderful experience.
Great food, interesting culture, diverse natural landscapes, and lots of nearby towns to explore!
Don't forget to reach out if you any questions, and we'll be happy to help you plan your trip to Spain.
Happy travels! :)