Should You Travel to Rome or Barcelona? 9 Pros & Cons
May 12, 2023
Updated:

May 16, 2023
Published: May 12, 2023
Let me start by saying that Rome and Barcelona are two challenging cities to compare. They are both very different and unique in their own way, so looking for points of comparison was a great effort.
But we want you to have the best trip possible, so we found specific pros and cons that will help you decide which city to visit first.
In this article, you will find ten pros and cons of a city vibe, food, transportation, waste management, nightlife, budget, pedestrian streets, and coast proximity.
Keep in mind that it all comes down to your preferences for the final choice! Good luck!
1. Rome is a living ancient history museum, while Barcelona is a metropolitan city
I had the opportunity to visit Rome on April 2022, and I must admit that I loved it more than I expected.
In this article, you will read about the pros and cons of each city, but even with the negative parts of Rome, the vibe of this city is just unbeatable. 
Ultimately, your choice between Rome and Barcelona depends on your city preferences. 
Have you heard the saying "all ways lead to Rome"? This is very true; the Romans knew how to plan and execute their cities, and when you walk through the streets of the Italian capital, you will feel it is easy to navigate even in the smallest spaces. 
And the beautiful thing about walking through the small street of Rome is that on every corner, you encounter history. Rome is a living ancient history museum, perfect for all history enthusiasts. 
Breathtaking landmarks such as the Colosseum, the Roman Forum, and especially the Pantheon are integrated into the city like any other building. So, again, you meet history at every corner. 
For most of them, you don't even have to pay; you get to see all the beauty from the outside. 
The Pantheon is free, so get a good spot in the queue early.
---
On the other hand, Barcelona is modern. Instead of finding pieces of engineering from the centuries before Christ, you will see wonderful medieval churches and modern Catalan architecture. 
Places like the Basilica de San Maria del Mar and Plaça del Rei are great examples of medieval architecture. Besides enjoying the Gothic Quarter, you will stroll through the modern neighborhood of Gracia, where you will see the facades of Casa Batlló and Casa Milà that showcase the city's legacy of Gaudí. 
👉Both cities are incredibly unique, so you have to ask yourself if you prefer an ancient romantic vibe with a pastel palette, go for Rome!
👉If you prefer a bit of history and modernity in one place, with a more blue-greyish palette, go for Barcelona!
2. Barcelona has more pedestrian areas, and it's enjoyable to walk
This is an important win for Barcelona. When exploring a city on foot (one of the best ways to explore a new place), Barcelona offers more pedestrian areas and is excellent for walking. 
Plenty of streets in the Catalan capital are fully pedestrian, and others with great sidewalks that allow you to enjoy every part of the city. 
Streets such as The Ramblas, and the narrow pathways of the Gothic Quarter, are safe and perfect to walk and get to know the city. On Saturdays and Sundays, the municipality closes streets in the neighborhood of Gracia to turn the city into a pedestrian heaven.
Contrary to Barcelona, you can walk to Rome but must be careful. 
While brimming with historical and architectural wonders, Rome's historic center can be congested with cars and scooters, posing potential safety concerns for pedestrians.
Rome's ancient narrow streets need sidewalks and space, giving less room for people to walk. On top of that, the city's reliance on motorized transportation makes sit less pedestrian-friendly, making it more difficult to cross rods. 
When I visited Rome on April 2022, I used their bus only once! My friend and I didn't know where to get the tickets, but also because we wanted to get to know the Italian capital. So, we walked it all!
From the Vaticano to the Colosseum, we walked Rome like there was no tomorrow. The experience was great, but it needed to be pedestrian friendly. 
We had to be extremely careful with the big trucks trying to get through the narrow cities of the center. 
Get a bus card as soon as you get to your hotel. Even though walking Rome is beautiful, there is so much to see, and distances can be very long, so you are going to need a bus once in a while.
3. Barcelona is closer to spectacular Mediterranean beaches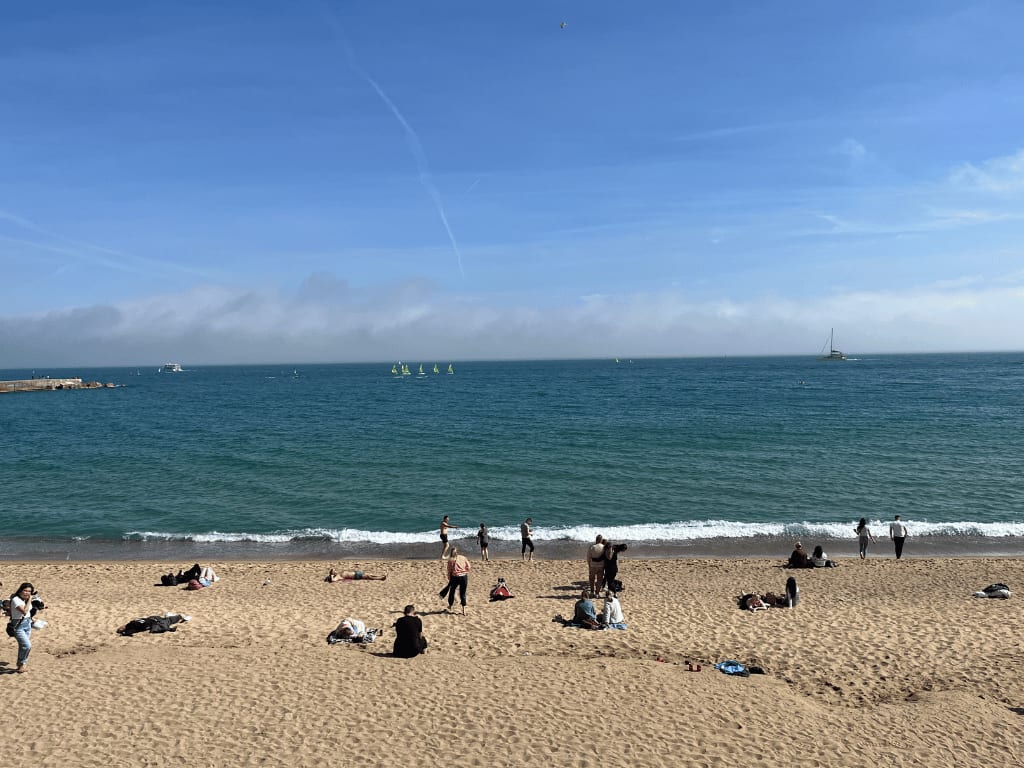 Barcelona's closest accessibility to the beach is a huge pro for the Catalan city, especially if you are traveling during summer. 
Barcelona is located on the northeastern coast of Spain, and just a short distance from the city lies the Costa Brava, renowned for its crystal-clear and peaceful waters, golden beaches, and charming towns. 
Beautiful beaches like Garraf and Sitges are less than an hour away by public transport. And, if you desperately need to see the ocean, Barceloneta Beach is a 15-minute walk from the city center! 
If you go to La Barceloneta, leave your stuff unguarded. Even though it is a safe place, it is an easy spot for pickpockets to rob tourists.
---
Italy is also famous for its Mediterranean coasts, but bear in mind that if you go to Rome, the beaches will be more than 30 kilometers away.
The beaches closest to Rome are Ostia, Fregene, and Santa Marinella, all almost an hour and a half by train plys, a 15 to 20-minute walk from the station to the beach.
These are all beautiful beaches, but you must plan a full day away from Rome to visit them.
4. Italian food is more popular than Spanish food
Let us be clear with the comparison, Spanish cuisine is heavenly, but our heavy reliance on charcuterie is only some people's cup of tea. Still, we have a variety of dishes throughout the country, and everyone can find a favorite dish.
If you want to know more of Spanish cuisine, what and where to eat when you visit, check out our featured articles:
Still, we have to admit that most people love Italian cuisine. Their variety of pasta, pizza, salads with mouthwatering burrata, and famous desserts are highly regarded by people worldwide.
I must admit that I always enjoyed eating their traditional dishes for the week I spent in Rome. I remember I rotated dinners between gnocchi, handmade pasta, focaccia, pizzas, and capresse's salads. 
It is way easier to get food right in Rome! But once again, it will depend on your preferences.
5. Barcelona has a more active nightlife
If you didn't know this yet, one of the main reasons people visit Spain is for a good party. One of the stereotypes Spanish people are known for is their passion for partying during long hours of the night, and I guess it is not really a stereotype if we admit it is true.
When it comes to partying and nightlife, Barcelona takes the prize over Rome. The Catalan capital offers many places to enjoy drinks and party until 6:00 am. 
We created two featured articles for you to pick the bar and club you would like to visit the most for a cool night out. I will leave them right below:
Partying in Barcelona can go from 10 -30 euros depending on the type of clubs and drinks you want to consume.
On the other hand, Rome offers a more selective and reduced amount of clubs, but you will have a variety of bars where you can get great drinks for the night.
For example, you have places like the Jerry Thomas Speakeasy or the Magick Bar in the middle of the city. 
Some parties can be exclusive, but there will always be a place to get some nice cocktails.  
6. Barcelona's municipality's clean system is more efficient
What truly shocked me the last time I visited Rome was the poor waste management of such an important city. 
Rome has been called one of the dirtiest capitals in Europe; I haven't been to all European capitals, but I can understand why they said it. 
Rome's waste management has been very poor for the past years, as you can see overloaded trash cans in every corner of the city. I admit that Rome is so beautiful that sometimes the trash is overlooked, but tourists and its citizens want that to change. 
I don't have any bad memories of Rome's trash, but I do remember it took a bit of the city's charm away. 
Contrary to Rome, Barcelona's streets are pretty clean, and their municipality pays for them to be cleaned every day
7. Barcelona's public transport is more extensive and user-friendly
Remember that I told you I walked all of Rome? It was totally worth it, my the main reason me and my friend walked it all was the lack of places to get bus tickets.
I am used to the Spanish transport system, which works similarly in Madrid and Barcelona. You can get bus and metro cards inside any metro station and pay for your ticket in cash once you get on the bus.
So, how does public transport work in Rome? When I visited in 2022, you couldn't use cash or a credit card if you wanted to get on a bus. You have to get your tickets from kiosks; by kiosks, I mean specific little stores you can't find everywhere. 
We were also told that the metro system worked just fine, but to be completely honest, I never saw one! There are only a few metro stations around Rome, like in Barcelona.
So, the pro for public transport goes for Barcelona! Both the bus and metro systems and easy to use and understand, and you can get your ticket at any station. 
If you want to know how to move around Barcelona, check out our featured article:
8. Both Rome and Barcelona adjust to your budget
One of the most important aspects when choosing a city is your budget. Barcelona is more affordable than Rome, but the truth is that the prices are usually similar. 
Depending on your budget, both Rome and Barcelona will have lots of options to choose from. As I mentioned before, last year, I traveled to Rome in April and to Barcelona in May. My budget was pretty measured in both cases, and I truly didn't notice the price difference.
Both are very important cities in each country, so prices will be high as usual. 
You can see in the chart below that the difference is not even noticeable; in some cases, one city is more expensive than the other and vice-versa.
| Comparisons | Rome | Barcelona |
| --- | --- | --- |
| Meal in a Restaurant | €12-20 | €10-18 |
| Cappuccino | €1.20-2.50 | €1.50-2.50 |
| Museum Entrance | €12-15 | €10-14 |
| Public Transport | €1.50-2.00 | €2.20-2.50 |
| Average Hotel (per night) | €80-150 | €70-120 |
| Cocktail | €7-12 | €8-14 |
---
9. Both cities offer a unique cultural offer
We already talked about the different vibes in each city, and the cultural offer of Rome and Barcelona go alongside this vibe.
On the one hand, Rome offers tours through unparallel landmarks and great churches. For example, some obvious thing you must do while visiting the Italian capital is get your tickets (ahead of time!) to the Vatican Museums and the Sixtine Chapel. This you must do with a guide, or you won't know half the history behind each piece in the museum.
Another unique visit is the Colosseum and Roman Forum; I recommend you do all of them with a guide to get the best out of each landmark. Other cultural offers include the Galleria Borghese, a stunning 17th-century villa, or the Galleria Nazionale d'Arte Moderna.
Barcelona has a bit less to offer, but you can't miss the unique tour through the Sagrada Familia, the MOCO Museum, and the Joan Miró Museum.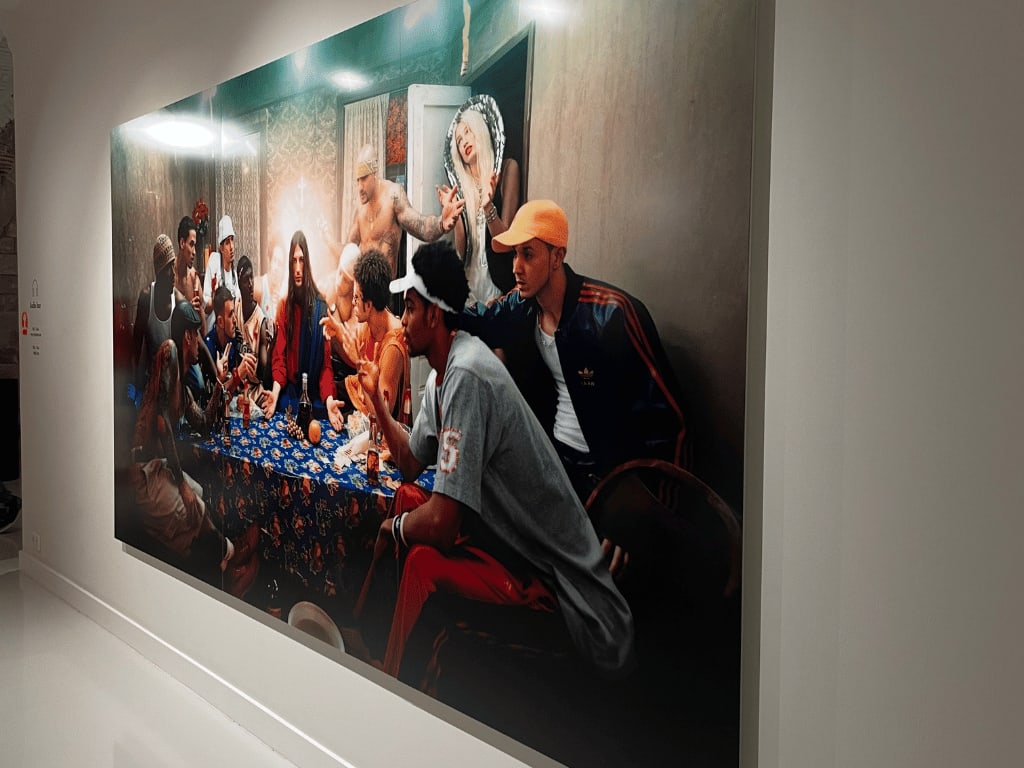 ---
I think it is pretty much a tie between both cities. My honest recommendation would be for you to visit both. Otherwise, you will have to return sooner or later to Europe.
Rome is a living museum with great cultural offers, food, and friendly with your budget. And Barcelona is a metropolitan city close to the beach and an active nightlife.
So, which are you choosing next?