Seville Budget Travel: 7 Money-Saving Tips & Tricks!
April 19, 2023
Updated:

April 24, 2023
Published: April 19, 2023
A trip to Seville sounds ideal, but enjoying a trip to Seville without breaking the bank sounds even better, right?
We all like to travel, but money is limited, unfortunately. Still, this is not a problem when talking about Seville, as it is a very affordable city to travel to.
In this article, I'll give you 7 Money-Saving Tips & Tricks to make your travel plans more cost-efficient while enjoying Seville's best. This guide is for the clever and those who want to hack the system and not be fooled by the high market prices.
Also, at the end of this article, I'll uncover a complete list of days to visit landmarks for free!
In the end, the people you travel with and your experiences are what really matter, and the main goal of traveling should be to open your mind and immerse in the culture. So don't worry. I will ensure that money is not on your mind for this special trip. Let's goo!
---
1. Be flexible and smart travel during the low season
First, you should know everything about the different seasons in Seville, so you can decide according to how much "on a budget" you expect your trip to be.
Seville is at its greatest moment during the high season, from late March to May. Which involves higher prices for accommodation, services, and flight tickets. Still, the Feria de Sevilla is a one-in-a-lifetime experience every visitor could have.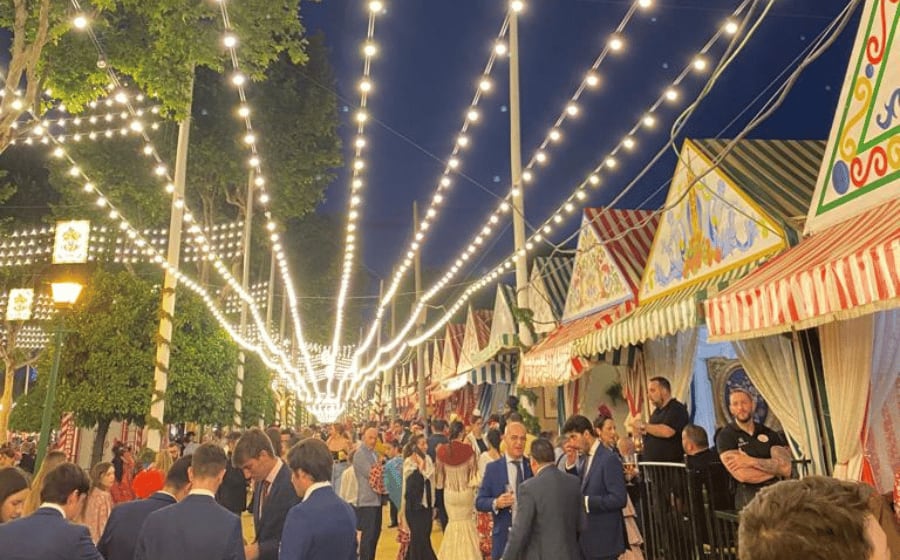 Seville's mid-season, or "shoulder season," corresponds to November, February, and early March, the cheapest months to plan your travel to Seville to minimize spending. 
Out of these months, November is probably one of the rainiest. So, I would not advise you to come around those dates since Seville's essence is NOT the rain. February enjoys pleasant Winter weather, better prices, and mostly sunny days, which could be a great choice. But keep reading!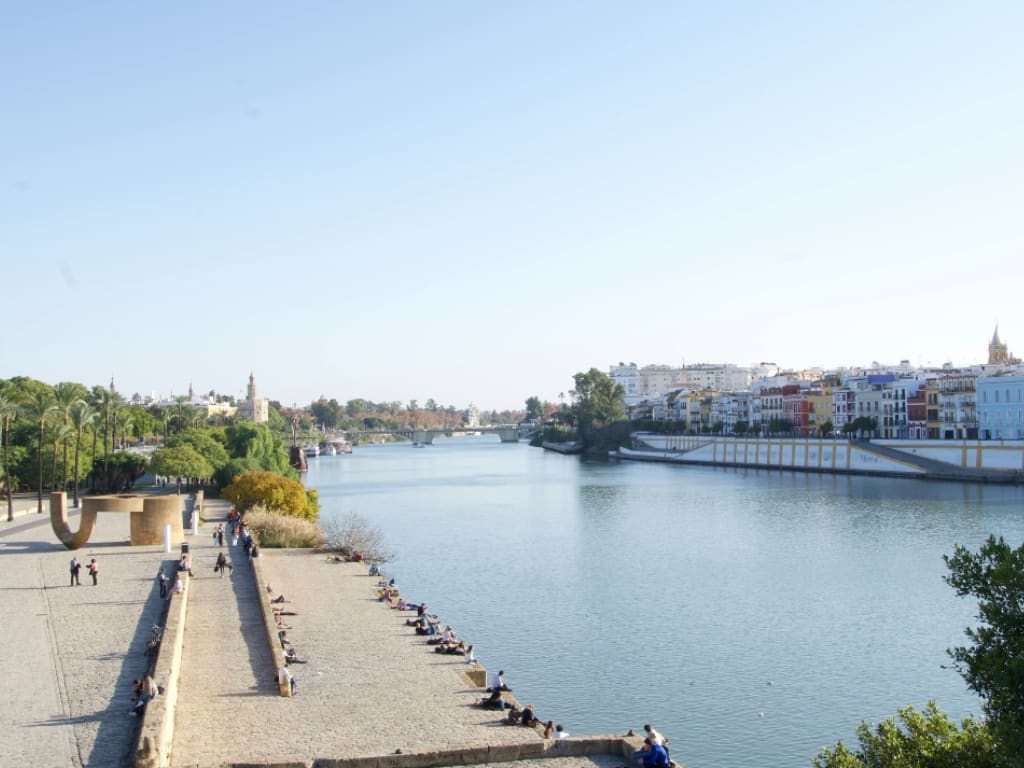 The low season in Seville is during December, January, July, and August. This means visiting monuments and main attractions without long waiting lines, restaurants available, and seasonal activities. 
Suppose you decide to travel during July and August. In that case, you can expect lower prices and fewer waiting lines outside the main landmarks.
However, we would not recommend these months over December and January simply because of the weather. It can get very warm and hot, like 93.2°F. 
But maybe this is precisely what you're looking for… Who knows? I comply with telling you the good and the bad, then you decide!
Overall, from all these low-season months, December and early January is the best time to travel. Why? Simple: The Christmas atmosphere in Seville is incredible and magical. The streets are lively because of the lights and decorations. People are in a great mood since the sky is mostly blue and the sun is often out.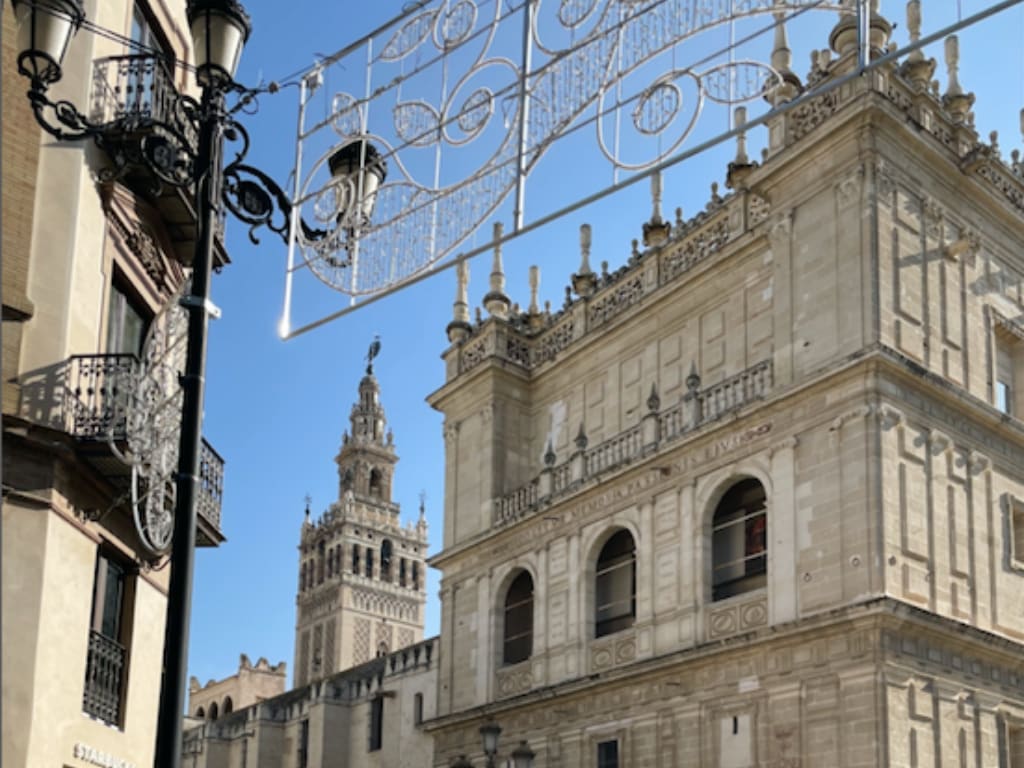 The weather is nice and lovely, perfect for strolling around. Here, the average daily maximum temperature you can expect is not greater than 68 °F. Read more:
From Seville, you can get cheap train or bus tickets to visit Madrid or Barcelona in the high season (December) without paying the total price of what a plane ticket would have cost you to get there from your home country. Plus, you get to know other cities in Spain while saving cash!
After all, you can enjoy many different activities during both times of the year. But I saved them for these articles:
Summer in Seville: 13 Top Activities to Beat the Heat
2. Stay away from tourist traps!
This applies to accommodation (which I'll explain a bit later) and restaurants. Please, don't fall into the trap of getting inside the most touristy spots ever. They should be easily recognizable at this point. 
Just so you can get an idea, typical Andalusian tapas tend to start around €2.50 €, about 2.70 $ each. Also, beer is very cheap in Spain. They usually start from 1.60 € (1.70 $) to around 5 € (5.45$) for a pint of local craft beer. 
Always order "a caña" from "el grifo." This means getting cheaper beer served through a tap. The taste is also nice.
Why is it called "caña" in Spain? The name "caña" refers to the tube through which the beer rises from the moment it comes out of the barrel until it comes out of the tap. 
Coffee costs around 1.50 - 2 € (1.64 - 2.19 $). While Specialty coffee would be around 2.25 - 4.30 € (2.47 - 4.71 $). Not so budget-friendly, but a true coffee lover would always have some extra cash for good quality coffee. Here are the best ones:
Again, these are just a reference so you know the typical prices you should expect. Anything away from that would be slightly overpriced. Consider walking a bit further to find less touristy restaurants and bars and save money!
3. Book accommodation in cheaper neighborhoods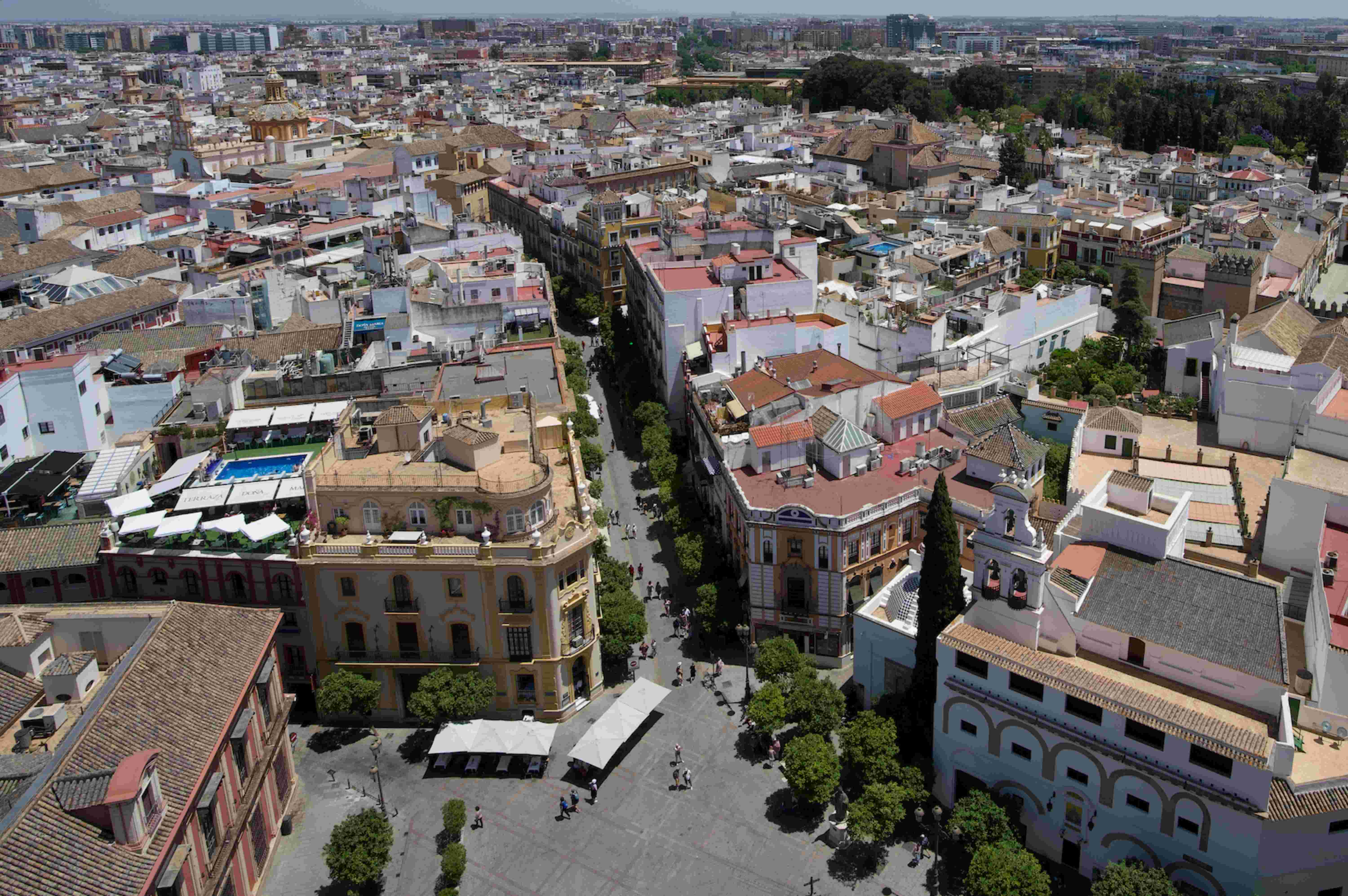 Deciding where to stay is a tough choice. We always want to feel like we got the best deal possible and be at peace with our decision. And most importantly, we all expect our accommodation to be in a safe, decent location that is well-communicated. 
Therefore, let me tell you the best areas in Seville to enjoy a great and safe stay while saving extra cash. 
La Macarena neighborhood is by far the best option I can give you since it is a trendy and affordable neighborhood popular with young travelers. It has plenty of reasonably priced hostels, guest houses, apartments, lively nightlife, and good tapas bars.
It is also very well-communicated:
Metro: L1.
Bus Lines: 02, 03, 06, C2, C3, C4.
Train: C1, C4.
And there are many activities that you can do in this neighborhood. Among the main landmarks it has:
The Basilica of La Macarena.
The Palace of the Dueñas.
The wall
The Andalusian Parliament
The Church of Saint Louis of the French.
Among other attractions that will enhance your experience in this neighborhood. Plus, by crossing the Triana bridge, you are closer to one of the best nightclubs in the city, Antique Theatro, where I'm sure you'll have a great time.
In addition, the La Macarena neighborhood has everything nearby. In just a short walk, you are in the city center, so you can get to know Seville and all its corners in depth.
A Hostel room can be found for 20 € (21.91 $), a basic room for two can be anywhere from €60 ($65.74) per night, or an Airbnb can range from 60 € (65 $) for a private room to 200 € (219.15 $) for the whole place.
You can find better deals than in El Arenal, the Old Town, or other tourist areas. To know about the rest of the neighborhoods, read the following article:
10 Best Neighborhoods in Seville: Students, Expats, Tourists
4. Catch a free flamenco show in the Plaza de España
📍Av. Isabel la Católica, 41004 Sevilla
In the Plaza de España, if you are lucky, you can find free flamenco shows. I must say that it is beautiful to see the talent, joy, and passion with which the Sevillians live flamenco.
A great way to save on tickets, and live this flamenco experience where everyone joins and claps around the artists, singing and dancing to the rhythm of the music. You will see firsthand the fun essence of Seville.
Other places to enjoy "free" flamenco shows are the following:
The Carboneria: One of the most mythical places in Seville to listen to flamenco for free. Since the 70s, this place has been a school for many artists. Live flamenco starts every night at 8 in the afternoon. Be in advance as it tends to fill up to find a great spot. 
Casa Anselma: This place will give you the best night out you'll ever have. It has the same concept as piano bars. Flamenco shows are outstanding, and the vibe and atmosphere are very relaxed and familiar, where everyone sings and cheers together. It is free but must pay for a 7 € drink at the entrance. 
Rejoneo Bar: You'll find a spontaneous flamenco show where anyone can join in clapping. It is free, but you must pay for a drink once inside.
---
5. Travel comfortably on a budget with the Seville Pass
The Seville Pass is for all of you who love comfort but happen to travel on a tight budget. 
Getting it gives you free and priority entry to the Cathedral of Seville, the Giralda Tower, and the Royal Alcázar of Seville. 
It also includes the tour in the hop-on hop-off bus. This can save you a lot of money on transportation if you are the type of traveler who jumps into a taxi after walking a mile. (No judging, we've all been there) This pass also allows you free travel on buses and trams in Seville.
And the hop-on-hop-off is very convenient and one of the best ways to see Seville at your own pace. Plus, you can opt to add a three-day public transport card.
This is great since it includes airport transfer from the airport to where you're staying. When you arrive in Seville, a taxi driver will await you. He'll also give you the physical public transport card that will be activated once you scan it on a bus or tram for the first time. From then on, your pass is valid for three consecutive days.
Otherwise, see the best ways to transport around Seville:
You can buy the Seville Pass online, and the tickets are sent to you through an application that you show at the entrance. You will also receive a discount code for discounts on other museums, attractions, visits, shows, and excursions in Seville.
Prices:
Adults: 59 €
EU Students from 14 to 30: 49 €
Children (5-12): 13 €
EU Senior (65+): 42 €
Infants (0-4): 1€ 
6. Grab supermarket food to have a picnic at Maria Luisa Park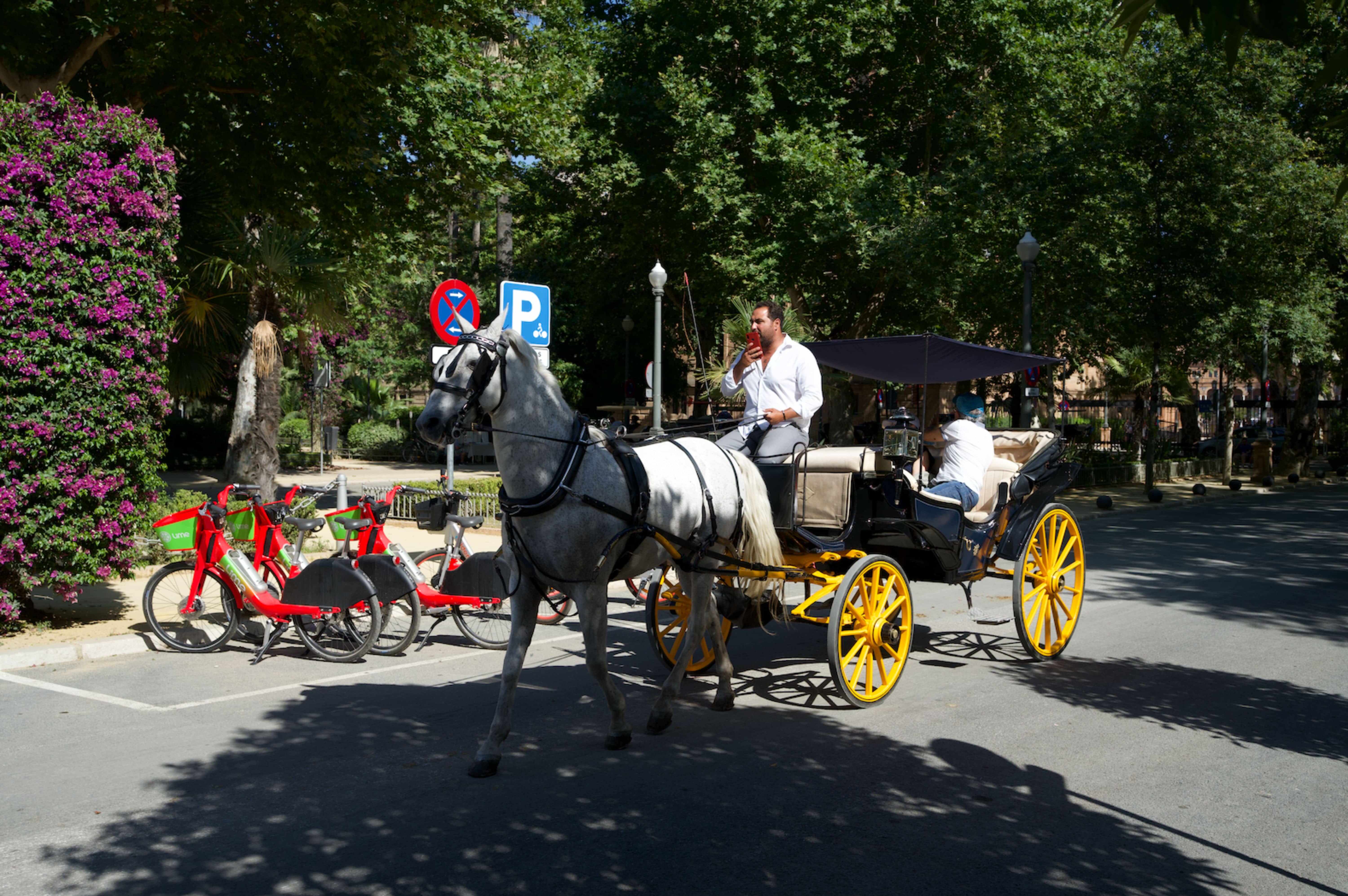 María Luisa Park has many corners to get lost in, all of which are perfect for disconnecting from the world.
A great plan without breaking the bank is to prepare lunch and spend an incredible day surrounded by nature and Sevillian culture. You can also lie down and play any card game. 
You can save extra cash by buying food at a Supermarket instead of sitting in a restaurant or buying food in the streets.
The cheapest supermarkets you will find are Alcampo, Cash Fresh, and Supeco. They usually have a wide variety of dishes prepared to take away. And if you stay in an Airbnb with a kitchen, you can cook whatever you want and take it on a picnic.
Plus, it is a fun activity to do with kids as there are two fun attractions, the duck lake and the looking at the pigeons in Plaza de América. 
Also, if you get bored (which I don't think would happen) you can enter The Archaeological Museum. The entrance is free, and you'll enjoy another cultural activity in Seville. It's a win-win!
Open hours: The park opens from 8:00 am to 10:00 pm in Winter and 12:00 pm in Summer.
7. Visit the landmarks on free days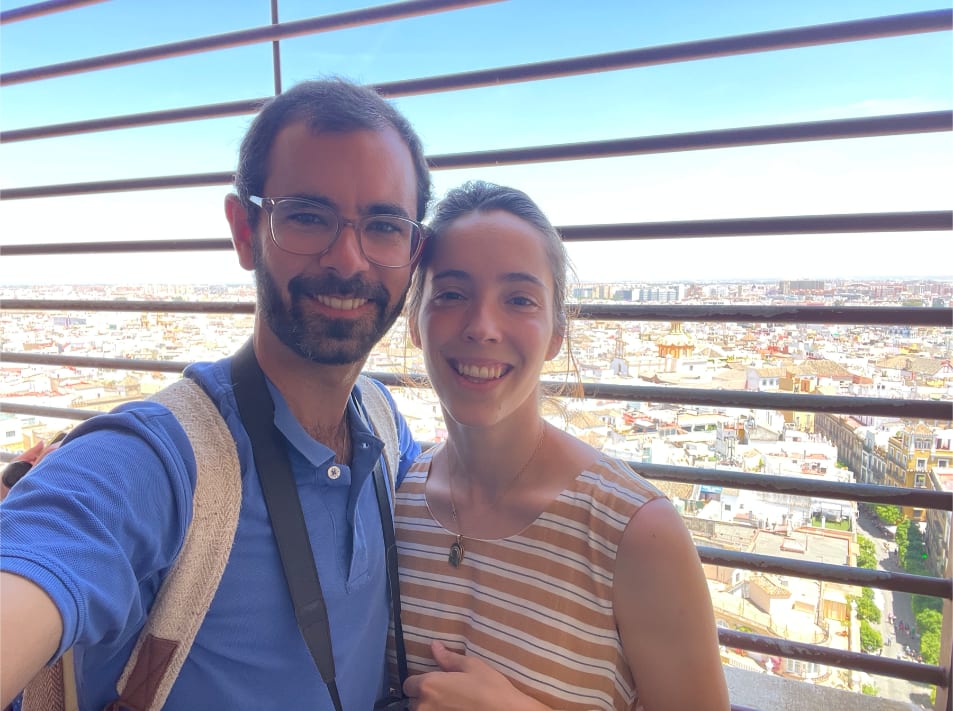 Be wise, plan your visits, and save a lot of money by visiting the main landmarks, museums, and attractions for free. I'll leave you a complete list of all the sights you can enjoy in Seville without spending a penny!
Catedral de Sevilla: Every non-holiday Thursday, there are 80 free places available with an entry time of 2:45 pm. Only available online. You know it has been sold out if you can't find any open spots in the calendar.
Torre del Oro: Free Mondays from 9:30 am to 6:45 pm.
Royal Alcázar of Seville:
- Free on Mondays.
- From April to September: free admission from 6:00 pm to 7:00 pm.
- From October to March, from 4:00 pm to 5:00.
Keeping your ticket guarantees free entry to the Parasol Metropol Antiquarian and the Triana Ceramics Center.
Casa de Pilatos: Free on non-holiday Mondays from 3:00 to 5:30 pm. (Capacity is restricted to 100 people per hour)
El Monasterio de la Cartuja & Museo de Arte Contemporáneo (CAAC):
- From Tuesday to Friday from 7:00 pm to 9:00 pm
- Saturdays from 11:00 am to 9:00 pm.
Palacio de las Dueñas: Free on non-holiday Mondays, from 4:00 pm. (limited capacity)
Plaza de Toros: Free on Mondays from 3:00 pm to 7:00 pm.
The Archivo de Indias: Free entry to tourists throughout the year.
Museo Naval: Free on Mondays, from 9:30 am to 6:45 pm.
Hospital de la Caridad: Free on Sundays from 4:30 pm to 6:30 pm.
The Seville City Hall: Free on Saturdays with prior reservation.
Convento de Santa Clara:
- Free from Tuesday to Saturday from 10:00 am to 7:00 pm.
- Sundays and holidays from 10:00 am to 3:00 pm.
- Free from Monday to Saturday, 9:00 am to 1:30 pm, and 3:30 pm to 8:00 pm.
- Sundays and holidays from 10:00 am to 2:00 pm.
Palacio de Lebrija: Free on Fridays at 10:00 am.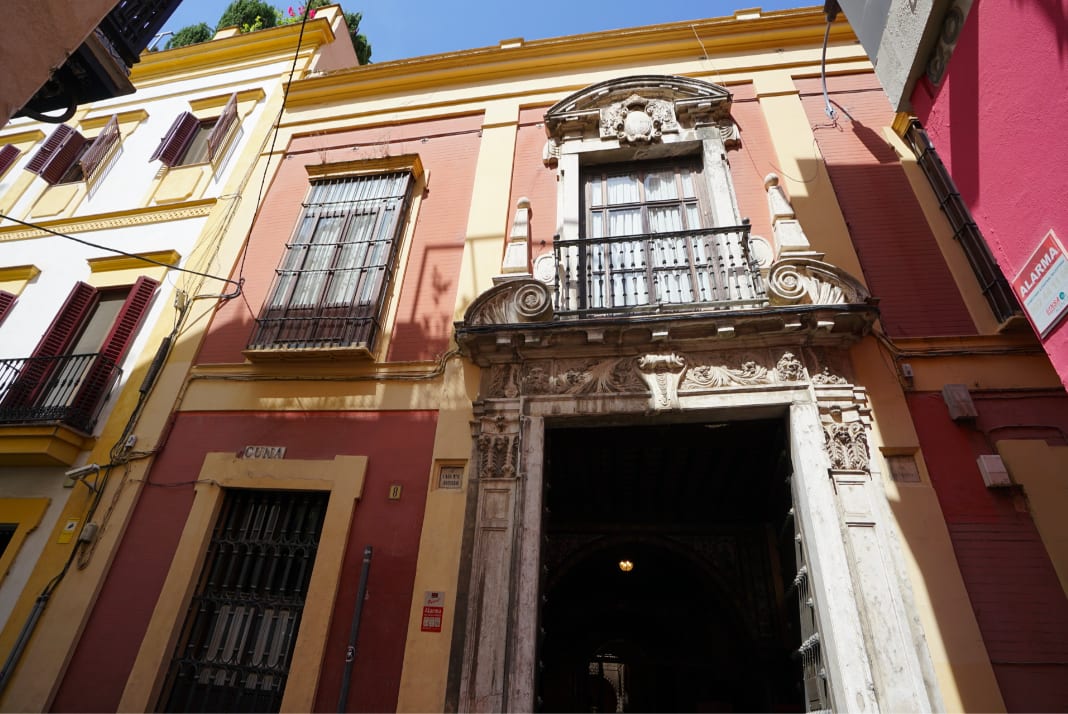 Plaza de España: Free entry.
Maria Luisa Park: Free Entry.
Museo Histórico Militar: Free entry.
Basílica de la Macarena: Free Entry.
This beautiful city has many wonders to discover. Here are the attractions I haven't mentioned, in case you're interested:
---
As you can see, visiting Seville does not have to be the reason for your bankruptcy or your whole family's (I'm joking). Still, this is a perfect destination to travel on a budget and works as a catapult to see other cities in Spain that are usually more expensive to fly from your home country.
I hope these tips have helped you and, most importantly, allow you to truly enjoy the city, its people, the experiences, and the company you bring without having money in mind.