Seville Fair Guide for non-locals. Must-read before you go!
April 19, 2023
Updated:

April 20, 2023
Published: April 19, 2023
So, you have heard that Seville's April Fair is the biggest party in the city and one of the biggest in Spain, and now you are dying to go, am I right?
Well, in that case, and especially if you don't have a Spanish friend to talk to you more about the fair, you should read this article and avoid disappointment. 
Seville's April Fair is a huge party! Anyone reading about it might think it is a fair open to everyone. They are not wrong, but some important details make a difference.
In this article, we will explain Seville's April Fair, when it is celebrated, what to expect, and tips to know before attending. 
1. History of Seville's April Fair
The famous fair of Seville was born in 1847 when two locals decided to celebrate an annual fair for selling and purchasing cattle. Traditionally, the farmers' wives would go with their husbands wearing traditional long dresses with wide sleeves. 
In its first year, the fair was a success; over time, it evolved into the cultural festival it is today. But, it wasn't until between 1947 and 1956 that the fair of Seville evolved from a commercial fair to a social and cultural celebration. 
Around five million people visit Seville for its fair annually, and approximately five hundred thousand attend the fair in only one day! 
2. When and where is the Seville Fair
The Seville Fair is usually celebrated in April, with some exceptional years when it was done in May. Seville's April Fair is officially celebrated two weeks after Holy Week or Easter in Spain.
Follow this website to get the official dates of the Seville Fair for the coming years 👉Spain.info.
The fair is celebrated in the Real de la Feria, a 450,000 m2 space between Los Remedios and Tablada neighborhoods. The Real de la Feria* takes the space of 24 blocks and is divided into fifteen streets. Each street carries the name of a famous bullfighter, and you can read the perspective biography on a street sign. 
The Real de la Feria also includes la Calle del Infierno, the space designated to the amusement park where children and adults can ride and play with plenty of games.
Another essential section of the fair is the portada, or main entrance gate to the fair.
Remember the fifteen streets? Well, those are all named after famous bullfighters, and you can read a short biography on the plaque.
How to move around Seville's Fair?
The best way to move to and out of the fair is by bus and metro. Of course, you also have the option of ordering a taxi and renting a car, but I would not recommend it as first option. Taxis will always be in high demand and spots to park are very limited.
🚌Bus: the best lines are the C1, C2, 5, 6, and 41 lines because they all stop close to the fair and operate 24 hours a day during the whole week.
🚇Metro: Plaza de Cuba, Parque de los Principes, and Blas Infante are the nearest metro stations.
🚕Taxi: there is a taxi stop right next to la portada, but bear in mind that there is high demand, and moving by taxi will be difficult.
🚗Car: parking is available at San Juan Bajo and San Juan Alto stations.
🚙 Uber: Uber is available in Seville, but remember to book everything with time!
Regarding the fair, everything inside is done by foot or in a vintage horse carriage.
Arrive in style with the Ron Legendario boat! This brand takes you from Torre de Oro to Seville's fair from 3:30 pm to 9:30 pm, offering a great atmosphere on the way. This is a famous ride that is totally worth the waiting time and the experience.
3. What to expect of Seville's April Fair
Casetas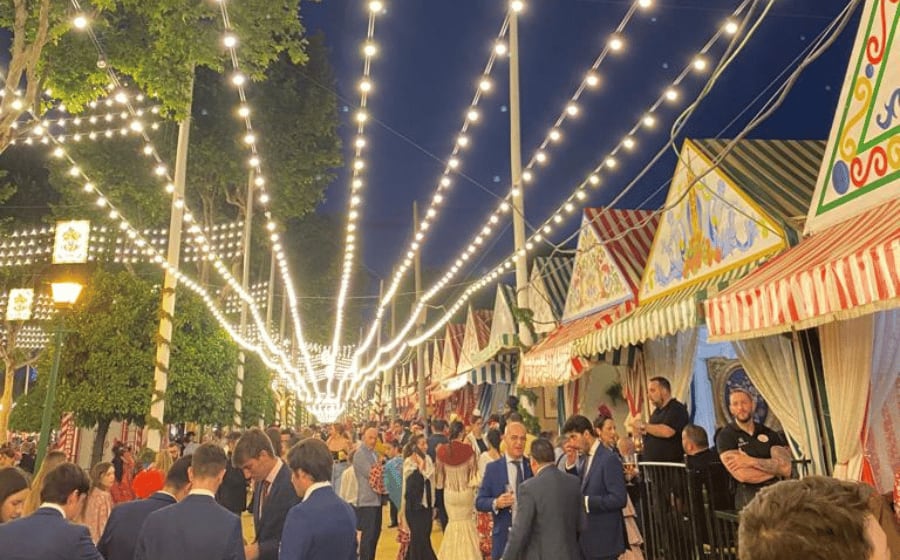 If you have seen pictures of the Fair of Seville, you have their famous casetas.
The casetas or tents are like the extension of the home for some Sevillian families and are where you find the real party. There are more than 1,000 casetas at the Fair, and most of them are private.
Attention here! You can't enter any of the casetas because most belong to a family, group of friends, or associates that invest annually to keep the spot in the Fair. These stripped, and light-up tents are spaces where family and friends gather to dance the sevillanas (flamenco), eat, and party during the Fair. 
Let me explain to you how it works:
 Municipality fee: around €1,000 
Other expenses: approximately€3,000 - €50,000 (amenities like water, electricity, decoration, and staff)
Food and beverage: approximately €5,000 - 15,000
People from Seville are very hospitable, but looking at those fees, you can understand why the casetas are private and why you need a friend to enjoy the real experience. 
Does that mean that you can't party along? No, but the experience is different. 
Many public tents belong to political parties or cultural organizations. Still, this space's atmosphere is not as friendly or familiar as the one you will find if you are invited to a private caseta. 
"Last year, I went to the Fair with a group of friends, and private casetas are definitely better regarding food, drinks, atmosphere, and safety. But for those that can't get into one, public tents are okay to experience the Fair for the first time" - Victoria, 24-year-old from Madrid. 
The message of the story? Get a Sevillian friend.
Another activity you can do besides partying in the tents is walking around the beautiful fair and going to the theme park.
Dressing Code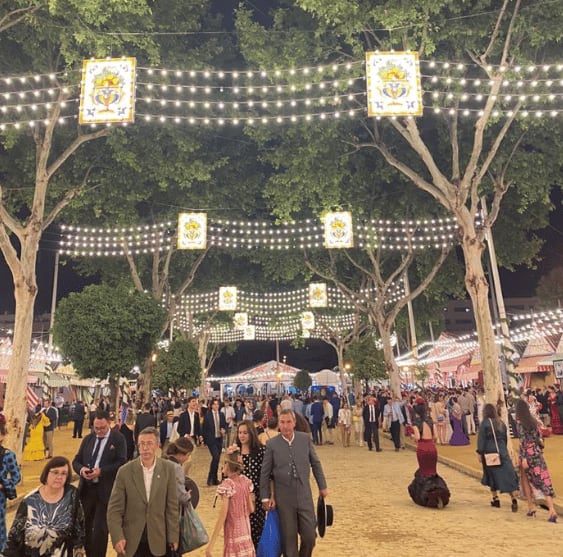 Formal!
The traditional way to attend Seville's fair for women is with a flamenco dress. There are plenty of options and colors; most Spanish women wear the dress with a mantilla or a shawl and flowers on the hair. If women don't wear the flamenco dress, they choose more formal attire such as dresses, long skirts, or even pants and suits. 
The dress code for men is more standard; they attend with a formal shirt, pants, and moccasins. 
Schedule
Seville's Fair is open every day for a week. My best advice is to get a good night's sleep if you plan to party late.
The usual schedule would be to go to the Fair between 1:30 pm and 3:00 pm, walk around and enjoy the tents. Then, around 6:00 pm, people might move out of the fair to Maestranza to watch a bullfight and return to the Fair to party. 
Weather
April and May are hot months; the temperature will go from 27° / 14° degrees, so be mindful of your hydration. I know a fair is a place for walking, dancing, and fun drinking, but don't forget to drink water throughout the day and get under some shadows. 
4. Tips before going to Seville's Fair
Don't miss the lighting of la portada. The inauguration act of Seville's Fair is the lighting of the main gate, a big entrance constructed for the Universal Exhibition of 1929. After that comes the "Cena del pescaito" (small fish dinner), a traditional dish in the city.
Dress as formal as you can to blend in with the locals!
Watch and learn some Sevillanas on Youtube; it will be useful when you see most people dancing and having fun at the Fair.
If you only plan to peak at the Fair, arrive there early. Arrive at the fairground early to avoid the crowds and the heat.
Enjoy traditional food like pescaíto frito (fried fish), tortilla de camarones (shrimp omelet), and salmorejo (cold tomato soup).
Drink rebujito! This typical drink is everywhere at the Fair, a mixture of fino (dry sherry) and 7-Up.
Take a romantic ride in a horse-drawn carriage to see the fairground.
Enjoy the fireworks; there is a fireworks show at midnight, find a good spot to enjoy it.
Watch the horse parade every day at noon.
Be respectful! Remember that the Seville April Fair is family-friendly, so be respectful and mindful of the locals and their customs.
---
That's it! In this short article/guide, you have everything you need to know about Seville's Fair, including the tricks and tips to make the best of it.
Remember that Seville's April Fair is a genuinely local party; some people consider it exclusive, but that is part of the tradition! If you have any friends in Spain, try and contact Sevillians to get the real experience.