The 3 Best Itineraries in Seville: Let's Plan your Trip!
September 25, 2023
Updated:

September 26, 2023
Published: September 25, 2023
While it might not seem like a lot of time for Spain's third-largest city, with the right itinerary, you'll be able to savor every bite this city has to offer. Trust me!
In this article, I'll give you the best itinerary to explore Seville, discover all the main landmarks, and offer some unique alternatives for those seeking an outstanding travel experience.
Throughout this read, you'll find many resources I've curated to simplify your trip planning! After this, you'll count down the days until your travel begins.
Seville is also a getaway to smaller towns in southern Spain, portraying the beautiful mix of Moorish and Islamic cultures that inhabited centuries ago! Which is why I included some must-visit places in this itinerary btw.
Let me show you exactly what to do in Seville in three days so that you see as much of the city as possible without feeling overwhelmed.
---
Day 1 - Explore the City Center & Main Landmarks
9:00
Seville will give you a warm welcome with a visit to the iconic Plaza de España, among the most important squares in Spain, and an authentic jewel of regionalist architecture designed by Aníbal González.
It is a large square of 170 meters in diameter with a semi-elliptical shape, symbolizing Spain's hug to its former American territories. 
Also, it looks out over the Guadalquivir River as a route toward America, definitely among the most picturesque landscapes that represent Spain.
You can explore this square at your own rhythm, either walking or biking, renting a small boat to row through the canal, or taking a romantic horse-drawn carriage ride. (which is a must, by the way!)
It's free access and open anytime!
11:00
Then, you will continue to explore the Real Alcázar. What can I say about this majestic place? The Alcázar of Seville comprises the entire history of Seville for more than a thousand years. 
It is one of the oldest royal palaces in use in the world and was built on ancient Roman and Visigothic buildings in 913 as a royal residence and defensive construction. 
It was declared a World Heritage Site by Unesco since it is a fantastic setting to appreciate the mix of culture, architectural sites, and beautiful gardens. 
Read more: 16 Best Places to Visit in Spain: Top Hidden Gems
The visit lasts at least 2 hours, and the best thing to do is purchase tickets in advance online to save lots of time. 
1:00
Now, walk a little further, and you'll find the majestic building of Archivo de Indias, declared a World Heritage Site by UNESCO.
In 1785, Carlos III wanted to gather all the documentation relating to the colonies of America and the Philippines in a single building, so the Archive was created.  
Since then, all the New World documents scattered between Cádiz, Seville, and Simancas have been incorporated into the archives.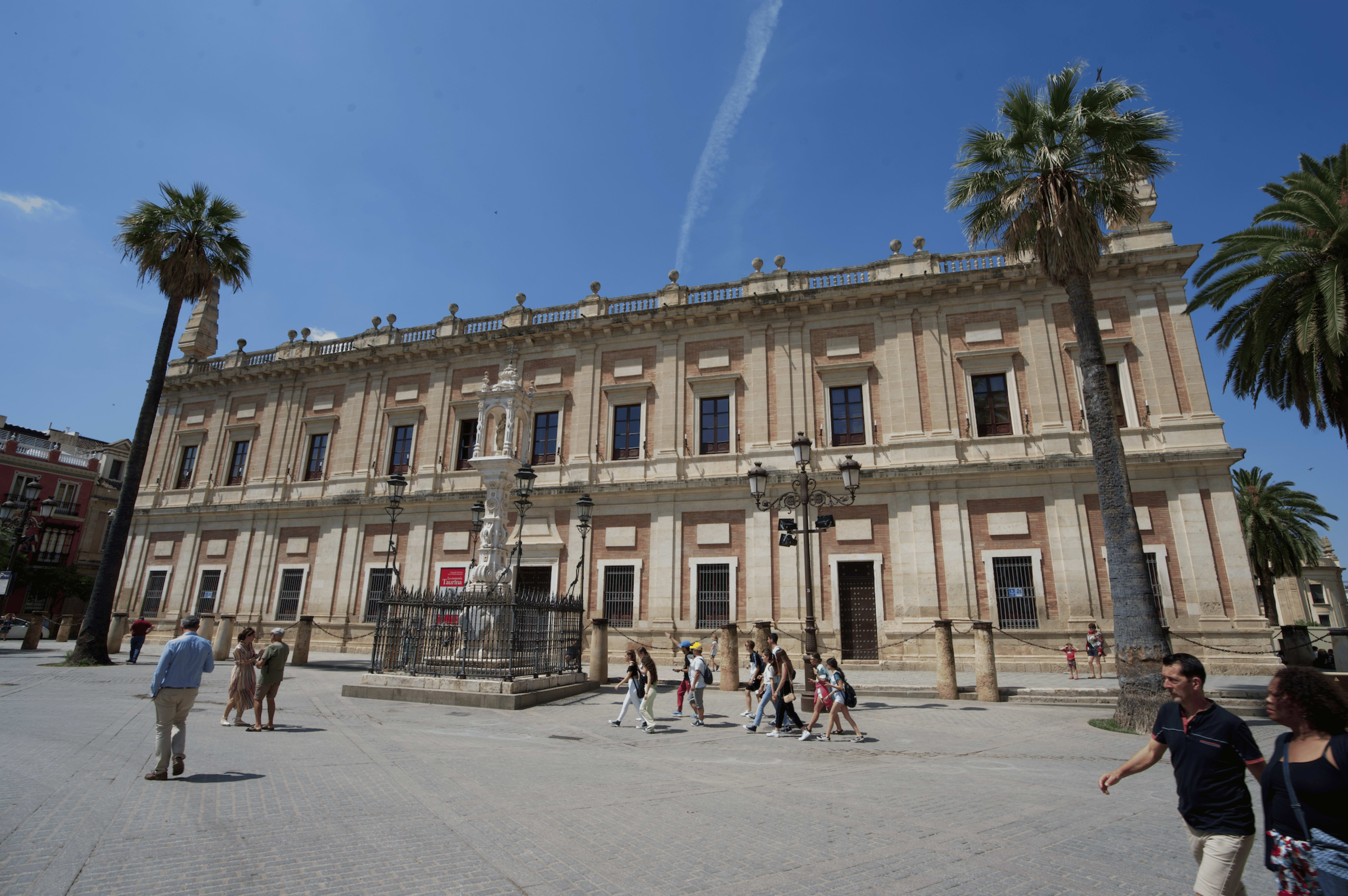 This is a historical monument, perfect if you're interested in historical politics, social life, economy, art, the role of the Church, and the conquest of America. Either way, you can take a picture from the outside or visit it from the inside. 
It is free to visit its facilities and bookstores. But, of course, there is a part open to the general public and another with restricted access.
3:00 
A few steps from your last visit, you'll encounter the iconic Catedral de Sevilla, the world's largest Gothic temple and the third in size after St. Peter's Basilica in the Vatican in Rome and St. Paul's in London.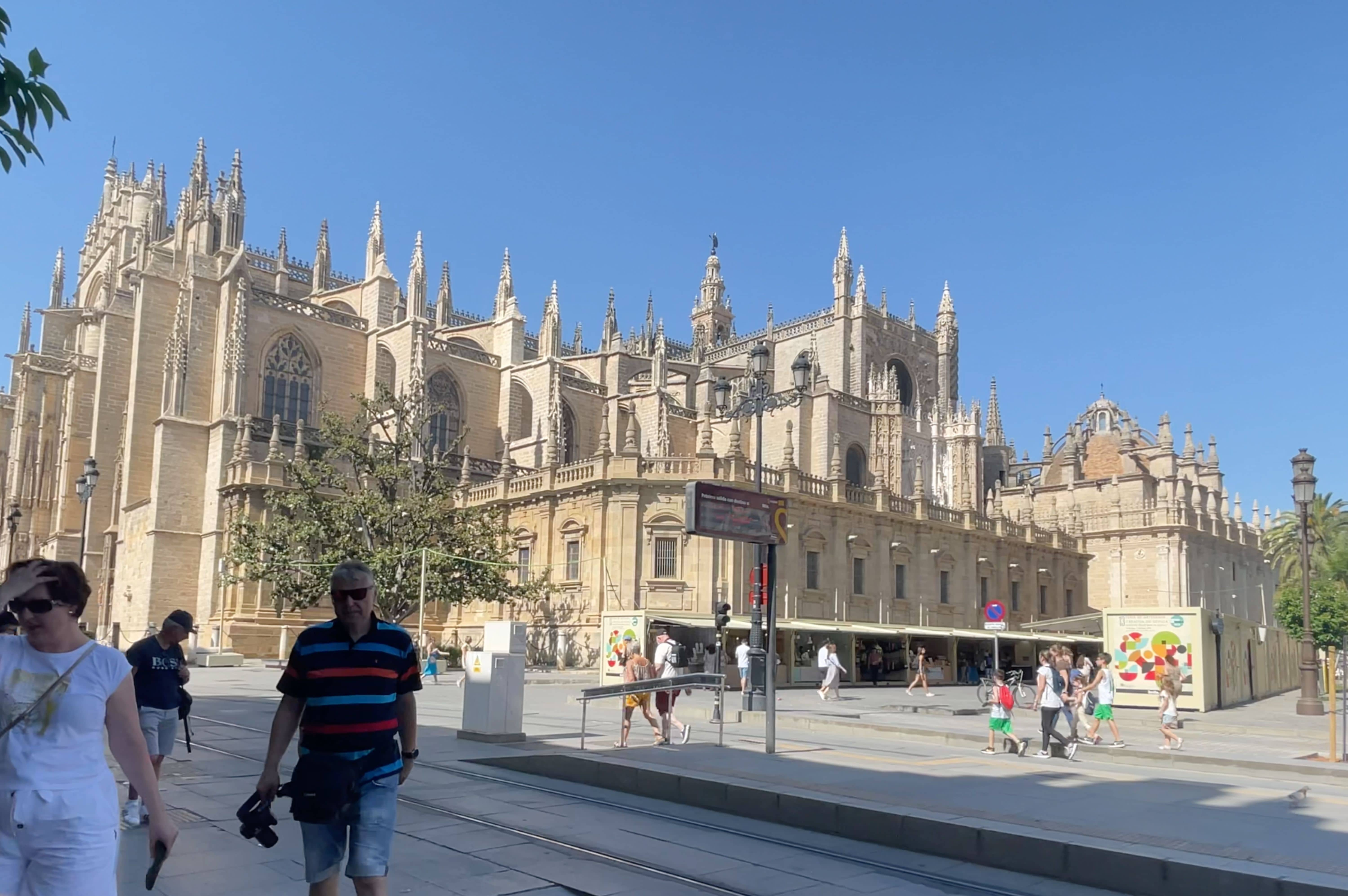 Thousands walk through its doors daily to experience this incredible historical landmark, declared a World Heritage Site by UNESCO in 1987.
Also, it is essential to highlight that the Seville Cathedral is the scene of numerous traditions throughout the year! Some of the best-known are the Dance of the Sixes, Saint Ferdinand's Day, the Virgin of the Kings, and the famous Corpus Christi! 
Are you hungry? The 19 Best Restaurants in Seville: A Food Lover's Guide!
4:30
After a leisurely stroll through the area, you've already seen enough. It's time to immerse in the neighborhoods; let's go to El Barrio de Santa Cruz!
This zone is home to centuries-old institutions, monuments, churches, gardens, and plenty of picturesque squares and courtyards, winding streets with ancestral houses with Jewish essence.
There are many bar areas for tapas, drinks, and yummy food. It also has an excellent communication network, close to Puerta Jeréz and Prado de San Sebastián.
Read more: 10 Best Tapas Bars in Seville for Local Bites & Drinks!
5:30
Let's move on with some architectural beauties. The next one is the Iglesia Colegial Divino Salvador. This true masterpiece combines various styles, including Gothic, Renaissance, Baroque, and Mudejar. 
And, if you're up to breathtaking views of Seville, climb the Church's bell tower, where you can see the iconic Giralda Tower and the Cathedral!
Discover more: 17 Most Famous Churches in Spain: Best Iconic Sites!
7:00
Next, we have the renowned Casa de Pilatos, which houses an impressive art collection, including paintings, sculptures, and many more.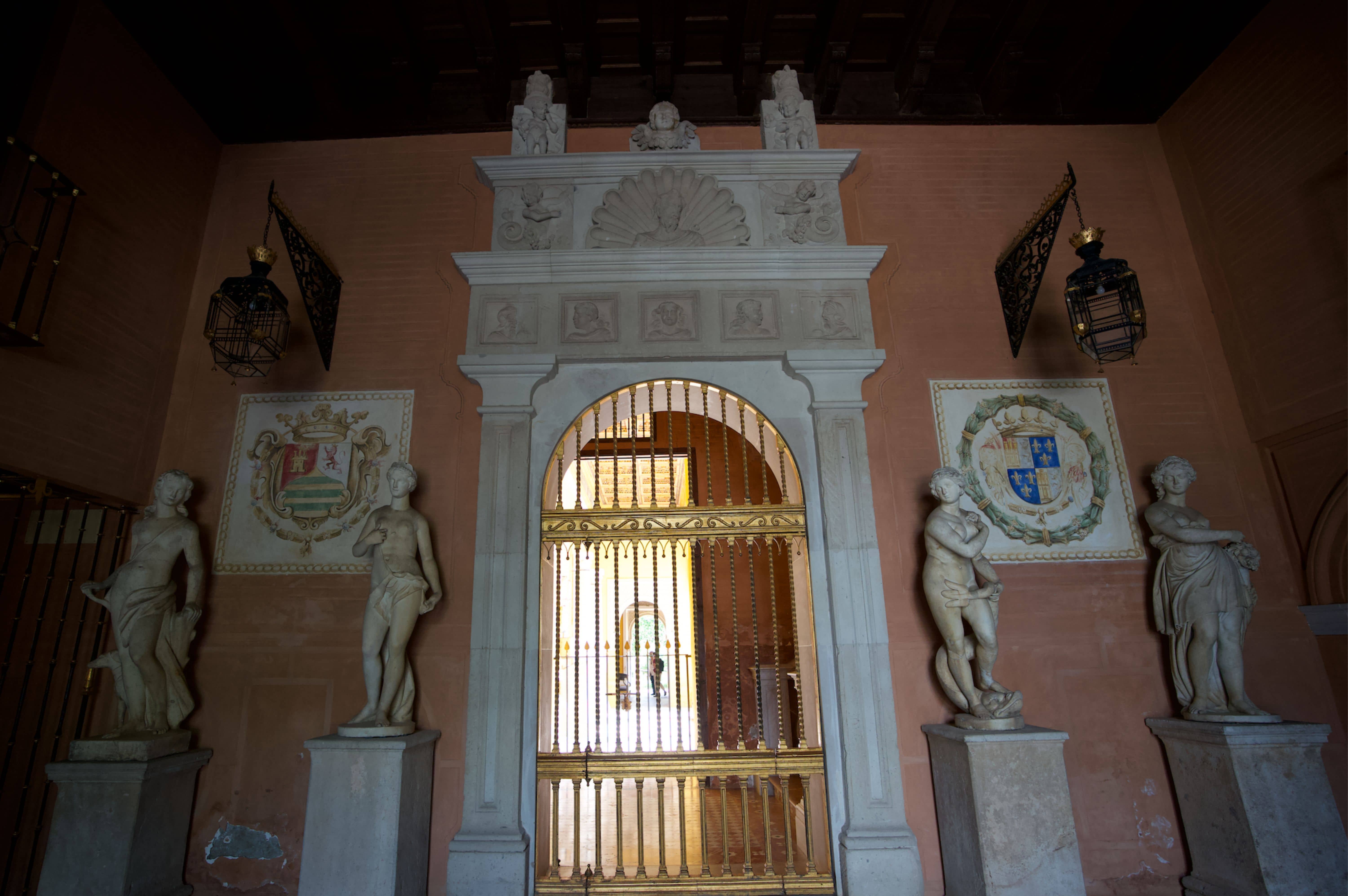 I mean, it's almost impossible to miss this landmark as it is conveniently located in the historic center, making it very easy to include in your itinerary.
Everything is within walking distance in Seville, and wandering and getting lost in the nearby streets is possible without changing the day too much. 
8:00
I almost forgot to mention that you should save time to visit the Palacio de las dueñas Gardens, a peaceful oasis in the heart of Seville.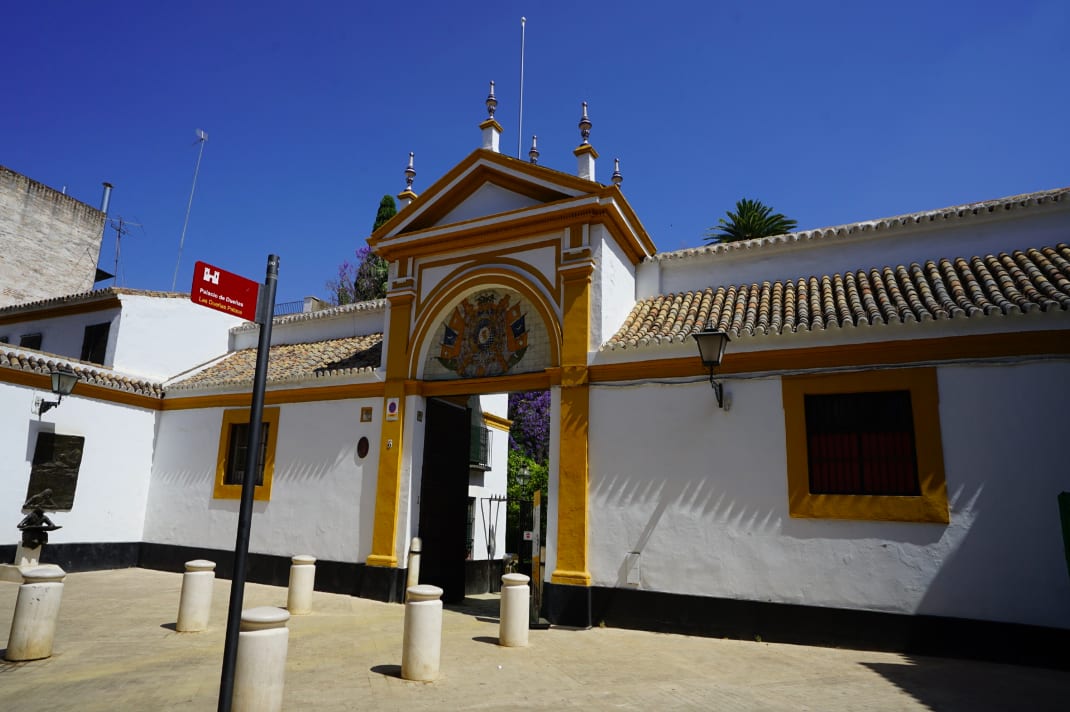 You'll see orange trees, beautiful fountains, and private courtyards. 
What better way to enjoy the sunset while escaping the hustle and bustle of the city before having dinner?
Day 2 - Embracing Seville: Bullring & Flamenco
9:00
Begin your day with a classic Spanish breakfast! We often start our day with chocolate with churros, a tostada, a coffee, or a tortilla de patatas. 
Read more: 7 Best Typical Spanish Breakfasts You Must Try!
Or, if you're looking for a traditional brunch, here are the best places to go. 
Read more: 11 Best Cafes in Seville for Brunch and Great Coffee
Now, we're heading to the famous Setas de Sevilla, also known as The Metropol Parasol, or Las Setas de la Encarnación. 
It is the largest wooden structure in the world! It is 150 meters long by 70 meters wide and almost 30 meters high. You can find it in La Plaza de la Encarnación, and the landmark is very easy to peak, as it has the shape of a giant mushroom.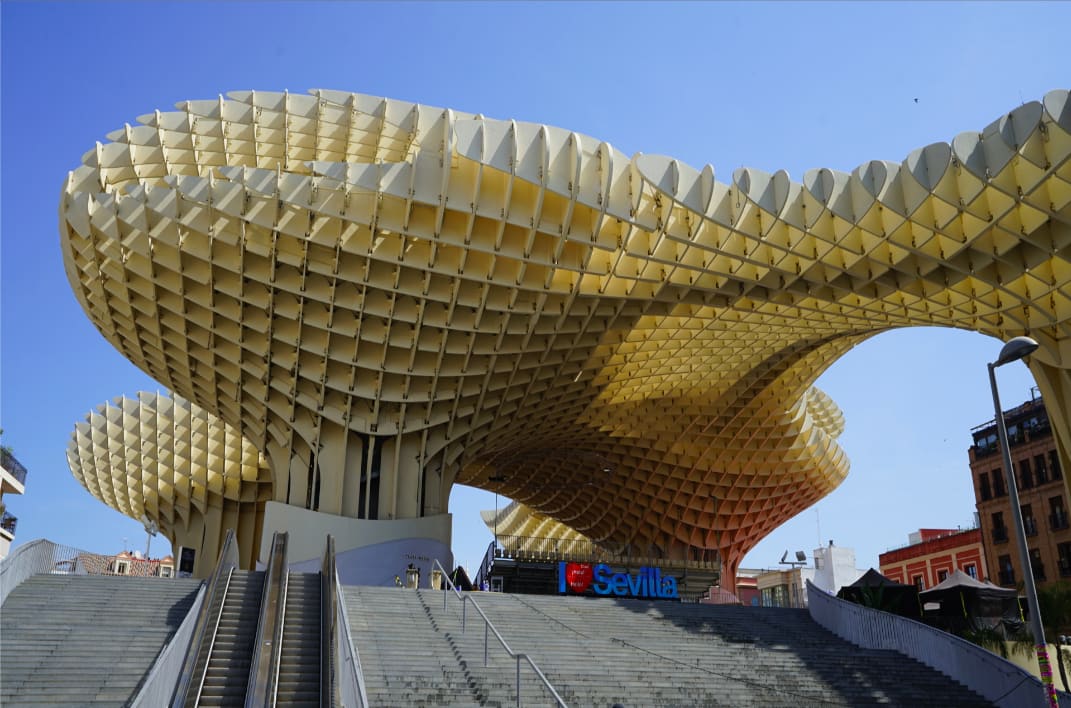 That design was inspired by the vaults of Seville Cathedral and the ficus trees in the nearby Plaza del Cristo de Burgos. 
If you want, you can climb up and look at some great views of Seville!
Read more: 10 Iconic Landmarks in Seville and Must-Visit Attractions
12:00
Now it's time to immerse in the passionate world of Flamenco. It is one of Spain's iconic cultural traditions and often our stereotype. 
The Museum of Flamenco is dedicated to preserving and celebrating the rich cultural heritage of Flamenco so its history and relevance are passed down to future generations.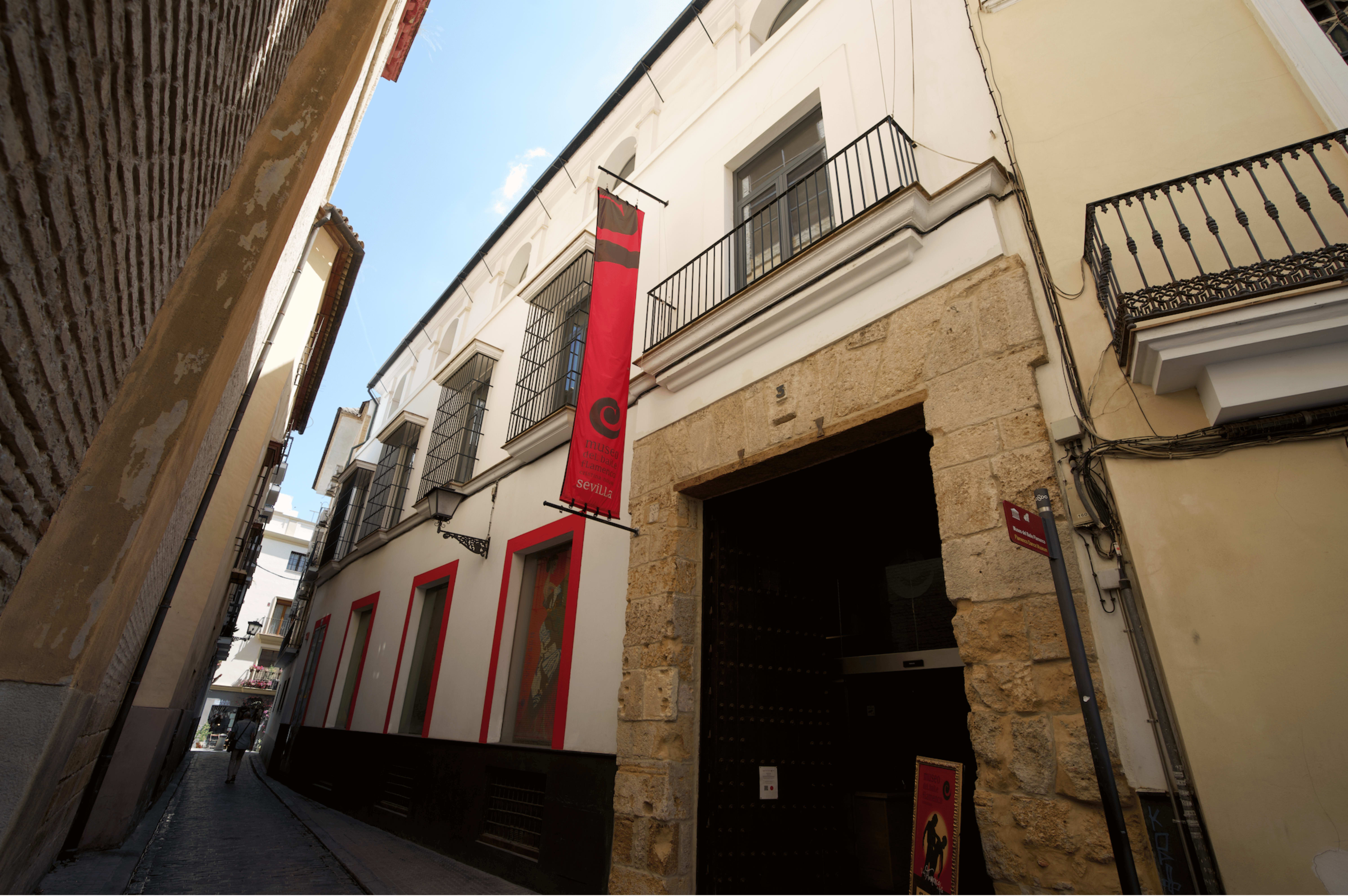 Plus, it will set up the mood for the Flamenco show at night (that I'll mention later)
You don't need to be knowledgeable about music to appreciate this art. The museum is for anyone wanting to explore Spain's roots more deeply and understand our country better. I mean, this is why the whole traveling thing makes us more open-minded, doesn't it?
Also, this is your chance to buy typical souvenirs for your loved ones back home. Or, you can save that moment for El Barrio de Triana, where you can get great deals and antique pieces. 
1:00
Then you'll walk until you reach a very important landmark that has seen centuries of history. 
La Torre de Oro offers panoramic views of Seville, the Guadalquivir River, and other landmarks. Yes, this is an excellent place for your Instagram story and can be visited relatively quickly.
Oh, and the tower has the Naval Museum, which is also beautiful and has a lovely garden inside. The place shows Spain's maritime history and so on. Very worth it!
2:30 
By this time, you'll be very into the riverside atmosphere. If I were you, I'd consider having lunch at Abades Triana, as it has a privileged location next to the Guadalquivir in front of the Torre del Oro. 
You should expect traditional Andalusian cuisine with avant-garde touches, a fantastic variety of tapas, and exquisite and delicious dishes. 
Overall, it is an excellent place if you are looking for good food in an elegant area. The minimum prices start at 50 €, although you should check their menu since they also have small tapas to share.
4:00
When you're starting to believe that your trip can't get any better than this, let me introduce you to the Barrio de Triana. 
A neighborhood known for its authenticity, where you can experience the real Seville away from the tourist crowds.
Here, just walk at your own rhythm, get lost in the streets, enter the small shops, see the ceramics and pottery, and do some people-watching. 
Make sure you visit the Mercado de Triana, Seville's best market, where you'll find everything. From tapas to flowers, from your Spanish ham to a haircut. Mercado de Traina is the perfect place to eat traditional food and find unique souvenirs for your trip.
Read more: 10 Seville Markets To Enjoy Local Culture and Tasty Food
6:00
Bullfighting is still a very famous activity in Andalusia, and Seville has one of the most significant rings in the country. 
It's up to you, and I respect if you prefer not to go. Still, visiting the Maestranza bullring is exciting because it will immerse you in the history of this Spanish tradition, allowing you to understand it better if you haven't experienced anything like it. 
Besides getting a tour of the ring, you can visit the "Museo Taurino," dedicated to the history of bullfighting in Seville, which displays original customers, photographs, and more.
9:00
Last but not least, you can't leave Seville without experiencing a live Flamenco performance. I mean, this region is said to be the cradle of Flamenco in Spain!
Tablao El Arenal was chosen by the New York Times newspaper as the best Flamenco show in Seville. It is the most symbolic place to enjoy Flamenco in Seville, founded over 25 years ago.
Read full article: 10 Top Flamenco Shows to See in Spain. With Videos!
The show is an absolute blast. It is a genuine Andalusian show with much passion and deep feelings.
Day 3: Day Trip to Córdoba
8:00
For your last day, you'll embark on a road trip to see firsthand the renowned Mosque-Cathedral of Córdoba, a powerful symbol of the Islamic West, representing the city's essence and character shaped by the fusion of Muslim and Roman Catholic influences. 
It's one of the most iconic places in Spain. I believe it's worth a visit, especially if you're traveling to Seville for 3 days since a road trip to Córdoba is less than an hour away by train!
Also, the city of Córdoba isn't huge. You can see the essential landmarks in half a day without any hassle.
But Why did I bring you here? You might be wondering why should you spend your last day here, instead of Seville?
Well, Córdoba was a powerful city during the Moorish rule in Spain, and its historical center showcases the remains of this era. Plus, it's one of the most beautiful cities in Spain. 
So, prepare to time travel and fall in love with the city! 
Then, you've got to check out the Alcázar de los Reyes Cristianos; it's a centuries-old palace with stunning gardens and secret passageways. 
It's all within a few minutes walking, so I'm sure you can find these places easily. Still, I highlighted them in the map below. 
What's more, if you plan your trip during May, you'll witness the Patio Festival, where locals open their private courtyards to the public, competing to see who has the most beautifully adorned patio. 
Read more: 10 Best Spring Destinations in Spain: Weather & Fun Activities
It's a unique and lively celebration of artistry and community spirit. So, why should you visit the Patios Cordobeses?
These patios, besides being beautiful, are full of nature, history, and culture, offering everyone a glimpse into the soul of Córdoba and its lovely traditions!
Moving on, if you have yet to go, this is your time to walk through the Roman Bridge. This impressive structure welcomes the city with views of the Mosque and is the perfect mini-activity after having lunch. 
Oh, and make sure you also take a small walk in the Jewish neighborhood before leaving. You'll appreciate white buildings decorated with colorful flower-filled patios. It's a lovely area to wander and spend your last day. 
If you get hungy, get food at Bar Santos, near the Mosque, and try the famous tortilla de patata. You can also go to Ermita de la Candelaria, which is a bit more fancy. Both are very tasty options.
After lunch, return to Seville by train and pack your bags with all the memories you made during this trip! 
Seville Map
Alternative Seville Itineraries
Itinerary #2 - Celebrate the Seville Fair
I don't know why I haven't mentioned this yet. But Seville is home to one of Spain's most remarkable traditions ever.
La Feria de Sevilla, or the April Fair, is more than a week full of celebrations, parties, traditional dresses, food, drinking all day, dancing, and flamenco-themed everything. It is a tourist attraction that brings thousands of visitors annually to the country.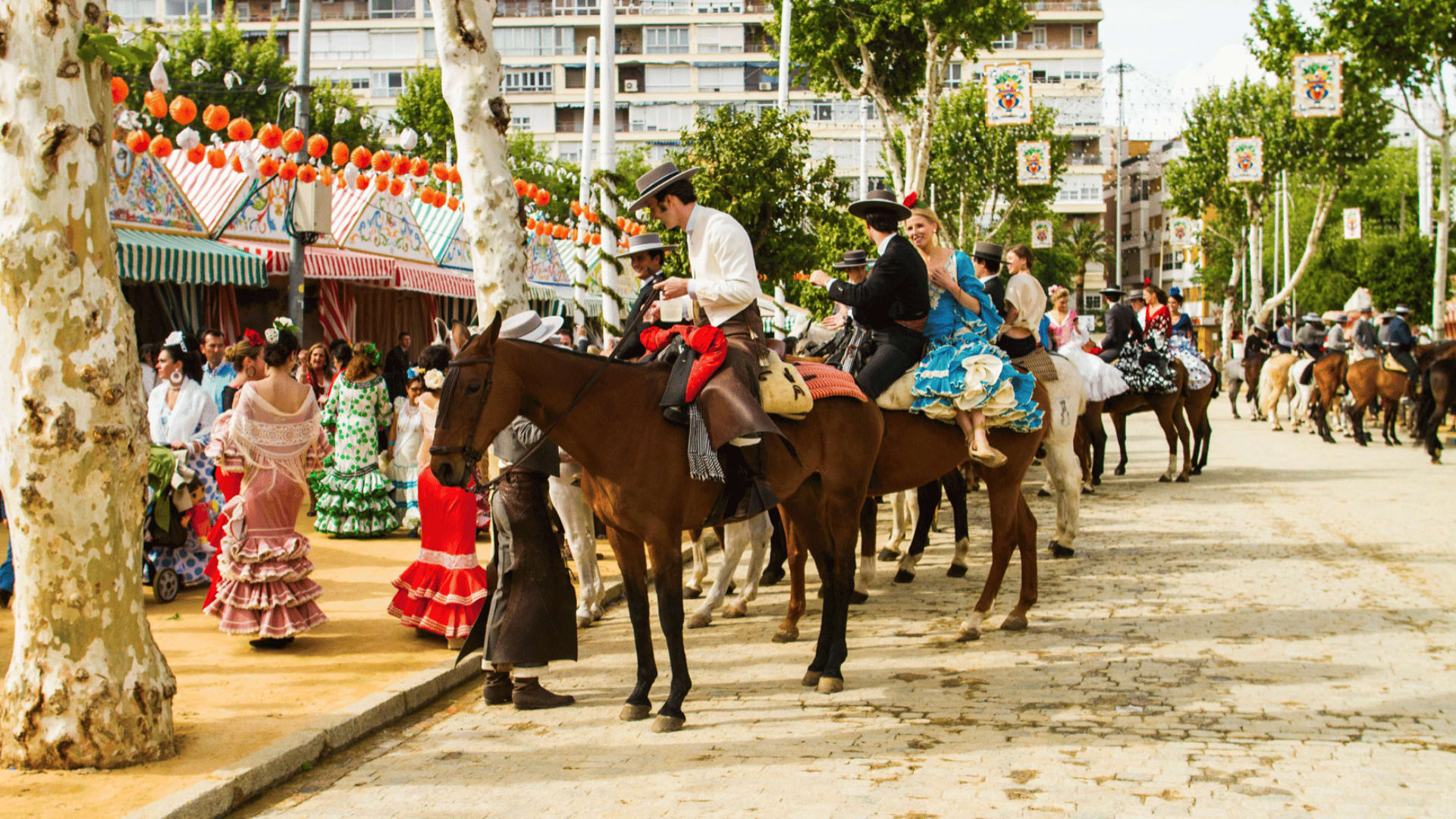 You can plan a trip to Seville taking into account La Feria de Seville, which usually takes place two weeks after Easter Sunday. I suggest you check the exact dates as they may vary.
La Feria is the BEST way to learn about Seville and the country's traditions. However, it does change the typical rhythm of a "normal" itinerary since the city is full of people, some streets are closed for parades and activities, and the whole city unites to celebrate this festivity.
Read full article: Seville Fair Guide for non-locals. Must-read before you go!
Itinerary #3 - Embark on a "Ruta de Pueblos Blancos"
Seville is the gateway city to discovering Southern Spain. The whole region of Andalusia is very rich in history, legacy, architecture, tradition, art, and culture.
Traveling to the South and making a route by car to the Pueblos Blancos (white towns) is an absolute must if you are more adventurous and have already been to Seville.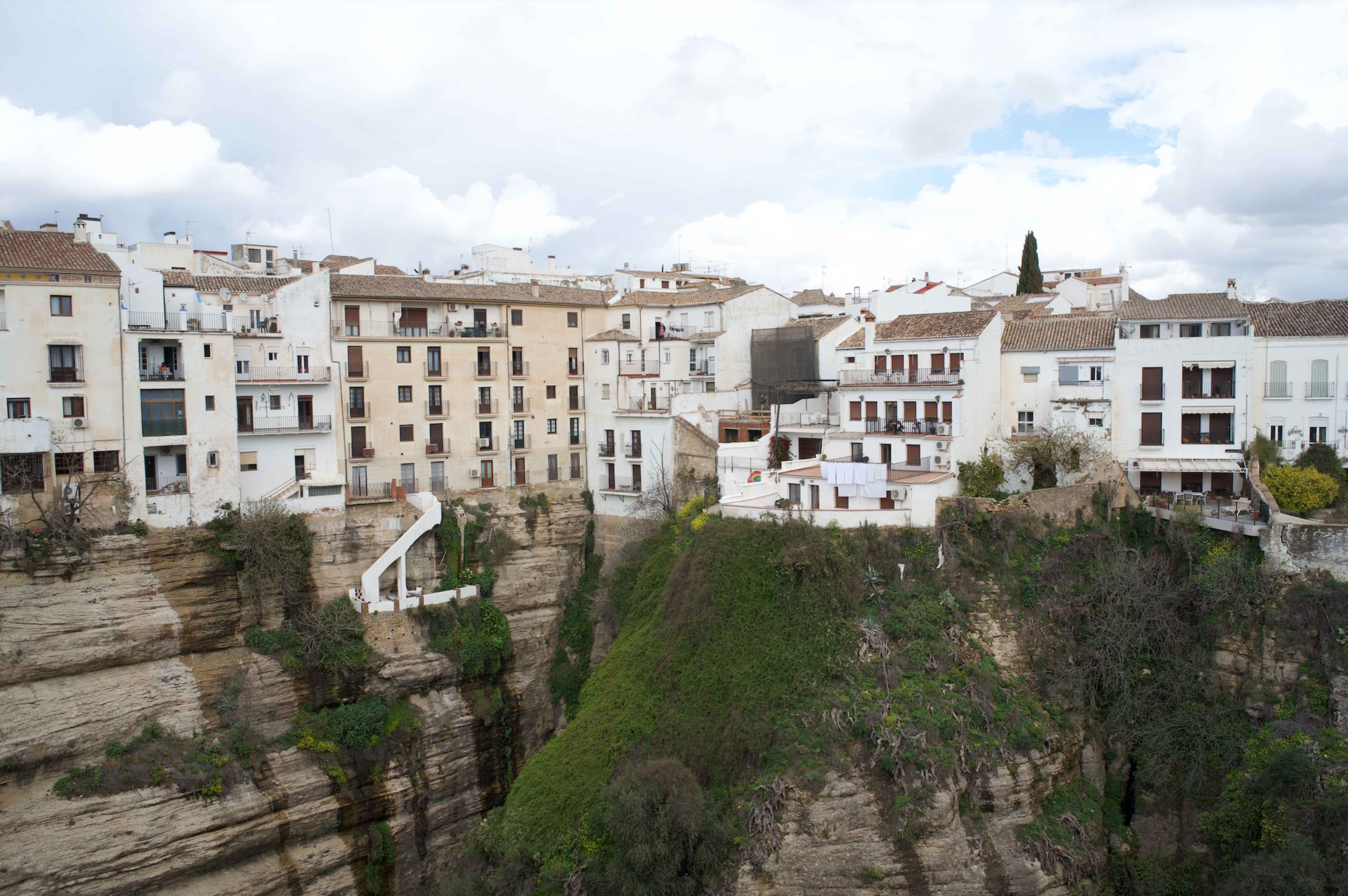 These lovely, picturesque small houses come together to form a beautiful landscape. As you explore them, you'll be fascinated by the details in every corner and alley, each offering a unique ambiance adorned with flowers and more.
From Seville, it is very easy to discover many charming towns and cities. The most beautiful and famous ones are Ronda, a city with a stunning location, is just about two hours away; Arcos de la Frontera, one of my favorites; Then Cádiz, perfect if you want a beach escape, and so on. 
Find out more: 11 Seville's Charming Towns to Explore on your trip!
Have more time in Seville?
Day 4 - Maria Luisa Park
If you have more time in Seville, make sure you visit the Maria Luisa Park. It's often forgotten, but it's one of the most beautiful parks to relax, take a leisurely walk, breathe some fresh air, and escape the city's hustle.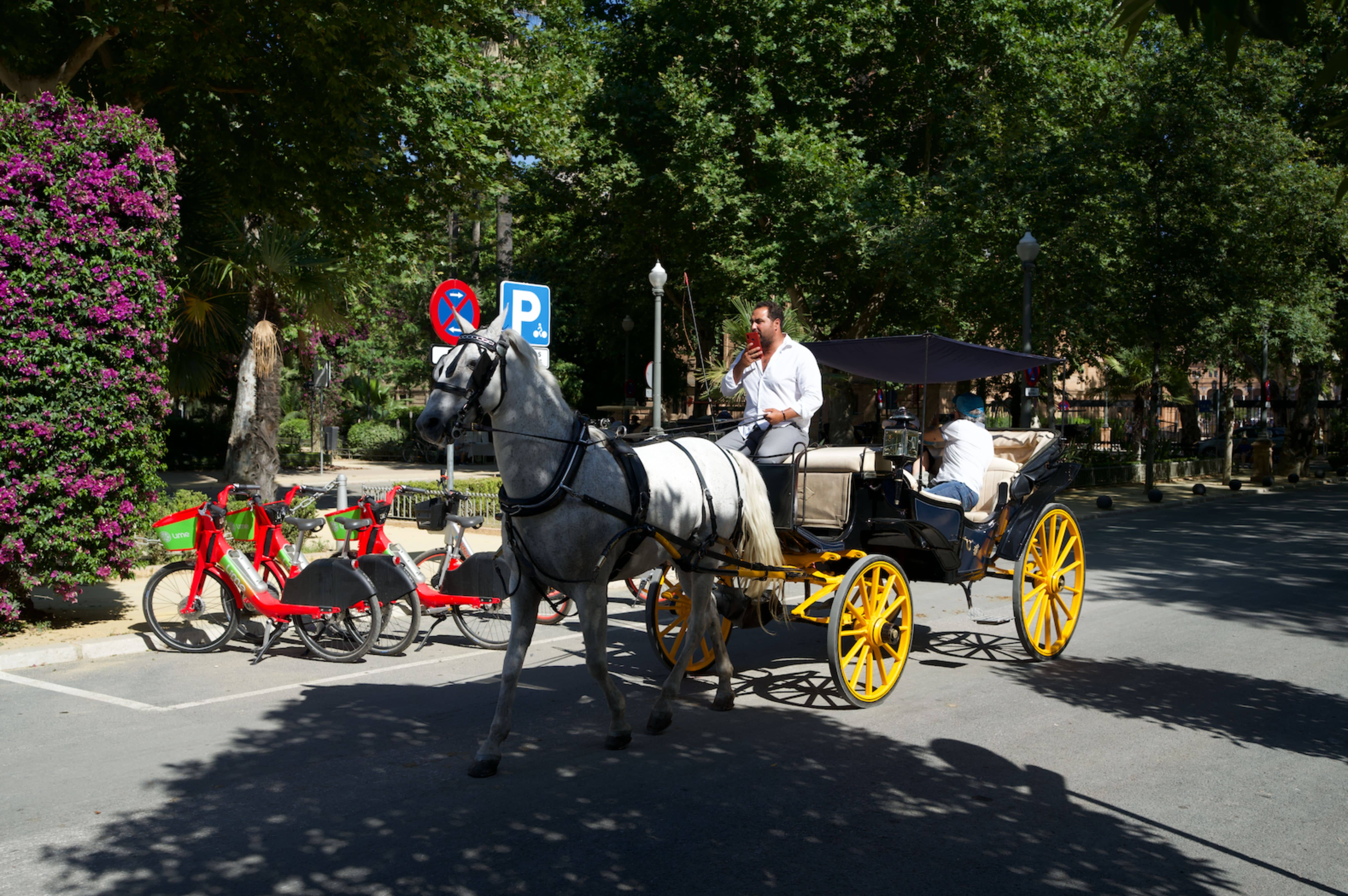 And it holds history! María Luisa Fernanda de Borbón donated the park to the city in the late 19th century. You'll find many monuments, fountains, and statues.
Oh, and if you want to stay in shape during your vacation, this place offers the perfect scenario for a morning run. There are also paddleboat rentals on the canal; you can even spend your afternoon at a picnic!
Day 5 - Add Granada to your visit
On the fifth day of your trip, you will explore Granada's beauties.
First, because you must see the Alhambra de Granda by yourself, it is one of Spain's most iconic landmarks along with the Mezquita de Córdoba and a UNESCO World Heritage Site. Get tickets for the Alhambra in advance, as they are usually sold out.
Also, you will love the Generalife Gardens, a masterpiece of Islamic garden design. The Nasrid Gardens are a testament to the Nasrid dynasty. The Moorish Quarter and many more unique places that make this place one of a kind.
Trust me, you want to spend a day here if you're already in Southern Spain.
Want to stay a bit longer? 6 Days in Spain: The 3 Best Itineraries for Your Trip!
Useful resources for your Seville Itinerary
Where to stay in Seville
10 Best Neighborhoods in Seville: Students, Expats & Tourists
What to see in Seville
21 Best Things to do in Seville: Insider Top Picks
Best time to visit Seville
Best Time to Visit Spain: Monthly Guide & What to Expect
---
What are you waiting for? Book that flight and come to Spain, you won't regret it. Our country is full of culture, great food, traditions, cultural sights, and fantastic things to do; experience it yourself!
If you need help creating your own itinerary, write us an email! We would love to help you organize your trip.
Happy travels!