13 Seville Tips & Tricks You Should Know Before Traveling
April 17, 2023
Updated:

April 24, 2023
Published: April 17, 2023
Has it ever happened to you that you are traveling to a city, and after you return, someone shares some tips they knew that would have made your travels better, more efficient, or less expensive?
Well, I have, and that is why I am writing this article. I have compiled 13 tips and tricks that will help you get around your time in Seville.
After you read this, you will have more information on food, events, transportation, planning, and the best seasons.
I hope I come up with this article in time and that it will help your next trip to the Andalusian capital!
1. Summer is not the best time to visit Seville ☀️
Andalusia is famous for its warm weather, but if the city you visit is not close to the beach, be prepared to run away. I am not exaggerating; I have visited southern cities many times. One of my last visits was to Almería, and if it weren't for the beach and the fact that I had an air conditioner at home, I would have gone crazy because of the heat. 
But let's go back to Seville. The Andalusian capital has a notoriously hot summer, with temperatures reacher over 100°F (38°C), sometimes even higher. 
I can say for certain that it is not very pleasant to visit during this season, mainly because you have no beaches to run away to.  
 So, my best tip here would be to organize your trip for other seasons. You have three more to choose from, and if you do, you can enjoy way more outdoor activities without melting in the scorching heat. 
If you want some advice on what to do in other seasons, check out the following articles!
2. Stay in the heart of the city 📍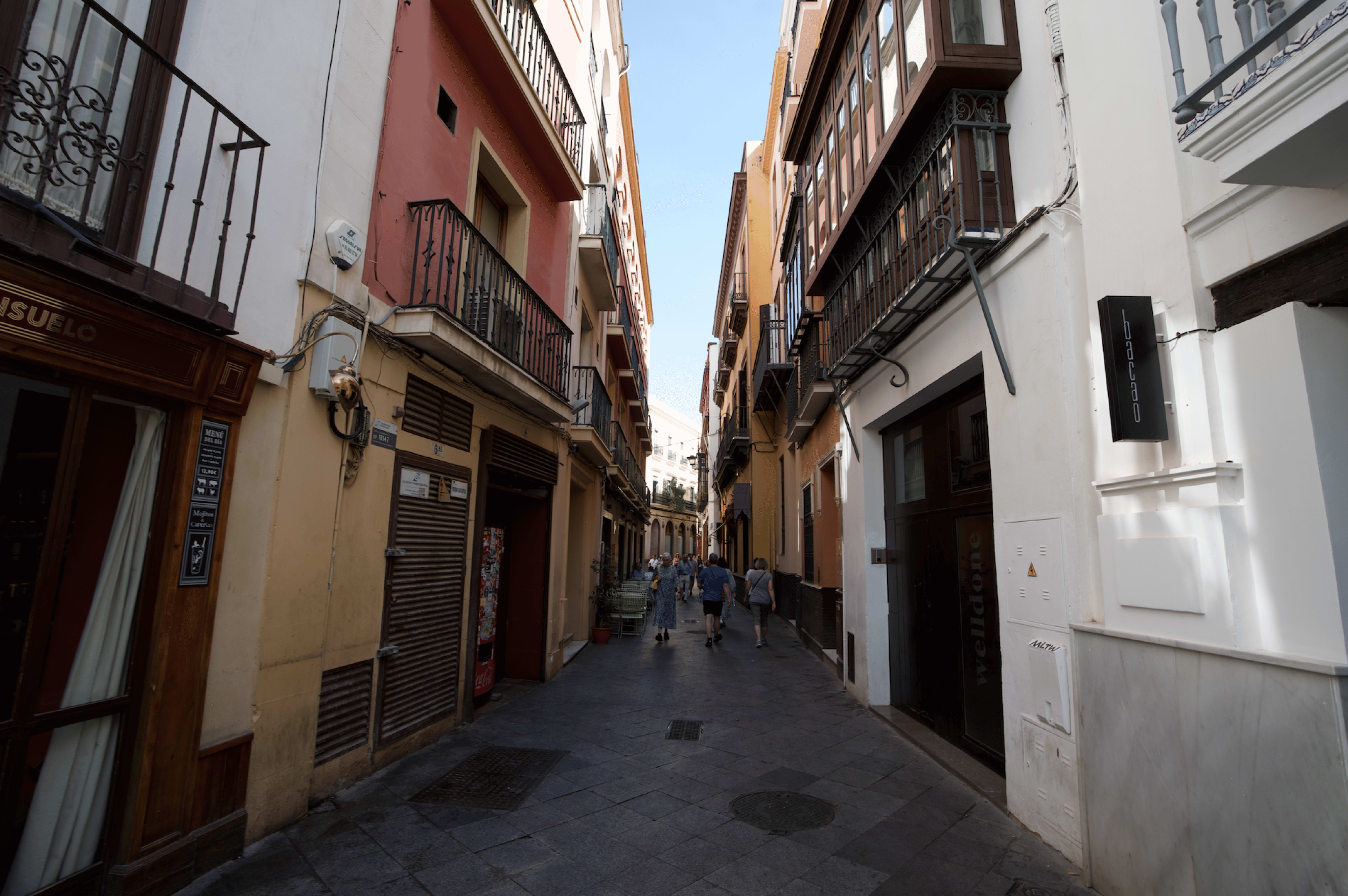 I know that staying in the city's heart can sometimes be very expensive, but if you do the right research and the right time, you can get great hotels in prime locations. 
To fully experience Seville's charm, I would recommend staying in historic neighborhoods like Santa Cruz, El Arenal, or Regina if you want a more modern option. 
Staying in the city's heart will allow you to do everything on foot, which is the best way to get to know a place. Plus, if you are only traveling for a few days, it will make your trip more efficient and comfortable.
3. Explore Seville on foot or by bike 🚶🏽‍♀️
If I am super honest, Seville is a small city you can see in a few days. But if you really want to take in the beauty of the Andalusian capital, avoid cars!
I know that the metro, trams, or taxi are perfect options for quick transportation if you are late to a booking or even to your train station, but besides that, my best tip is to explore Seville by foot or bike. 
The best way to discover Seville, it's charming corners and quaint streets, is by walking. Even if you get lost following the (sometimes) confusing directions of Google Maps, you will uniquely see the city. 
Hire some walking tours that will guide you around the city, giving you curious facts and the complete history of Seville.
Another way to explore the city is by bike! There are plenty of bike tours, but if you prefer to go around alone, you can use the city's bike service called Sevici! 
You can pay for a day or the entire week; it is up to you. But selecting a bike will also allow you to get to the important landmarks in Seville faster than walking but with way more access to smaller streets than by a hop-on, hop-off the bus. 
4. Be prepared for the local schedule🥘
If you have seen our Youtube video on Spanish cultural shows, you know that the local schedule impacts everyone. 
In Spain, everything happens a bit later, especially at mealtimes. In big cities like Madrid or Barcelona, you won't have many issues with closed restaurants or stores during the middle of the afternoon or restaurants opening too late. But Seville is different. 
Seville follows a traditional Andalusian schedule in which people leave for lunch between 1:30 and 2:30 pm and return around 4:00 pm. If you ask yourself, "Why would they do this?!" we Spanish people enjoy enjoying our meals and having long conversations during lunchtime. 
Also, most local owners close between those hours because they return home to eat and maybe get some siesta. 
My tip here is to get some snacks! If you are open to the Spanish schedule but are hungry, carry some snacks with you. You can also find places in advance and plan your meal times strategically.
Another tip would be to research restaurant schedules in advance (some might remain closed until 8:00 pm) and book a table in every restaurant you wish to try.
5. Create a list of local bars in advance! 📝
If you truly want to eat like a local, you have two options: research the best local bars and restaurants, or learn some basic Spanish to ask locals for their recommendations.
The second option is my favorite because most of the time, you will be directed to bars that are not mentioned on the internet but are incredibly good. 
But, as we are here to help, I will leave you a list of dishes to try and places to write down. 
In Seville, you must try gazpacho and all the tapas available; one of the most famous is the tapa de rabo de toro (appetizer of bull's tail). You can find those and plenty more Andalusian food in the following list!
Seville bars & restaurants
If you don't find a table inside a bar, eat standing! It is very typical in Spain; approach the bar, order your tapa, and eat right there.
6. Get to Seville by train or plane 🚉 ✈️
There are many different ways to get to Seville. You can travel by car, train, plane or bus (usually the cheapest option). However, my recommendations in terms of time and price are trains and airplanes. 
The train station of Seville, Santa Justa, is in the city center and very well connected to the old town and important landmarks with buses and trains. Traveling by train is usually a bit more expensive than the bus or plane, but it is very comfortable. 
On the other hand, traveling by plane is faster, sometimes cheaper, and more convenient when traveling to different cities in a few days. In addition, the airport of Seville is only a 15-minute drive away car from the Old Town. 
7. Make a list of Seville's must-see attractions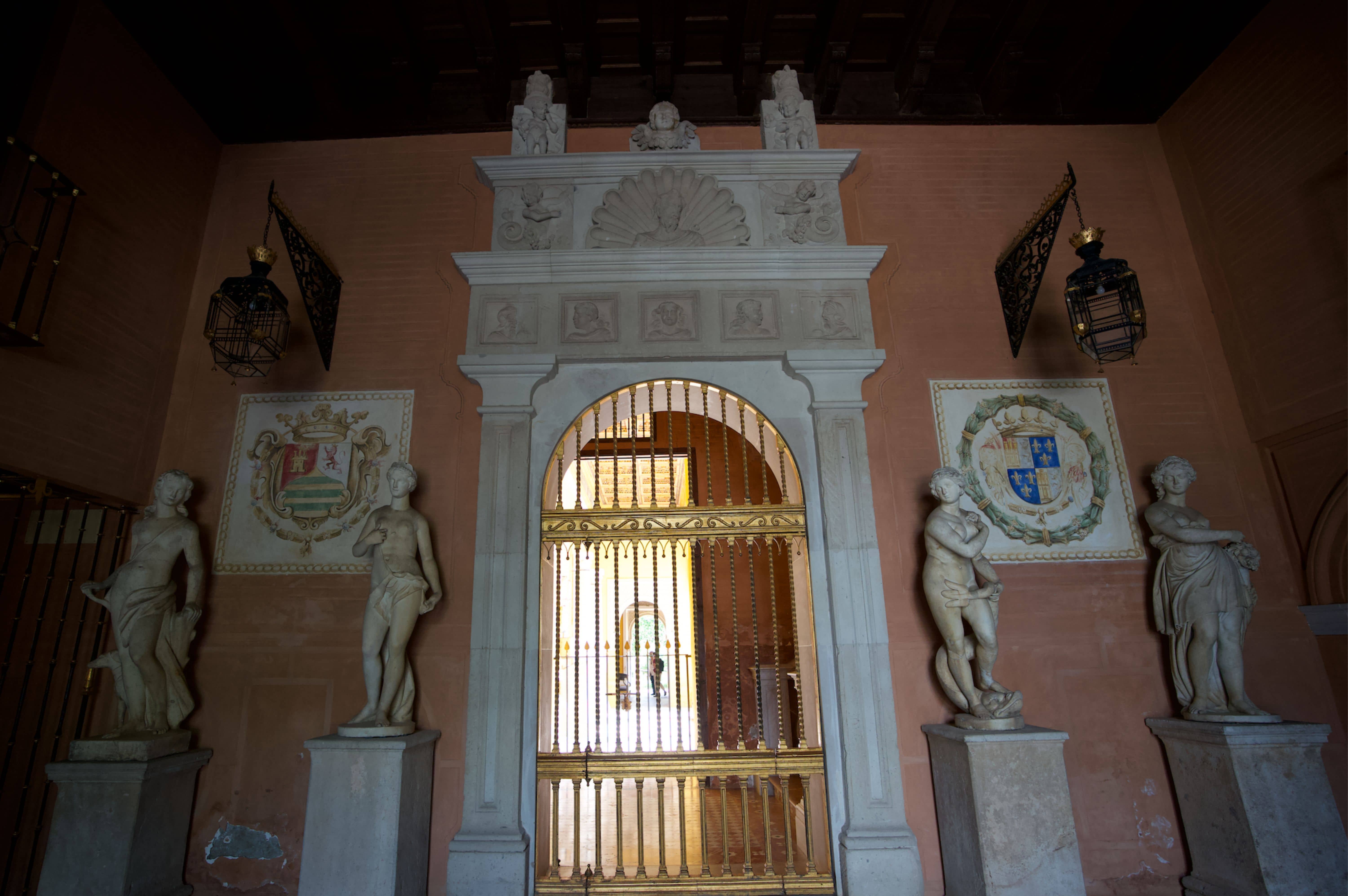 Seville is home to many breathtaking attractions that have history written in every corner of their architecture. To be sure that you truly experience the most important attractions in Seville, make a list!
Some people say that they keep it mental or read a bit more once they arrive in the city. But the truth is that if you only have a few days is better to make time efficient. 
So, check out our article on Seville's attractions, make a conscious list of the places you want to visit with a tour and those you only want to see from the outside, and start booking!
Find it here 👉 15 Iconic Landmarks in Seville and Must-Visit Attractions
Once in Seville, you can see if you fit more things, but it's better to have a plan a change it than having nothing and losing time planning on the spot.
8. Book everything in advance! 📸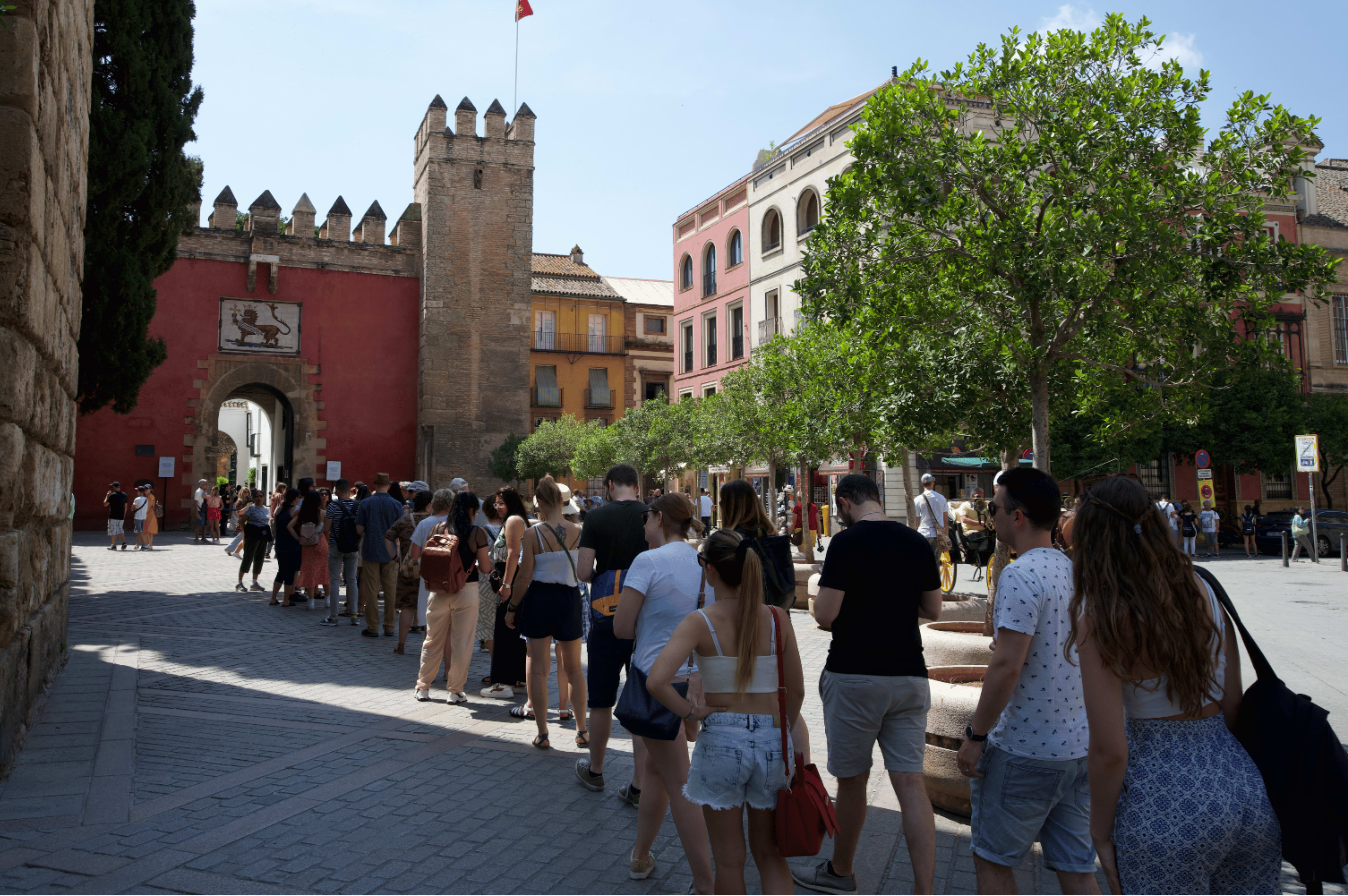 I have mentioned this previously, but the best travel tip I can give you when visiting Seville would be to book every attraction in advance. 
If you book online, you will save time, avoid long queues and even get some discounts! I remember that the last time I visited, most landmarks offered a discount if you booked online to encourage people to enter the practice. 
So, if you also followed tip number seven, the next thing to do would be to book as soon as possible! Especially if you don't want to have a soldout schedule in one of the landmarks. 
9. Shop for unique souvenirs in Seville 🛍️ 
Are you or someone in your family the type of traveler that always gets a souvenir when traveling? Well, even if you are not, you shouldn't skip getting a unique gift for yourself, a friend, or family in Seville.
If you are into hand-painted souvenirs, you can get Sevillian ceramics and traditional fans. On the other hand, if you prefer edible souvenirs, then don't forget to get your olive oil, jamón ibérico, anisette, or sherry wine.
I am sure that once you get home, you will be extremely happy you brought something back!
10. Take a day trip to nearby towns 🛣 
As I mentioned before, Seville is well connected to the other towns and villages in Andalusia with the train, bus, and even way better if you rent a car. 
If you are traveling to Seville for a week or so, you have enough time to make road trips to nearby towns and villages. You won't want to miss Córdoba and Granada, two spectacular southern cities filled with history, each with its stunning landmarks, such as the Great Mosque of Cordoba and the Alhambra, respectively. 
So, if you have enough time, check out the list of towns close to Seville, and pick the destinations that call you the most. 
Check out the nearest and most beautiful towns close to Seville in the article below 👇
11. You need to watch a flamenco show 💃
Even though flamenco is an art that was influenced by many cultures, it developed in Sapin and especially in Andalusia. Flamenco is an art that, in Seville, is executed with much passion. 
There are plenty of places where you can experience flamenco in Seville, such as Teatro Flamenco Sevilla, Museo del Baile Flamenco, and Tablao Flamenco El Tablao Andaluz. 
If you don't want to go or don't have time for a show, then go to Plaza de España and witness some street flamenco that will still leave you breath taken.
12. Use public transportation to get around 🚇
I left this tip and trick in Seville as one of the last because I personally prefer to get to know a city by foot than by car or bus. Still, I want you to know all the possible ways to move around Seville while traveling. 
Check out Seville's available transport system, right here!
Even though Seville is a small city, it has a well-develop public transportation system that includes buses, trams, metros, and bikes. If you need to move around the city faster and want to save money, public transportation should be your best friend. 
It's always better to stay close to a metro station or tram line, which will help you connect faster to the parts of the city that reach a bit further away.
13. Enjoy the city's green spaces 🏞️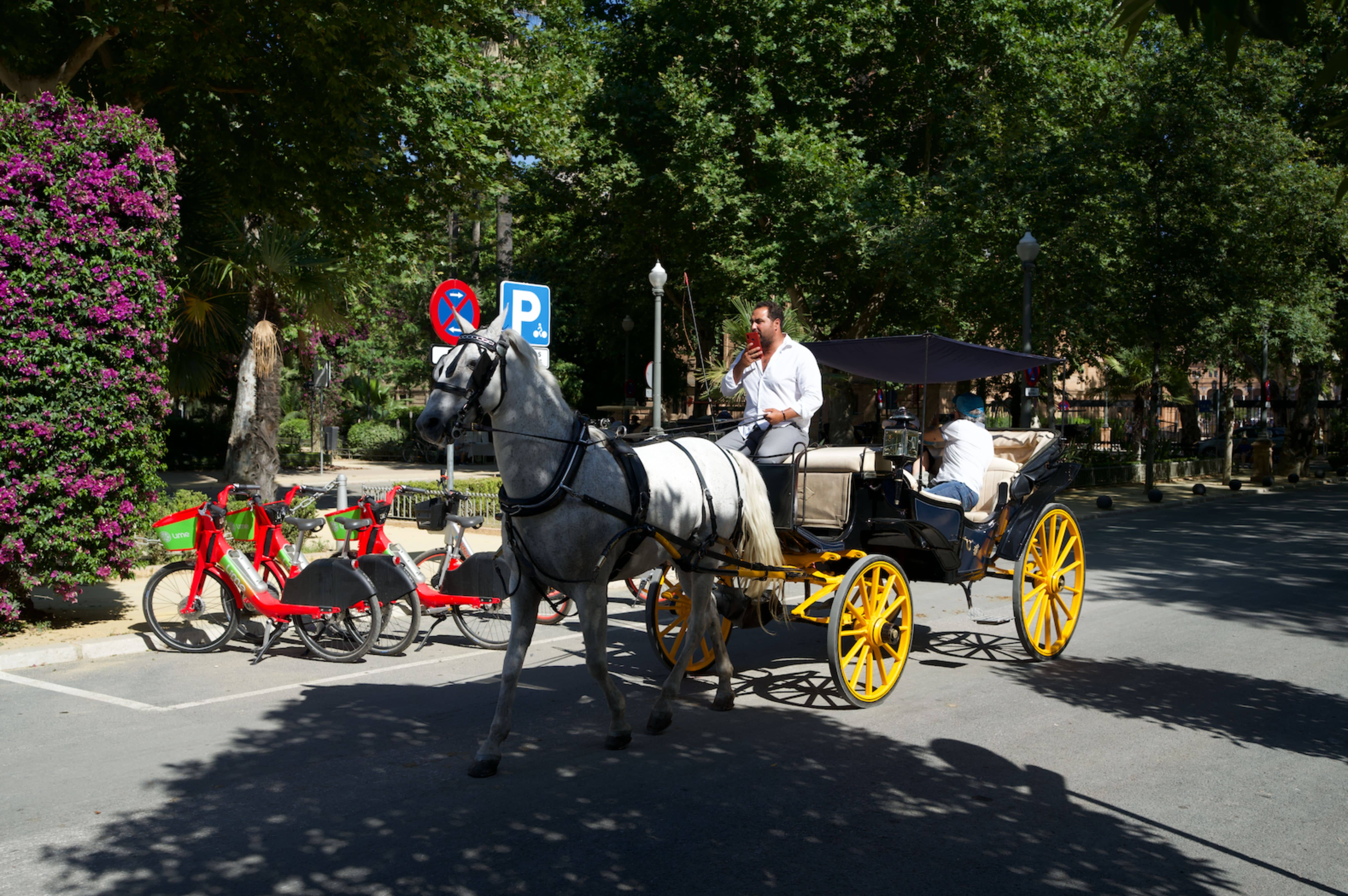 Even in winter, Seville has warm weather moments that allow visitors and locals to sit in a park or enjoy an afternoon walk. 
So, if you need a break from all the walking and history lectures of the tours, visit Seville's green spaces!
You can choose from Maria Luisa Park to the Murillo Gardens, the Prado de San Sebastian Gardens, and the Caridad Gardens.
Get some drinks, hot or cold, depending on the season, and enjoy a leisure stroll in Seville's green spaces. 
---
Okay, I have shared 13 tips and tricks to take with you on your coming trip to Seville. I hope you save, share or print this article to carry the best tips to know your way around the Andalusian capital.
Let us know if this article was helpful for you, and also tell us if we should add something else to help other people traveling the Seville.