Seville Weather: 7 Must-know Tips for Planning Your Trip
April 5, 2023
Updated:

April 18, 2023
Published: April 5, 2023
The first image that comes to mind when we think of the weather conditions in Seville is a radiant sun. It is hard to have anything else in mind.
However, the heat is quite pleasant during September, October, November, and May. And other weather conditions prevail, which is essential to know if you are planning your trip so that you have everything planned and can carry out the activities according to the weather.
In this article, I'll explain the weather in Seville and give you the best advice as a local for people visiting this beautiful city in the different seasons.
Also, I'll give you clear examples of what to bring and stuff to pack according to the temperature. So, keep reading and get ready to discover one of the most envied weather in Spain!
The average temperature in Seville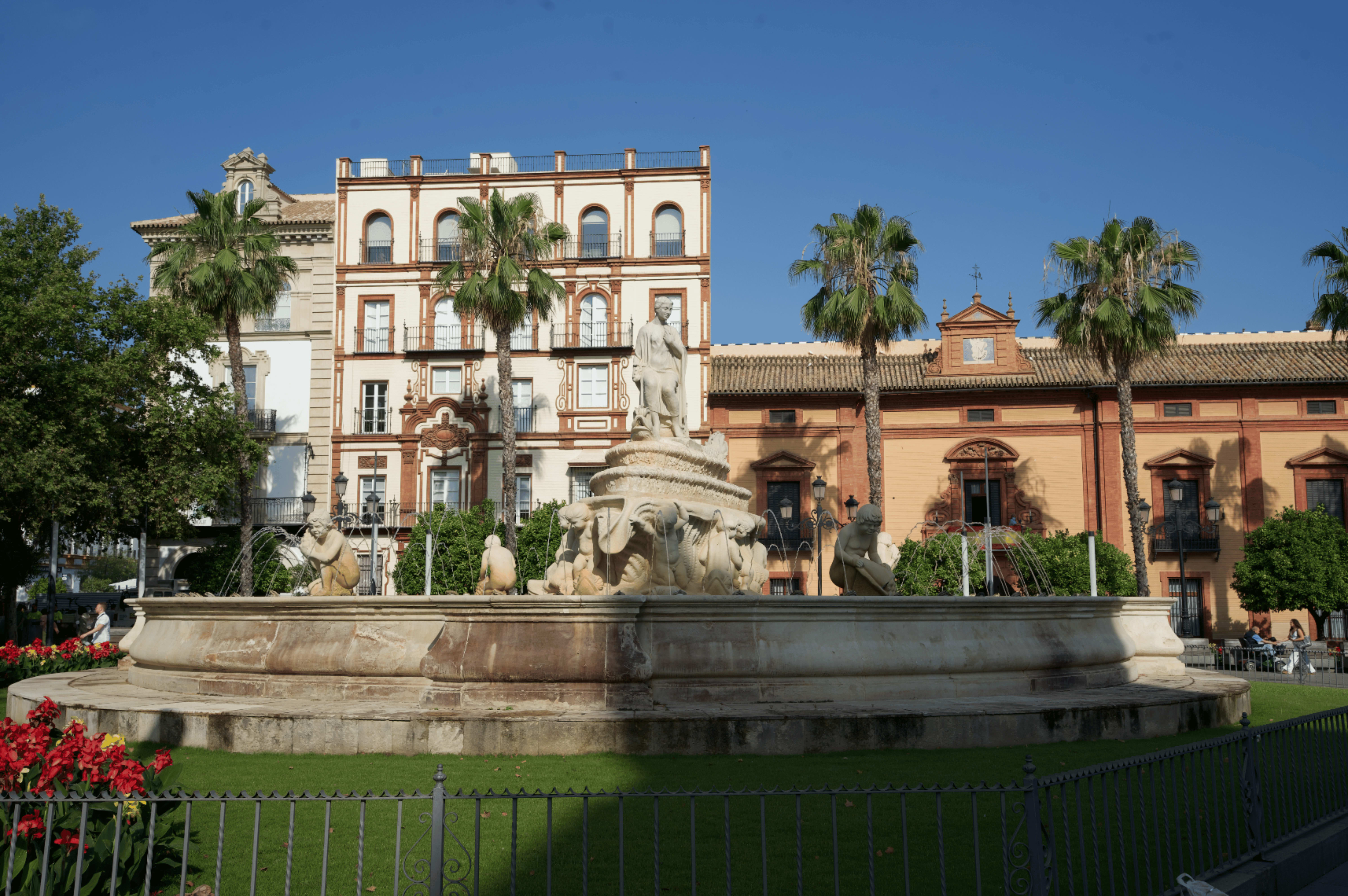 The weather in Seville generally stays warm and sunny, and it is relatively easy to predict how it will be depending on the season.
The Climate in Seville is Mediterranean with oceanic influences, which means short, hot, arid, dry summers and mild winters.
During the year, the temperature in Sevilla mainly varies from 42.8°F to 96.8°F. It rarely drops below 30.2°F or rises above 104°F.
The well-known hot season lasts 2.9 months, from June to September in summer. Here, the average daily maximum temperature can reach more than 90 °F. Yes, quite a lot!
¿Hace mucho calor por Sevilla?
Sevilla pic.twitter.com/4pb7DBc45k

— Concepción Perea (@PereaConcha) July 13, 2022
And as for the cool season, it lasts 3.6 months and begins from November to early March 5. Here, the average daily maximum temperature you can expect is not greater than 68 °F.
The hottest month of the year is undoubtedly July, with an average maximum temperature of 95°F and a minimum of 68°F.
Contrarily, the coldest month of the year in Seville is January, with an average minimum temperature of 42.8°F and a maximum of 60.8°F.
| Month | MonthHigh / Low (°F) | Rain |
| --- | --- | --- |
| January | 61° / 43° | 6 days |
| February | 64° / 45° | 5 days |
| March | 70° / 48° | 5 days |
| April | 72° / 51° | 6 days |
| May | 79° / 55° | 3 days |
| June | 89° / 62° | 1 day |
| July | 96° / 66° | 0 days |
| August | 96° / 66° | 0 days |
| September | 90° / 64° | 2 days |
| October | 79° / 57° | 5 days |
| November | 68° / 50° | 5 days |
| December | 62° / 46° | 6 days |
---
Cloudy days in Seville
The Mediterranean climate of Sevilla offers its visitors plenty of clear blue sky, intense summer sunshine, and pleasant winter weather. So, generally speaking, Seville is definitely not a cloudy city.
You should expect to see the clearest skies of the year from June to September. While the cloudiest month of the year in Seville is December, on average, the sky is cloudy or mostly cloudy 44% of the time compared to 92% of mostly clear skies in July.
As it is very near the Atlantic Ocean, the city has a significant maritime influence, which means a warm-temperate climate due to its location, latitude, and environment.
---
Days of rain in Seville
"La lluvia en Sevilla es una maravilla" is one of the most popular sayings whenever the clouds and rain unload over this city. It means, "The rain in Seville is a wonder." 
Typically, Seville doesn't usually experiences heavy rainfalls or cloudy, rainy days. Still, The probability of wet days varies during the year. 
The wettest season lasts 7.7 months, from late September to mid-May, with more than a 12% probability that a specific day will be rainy —Which rarely happens. 
The rainiest month in Seville is December, with an average of 6.5 days with at least 1 millimeter of precipitation.
On the other hand, the driest season lasts 4.3 months, from mid-May to late September, with July being the month with the fewest days of rain.
Although, at certain times of the year, such as during Holy Week and the remarkable Seville Fair, the rain in Seville is no "wonder," especially for the followers of these festivities. 
Read more about this famous festivity here:
---
Sunny days in Seville
If you like the sun, Seville is the perfect place for you. It has an average of 2,898 hours of sunshine a year!
The clearest month of the year is July, during which, on average, the sky is clear, mostly clear, or partly cloudy 92% of the time. During summer, days are longer, the sun is out almost every time, and the temperatures are high, no matter if you're in the shade.
In Seville, specifically in the town of Ecija, the highest temperature in the whole country was recorded. So much so that it is known as "the frying pan of Andalusia" for reaching 118.4°F in the shade, according to the thermometers of the town.
The good news is that, during Summer, many bars and terraces use a water spray system that creates a refreshing microclimate that helps a lot when sitting down for a nice meal.
To learn more about bars and restaurants in Seville, read these articles:
Also, another way to escape the heat is to go to pools or water parks such as Aquópolis!
Also, regarding the length of the days, they vary considerably during the year. In 2023, the shortest day is December 22, with 9 hours and 35 minutes of daylight. Whereas the longest is June 21, with 14 hours and 45 minutes.
| Month | Average Daily Sunshine Hour |
| --- | --- |
| January | 6.7 |
| February | 7.5 |
| March | 8.5 |
| April | 9.5 |
| May | 11.2 |
| June | 12.5 |
| July | 12.7 |
| August | 11.9 |
| September | 10.1 |
| October | 8.4 |
| November | 7.2 |
| December | 6.5 |
---
Humidity in Seville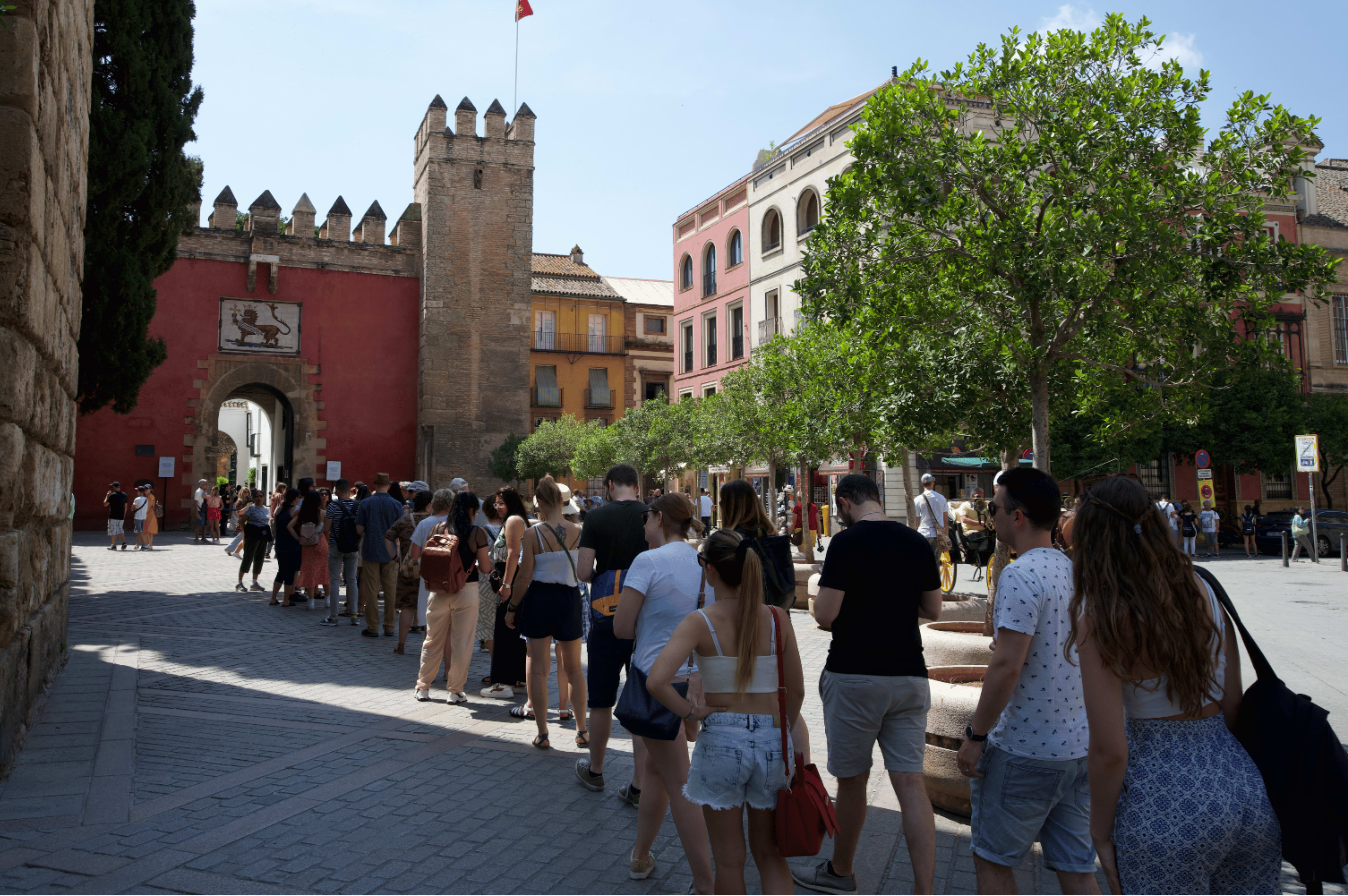 In general, Seville is characterized by dry summers and wet winters. Although the perceived humidity in Seville varies slightly.
We can define the climate in Seville as arid or dry, with annual values that, on average, can be between 34-40%, meaning relative humidity.
The month with the muggiest days in Seville is August, with 5.4 humid days or worse. The dry period coincides with the end of spring and summer. In the last one, the lack of rain, the heat, and the little cloudy or clear skies, except for punctual instabilities, becomes expected.
As we said before, the wettest period of the year lasts 3.9 months, from late June 20 to mid-October. During that time, the comfort level is sultry, oppressive, or unbearable for at least 5% of the time.
Also, here is a curious fact: Seville was built on a subway riverbed. In addition, its characteristic clay soil gives easy access to water, thus generating capillarity problems.
| Month | Humidity (%) |
| --- | --- |
| January | 74% |
| February | 67% |
| March | 63% |
| April | 60% |
| May | 51% |
| June | 42% |
| July | 39% |
| August | 41% |
| September | 52% |
| October | 63% |
| November | 69% |
| December | 75% |
---
Wind in Seville
Seville's average hourly wind speed has little seasonal variations over the year.
The windiest month of the year in Seville is December, with wind speeds averaging 13.6 kilometers per hour. Also, the windiest part of the year lasts 7.4 months, from mid-October 18 until the end of May, with average wind speeds of over 12.3 kilometers per hour.
Contrarily, The calmest month of the year in Seville is September, with winds at an average speed of 11.1 kilometers per hour. And the calmest time of the year lasts 4.6 months, from June to October. Which is also the driest. Do you understand why that town in Seville is called "the frying pan of Andalusia"? Heat + No wind: a challenge!
---
Best time to visit Seville: 7 Main Tips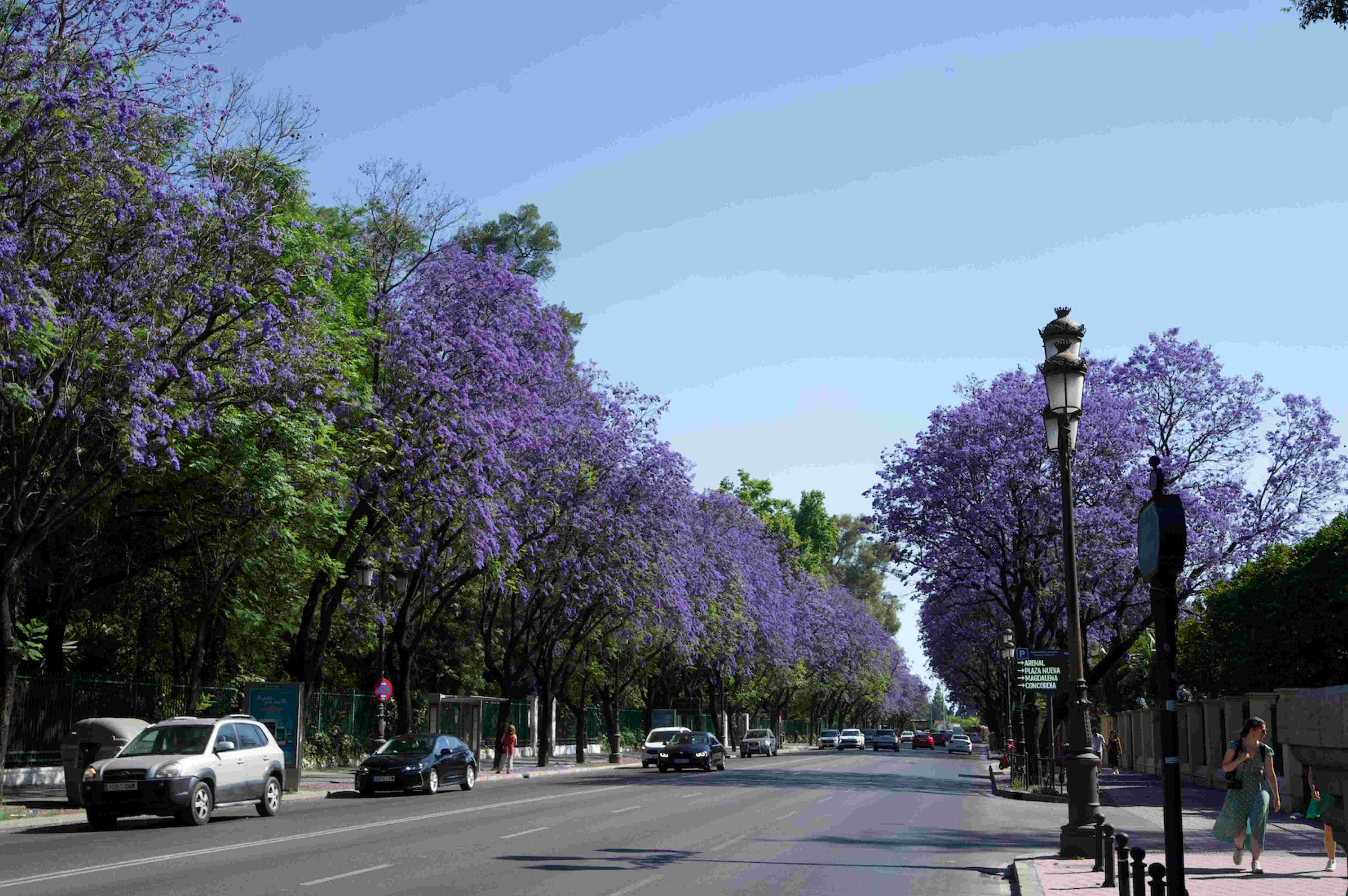 #1
Weather-wise, the best months to visit Seville are the mild months when it is not too hot, from April to the first weeks of June or September and October.
I promise you will fall in love with the music, the vibrant and energetic streets, the smell of incense and orange blossom, and the incredible passion in which Sevillians live Holy Week.
Also, I had the opportunity to talk with a "costalero" from Sevilla about how they celebrate Holy Week and the importance of this date for Spanish culture. You should definitely listen to it.
Costalero Explains How Spanish People Celebrate Holy Week
And, in case you wonder what Spanish people really do on Holy Week, here's the answer: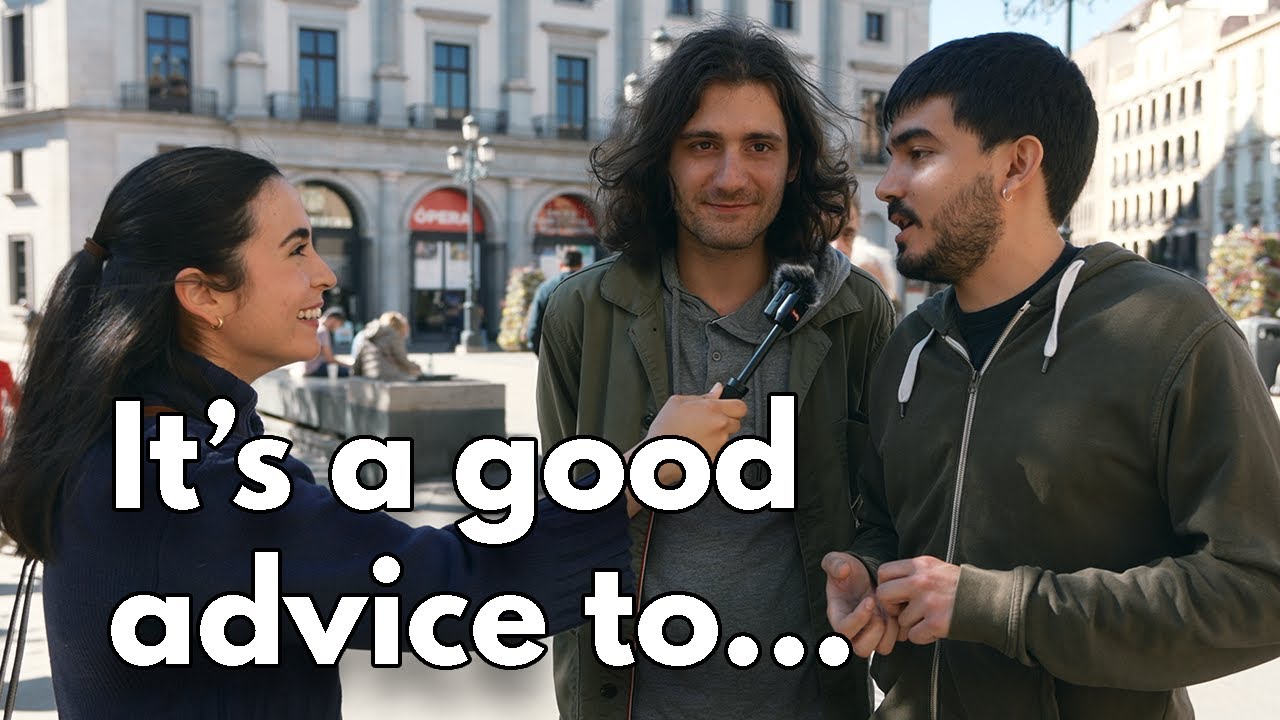 All of this without mentioning that you'll definitely be walking in the streets thinking: How on earth is the sky so blue?
#2
As if this was little, The Seville Fair takes place during Spring. It is the Andalusian fair par excellence and an experience you should not miss to live the true essence of the Sevillian culture at its peak!
#3
The downside is the high season. Here's when prices are higher, April and May, and continue during the fall due to the pleasant weather, which is incredibly fine!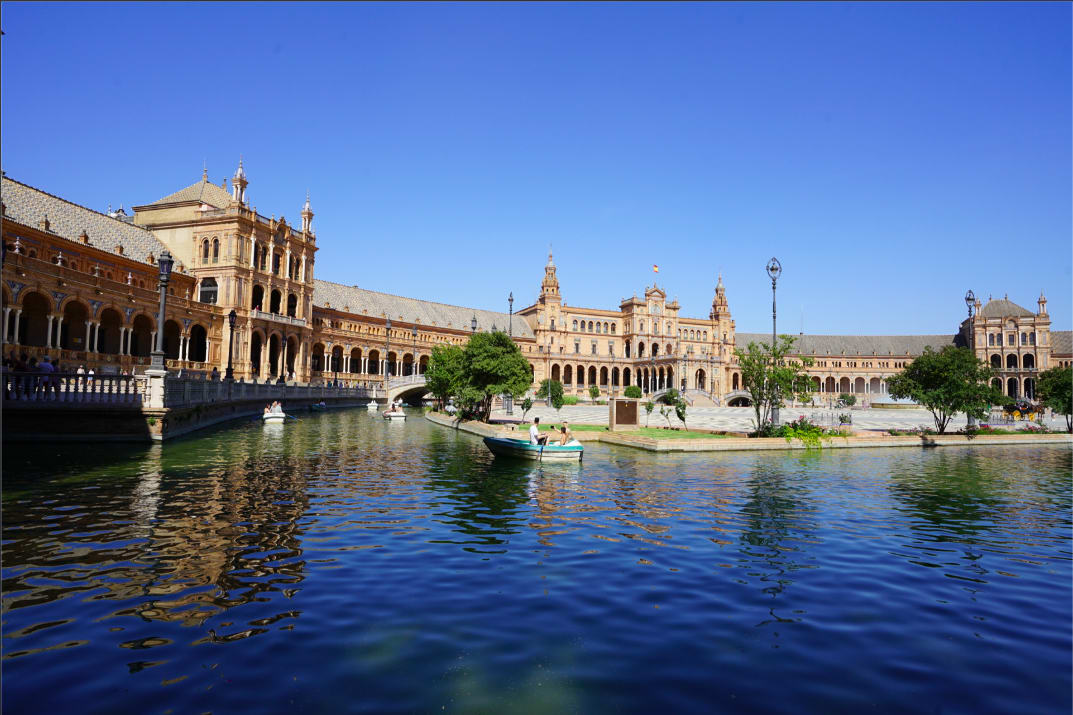 Then we have Summer. This is the ideal destination for those who have been through a hellish winter and are tired of short, heavy, and dark days.
In Seville, you will spend the ideal Mediterranean summer with super diverse and fun plans. You will meet the warmest people in Spain (so they say), who will welcome you joyfully and enthusiastically.
#4
It is a lot of fun, although the temperatures, as mentioned before, can be extreme. So I would also not choose this season over others regarding weather.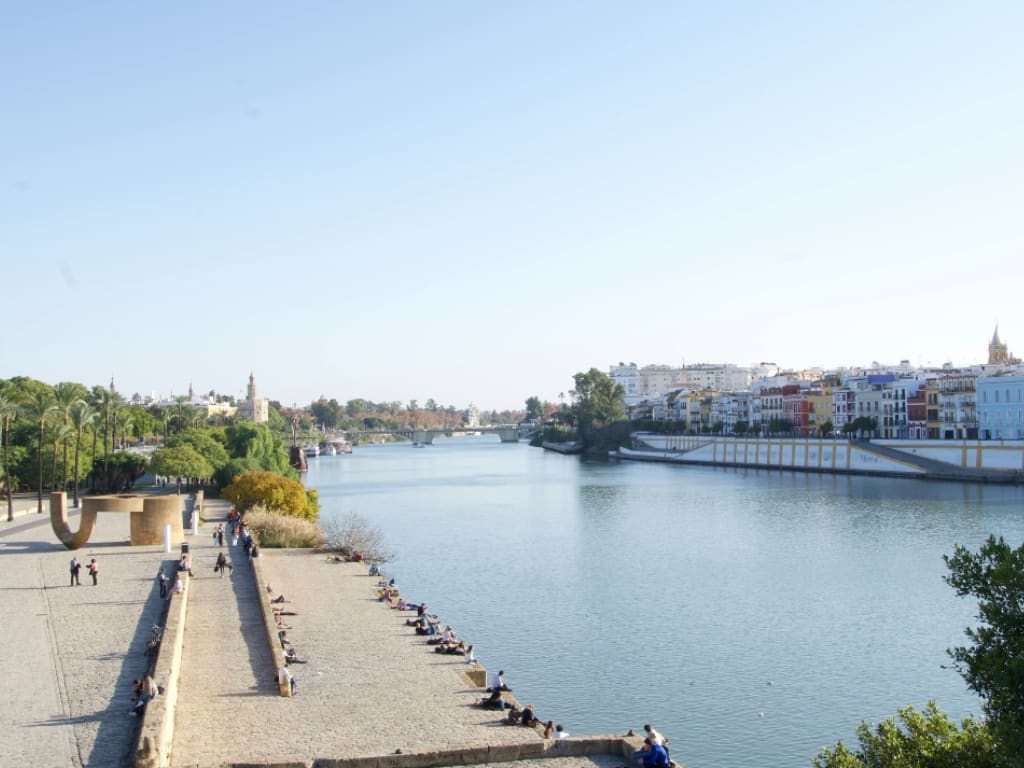 #5
However, I would not recommend traveling to Seville during the coldest months, November, December, January, and February, as they take away the charm of this city.
Still, even during these months, Seville never ceases to amaze us with sunny and pleasant days. I'm sure that people from northern Spain will tell you that Seville is always in Spring.
#6
As for hotel and flight prices, the cheapest months to travel to Seville are January and February.
Plus, if you are a Christmas enthusiast and want totravel during Winter, especially coming from the north of Europe or any other cold country, you'll get a break from extreme cold winter temperatures.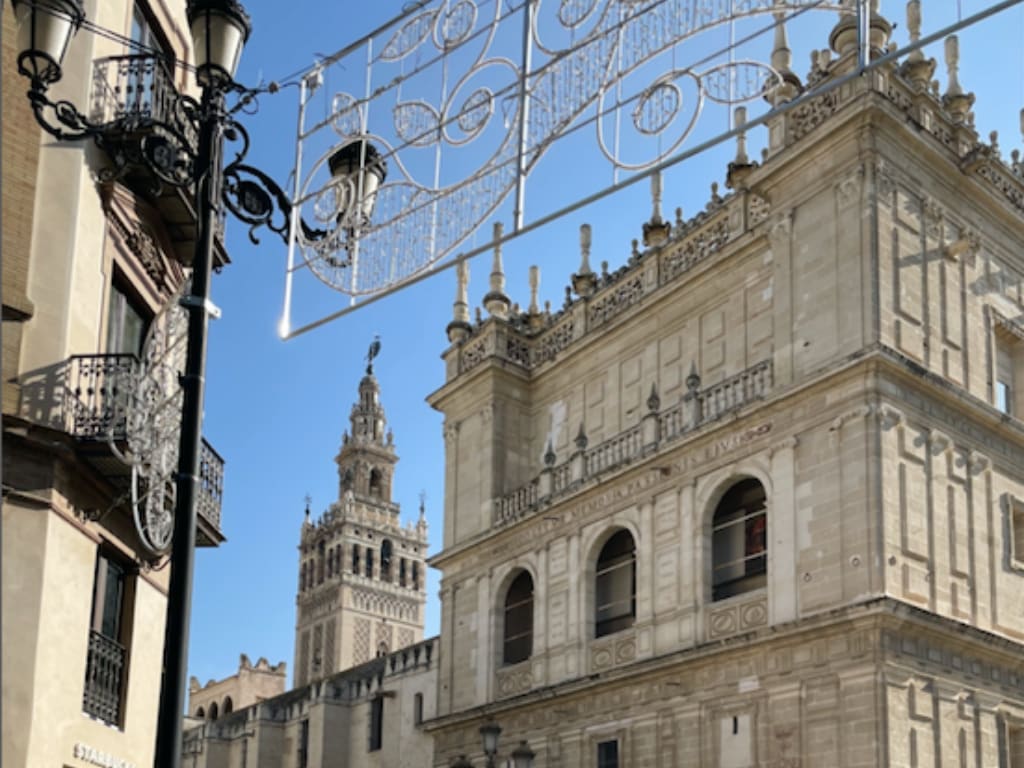 Moreover, the Christmas decorations in the city center, the nativity scenes, and the festive atmosphere in Seville are fantastic.
There are lots of great activities to enjoy during Winter. Read more here:
Seville Spring is Magical! 14 Best Events, Activities and More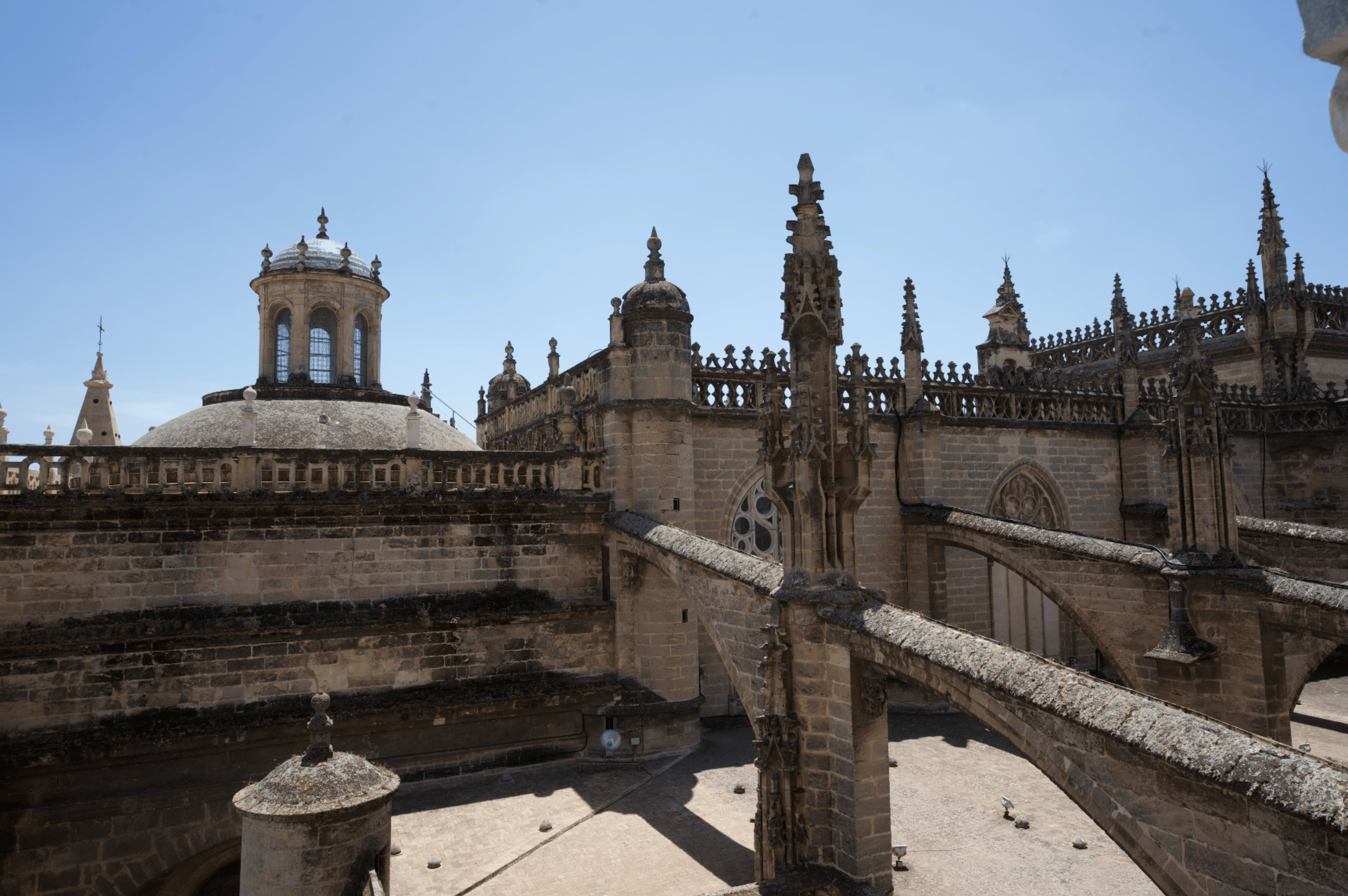 #7
Finally, Autumn is a lovely season to visit Seville, as the temperature is delightful to enjoy outdoor activities, sightseeing, and walking around without experiencing extreme heat or darker and colder days.
It's like having the best of both worlds without the April Fair. (which is key, to be fair) Having to its advantage better prices since the peak is definitely during Spring. Read more:
I hope you don't mind my bias… It's evident by now that traveling during La Feria de Sevilla is the best time of the year to visit the city, both weather-wise and the overall experience.
---
What to pack for Seville's weather? The Best Advice from a Local!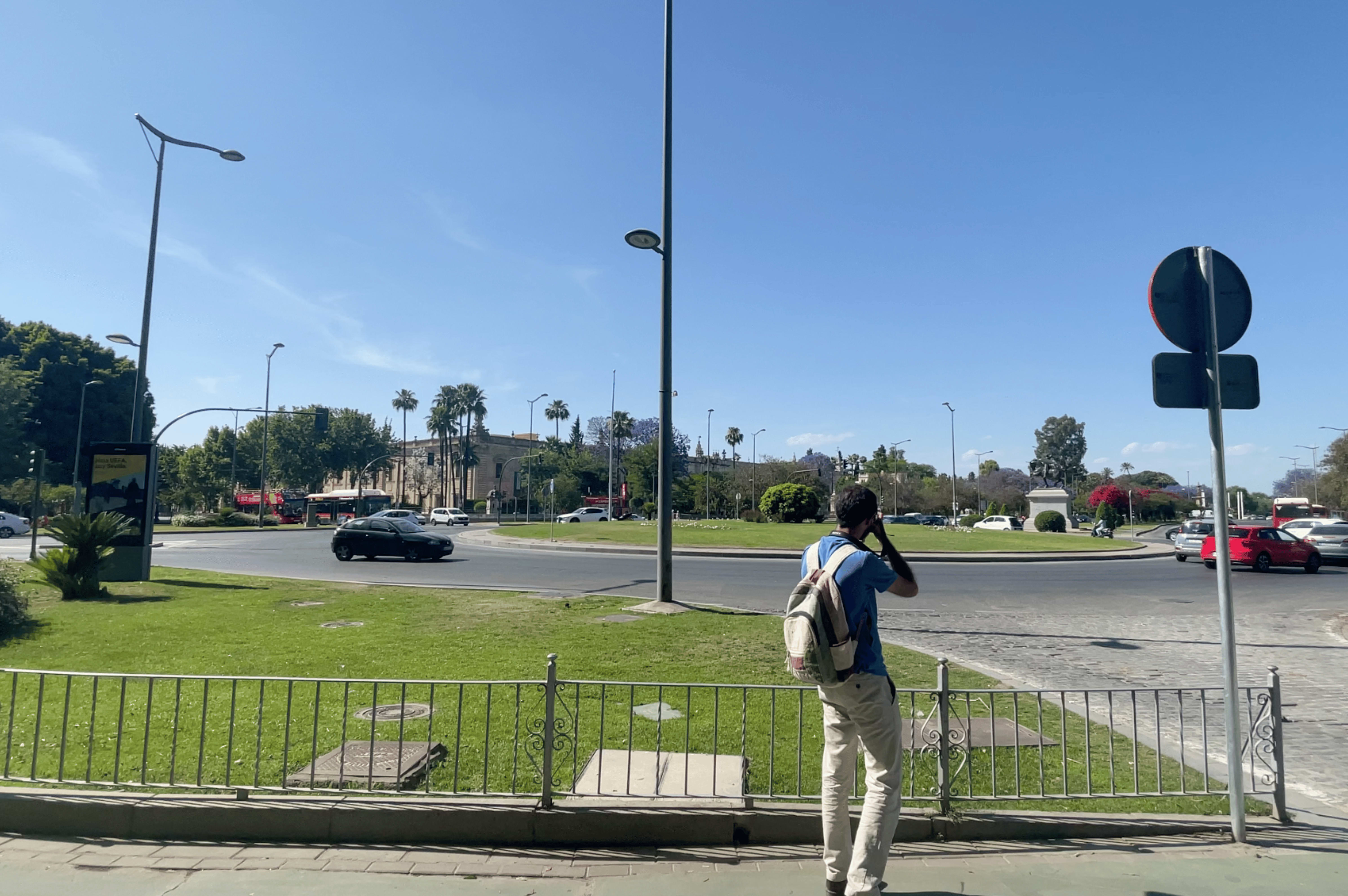 All this information might be overwhelming if you're looking for specific details about the weather to know what to pack for your trip to Seville. Here's a seasonal guide from a local to help you out!
Generally speaking, this city's "dress code" is smart streetwear, or casual chic, emphasizing elegance and looking polished. Preferably, avoid flip-flops and sportswear or beachwear.
What to pack for Summer in Seville
Lightweight, breathable clothing: As you've learned, Sevilla can get extremely hot in the summer. You'll want to pack light, loose-fitting clothing to stay comfortable in the heat.
Sunscreen: A must.
Thermal Water: this life hack changed my whole travel experience. Trust me. Buy thermal Water from any pharmacy or drug / cosmetic store and refresh your face at any time of the day. It can even be applied over makeup. 
Sunhat and sunglasses
Swimsuit: If you plan to visit nearby beaches or dip in hotel pools or water parks.
Comfortable walking shoes to walk around.
Insect repellent: to avoid bug bites, mosquitoes, and other insects. 
Power adapter: If traveling from a country with different electrical outlets.
Flamenco fan: It can be a stylish and practical accessory for keeping cool (in both ways!) while strolling around the city.
Flip flops: you'll need them for visiting nearby beaches. But please, don't use them on the streets or with socks (which is worse)!
Kerchief / below-the-knee shirt or trousers: practical for visiting the Seville Cathedral visitors are asked to respect this holy place by following a dress code, just like anywhere else.
What to pack for Autumn in Seville
Lightweight layers: Seville has warm days and cooler evenings. Packing light jackets, cardigans, or scarf can help. 
Umbrella or raincoat: While Sevilla typically has mild and dry autumns, there may be occasional rain showers. Bringing a compact umbrella or a raincoat can keep you dry during any unexpected rain.
Closed-toe shoes: comfortable sneakers or ankle boots for walking around the city. Open shoes are not the best idea for this season. 
Long-sleeved shirts, jeans, or leggings
Scarf or shawl: can come in handy in Autumn to keep you warm.
Trench coats: get them out of the closet! It's that season. 
Money belt or neck pouch: they are used best in Autumn.
Waterproof or water-resistant footwear: Rainfall is less frequent. Still, it is a good idea to be prepared.
What to pack for Winter in Seville
Portable phone charger: Don't ask me why, but the phone battery only lasts for a short time during Winter. With all the sightseeing, taking photos, and using maps on your phone, your battery may drain quickly, so getting a portable phone charger is useful!
Warm Layers
Light Raincoat
Scarf
Sunglasses: No matter the time of year, sunglasses are a must in Seville. Get your cool sunglasses. You'll need them. 
Comfortable Shoes for walking
Winter Coat
Boots: get some comfy and stylish boots to protect against the cold. Yet, ensure you don't bring your warmest pair of boots since Seville doesn't do Winter as such.
Light layers that you can easily remove: Temperatures vary considerably during the day, don't get surprised if, out of nothing, there's 60.8°F outside.
What to pack for Spring in Seville
Comfortable yet fashionable shoes for walking
A light jacket for evenings
Light and airy clothing: cardigan, scarves, long-sleeved tees, no sleeve tops for soaking up some sun
Dresses, shorts, skirts
Sunscreen
Sunglasses
Hat
Smart fair wear: the April Seville Fair is very famous. You'd appreciate packing clothing you can easily style with accessories you buy once you arrive. 
Small backpack or crossbody bag: It can be handy to carry essentials such as money, your phone, sunscreen, and personal items during the April Fair.
Flamenco dress: remember to buy your Flamenco Dress when you arrive to enjoy the festivities like a local. 
---
I hope this article was helpful, and now you know what to expect while visiting Seville, and most importantly, what to pack and at which time of the year you should plan your trip.
Sorry for going too deep into the Feria de Sevilla; it is simply the best time to visit the city. Find out more in the following articles, in case you missed it: