Seville's Warm Winter: 11 Top Things in our Best Season!
April 3, 2023
Updated:

June 5, 2023
Published: April 3, 2023
People say that the best time to visit Seville is between March and June because Spring makes the city beautiful, the April fair is in between, and the weather is just unbeatable, especially for anyone living in a city with a harsh winter. 
However, I am here to agree to disagree because Seville is one of the best cities in Andalucia to visit during winter. So, if you are planning a trip to Spain for the chilly season, Sevilla will be a great choice. 
After reading this article, you will not doubt that Seville is a perfect place for a warm winter, especially if you are looking for a place to hide from the snow and -0 temperatures for a while.
Here you have 11 activities you especially experience during winter Seville, on top of all the other cultural landmarks you should never skip!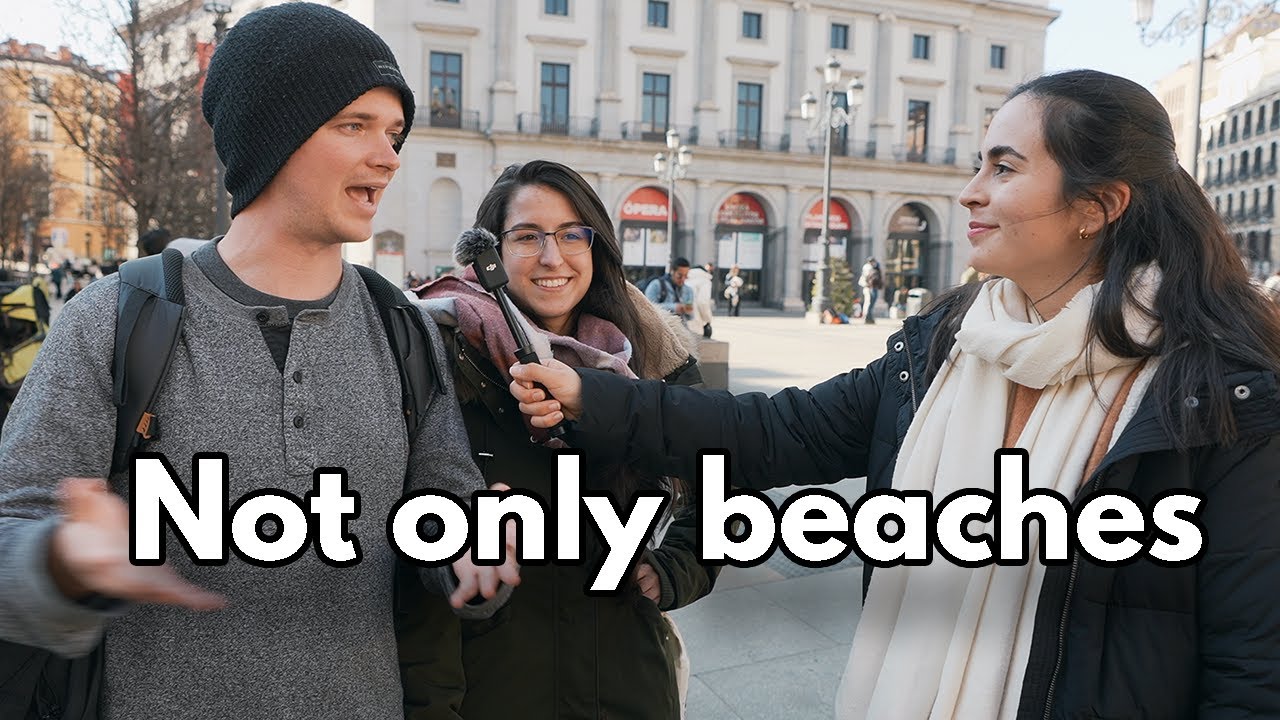 1. Visit the Belen's Fair near the Cathedral
I will begin my list of activities to do in Seville during the winter with a Christmassy thing to do in the Andalusian capital. 
"La Feria de Belén" or the Bethlehem Fair in Seville, is a traditional market where artisans of the city exhibit and sell their handmade Bethlehem figurines and nativity scenes. 
The fair is located in the "Avenida de la Constitución" close to the Cathedral, and the stands are usually open from mid-November until December 23rd. 
If you build the nativity scene at home, then the "Feria de Belén" is the perfect market to get new figurines or expand the set you create at home. And, if you don't do this at all, visiting the fair still is a beautiful experience; you can immerse yourself in a winter tradition of Seville. 
I remember when I visit it two Christmas ago. I was returning from Plaza de España, passed by the Cathedral, and accidentally ran into the "Feria de Belén." I got nothing for myself but purchased a new Bethlehem star for my grandmother. 
Complete Bethleme cities and huge nativity scenes are exposed in the fair; it's amazing to see the talent of Sevillian artisans captured in the figurines. 
2.Go "Polvorón" hunting
Have you ever heard of "polvorones"? These are traditional Christmas treats in Spain, originating in Seville. There is no exact translation for "polvorón," but we can call it a cookie if needed. 
If you can escape for a few hours for Seville, visit Estepa, the town where the polvorones are originally from. It is a small but quaint town where you will find artisan polvorones.
I remember that one of the first things a friend recommended to me before traveling to Seville in winter was to try the polvorenes. She even instructed me on how to eat it; I had to smash it gently with the palm of my hands, open the wrapping carefully, and then eat it. 
She did not recommend me stores, but while strolling from the Real Alcazar to the Giralda, I found a store called "Sabor de España" or Taste of Spain. They had a variety of products, from polvorones to turrones (nougat) and caramelized fruits; there, I tried and bought the first polvorones of my life. They were really good, but you need a water bottle after eating one. 
Going back to this winter activity in Seville, while visiting the city during Chrstimassy season, I recommend gathering a liter of water and hunting for some polvorones. If you can't visit Estepa, you will still find great, traditional places like La Colchona and the Despensa del Palacio in the city center of Seville. 
👉🏽 La Colchona: C. Cuna, 37
👉🏽 La Despensa de Palacio: C/ Villegas 1, esquina C/ Francos, Sevilla
👉🏽 Sabor de España: Calle Susona, 4
3. Enjoy the lights and shopping on Tetuan Street
Calle Tetuán, or Tetuan Street, is one of Seville's most famous shopping streets. This avenue is full of on-demand stores like Zara, Stradivarius, Massimo Dutti, Lush Cosmetics, and more. 
Tetuan Street is connected to other shopping avenues like O'Donnell, Velazquez, or Sierpes. These are great spots to shop all year, but they get especially pretty in winter, thanks to the Christmas lights. 
So, if you plan to visit Seville during winter, shopping is one activity you should take advantage of! I recommend you visit towards sunset to visit some stores and get some good winter deals while the Christmas lights are turned on.
To get some energy back into your body, try the cheesecake at "La Tarta de la Madre Cris" The cheesecake is a homemade recipe from an Andalucian family that will melt on your tongue.
4. Visit the Creative Crafts Fair in Plaza Nueva
Another great winter activity in Seville is visiting the Creative Crafts Fair in Plaza Nueva. This artisan fair recollects entrepreneurs and artists that create stunning products from wood, pottery, jewels, glass, leather, and more. 
The fair opens from mid-December to early January and is a great place to get a unique gift from Christmas. 
5. Enjoy a sunny afternoon by the Guadalquivir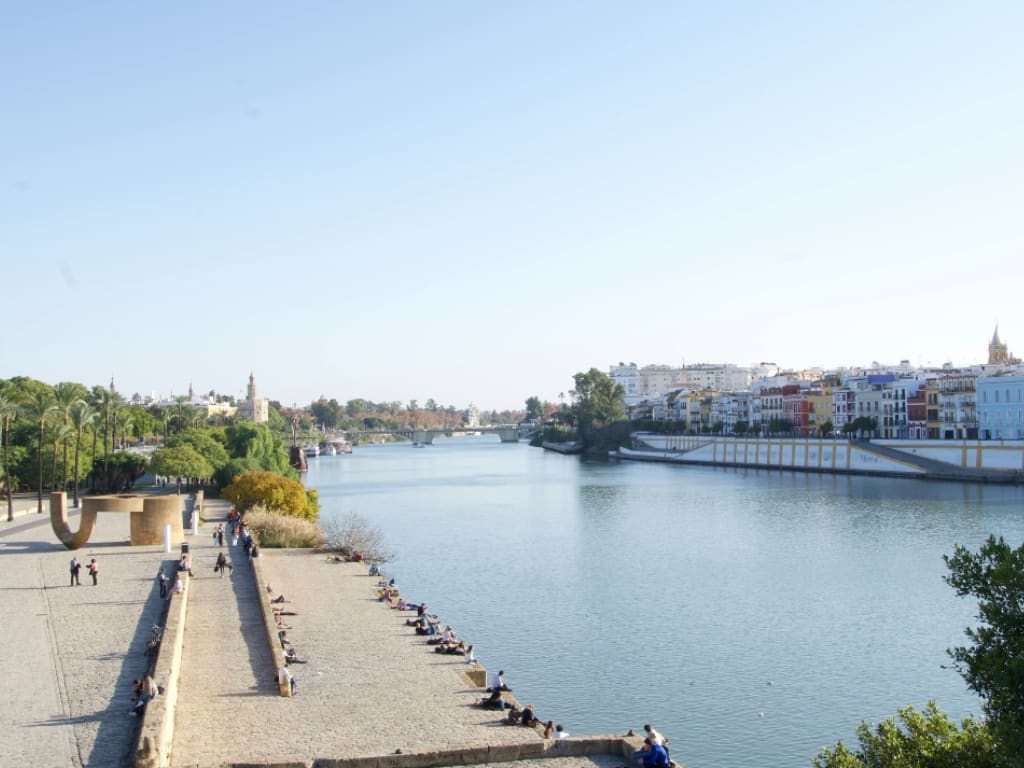 I am sure you will love this activity in Seville during winter, but first, I will tell a bit of an embarrassing story. 
My trip to Seville was my second visit to Andalusia; for me, this autonomous region is about the sun and warmth of the weather compared to the middle and north Spain, which I am used to. 
I don't know what went through my brain went. I thought about what to pack for Seville in winter and didn't check the weather (true story); I assumed it would be warm enough to wear shorts and t-shirts, and it wasn't!
Seville's winter weather ranges from 6 to 18 degrees Celsius during the day and a bit lower at night. Which is very warm for winter in Spain, but after 3 pm, you start getting winter chills, and shorts are not the best option. 
To wrap up my story, even though a great activity to experience Seville like a local in winter is enjoying the sun next to the Guadalquivir, don't take light clothes!
Always check the weather before traveling; even if you visit Andalusia in winter, take some jackets!
6. Enjoy the "Reyes Magos" Parade
If you are in Seville during winter, especially in January, stay in the city for the Three Wise Men Parade or the "Cabalgata de Reyes Magos." 
The "Cabalgata de Reyes Magos" is a special day in Spain because it is the day all kids wait for. Yes! In Spain, kids don't get big presents on the 25th, but on January 6th. 
The celebration begins on January the 5th afternoon with the parade that welcomes the three Wise Men into the city. The main attraction of this colorful and musical moment is the floats, which carry the "Reyes Magos" and other characters to entertain the children. 
If you travel to Seville during winter in January, you must attend the parade and enjoy a delicious "roscón de Reyes" and hot chocolate afterward. 
7. See the Sunset from the "Setas" of Seville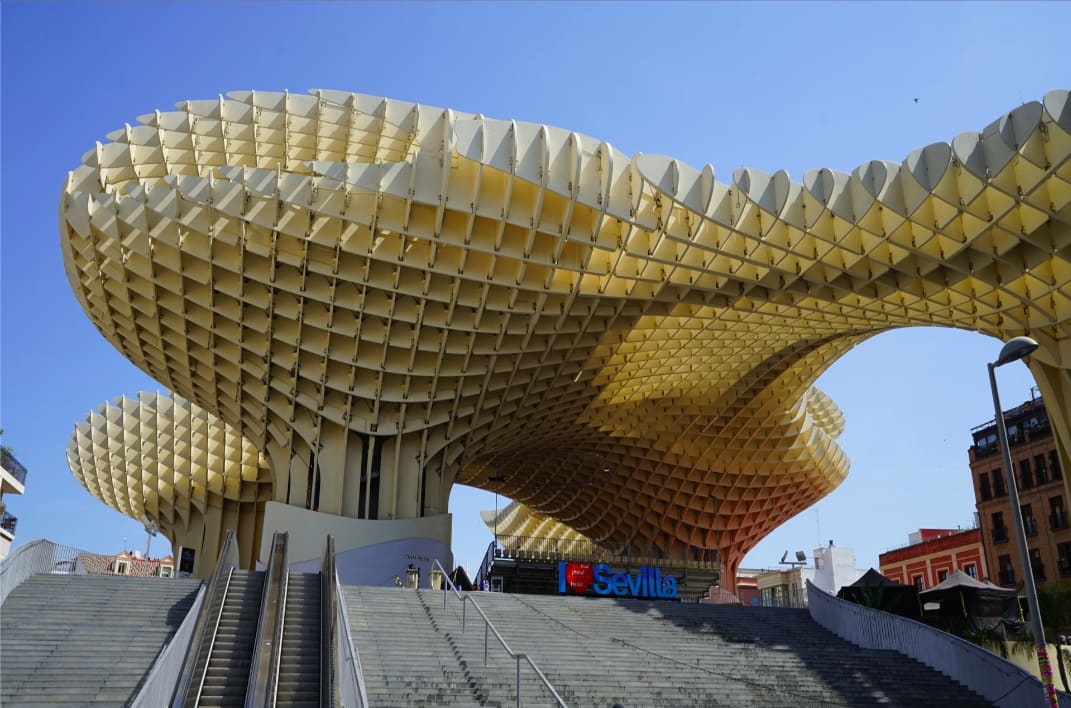 The "Setas" of Seville is a unique monument in the city that you can't miss during your winter travels. The "Setas" which is directly translated to mushroom because of its figure, is a food market and lookout in the old town of Seville. 
I have been telling you that Seville has great weather during winter, so if you want to get a full view of the city with the sunset as a breathtaking background, you must buy tickets to the "Setas." 
The general ticket is €15, and you can get them at this link 👉🏽 Mirados de las Setas de Sevilla
8. Enjoy more Christmas lights at Triana Neighborhood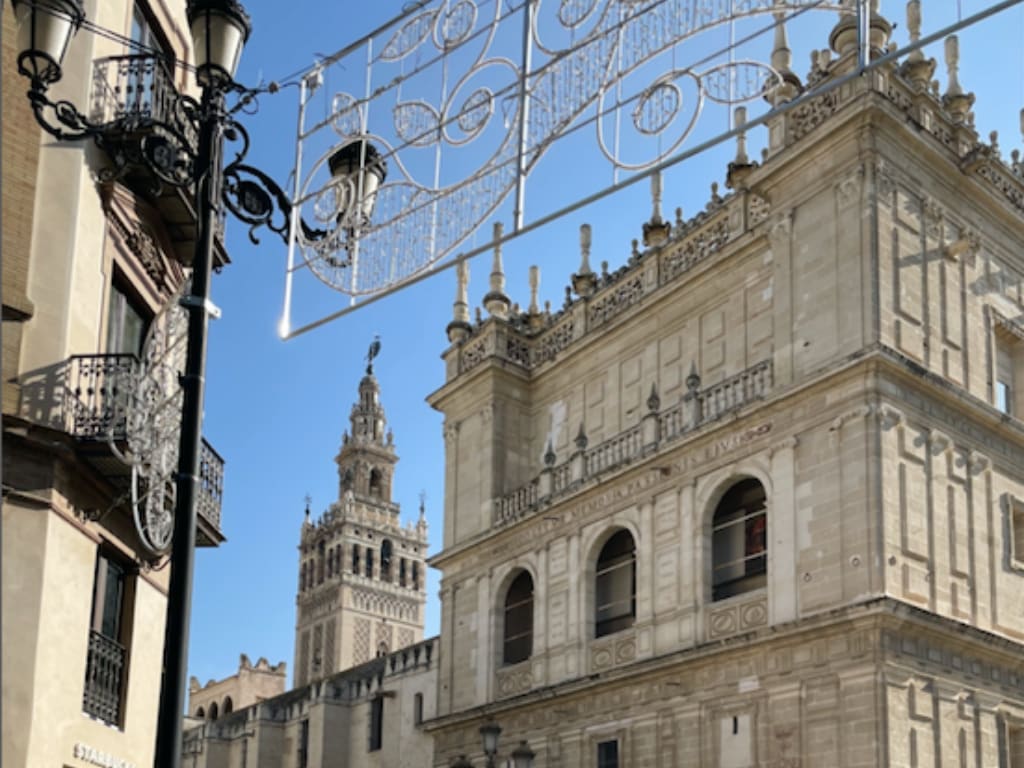 Another beautiful view during your travel to Seville in winter is the Christmas lights in the Triana Neighborhood. 
The Triana district is famous for its colorful buildings, bars, and restaurants right next to the Guadalquivir and the warm-familiar vibe it transmits. 
Another top thing to do during winter, especially if you travel to Seville in December, is strolling through the Traiana neighborhood with the Christmas lights illuminating your way. 
You will enjoy the warm winter of Seville next to different Christmas shapes while maybe having a glass of wine or beer in one of the bars in Traina. 
9. Climb the Giralda to get a view of the city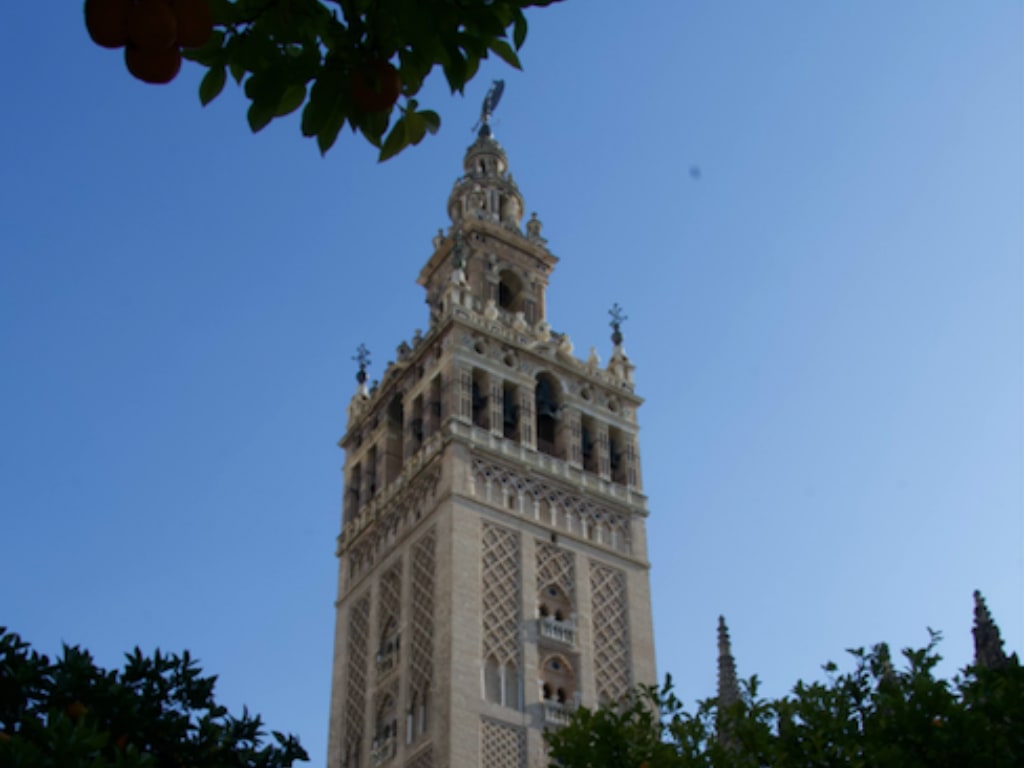 I would say that any time in winter is the best time to climb La Giralda for two main reasons: weather and people. 
Winter is not a very popular season, except for Christmas and for those who go skiing. 
However, it is the perfect season to climb the famous tower of La Giralda in Seville because the weather is not hot, and far fewer people are visiting the city.  
So! You could climb La Giralda with normal steps without running into people and stay dry because the sun won't boil you like it would in spring or summer. 
10. Try the "cola de toro" and more tapas!
We are getting to the last activities to do in Seville during winter! What is something you can do in Seville during the colder seasons that you couldn't do anywhere else? 
If you travel to Seville in winter, you can sit on terraces and enjoy a glass of beer with tapas. 
Sevilla has plenty of bars to enjoy some delicious tapas, but Adriano Street is one of the most famous places to get traditional Spanish appetizers. 
I was recommended the tapa of "cola de toro" (bull's tail); I was told that it was something traditional and delicious, but I couldn't eat it. May you get the chance to try it out and tell us about it!
11. Take a Day Trip to Italica
Finally, make a day trip! Again summer is the perfect season to travel to Seville because it is a warm winter! So, if you have extra time in the city, make a trip back in time.
Italica is a Roman city near Seville that will show you what people from Hispania lived like. You can enjoy mosaics and an impressive amphitheater. These are located 9 kilometers to the north of the city of Seville, just outside the village of Santiponce.
You can get there by car, public transport or private tour!
---
So, have you decided what to do in your warm winter in Seville? There are plenty of things that you can enjoy in this city besides the must-see landmarks.
I hope you enjoy your trip to the Andalucian capital as much as I did! Winter is a season with cozy afternoons and fewer tourists, so you can enjoy more!