Lovely Southern Spain Cities to Add to your Bucketlist!
October 13, 2022
Updated:

March 9, 2023
Published: October 13, 2022
Okay! Truth be told, Southern Spain cities hide a magic charm, and it's time to acknowledge that.
It's true! Today I will leave you a list of the 10 most important cities in Andalucia to help you plan your future trip.
After reading this article, you will have fallen in love with our southern autonomous region so much that you might want to stay for more than a few days.
So, get ready to add some new places to your bucket list!
Before we begin this digital tour through Spain's most important southern cities, I want to clarify some things. So, Spain is a country divided into 17 autonomous regions and 2 autonomous cities in Africa. Each autonomous region has provinces, a capital, a few cities, a lot of municipalities, and plenty of towns. 
The description of a city in the United States depends on the laws of each state; in our case, a city is any territory with a minim population of 10,000 people. With that in mind, let's continue!
1. Sevilla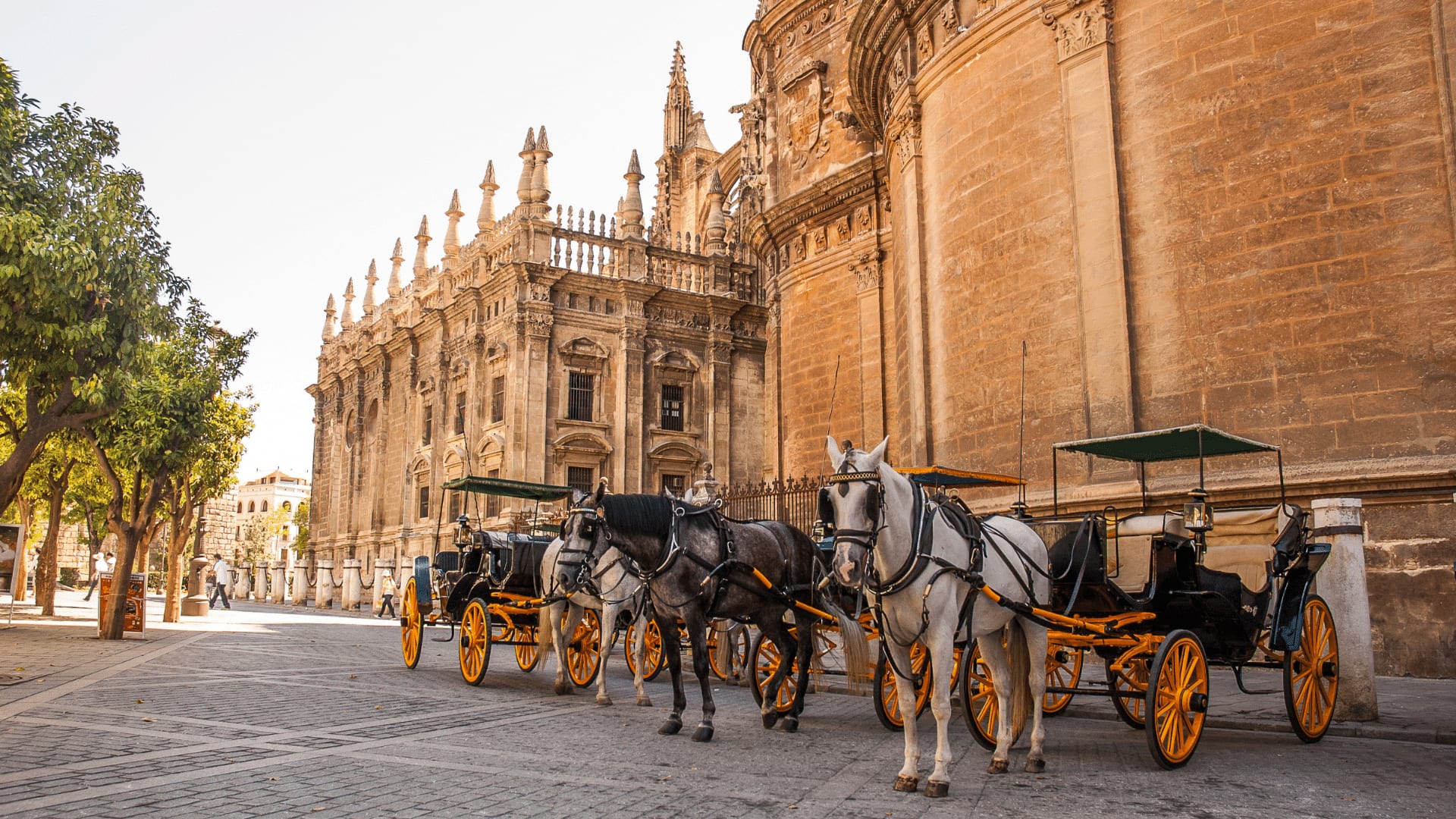 "Sevilla tiene un color especial" (Seville has a special color) is a song from the 90s that describes this city perfectly. Sevilla is the capital and largest city of the autonomous region of Andalucia, in the southwest of the Iberian peninsula. 
Sevilla receives approximately 2 million visitors yearly. Yes, A LOT! Its citizens worldwide love it because of its gastronomy, dances, and people. History makes it one of the fascinating places to visit. This southern city was a very important place for the Muslims under the Ummayad Caliphate, they named it Isbiliya, and it was the second most important colony after Cordoba. Until today, Sevilla functions as a commercial port without an ocean. I know a bit odd, but it is true! The city can receive commercial ships thanks to the "Rio Guadalquivir" (the most important river), you can admire this natural landmark by crossing Triana's Bridge, which will take you to the colorful neighborhood under the smae name, and from which you can admire the Torre de Oro.
Sensational fact: Sevilla has more than 40,000 orange trees spread throughout the city. Muslims were obsessed with the aroma of Azahar, the orange tree flower, and decided to plant thousands of trees to produce oils and perfume. 
Landmarks to visit:
Real Alcázar
Cathedral of Saint Mary of the See + Giralda
La Torre de Oro
Plaza de España
El Archivo de Indias
Must- see neighborhoods:
Triana
The Arenal
Santa Cruz
Everything is pretty close to eahc other in Sevilla, so get a planner and organize that trip!
2. Granada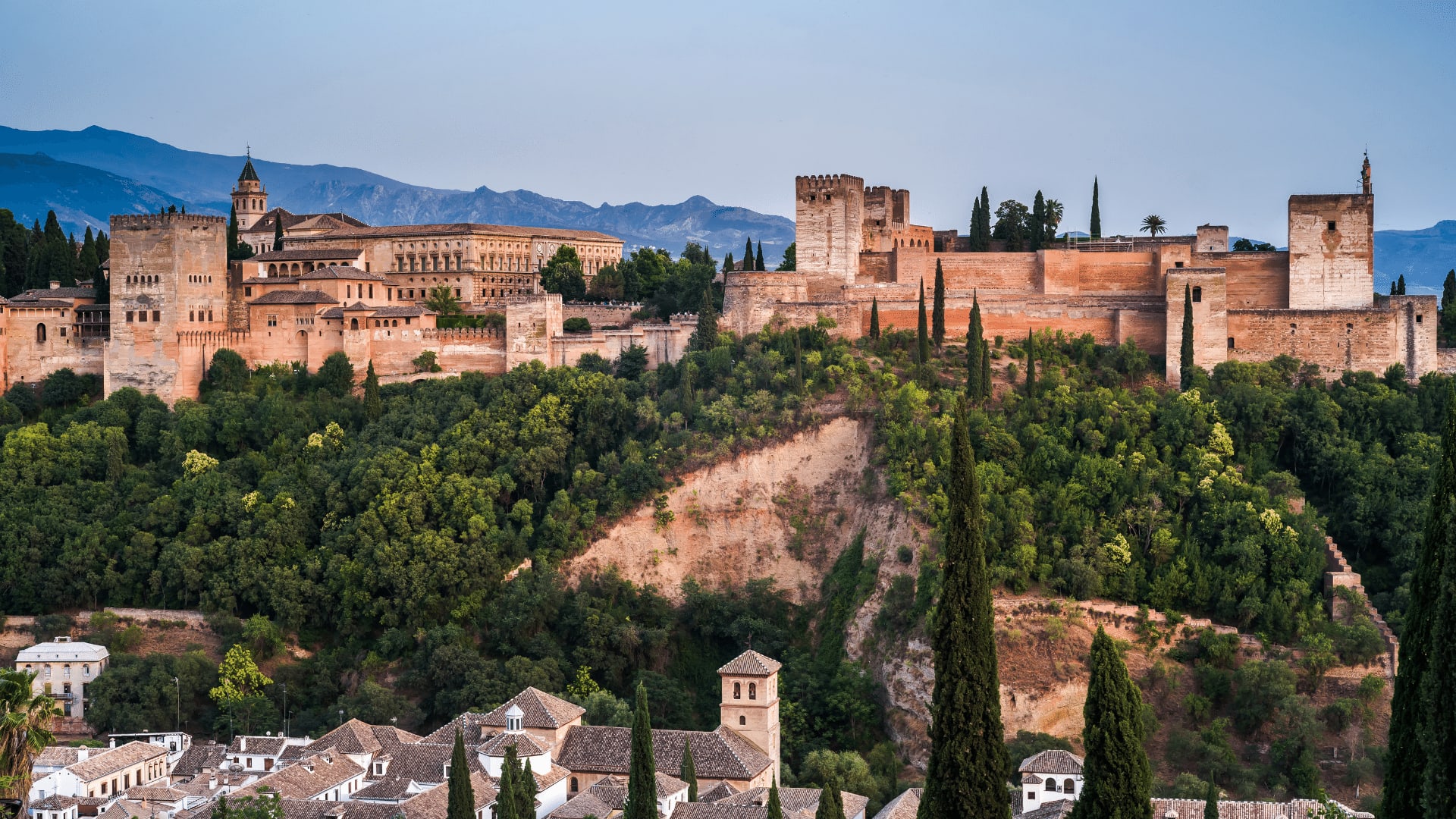 The city of Granada is located in the foothills of the Sierra Nevada, a famous ski station that you can read about right here!
Granada is the capital of the province under its exact name. You will immediately feel transported in time when you step into this southern city. After Sevilla, Granada is one city that best preserves the Moorish landmarks and influences. This is palpable in the Realejo neighborhood, a territory occupied by the Nasrid royal family before the Christian reconquest, or in the oldest, Moorish area of Albaicin. If you can't get tickets to the Alhambra, sit in Granada's World Heritage Site to enjoy the view of the city's gem. 
We can't leave Granada without mentioning Alhambra. The construction of this breathtaking fortress began in the 9th century, but it wasn't until the middle of the 13th century that the Moorish royal families transformed it into the paradise that it is now. Here we have a quote from a friend that visited Granada recently:
"Exciting city where one can lose oneself in the streets, making one feel in an ancient atmosphere through the historic alleys and stone architecture".
- Sebastián, 26 year old from Madrid.
Must-see landmarks:
The Alhambra and the Generalife
Granada's Cathedral
San Nicolás' Lookout
San Jerónimo's Monastery
Corral del Carbón
Carrera del Darro y la Plaza Nueva
Must-visit neighborhood:
The Albaicin
El Realejo
Centro Sagrario
Many arrive in Granada thinking they'll only fall in love with the Alhambra as it is one of the most visited monuments in the world. But many more leave the city in love with its historic neighborhoods with their great contrasts in architecture or with the pleasure of having some tapas and a beer under the sun.
3. Cordoba
Córdoba was once the capital of Spain. Yes! When Spain was called Al- Andalus, this southern city served as the capital of the Ummayad Caliphate and became one of the most cultural cities in Europe. Córdoba is northeast to Sevilla in the Andalucia. 
Even though it is a bit overlooked over Sevilla and Granada. Córdoba is filled with magic in its street. The city has been occupied by Muslims, Jewish, and Christians, just like Toledo after the Reconquest. You'll be able to meet with history. The most iconic time to visit is Spring; Córdoba won't be too full, and it is when people can enjoy the Alley of Flowers in full bloom. Besides that, you can experience the tapeo, hop around bars, order a beer and get a free tapa. 
The most iconic landmark in Córdoba is The Great Mosque, founded by former Moorish prince Abd al-Raḥmān I in the 10th century BE. This Mosque-Cathedral has more than 856 columns made of granite and marble. Additionally, you can travel back in time by visiting some ancient Roman ruins around the city. 
Must-visit landmarks:
Mosque-Cathedral of Córdoba
Almodovar Gate (Islamic wall and entrance to the Jewish quarter).
The Roman Bridge
Tower of Calahorra
Córdoba is currently the city with the world's most UNESCO World Heritage titles. Its little corners, alleys, and patios will charm you, and there must be a special mention of its typical Cordovan salmorejo.
4. Málaga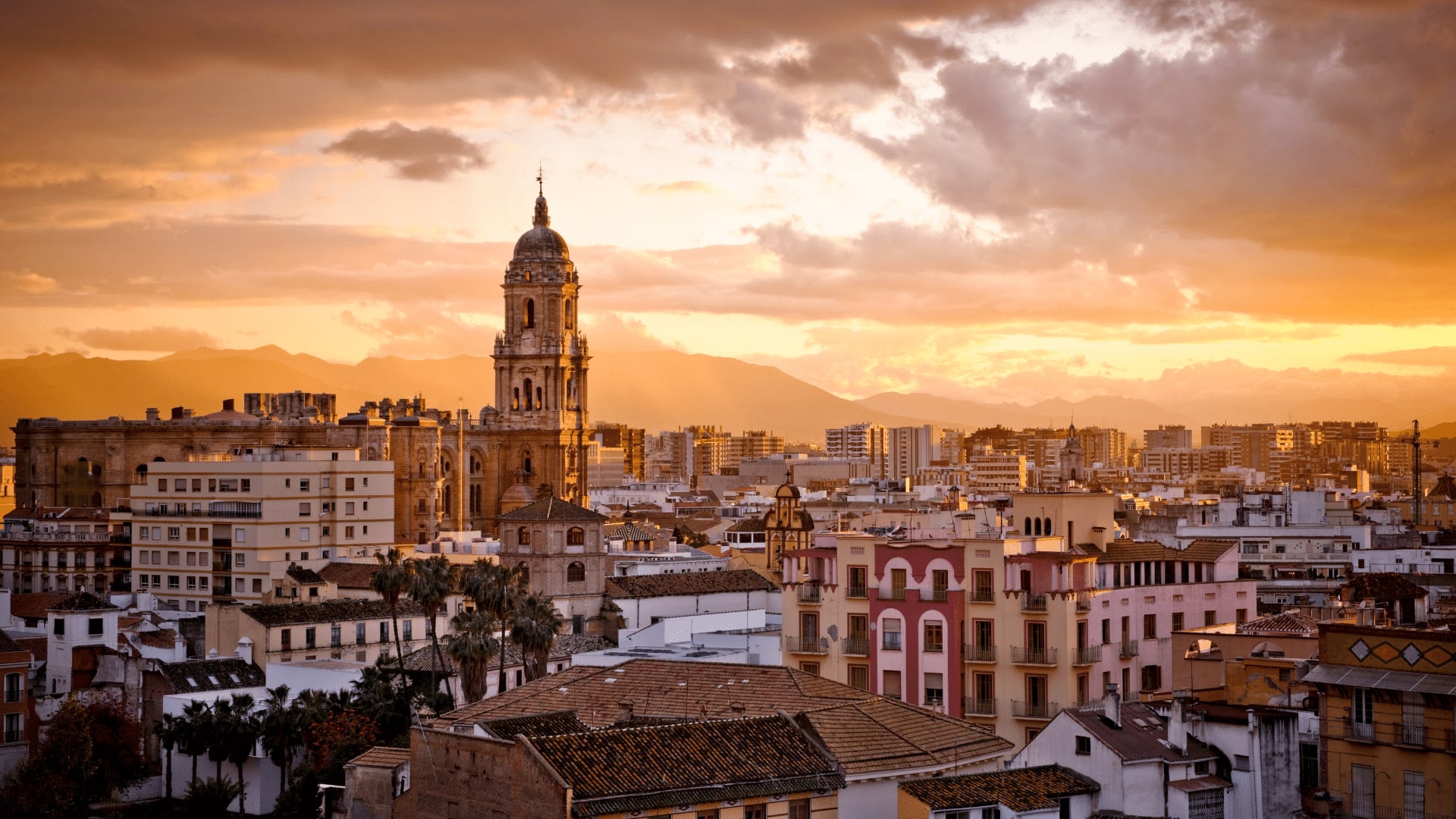 Málaga is a city that has an average of 305 days of sun a year, and that is what makes more and more people want to visit it. The sun is the perfect combination with the 150km of beach.
This city is the capital of the province of Málaga and is a port city right next to the Mediterranean Sea. The city was originally founded by the Carthaginians, but today people can only admire the Roman ruins left behind. Personally, I think Málaga has everything someone might want for summer. It is a big city with its own beach and is close to several "calas" and small beach towns. 
Additionally, in 2020 it was named the European Capital of Smart Tourism due to its effort to prioritize sustainability, innovation, and culture. 
Sensational fact: Málaga is the birthplace of Pablo Picasso and home to four important museums. These are the Pompidou Center Malaga, the Picasso Museum, the Collection of the Russian Museum, and the Carmen Thyssen Museum. 
Must-see landmarks:
The Alcazaba Fortress
The Roman Theater
Soho- the art district
The Encarnation Cathedral
5. Marbella, Málaga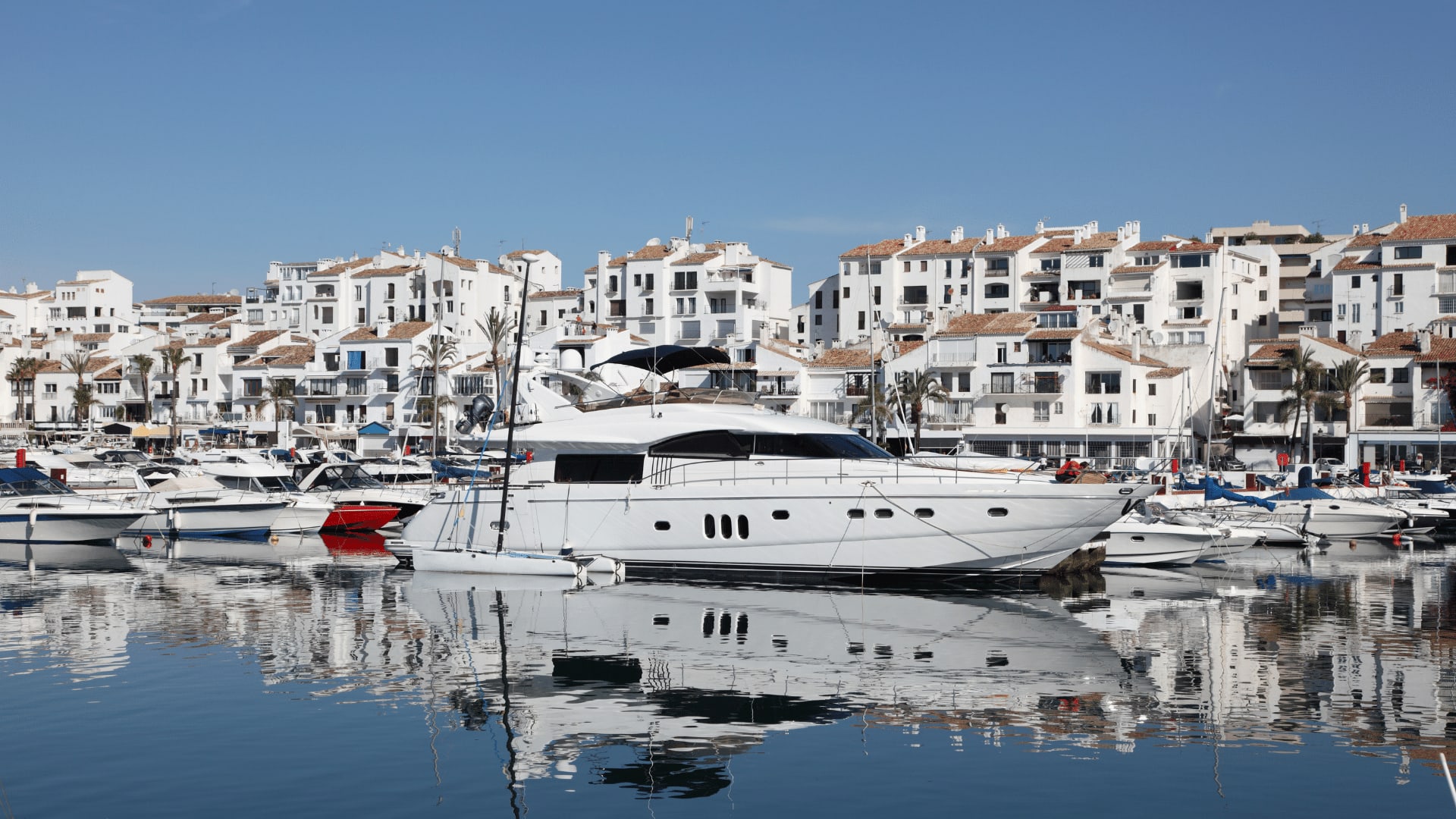 Marbella is known worldwide, and this city is a must for lovers of contrasts, beaches and mountains, rustic towns, and more sophisticated ones.
This coastal, southern city is located in the province of Málaga; and is the leading destination in the "Costa del Sol" tour. So, if you choose Marbella as your next destination, know that you won't be able to leave. You'll fall in love with the enviroment and small coastal towns like Mijas. 
This city is known for attracting high-end visitors and having the "Puerto Banús," offering all the luxurious brands you can imagine. If you are not a fashion fan, then Marbella is also home to the most extravagant yachts, golf courses, and tennis clubs. 
Must-visit landmarks:
Marbella's old town
Puerto Banús 
Greater Church of la Encarnación
Paleochristian basilica of Vega del Mar
If you visit, you must try the local specialty: "Ajo Blanco" and "gazpacho" Both are cold soups made of garlic and tomatoes, respectively. 
6. Cadiz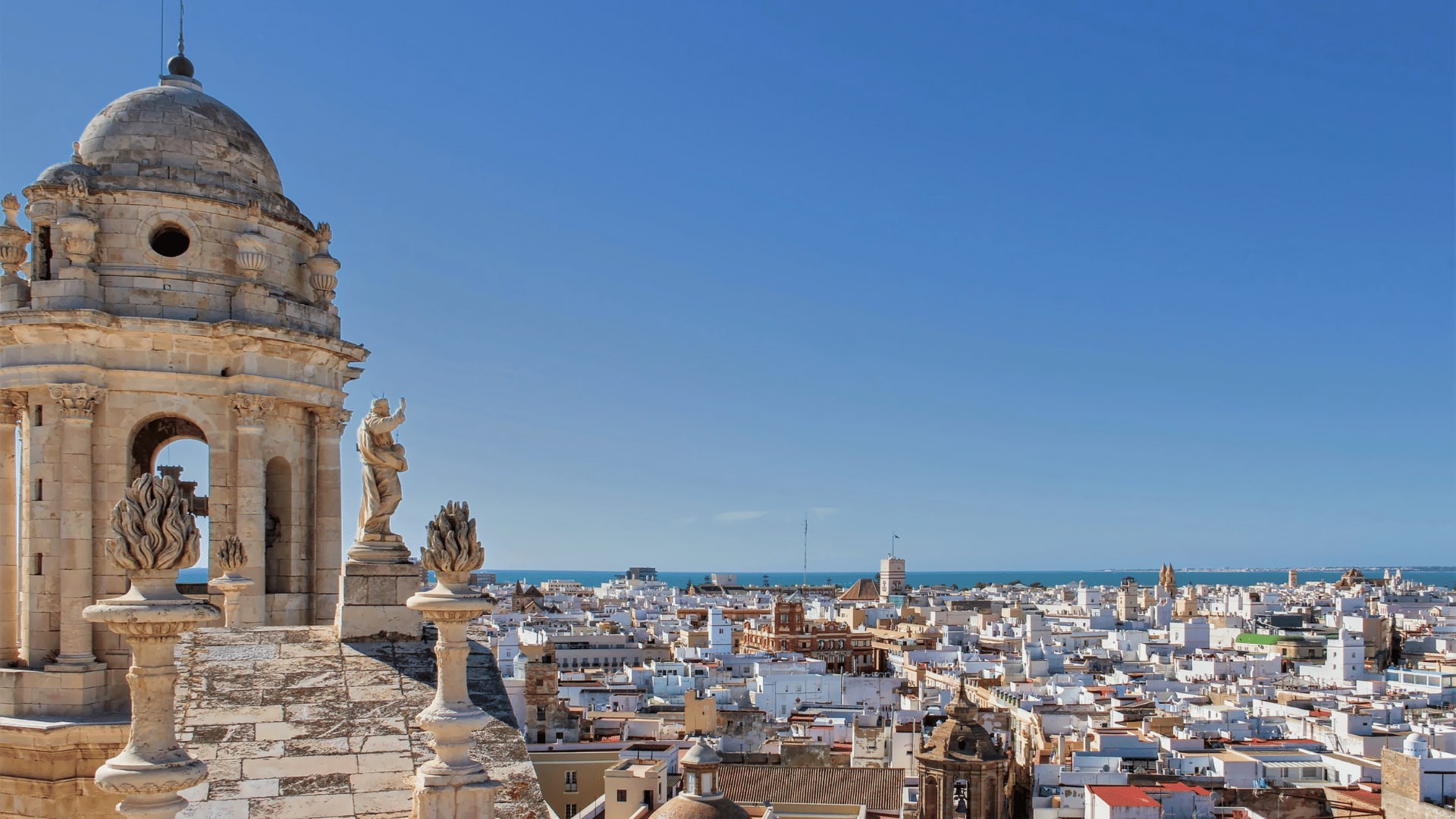 It's beaches and its history what prevails in what people usually highlight in this city and why they return over and over again.
Cádiz is regarded as one of the most ancient cities in western Europe. It was founded by the Phoenicians around 3,000 years ago on the Atlantic coast side of Andalucia. Just like most of the cities we've talked about, Cádiz is the capital of the province under the same name. Besides offering great beaches such as La Victoria, San Maria, and La Cortadura, Cádiz is filled with history and culture. Just like in the Plaza de España of Sevilla, you can experience some street flamenco in the district of Santa Maria. You can also get lost in the old and medieval neighborhood of "El Populo" or in the fishing site of "La Viña." 
Besides walking around the old town, this city has a beautiful pedestrian avenue, "Alameda de la Apodaca y Marqués de Comillas." Very romantic in the sunset! 
Must-see landmarks:
Cadiz Cathedral (took 116 years to finish)
Castle of San Sebastian and Santa Catalina
Tavira Tower
Doñana National Park (UNESCO World Heritage Site)
Some charming villages close by are Vejer de la fronter Vejer de la Frontera, Arcos de la Frontera, and Conil de la Frontera. 
7. Jerez, Cadiz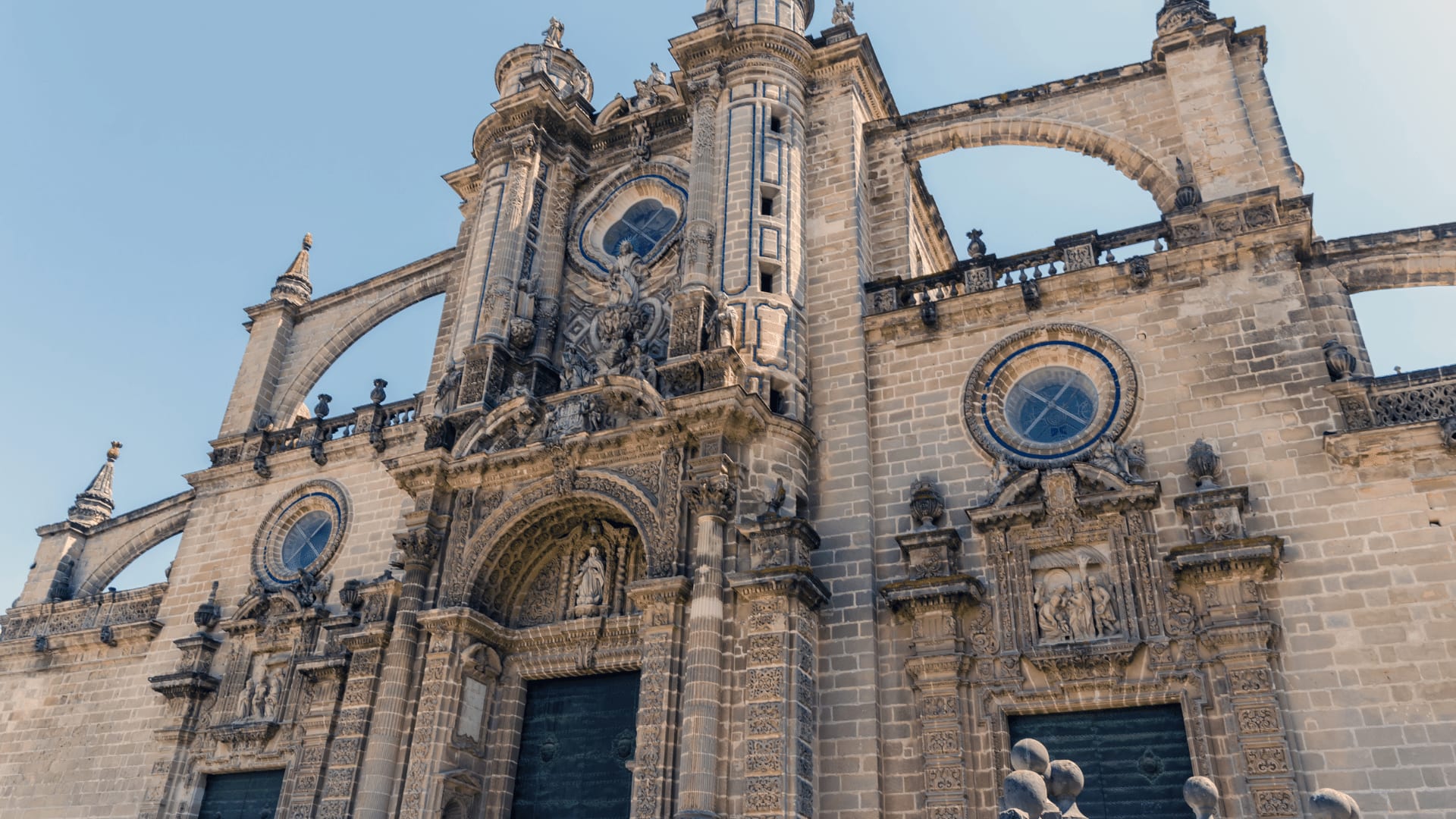 Like most other southern cities in Spain, Jerez has a lot of Muslim history in its streets. The real name of this city is Jerez de la Frontera, located in the province of Cádiz. The Phoenicians also founded this city, whose original name was Xera. 
The oldest standing building in Jérez de la Frontera is their fortress, which was built around the 11th century; it was part of the city gate. Also, this city didn't have a bishopric until the 20th century, and the Cathedral took 100 years to complete, which explains its mix of styles. 
Some curiosity about Jerez is that they have their own breed of horses known as Cartujana, which has helped the city's development. Additionally, they produce Denomination of Origin of Jérez- Xérès-Sherry and Manzanilla-Sanlúcar de Barrameda. Besides tasting some wines in the cellars designed by Gustav Eiffel, you can enjoy the street flamenco in the district of Santiago. Finally, Jérez is the perfect starting point for the tour all over the "Costa de la Luz."
Must-see landmarks:
Jerez Cathedral
Jerez's Fortress
Plaza del Arenal
Santo Domingo Church
8. Jaén
Jaén is the capital of the province of Jaén in the center of Andalucia. While the wars of Reconquest, Jaén was a strategic city to recover Granada, and after it was accomplished, King Enrique II de Castilla granted many privileges. Another important event that took place in Jaén was the meeting between Queen Isabel I de Castilla and Christopher Columbus. Jaén saw the "yes" that allowed "La Niña," "La Pinta," and "La Santa Maria" to sail off to the unknown continent. 
Jaén was also home to three cultures, Muslims, Jews, and Christians, until the 14th century when the Jewish persecutions began. 
This southern city preserves an ancient soul that will give you a different environment from your daily rush. Another fact about this city is that its Cathedral is home to the Holy Veil, which is the cloth Saint Veronica used to wash Christ's face. 
Must-see Cathedrals
Jaén Cathedral
Las Bernardas Convent
Basilica Minor of St Ildefonse
Palace of Cobaleda Nicuesa
Arab Baths Cultural Centre
Castle of Santa Catalina
9. Almería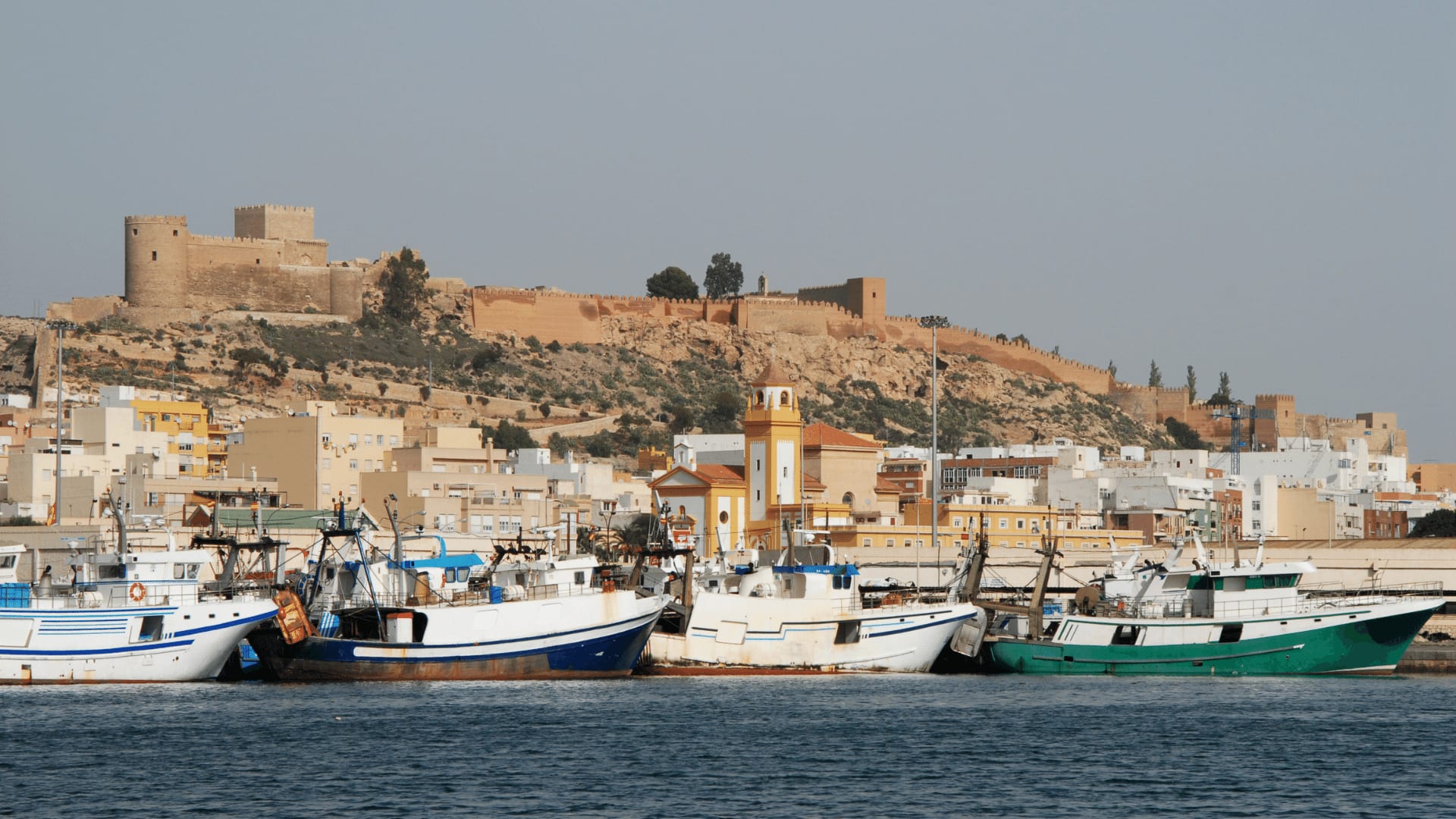 This might sound crazy, but I genuinely think Almería is underrated. This city is the capital of the province of Almería on the Southeastern side of Andalucia. This province is super close to Murcia. The city is also known for its "Sea of Plastic" because of the multiple greenhouses seen from Spain. 
Almería is home to the stunning desert of "Las Tabernas," which was loved by spaghetti western directors to shoot their movies from the 1960s to the 1980s. If you go to Almería, you can visit their "Mini Hollywood," a former film location that preserves the cowboy houses, is next to the zoo and has impressive views of the desert. 
But why am I saying that it is underrated? Well, unlike other cities in the south, Almería doesn't receive as many tourists as Málaga. But, it also has everything one might want from a southern town. Almería has an impressive Muslim fortress called the Alcazaba (the citadel) which once belonged to the previous Moorish kings. Then, it is home to the English Pier, a remarkable structure used to transport iron from the train station during the 20th century. Today is an impressive view when strolling down the "Paseo Marítimo Carmen Burgos," a long but lovely beach promenade.
Almería's old town also offers perfect bars for fun evenings!!!
Sensational fact:  John Lennon lived in Almeria in 1966, where he wrote de song "Strawberry Fields." Today, his house is the Museum of Film. 
Roquetas de Mar, Níjar, Agua Amarga, and "Las Negra" are charming southern towns beach towns close to the city.
Must-see landmarks:
The Alcazaba
Almería's Cathedral
The English Pier
Puchena's City Gate
Museum of War Refuge
10. Huelva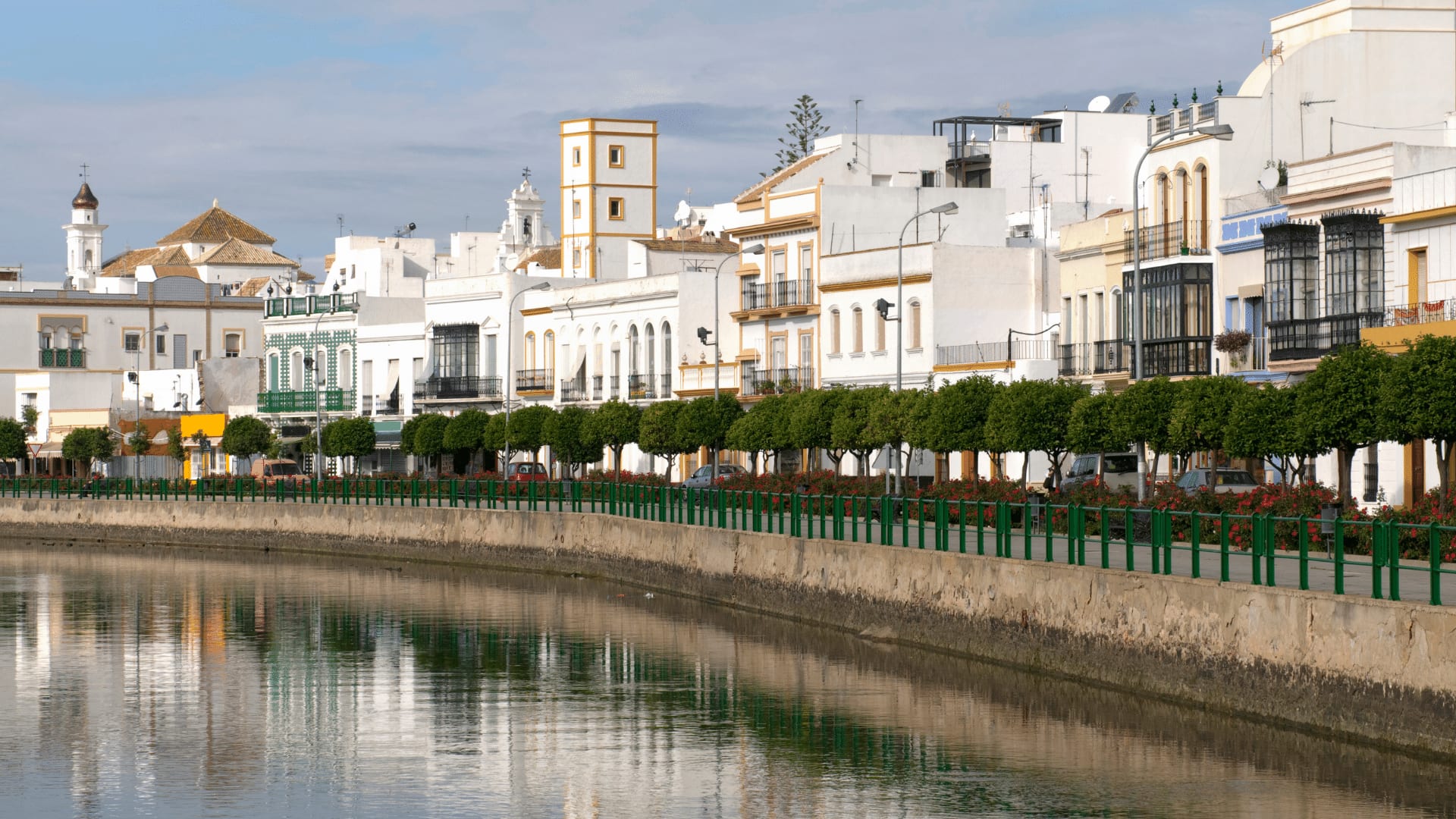 Huelva is the province's capital under its same name in Southwestern Andalucia. It might not be the number one on your list, but it has a lot of history. Huelva was the port city that says Christopher Columbus sailed to the Americas and is now home to his museum. 
If you ever pass by, you can enjoy their delicious food, such as their "clam with rice." And taste their Denomination of Origin wines from "Condado de Huelva."
Must-see landmarks:
"La Merced Cathedral" 
Contado de Niebla
Columbus House
And that's it! Those are the most important cities in Southern Spain. I hope this list is handy for getting to our geography or planning your future trip.
Don't forget to comment if you have any experience or extra information that will add value to our community of readers.