11 Santa-approved Christmas Markets Worth Visiting in Spain
September 26, 2022
Updated:

February 20, 2023
Published: September 26, 2022
Guess who's coming to town… Hint: Wooden huts, streets full of lights, smells that bring back childhood memories, and lots of decorations.
Yep! You guessed right: The most wonderful Spanish Christmas Markets are coming to town!
In this post, I'll show you a complete list of the perfect markets in Spain to walk with your family, couple, or loved ones. You'll discover our Spanish traditions and iconic Xmas items!
Don't forget your gloves and a scarf, because we are going on a trip that will take us to the most beautiful Christmas markets in Spain.
And if you'd like to know a little bit more about our belived Christmas traditions, we asked people in the streets about what they like the most. This is what they had to say: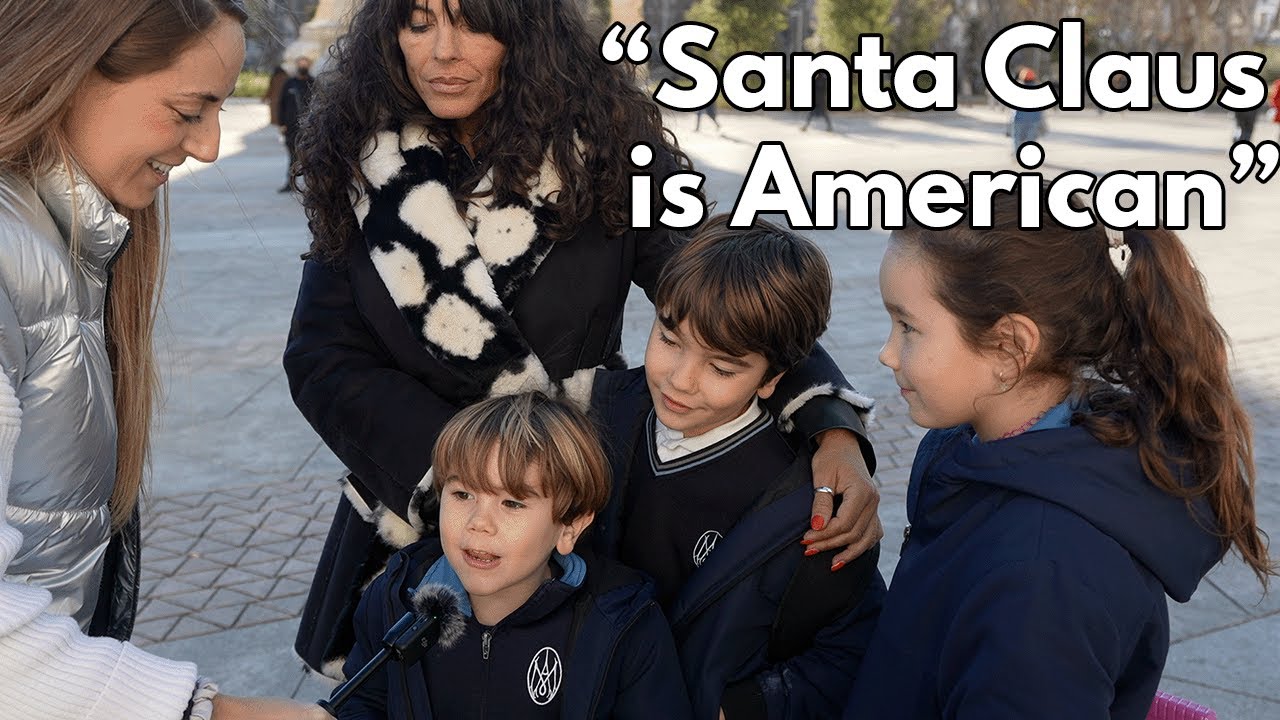 ---
1. Plaza del Pilar, Zaragoza
At the heart of La Plaza del Pilar, a point of reference and meeting point for citizens and tourists, the Christmas market makes a space for the whole family with the most fantastic offer of leisure, fun, and crafts in the city's center during the Christmas season. 
Edition after edition, it has become an essential part of the cultural programming of the Christmas period celebrated in the city of Zaragoza, achieving an annual attendance of more than 400,000 thousand visitors.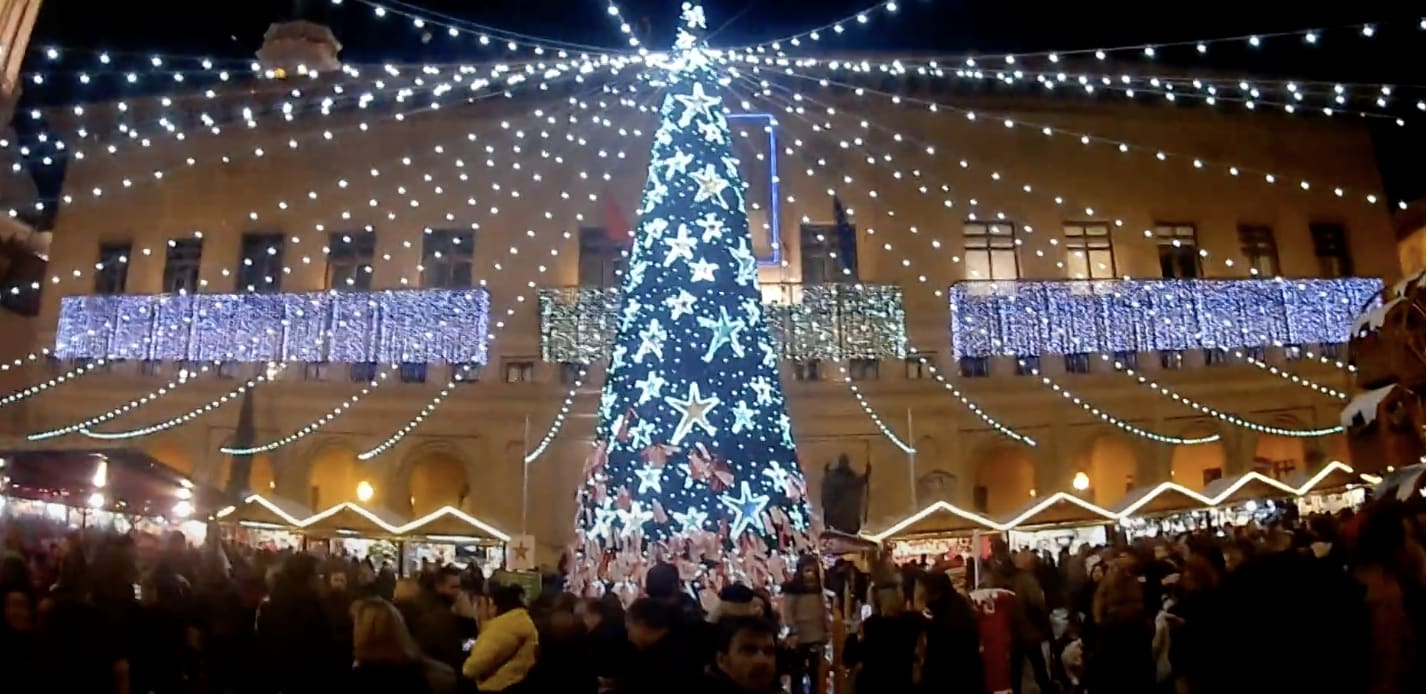 This beautiful market is set with decorative Christmas elements such as chimneys, bells, and roofs full of snow. It has 30 booths full of artistic craft stalls and fixed spaces for the enjoyment of young children and adults.
The Christmas booths distributed in the area take into account the details because they are made by artisans, a large part of them from Aragon. We can find products such as jewelry, natural cosmetics, leather accessories, handicrafts brought from the East, textile accessories, home accessories, and most importantly, a wide variety of foods such as sausages, cheeses, nuts, and Spanish Christmas Cookies.
In the center of the square, activities such as the Santa Clause house and the dwarf workshop are carried out. The 3 wise men will also be there for the children to take pictures, and the family can feel the Christmas atmosphere.
2. Fira de Santa Llúcia, Barcelona
"La Fira de Santa Llúcia" is a Christmas market that occurs every year in the surroundings of the Barcelona Cathedral. It is not the only market in the city but the most ancient of all. It is now a tradition for people to always go there. 
It originated as a Feria that celebrated the day of Saint Lucia, December 13. Still, it derived into a Christmas market that extends until 3 weeks. Depending on the calendar, it can begin at the beginning of December or late November. Finalizing just a day before Nochebuena.  
All spots are grouped into four main sectors. 
The first section, with cribs and figures, offers landscape accessories for the crib, baskets, figurines, candles, and Christmas decorations. 
In the green and vegetation section are natural or artificial trees, mosses, and eucalyptus branches. 
In the handicraft sector, there's everything you can imagine about handcrafted products and accessories, such as clothing, jewelry, decorative objects, gifts, and many more items. 
Finally, the musical sector offers its visitors zambombas, tambourines, and other instruments of the Christmas tradition.
While at the Santa Llúcia Fair, you can enjoy shows and activities related to Christmas customs, such as courses organized by the Barcelona Nativity Scene Association, the Caga tió, the parade of the traditional Carassa de Nadal, esbart dances, and musical performances.
Relevant Info:
From November 25 - December 23, 2022. Monday to Friday from 10:00 a.m to 21:00 p.m. On Saturdays and festive days: 10:00 a.m to 21:00 p.m

The entrance is free! You can get there by:
Metro: Jaume I (line 4) and Liceu (Line 3)
Bus: Lines 47, 120, N8, N28, V15, V17, and Touristic Buses. 
Walking: Anywhere from the Gothic Quarter. This Christmas Market is near Barcelona Cathedral, Moxó Palace, and Sant Jaume Square.
3. The Botanical Garden, Málaga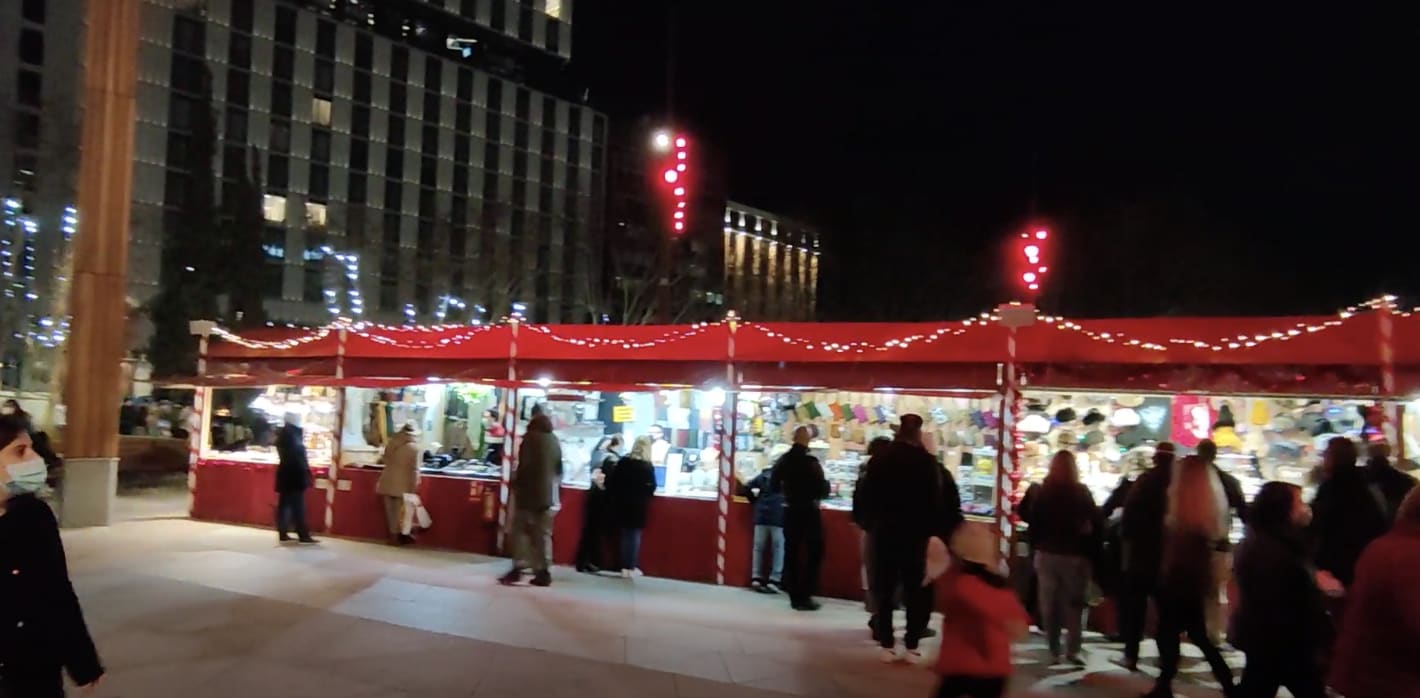 The Botanical Garden of Malaga is an oasis of landscape style with more than 150 years of history. Thus, what began as a recreational estate for the Marquises of Casa Loring, very influential in the city since the mid-19th century, is today a
It is not allowed to enter with food or drinks. Along the route, you will find a charming square with a stall with freshly made roasted almonds and hot chocolate, among some other Spanish christmas drinks.
Imagine turning a natural area into an enchanted Christmas forest where you can walk and let yourself be impregnated by the magic created by lights, sounds, and nature. Magical, right? Well… this is how the Christmas Market in Málaga is!
The Botanical Garden of Malaga is an oasis of landscape style with more than 150 years of history. It began as a recreational estate for the Marquises of Casa Loring, very influential in the city since the mid-19th century.
If you love Christmas lights, you will undoubtedly love this concept. Very different from the bustling downtown streets, The Botanical Garden of Malaga will take you on an immersive experience along a circular route of just over 2 kilometers through some of the most beautiful corners of the garden. 
The event takes place entirely outdoors after dark; therefore, it is essential to wear a coat. The path is mostly dirt due to uneven terrain, so I recommend you to wear some comfortable shoes that can get dirty. (just in case)
4. Plaza del Ayuntamiento, Valencia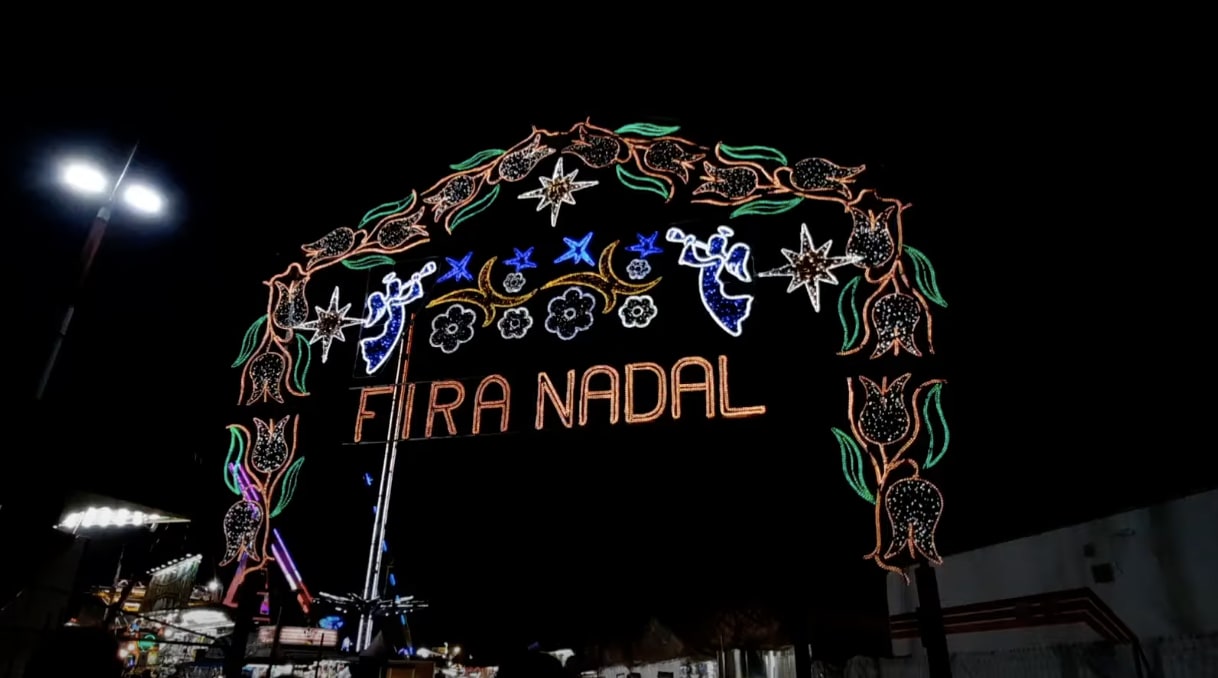 The City of Arts and Sciences, Valencia, has a classical Christmas market full of culture and traditional items at Plaza del Ayuntamiento. 
Crafts, gastronomy, toys, and fashion coexist in the Christmas markets that flood Valencia every Christmas so that you can find the most unique gifts.
One of the classic events of Christmas in Valencia is the Christmas Craft Fair, organized by the Association of Valencian Artisans (Arteval). You can see the Christmas tree in the square or go up to the carousel.
Calendar: 10:30 a.m. to 2:00 p.m. (mornings) and 4:30 p.m. to 9:00 p.m. (afternoons).
A little tip: If you are looking for artisan products to give "local" presents or to take a piece of Spain back home, stop by the Craft Fair in Plaza del Ayuntamiento. Another option is Mercado de Colón to find a wide variety of local gastronomy, ceramic pieces, jewelry, wooden toys, or leather goods. 
5. Plaza Mayor, Madrid
Located in the heart of Plaza Mayor, Madrid celebrates Christmas with the most iconic and traditional Market of all! It has a free entrance, and you'll find everything you need to decorate your house for Christmas and enjoy a pleasant time with your family and loved ones. You can buy Christmas items such as mistletoes, mosses, Christmas trees, nativity scene figurines, masks, and Christmas funny hats. 
This year it will open from November 25 to December 31, 2022. It was renovated a few years ago, and now it is made up of red booths and pointed roofs similar to the style of Christmas markets in northern Europe.
According to the https://www.esmadrid.com/en/whats-on/plaza-mayor-christmas-market This Christmas Market has a great history that goes back centuries before. 
In the 17th century, there was a Christmas market in "La Plaza de Santa Cruz," where you could buy fruit and vegetables and decorations or gifts. Later in the 19th century, regulations were issued to regulate the sale in that location. From that moment on, the "Plaza Mayor" became the Market for selling turkeys, nougat, and sweets. While "La Plaza de Santa Cruz" was kept for stalls where figures of Bethlehem, zambombas, and toys were sold.
In 1944 the Consistory decided to gather all Christmas products, except food, in the Plaza Mayor. Around 1960 the Christmas market in the Plaza Mayor was interrupted due to the works on the car park, moving to the Plaza de Santa Ana. During the 1980s, the awnings of the stalls were replaced by booths, a qualitative change that has lasted until today. 
Important info:
Sunday to Thursday: 10 a.m to 9 p.m.
Friday, Saturday and Holiday Eve: 10:00 a.m to 10:00 p.m.
This year it will be open to the public on November 25 at 4:00 p.m until December 31, 2022.
It does not close at noon, so there's no Spanish Siesta schedule on this Christmas Market. 
How to get there?
Metro: Sol (line 2, line 3, or line 1),  Ópera (line 5 or 2). Tirso de Molina (line 1)
Cercanías: the closest commuter train stop is "Sol" (C3 and C4).
Plaza Mayor car park: the car park is located under the Plaza Mayor itself. The exact address is Felipe III nº 11, 28012 Madrid.
A friend of mine who loves holidays gave me her personal recommendation for spending the perfect Christmas market day in Madrid:
Maria, 18 years old, Madrileña: My recommendation for the perfect day at the Christmas markets in Madrid starts with choosing the correct date. To make the most out of it, I recommend going on December 6, the day of the Spanish constitution. You should start your day in Colon watching a mini parade of the armed forces. After that, take a walk to "La Plaza Mayor" where you will find the famous Christmas market.

Allow yourself to look at all the costume hats you can find there. (Some of them are very hilarious)

After visiting it, if you want the complete Madrilian experience, the most typical thing would be eating the famous "Bocata de calamares" in the square. There are many places, but my favorite and the one I go to every year is La Campana.

To finish the day, my family usually walks to Plaza España to visit the other Christmas market that takes place there.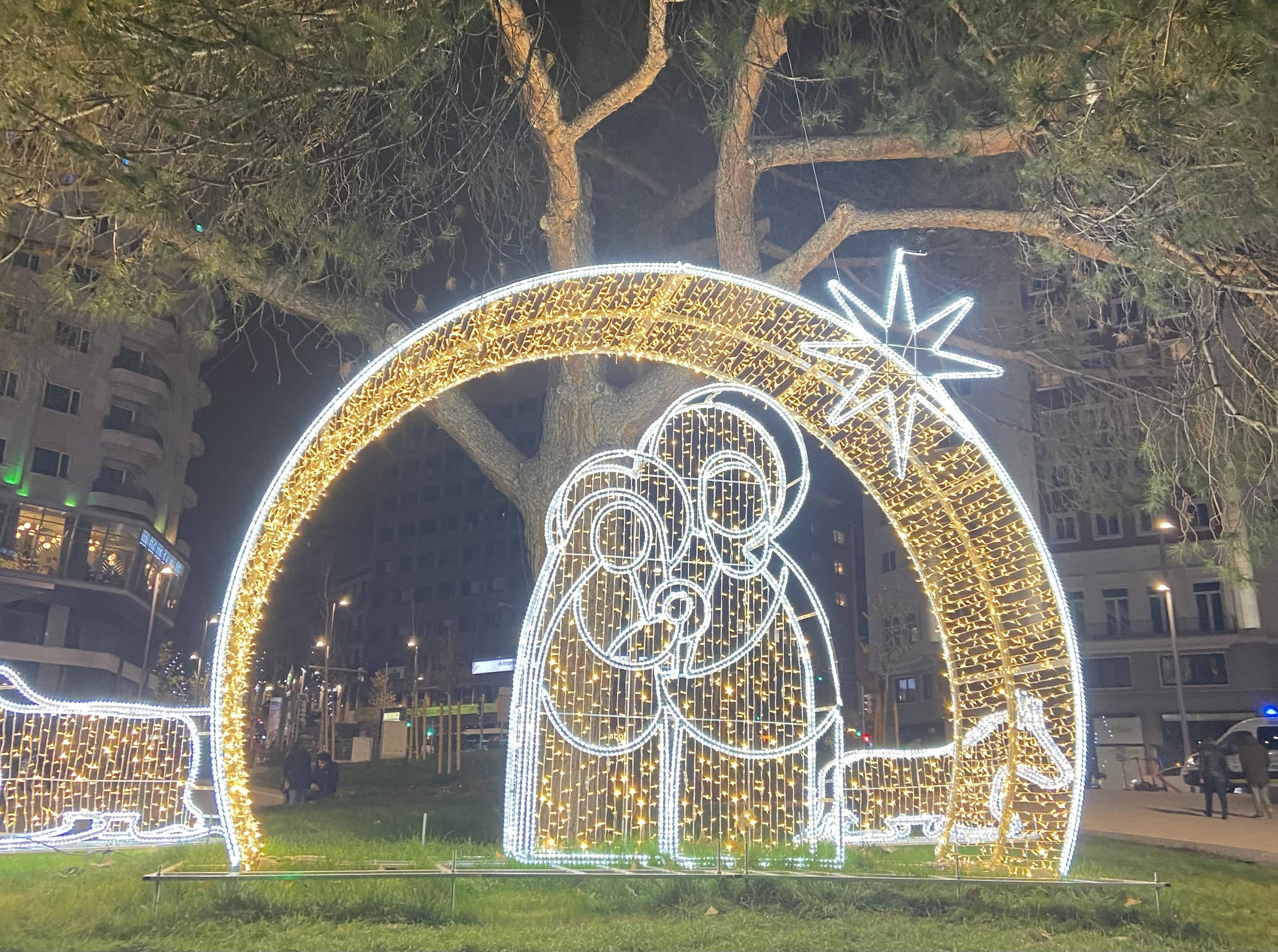 6. Feria del Belen, Sevilla
The Nativity Scene Fair of Seville becomes a showcase for small businesses in the sector to offer their craft products. They bring the widest variety of nativity scenes possible to citizens, tourists, and families who want to spend a lovely Christmas evening!
Merchants and artisans participate in this Nativity Scene showing all the items necessary to set up the nativity scene. Small artisan figures of all kinds, styles and decorative elements share the stage with the exhibitors who welcome Christmas in Seville.
At the Bethlehem Fair, you can find exclusive, handcrafted pieces made from all kinds of materials and with different sizes and artistic styles. 
The City Council collaborates with different associations and communities to carry out many activities, enhance the Christmas experience, and make it more fun for everyone! 
For example, they collaborate with the Nativity Scene Association of Seville. And also with the Municipal Symphonic Band to celebrate concerts and parades. 
This beautiful market is worth visiting to contemplate the mastery of the pieces and breathe in the Christmas atmosphere that occurs in the place.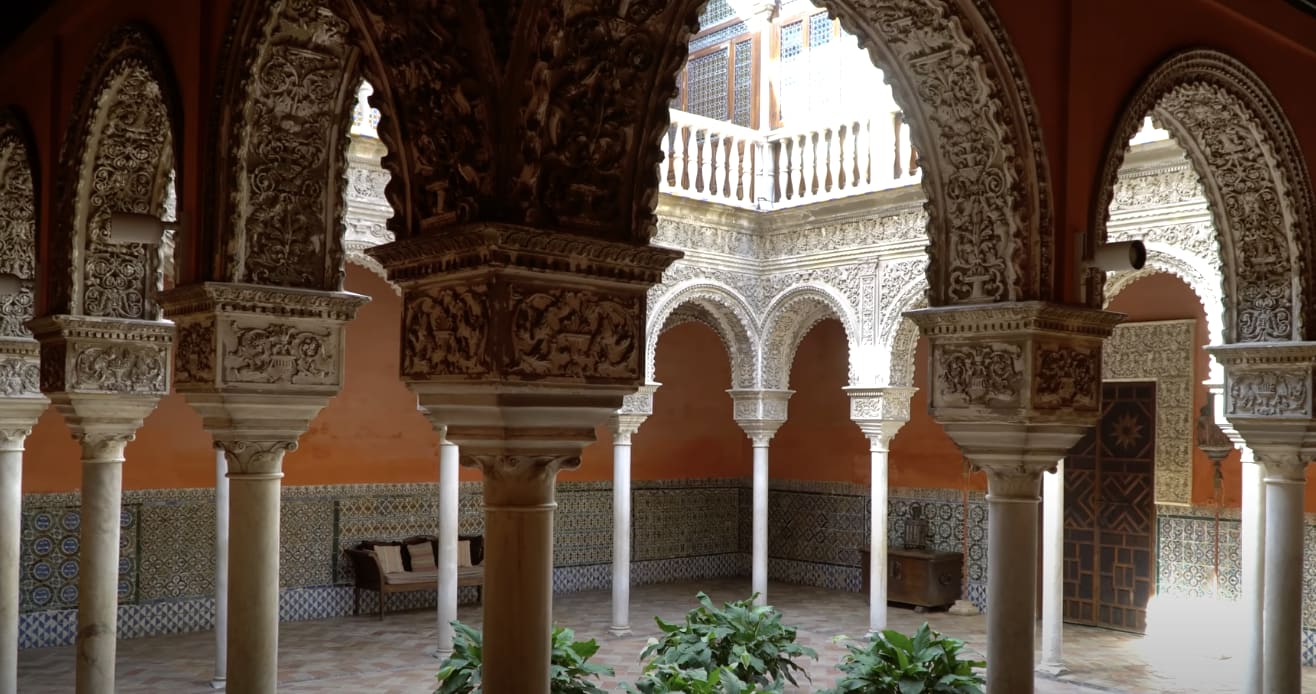 7. Cathedral in Plaza Bib-Rambla, Granada
Located a few steps from the emblematic Cathedral in Plaza Bib-Rambla, the traditional Nativity Scene and its beautiful market take place to celebrate Christmas in Granada!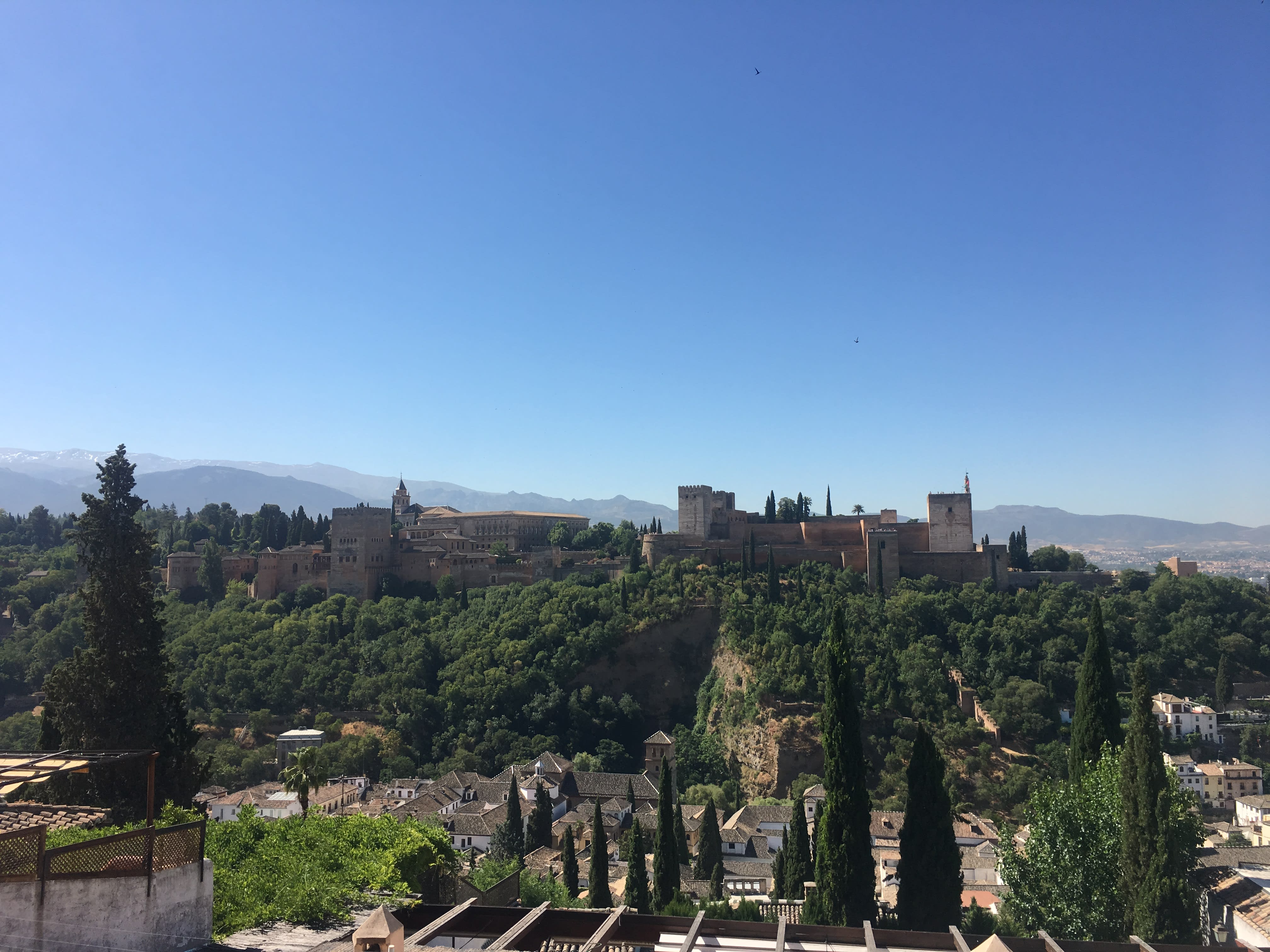 With a long tradition in the city of Alhambra, more than 70 stalls offer visitors a wide selection of Christmas decorations. 
It is not a very large market but has the peculiarity of bringing together a great diversity of typical Christmas elements. It promotes and supports local crafts: leather, ceramics, silver, and wooden toys. Where y can also find Christmas sweets from the convents of Granada.
My favorite part is the ecological carousel in the middle of Bib-Rambla square, which has been there since 1999. It is made of wood and has fourteen wooden figures of various sizes for children to jump in, enjoy a pleasant time, and maybe give their parents a little break to breathe! 
The atmosphere in the street during these days is magical and familiar, typical of Christmas in Granada. You'll be tempted to buy everything as you'll be surrounded by many others purchasing figures for their nativity scenes and Christmas gifts for their loved ones! 
8. Plaza de la Corredera, Córdoba
Christmas Markets in Córdoba, but make it European-style!
The City Council recently incorporated almost 200 activities in all commercial areas and neighborhoods to restore the illusion of the citizens. 
The traditional Christmas market will be installed in the Plaza de la Corredera. There'll be concerts at the Kiosko Joven; Old Town, with guided and dramatized visits to publicize the heritage of Córdoba.
In addition to activities and the light and sound show, the city will have magic shows, Christmas carols, storytelling, and a circus that will be present in the districts and shopping areas. 
People will enjoy theater plays, puppets, and street shows, and the protagonists will be Christmas parades. Of course accompanied by our famous Spanish Christmas Songs to the sound of Bell Ringers in various areas and open shopping centers in the city.
9. Plaza Mayor, Pamplona

Pamplona is the capital city of the Kingdom of Navarre. They organize their Christmas Market every year so people, families, and tourists can enjoy the tradition. 
You'll feel the magic of the lights, the smell of roast chestnuts, the heart-warming traditions and customs, and soak up the incredible atmosphere in the streets.
What you'll find? Christmas carols in the streets, offered by the opera and zarzuela of Navarre; Nativity Scenes and a variety of fairs and local shops. 
The Pamplona city center becomes a showcase for traditional food and craft goods in lovely wooden huts. 
You'll find the region's chocolate, biscuits, cheese, cake, pottery, clothing, workshops, accessories, leather, and traditional artisanal products!
I suggest you try "Pastas Beatriz," which is iconic in the city! If you like chocolate pastries or filled croissants, this dessert is kind of the same vibe. 
Since they follow some Basque Country Christmas traditions, they have different celebrations for Christmas that are worth discovering! If you're coming to Pamplona, you should know they have their own Christmas Santa: Olentzero! A mythical figure supposed to bring gifts to kids on Christmas day.
There is also the San Silvestre Race, where the streets are full of running enthusiasts of all ages on December 31. Also, The Navarre Drama School has traditional Christmas plays for children to brighten family afternoons. 
And suppose you finish your walk at Plaza del Castillo early. In that case, you should follow the visit to the Christmas Fair in the Bull Ring of the city, where the stalls hold an extensive range of Christmas products. 
10. La Dulce Navidad, Bilbao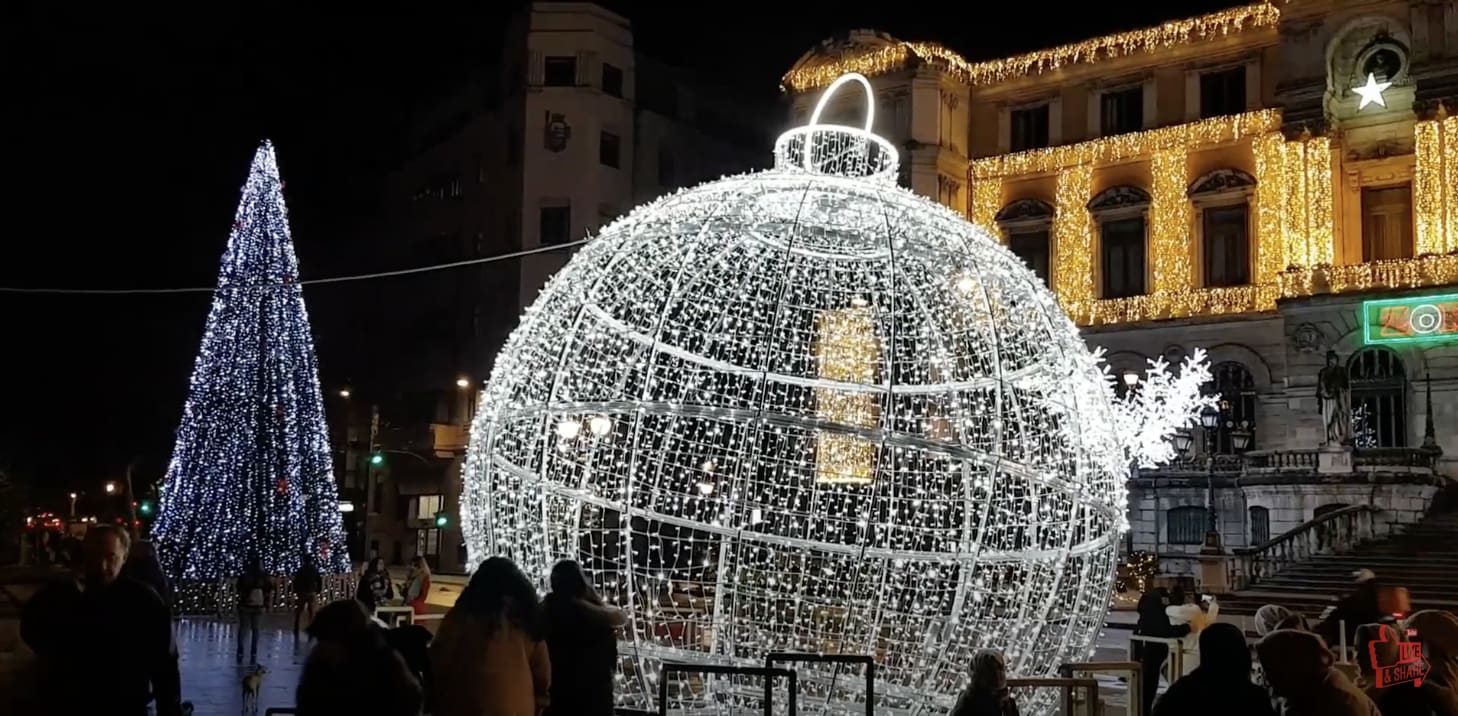 The "La Dulce Navidad del Convento" market is at the Museum of Sacred Art. Until December 20, there's gonna be an exclusive selection of Christmas products made in 17 convents.
Admission is free. You can find "Los Dulces Navideños del Convento" with up to 20 varieties of nougat, chocolate, shortbread, and mantecados from Andalusia, as well as marzipan.
The Clarisas from Ribadeo will bring exquisite marzipan eels and almond cakes in various formats From Galicia. Those from Ronda will get an exciting variety of Polvorones and mantecados from Malaga. You can also find a small sample of usual products in convents and a selection of gourmet jams or the famous Chartreuse herbal digestive liqueur and its vegetable Elixir.
Moreover, the famous ointment for burns (with healing properties) from Santo Domingo de Elorris is going to be there too! as well as artisan cosmetic products from the French convent of Chantelle and natural soaps from Andalusia, made with olive oil and essential oils.
Relevant Info: 
(based on Last Christmas) 
Sundays and holidays: from 10:30 a.m. to 1:30 p.m.
Tuesdays to Saturdays: from 10:30 a.m. to 1:30 p.m. and from 4:00 p.m. to 7:00 p.m.
11. Christmas Markets in Galicia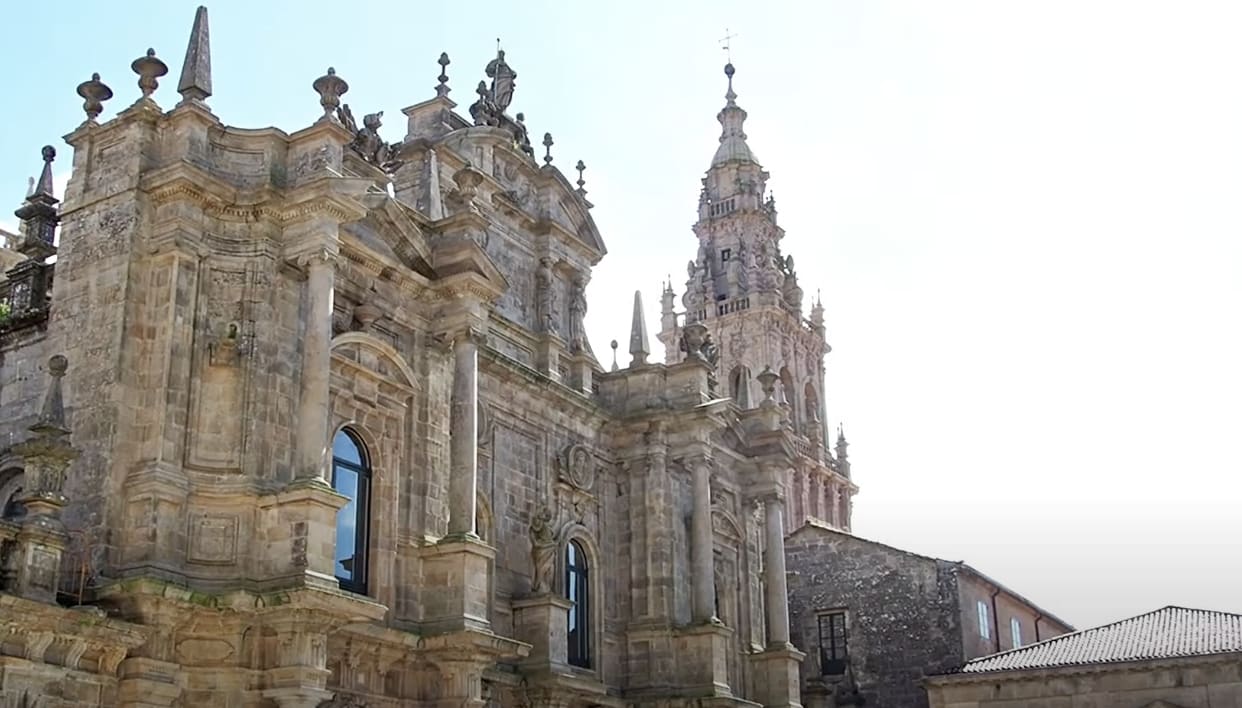 Like every year, Compostela residents and visitors can visit Carreira do Conde street to find the Market dedicated exclusively to Christmas decorations and fine food.
In this Mercado de Nadal, there are craft stalls, sweets, objects, and gifts for the holidays, with a broad representation of local crafts. It also has an activity area, the Creative Space, designed for little kids, who will also have a permanently open toy library at their disposal.  
Another of the great Christmas attractions in Santiago de Compostela is the Mercado da Estrela, a free urban winter festival to showcase the talent of creative people, artists, artisans, producers, and entrepreneurs from Galicia. 
Another spot for a Christmas Market in Galicia is A Coruña, where the central Coruña square of María Pita is transformed into a recreational space. It is ideal for enjoying various activities designed for children, like the classic carousel, a Polar Express Train, artistic performances, jumping, inflatables, a snowboard simulator, and much more.
When visiting Christmas markets remember to wrap up warmly and be prepared for the temperature! Check the weather to see if there's going to be rain or snow. There is a lot of walking and standing around, so don't forget to wear comfortable shoes and a pair of socks that can keep your feet warm. 
You'll find everything to eat and drink, so don't worry about carrying food or preparing something in advance. All Christmas markets are free and rarely do they charge a small entrance fee of two or three euros like in other countries. You'll only need to pay for your food, drinks, and everything else you want to buy for yourself!