Spain in April: 6 Travel Tips, Activities & Weather
June 19, 2023
Updated:

October 10, 2023
Published: June 19, 2023
April is one of the most exciting months to visit Spain, as the city's blossoming spring flowers are complemented by tons of unique events and activities.
The number of tourists has yet to peak, the weather is just perfect (you'll see why later), and there are several festivals and celebrations to choose from if you visit Spain in April.
In this article, I'll give you the things you should consider, the weather and climate forecast by region, and the best places to travel during these months so you can plan your trip accordingly and take advantage of the top activities.
If you haven't seen it yet, here's the guide for visiting Spain during Spring.
🌸Read more: 10 Reasons Why Spring is the Best Time to Travel to Spain
---
TIPS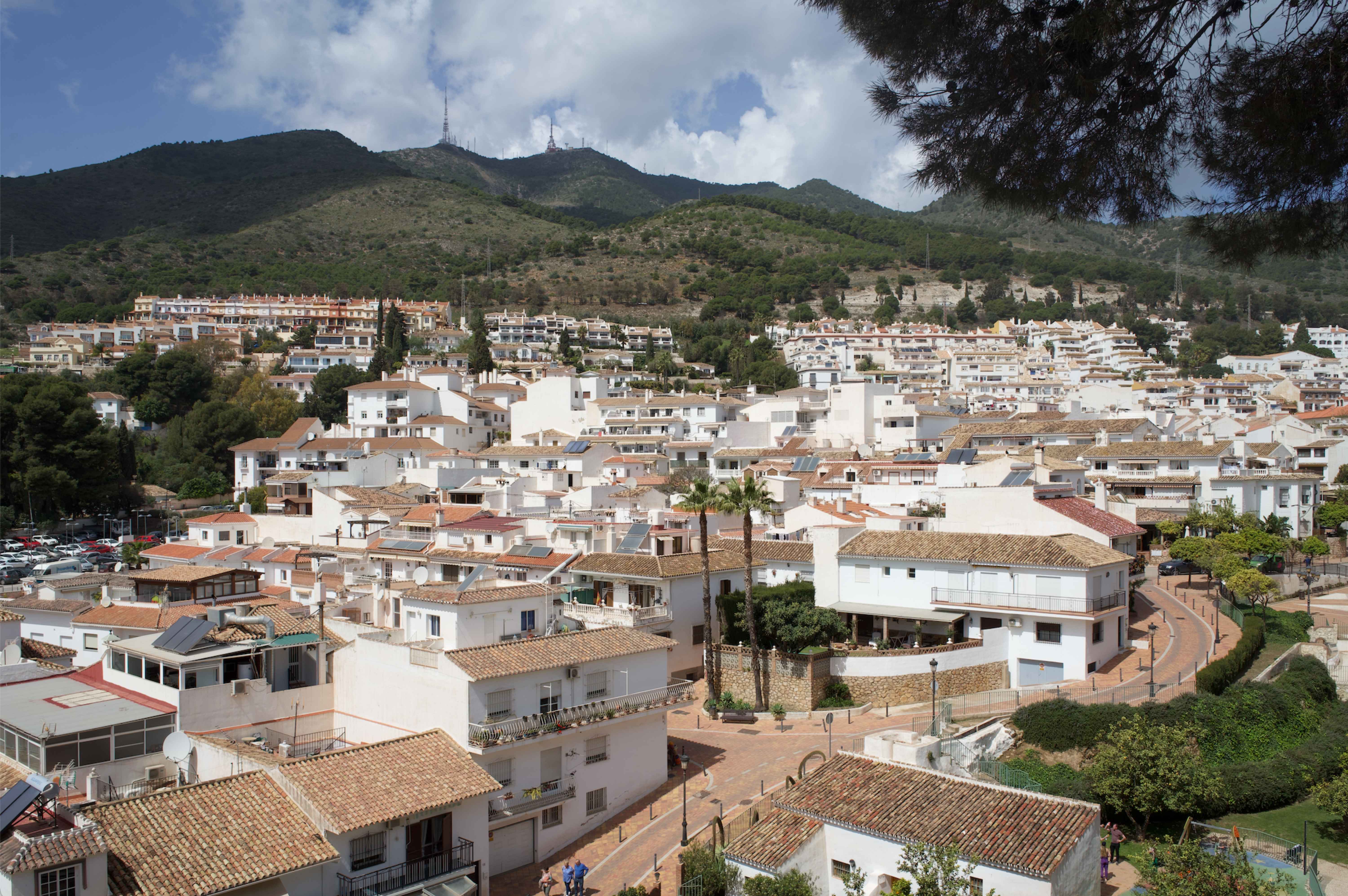 Perfect month to travel? Fewer Crowds and Pleasant Weather Awaits!
In Spain, we have always considered our holidays in June, July, or August or during Holy Week or other holidays. 
But the high season in Spain runs from November to April in places like the Canary Islands and the Balearic Islands. 
However, in places like Andalusia, Madrid, or Castilla y León, the high season begins at Easter.
Still, generally speaking, April and Spring are excellent times to travel to Spain, as it is still shoulder season, with a template climate and fewer crowds.
Yes, some local festivals can make prices skyrocket, but many of these parties offer enriching experiences that make your travel adventure x10 better!
Experience the Enchanting April Fair in Seville
Without a doubt, the highlight of Spain in April is the Seville Fair. If you travel to Spain during these dates, you should expect the whole country to look forward to that week.
One of the biggest reasons why planning a trip during these dates is a good reason is to witness this beautiful party that Spanish people live with heart and soul. 
It is one of the most important festivities in the city and the country, taking place every year for a week.
Attending the fair is the best way to learn about the Spanish culture, as you will see everyone dancing in the street, and the genuine and open character of the Sevillians invites everyone who passes by to join in the celebration.
When I tell you that thousands of people gather here to spend a glorious day, I'm not exaggerating. It is one of the most fun tourist attractions.
Horse-drawn carriages bring the attendees in traditional flamenco outfits. The city center gets full of "casetas" with the typical products of the land while drinking wine, singing, and dancing. And thousands and thousands of colored light bulbs lit up until late at night.
📌Read more: Seville Fair Guide for non-locals. Must-read before you go!
Witness the Most Awaited Semana Santa Processions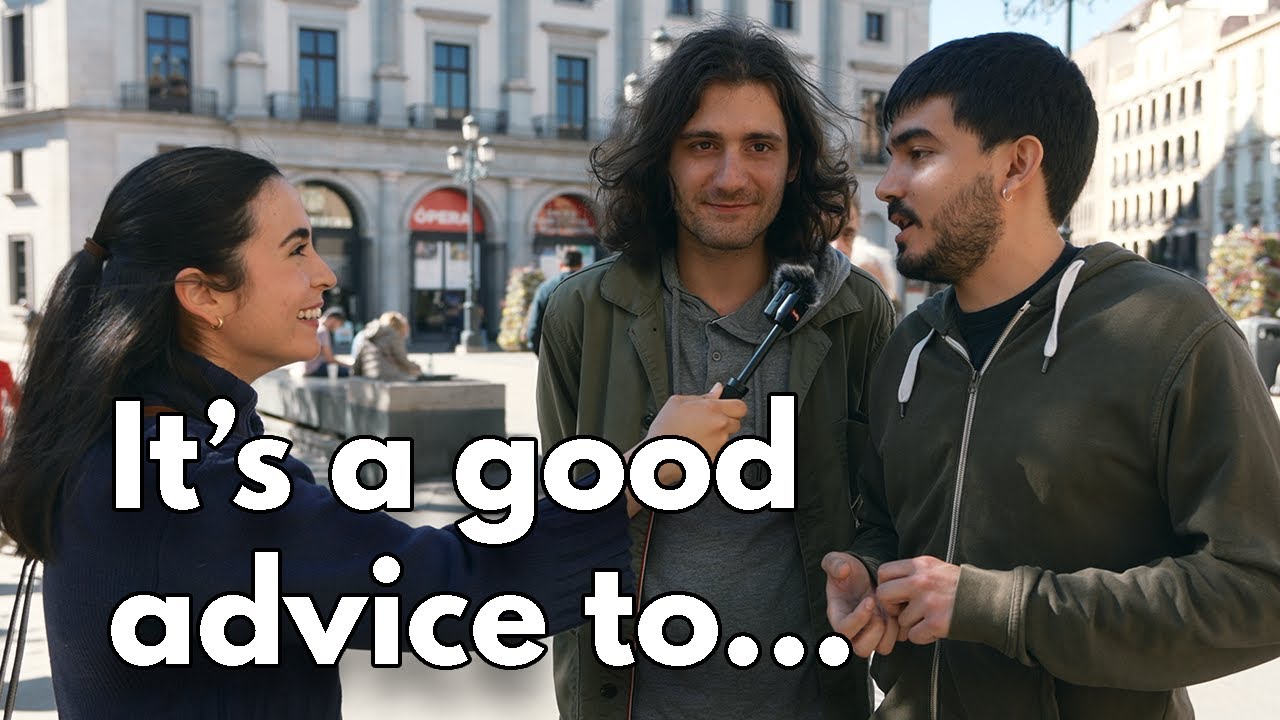 Semana Santa is the spring break equivalent in Spain. It begins with Palm Sunday, also known as "Domingo de Ramos," and ends on Easter Sunday**.**
You should know that Easter in Spain is not about bunnies or colorful eggs. Holy Week is an important holiday that remembers the path of Jesus Christ before being crucified. 
During these dates, Spaniards remember the scenes of the passion and resurrection of the Son of God. They reenact history with processions in which everyone can participate. 
This creates the perfect scenario for everyone who wants to experience a unique cultural tradition while traveling to Spain. Probably one of the best months ever to plan your vacations. 
Plus, it is an ideal holiday to try delicious traditional dishes. 
📌Read more: Why is Easter so Special in Spain? Holy Week Customs & Best Cities
It is a time to share with family, and students usually return home to enjoy this week with loved ones. 
Many Spaniards also travel during this time, as it is a time meant to share with family, and students usually return home to enjoy this week with loved ones.
Dress for the Season: Layer Up and Adapt to the Changing Climate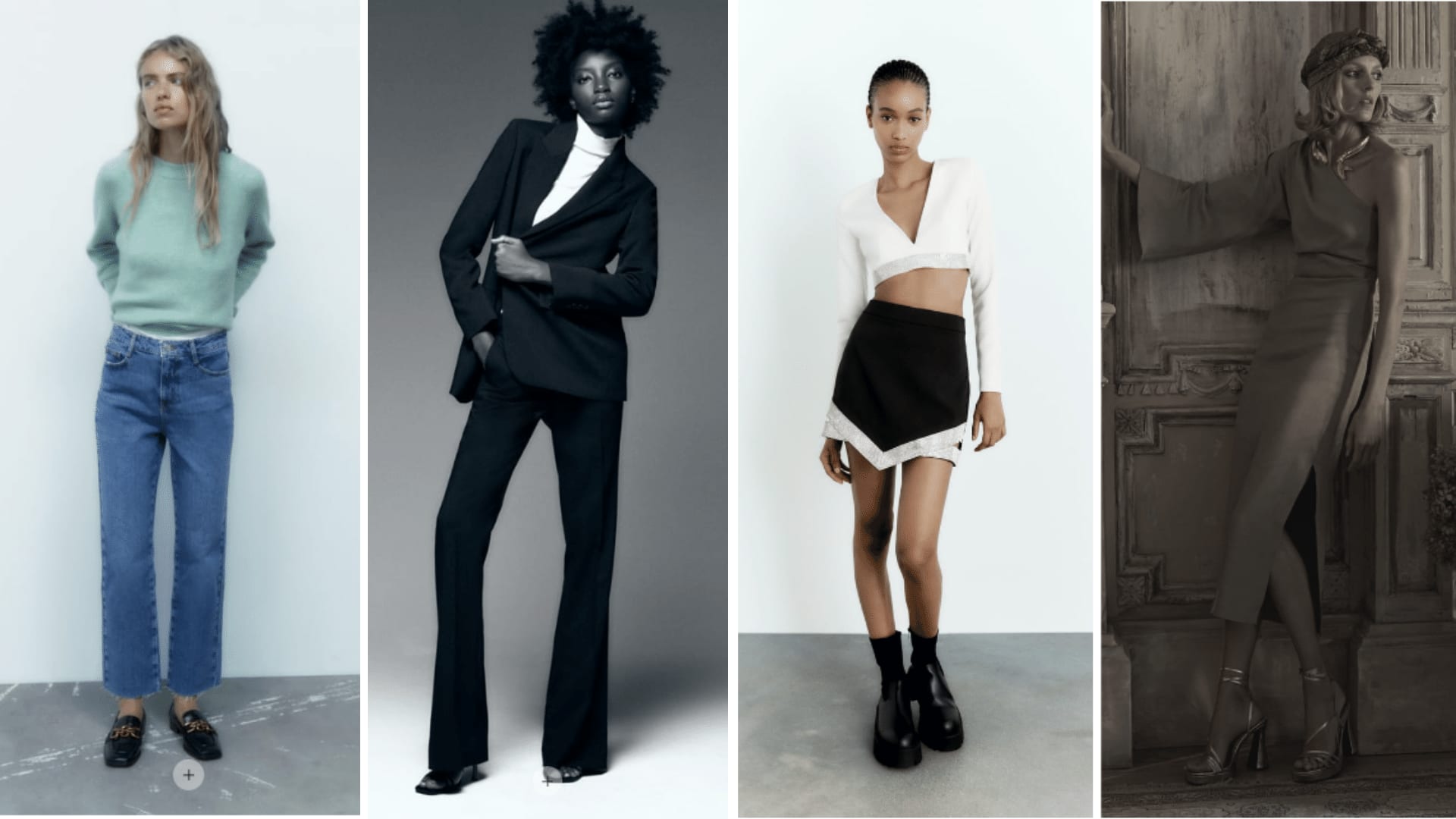 One thing that surprises people the most when they first travel to Spain is the outfits. Spaniards serve 10/10 looks on every occasion. 
To avoid sticking out, keep in mind that people in Spain usually dress according to the season instead of the weather. That means that even if it's warm enough to bring your summer outfits out for a walk, you won't see them wear them since it's not summer yet.
So, what should you wear during April in Spain?
I mean, if you are very into fashion and want to blend in, I suggest packing light layers, Spring outfits, jackets, lightweight scarves, and clothing you can easily remove since the weather changes a lot during the day.
On the other hand, if you value comfort, bring some weatherproof gear in case it rains and a mix of Summer and Spring clothing. It will be warmer depending on how close to Southern Spain you are.
You will mostly have cooler mornings and warmer afternoons. The temperatures are delightful at night but will increase as Summer peeps. 
Delight in Blooming Gardens and Perfect Picnic Spots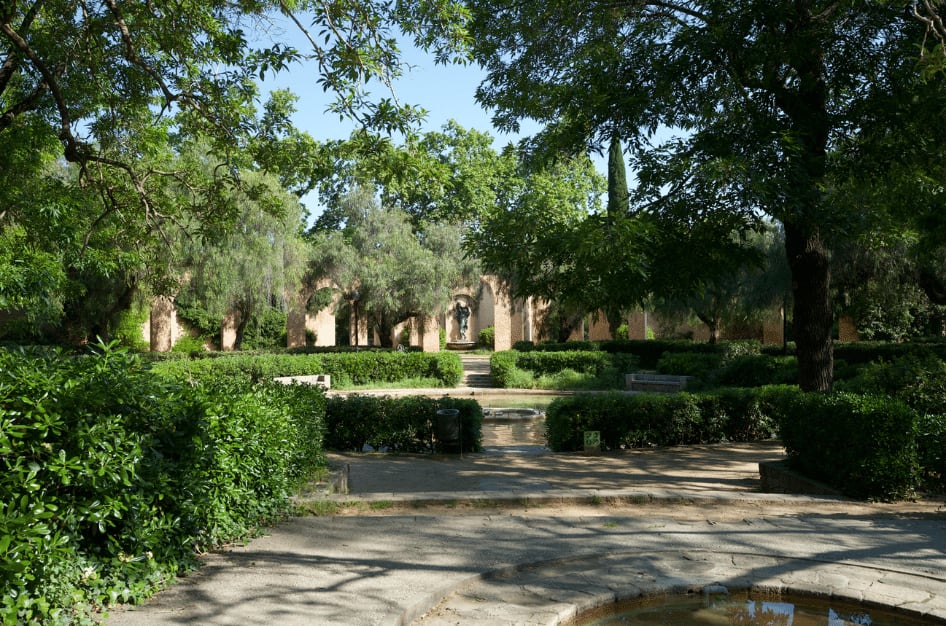 In April, you can already witness the rhythms of the dynamic streets coming back to life.
This means that parks, gardens, and the outdoors are ideal for kicking off the picnic season!
April is when you can take advantage and walk through the parks of Spain with greater tranquility, so the breeze is delightful, the blue sky and the sun complement the landscape, and there is no unbearable heat in between.
In this way, you ensure the most romantic afternoons and beautiful and memorable excursions you can have.
I recommend Maria Luisa Park in Seville, the beautiful Laberinto de Horta Park (Barcelona). Of course, nothing is better than a tortilla de patata or a bocata de calamares in El Retiro in Madrid.
Opt for Bus Travel - Convenient and Reliable Transportation Across Spain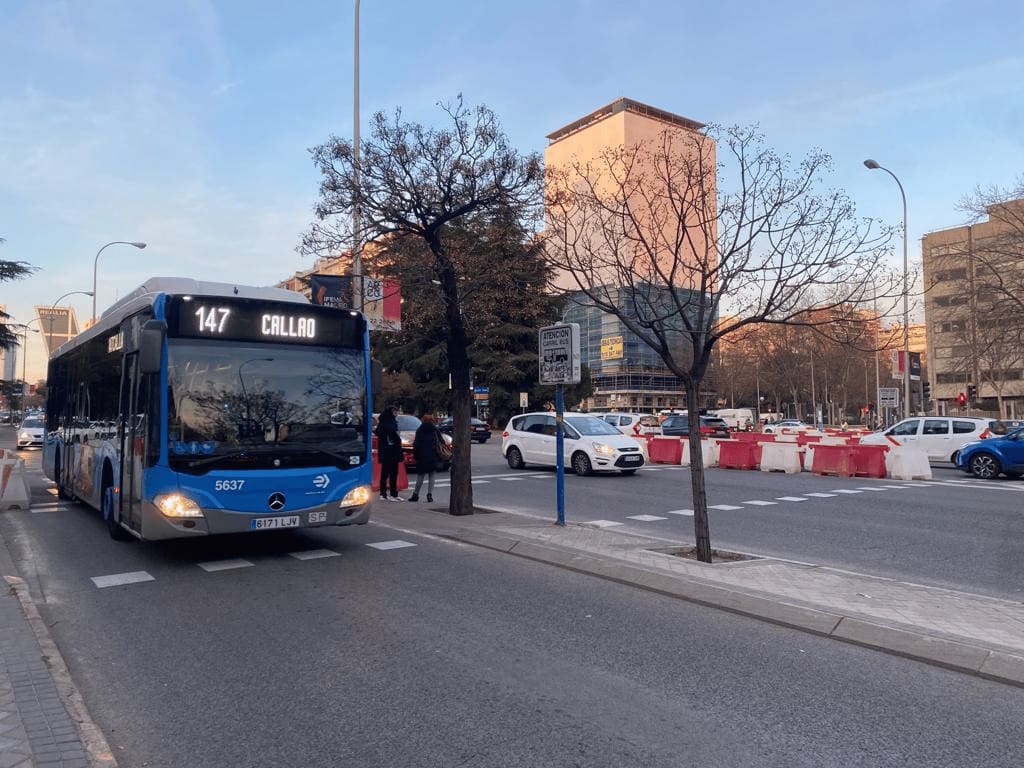 Plan your itinerary, and make reservations in advance to save money and time on transportation. Travelers often complain that train prices are much higher than they expected. But it gets so much better if you plan before arriving. 
Buses are a much cheaper alternative to trains, which people often forget about and do not consider.
The biggest and most famous bus company in Spain is Alsa, the one with the most routes, but there are several other options such as Avanza Bus, Hife, Inter Bus, and Socibus.
Prices vary greatly depending on how far in advance you book and the day you travel. You can have a glimpse of the fees from Tuesday to Friday and find a big difference in rates with the weekends.
ACTIVITIES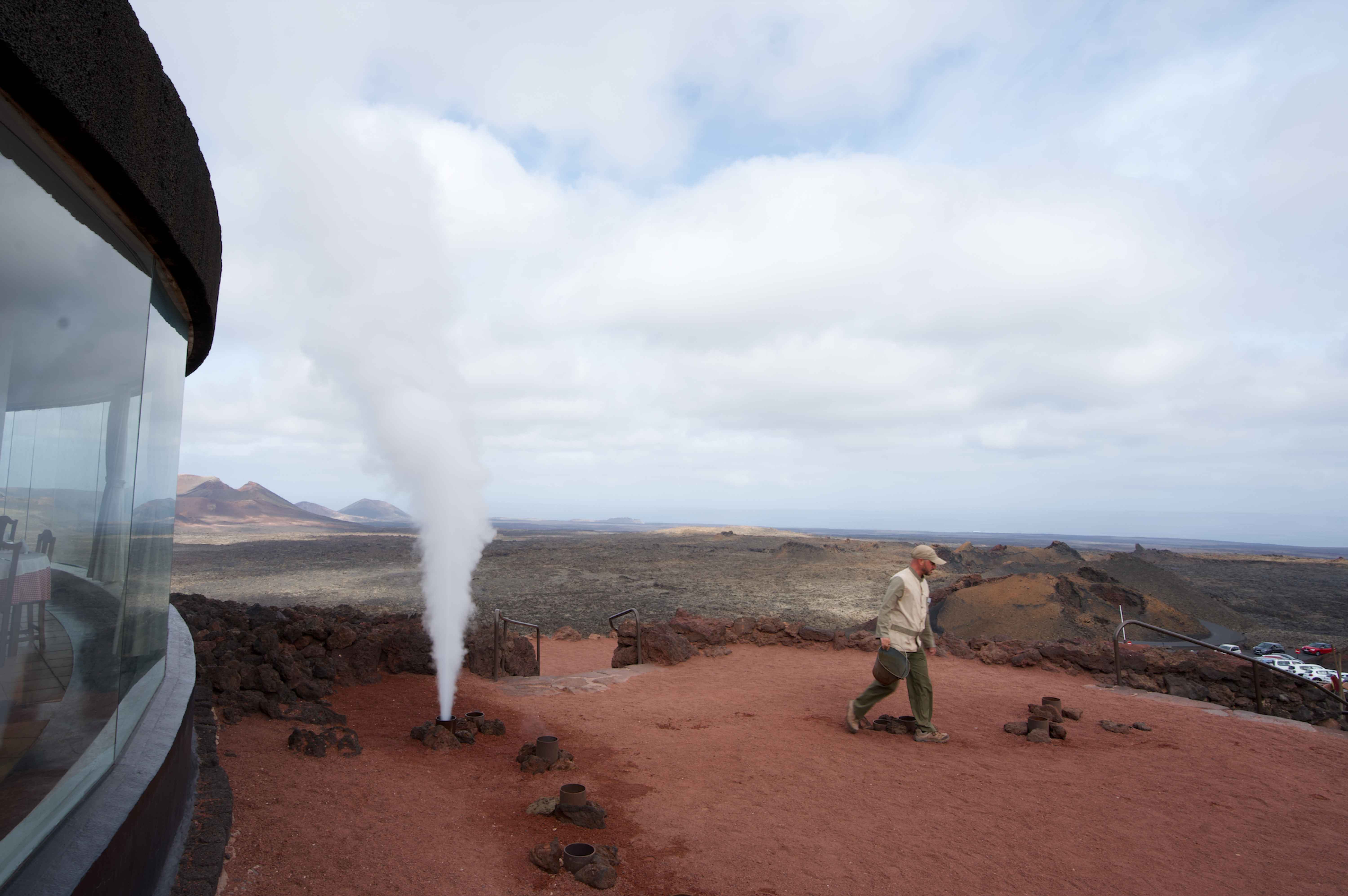 Here are the best activities you should do in the cities that can or cannot be missing from your list for these dates.
Madrid and Barcelona are essential, because being the two main cities they have a lot of tourist attractions, a lot to see, and offer many experiences.
Also, Spring offers the perfect setting for traveling and touring thanks to pleasant weather, fewer crowds, and an excellent climate overall. 
Read more:
So, April is an ideal time for a city break. However, if you want to enjoy the islands, know that Ibiza, Mallorca, and Menorca are great options since they are almost deserted. Still, they are even better for cycling, hiking, and wandering through the Islands. 
Now let's see what else this beautiful country offers us.
Madrid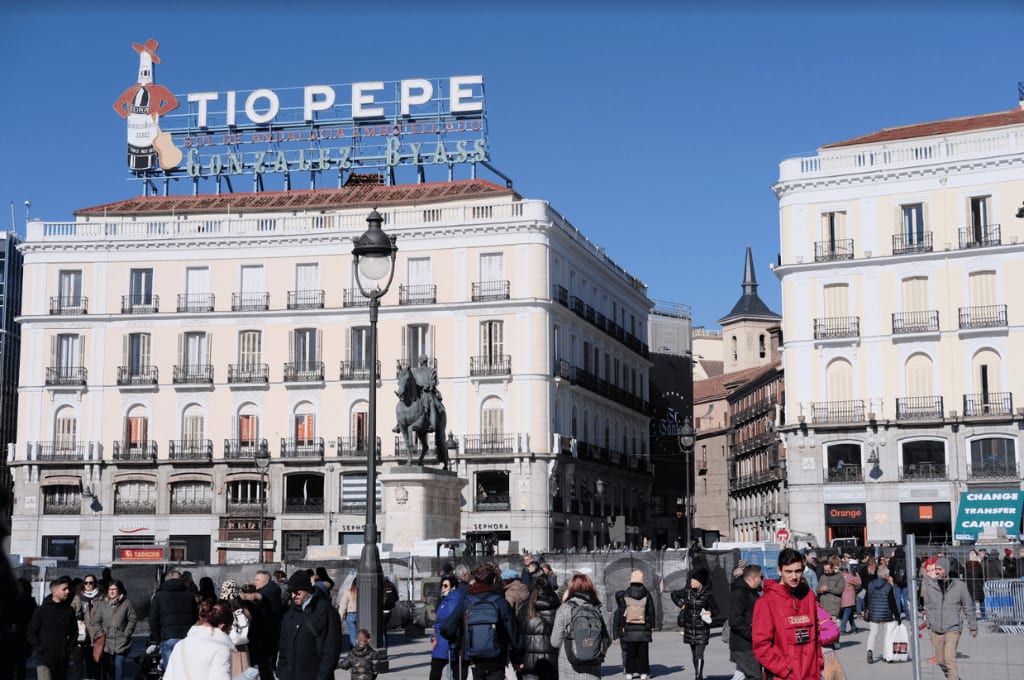 In Madrid, an hour later means endless afternoons to enjoy the good weather. Temperatures range from around 41°F to 64°F, so you should take the opportunity to visit the best terraces and have a glass of wine with a tapa. These are the best places:
And if you are more of sunsets, then you cannot miss the most beautiful sunset in the Temple of Debod or see the skyline of Madrid from the top on a trendy rooftop taking advantage of how cosmopolitan and modern this city is.
In addition, the first music festivals arrive, theater appointments and many other activities will never make you bored.
Other than eating, drinking, and partying, we Spaniards do many other things, and first of all, this city is all about culture. For this reason, during April, you can enjoy "El Prado at Night," a new initiative of the Museo del Prado that allows access to different exhibition spaces and a distinct cultural program.
📌Read more: Prepare for Madrid's Weather: Advice from a local + 4 Tips!
Barcelona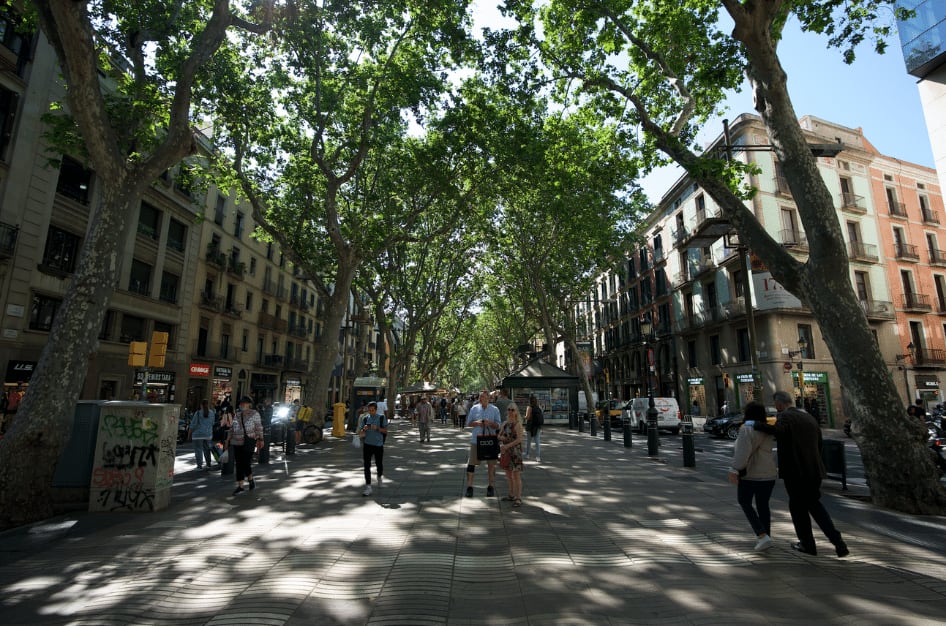 When Spring comes in Barcelona, an afternoon at the Ciutadella with some refreshments will make all your afternoons better. With temperatures around 45°F to 64°F, one of the top activities to do in Spring is renting a boat and rowing in the park's central pond lake.
You can also plan a picnic! Go to the closest supermarket store, grab some snacks, and spend a lovely morning or afternoon at the beach.
📌Read more: Prepare for Barcelona's Weather: Advice from a local + 7 Tips!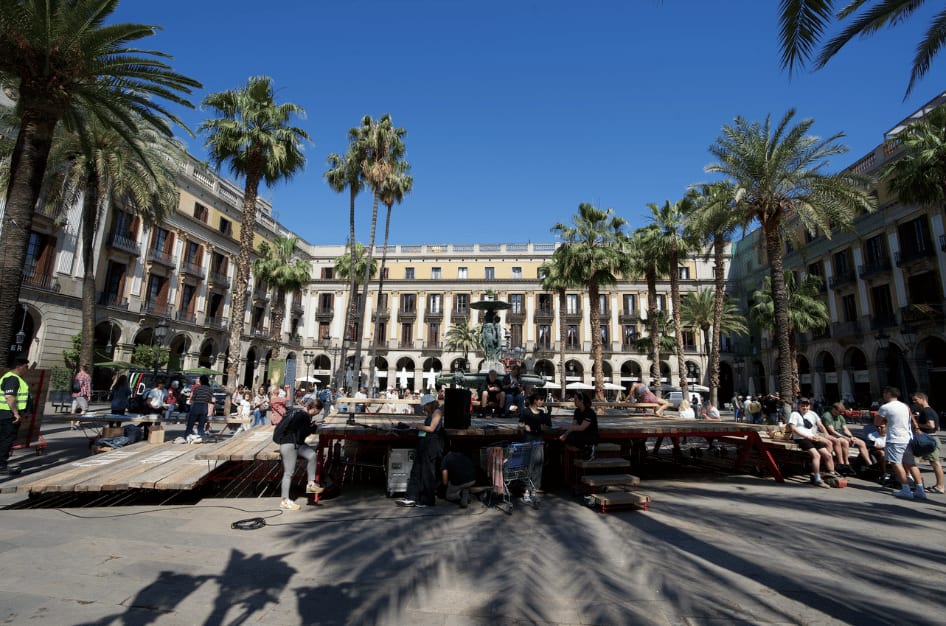 In addition to getting to know the main landmarks, it is time to get lost in the streets, walk as much as you can, and discover the true essence and vibes of this enchanting city that so many expats get to call home.
Seville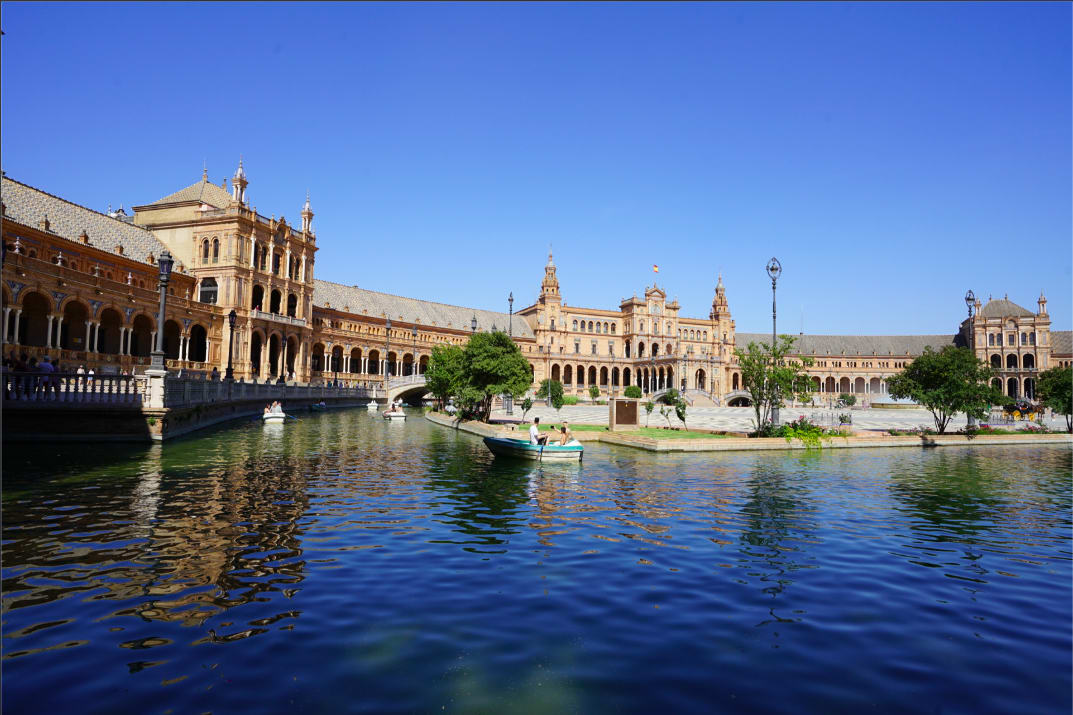 If you could only do one thing during April in Spain, it should be to visit the city of Seville. Yes, you read that right above Madrid, Barcelona, or any other paradisiac beach town.
Seville is the place to be in April because of the festive spirit to which the city awaits the biggest and most important celebration of La Feria de Sevilla.
It is a once on a lifetime experience that any visitor should have on their bucket list for the amount of cultural and historical knowledge they can get by simply admiring the outfits, looking at many years of tradition passed by to generations, and get impressed by the charm, the beauty, and the friendliness of Sevillanos.
April and May are hot and warm in Seville; the temperature will go from 27° / to 14°, so be mindful of your hydration! I know a fair is a place for walking, dancing, and fun drinking, but don't forget to drink water throughout the day and get under some shadows.
And don't get impressed because that heat only aggravates as Summer arrives! So take the opportunity and visit Seville now since the nights still tend to be lower in temperature.
📌Read more: Visit Seville in Spring: 10 Best Activities, Places & Food
Remember that Seville's April Fair is a genuinely local party; some people consider it exclusive, but that is part of the tradition! If you have any friends in Spain, contact them to get the whole experience, and if not, feel free to leave us any questions :)
Tarifa
Traveling to Tarifa in April is a destination few know and underrated, but I am here to tell you about it.
Tarifa is a Spanish municipality in the province of Cádiz, Andalusia, in the extreme south of the country, off the coast of Morocco. April is when it begins to transition from very low to the low season—a perfect moment to take advantage of and enjoy this beautiful place.
It has minimum temperatures of 14°C and maximum temperatures of up to 20°C. The weather is lovely, but it is a good idea to have some warm clothes just in case. Although at the end of the month, you can take a dip.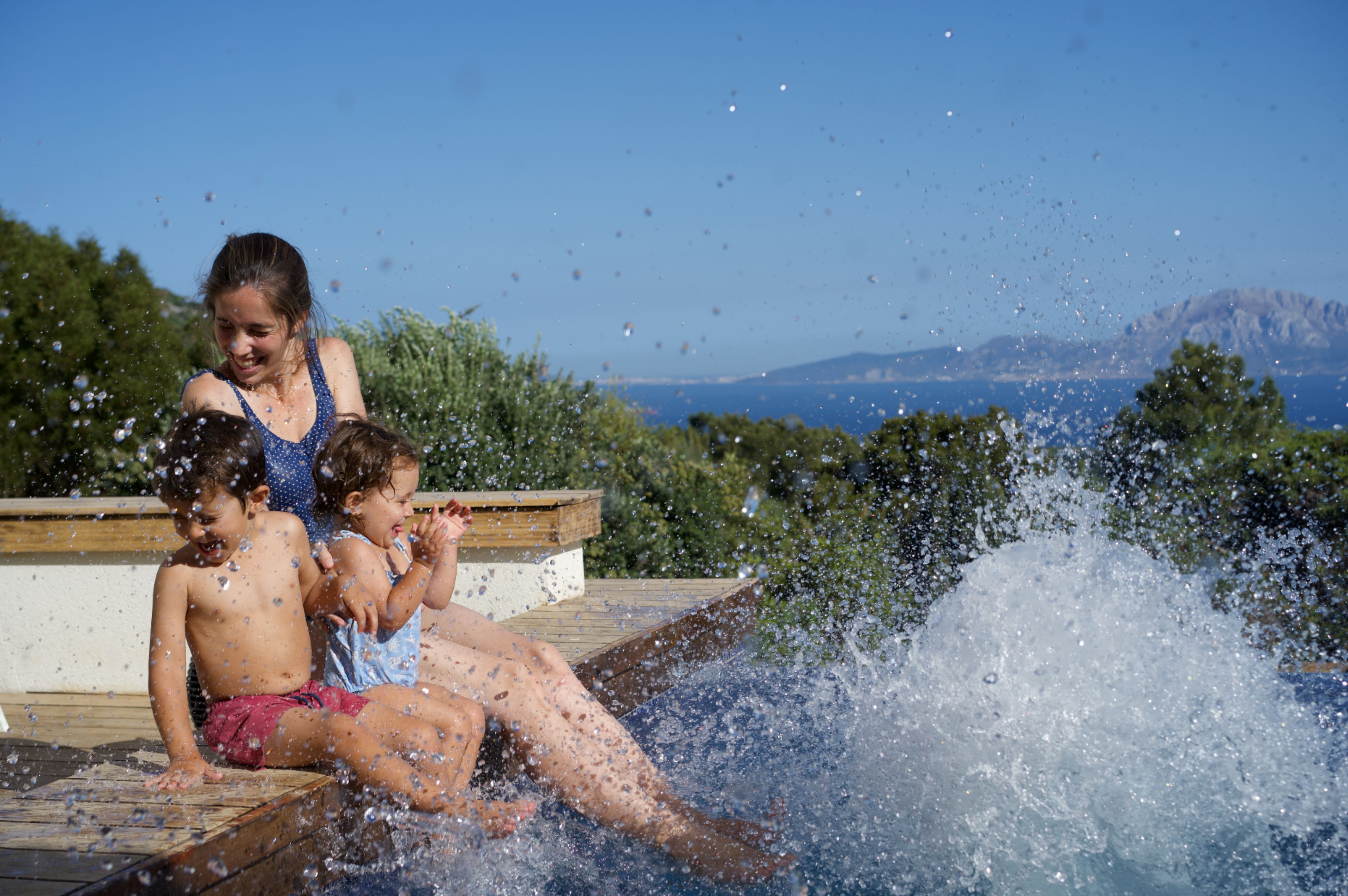 One of the things we enjoyed the most was family trips to Tarifa. You can delight yourself with beautiful mountain sceneries and natural wonders.
This is an excellent town for a getaway and to get to know hidden gems with fewer visits that locals do not often mention. Plus, you will have the sweetest sleep of your life!
Read more: Travel to Tarifa: 5 Best Activities, Food & Attractions
Lanzarote - Canary Islands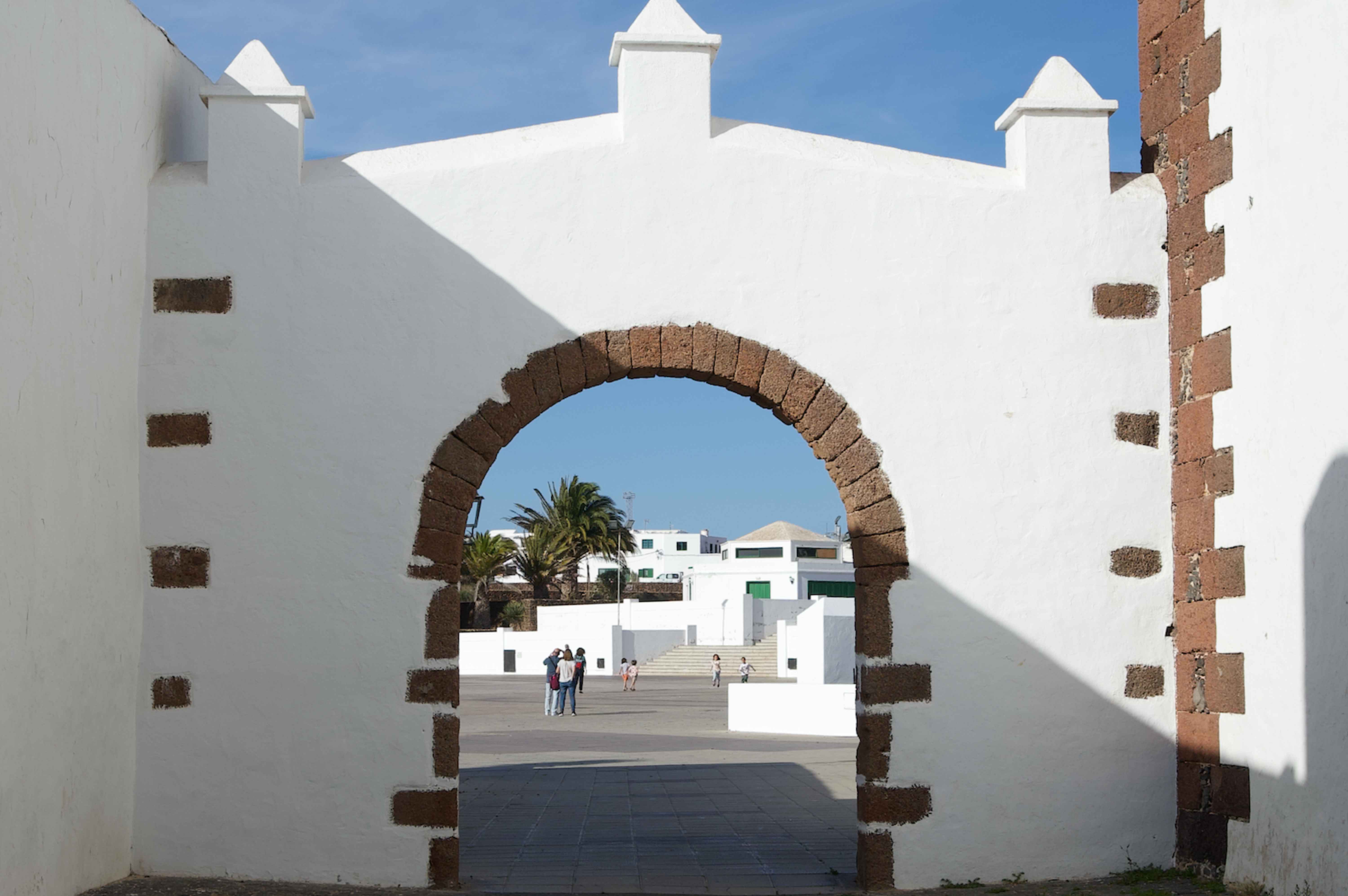 I wanted to save the Canary Islands for Summer, but Lanzarote is different; let me tell you why.
After a long and cold winter, the body most desires a little warmth, views of the blue sea, and being surrounded by nature.
Lanzarote is the northernmost island. Therefore the seasons hit in different ways, and Spring is particularly special, so the activities are more related to hikes, excursions, and even views of desert landscapes (you can literally see a cactus garden)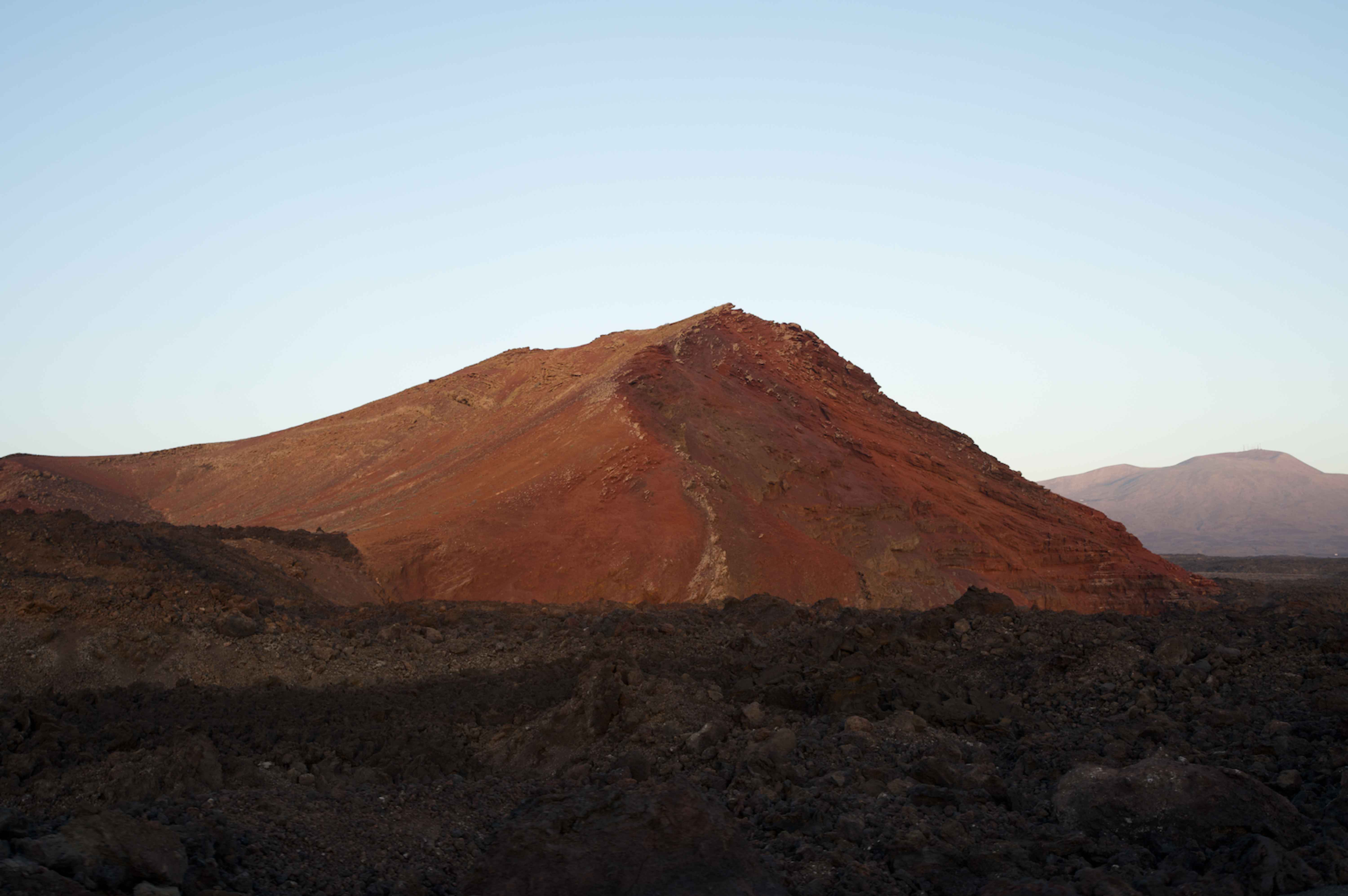 Spring is the breeding season, so nature and bird lovers can delight in all the flora and fauna that abound in this land.
The sunsets and views are beautiful, so the hiking trails become a must for those who want to witness breathtaking landscapes.
On the other hand, cycling and mountain biking are ideal for this climate in this season of the year. While in other warmer Canary Islands, it is worth waiting a little longer to get lost in its paradisiacal coves, Lanzarote offers adventure for this season.
WEATHER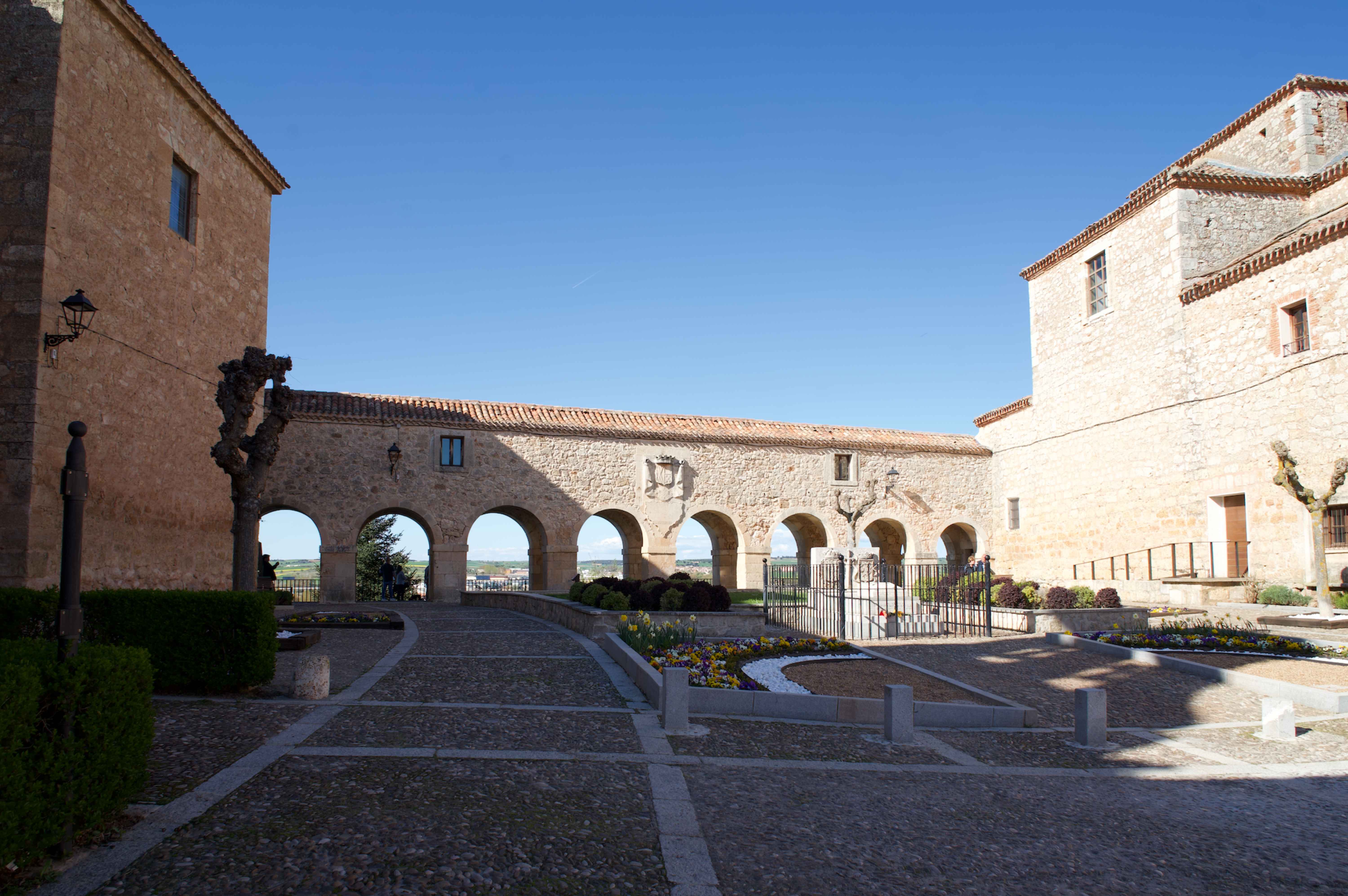 The temperature in Spain in April varies depending on where you are and the region. This is why I am leaving you a table with the average temperature in March for the different areas for more accuracy.
However, keep in mind that these temperatures can vary, so I recommend that you check the specific weather app for the city or town you visit on the days you visit to avoid surprises and plan according to the weather.
| Region | Minimum Temperature (°F) | Maximum Temperature (°F) | Minimum Temperature (°C) | Maximum Temperature (°C) |
| --- | --- | --- | --- | --- |
| Andalusia | 51°F | 70°F | 11°C | 21°C |
| Aragon | 39°F | 61°F | 4°C | 16°C |
| Asturias | 42°F | 54°F | 6°C | 12°C |
| Balearic Islands | 50°F | 67°F | 10°C | 19°C |
| Basque Country | 41°F | 56°F | 5°C | 13°C |
| Canary Islands | 63°F | 74°F | 17°C | 23°C |
| Cantabria | 42°F | 54°F | 6°C | 12°C |
| Castile and León | 39°F | 63°F | 4°C | 17°C |
| Castilla-La Mancha | 43°F | 65°F | 6°C | 18°C |
| Catalonia | 45°F | 64°F | 7°C | 18°C |
| Extremadura | 48°F | 70°F | 9°C | 21°C |
| Galicia | 44°F | 56°F | 7°C | 13°C |
| Madrid | 41°F | 64°F | 5°C | 18°C |
| Murcia | 52°F | 72°F | 11°C | 22°C |
| Navarre | 39°F | 57°F | 4°C | 14°C |
| La Rioja | 39°F | 62°F | 4°C | 17°C |
| Valencia | 52°F | 68°F | 11°C | 20°C |
Now that you know these travel tips, I hope this article has brought valuable insights and suggestions for travelers visiting us in April!
I really encourage you to choose this month since it is probably the best decision you'll ever make.
Besides the vibrant April Fair in Seville, the cultural significance of Semana Santa, and the advantages of visiting during the shoulder season, the country offers the perfect weather and time of the year to explore the big cities and do activities that will enhance your travel experiences in Spain compared to other months!
What are you waiting for to plan your trip?
Spain Travel Guide: 25 Ultimate Tips (By a Local Travel Agent)
---
Although Spain is fine for any time of the year since it offers different weather, activities, and attractions for all times, Spring takes the medal.
I always tell my friends and those who ask me when it is better to come to Spain to consider the months between April-June; I feel that with the number of activities such as the April fair, the ideal climate to get to know the big cities, and the extra hours it has the day, it becomes the perfect place for a getaway.