Spain in December: 10 Travel Tips, Activities & Weather
June 1, 2023
Updated:

June 12, 2023
Published: June 1, 2023
Spain in December is a magical time to travel anywhere in the country! 
If you want to experience the beauty of a traditional, cold Christmas, Spain is your place. Spain is also your place to escape the cold to experience a warm winter!
If you want and have the budget, you could experience both, but that will take thoughtful planning. 
Until then, this article will give you ten travel tips before beginning your adventure, plenty of activities in 9 different cities, and weather details to prepare you for Spain in December. 
Ready to plan your trip? Let's go!
Travel tips
1. Spain has better travel deals in December
To be honest, every year you see more and more people traveling to Spain during winter. Spring and Summer are the top seasons for Costa Brava, Costa Blanca, and Andalusia, but Autumn and Winter are becoming increasingly popular for traveling, especially to Madrid.
Even though Madrid and Barcelona usually have higher prices than the rest of Spain, December is a good month to find some nice deals. This will happen especially in the South, where the demand decreases in winter.
Create a Google alert! Four to three months before your trip, create a Google alert for the plane tickets to your destination and get reasonably priced tickets. Also, check the deals on Renfe's home page! Renfe is the most famous Spanish train company, and every month they announce special discounts on their website's home.
2. Visit a rural house in Northern Spain
If you want to experience the winter like a local, you can take a week in a rural house in regions like Cantabria, Asturias, or Galicia. 
These regions in Spain are known for their cool weather and offer rural houses that allow you to live a while in nature. 
For example, I recommend renting a car and taking a rural home closer to Oviedo, in Asturias. Besides chilling next to a chimney with hot cocoa, you have a bigger city a few minutes away and breathtaking nature in less than 2 hours. 
You can visit places like the impressive Covadongas lakes (1 hour away by car from Oviedo) or the National Park Picos de Europa (2h30 away from Oviedo). 
Check out more details here!
🏔️If you rent a rural house in Northern Spain in December, you will have a beautiful view of snowy mountains. It's also very rainy in that season, so this plan is meant for people who genuinely wish to relax, stay in, and take some moments to explore adventure. 
3. Go ice skating during winter in Spain
In December, Spain turns into a Christmas movie. Even though there is not much of a culture for ice skating, almost all the cities and towns have their own Christmas market with an ice skating ring. 
Once you arrive in your city of choice in December, check out if they have their ice skating ring! This activity is nice to enjoy with family and friends during the holiday season. 
I will list you some ice skating rings in Madrid and Barcelona:
Madrid
Plaza de España
Crystal Gallery in Cibeles Palace
Ice sakting ring in Matadero
Ice skating ring in Plaza Colon
Barcelona
Ice skating ring Tibidabo
Ice skating ring in Illa Diagonal
Ice skating ring in Finestrelles Shopping Centre
Ice skating ring in Gel del FC Barcelona
4. Visit as many Christmas markets as possible!
This is a must, if you visit Spain in December one of the cutest things to do is to go to a Christmas market!
The Christmas marketing in Spain is pretty varied, so that you will find stalls with different products. 
From international food to figurines for your Christmas Nativity, you will enjoy walking around the Christmas markets in Spain. Besides, the vibe in each one of them is just magical.
I will link you to the feature article on the best Christmas markets in Spain
5. Eat churros con chocolate at San Ginés in Madrid
San Ginés is one of Madrid's most traditional places to get churros with chocolate. So, if you visit Spain in December, you must get some churros for the cold weather. 
Churros are a traditional Spanish breakfast and snack, so you can choose where to eat them. However, most tourists go to the store during the afternoon. So, get up early, walk the streets of Madrid with a nice morning breeze and tranquility, and get to San Ginés with no queue.
6. Be aware of Spain's national holidays, prices go up!
December 6th and 8th are national holidays in Spain, people travel, and prices move up! So, if you plan to visit the country during those days, book everything ahead!
7. Choose your days wisely to avoid tourist crowds
Traveling in December is unique because it has a Christmas vibe that will make you feel like you are in a movie. Still, you must know that if you want to avoid big crowds, then there are four key dates you have to avoid: the 6th, 8th, 24th, and 31st of December.
All of these days are holidays; people like to go to stores and find the last sales, use their time to stroll around the city, and more. If you are okay with traveling around those dates, plan your days wisely to avoid huge masses of people. 
8. Celebrate New Year's Eve in Plaza del Sol, but go 2 hours earlier!
Now, if you are okay with big crowds, go to Plaza del Sol to enjoy the New Year's countdown. If you are a first-time Madrid traveler, I recommend this December activity during your trip. 
Go 2-3 hours earlier! Everyone wants to go to Sol, so take your time to arrive early. Don't forget to take your 12 grapes and cava to toast the coming new year.
9. Enjoy the Christmas city lights from a rooftop!
This is something you will love! A cute, movie-like activity in Spain in December is to enjoy the Christmas lights of the city from a rooftop. This is next-level romantic!
Just imagine going up the Hotel RUI (Madrid) right in front of Plaza de España and seeing all the Gran Vía light up in front of your eyes
10. Always be aware of your personal belongings
December is a shopping month, and everyone knows it, especially pickpockets!
Whenever you walk through a crowded street or ride a full metro, put your belongings where you can see them. For example, if you are wearing a backpack, move it to your chest to have a complete vision of it.
Cities in Spain to visit in December
Best for Christmas Experiences in Spain
1. Madrid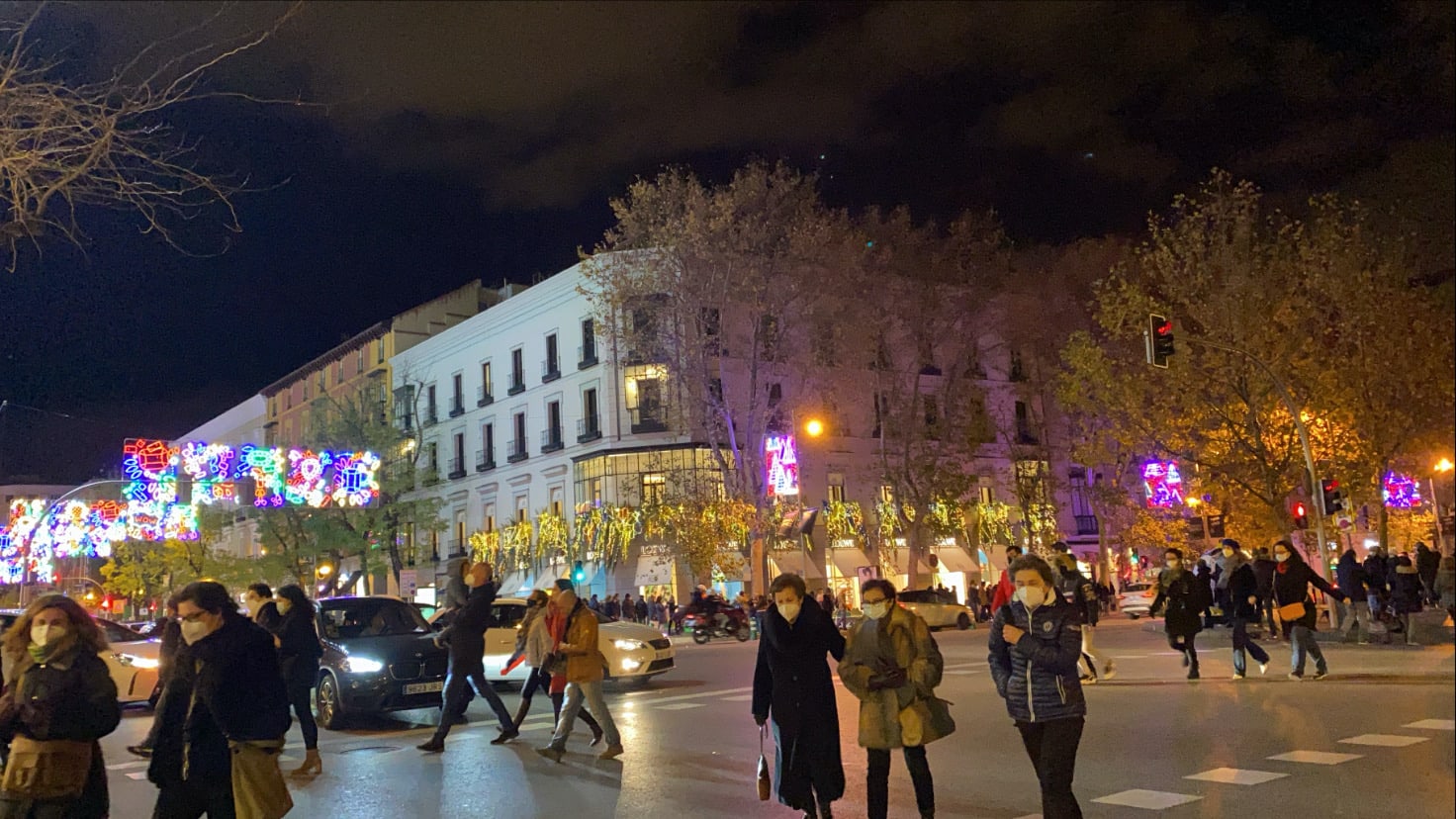 If you plan on traveling to Spain in December, Madrid is a beautiful place to start. Your flight will probably land in Madrid, and your adventure starts from there.
What to do in Madrid in December?
During December, Madrid turns into a magical Christmas movie. There are plenty of Christmas markets, the streets are light, and people are more joyful. 
If you are a first-time traveler, you must see plenty of stuff, like the Museo del Prado, the Retiro Park, and Cibeles. But being here in December means you can do almost all with cute Christmas decorations. 
Ride on the Naviluz (Christmas Lights Bus) that will take you through all the streets in Madrid that have been lit with the Christmas spirit.
Check out tickets right here!
If you want another night experience with lights, then visit the "Naturaleza Encendida" in the Botanic Garden of Madrid. This activity is especially perfect if you are traveling with children. 
Check out the schedule here!
Other must-visit landmarks are Plaza de España and Plaza Mayor, which put up charming Christmas markets and decorations to enjoy with family and friends. The market in Plaza Mayor is one of the most famous because of the multiple stalls with traditional Christmas nativities scenes. This is super close to the San Miguel Market and the street of Cava Baja where you can enjoy tapas and drinks.
Nuevos Ministerios hosts another fantastic, movie-like market, where you will find an extensive gastronomic offer.  
✨Unique December adventure in Madrid ✨
Finally, if you are up for an adventure, rent a car and drive to Navacerrada, a beautiful town in the sierras of Madrid, where you will feel like you are in a Hallmark movie. A nice plan would be to go early on a hike to the Mirador de las Canchas (lookout) and finish with lunch at La Raclette. 
For more activities in Madrid:
2. Barcelona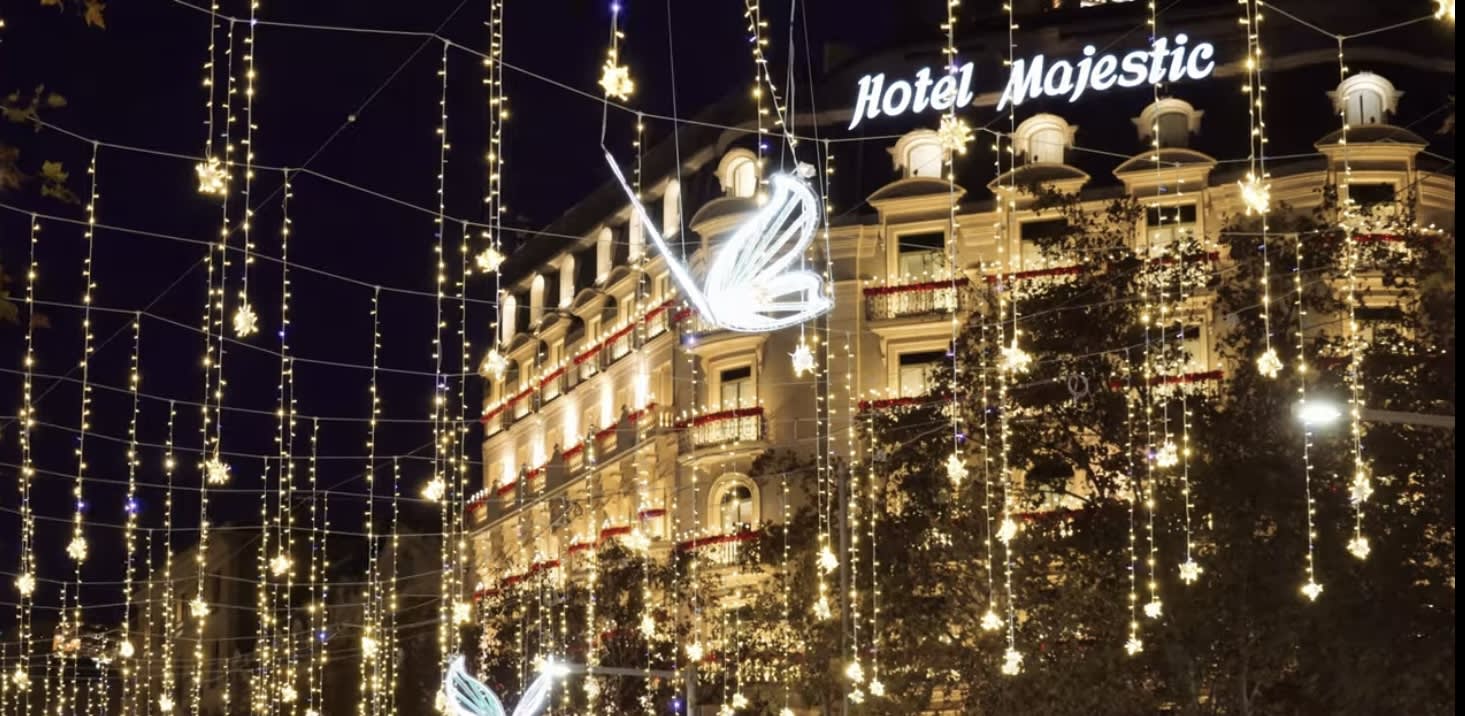 Don't get confused because Barcelona is a coastal city in Spain; it can also get pretty chilly in the winter. Temperatures in Barcelona can range between 15° / 9°, so you will have to carry your big coats with you. 
Just like in Madrid, Barcelona has plenty of landmarks and places you must visit and re-visit if this is not your first time traveling. 
But there are special December activities that you won't want to miss! So, besides visiting the stunning Casa Batllò and Casa Milà, you embrace the street of Passeig de Gràcia itself! The Christmas light decoration in the famous shopping street of Barcelona is breathtaking. 
Barcelona is another city with a Christmas bus that will take you around to enjoy all the streets lit up. Besides, the bus informs you about Catalan traditions and holiday celebrations.
Barcelona Christmas lights bus, right here!
Barcelona also has stunning Christmas markets, such as the Fira de Llúcia, Feria de Reyes de la Gran Vía, and the Feria de la Sagrada Familia, right in front of Gaudí's majestic church. 
In these markets, you can get a Christmas tree to celebrate de holidays, traditional nativity scenes, and lots of hot chocolate and traditional panettone to warm up in the chilly weather.
Another amazing thing to do in Barcelona in December is visit the Sant Pau Art Nouveau Site (declared World Heritage by UNESCO). During Christmas, this historic place hosts the Universe of the Light or Els llums de Sant Pau, which will take us into the mysteries of space: galaxies, stars, and planets.
Besides going to the most important landmarks in Barcelona (which are listed in all the articles below), a great activity to do in December is visiting Baqueira Beret. This is the place to go skiing in January and February, but it is also a beautiful town to explore in December. 
Check out other towns:
Baqueira es perfect for hiking and enjoying the hot springs of Termas Baronias de Les. The perfect place for a more cozy Christmas experience in Spain. 
For more activities in Barcelona:
3. Oviedo 
Another beautiful place to spend December in Spain for a Christmas vibe is Oviedo. The capital of Asturias is a beautiful northern city with weather that will make you feel like Christmas. 
As I mentioned in tip #2, a nice December activity in Spain is renting a rural house that will retreat you from the big cities and immerse you in nature. 
Oviedo offers a beautiful old town to enjoy tapas, wine, and local gastronomy. Most of all, it has three famous Christmas markets for you to explore, these are in the streetsof Mendizábal, Eusebio González Abascal, and the traditional Christmas market of Plaza de la Catedral. 
If you stay in Oviedo or any village nearby, I recommend you rent a car and drive to Covadonga Lakes or the National Park Picos de Europa. You won't regret driving to this stunning gift of nature, mainly because you will be able to enjoy the sight of snowy mountains. 
The weather in this city is usually between 6° and 12° in December, so you will have to take winter outfits.
Best for Warm Winter in Spain
4. Sevilla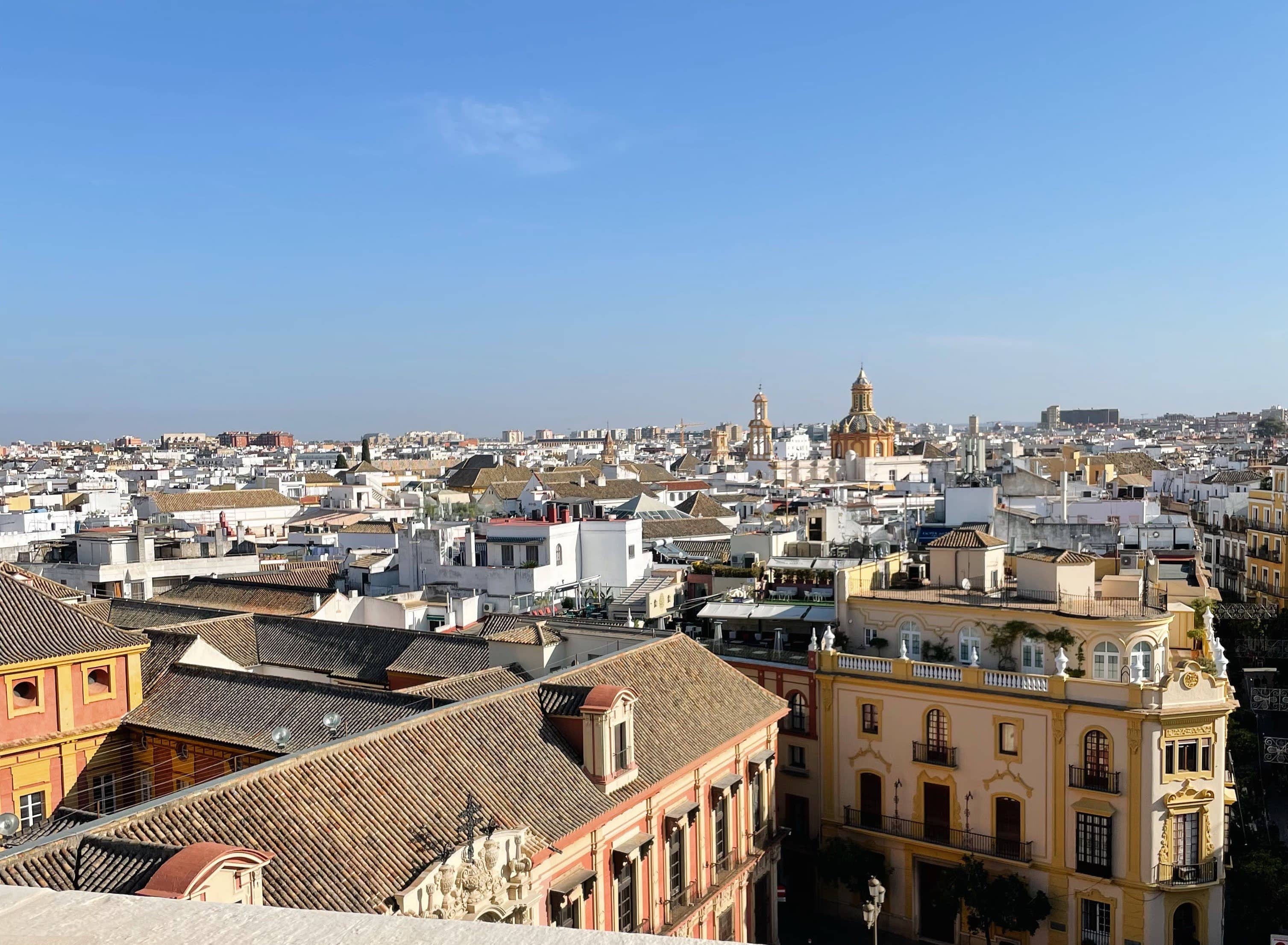 Sevilla is one of the most popular cities in Spain; it has a Southern charm that everybody loves and attracts plenty of tourists all year round. 
If you ask for my opinion, I think December is one of the best months to visit the city because even with some moderately chilly weather, the days are beautifully sunny and bright. 
Seville has many historical landmarks that must be on your to-do list at any time of the year. 
The Real Alcázar, Plaza de España, the Setas, the Torre de Oro, and the great Cathedral of Seville with its stunning Giralda are just a few of the places you must visit once you get to the capital of Andalusia.
To read more about the top places to visit, check out our featured articles on the city:
Now, December is Christmas time! So, you must make time in your agenda for the cute holiday activities that make a difference in your trip. 
So! For Seville in December, you must visit all the Christmas markets in the city. You will find various products, from food to traditional nativity scenes; there are three cute markets in Seville that you must visit during your trip.
🎄 Christmas markets in Seville:
Mercado Navideño de Artesanía y Navidad - Alameda de Hércules
Mercadillo Navideño de Nervión - Avenida Luis Morales
Mercadillo Navideño de las Setas - Plaza de la Encarnación
On top of that, every Christmas in Seville, you will find the traditional 'Ruta de Belenes,' which is the tour through all the handmade Nativity scenes. I remember that back in 2021, when I visited Seville in December, there was a market with exclusively nativity scenes right next to the Cathedral.
🌟Nativity scenes in Seville:
Belén at Corte Inglés of Nervión
Belén of 3,000 stars by CaixaBank - Sreet Sierpes
Belén at the Altamira Palace
Belén of the Arquillo City Council - Plaza Nueva
Finally, when you visit Seville in December, the city night will be lit up by the decorative Christmas light around the city. 
Take your time to walk the city at night while enjoying churros con chocolate. Take some coats with you because the weather in Seville during December is between 17 - 8 degrees.
More on Seville:
5. Islas Canarias
The Canary Islands is another great place to spend Christmas if you plan to lay on the beach and avoid -0 temperatures. The location of this archipelago creates a privileged space that most people envy when the temperatures get too low. 
If you visit the Canary Islands in December, there is plenty to do, plus it is a low season, and you will find better deals. The general temperature in the Canary Islands is between 21 and 16 degrees, which are acceptable numbers to experience days on the beach. 
BUT! Attention here! The Canary Islands are a great place to visit in December or the holiday season, only if you want to connect with nature and enjoy small cities. 
The most popular islands in the archipelago are Tenerife and Gran Canaria, although the island of Lanzarote also offers amazing views and activities. 
So, what should you do in the Canary Islands during December? Well, the best thing you can do is enjoy the beaches, their natural parks, and their cute small villages. 
For example, if you visit Tenerife, rent a car, and take a day trip to La Laguna, you can walk through the colonial town square, with its colorful buildings and delicious Canary food. 
One activity that I love that you can do in Tenerife is star gazing! This island is home to the Starlight Reservoir; if you visit Tenerife from December 14 to December 15, you will have the opportunity to experience Geminidas. This is a spectacular meteor shower that can be fully enjoyed from the unpolluted skies of Tenerife.  
Another thing you should do while visiting the Canary Islands in December is climb Mount Teide in Tenerefi and do some island hopping to Gran Canaria and Lanzarote with the ferries. 
If you would rather travel by plane, check out the tickets in Canaryfly.
Additionally, as with any other place in Sain during December, you must visit the Christmas markets. Some of the most popular are the mercadillo in Alameda del Duque de Santa Elena; and the Gastromercadillo in Plaza España, both in Tenerife. 
Finally, visit the small town of La Orotava and tour the Nativity Scenes exhibition. 
Weather
This article has suggested activities in cities in different regions of Spain, each with different temperatures. For instance, planning your outfits will be challenging if you plan to go to Asturias and the Canary Islands.
I have created a chart with the approximate temperature that you can experience in Spain if you visit in December. Remember that all of these are approximations, and don't forget to check the weather map when you are closer to the day of travel.
---
| Region | Minimum Temperature (°C) | Maximum Temperature (°C) |
| --- | --- | --- |
| Andalusia | 8°C | 19°C |
| Aragon | 2°C | 10°C |
| Asturias | 5°C | 13°C |
| Balearic Islands | 9°C | 16°C |
| Basque Country | 5°C | 14°C |
| Canary Islands | 19°C | 24°C |
| Cantabria | 5°C | 12°C |
| Castilla-La Mancha | 2°C | 9°C |
| Castilla y León | 1°C | 9°C |
| Catalonia | 5°C | 15°C |
| Extremadura | 5°C | 14°C |
| Galicia | 5°C | 12°C |
| Madrid | 2°C | 9°C |
| Murcia | 8°C | 17°C |
| Navarra | 3°C | 10°C |
| La Rioja | 1°C | 9°C |
| Valencian Community | 6°C | 19°C |
---
Spain has so much to offer that choosing a place to go is difficult. This article suggests five cities where you can make the best of your December and holidays.
If you have any questions regarding what to do in Spain in December, don't think twice and leave us a comment! We love reading you! And if you have already visited any of these places in December, tell us about it and help other fellow travelers with your experience.