Spain in January: 9 Travel Tips, Activities & Weather
June 7, 2023
Updated:

June 12, 2023
Published: June 7, 2023
Not so many people visit Spain in January, and I understand why. Days are shorter, the temperature is lower, and the city seems to have less life. But there is something not everybody knows.
The truth is that even though January seems to have shitty weather, the sun does come out! It's freezing (at least in Madrid), but you can perfectly walk for some minutes under clear skies.
The good thing about spending January in Spain is that it is less rainy than in November and December. These conditions will vary in every city, but it's the case in Madrid and Barcelona.
In this article, you will get nine travel tips, activities, and the weather for your visit to Spain during January.
Travel tips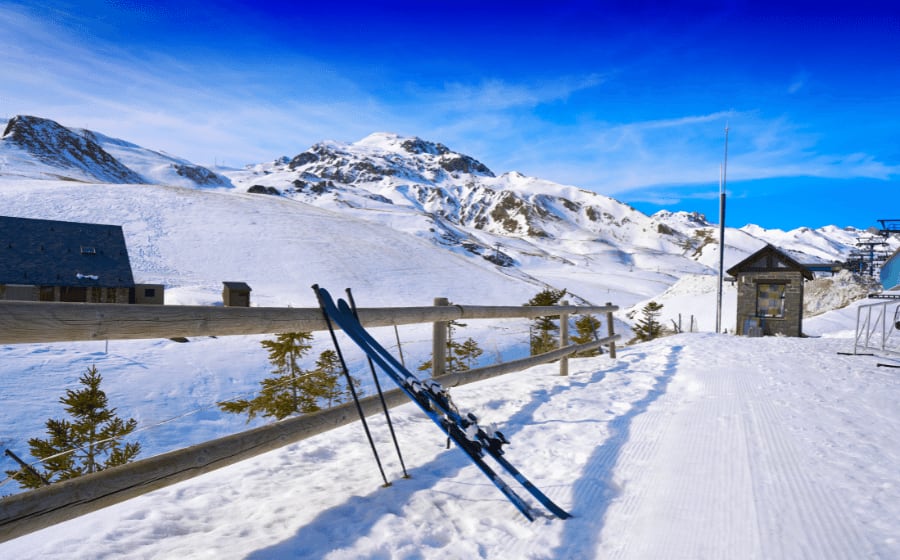 1. Bring winter coats during your trip!
January is one or two degrees colder than December, so bring your winter coats. The exception to this rule are cities in the southern tip of the country, such as Malaga, Cadiz, or Almeria. Still, checking weather sites to confirm the exact temperatures before your trip is best. 
For example, the beautiful city of Granada in Andalusia is one of the warmest places in spring, summer, and even autumn. But in January you will gace temperatures between 12 and 2 degrees. Still, the sun will come out, and it is a good month to avoid crowds of tourists. 
2. January is great for price deals!
January is one of the lowest seasons for tourism, and prices are usually lower. Take your time to look for good deals around the country.
I recommend Madrid in January, the city is less full than in December, and if you are lucky, you get many days of sun to enjoy during the winter. 
3. Book your ski holidays ahead of time!
Spain is a famous ski destination for Spanish people. Some people enjoy the Alps, others the French Pyrenees, but the Spanish love their own mountains. 
And everything ends up fully booked every season. So, if you want to go skiing in Spain, you must decide and book at least 2 months in advance. I will specify where to go skiing in the next section!
4. Celebrate New Year's Eve!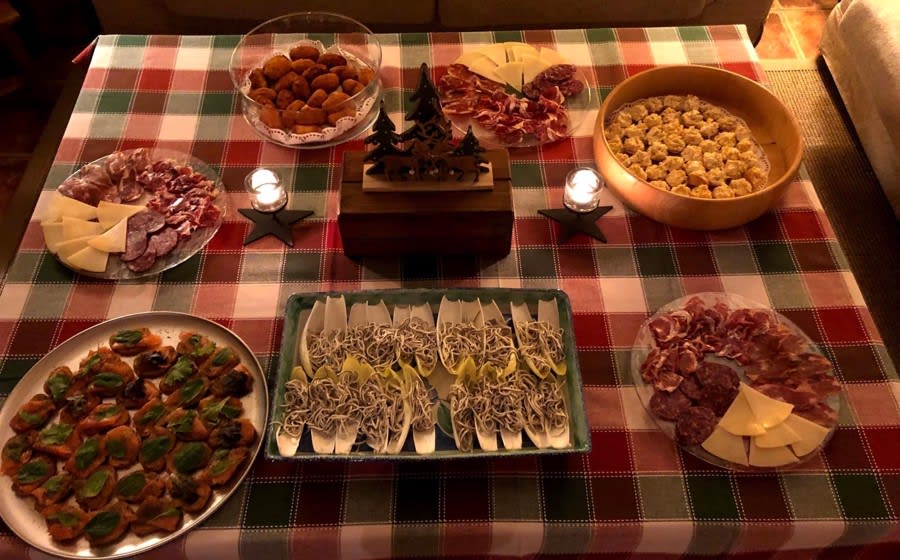 This activity fits for December and January, but let's highlight it during the year's first month. Spain has different traditions during New Year's Eve that you must try out when celebrating in the country. 
One of them is partying until dawn on the 1 of January and getting churros con chocolate as breakfast. There are plenty of great parties in Madrid and Barcelona, you just have to get your tickets in time!
More on New Year's traditions in Spain:
5. Celebrate Three King's Day in January
Three Kings Day, or "Día de los Reyes Magos," is one of the most important celebrations in Spain (even more than Christmas!). Kids wait expectantly for the day of the Three Kings, as it is the day when they receive their Christmas gifts.
Three Kings Day is celebrated everywhere in Spain, and it hosts a traditional parade and the delicious "Roscón de Reyes," or King's cake. 
The parade will change in each city; Madrid, for example, hosts a big parade that covers 2,5 km until Cibeles Fountain. The parade, also known as "Cabalgata de Reyes," covers 4,7 km in Barcelona. Both include big, decorative floats in which the three Kings greet everyone waiting for them.
Learn more about Three Kings Day:
6. Do some last-minute visits to the Christmas markets
Christmas markets start by the end of November and stay open until the first days of January. If you visit Spain during the early days of the year's first month, you could go to some markets. 
Christmas markets in Madrid are magical! They offer great gastronomic experiences and cute gift stalls where you can find last-minute gifts. 
Take a look at our articles of Christmas markets and what to do in Spain in December:
7. Eat more churros con chocolate in Madrid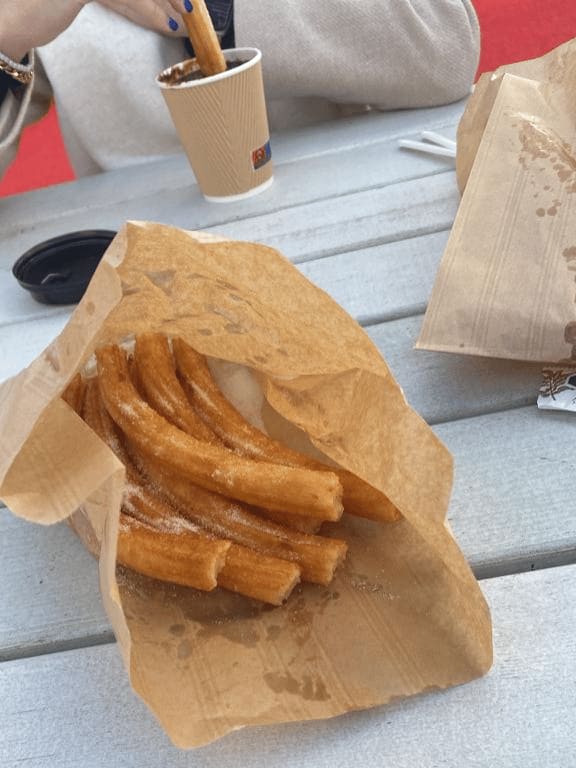 Always, in any season, in any month of the year, you have to eat churros con chocolate in San Ginés (Madrid). This classic churro store is open 24/7, so you can even get them during summer nights when the temperature has cooled. 
Get the classic pack of chocolate with 6 churros which are more than enough for one person.
8. Experience La Tamborrada in San Seabastián
La Tamborrada in San Sebastián is celebrated on January 20th in the city's old town.
San Sebastián is one of the most beautiful cities in the Basque Country. The vibe is quaint, with a mix of French and Basque architecture; the city will charm you as soon as you step foot. 
La, Tamborrada celebrates San Sebastián's homonymous saint patron, and it consists of a parade of drummers in Napoleonic uniforms. 
9. Visit all the museums possible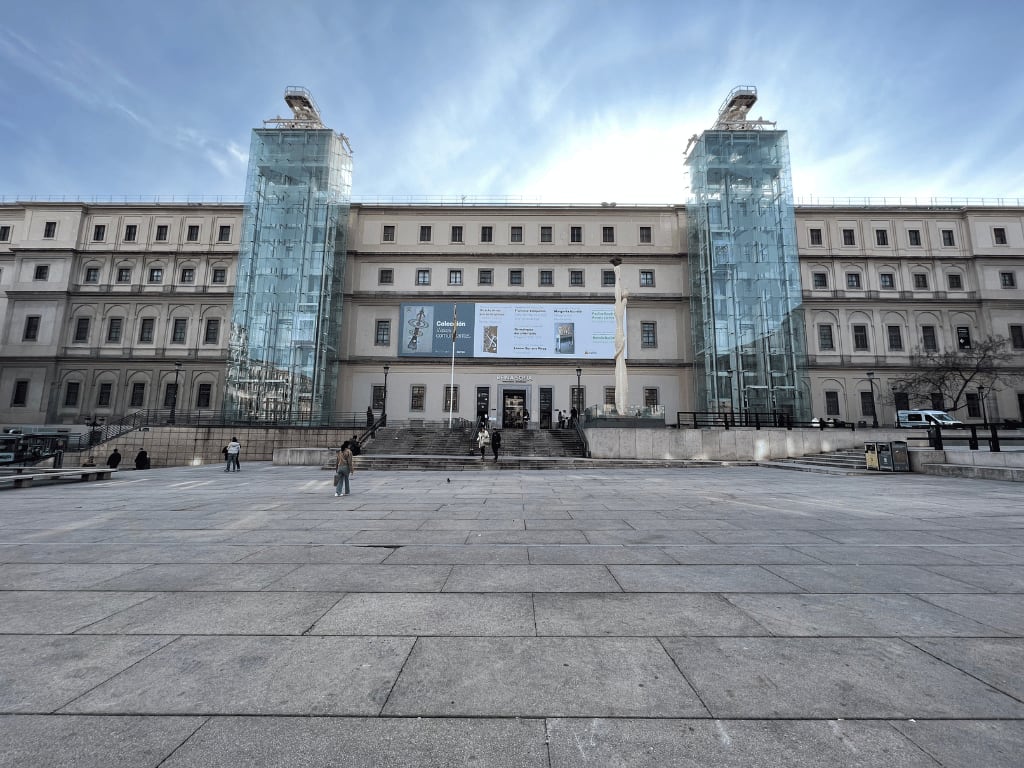 January is cold. No doubt about it. So take advantage of the weather and visit all the museums available! If you only come to Madrid, use the weather on your side and visit the internationally recognized Prado Museum, the Reina Sofia, the Thyssen-Bornemisza, and the Sorolla Museum. 
You could do the same in Barcelona and Sevilla, where there are excellent museums and palaces to explore during chilly moments. My favorite in Barcelona is the MOCO Museum; it opened a few years ago and has limited but impressive collections of modern art pieces. For example, it is home to one of Dali's sculptures, 'Woman Aflame.' 
Here is a list of museums that you can visit:
Activities
As mentioned, January is a month of great travel deals because people have just been on holiday, and tourism has declined. January is a great month to visit cities in Andalusia if you are traveling on a budget; cities like Granada, Cordoba, and Sevilla have non-scorching weather and still get a lot of sunlight. 
And, if you are a first-timer in Spain, you must visit Madrid and Barcelone.
1. Madrid
Besides visiting the previous museums and all the traditional landmarks in Madrid, there is one thing you can't miss during January: The Three Kings Parade. 
The Three Kings Parade, or 'Cabalgata de los Reyes Magos,' is a tradition that happens all over Spain. It is performed on January 5th, the eve of Three Kings Day.
The parade is a joyful experience that will make you feel like a child again; you can catch it from different streets in the capital, and after seeing it, you need to go for some churros y chocolate. My top recommendations are San Ginés, La Antigua Churreria, and Valor.
On January 6th, you must go to the closest bakery and get yourself a 'Roscón de Reyes.' A donut-shaped bread with glazed fruits and cream. 
✨A unique experience in Madrid✨
Nowadays, with climate change affecting the snowy season, you can only ski towards the end of January. Still, Madrid in January has a weather of 10-3 degrees, and it drops even more in the mountains!
Still, I recommend visiting the Puerto de Navacerrada to enjoy a snowy view. Once there, you can have hot cocoa and traditional Spanish food in restaurants like La Maya. 
For more activities in Madrid:
2. Barcelona
Barcelona's weather is just a few degrees warmer than Madrid, with 15 - 9 degrees. You must wear your winter coat and resort to churros and hot chocolate to keep you warm.
Like in Madrid, Barcelona hosts a pretty impressive 'Three Kings Parade.' In Barcelona, the Three Wise Men come by boat and then start their parade until the  Font Màgica de Montjuïc (a must-visit alongside the National Museum of Art of Catalonia).  
The parade takes place on January 5th and the celebration on the 6th. 
Another place you can visit in Barcelona during January is the FC Barcelona stadium, Camp Nou. There are fewer tourists, and you will have a place for yourself!
Suppose you want to immerse in the traditional Catalan folklore. In that case, you can attend the Festa Major de Sant Antoni from January 13th to 29th, with the parade Trees Tombs being the most iconic in the neighborhood. This festa celebrates Sant Antoni, the Saint patron of Animals. On January 21st, the Trees Tombs parade shows traditional customs and vintage carriages. 
😋 Want traditional food? Taste the calçots!! These are onions cooked on the grill and soaked in salsa.
🇦🇩Want a day trip? Just 2 hours away by car, you can visit the country of Andorra, hidden away in the beautiful snowy Pyrenees. 
Finally, go shopping! January has plenty of deals to choose from before the season changes
3. Cordoba
Cordoba is a stunning southern city, perfect for visiting in January. The most famous months for Cordoba are April, May, and June, so January will be a great opportunity if you are on a budget. 
Cordoba also hosts its own Three Kings Parade, but instead of the famous 'roscón,' you should try their traditional Pástel Cordobés, filled with squash jam.
While in Cordoba, you can't miss the Mosque-Cathedral, the Alcazar of the Catholic Kings, the Roman Bridge, and the Viana Palace with the famous patios cordobeses and beautiful open patios decorated with flowers. 
Two days are enough for Cordoba, and you can move on to the next charming city of Granada!
4. Granada
Granada is another beautiful southern city to visit in January, especially because of its numerous festivals and special dates. 
So, if you want to experience the folklore of Granada, visit the city during 'Toma Day.' On January 2nd, people from Granada celebrate the day that the Catholic Kinsg retook the city from the Muslims. You will enjoy plenty of parades and traditional food!
Once again, in Granada, you can also experience the Three Kings Parade, and on the 17th, the day of Saint Antony (just like in Barcelona). This saint is venerated for the protection of animals; people create bonfires where they would cook the meat.
😋Want traditional food? Try the Cuchara de Carmela!
🏔️Want snowy scenery? Visit the Sierra Nevada, there is still not much snow in January to do some great skiing, but you can enjoy the gorgeous views from the mountain. 
Of course, you must see all the important landmarks and hot spots in Granada, such as the Alhambra, the lookout of San Nicolas, and the neighborhoods of Albaicin and Sacromonte. 
5. Ourense
O Concello reabre ao público as termas públicas e gratuítas do Muiño e da Chavasqueira.
📰 https://t.co/W1halmS3tU pic.twitter.com/nND5KUCJCd

— Concello de Ourense (@OurenseConcello) April 1, 2023
This might come as a surprise for some people, but Spain also has a city with plenty of hot springs to enjoy during the winter. You can find them in Ourense (Galicia). Galicia is another great place to visit in Spain in January; you can tour Santiago de Compostela, Vigo, and then cross to Ourense.        
If you don't want to go to Iceland or Japan, you can take a plane, train, or car and visit the city of Ourense, located in the south of the province. This city is famous for its seven circuits of thermal waters, which are mostly free. 
The hot springs are mainly known as "Termas de Ourense" and offer plenty of bodily benefits, such as detoxifying your skin. 
🚰 I will leave you a link to all the information: Termas de Ourense 
Weather
This article has suggested activities in cities in different regions of Spain. Granada and Cordoba are the only two that might have warmer days with the help of the sun, but you will still need to wear a winter coat.
If you are a first-timer, I would recommend Madrid, Barcelona, and the hot springs of Ourense as different activities to enjoy during the cold weather.
I have created a chart with the approximate temperature that you can experience in Spain if you visit in January.
Remember that all of these are approximations, and don't forget to check the weather map when you are closer to the day of travel.
---
| Autonomous Region | Minimum Temperature (°C) | Maximum Temperature (°C) |
| --- | --- | --- |
| Andalusia | 6°C | 17°C |
| Aragon | -3°C | 10°C |
| Asturias | 5°C | 12°C |
| Balearic Islands | 6°C | 15°C |
| Basque Country | 5°C | 11°C |
| Canary Islands | 14°C | 21°C |
| Cantabria | 5°C | 12°C |
| Castile and León | -3°C | 9°C |
| Castilla-La Mancha | 0°C | 12°C |
| Catalonia | 4°C | 13°C |
| Extremadura | 3°C | 14°C |
| Galicia | 6°C | 12°C |
| La Rioja | 0°C | 9°C |
| Madrid | 1°C | 9°C |
| Murcia | 6°C | 17°C |
| Navarre | -1°C | 8°C |
| Valencian Community | 6°C | 16°C |
---
I think this article has already given you a complete trip guide of what to do in Spain in January. You have more than enough content to organize your next trip to Spain in winter.
My last few pieces of advice would be to always check the weather of each city you are visiting before traveling and enjoy every day of sun you get during your trip in January.
If you have any other ideas, let us know! We love reading you!