Spain in November: 9 Travel Tips, Activities & Weather
June 22, 2023
Updated:

July 3, 2023
Published: June 22, 2023
Spain in November is a magical time to travel anywhere in the country! 
If you want to experience the beauty of autumn, Spain is your place. Remember all those pictures of orange autumn leaves that you saw in Pinterest, well if you come in November you will get to see that beauty!
November is the months of best sales, pre-Christmas vibes and cozy places.
This article will give you nine travel tips before beginning your adventure, plenty of activities in five different cities, and weather details to prepare you for Spain in November. 
Ready to plan your trip? Let's go!
TRAVEL TIPS
1. Take Advantage of the Low Season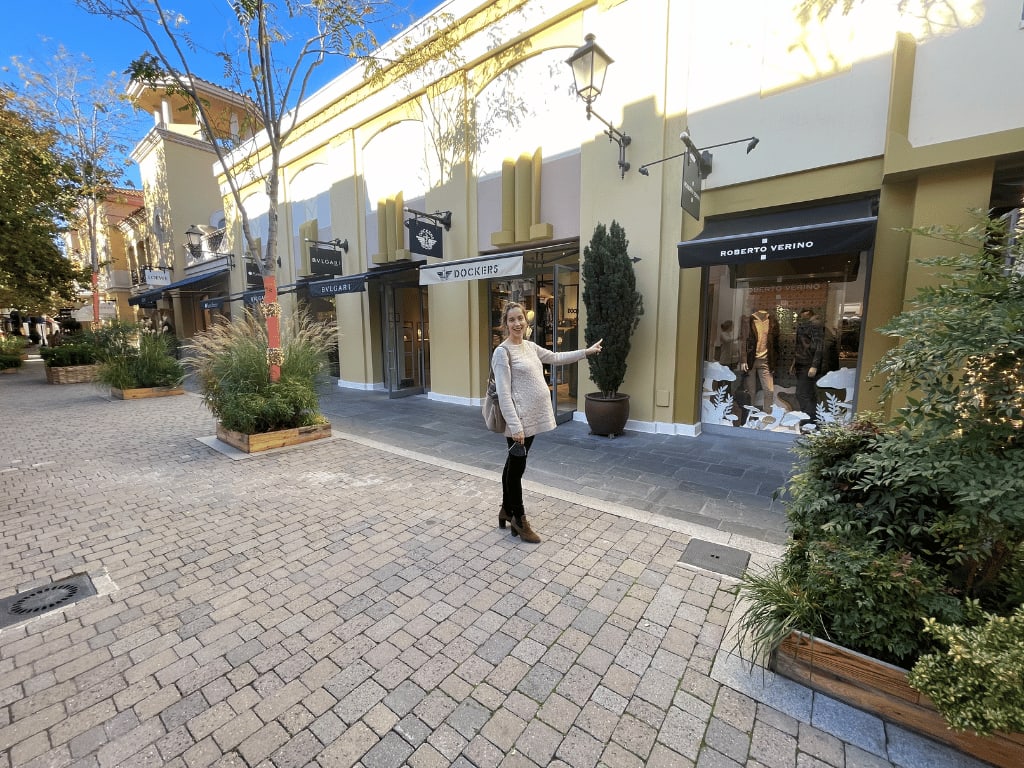 Visiting Spain in November has many advantages, as you can take advantage of the low season.
Firstly, you will have the possibility to benefit from the winter offers of the airlines, and you will have more variety of destinations to choose from.
Hotels in low seasons tend to launch weekend offers and discounts. One of the best things is that cities, towns, and villages are less crowded and, as a result, less stressed. You can visit museums, monuments, and restaurants without queuing up.
In the low season, temperatures are more pleasant, allowing for more leisurely sightseeing. 
2.  Experience Halloween in Spain
The best way to celebrate this traditional holiday is with friends and family.
 It is one of the most popular traditions in the world. Kids in Spain dress up in costumes; the most frequent are skeletons, zombies, ghosts, and witches… In this aspect, Halloween in Spain is similar to Halloween in the United States. 
On November 1, families celebrate the saints and the deceased. It is common for families to visit cemeteries and prepare a sweet called "Huesos de Santo" (Saint's Bones) to take to the cemetery.
Huesos de Santo is a typical Spanish dessert and characteristic of celebrating All Souls' Day and dates close to All Saints' Day, along with Buñuelos de Viento and Tres amigas chocolates.
This sweet skeleton replica is made with almonds, sugar, and eggs. The preparation of the Huesos de Santo takes a couple of days. The traditional Huesos de Santo is filled with egg yolk cream.
You should try them; they are my favorites!
Read more about Halloween in Spain:
3. The Perfect time to do the Camino de Santiago
The Camino de Santiago is a pilgrimage route done annually by millions of pilgrims over the centuries. It starts in France and finishes in Galicia, in Santiago de Compostela. 
Pilgrims walk in search of the tomb of the apostle Santiago, located in the Cathedral of Santiago de Compostela.
Along the way, pilgrims encounter hostels, churches, historical monuments, and rich local culture, all of which contribute to the unique experience of the Camino de Santiago.
In addition to the religious aspects, many walkers find the Camino as an opportunity for personal reflection and spiritual growth and give you a chance to meet people from different countries and cultures.
 November is considered a low-season month, which means there will be fewer pilgrims compared to the summer months, which can provide a sense of tranquility and a greater connection to nature and historical sites. 
However, you should be prepared for the colder and more variable weather conditions experienced in November. But November offers a unique perspective on the Camino de Santiago, one of the best months to do it.
4. Try the famous Cocido Madrileño (Spanish Stew)
There is no better time than winter to have a good stew, even more, if you do it in Spain.
The cocido is one of the most traditional stews in Spain. It consists of cooking ingredients such as legumes, vegetables, meats, and sausages in a pot, creating a nutritious dish to warm up.
The Fabada is made from fava beans from the farm and sausages such as chorizo, black pudding, and pork shoulder; this stew has become one of the hallmarks of Asturias.
The Marmitako is a typical dish of the Basque Country. It is mainly a tuna stew with potatoes, onion, bell pepper, and tomato. In some places, it is served hot in a clay pot.
The Potaje de vigilia is a typical dish of Spanish gastronomy, primarily associated with Easter and Lent. Potaje de vigilia is mainly made with legumes, such as chickpeas or lentils, and is combined with vegetables, such as spinach, chard, or peppers. Other ingredients can also be added, such as potatoes, cod. The recipe may vary according to the region.
These are just some typical Spanish stews, but here in Spain, we have a lot more that you should try. 
5. Take Excursions to Charming Villages in the Mountains
All over Spain, you will find beautiful villages in the mountains.
Here are 3 of my favorites:
Cangas de Onis, Asturias: Cangas de Onis is known as one of the most beautiful villages in Asturias. It is very close to the Picos de Europa and Covadonga. This attractive Asturian town comes alive in summer with tourists looking for adventure and outdoor activities and those making the trip to nearby Covadonga.
Unha, Lerida, Catalonia: This little village in the Aran Valley near Salardú, in the heart of the Lleida Pyrenees, is one of the villages that have best withstood the test of time, including its Romanesque church dedicated to Santa Eulalia.
 Alcalá del Júcar, Albacete, Castile La Mancha: It is in Albacete and is one of the most picturesque and preserved villages of Castilla-La Mancha, spread out on the slope of a canyon formed by the beautiful river. Its steep and narrow streets make it a very authentic village.
6. Experience the Christmas Lights Switch-On
Seeing the Christmas lights in Madrid is a tradition that you cannot miss. The lighting of lights will begin around November 24 in all Spanish cities. They are usually turned on around 19:00 because, at that time, it is already dark. 
The dates of the lighting of lights usually coincide with the weekend of Black Friday, which marks the beginning of the Christmas campaign from the commercial point of view.
7. Go to a Football Game in a Spanish Stadium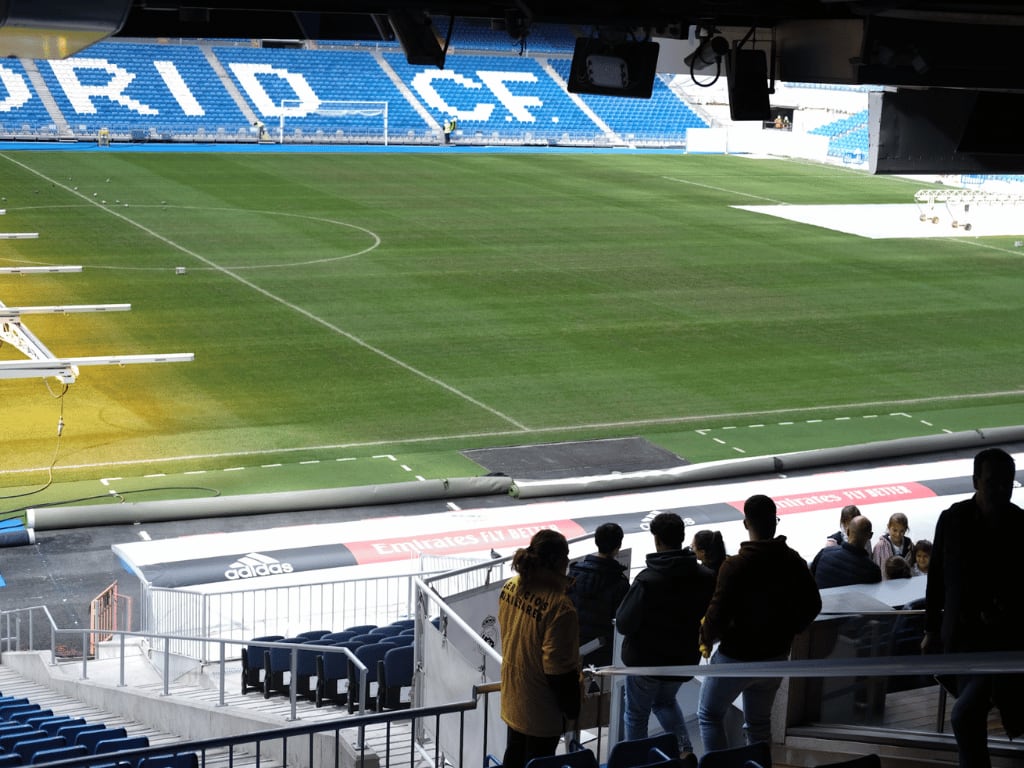 Spain is known for its passion for soccer and has a long tradition. Watching a soccer match on a field in Spain can be an exciting and energetic experience. Spanish fans are known for their enthusiasm, chanting, and unconditional support for their teams.
 We have the best soccer teams in Spain with Real Madrid, FC Barcelona, and Atletico de Madrid.
 "It's worth seeing the stadium; living an experience like this is amazing. You will be able to see all the players and the fans celebrating the goals. You will never forget this experience; I recommend it 100%" - Hugo, 23 years old, Madrid.
 8. Go Shopping on Black Friday
Black Friday is a day of deep discounts for consumers to bring forward their Christmas shopping. It originated in the United States and has been celebrated for decades in Spain.
The date of Black Friday always coincides with the fourth Friday of November, the day after Thanksgiving in the United States. Although some stores offer discounts for the whole week or a few days before and after.
9. Delight yourself in the most famous Food Markets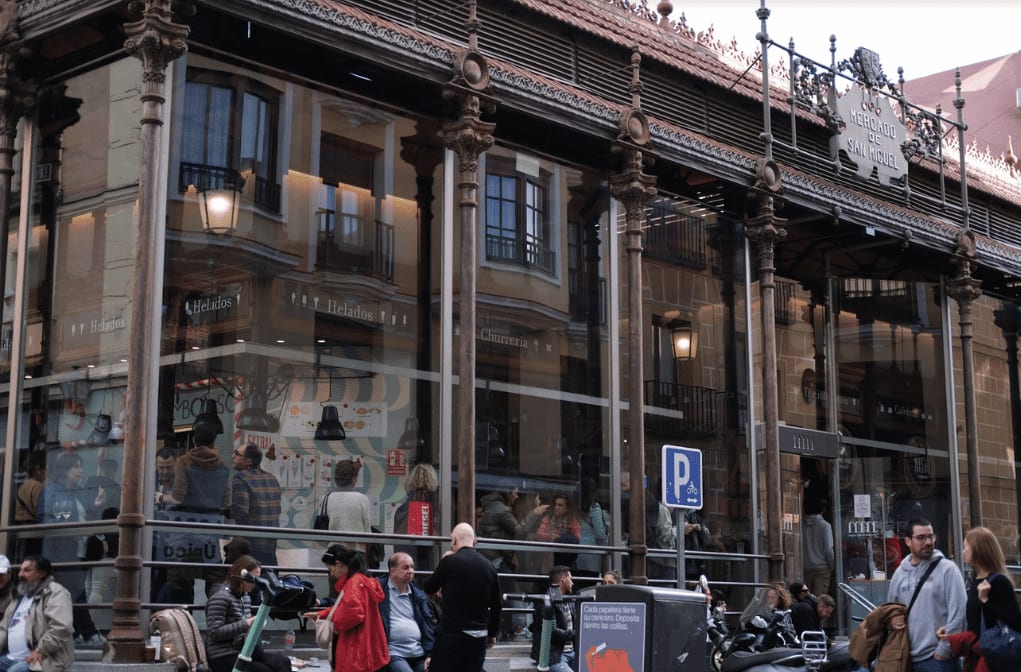 The San Miguel Market in Madrid has over 30 stalls where you will find fresh fish and seafood, sausages, wines, cakes, chocolates… You will like to try typical Spanish tapas, which you will find in the market, to taste the fresh oysters or other typical delicacies of Spanish gastronomy, such as patatas bravas or prawns with garlic.
The Central Market of Valencia is an art nouveau building with more than 1.000 stalls selling a wide variety of national products. Valencians often come here to buy fresh products, such as vegetables, legumes, fruit or meat, cheeses, and wines. Around the market, there are excellent restaurants and bars to enjoy typical Spanish products.
La Boqueria Market was founded in 1217 and is one of Barcelona's oldest and most extensive food markets. Here you will find more than 200 stalls selling fresh products such as meat, fruit and vegetables, cheeses. Due to its central location on La Rambla, it is common to see groups of tourists looking for Spanish delicacies.
ACTIVITIES
MADRID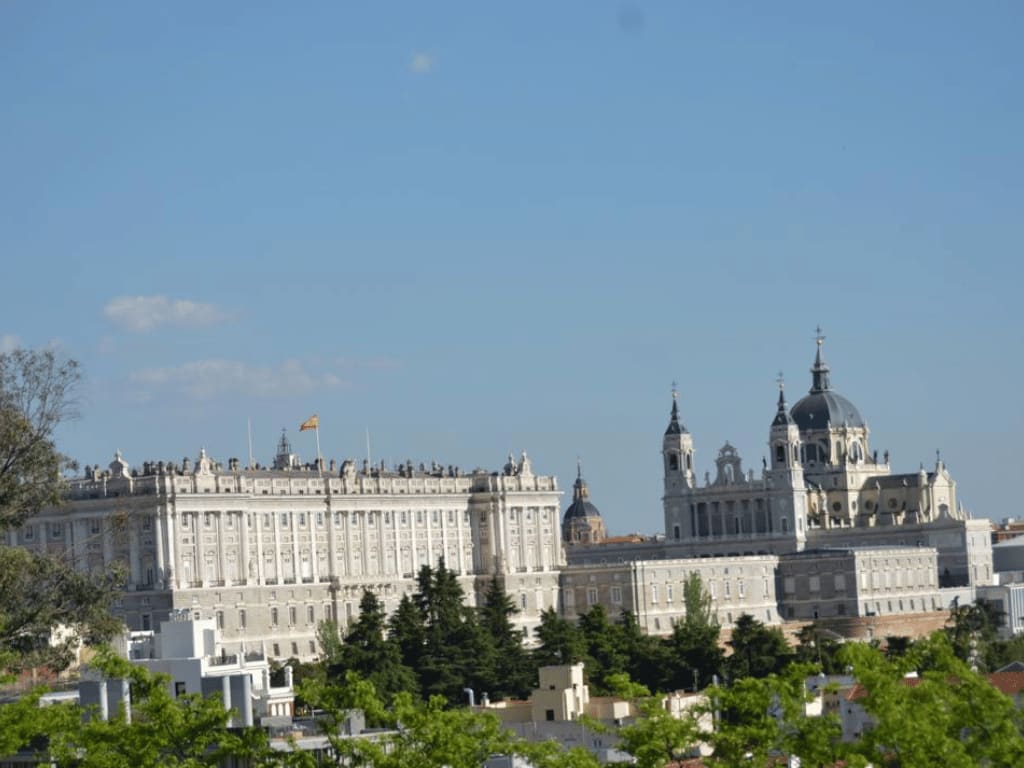 In Madrid, in November, you can find a lot of different fun activities; as I'm sure you already know the typical activities, I'm going to recommend one of my favorites, the religious festivity of La Almudena.
November 9 is celebrated as the Day of the Virgin of La Almudena, the patron saint of Madrid, and the Cathedral becomes a meeting place for thousands of believers who attend the Catholic rites. There is a procession with the image of La Almudena, which runs through the streets of Sal, Postas, Esparteros, Mayor, and Bailén of the city. 
You will be happy to attend this event as it allows you to connect with the local culture, history, and religiosity.
Don't miss eating the Corona de la Almudena, which is only eaten on these dates and is usually decorated with a figurine of the virgin. It is said that the original recipe, the Corona de la Almudena, dates back to 1978, when the bakers wanted to create a new dessert in honor of the virgin, similar to the traditional roscón de Reyes, which is eaten on the night of the three wise men.
If you want to visit the Cathedral, it also offers tours inside the temple to get to know everything about the Almudena Virgin. 
GIJÓN
Asturias is a natural paradise, and everyone knows that. Gijón is a city full of beautiful landscapes and good vibes. There are many reasons why visiting the most populated city of the Principality is worth it.
Gijón has one of the most beautiful beaches in the north, it has one of the best gastronomies in Spain, and it is a place where the rain cannot fight against the desire to have fun. If you still don't know where to travel in November, Gijón will exceed all your expectations.
You can stroll along San Lorenzo beach and admire the city from the sea. You will enjoy the views from the Elogio del Horizonte, where Chillida left his mark with a fascinating sculpture. I recommend you stroll through Cimadevilla, the oldest district in the city, and taste the local dishes.
TENERIFE
Tenerife is a fantastic destination in November, especially in the south. This area of Tenerife hides an ideal destination for the month of November, Los Cristianos, a municipality on the coast.  
This municipality is so unique due to its incredible beaches. And the fact is that this town in the municipality of Arona is famous on the island for its golden sand and privileged climate. But, besides the obvious, Los Cristianos is the perfect place to visit Tenerife's main points of interest.
What to do in Los Cristianos? In Los Cristianos, I recommend you to have a drink in the Las Veronicas area, where the party usually lasts until the wee hours of the morning. 
CÓRDOBA 
Cordoba is a perfect destination to visit in November as it has an average temperature of 18ºC. You can't miss attending one of the most iconic festivities, Cordoba's Fiesta de la Trasiega. Every year, at the beginning of November, during the Fiesta de la Trasiega, wine producers open their wineries to the public, offering tastings of their wines and explaining the winemaking process. 
They are guided tours organized to visit the vineyards, where visitors can learn about grape production and vineyard cultivation. 
In addition to tastings and tours, the Fiesta de la Trasiega features various cultural and leisure activities, such as music concerts, theatrical performances, art exhibitions, and gastronomic fairs. 
MÁLAGA
No doubt November is a low season month, which means that prices will be lower, and you can extend your vacation for the same money; sunny days and lots of places to visit.
The temperatures are perfect as there are, on average, between 22ºC and 15ºC, which means that you can swim at the beach during the first weeks of the month. 
You can participate in various events in November, visit museums or inland villages, and enjoy our gastronomy. You can play golf on some of the best golf courses on the Costa del Sol. 
Every month of the year, there are fairs and activities in Malaga, so it doesn't matter if you visit us in spring, summer, autumn, or winter; you will always find something to do.
WEATHER
Spain's weather in November varies from good to bad, depending on the region and city. November heralds the return of winter. The interior and the communities located in the north are rainy and cold. On the other hand, in Andalusia on the Mediterranean coast, Spain's weather in November is pleasant.
Below is a table with the maximum and minimum temperatures in each autonomous community of Spain. 
---
| Region | Minimum Temperatures (ºC) | Maximum Temperatures (ºC) | Minimum Temperatures (ºF) | Maximum Temperatures (ºF) |
| --- | --- | --- | --- | --- |
| Andalusia | 5ºC | 22ºC | 41ºF | 72ºF |
| Aragon | 7ºC | 18ºC | 45ºF | 64ºF |
| Asturias | 6ºC | 13ºC | 43ºF | 55ºF |
| Balearic Islands | 7ºC | 19ºC | 45ºF | 66ºF |
| Basque Country | 6ºC | 14ºC | 43ºF | 57ºF |
| Canary Islands | 15ºC | 25ºC | 59ºF | 77ºF |
| Cantabria | 4ºC | 15ºC | 39ºF | 59ºF |
| Castile and León | 3ºC | 14ºC | 37ºF | 57ºF |
| Castilla-La Mancha | 2ºC | 24ºC | 36ºF | 75ºF |
| Catalonia | 4ºC | 16ºC | 39ºF | 61ºF |
| Extremadura | 8ºC | 17ºC | 46ºF | 63ºF |
| Galicia | 10ºC | 15ºC | 50ºF | 59ºF |
| Madrid | 4ºC | 17ºC | 39ºF | 63ºF |
| Murcia | 6ºC | 18ºC | 43ºF | 64ºF |
| Navarre | 4ºC | 16ºC | 39ºF | 61ºF |
| La Rioja | 5ºC | 14ºC | 41ºF | 57ºF |
| Valencia | 4ºC | 21ºC | 39ºF | 70ºF |
---
Spain has so much to offer that choosing a place to go is difficult. This article suggests five cities where you can make the best of your November.
If you have any questions regarding what to do in Spain in November, don't think twice and leave us a comment! We love reading you! And if you have already visited any of these places, tell us about it and help other fellow travelers with your experience.