10 Interesting Facts About Spain's Lakes (before you visit!)
December 20, 2022
Updated:

January 23, 2023
Published: December 20, 2022
The works of nature are impressive. Aren't they? The Spanish ecosystem is extensive, varied, and full of fascinating biodiversity.
In this article, you'll learn everything you need to know about lakes in Spain before you visit. And I'll show you the best post that explains every river in-depth so you can decide which one suits you better for your next vacation or quick getaway!
You'll be surprised to see the beautiful landscapes and freshwater bodies in Spain. After this, you'll agree that this lovely country in the Iberian Peninsula is definitely a privileged place for diverse ecosystems and diversity.
Let's begin by answering your most frequently asked questions.
---
1. How many Lakes are there in Spain?
There are more than 2,500 freshwater concentrations in Spain, but it is difficult to assign them the category of lakes or lagoons, according to the Spanish Geographic Society.
2. Which are the most important Lakes in Spain?
The most important lakes in Spain are the Sanabria Lake, the Banyoles, the Pink Lake of Torrevieja, Rius Lake, Tort de Rius Lake, St. Mauritius Lake, Enol Lake, and the Embalse de Los Bermejales.
| Lake | Depth | Surface |
| --- | --- | --- |
| Sanabria Lake | 53 meters | 369 hectares |
| Banyoles Lake | 46 meters | 12 hectares |
| The Pink Lake of Torrevieja | 1,50 meters | 1.400 hectares |
| Rius Lake | 25 meters | 40 hectares |
| Tort de Rius Lake | Unkown | 13 hectares |
| St. Mauritius Lake | 40 meters | 114.119 hectares |
| Enol Lake | 25 meters | 80.000 m2 |
| Embalse de Los Bermejales | 100 meters | 5,62 km |
To find out where these incredible lakes are located, you should visit this article: 7 Great Lakes in Spain To See in Your Next Visit (with Map!)
---
3. Why are Lakes important in Spain?
Lakes in Spain are very important because they provide many things: they are a source of fresh water, and energy, a place for leisure activities, help agriculture, etc. However, some may be in danger due to desertification and contamination. Therefore, we must maintain and take care of them.
Moreover, lakes are fundamental for providing tourism, agriculture, and the basis of human nutrition. They are also a source of microorganisms and living organisms like fish and other forms of marine life. They are vital habitats for many species of flora and fauna in the area. In case you didn't know, Spain has 85,000 species of fauna and flora, more than 50% of European animal species, and 80% of vascular plant species. Isn't it crazy!? This makes Spain the most biodiverse country in Europe and one of the most biodiverse in the world! For related content about these topics, please visit the following articles:
Nature in Spain: 21 Spectacular Wonders + Its Native Flora and Fauna

Exploring the Spanish Wildlife and Its 11 Emblematic Animals
---
4. Lakes of Glacial Origin in Spain
The Lakes of Glacial Origin are the Spanish lakes and lagoons best known for their spectacular mountain landscapes: the Somiedo Lakes in western Asturias and the Covadonga, Enol, and Ercina Lakes, located on the western massif of the Picos de Europa. Followed by Lake Enol, The Ercina, The Certascan Lake, the San Mauricio Lake, Laguna Negra de Soria, the Lagunas de Gredos, Laguna de Peñalara, Lake Sanabria, Laguna de la Caldera, and Laguna de Las Yeguas.
Interesting Fact # 9: Lakes of Glacial Origin in Spain are lakes formed on the wide basins excavated by glaciers.
5. Lakes of Karst Origin
The best-known Lakes of Karst Origin in Spain are the Lagunas de Ruidera, Gallocanta Lagoon, and Laguna de Piedra. There is also the Bañolas Lake, although it is not properly karstic, according to the Spanish Geographical Society.
Interesting Fact # 10: Lakes of Karst Origin are the ones that lodge in basins excavated by the dissolution of water in soluble rocks and the collapse of caves, especially in water-soluble stones such as limestone, gypsum, and dolomite.
Lagunas de Ruidera is formed by 16 water concentrations of very different sizes, located in the provinces of Albacete and, most of them, in Ciudad Real. It is a vast wetland in which most water deposits are connected by streams and waterfalls, partly from its fluvial system and partly from subway flow.
Gallocanta Lagoon is between the provinces of Zaragoza and Teruel.
The Laguna de Piedra, in the north of Malaga, which is famous for its colony of flamingos.
The Bañolas Lake is in Gerona, located in a tectonic depression that originated during the Quaternary. It has a surface area of 1.7 square kilometers, and its flow is fed by the Terri river but with a significant contribution of groundwater.
---
6. What's the largest lake in Spain?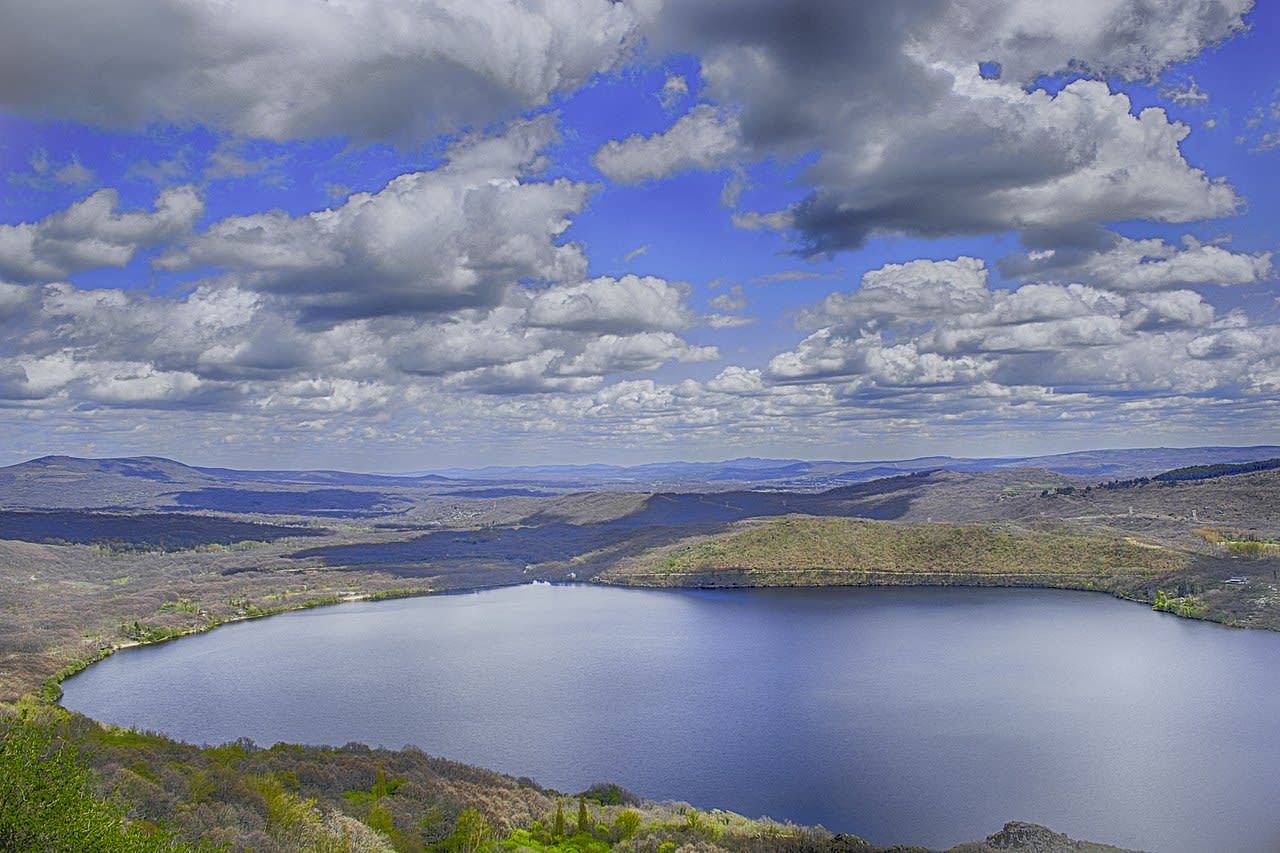 The largest lake in Spain is the Sanabria Lake, with a surface area of 369 hectares and a maximum depth of 51 meters. Its length makes it the largest lake in Spain and one of the largest in Europe. It is located in the province of Zamora, between the foothills of the Sierras de la Cabrera and Segundera.
The Sanabria Lake was proclaimed a Natural Park in 1978 to preserve its glacial origin, the fauna and flora's richness, and the water's purity. —Together with the Segundera and Porto mountain ranges. It is worth visiting since Sanabria has several sandy and rocky beaches and a beautiful landscape of trees and nature, where bathing and fishing are allowed.
You can visit the following beaches:
Viquiella
Los Arenales de Vigo
El Folgoso
Custa Llago
Los Enanos and Viquiella
El Pato
Moreover, this incredible lake is a glacial lake and is fed by the Tera and Cárdena Rivers. These two have 6 reservoirs that make up the lake's watershed and many wetlands and small ponds.
---
7. What are the main lakes in Madrid?
The main lakes in Madrid are the Retiro Park Lake, Casa de Campo Lake, El Pardo Reservoir, Santillana Reservoir, the Navacerrada Dam, San Juan Reservoir, Atazar Reservoir, Pinilla Reservoir, and Laguna Grande de Peñalara.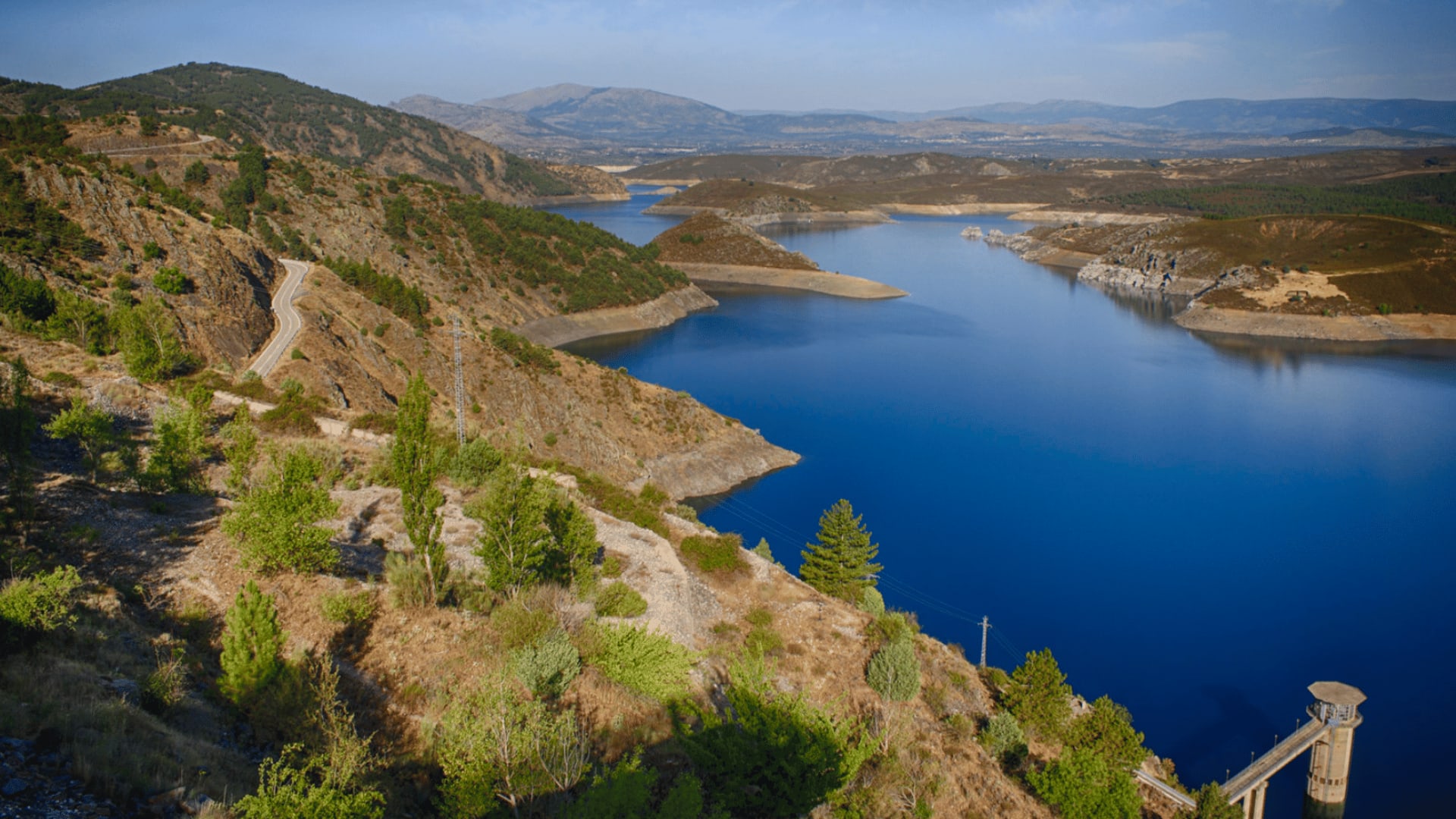 | Lake | Depth | Surface |
| --- | --- | --- |
| Retiro Park Lake | 1,80 meters | 5,38 km² |
| Casa de Campo Lake | 4,50 meters | 80,150 m² |
| El Pardo Reservoir | Unknown | 550 ha |
| Santillana Reservoir | Unknown | 1,052 ha |
| Navacerrada Dam | Unknown | 93 ha |
| San Juan Reservoir | 70 meters | 6,5 km² |
| Atazar Reservoir | 100 meters | 10,7 km² |
| Pinilla Reservoir | Unknown | 480 ha |
| Laguna Grande de Peñalara | 4,8 meters | 5,779 m² |
To see everything about lakes in Madrid read this article: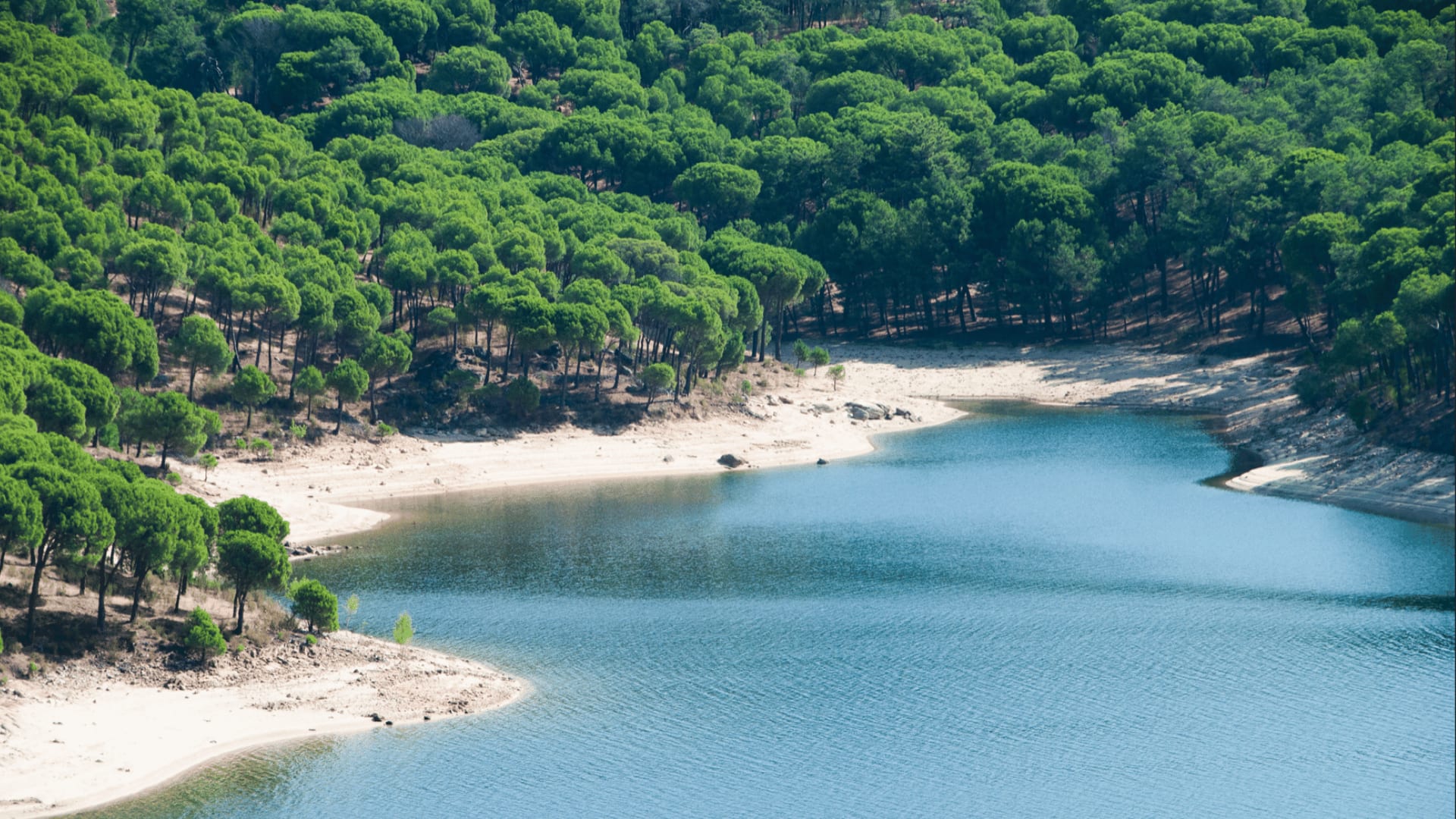 8. What are the main lakes in Barcelona?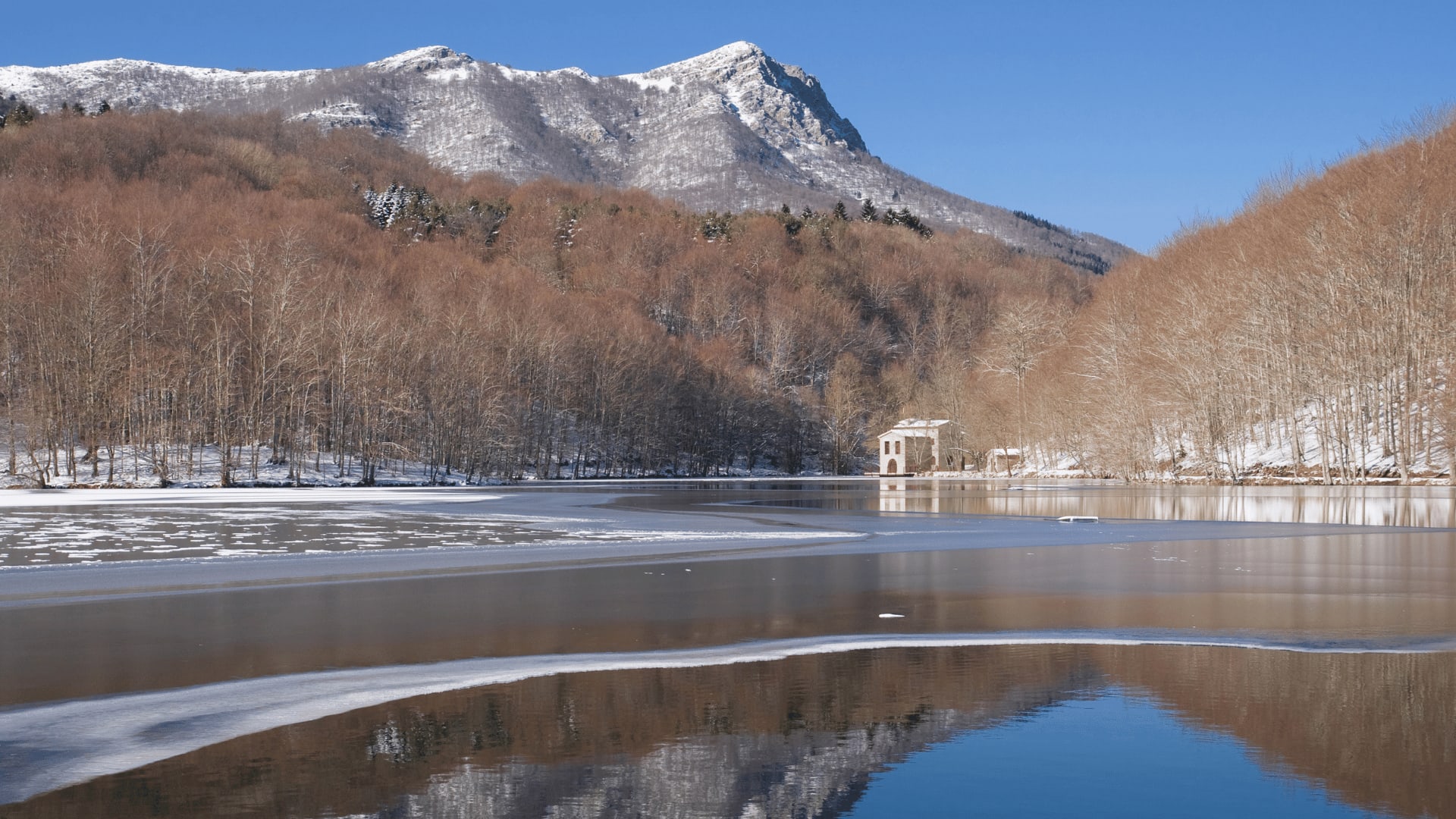 The main lakes of the province of Barcelona are: Parc de la Ciutadella Lake, Llac Petit de Terrassa, and Parc de l'Agulla Lake, Lake Santa Fe de Montseny, Paratge de les Fonts de les Deus, Riera de Merlès, and Foradada de Cantonigròs.
To see everything about lakes in Barcelona read this article:
The 4 Most Beautiful Lakes + 3 Natural Pools in Barcelona (or close to it)
---
8. Where can I see lakes in Spain?
Here is the map with a complete list of lakes in Spain so you can visit them and enjoy their stunning natural landscape!
Well, if all of this sounds like too much, you can start your trip by visiting the best and most beautiful lakes located in the North of Spain since they are all a real beauty! Here's everything about them:
I hope this guide has you ready to come and visit the best lakes in Spain. Always make sure to respect our land by keeping it clean in order to preserve our natural resources and mantain these beautiful and breathtaking landscapes alive!