The 10 Best (& Worst) Places to go Shopping in Spain
September 22, 2023
Updated:

September 26, 2023
Published: September 22, 2023
Whether you're a fashion enthusiast, a foodie waiting to satiate your palate with local food, or simply looking for unique souvenirs, Spain has you covered.
In this article, I'll reveal Spain's top shopping destinations. But, of course, I won't leave you hanging without telling you about the absolute worst spots.
As a local, I've witnessed many naive shoppers stumble into these shopping traps, and I'm here to keep you off them.
But first, discover the best shopping destinations in Spain, with a complete city-by-city guide:
Anyways… as you travel and have fun in our beautiful country, I help you discover hidden gems, chic outfits, and delicious treasures along the way. So, are you in?
---
1. Puerto Banús
Location: Marbella
Puerto Banús in Marbella is not just a typical shopping area, it's a whole experience! This place offers a unique mix of high-end boutiques, trendy shops, and vibrant markets. 
While it might be known for its luxury fashion boutiques, including some of the world's most renowned designers like Gucci or Louis Vuitton, it's not all about luxury brands. You'll also spot chic and local boutiques with fashionable clothing and accessories, giving Mediterranean fashion vibes!
I mean, Puerto Banús is the perfect place to go shopping and bragging about finding unique pieces you won't see anyone else wearing. 
Also, it has millions of jewelry stores that are perfect for a unique gift or even for yourself as a sweet treat!
And let's not forget the ambiance; I can't even describe the atmosphere without desiring to be there right now. Puerto Banús is vibrant and cosmopolitan, plus the marina makes everything better. It's like the cherry on top, for sure. 
Definitely, this destination should be high on your list of places to visit for shopping in Spain. 
Find out about the best time to visit Marbella! Read more: Spain in October: 7 Travel Tips, Activities & Weather
2. Serrano Street
Location: Madrid
Serrano Street is one of the most expensive and exclusive streets in Madrid. You will find the best luxury stores offering premium and high-quality products here.
As it is a fashion axis of the city, it has become one of the main tourist destinations. Serrano is a vibrant and energetic street full of people most of the time.
Want to visit Madrid? The 3 Best Itineraries in Madrid: Let's Plan Your Trip!
I highly suggest you walk up the street from the Puerta de Alcalá at the Plaza de la Independencia and walk up the road while enjoying the beautiful architectural wonders the street offers.
Some of the stores you can find when you visit are:
| Stores in Serrano | Address |
| --- | --- |
| Carolina Herrera | C.Serrano, 16 |
| Versace | C.Serrano, 16 |
| Kenzo | C.Serrano, 17 |
| Nike | C.Serrano, 19 |
| Longchamp | C.Serrano, 20 |
| Ermenegildo Zegna | C.Serrano, 21 |
| Zara | C.Serrano, 23 |
| Prada | C.Serrano, 26 |
| Agatha Ruiz de la Prada | C.Serrano, 27 |
| Purificación García | C.Serrano, 28 |
| Pronovias | C.Serrano, 31 |
| Michael Kors | C.Serrano, 32 |
| Loewe | C.Serrano, 34 |
| Sephora | C.Serrano, 36 |
| Max Mara | C.Serrano, 38 |
| Emporio Armani | C.Serrano, 44 |
| Swarovski | C.Serrano, 44 |
| Gucci | C.Serrano, 49 |
| Montblanc | C.Serrano, 50 |
| Chopard | C.Serrano, 51 |
| Miu Miu | C.Serrano, 54 |
| Uno de 50 | C.Serrano, 54 |
| Ikea | C.Serrano, 55 |
| Manolo Blahnik | C.Serrano, 58 |
| Suárez Joyería | C.Serrano, 62 |
| Stella McCartney | C.Serrano, 62 |
| Louis Vuitton | C.Serrano, 66 |
| Lottusse | C.Serrano, 68 |
| Saint Laurent | C.Serrano, 70 |
| Botegga Veneta | C.Serrano, 70 |
| Cartier | C.Serrano, 74 |
| Zara Home | C.Serrano, 88 |
| Maison Du Monde | C.Serrano, 90 |
How you dress says a lot about yourself in the Spanish culture, especially in some areas of Madrid. Let me show you a video for you to see how people usually dress: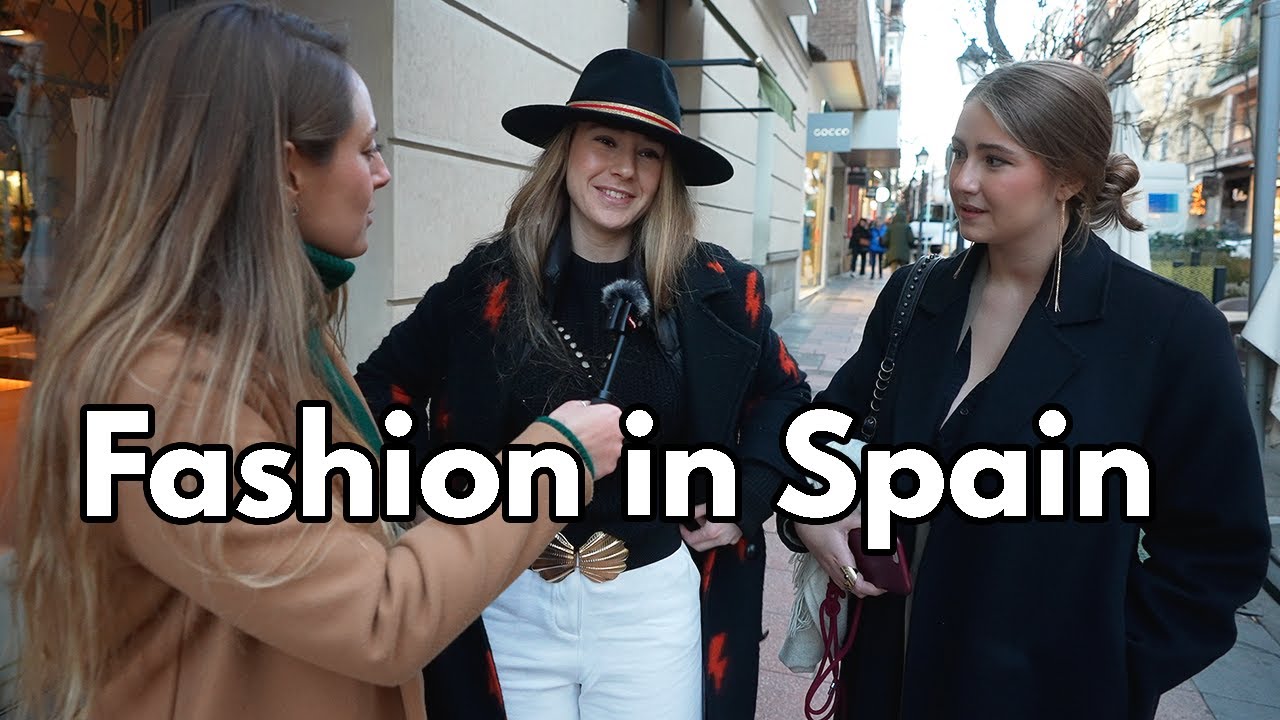 3. Portal De L'Angel
Location: Barcelona
In the heart of the famous Gothic Quarter, Portal de l'Angel is one of Barcelona's most renowned shopping destinations! 
You'll find everything whether you're searching for trendy outfits, accessories, shoes, or electronics! It is a great shopping spot for its location, in the heart of Barcelona, making it easily accessible from other parts of the city and close to Plaça de Catalunya. 
It is a pedestrianized street where you can stroll and take your time. It has global fashion brands, cute Spanish boutiques, local souvenirs, everything!
You'll be surrounded by locals and tourists since this place is excellent for every taste and preference. And most importantly, the street is well-maintained and has many cafes and ice cream spots for a quick afternoon pick-me-up!
Read more: 8 Best Cafes in Barcelona for a Unique Coffee Experience
4. El Corte Inglés
Location: Almost every Spanish city has one store, at least.
The Spanish shopping destination par excellence!! 
El Corte Inglés is a one-stop shop for all your needs since it offers an extensive range of products under one roof. Are you looking for kitchenware? You'll get it; want cute clothes? You'll get them; need a gift for a 5-year-old? There it is. You name it, it's there!
You can find products for every type of budget, and it has international and Spanish brands. Plus, the staff is very helpful, and often speak other languages.
In addition, it offers its customers many seasonal discounts and has a gourmet experience on the top floor of most buildings; for example, you'll find one on Callao Street in Madrid or near the famous Setas in Seville.
5. Gran Vía Street
Location: Madrid
If I had to define this iconic street of Madrid, I would say it is an authentic outdoor shopping center that attracts 10 million people yearly.
Gran Vía is the most traveled street as it is also a Landmark in Madrid. It is very touristy and crowded every day of the year. 
And, I must admit that I was going to say "avoid shopping in the touristy areas" since these tend to be overpriced and may offer lower quality items. Still, Gran Vía is the exception. 
You can shop as you'll find everything, from clothing stores, gift stores and accessories, shoe stores, jewelry stores, cinemas, theaters, restaurants, and bars. 
Moreover, Gran Vía is next to Preciados and Fuencarral Street, two bustling roads famous for their extensive window-shopping options.
Read more: 18 Best Landmarks in Madrid Totally Worth Visiting in 2023
6. Diagonal Avenue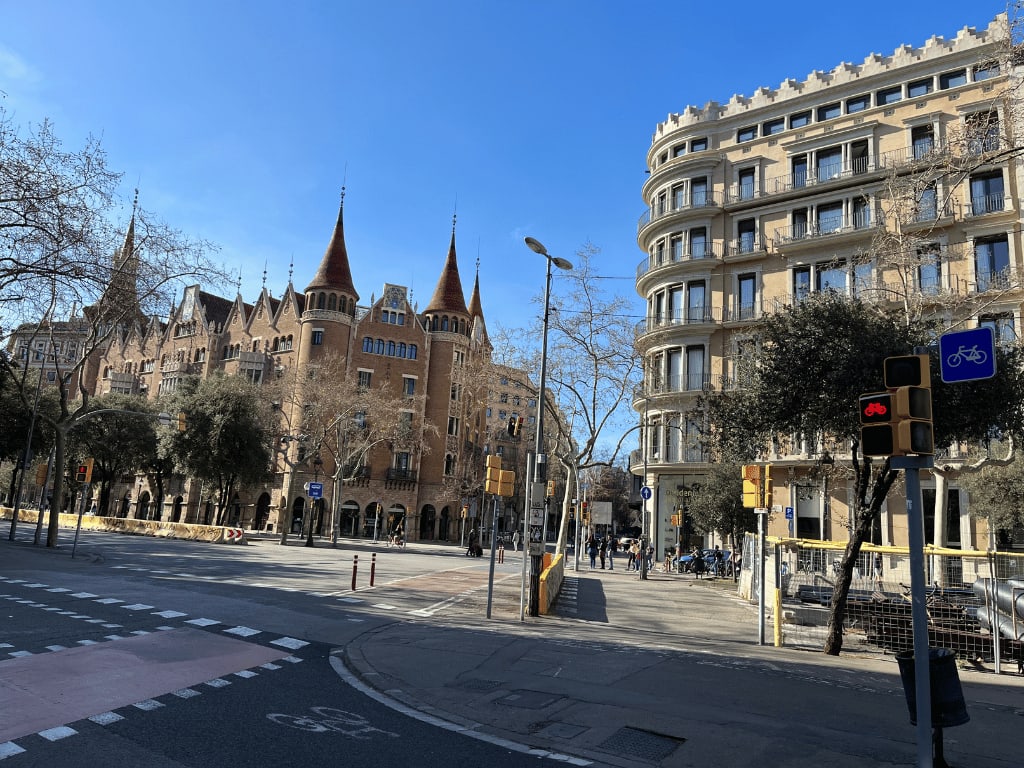 Location: Barcelona
One of Barcelona's broadest and longest avenues is Diagonal, 11 kilometers long and 50 meters wide. This street is a popular shopping destination for tourists and locals. 
As it is so big, you can rent some bikes and cycle along it, or several bus lines run along the avenue. It concentrates on many stores, shopping centers, office towers, and hotels.
Besides famous shops and stores, you will also find several museums, art galleries, and theaters on this street, making it an excellent destination for people who like fashion and art lovers and are culture enthusiasts.
Read more: 22 Best Things to do in Barcelona: Fun Activities & Food!
7. Las Rosas Village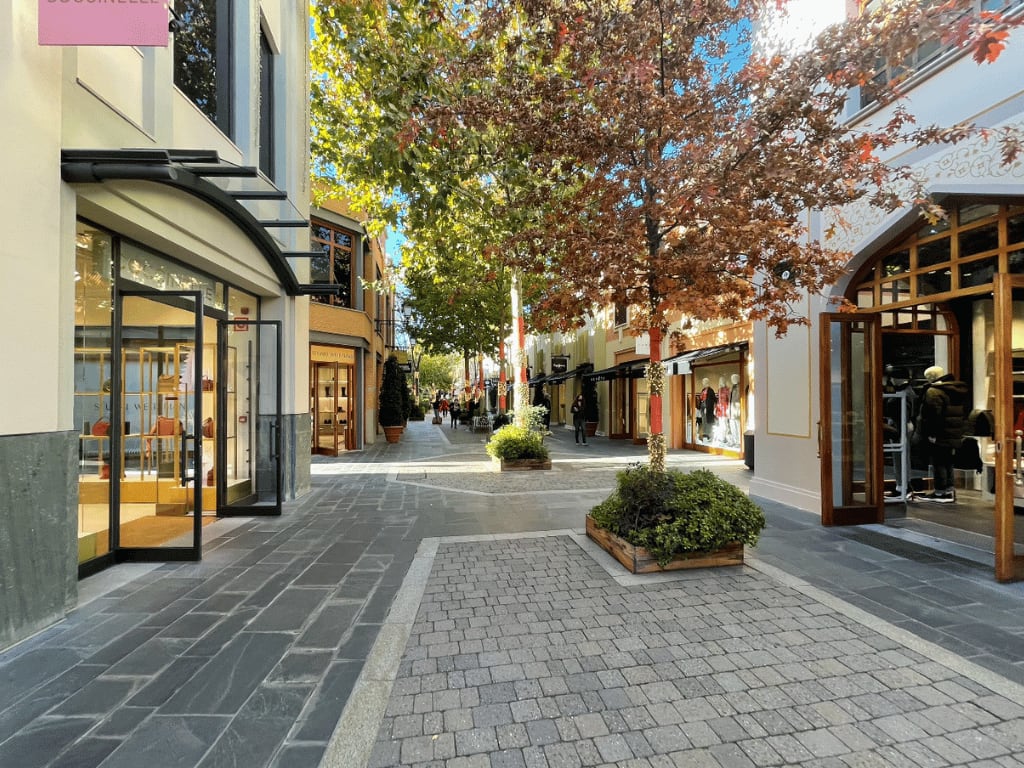 Location: Madrid
Now, let's talk about outlets. 
Las Rozas Village is an Outlet on the outskirts of Madrid with all kinds of stores. It is super convenient because you can find discounts of up to 60% on high-end brands.
The Outlet has over a hundred boutiques of the best national and international fashion and lifestyle brands. If you are lucky, you can find a timeless piece for very little money.
The truth is that the Outlet is in a privileged location, surrounded by green areas and vegetation where you can stroll along its boulevards, get deals in its boutiques, spend time with loved ones, and enjoy an excellent mid-day snack in one of its terraces.
8. La Rocca Village
Location: Barcelona
Just 30 30-minute drive from Barcelona, there is an open-air shopping mall with over 100 luxury stores. You can get there either by car, bus or taxi. 
What is unique about this shopping mall is that it is an outlet where you will find brands such as Gucci, Prada, Versace, Burberry, and many more, with discounts of up to 70%. 
In addition to fashion stores, La Roca Village also features homeware, sporting goods, beauty stores, and various restaurants and cafes to enjoy a break between shopping.
In addition, this mall allows you to relax and have a great shopping experience away from the hustle and bustle of the city.
Want to visit Barcelona? Top 3 Itineraries in Barcelona: Let's Plan your Trip!
9. El Rastro
Location: Madrid
El Rastro is an iconic place to shop in Madrid and one of the most local activities you can do on a Sunday morning. 
You can shop, stroll, take pictures, let yourself be, get good deals, have a few beers, meet up with friends, and listen to music. 
There are infinite things to do along the streets, squares, galleries, and stores that occupy this market. You will find a lot of informal stalls, stores full of knick-knacks and relics, and luxurious stores and magazines.
Great for buying unusual pieces, thrifted articles, and authentically made-in-Spain stuff.  
Read more: 12 Best Markets in Madrid to Explore Food & Crafts
10. El Raval & Malasaña Neighborhoods
El Raval Location: Barcelona
Talking about thrifting. El Raval Neighborhood is one of the best places to find vintage and unique articles. 
You'll find second-hand shops full of cute jeans, dresses, coats, boots, and other goods. You can spend your day walking along the streets of El Raval to discover a lot stores with that concept.
Still, Barcelona has an alternative and hipster soul, unlike Madrid, where you'll have to move to certain neighborhoods to find your vibe. Meaning that El Born neighborhood and other areas can also be great options for vintage shopping. 
Read more: 9 Best Neighborhoods in Barcelona: Students, Expats & Tourists
Malasaña Location: Madrid
Malasaña is one of the most vibrant neighborhoods in Madrid. You'll find many stores offering second-hand or pre-loved items from the sixties to the eighties. It is one of the go-tos if you're looking for an active vibe while strolling the streets of Madrid.
Humana is the most renowned one, with many stores in Madrid and Barcelona, and you can always find great deals here.  
One of the best ones is Quality Sportswear. It specializes in pre-loved items of designer clothing, retro sportswear, vintage fashion, and collectibles. 
Read more: 10 Best Neighborhoods in Madrid: Students, Expats & Tourists
Worst places to go shopping in Spain
Please, avoid buying anything at the airport as it is more expensive. These shops might be convenient sometimes, but save that for emergencies. 
They are not worth it, and the products and souvenirs you'll find are often not made in Spain or have nothing to do with culture and tradition.
Instead, pay attention while strolling the streets and bring a more meaningful gift to your loved ones back home. I'm sure they'll appreciate a traditional Spanish fan from a stand in El Rastro Market over your typical "Spain" keychain you got before grabbing food at the airport. No hate, just my opinion.  
Must-read: 12 Scams To Stay Alert in Spain: Read Before Traveling!
Worst time: Late Hours & Sundays and Holidays
Unless it's a flea market, some stores, especially in the smaller cities, will be closed in the afternoon after 1:30 or 2:00 p.m. for the so-called "Siesta time" (read more). 
It sounds old-fashioned, and for people who are used to big cities that never sleep like New York or London, it might be shocking that Spain still has that tradition. But hey! That's what makes us unique. 
Either way, if you go to big cities like Madrid and Barcelona, you should expect almost everything to be open anytime. Just check before you plan to visit some specific little store or boutique!
Read more: Spanish Siesta: What Is the Real Origin and Future of our Beloved Tradition?
This one might be tempting. Buying souvenirs from hotel gift shops seems convenient; having it right next to your room can save you from a rush. 
But visiting local markets and boutiques is ten times much better if you're looking for unique Spanish articles. Plus, you get to enjoy the atmosphere of these places and scratch off an attraction off your bucket list. 
You will definitely encounter many street vendors in the metro, in the tourist areas like Gran Vía in Madrid, for example. But stay away from shopping for anything from them. Some might sell great products, but others may sell low-quality or counterfeit goods. 
I've always bought cute stuff from street vendors. It's a nice way to help those people out. However, the last time I went to Barcelona with a friend who was visiting town, the vendor tried to scam my friend by asking for four hundred euros for a fake bag, and she almost fell into the trap since he said it was original while it clearly wasn't. Since then, I stopped buying from them and helped out small and legitimate businesses in the local markets and neighborhoods instead.

- Laura, 28, living in Barcelona. 
So, do it at your own risk, and please pay attention since this is how scams happen! 
I mean, I know this isn't necessarily shopping. But I need to get this out of my chest: if you want to buy traditional Spanish food items to take home, you won't find them in the food court of a mall. 
There's no such thing as a "Spanish McDonald's." Don't fool yourself. 
Instead, grab food at an authentic Spanish market to blend in with the locals.
Read more: What to Eat in Spain: 31 Tasty & Traditional Dishes
---
To all my fellow shopaholics, I can confirm that Spain is a shopping paradise. Here, you'll find everything you could possibly imagine, no matter your taste, occasion, or preferences.
What's more, most of these locations are located near the city's main landmarks, bars, and cute coffee shops and restaurants, so you can spend an entire day shopping without worrying about anything other than breaking the bank. And for that one, I've got some valuable advice.
Read more: How to Travel Spain on a Budget: Cost Guide & Tips