Trees in Spain: 9 Native Species For My Paraphilia Fellows
October 18, 2022
Updated:

March 29, 2023
Published: October 18, 2022
Did you know that 37% of our territory is covered in forests? I know it is not THAT much, but I have to tell you that we love our trees.
I bet that if you're reading this right now, it is because you have got a little paraphilia (love of trees) inside of you.
In this article, you'll learn about the 9 most important Spanish trees, so you are aware of the current flowering season when you visit.
Open up those notes and pay attention to all the information on Spanish trees! I even added more sensational facts to make it more interesting!
1. Cork Tree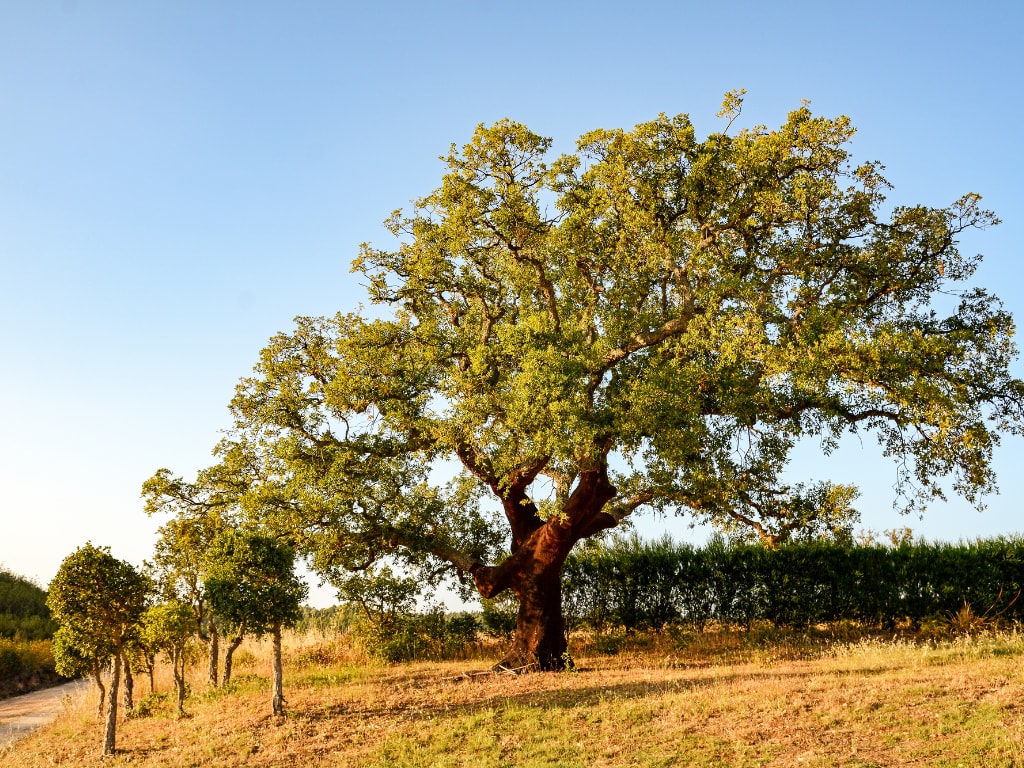 Are you the type of person that collects the corks from wine? My parents used to do it when I was little. I I never understood why but I always ensured that no pin was thrown away. Today I know that almost every single part of a bottle of wine comes from Spain, or at least the wine and the cork do. 
A very famous tree in Spain is the Cork Oak. In Spanish, the scientific name of the cork oak is Quercus Suber, known as "Alcornoque" or "Sobreira" for Galicians. This type of tree can grow 20 meters and live for approximately 200 thousand years!!! When the cork tree reaches 40 years of age, harvesters obtain the quality desired for the final product. The process of getting the cork is called "stripping," and it is only done with an axe.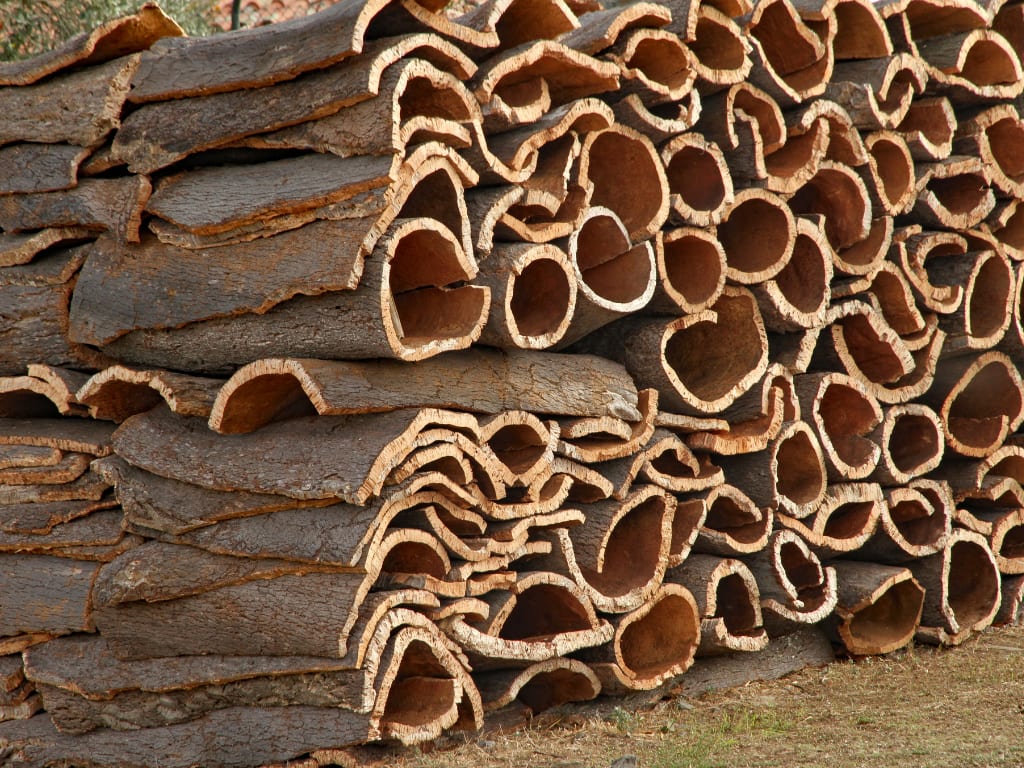 The cool thing about Cork Oak is that we can get the material without hurting the tree. And the harvest can only take place in the summer, from May to August. 
If you head here, you'll find a map where with the location of three specific types of oak trees. The Algerian, Pyrenean, and Portuguese Oak trees are spread in a way that makes them common in almost all of Spain.
Sensational fact: In Ancient Greece, cork oaks symbolized Freedom and Honour; only priests were allowed to cut them down.
2. Olive Tree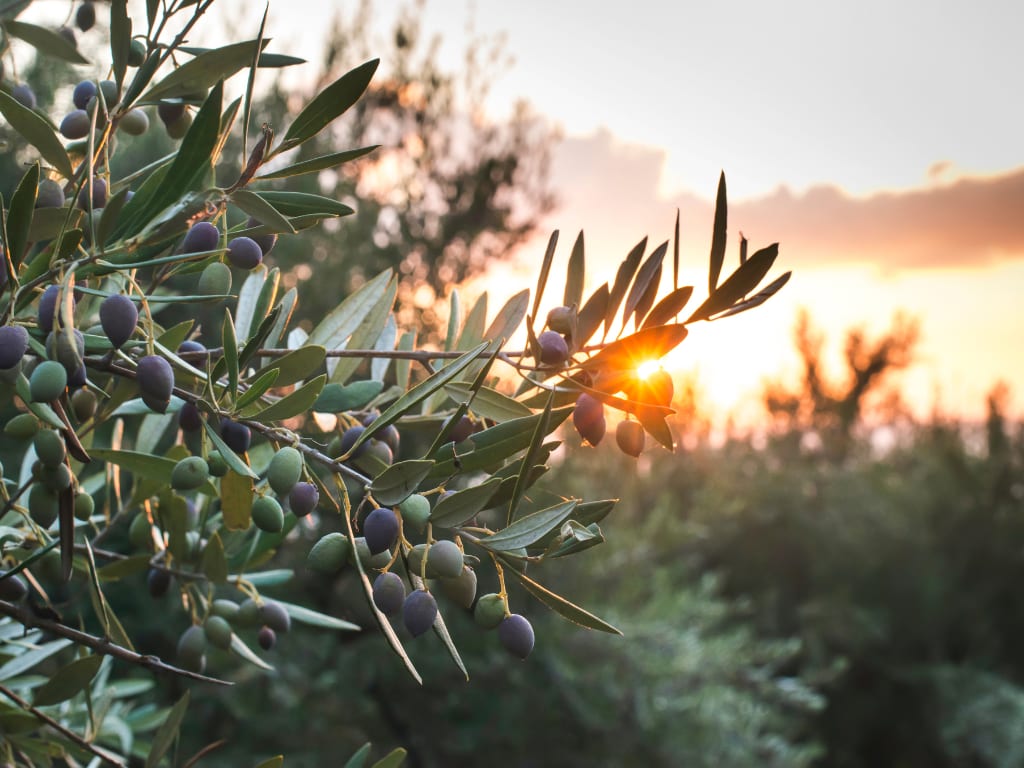 If you've been to Spain, you may have noticed that we love our olive oil. It is absolutely everywhere, and it's delicious!!! Seat in any restaurant, believe me, and we will give you some delicious bread and olive oil. Sometimes that is not even our appetizer but also our breakfast or mid-day snack.  Other table appetizer we'll give you are olives. Those are less popular compared to the oil, but we Spaniards love them too.
The scientific name of the olive tree is "Olea European" from the "Oleaceae" family tree; in Spanish, we call it "Olivo." The flowering period of this tree is once a year between May and June, it is a short period, and the flowers need temperatures above 18º.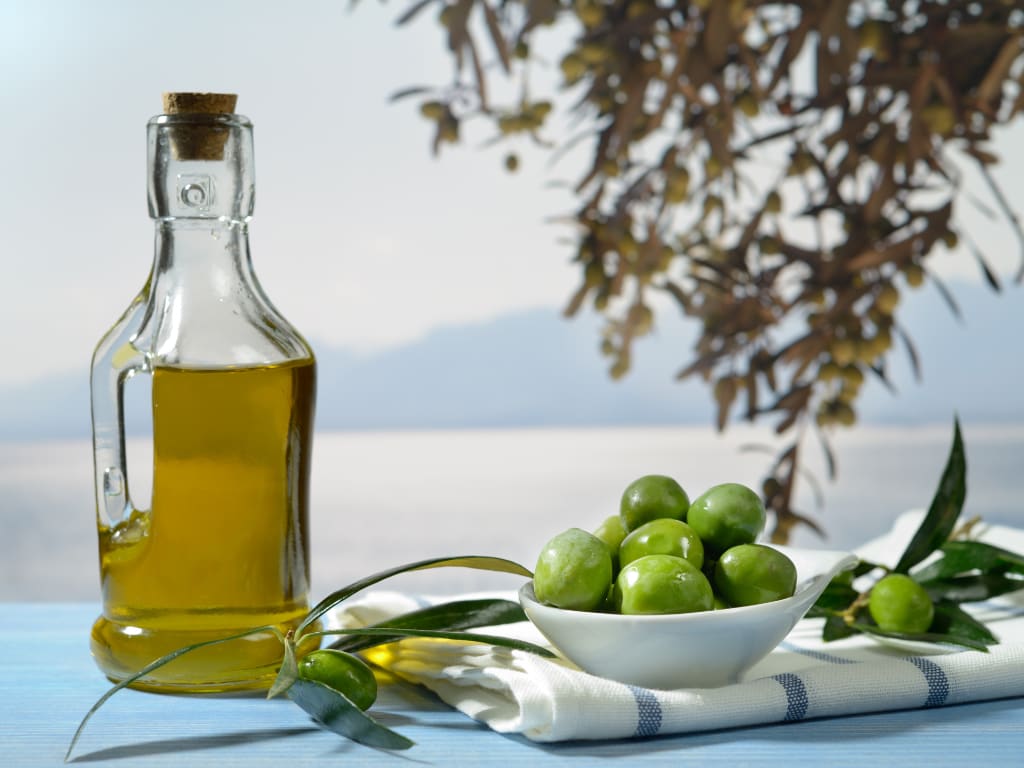 In Spain, we had 578 varieties of olive trees. Sadly a lot of them are extinct. Still, the varieties that we do have (around a 100) are spread between Extremadura, Andalusia, and the Valencian Community. However, olive groves are in all the communities except in the Canary Islands, Asturias, and Santander. This Spanish tree is an evergreen species that can reach 15 meters in height and live around 1,000 years! Some features of this tree are that its leaves are narrow, slim, and dark green above and gray below.
Some of these use their fruit (olive) to produce oils, while others are used for direct consumption of the fruit. Some varieties can be used for both: olives for a snack and oil. 
Sensational fact: Spain is the country with the most production of olive oil. Followed by Portugal, Italy, Algeria, Tunisia, Greece, Morocco, and Turkey.
3. Almendro Tree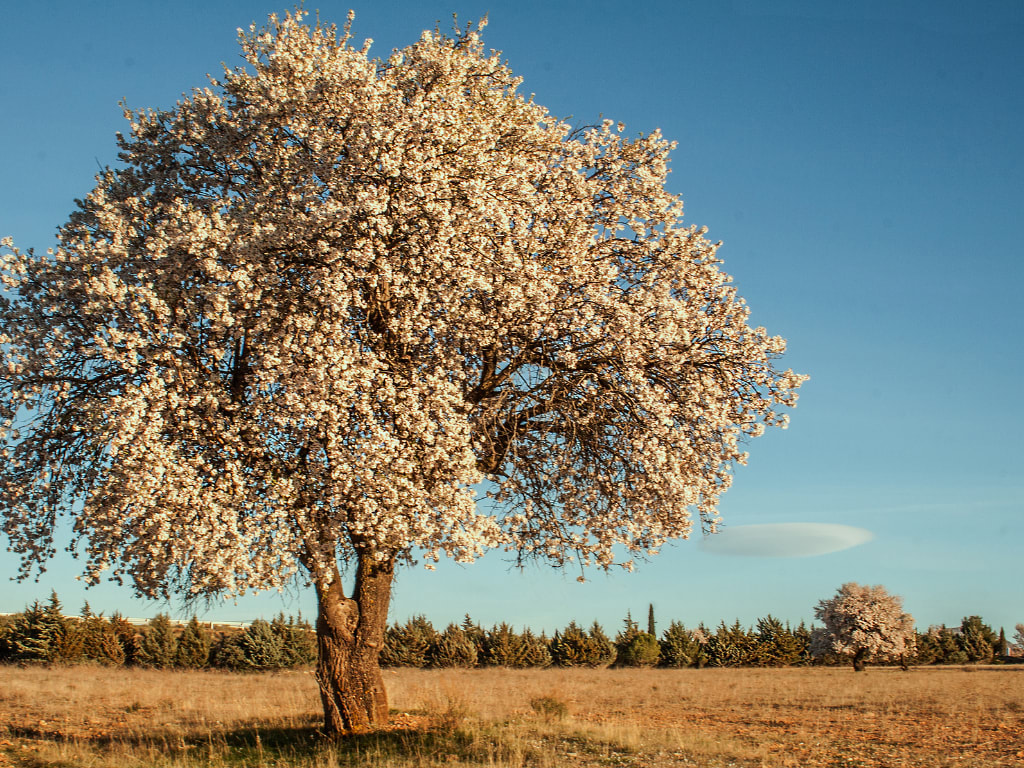 "Almendro," as its name suggests, is the tree that produces almonds. Unlike olives, we don't give almonds as a snack in restaurants, but we add them to a mini bowl we are out for drinks. Why? I don't know. But it is very typical here to go to a bar, order an Aperol Spritz, for example, and get a small bowl with nuts and candy or "chuches."
The scientific name of the Almond tree is "Prunus dulcis" from the tree family "Rosaceae".
These trees flower once a year, right before Spring, so you can expect to see a beautiful flowering almond in late February and March. Actually, the flowering season of Almond trees is pretty famous in Madrid, the Balearic Islands, and the Canary Islands. You can expect the fruits (almonds) after nine months of flowering.
Some characteristics of these trees are a trunk with cracked brown bark and long, intense green leaves that come out after winter flowering. The beauty of its flowers in white and pink tones stands out. It is a resistant tree that doesn't require much care to grow, although it does not tolerate the cold well since it is from a warm climate. That is why it is common to find them in Andalusia, Castilla la Mancha, Aragon, and the islands. 
Some of the veriesties of the Almond trees are: antoñeta, penta, constantí, solta, and vairo. 
4. Common Walnut Tree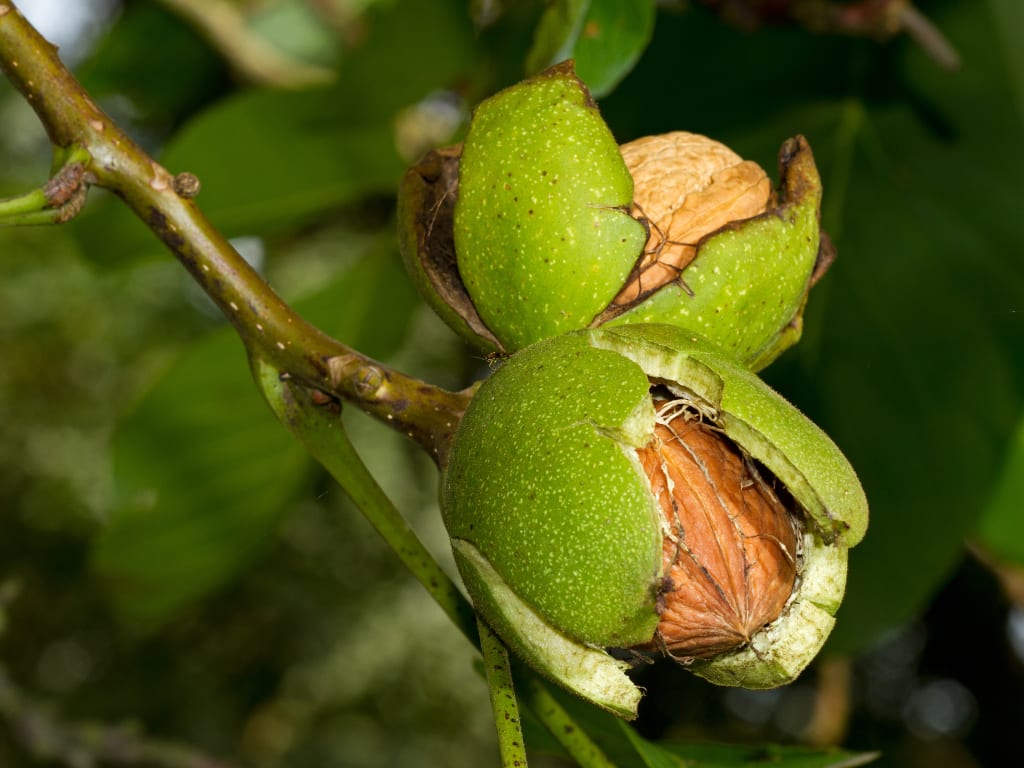 This is the second nut tree that I will bring you today. As the name indicates, the "Nogal," or common walnut, is the walnuts' parent tree. Remember what I told you earlier about the small bowl of nuts? We can throw some walnuts in there too. 
Now, the scientific name of this Spanish tree is "Junglas Regia" from the family tree of "Juglandaceae." 
The Common Walnut is characterized by having a very straight trunk with smooth, silver-gray bark. It needs moisture both in the soil and the environment, making it resistant to temperature changes. Besides feeding us walnuts, this tree provides tough wood, commonly used for cabinetmaking. Which is also cheaper!
The "Nogal" blooms once in Spring and happens after the tree reaches 15 years old. The regions with the most significant amount of "nogales" and walnut production are Andalusia, Extremadura, Castilla-La Mancha, and Catalonia. 
Sensational fact: In 2020, Spain produced the highest amount of nuts compared to the five previous years. We got over 32 million kilos, and in 2022 we consumed over 30 million kilos of nuts (Statista, 2022).
5. Narrow-leaved Ash Tree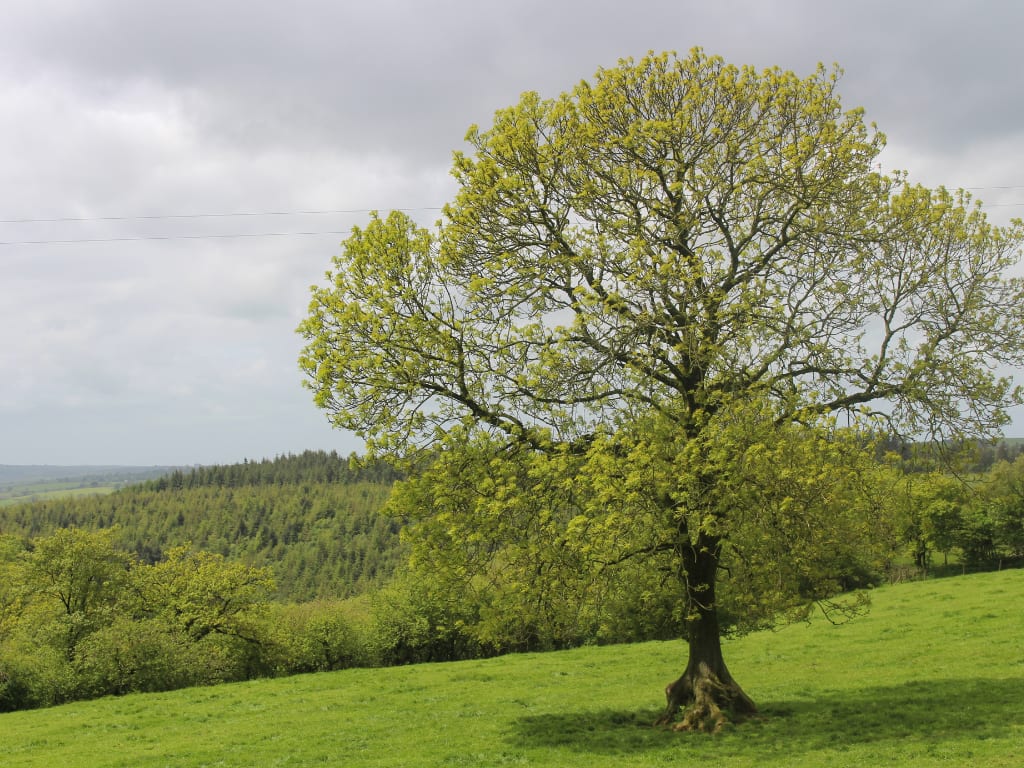 "Fresno" or the Narrow-leaved Ash, is a widespread Spanish tree spread throughout the Iberian Peninsula. Its scientific name is "Fraxinus Angustifolia," and it belongs to the "Oleaceae" tree category. The "Fresno" is part of the same category as the Olive tree. So, if you ever encounter one of them while strolling through any of our cities, it is totally fine to confuse them. 
These are some properties you should know about the Narrowed-leaved Ash. The "Fresno" is a large, leafy tree with small bright green leaves.
It adapts to any environment and type of floor. It is strong enough to handle extreme temperatures and can live up to 100 years!!
The flowering season of "Fresno" is between April and May." It bears a small white flower that later turns into an elongated fruit called samara, where the seeds are found. This tree is found in almost all provinces except in the north (Pyrenees, Galicia, and Cantabrian Coast) and in the dry areas of the southeast.
The "Fresno" tree has two primary uses. First, it is characterized by dense wood for carpentry and sports equipment. In addition, it is excellent for the ecosystem as the log functions as shelter and its leaves as food for certain animals. 
6. Stone Pine Tree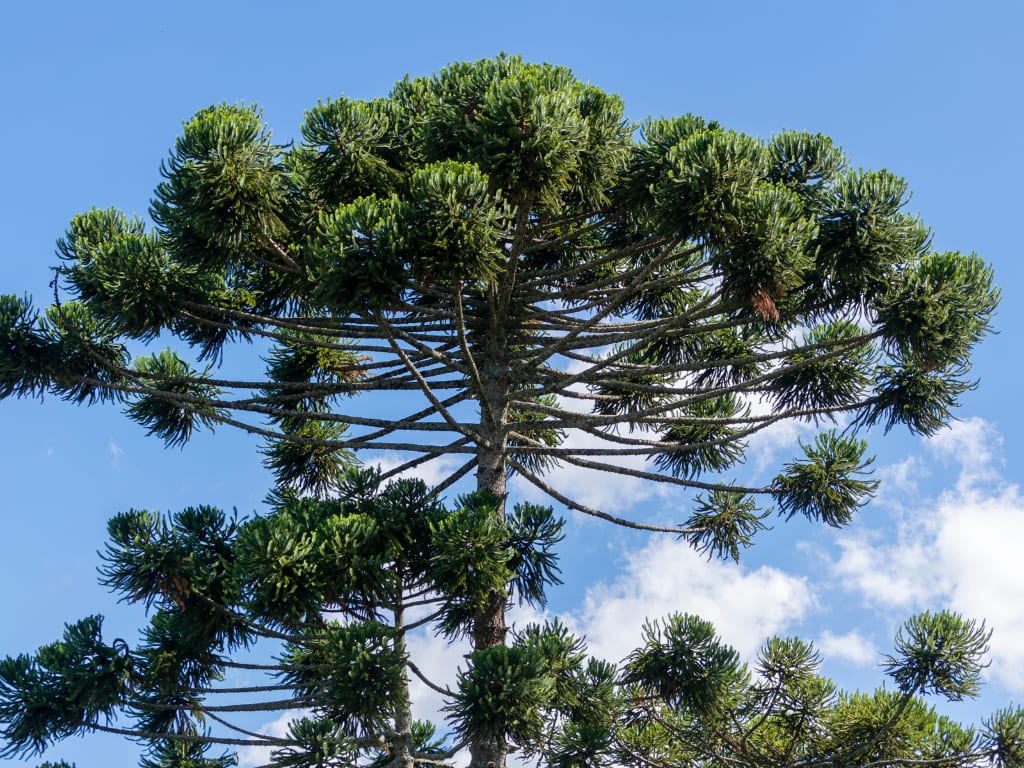 Did you know that the basil and parmesan pesto recipe has pine nuts? It is an essential ingredient for the classic Italian sauce we all love. It is easy to replicate because the "piñon" is a typical Spanish tree.
The scientific name of the "árbol piñonero" is "Pinus pinea" and Stone Pine in English. And it belongs to the tree category of the "Pinaceae"
The Stone Pine is a slow-growing tree with a very long life. It could live between 100 and 1,000 years!!! It has an average height of 20 meters and very rigid leaves with a bright green tone. You can find this tree in Spain's Central and Southern areas, especially common on the Mediterranean coast. For example, don't be surprised to see their tones in Málaga or Cádiz. 
The tree blossoms between March and May, but the fruit can only be collected between November and February. This might sound familiar to you! The tree bears pineapples with a fleshy fruit called "piñon." 
Sensational fact: Pine nuts have been collected for about 6000 years. In some rural areas of Andalusia, this fruit is a relevant product for their economy.
7. Sweet Chesnut Tree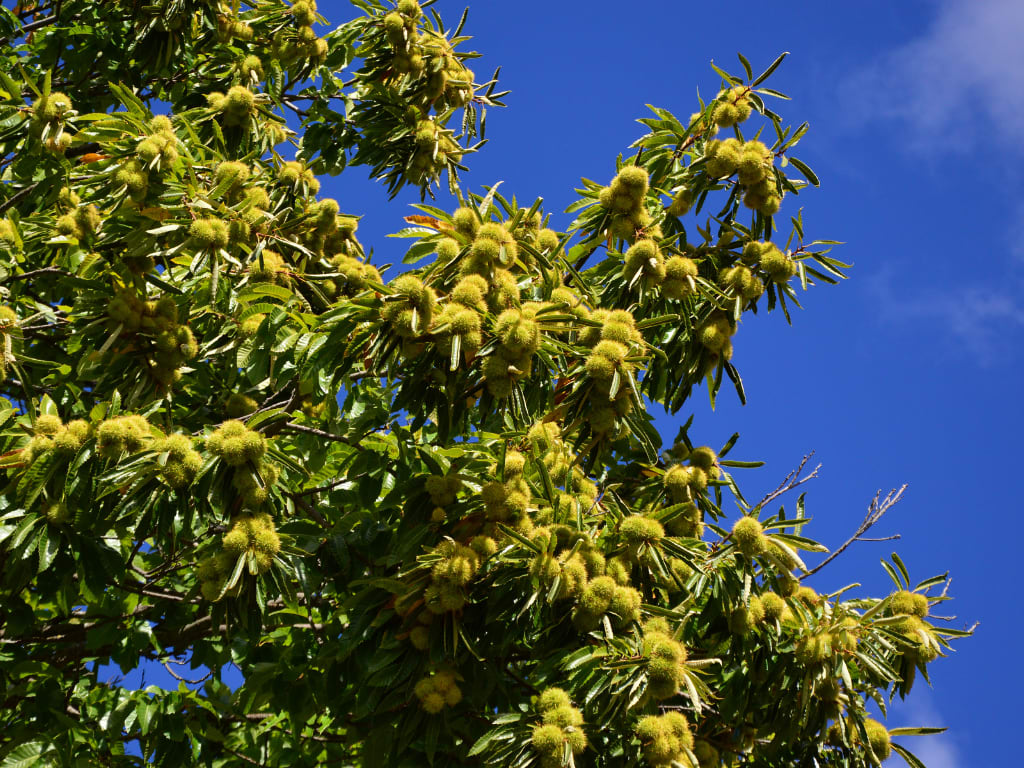 Do you remember when you were a little kid and went with your parents to pick up some pumpkins for Halloween? Or candy? Any of those is fine. I am just trying to activate a nice childhood memory because that is what the sweet chestnut tree means to me.
This tree is a key memory from my childhood because, at the end of October, we would go pick up some chestnuts, which we could later eat its seed.
So this Spanish tree is called "Castaño," and its scientific name is "Castanea sativa" from the "Fagaceae" family tree.
The Spanish Sweet Chesnut Tree has a straight, thick, short log reaching 35 m high. The tree's crown is very leafy, almost round, and has a lot of branches. The tree can live 80 and 100 years, and it has been part of the Iberian peninsula since the times of the Romans. Historians say that the Roman Empire brought the species to Hispania and planted it all over the territory.
The blooming season of the Sweet Chestnut is between May and June while collecting the fruit happens at the end of October. It is kinda like a sign that Christmas is coming!
8. Orange Tree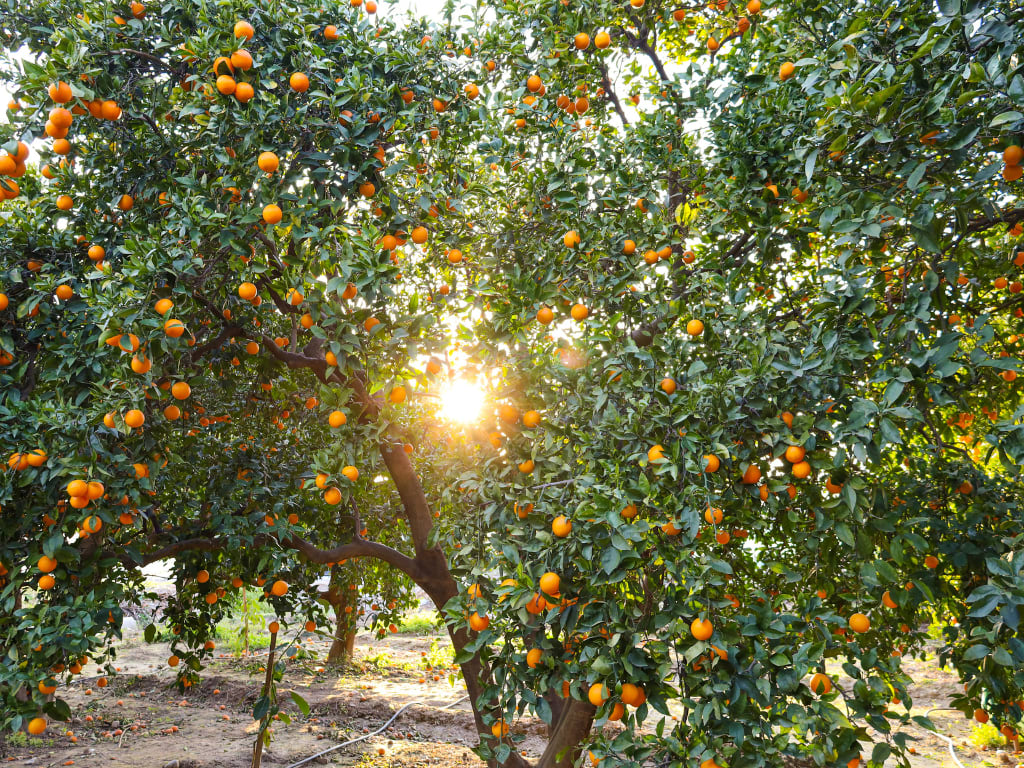 The "Naranjo," as we call it in Spanish, is not a native citrus tree from the Iberian Peninsula. Still, the Muslims introduced it in our territory during the Al-Andalus period. The scientific name of the orange tree is "citrus x Sinensis," and it belongs to the tree category of "Rutaceae."
Even though this tree is pretty easy to identify, I will leave you some important facts about it. This tree can grow between five to ten meters if they are taken care of with the proper conditions. The log is smooth and greyish in color, and its leaves are evergreen. These trees blossom in Spring when we experience a little increase in temperature, and the sun comes out more frequently, and its flower is called Azahar. There are three main types of varieties of orange trees: the 'Navel' group, the 'White' group without a navel, widely used in the juice industry, and the 'Sanguine' group, which can be distinguished from the rest due to the reddish color of its pulp and rind. 
The orange tree is super common in the Valencian Community. Actually, they have a touristic route called the "Azahar Coast" in the northern part of the region where you'll go through beautiful beaches and orange trees. 
Besides Valencia, Sevilla is another city where you'll be charmed by these trees. The capital of Andalusia was significant for the Muslims during the Al-Andalus. They decided to plant thousands of orange trees in the city for the smell of the flower and the commercial opportunity of perfumes. This is quite a view!
Sensational fact: Spain is the 6th country with the highest production of oranges, all coming from the Valencian Community.
9. Evergreen Oak Tree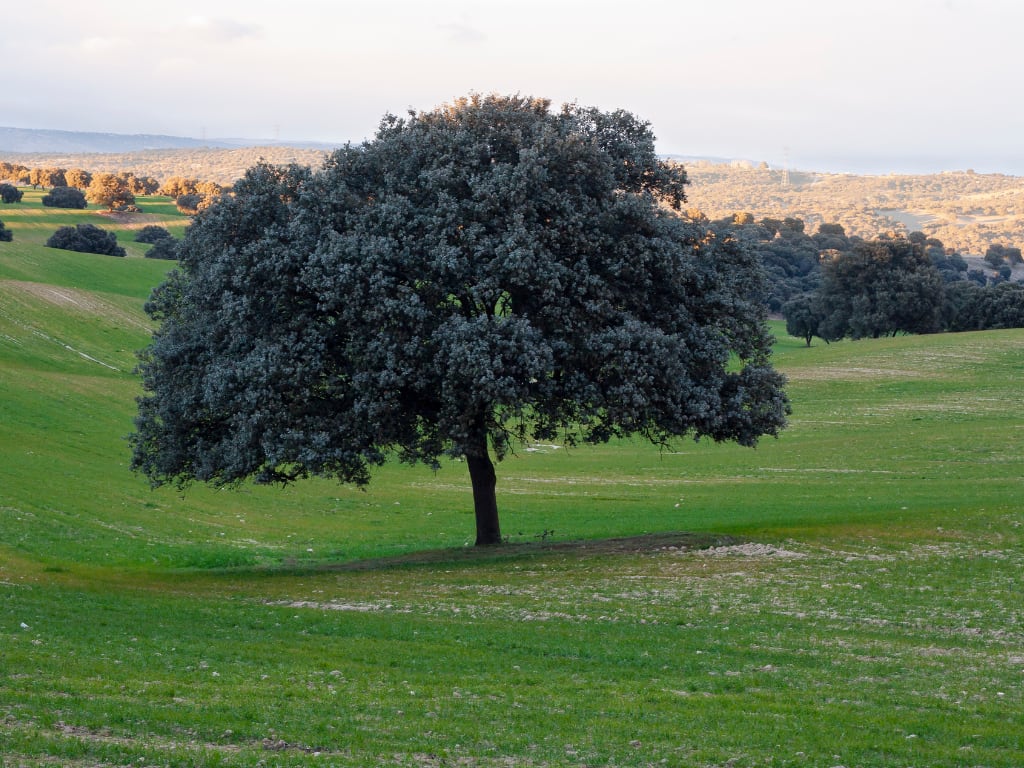 "In Extremadura, oaks produce hams and aleppo sausages. To the despicable pig, the best acorn."
Do you know who said this? Yes!!! Don Quixote. If you don't know who Don Quixote is, we have a little problem, but I will give a small summary. Don Quixote is one of the most successful Spanish books by Miguel de Cervantes. In his book, he mentions the evergreen oaks many, many times.
The Evergreen Oak is known in Spanish as "Encina," and its scientific name is "Quercus Ilex." The tree belongs to the "Fagaceae" category, just like the Sweet Chestnut.
I know trees are not that easy to differentiate from one another, but let's try it. "Encinas" is 25 meters tall with big, thick, greyish logs and rounded, leafy crowns. The leaves usually have a green and yellowish tone and never fall. These trees can be found almost in every region except in Galicia, Murcia, Alicante, and the Canary Islands. The "Evergreen Oak" blossoms between May and June; and bears fruit from October to December.
The fruit this tree produces is the acorn, or "bellota" in Spanish, which is a fundamental food for pigs to produce the best ham.
In addition to all of that, remember when I said that 37% of Spain was covered in forests? Well, 11,8% of it is Evergreen Oaks!
Sensational fact: Let's have our last fact of the day! The Evergreen Oak Tree is Spain's national tree.
And there you have it, 9 Spanish trees for Paraphilia lovers!!! I believe these are the most important ones as they are linked to important products in our country. Olive Oil, "castaños", premium Iberian acorn ham, cork…you know where I am going.
I hope you'll visit in any flowering seasons and enjoy a beutiful connection with the Spanish nature.