11 Breathtaking Spanish Waterfalls to Make You Feel Alive
October 11, 2022
Updated:

January 23, 2023
Published: October 11, 2022
In Spain, we have beautiful waterfalls, although I'm not going to lie, they aren't as spectacular as the Angel Falls or the Iguazu Falls.
But each of our waterfalls has something special, like the beautiful paths to reach them, the nature surrounding them, or the refreshing dips without worrying if something will bite you! You may think I'm crazy or that it's silly but believe me that in many other countries you can't go for a swim peacefully. In Spain, this is something you don't have to worry about at all!
A forest without a waterfall is different from a forest with a waterfall. The waterfall adds more beauty to the environment, making it much more special! Don't you think?
No matter where you are in Spain, there is undoubtedly one of these magical waterfalls closer than you think.
Although I fell in love with all of them, I will start this list leaving the ones that impacted me the most for the end.
I invite you to join me on this tour of the most spectacular waterfalls in Spain. So get ready and take notes for the following weekend you have free to make a getaway to see one of these wonders!
11. Cimbarra Waterfall
Location: Jaén, Andalucía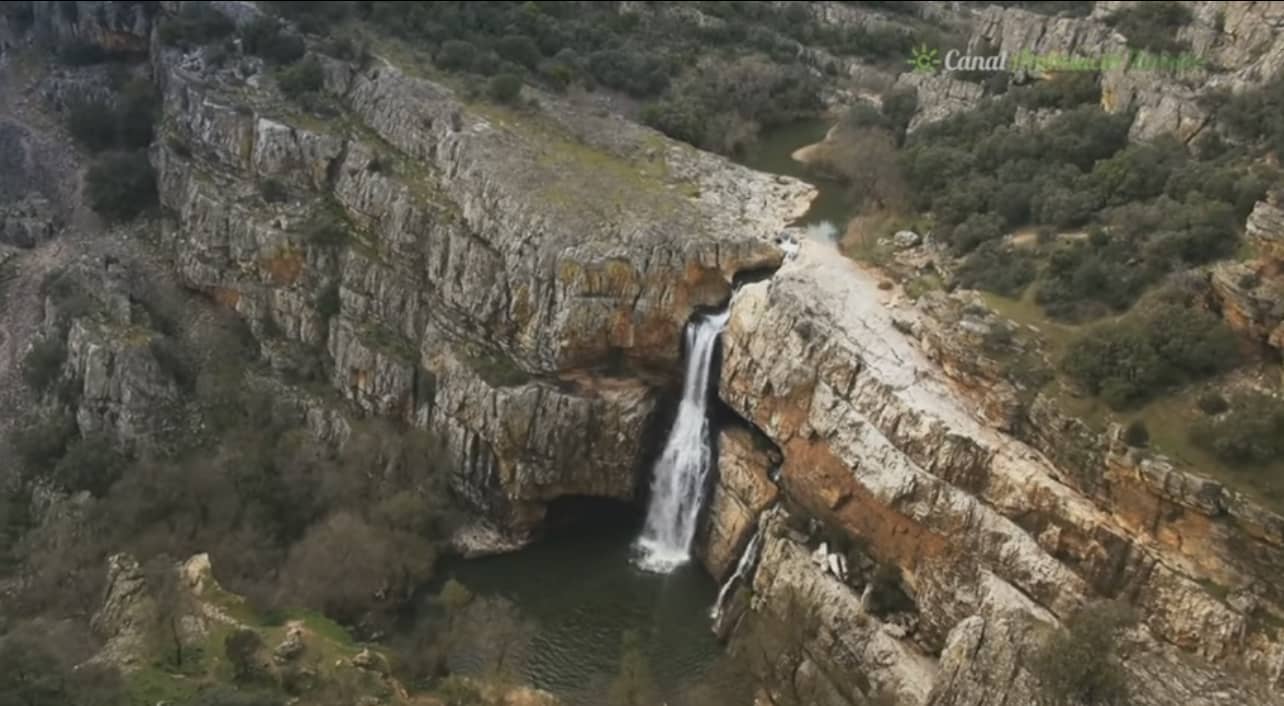 One of the most beautiful attractions that Andalucia has and is located just two kilometers from the village of Aldeaquemada. Cimbarra Fall has a waterfall about 40 meters high that stands out of the rocky surface around it composed of quartzite. Visiting this waterfall during the rainy season is a unique experience since the sound of the falling water is deafening. Sometimes, you can even hear it from the village!
The area is well-signposted, and it isn't difficult to access the site.
Something that I have recently discovered and that has caught my attention is that in this territory have been found numerous prehistoric remains. In addition, this area has been declared a Special Protection Area for Birds due to the presence of some extraordinary birds, such as the golden eagle, Bonelli's eagle, and eagle owl.
Cimbarra is one of those waterfalls that will look like a postcard when you take a photo of it. You can't miss it!!
10. Horsetail Waterfall, Monasterio de Piedra
Location: Zaragoza
This impressive waterfall has 54 meters of free fall and is one of the most beautiful for the environment surrounding it. Horsetail waterfall is located in the Natural Park of the Monasterio de Piedra.
Wherever you look at it, it produces a hypnotic effect. But what makes this waterfall special is the beautiful cave that is inside. From inside the "Grotto of Iris," you can observe the waterfall from a different perspective. It's a spectacle of light and sound! The inside of the grotto is quite large and has a considerable height. You will get a little wet because the water is filtered inside, so you will get a few drops.
In this Natural Park, there's also a tiny monastery, more than 800 years old, built by thirteen monks of the Cistercian Order of the Monastery of Poblet. Although it is undoubtedly the most spectacular, the horsetail is not the only waterfall you will find in this area. This park is a protected area full of waterfalls and forests to explore. So come with time to enjoy it all!
Pedro, 61 yo, from Madrid wants to share his experience with us: "Easy and peculiar access. The grotto is full of humidity due to the filtration of the river. The cave is deep and with a beautiful view of the waterfall from the inside. Try to go out of season!"
9. Cinca Waterfall
Location: Huesca, Aragon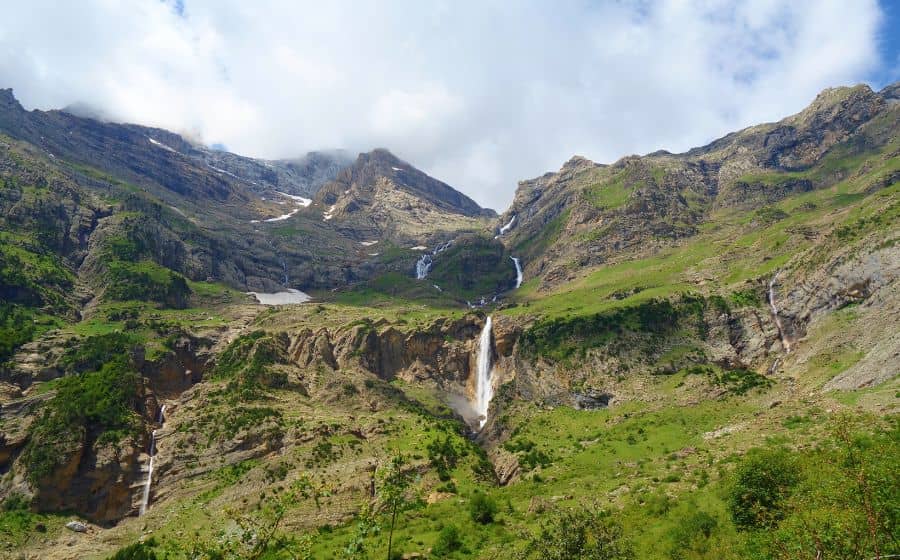 This is another of the famous waterfalls found in the famous Ordesa National Park in Huesca. It has a spectacular fall of 110 meters, where a large amount of water falls. Due to the force with which the water falls, you will end up soaked if you are very close!
You won't have any problem finding it, and you won't get lost since you will always be able to see the waterfall from the lower part of the valley.
I'm sure you will fall in love with this spectacular phenomenon of nature. Believe me, the excursion will be 100% worth it!!
You will also be able to enjoy the Edelweiss "Snow Flower" as you will see it everywhere. In fact, the natural habitat of this flower is located above two thousand meters of altitude, and it's easy to see it in the alpine meadows, especially in the Alps. And a curious fact is that the Edelweiss is the national flower of Switzerland!
In winter, when the waterfall's water is completely frozen, you can climb up the waterfall! A 120 meters climb that will take about three hours is considered the best Ice Climbing in the Pyrenees!!! Just WOW!
8. Fonts de l'Algar
Location: Callosa d'en Sarrià, Alicante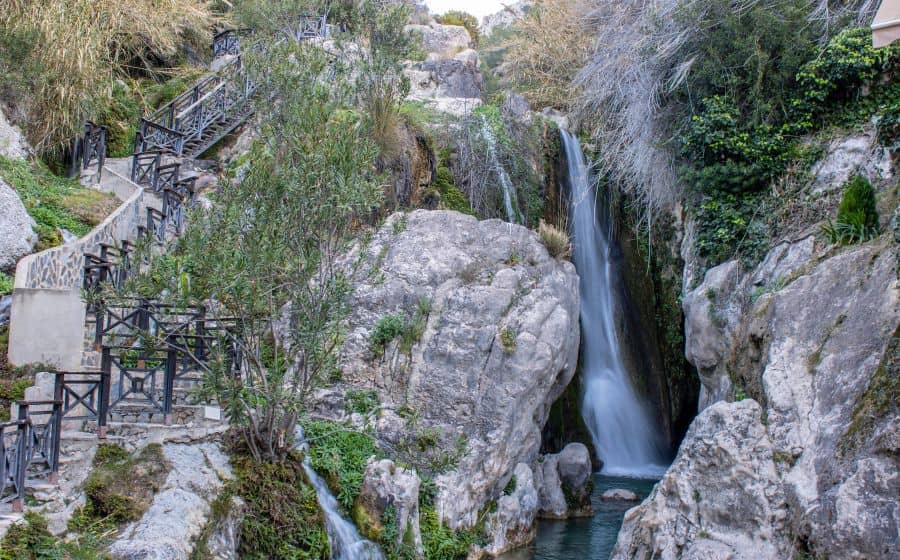 If you are looking for a nice and different place where you can take a refreshing bath, Fonts de l'Algar is your place. It's a set of waterfalls connected by small water channels. Undoubtedly one of the key places to visit if you come for a few days to the Costa Blanca.
It's one of the most popular excursions in the province of Alicante and the perfect place to spend a day with your family, partner, or friend. Algar waterfalls is an incredible place, with natural pools of crystal clear water surrounded by beautiful trees and rocks.
To get to Fonts de l'Algar, you won't get lost. It's a straightforward path, and it's very well signposted, so don't worry at all!
Pedro, 61 yo, from Madrid wants to share his experience with us: "As in most waterfalls if you want to enjoy the waterfall you just have to avoid weekends and summer time. Very easy to access and many places to enjoy a picnic on the banks of the river. You can also take a dip! To access you have to pay, and you have several facilities such as toilets."
If you can, avoid doing this route on weekends and especially in summer. If you have no choice, get up early, as this place gets crowded! And remember that even if you are near the coast, the water comes from the mountain and is quite cold!!
7. Ezaro Waterfall
Location: A Coruña, Galicia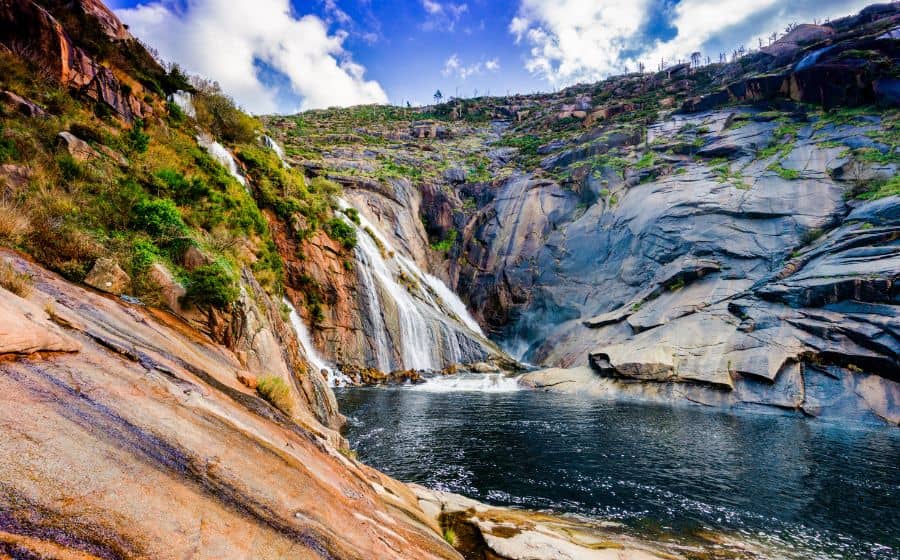 Specifically, you can find it in the municipality of Dumbría. It's a unique place in Spain and even in Europe! And do you know why? Because it's the only river that flows into the sea through a succession of waterfalls. Before reaching the Atlantic Ocean, its final jump is 40 meters high. In fact, the force with which the water falls makes that, on many occasions, it can be seen from kilometers away. The good thing about this waterfall is that you can see it at any time of the year. However, its maximum power is observed in winter, when there is more rainfall.
The Ezaro Waterfall is full of legendary stories, supernatural powers, and rituals.It's a highly recommended place for its scenic beauty, as well as for its abundant flora and fauna.
If you want to see something different, the waterfall is illuminated between June 21 and September 21 from 23:00 to 00:00h.
6. Caozo Falls
Location: Cáceres, Extremadura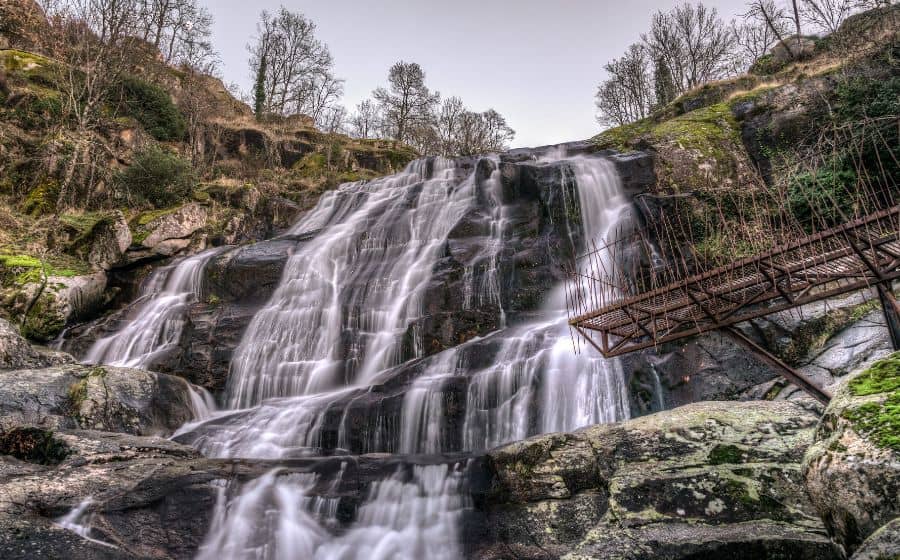 This beautiful waterfall is located in the Jerte Valley in the village of Valdastillas. It's hidden among the trees, which makes it even more beautiful, and the force with which the water falls will leave you surprised! You will have no problem finding it as it can be easily reached by car from the village. Then you just have to walk along a short path until you find an iron footbridge, and then you will have the waterfall in front of you. Another option if you are one of those who like hiking is to leave the car in Valdastillas to do the route on foot. To give you an idea round trip would be a total of 7 kilometers.
The waterfalls are more spectacular just after the rains, but you can go at any time of the year, and they will still be beautiful. If you don't want to meet many people and want to take nice pictures, don't go on a Sunday or try to go very early in the morning.
5. Pedrosa de Tobalina Falls
Location: Burgos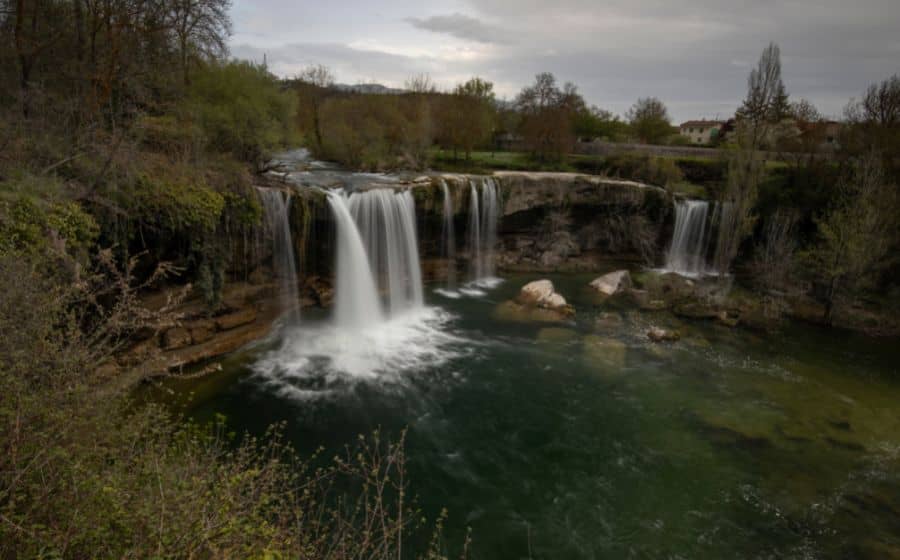 This natural wonder is created thanks to the waters of the Jerea River, a tributary of the Ebro. Its 20 meters high and 100 meters long make it a unique place. If you want to get the best views of the waterfall and the lagoon, I recommend you come and take a look from the viewpoint. If you are one of those who like to inspect the place, there's also an old mill that has been preserved for years. Pedrosa de Tobalina is an incredible place to take a swim. I'm sure you won't be able to resist when you see the turquoise blue of its waters. It's the perfect place to spend a day with family or friends or for a romantic getaway. If you want to see a great mass of water coming down with incredible force, you should come during the thaw or heavy rainy season.
4. Fervenza do Toxa
Location: Pontevedra, Galicia
First, you should know that Fervenza refers to what the Galicians call a waterfall. This waterfall is one of the most famous attractions of the autonomous community of Galicia. The waterfall is located a few kilometers from the town of Silleda, precisely between the parishes of Pazos and Martixe.
The water falls from more than 30 meters, forming a beautiful waterfall. Its environment will leave you amazed with its super lush forest full of trees of all kinds, such as chestnut, oak, and other species typical of this area. It's undoubtedly a unique landscape that will leave you in love!
Access the viewpoint if you want to enjoy an incredible view from the top of the waterfall. You will be more than 70 meters high, surrounded by a magical environment. You can also see the waterfall from the bottom and take a swim!
Access by car is limited, as we want to preserve the pure state of the place and its unique ecosystem. Therefore, to get to the waterfall, you will have to walk; believe me, walking makes the experience much more beautiful and memorable.
Although you can visit the waterfall any time of the year, I advise you to see it in autumn and winter. These are the months when there is usually more rain in Galicia. The amount of water and the force it falls is crazy! Also, the trees at this time of year begin to lose their leaves and acquire brown, orange, yellow, and even red, which makes it a natural spectacle!
3. Los Chorros del Rio Mundo
Location: Riópar, Albacete
The source of Rio Mundo is one of the most impressive natural points of the province of Albacete, which has a magical waterfall about 100 meters high.
The critical time to see it in its maximum splendor is during the fall season since it's the time of more rain.
The route to get to the waterfall from where you park the car is about 2 kilometers, so get the idea of 4 kilometers round trip.
Believe me, this waterfall is a must for nature lovers! It's, without a doubt, one of the most beautiful waterfalls in Spain.
If you want to have a more unique experience, I recommend that you visit the waterfall at the moment when the locally known "reventón" occurs. It refers to the sudden release of a mass of pressurized water through the cave. It's actually tough to know exactly when it will happen, but you are more likely to see it if you go between November and March.
2. Horsetail Waterfall, Ordesa
Location: Huesca, Aragón
This spectacular waterfall, which will leave you speechless, is located in the National Park of Ordesa and Monte Perdido. Without a doubt a paradise for waterfall lovers! It's so named because it resembles a horse's tail, and if you have a look, it's actually true!
It's probably the most popular and well-known hike in the Huesca Pyrenees, with millions of visits per year.
The route will keep you entertained, as the scenery is beautiful, and you will not stop looking everywhere. It's a slightly longer hike but easy and accessible to anyone, both children and adults.
Horsetail waterfall is 1800 meters high and has a cascade of 54 meters, which makes it one of the highest in Spain. It can be accessed from both sides of the river, from where you will have incredible views, and you can enjoy a picnic on its shore!
Pedro, 63 yo, from Madrid wants to share his experience with us: "The route to the waterfall is easy but long. We recommend you to take food with you because there is nowhere around to buy anything. The best seasons to go are autumn and spring, the site in general is spectacular! Almost all the way you are walking near the river and with beautiful views!"
Sorry to give you these bad news, but you should know that swimming at the Horsetail waterfall is forbidden! Another important thing you should know is that during the summer months, Easter, and some long weekends access by car is restricted. You can use the bus service that leaves Torla, so I recommend you take a look before you go to avoid any problems.
1. Nervion Waterfall
Location: Alava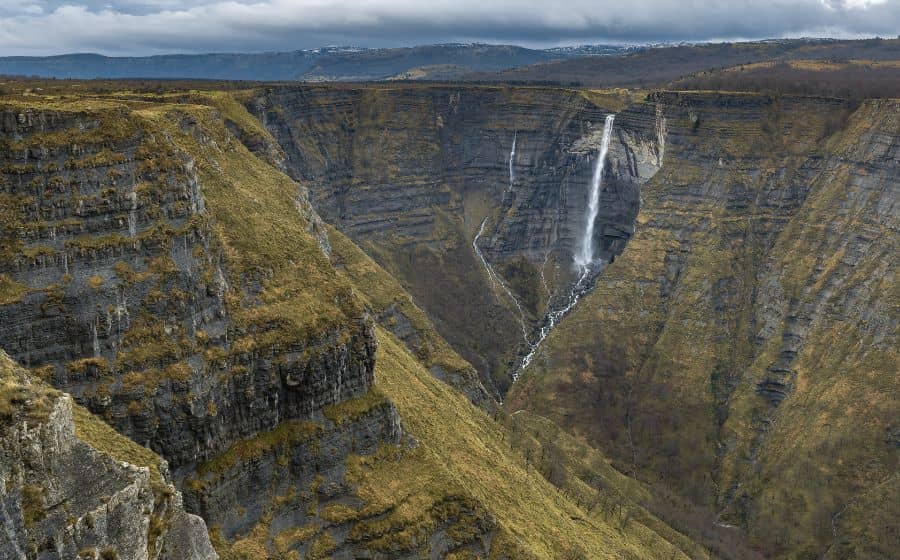 If you were wondering which is the highest waterfall in Spain, here it is! And not only that, but it's also the highest in the Iberian Peninsula. It has a total height of 270 meters with a single drop of 222 meters!!! A real madness! Nervion waterfall is located in Alava, right on the border with the province of Burgos and it seems that we can only see it in its maximum splendor when it rains a lot and in time of thaw. I think this makes it so unique, don't you think? It's actually my favorite one!
To enjoy the waterfall, you can see it from the viewpoint above, where you will have a bird's eye view of the rest of the valley. Or you can take a short hike to the bottom, where you will enjoy a spectacular view too. If you have time and can do both, it would be great!
If you don't want to walk too much, I recommend leaving your car in the parking lot 2 km from the waterfall. It's the closest point and from where the road to the viewpoint starts.
The best time to visit the Nervion Waterfall is in late winter or early spring when there is more rain. If you go at another time, you may find the waterfall with a thin trickle of water or completely dry.
Here's a map so you know where to find them!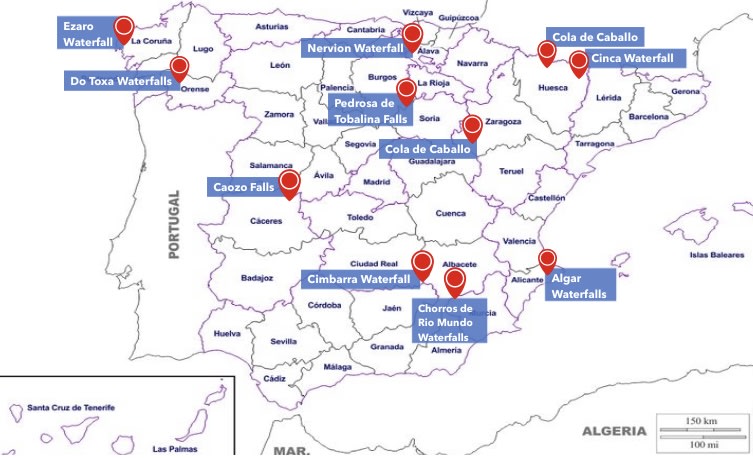 Have you been to one of them? I hope I have surprised you with this list. I would love you to leave your opinion when you visit one of these waterfalls so that other people can have more references. If you think I've left out a must-see, I'd love to hear from you!