Want to elevate your menu? 9 +1 Spanish Christmas Drinks for You!
September 27, 2022
Updated:

February 14, 2023
Published: September 27, 2022
Did you know that 72% of Spaniards believe alcoholic drinks are essential at Christmas?
Do you think you are the same way? Don't take it the wrong way! Coming from the country of wine and beer, we enjoy adding a bit of excitement to our special moments without going too far. 
After sharing these 9 Spanish Christmas Drinks plus 1 fundamental addition, you will get a bunch of new ideas to give a little twist to your usual Christmas menu.
Put your Santa-barman hat on and prepare to taste a bit of Spain in your holiday drink!
Disclaimer: This is not an absolute disclaimer, but I must say that hot chocolate is the best Spanish Christmas drink of all time. Everyone can enjoy it, and they go even better with some churros. 
1. Cava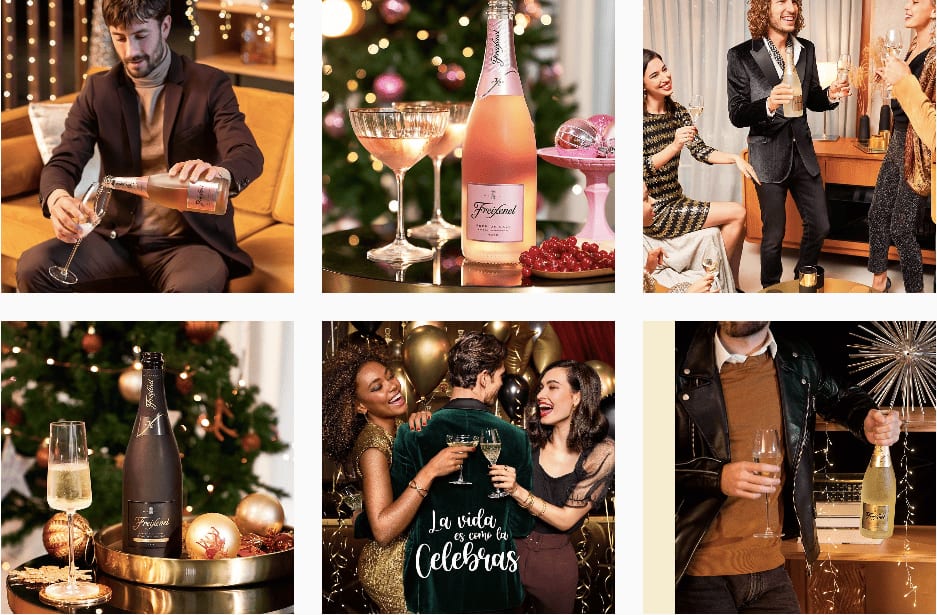 "All I want for Christmas is you" is what I am singing immediately while writing about Cava. Personally, I think Cava is the top of the cherry for any dinner celebration. Many people will disagree with me, but you know…it is not for nothing that it is one of the most famous Spanish Christmas drinks.
Cava is sparkling wine. Simple as that, it is the Champagne of France and the Prosecco of Italy. Well, although those three are pretty similar, they differ in the types of grapes, methods, and origin, of course. 
In Spain, Cava is mainly produced in the region of Catalonia close to the Ebro River. It should exclusively be from there to be designated with a "Denomination Origin." The grapes to make these Spanish Christmas drinks are Macabeu, Xarel- Io, and Parellada. 
The process is similar to Champagne; producers combine yeast and sugar with still base wine to make this beverage possible. Then, it goes through a second fermentation when the bottle traps the carbon dioxide, resulting in the bubbly drink. 
During Christmas or any celebration, Cava is drunk as an aperitif or with dessert, and its primary purpose is to toast with it. The most famous brands on our tables are Freixenet, Anna de Cordornio, and Segura Viudas.
Want to know something sensational? Cava is affordable!!! Spain's extraordinary Mediterranean climate makes it possible to get the grapes we need every year-round. So, you can have a fantastic dinner with delicious drinks without selling your liver. 
My favorite drinks depend on the situation; I like wine during dinner on New Year's Eve, and after the grapes, I like to toast with cava. The next day I have breakfast with churros and hot chocolate.
2. Patxaran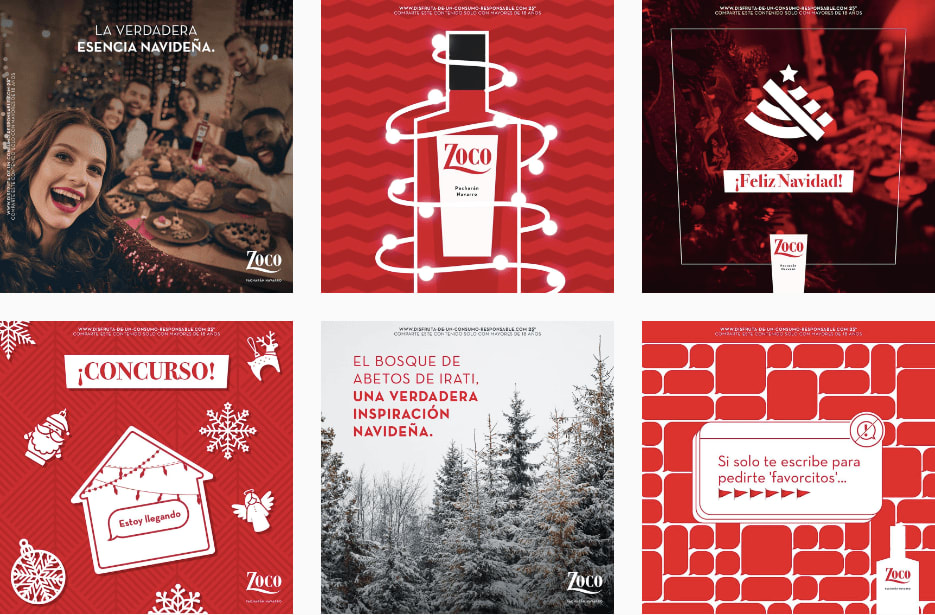 To pronounce Patxaran, you need to feel the vibes of "Little Drummer Boy" from King & Country. Get that "pa rump pum pum pum" flowing. Ready? I know it is challenging, but try it with me. Pa- cha- ran. Easy, right? The name with "X" is how the basques write it, and as it is a drink from the north, I thought that was the best way to present it. 
Okay, I was just trying to make this a bit fun. Anyway…Patxaran is a liquor made from "endrinas" (blackthrone) or arañones (sloe berries), anise and alcohol. It is a traditional drink from Navarra, and its production dates way back to Medieval times. 
If you have seen any movie or series from Medival Times, you are familiar with using alcohol for medical use. That was the primary purpose of Patxaran when our ancestors from the Kingdom of Navarra discovered they could produce that liquor at home. 
But moving on from advising alcohol to cure the body, it has a pleasant, sweet, and fruity taste. It might come a bit strong initially, but it grows in you. Patxaran lovers drink this as a "digestive" drink after dinner and dessert. 
I bet you are now considering buying one! After all, Christmas dinners are known for leaving us stuffed!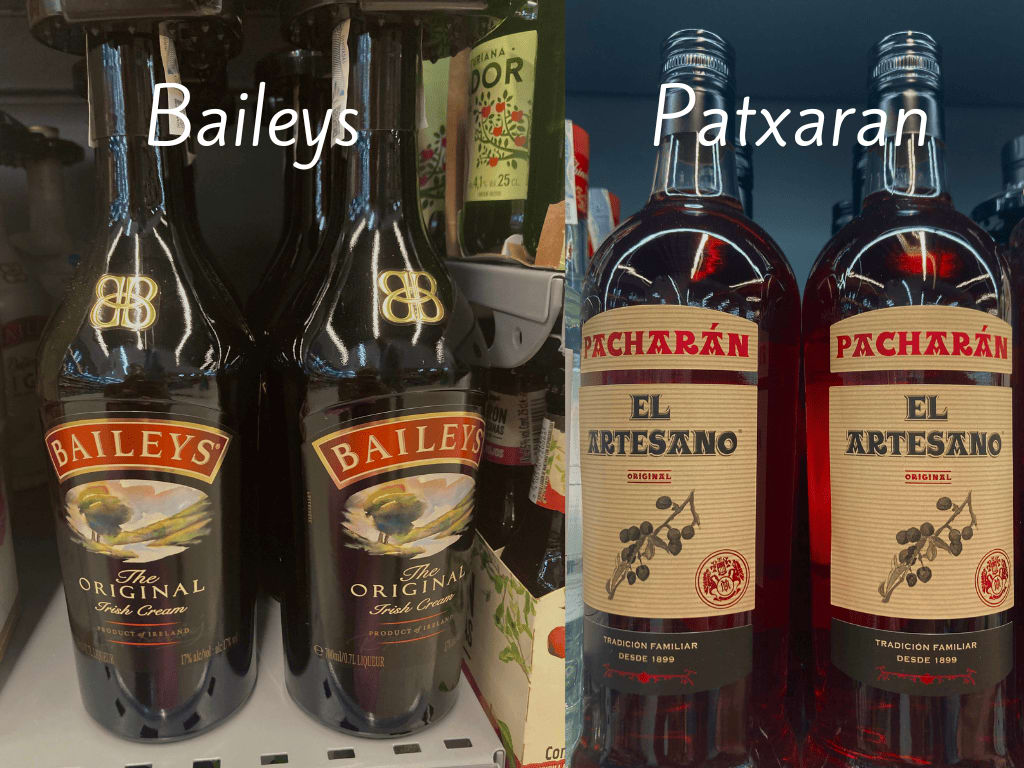 3. Baielys
"I will be home for Christmas…please have snow and mistletoes and Baileys by the tree…." My favorite version of this song is Michael Buble's version. 
I know what you might be thinking… "wasn't that an Irish drink?". Yes, yes, it is. But just like other countries drink more Brandy than we do. We drink more Baileys than they do. 
For those who aren't familiar with this drink, it is made out of whisky and cream. Also, you can get a wide variety of Baily's, from chocolate to coffee and candy. 
Depending on the moment, I like a cup of wine, during the meal cava and after eating Baileys.
So, why is this Irish beverage listed as a Spanish Christmas drink? Because we love having it with or after dessert. Baileys has a very sweet taste, making it a perfect companion after dinner.
4. Orujo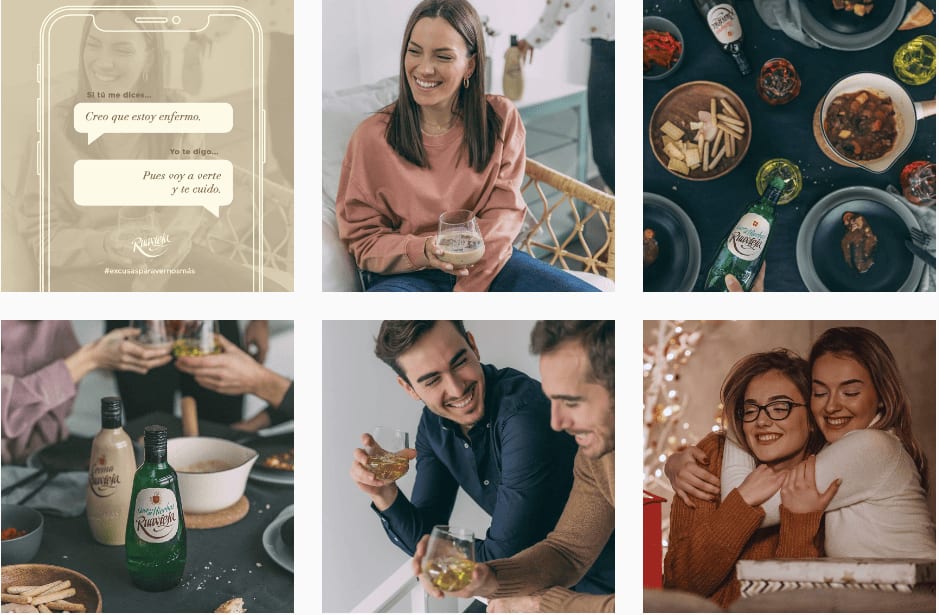 Another weird name? I have no Christmas carol to rhyme with, but this is easier to pronounce than Patxaran. This is another very traditional Christmas drink and a bit of a digestive. Okay, no, people (me included), that is good for digestion after big meals, but that is not true. I thought you might want a bit of insight into popular beliefs. 
So, what is Orujo? Have you ever wondered what happens to all the grape skin when the wine is produced? No? Well, in Spain, we don't throw anything in the trash. Nothing goes to waste.
Orujo is made of the residue of wine production, meaning skin, seeds, and stalks, plus a thousand more species I will list now. It will taste like the combination of:
Mint
Camomille
Lemon verbena
Rosemary
Oregano
Cinnamon
Nutmeg
Thyme
Cilantro
Orange blossom
Fennel
Licorice
Quite a combination! Believe it or not, it is super good. Not my favorite, but nice. Orujo goes way back to the 17th century when the leading producer was and still is Galicia, followed by Cantabria. To prepare this drink, people from those regions use an "alambique," a copper kettle introduced by the Arabs. The ingredients go through the processes of evaporation and concession in the "alambique" until they get the final liquid. 
The best way to drink Orujo at Christmas is with a shot glass after dinner (as a digestive). Orujojo is a Spanish Christmas drink that our most famous brand, Ruavieja, is known for its Christmas commercials. 
5. Brandy
I drink wine during meals, and I usually drink brandy afterward.
This is definitely a Santa helper. Brandy is excellent for keeping us warm in the brutal winter of December. Brandy should be on your list, don't think twice! Sounds familiar? "He is making a list…he is checking it twice…".
Brandy was introduced by the Arabs back when Spain was Al-Andalus, and we kept the recipe. This Spanish Christmas drink is known as "burnt wine" because the final result comes from distilling wine. Now, Brandy is produced in the regions of Andalusia, Castilla- La Mancha, and Catalonia. 
Spaniards that like having this Spanish Christmas drink take it after dinner. The brand you will see on the table is Torres Brandy. 
6. Anis
It's Christmas! It's anisette time! I think that's the main ingredient of any recipe for this holiday. Smelling anise tells me it's that time of the year, and my Alexa plays "It's Christmas" by Jamie Cullum. 
This drink is simple; it is made of aniseed, alcohol, badian, and fennel. The great thing about it is that we have a variety to choose from extra-dry, dry, semisweet, sweet, and "escarchado" (candied, which means it has a LOT of sugar). Anise is ubiquitous in the regions of Alicante and Madrid. 
Once again, Anis is drunk after dinner, and the leading brands are Cazalla, Chinchon, and Anis del Mono.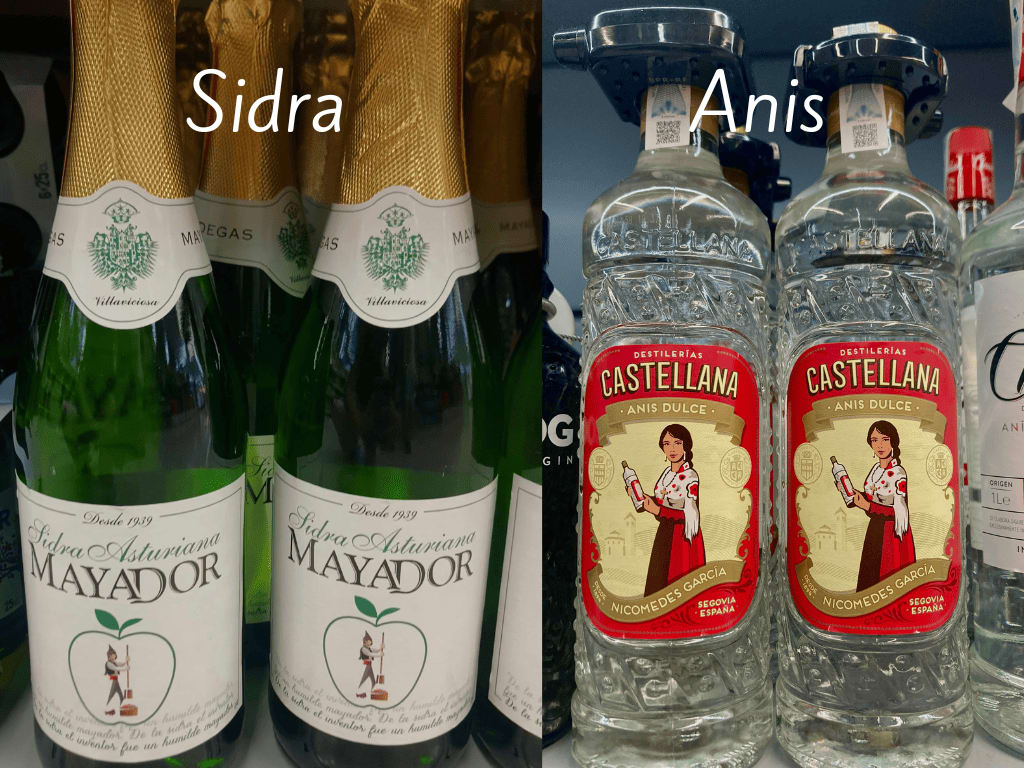 7. Sidra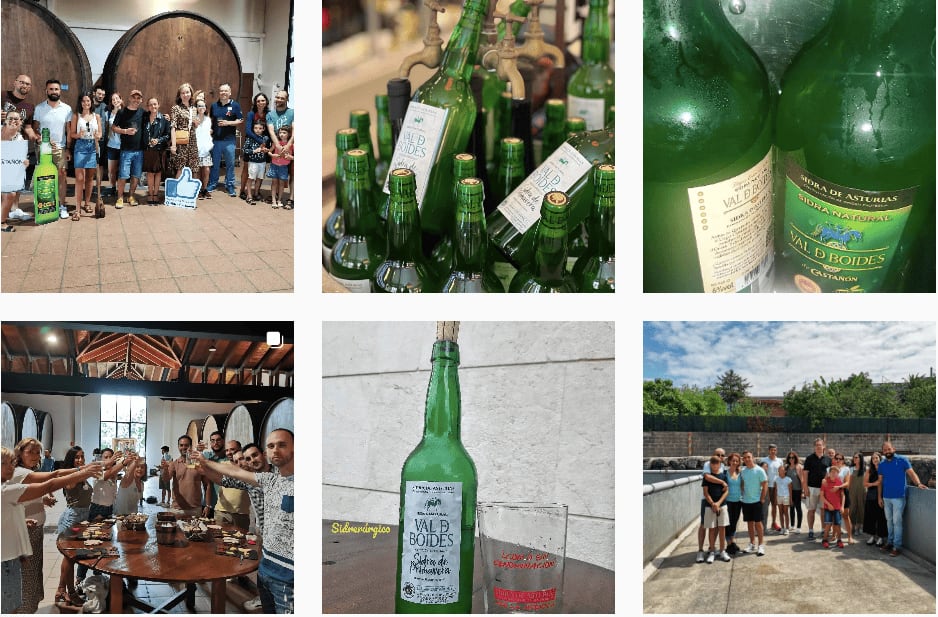 Have you ever played secret Santa? Or twelve days of Christmas? If you ever play with someone from Asturias or the Basque Country, don't forget to include Sidra as one of the gifts. After all, you could become the true love the song talks about. 
Sidra or cider is the fermented juice of apple. It's an apple wine! Not my first choice of Christmas drink, but thousands of people would disagree. 
Just like Cava, Sidra is used for toasting on Christmas and New Year. If you adventure to buoy one, there is one essential thing you need to know: to serve correctly. To do it right, you must have that glass almost at the height of your head and the glass away from the bottle. Once you have calculated the distance, let the Sidra fall, and it should hit the glass. Doing this creates an aromatic explosion and highlights Sidra's qualities. 
And what brand should you have on the table? (and not in the fridge because that is a crime with Sidra) Val de Boides is a pretty good brand and absolutely affordable.
 8. Wine
Play "Baby it's Cold Outside by John Riesen… Go on… I'll wait.
Ready?
I really can't stay…baby it's cold outside…I gotta go away…baby, there is wine…maybe a half drink more. 
Too cheesy? Okay, maybe it was, but I was inspired, and it's what we genuinely feel about wine. We can't say no to wine. Never. It is our pride and, although we drink it all year long, it is a must on Christmas. 
Wine is taken with dinner. White, rosé, or "tinto*"* (red wine) will depend on the food you serve. My personal recommendations for Spanish Christmas would be any brand from La Rioja, Ribera del Duero (Castilla- Leon), or Valdepeñas (Castilla- La Mancha).
9. Ratafia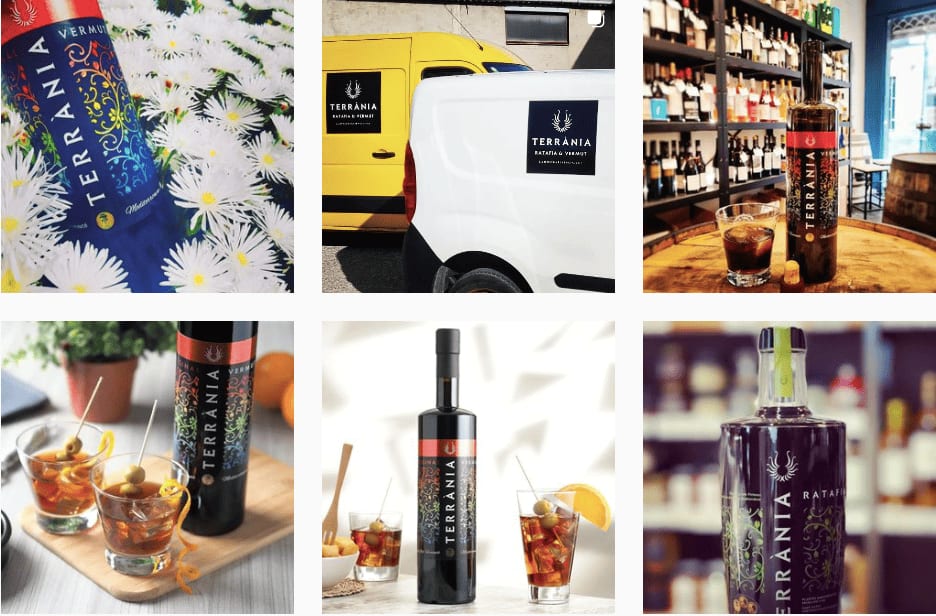 "Everybody knows Ratafia and some mistletoe help to make the season bright…Although it's been said many times, in many ways. Merry Christmas to you!" Beautiful son by Nat King Cole.
Ratafia is not a drink for Christmas Day but for the entire month of December. At least that's what you might feel if you visit any city in Catalonia during winter. That is their drink by excellence, and as very popular on a cold night, it made the list of Spanish Christmas Drinks.
Ratafia is a digestive liquor made of nuts, herbs, and spices such as lemon zest, clove, nutmeg, and cinnamon. All these ingredients are left soaked for two months. Then, producers would add alcohol and sugar and go again for 3 more months in wooden barrels. 
Ratafia has earned a Geographical Indication which means that the EU protects the name of a spirit drink and clarifies its belonging to a specific country. If you want to try this drink, Terrània is a brand that has earned multiple awards in little time. 
10. Rompope, Eggnog, and Coquito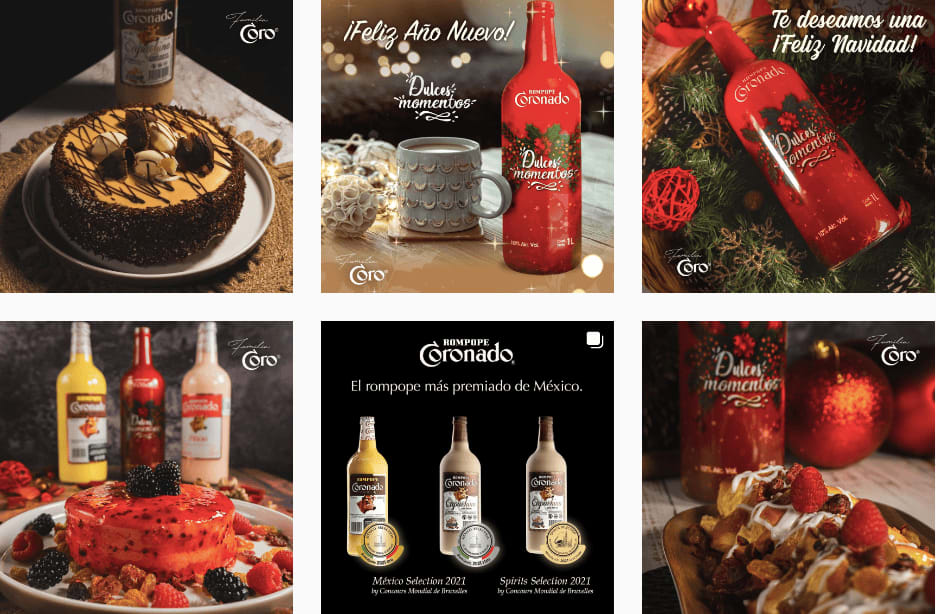 "It's lovely weather for a slight ride with you…come on, it's lovely weather for a drink of Eggnog with you…."
This is the +1 of our list. Nor rompope, eggnog, or Coquito are Spanish Christmas drinks, but they are trendy, and I couldn't leave them out of the list. Unlike Bailys, these beverages are little known in Spain. Still, I discovered that most of my Latiamerican friends have them for Christmas.
Let's do some clearing up of terms. These drinks are similar but different. Stay with me. 
So, eggnog is a traditional Christmas drink from the UK, rompope is famous in Latin America, and Coquito is specifically from Puerto Rico. The three beverages are drunk from December to January and are usually cold!
The difference is slight, but each one has its twist in the end. While eggnog is full of eggs, milk, cream, sugar, rum, or brandy. Coquito and Rompope only use egg yolks. The first adds sweetened condensed milk, coconut cream, and rum; the second uses milk, spices, rum, and, most importantly, ground almonds. That's what makes it different. 
Oh! By the way, that last song was "Sleight Ride" by Ella Fitzgerald. And we love holiday music so much that we curated a complete list of Spanish Christmas songs for you!
Now you know every single Spanish Christmas drink to twist your menu. Well, your menu or your whole month. Don't forget that rompope and Ratafia can drink from December to January. It's your choice! 
Christmas is unique in Spain, and we have been preparing another post about our traditions, favorite movies, and cookies. I hope you will like it! Have a jolly day!