11 Spanish Christmas Movies to enjoy a Lovely Family Evening
September 20, 2022
Updated:

February 20, 2023
Published: September 20, 2022
Time to get comfy! Grab some popcorn and get your family together because here are the best Spanish Christmas Movies you need to know!
Whether you're looking for an all-time classic, a modern movie, or a black and white film, I got you! -Grab a warm blanket and paper tissues because this can get sentimental.
And if you want to know what actual spaniards watch on Christmas, we asked that question on the streets of Madrid. This is what they had to say (among many other things):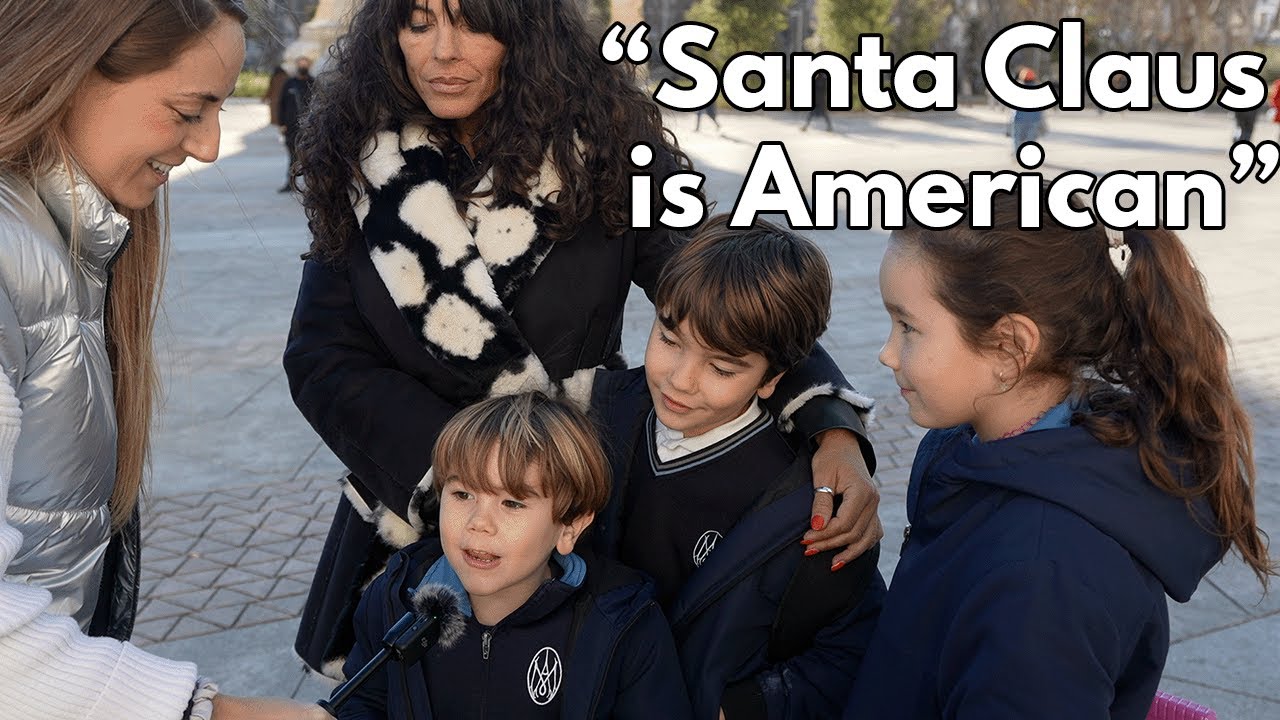 Here is a list of all movies organized by their IMDb rating. (One of the films might have inaugurated a new subgenre…) Trailers and a little plot introduction are also included.
So… Clear your calendar for 11 days because it's time for some binge-watching!
---
| Spanish Christmas Movie | IMDb Rating |
| --- | --- |
| 1. Klaus | 8.1 |
| 2. Placido, "Plácido" | 7.8 |
| 3. The Day of the Beast, "El Día de la Bestia" | 7.3 |
| 4. Three Days of Christmas, "Días de Navidad" | 6.8 |
| 5. The Big Family, "La Gran Familia" | 6.5 |
| 6. Love Storming, "No controles" | 5.9 |
| 7. 1000 Miles from Christmas, "A Mil Kilómetros de la Navidad" | 5.8 |
| 8. "Felices pascuas" | 5.7 |
| 9. The 3 Wise Men, "Los Reyes Magos" | 5.3 |
| 10. "¡Se armó el belén!" | 4.9 |
| 11. "Noche de Reyes" | 4.5 |
1. Klaus (2019)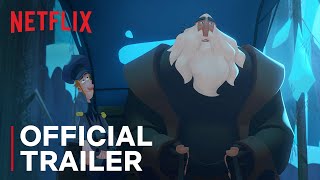 Klaus is known in Latin America as "La Leyenda de Klaus." It is an animated Spanish christmas movie written and directed by Sergio Pablos and has an 8.1/10 IMDB rating.
The argument is centered on an alternative legend of Santa Clause through the Experience of Jasper, a young Scandinavian carter man who was destined (without his will) to an island in the polar circle. Where he met a mysterious Carpentier man called Klaus. 
The movie was released on November 8, 2019. It has been available worldwide on Netflix since November 15 of the same year. Klaus has won seven Annie Awards, among them one as "best-animated film," and it was also nominated for an Oscar for the best-animated film in 2019.
The main Cast is formed by: Jason Schwartzman, J.K. Simmons, Rashida Jones, and Joan Cusack. It lasts about 97 min and it's perfect to watch with your family on a lovely christmas night!
2. Placido, "Plácido" (1961)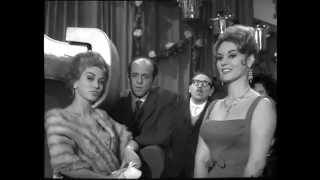 In a small Spanish town, a group of wealthy older women organizes a special event during the Christmas holidays:They invite a homeless person to sit down to dinner at their large table.
Placido, a humble worker, is hired by the organizers to participate in a cavalcade with his "motor car," an apparently simple assignment that will not be easy for him to fulfill.
This old satirical Spanish movie takes place in "Nochebuena" on Christmas eve. The main criticism is about false charity. After all, the genuine will to share and give to others has to come from the heart.
It can be Streamed on FlixOlé, HBO Max, Movistar+, HBO and Amazon Prime. 
3. The Day of the Beast, "El Día de la Bestia" (1995)
Definitely not your regular Christmas Movie. Winner of six Goya awards, The Day of the Beast takes Satanism as its central theme, interfering in the plot line through the apparent birth of the Antichrist.
It was suggested that the film inaugurated the"satanic comedy" subgenre. Of course, so that the antagonistic Antichrist does not enjoy advantages, he must have an enemy to match: The Catholic Church. In this movie, Religion is ridiculed by being embodied by a dedicated ignorant priest called Berriatúa.
The film attacks faith but from a profound social root. Junk TV and manipulation by the media, criminal violence, the consumer behavior of the masses, or drugs are objects of examination. Perfect for a lovely *and mature* family evening! Right?
The Director, Álex De la Iglesia, makes a metaphor for the "destruction of Christmas" with the execution of the Three Wise Men in the crowded Preciados street. This means, for the director, an alternative conception of customs. The main cast is formed by: Álex Angulo, Santiago Segura, Armando de Razza, and María Grazia Cucinotta. The movie lasts about 103 minutes and can be streamed on Apple TV, FlixOlé, and HBO Max.
4. Three Days of Christmas, "Días de Navidad" (2019)
Netflix's most recent Spanish drama is Three Days of Christmas. This Spanish-language television seriesstars Victoria Abril, Carles Arquimbau, Elena Anaya, and Mae Aswell.
And what happens? Well… Four sisters celebrate Christmas in their family home at different times in their lives: teen-hood, adulthood, and elderly age. This plot is set in the Spanish Civil War's aftermath and was nominated in 2021 as Best Miniseries. 
The Spanish Creator is Pau Freixas, and you can stream it on Netflix. I suggest you watch this film, but you must be in the right mood to get into this show.
This is a meditative family drama with some moments of legit tension and stress. So… please don't be tricked by the name of the movie. However, it is easy to binge-watch since episodes only last around 50 minutes.  
5. The Big Family, "La Gran Familia" (1962)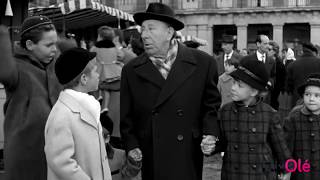 Every Spaniard over forty has seen "La Gran Familia" by Fernando Palacios more than a thousand times. This movie is a classic among all classics of Spanish cinema. It was frequently broadcasted in movie theaters and on television in the past.
It is said to be a social portrait of Francoist Spain in the 1960s that marked an entire generation and settled forever on Christmas television.
The film is full of innocence and rough values ​​that a prudish society received from all corners, from any pamphlet. Spain's dictator in that era wanted excellent and God-fearing people.
However, "La Gran Familia" portrays Spanish society as the director, Fernando Palacios, wanted it to be. He does so with a kindness that turns every Spaniard's memories into something pleasant.
The world was dark, and this movie made everyone dream of something better.
The Spanish Crew was Alberto Closas, Amparo Soler, José Isbert and José Luis López. It tells the story of a middle-class couple forced to support their 15 children over Christmas.
The script is very simple, but the meaning is so deep and important for Spain that even today, some private television channels rescue this movie from time to time.
This movie is for you if you want to watch an old film with a profound message! -You better not watch this if you're already sad- but this movie fits perfectly as a background to your "Spanish Siesta" or a "Sobremesa." at Christmas.
6. Love Storming, "No controles" (2010)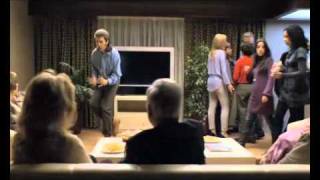 This movie, directed by Borja Cobeaja, won the Audience Award at the Festival du Cinéma Espagnol de Nantes in April 2011.
It takes place in the middle of Christmas. The film tells the story of Sergio, a boy who could not end the year in a worse way: It's New Year's Eve, and the heaviest snowfall in thirty years has started to fall. All flights are canceled, so he'll have to eat grapes at midnight with the rest of the passengers in a roadside hotel. He also wants to get his ex-girlfriend back before she goes to work in Germany.
Sergio is not alone. The exciting part comes when he meets his new team. There's a friend who wants to be a comedian, an estranged man who is pissed off from Punta Cana, and a hotel employee who doesn't have anyone to spend New Year's Eve with. They are literally the worst squad in the world.
Can you picture the kind of movie this is, right? It lasts about 100 minutes, and I suggest you watch it only if you are in that mood… (I know you get me.)
7. 1000 Miles from Christmas, "A Mil Kilómetros de la Navidad" (2021)
This modern movie by Netflix was produced by Alvaro Fernandez Armero and lasts approximately 100 minutes. 1000 Miles from Christmas tells the story of Raúl (interpreted by the Spanish actor Tamar Novas), a thirty-year-old man who hates Christmas carols, the Three Wise Men, and everything with some Christmas spirit. Mainly because he has experienced the worst misfortunes of his life at Christmas in the past.
He usually spends holidays on some remote beach. Yet, his boss has other plans this year: he will have to travel to audit a nougat factory in Valverde. (A town that absolutely loves Christmas) He will also have to share a house with Paula (Andrea Ross), the village teacher, who dreams of breaking the record for the largest Bethlehem manger in the world. His worst nightmare.
The movie is genuinely funny and has a very typical Christmas movie plot. Very predictable but pleasant enough to watch on any Xmas night with your family!
8. "Felices pascuas" (1954)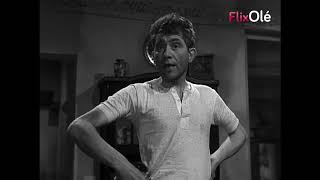 This Spanish Christmas Movie is set in post-war Spain. It tells the story of Juan (Bernard La Jarriqe) and Pilar (Julia Martínez, which also stars in 'Se armó el Belén!' that comes next). Both are a low-middle-class married couple that just won the Spanish Christmas Lottery!
In the movie, Juan calls his wife, telling her the good news because they didn't have to work anymore. But, right after quitting his job, he realizes he has made a grave mistake. The momentary happiness turns into horror when he discovers that the number they had was the winner but that his wife had changed it before the lottery.
They thought they'd won "El Gordo", but they won a little lamb instead! The family settled on the idea of enjoying a banquet on Christmas Eve. But, once again, things get complicated for Juan and Pilar's marriage since their children develop an attachment to the little lamb.
This movie was directed by Juan Antonio Bardem and lasts about 83 minutes. You can watch it on Amazon Prime!
9. The 3 Wise Men, "Los Reyes Magos" (2003)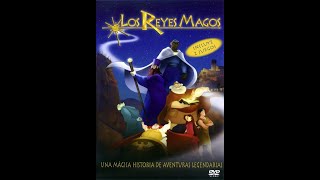 Available on Netflix, The 3 Wise Men film, directed by Antonio Navarro, lasts about 75 minutes and tells the story of young Jim. He hates Christmas because he hasn't received a single present. His grandfather tells him not to lose faith because The Three Wise Men have not passed by yet.
It is here when Melchor, Gaspar, and Baltasar appear in Judea, days before the birth of Jesus. Guided by a mysterious star, they'll have to hunt for the most important treasure in history: Finding 3 attributes to offer baby Jesus, who was about to be born.
This mission takes them on a journey full of adventures, at the end of which the three wise men will become the three wise men. Excellent movie to watch with kids!
10. "¡Se armó el belén!" (1970)
Not a black and white film -if you were wondering.
The movie's name, "Se armó el belén," is a Spanish expression that means there has been a mess, a confusing, problematic, or difficult-to-resolve matter.
The film, stared by Paco Martinez Soria, is an absurd comedy choral movie of a neighborhood priest who sells everything in his church to modernize himself. The script is very humorous and based on the priest's difficulty in attracting people and the idea of ​​achieving it through the representation of a living Bethlem scene.
It can be streamed on Amazon Prime, Apple TV, and Movistar Plus+ and the film lasts about 97 minutes. It is an all-time classic Christmas movie in the Spanish Cinema.
11. "Noche de Reyes" (2001)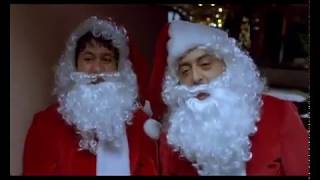 "Noche de Reyes" is a 2001 Spanish film by Miguel Bardem. Fun fact: Although it is set at Christmas, it was shot in Valencia and Madrid in August 2001. The actors had to bear the high temperatures of Spain's hot summer under thick winter clothes. It premiered on December 21, and the film lasts about 99 minutes. 
The plot revolves around the Cuspineda family, who enthusiastically hope to celebrate "La Noche de Reyes." At the same time, their father, Ernesto, gets out of bankruptcy by signing a contract between his company and a Japanese company. However, a series of incidents will prevent "La Noche de Reyes" from happening as usual.
Some say this movie is "A comedy that's nothing more than a raunchy, 'freaky,' kinky version of After Hours" (an American film from 1985). 
However, the movie Starred by Elsa Pataky, Joaquín Climent, and Kiti Mánver was well received in Spain. You can find it on RTVE Play, FlixOlé, and Movistar Plus+. 
Spanish cinema represents Spanish Culture. Most movies have become special because of the impact they've had in our society on essential topics we've all faced together as a country. Spanish Actors have a lot of talent, and many famous Spanish People have become international due to success in the film industry!