A Thrilling Journey through The Spanish Fashion History
September 23, 2022
Updated:

February 20, 2023
Published: September 23, 2022
Have you ever looked at pictures of yourself from years ago and thought to yourself: "Oh Lord… How could I wear that?"
Or you've heard your parents saying: "That was super trendy in my time!"
Fashion is very visual, so it is pretty easy for us to recognize if a garment is old or something familiar in our country, in this case, in Spain. Your dress says a lot about your personality; sometimes it can even have social and economic connotations. 
Spanish fashion has been evolving throughout history, adapting to the changes and trends of the moment. Spanish designers and brands are some of the best in the world, without a doubt. 
So, I invite you to relax and join this little history lesson about the Spanish Fashion world, which we Spaniards are very proud of.
And if you want to listen to real spaniards about their own fashion, you'll love this interview: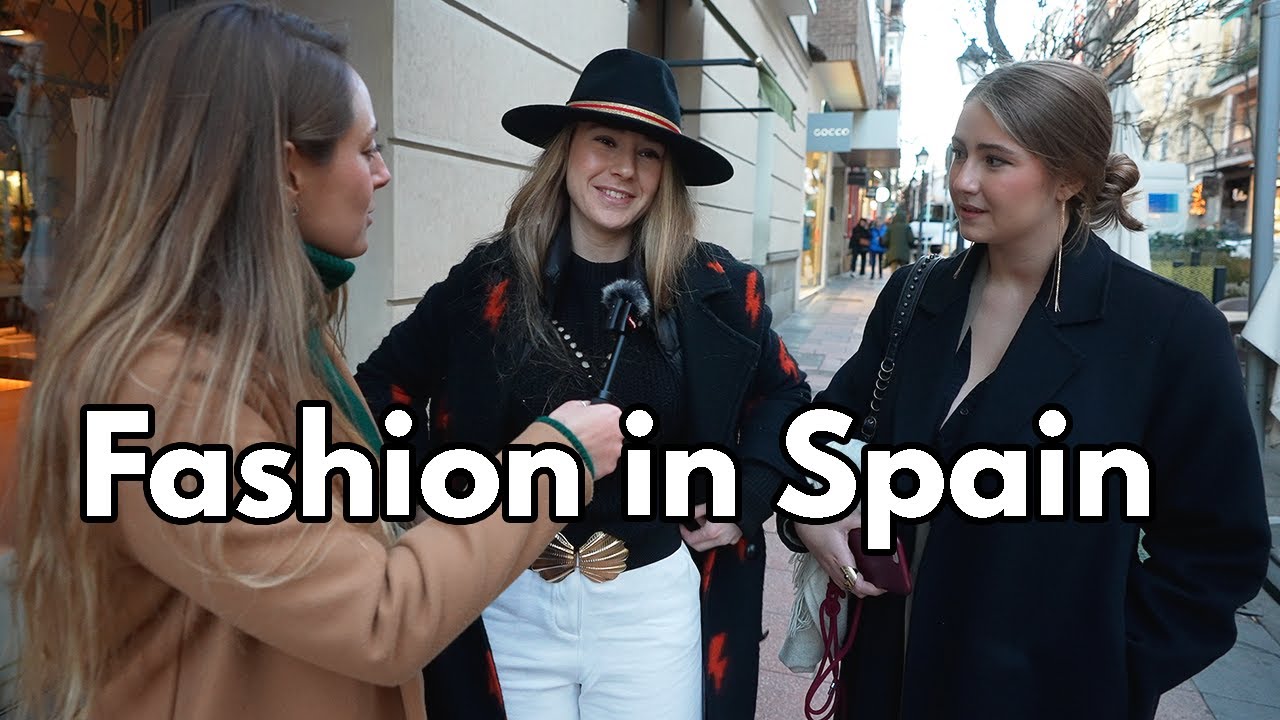 1. How the fashion world began in Spain
Clothing had already been part of history for centuries, either as protection or adornment. But it was from the beginning of the Industrial Revolution when fashion began to be introduced as a concept. At that time, Spain saw a significant change in how its citizens dressed. 
During the last three centuries, Spanish fashion was one of the economic drivers of the West. In addition, it was increasing its radar and began to spread, leaving aside the snobbish and exclusive circles to be available to everyone. 
Spanish fashion has evolved over the centuries, and we can see how it has been able to adapt to the social changes that are part of our history. 
Formerly, we could see it reflected in the clothes, the specific social class to which one belonged. 
Something that today is no longer appreciated. Of course, as in everything, there are exceptions.
In fact, years ago, the Spanish only had a few items of clothing, and over time we have become super consumerists with closets bursting with clothes. 
Everyone has been very aware of this, and some Spaniards today still want to mark their social status using certain clothing brands, which makes them feel empowered. 
Ana Velasco Molpeceres, author of the book "Historia de la Moda en España. De la mantilla al bikini" says, "to dress is to define an identity." 
Spanish fashion has become widespread and is growing at an impressive speed, besides being a key factor in the Spanish economy by generating millions of euros annually.
2. Key moments that revolutionized the fashion world in Spain
There were exciting moments in Spanish fashion history, but without a doubt, these were the ones that marked a before and after: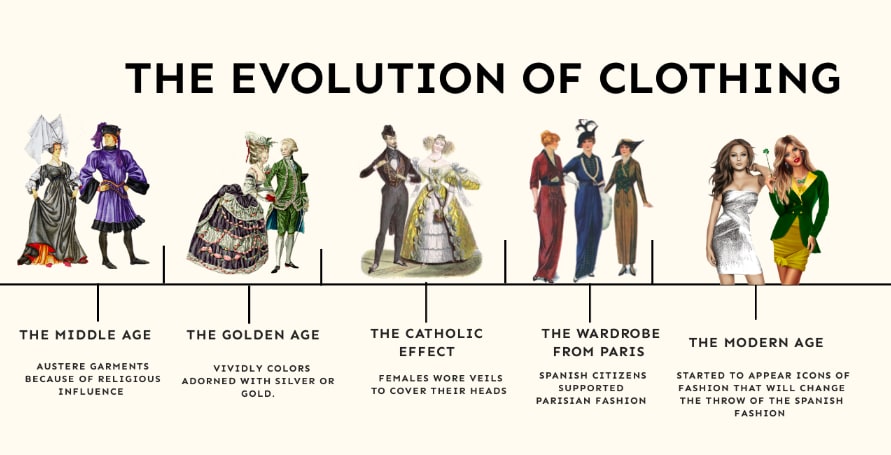 The Middle Age (10th Century – 15th Century)
Between the 10th and 13th centuries, the Arab influence was very present in the Spanish fashion. The regions where the materials, such as coats, cloaks, and brocade tunics, came from were dominated by Muslims. 
The Muslim heritage is significant and is reflected in the history of Spanish fashion, as well as in European style. 
Until the 14th Century, fabrics from Muslim regions were very successful, especially leather and silk. In fact, leather was very famous for the particular way it was treated, and in the Spanish city of Cordoba, the leather manufacturers are still known today as "cordobanes."
Some garments such as turbans, "turbantes," Moorish tights, "calzas moras" shirts, or "zaraguelles" have their origin in Al-Andalus and are still present today, as you can see in the traditional Valencian costume (link to the post of typical costumes).
It was in the 14th Century when the elite and aristocrats began to adapt to fashion changes and wear garments from abroad. 
During the Charles, I era was known for his basic black and white garments where religion had some influence. To give it a more relaxed touch, these clothes were adorned with grotesque accessories, such as gold chains, jewels, and buttons made of precious metals. 
The Golden Age (16th Century – 17th Century)
This period corresponds to the reigns of Philip II (1556-1598) and Philip III (1598-1621).
During the reign of Philip II, the term "traje a la española" known as Dressing Spanish-Style costume, became fashionable.
It was a style based on humility that confronted the exuberant and colorful, typical of the "Flamenca" influence present during the Charles V era. 
Spanish fashion became a benchmark, and its dress code became a trend that spread throughout Europe and reached Latin America. 
It was a crucial moment in the history of Spanish fashion and took place between 1556 and 1680. At this time, Spain had great power in practically all of the Peninsula. 
A very curious detail that marked a radical change in the Spanish way of dressing was the publication in 1580 of the first tailoring Spanish book.
In the second half of the 16th Century and early 17th Century, Spanish figures of the upper class wore colorful silk clothing with embroidery and gold and silver trimmings. 
Men began to wear quilted breeches, and women opted for "gala" costumes with prints. 
The Catholic Effect (17th Century – Mid-19th Century)
Spanish fashion had, as always, to adapt to the changes of the moment, as it happened with the entry of Catholicism as the predominant religion throughout the Peninsula. 
Black became the prevalent color in both men's and women's clothing. It was the tone the court figures wore and is also very present today. Black is a fundamental tone but always shows elegance. But at this time of history, it had a religious connotation, as it was the dress of the clergy and those who were going through a mourning process. 
Religion greatly influenced this period, where women wore veils to cover their heads and shoulders, as well as high collars with ruffs. They also used to wear a black "basquiña" over their dresses when they went to church and a rosary in their hands. 
A little Parisian twist (19th Century – 20th Century)
In the middle of the 20th Century, people from the upper social class who had money traveled to Paris to sponsor Parisian fashion. This was a significant moment for Spanish fashion history, as it served as a great inspiration for future designs. 
In fact, the most renowned Spanish designers began to travel to Paris to attend haute couture exhibitions. This broadened their knowledge and offered something new and fresh for the Spanish middle and upper class.
The Modern Age (21st Century – Present Day)
The decade 1900 was a key moment with the appearance of two excellent references to Spanish fashion.
These two icons are Cristobal Balenciaga and Coco Chanel. They undoubtedly revolutionized the Spanish fashion industry, where creativity and imagination were the main protagonists. They combined Spanish fashion with art, collaborating with painters like Dali and Picasso.
Today, fashion plays an important role and is very present in our daily routine. In some cases, you can see reflected the economic level of the person depending on how they dress or their style. But nowadays, it is really SO HARD to say; it doesn't happen like in the old days when you could totally guess the social class of someone. 
People today who have money can perfectly wear torn jeans, a basic t-shirt, and sneakers, and ages ago, they would be considered part of the lower class.
3. Iconic Fashion Pieces
Spain has a beautiful and varied clothing tradition. Some of the garments that have been very present for several centuries are the "Verdugo," a hooped skirt that emerged at the end of the 15th Century and that women continued to wear until the 20th Century. 
As far as men's fashion is concerned, the "traje a la española" in black was a must in Spain in the "Austrias" era. Also, as we mentioned before, leather was very present, as well as esparto grass, embroidery, and lace. 
As we have seen, fashion has evolved considerably, but some traditional pieces are an icon of Spanish culture. These pieces are worn on special occasions such as cultural parades, religious celebrations, festivals, and events typical of each Spanish region. Among these pieces, we must include the typical regional costumes of each Spanish autonomous community. These traditional costumes have many years of history, and many of them have been carefully preserved until today.
But if we talk about specific pieces, these are the TOP ones:
Flamenco dress "Traje de Flamenca": it's a dress worn by Spanish women to attend the fairs of their region and to dance the typical dance known as "flamenco". It is an ankle-length dress, tight to the waist, and opens from the hip with ruffles at the bottom. The traditional colors are red, black, and white. The hair is gathered into a bun with a beautiful flower on the side (usually a rose). 
Costume of Lights "Traje de Luces": it's an attire that attracts lots of attention, as it is very different from the rest. It is the traditional dress worn by the Spanish bullfighters. The pants and jacket are the same color and adorned with accessories in gold, silver, and sequins. 
"Mantilla": it's a veil that can be made of lace or silk and is used during religious ceremonies, such as weddings, Holy Week "Semana Santa", or even in bullfights. 
Gilet "chaleco": consists of a sleeveless jacket known as a vest. Years ago, they were fitted and embroidered, but today they have a different style adapted to the modern world. 
4. Most Relevant Designers in the History
Spanish fashion designers have made history in Spain and also around the world. We cannot forget to mention Cristobal Balenciaga, an icon and reference that you should remember since he marked a before and after in the Spanish fashion world.  
Other names that may ring a bell are Manolo Blahnik, with his spectacular shoe collection that every woman wants to have in her closet; Paco Rabanne, who, in addition to his designs, is also famous for his incredible perfumes. Manuel Pertegaz was considered to replace Christian Dior, Agatha Ruiz de la Prada designer and aristocrat, with very colorful designs and many more, but the list would be endless. 
So as it is impossible to summarize all the Spanish designers who set trends and revolutionized the way of dressing in Spain, I invite you to read the article "12 Top Inspirational Fashion Designers Made in Spain" where you can delve into this topic. 
5. Influence of Spanish fashion in other countries
In the early 16th Century, Spain was at the forefront of world fashion thanks to the impact of its embroidered designs and colorful clothing. Also, in this Century, Spanish style influenced much of Western Europe. At that time, heavy and uncomfortable clothes were worn by women. Spanish capes and corsets were trendy among British women and women in Western Europe. 
Many of the designs that are present today, on the streets and the catwalks, have been influenced by Spanish fashion. People worldwide are dying to attend the Spanish fashion shows that take place in cities like Madrid and Barcelona. And many Spanish designers are still very influential in countries like France and Milan, cities where style is never lost and where they are always on top of the latest trends. 
Many Spanish designers and brands have decided to expand to other countries, marking a solid influence and being highly respected worldwide. 
Maybe when someone asks you about fashion, Spain may not be the first country that comes to your mind. However, after reading this post I'm sure you've changed your mind. Am I right?
These are facts that many people don't know and have actually set trends worldwide!