13 Delicious Foods My Spanish Family Eats on New Year
August 27, 2022
Updated:

February 20, 2023
Published: August 27, 2022
Looking for authentic Spanish food to eat on New Year's Eve? You HAVE to try this!
I'm going to share with you 13 Delicious Spanish Foods that are an absolute must in any Spanish family (breakfast included!).
They're a huge part of our New Year's traditions. If you want to watch an interview we did asking Spaniards about their New Years traditions, I'm sure you'll love it!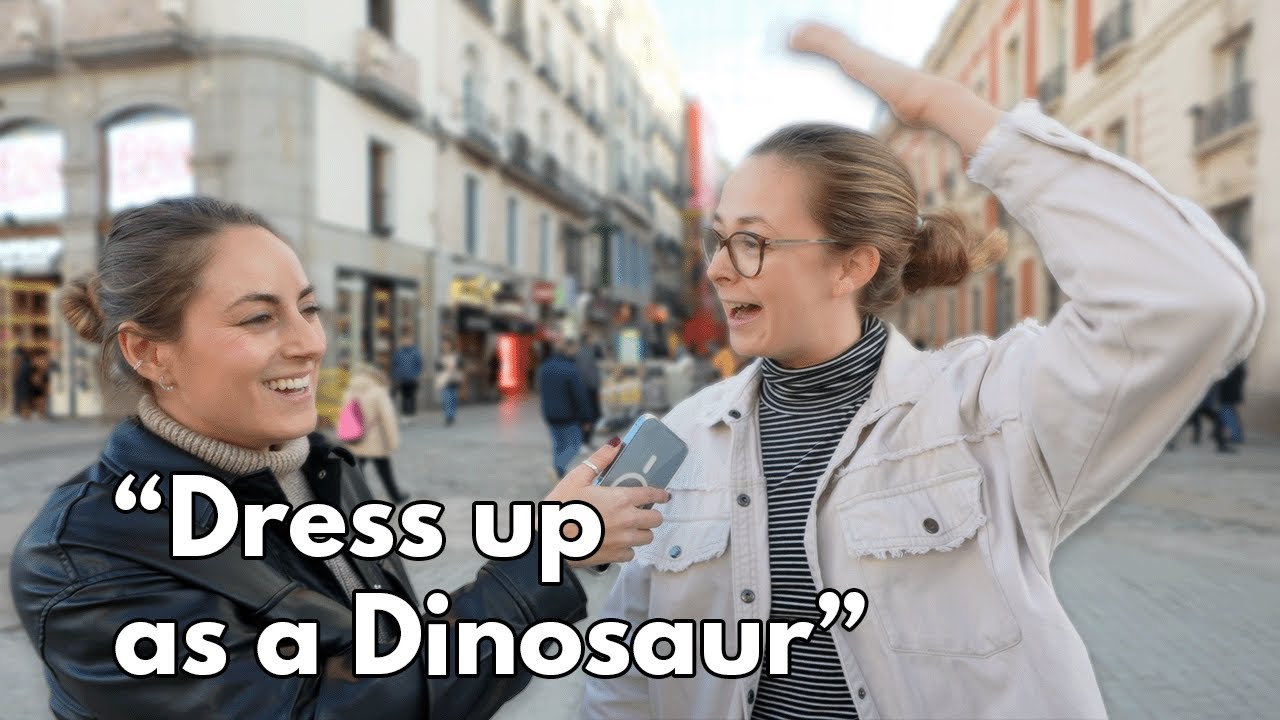 But long story short, in Spain we love celebrating New Year's with our loved ones. If you don't want to spend it like most foreigners do or you're just looking for legit spanish food, trust me, you are in the right place! 
Your belly wants to begin the new year with good food, so listen carefully to our top picks:
1. Charcuterie & cheese board or "Tabla de quesos y embutidos"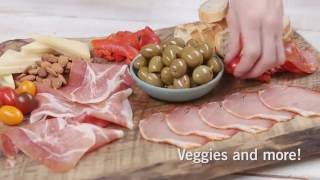 We all love a good cheese board. My family's secret for preparing the best one is finding a local store with fresh cut cheese, preferible goat, cow or sheep. Then look after your favorite cured meat. Add some high quality fruits like grapes, olives, peaches, figs or apricots. Follow with some good olive oil, nuts (almonds, walnuts, cashews). 
FYI: "Jamón Serrano" is one of the basic ingredients in the famous Mediterranean diet. We call it "Serrano" because it comes from the Spanish word sierra, referring to the tradition of curing ham in the Pyrenees or the Cantabrian Mountains. 
Finally don't forget to add texture with some crackers, biscuits or breadcrumbs. Pro tip: on New Year's we pair our tapas with threads of egg. Try them and you'll thank me later. 
Pic & Recipe by: https://youtu.be/MBeXZJJSxwk :)
2. Roasted Veggies or "Verduras Rostizadas"
If you think you don't like veggies, you are WRONG. You just haven't tried the good ones. It's all about the seasoning. I used to live in Navarra, the north of Spain, and mark my words when I say that Roasted Artichokes (or roasted veggies in general) in the north just hit different… They're incredible. If you ever have the chance to make a visit just keep roasted veggies in mind. (maybe link algo de travel al norte) 
Wait!! I Almost forgot the asparagus behind the artichokes in the picture, they are also a must.
3. Pickled Mussels or "Mejillones en Escabeche"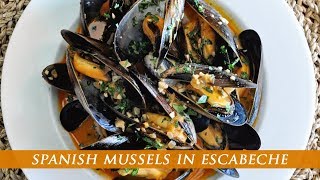 Avoiding bad luck on New Year's? Absolutely yes. Pickled Mussels are an excellent choice because they're known for bringing one of the foods that brings us good luck on New Year's. So, you're welcome!
They are originally from Galicia -A region in Spain's norwest- and are known for having a rich nutritional value. You can serve as much as you want.
Pic & Recipe by: https://youtu.be/jPTEhVYZAm4 :)
4. Russian Potato Salad or "Ensaladilla Rusa"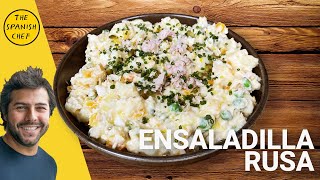 My mouth is already watering, I swear. Fun fact: In Spain we made our own modifications to the Russian Salad recipe over the years. Chicken, Salmon and Partridge are substituted by cooked veggies, hard boiled eggs and tuna. 
Rumor has it that it was originated in the year 1864 by the prestigious French Ched Lucien Olivier in his restaurant called L'Ermitage.

Pic & Recipe by: https://youtu.be/iUKFTbUNZqY :)
5. Spanish Croquettes or " Croquetas"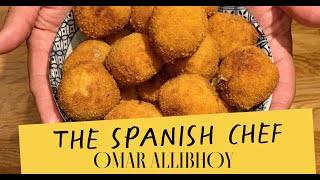 Spain's golden treasure. Croquetas can be perfectly paired with anything you wish. They could be filled with cheese, ham, beef, chicken, or fish. They are deep fried in oil and are really smooth on the inside, I bet you can't have just one.  
Until now you are familiar with traditional Spanish TAPAS, which usually are served as starters at the table for sharing with the family while having some Spanish wine. 
Pic & Recipe by: https://youtu.be/SgQGyE6pqRM :)
Now I'll show you what food we eat on New Year's eve as the first course, which is usually soft appetizers so you can enjoy the rest of the courses with no problem.
6. Soups or Seafood Cream or "Sopa o Crema de Mariscos"
This is an all-time classic. "But this is just soup and fish" well.. Not actually. You'll be delighted when you try this. It's very light and can be prepared in advance and avoid all the rush and late cooking.
I have a friend who always says that in Spain the best seafood creams are near the coasts, where fresh fish is located … I you are spending New Years somewhere near the ocean I bet the fish is going to be incredible.
But okay, okay… If you are one of those who really don't like creams you will love the next one.
7. Garlic Shrimps or "Gambas or Gulas al Ajillo"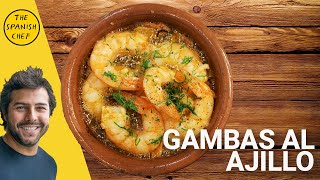 Garlic Shrimps are amazing. Can be served as tapas, appetizers or as first course. Another great option if you are feeling fancy and want to enjoy another light dish. The seasoning, the fresh flavor and a good glass of wine make this plate an absolute 10/10.
Pic & Recipe by: https://youtu.be/QJ5rbwhMEZs :)
Moving on to the second course! A little advice? Save space for dessert … Totally worth it.
8. Baked Fish or "Merluza o Pescado al horno"
Safe choice? Merluza al horno or any other type of fish. If you are a picky eater or don't want to risk it on new year's eve you could definitely try Merluza al Horno / Pescado al Horno / Baked fish and get a side of roasted potatoes or some of the other dishes I mentioned above. 
In the picture you can see I paired the Merluza with some Grilled Peppers, (Pimientos Asados) with garlic, which are also very traditional in Spain, especially around these dates.
9. Ribeye or Grilled Meat or "Chuletón or Carne Asada"
Okay Meat lovers, listen up! This is quality, this is perfection, this is Spain. Between fish and meat I personally choose meat because most spanish appetizers are made out of fish so by the time I get to eat the second course I've already had enough, so I can have the best of both worlds. 
10. Red Cabbage with Pine Nuts or "Lombarda con piñones"
I agree with you. The name might not look appeling but the beauty is on the inside. This plate is a must try if you want to experience the real Spanish experience. As a local, I assure you that Madrid and Castilla León traditional houses prepare these meals with their hearts for their families.
I'll explain what Lombarda is in simple words: A winter veggie, it's perfect to pair with your main dishes, either you are going for meat or fish. It is the perfect accompaniment, it adds a healthy and tasty touch to the New Year's eve table.
11. Nougats or "Turrones"
Time for the sweets! My all time favorite has been turrones. I could not talk about legit spanish food we eat on New Year's eve without mentioning turrones, which are made of almond, sugar, and honey. 
There are originally from Alicante, (Tal vez linkear post a travel alicante o food o facts de alicante) but there are many different types of Turrones in Spain, so yes, good for us so we have more flavors to try. Some of them might be made out of chocolate, rice, egg yolk, coconut, etc…
12. Chocolate with churros or "Chocolate con Churros"
In simple words: The most iconic Spanish breakfast to enjoy the morning after New Year's eve, and definitely one of my favorite new year's traditions, for sure. If you want to know more about New Year's Spanish Traditions I suggest you to see our related post: 6 New Year Traditions in Spain for Powerful Beginnings
Chocolate with churros will leave your sweet tooth very satisfied and ready to begin the new year with the right foot. Maybe you have heard of them, maybe not. Either way you must give this delicious dish a try to end the food feast with a happy belly. 
Pd: +1 bonus point for you if you can find a spot at Chocolateria San Ginés in Madrid, where you'll find the most authentic and succulent Spanish churros in the world. 
13. 12 Grapes or "12 Uvas"
Celebrate like a local! Experiencing New Year's as a Spaniard means eating grapes at midnight! We swear by this tradition and truly believe it brings us good luck in the New Year, AND … we spill the tea about the grapes in this post: 12 Spanish Grapes: Find Your Luck on New Year's which shows how the tradition is done and why it started!
To me, celebrating New Year's Eve with a yummy food feast is so special because of the people I share it with. The house gets fully decorated and my family gets together around the table to enjoy the night… Just look at a this GORGEOUS table set up by Mercedes Martínez & this beautiful pic taken by Carolina Herran on New Year's Day, cozy family vibes… right?
I'm 100% sure this list has you ready to come to Spain and celebrate New Year's Eve like a local. Everything you need to know about how we spend one of the biggest nights of the year check this out New Year's in Spain.