The 27 Best Spanish Shoe Brands: Find your Style!
February 1, 2023
Updated:

February 20, 2023
Published: February 1, 2023
Who else gets excited when they see the label "made in Spain"? This is perhaps one of the labels we value the most when we buy something, especially when we want to add a new pair of shoes to our collection. We know we are buying quality!
Nowadays, in the Spanish market, we find several brands whose manufacturing process is entirely produced in Spain, thanks to the work of local artisans. We can find timeless design shoes from the latest trends.
Many Spanish footwear brands are succeeding nationally and have incredible success beyond our borders. Varied designs and impeccable quality that everyone wants to have in their closet!
Get ready to discover the best Spanish shoe brands that are doing the best and with which you will look super trendy! What are you waiting for to meet them and get hold of some of their pairs?
P.S.: Besides including the Spanish shoe brands, this post also includes the shoe style. I think it is interesting for people to know the different types of shoes we have in Spain and what we call each of them. We looove talking about fashion. As a matter of fact, we did an interview on the streets of Madrid about Spanish shoes, clothing brands, etc.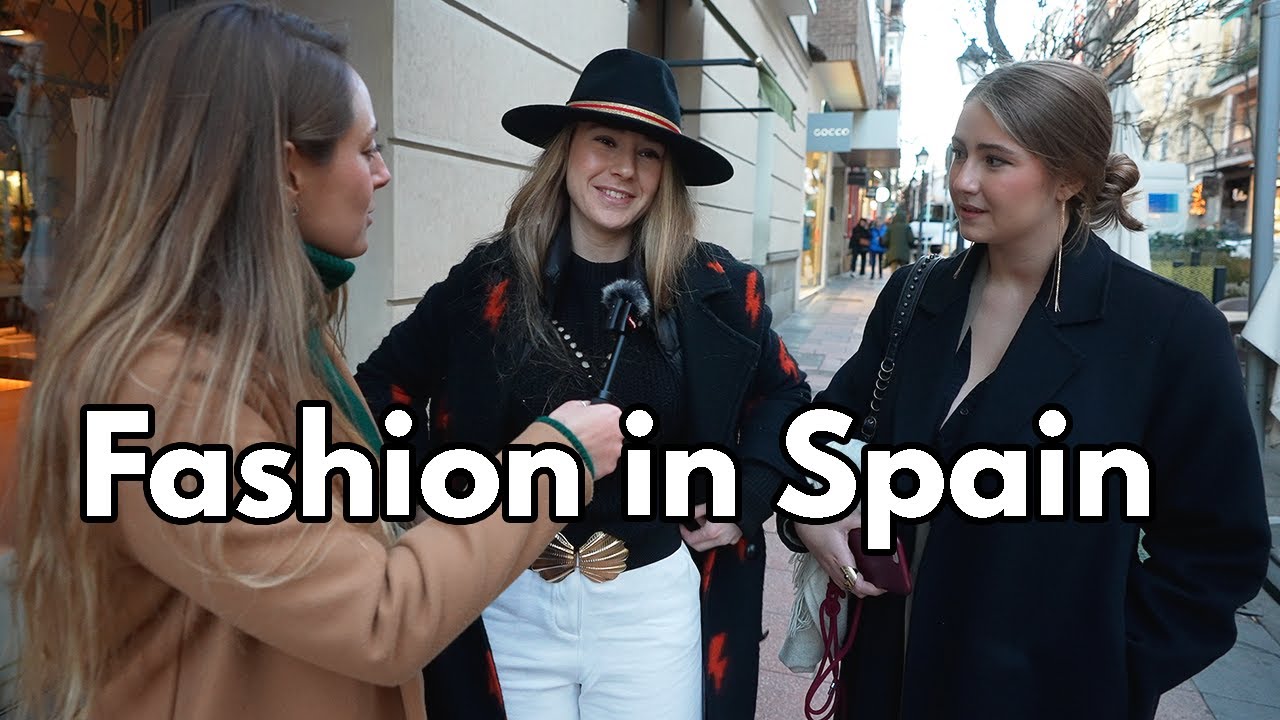 Ohh! And at the end of the post I have included a size conversion table to make it easier for you to find the right show size!
---
Mocasines - Moccasins
This type of closed footwear is mainly masculine, although versions have also been made for the female public.
The moccasins are one of the star shoes, a very recurrent and sophisticated footwear suitable for any occasion, either to go to work, to attend an event, or even to go out for a drink.
It is a shoe that you will see very often in the catwalk looks. Although its essence is maintained, new designs with different touches come out each season.
Moccasins have been passed down from generation to generation. Their versatility and elegance make them one of the most worn shoes in formal and informal settings.
If you are looking for comfort and elegance in a closed shoe, the moccasin should be your choice. And the best thing about this shoe is that you can wear it any time of the year!
There is a variant of the moccasin known as "náuticos" which stand out. This type of shoe is elegant with a casual touch, and always perfect for any occasion. The difference between a "náutico" and a moccasin is simple, the "náutico" shoe is tied with laces, and the moccasin has no laces.
These are the Spanish moccasin brands you should take a look at:
The authentic moccasins!
This brand has been making shoes of the highest quality for more than 100 years, totally handmade and with the best materials.
Their philosophy is quality. You will find a great variety of "náuticos" on their website!
It is one of the largest and best-known Spanish footwear brands. It has always been concerned with developing a wide range of casual, comfortable, and innovative shoes.
This brand stands out for its timeless pieces, consciously crafted by local artisans and inspired by the aesthetics of the Mediterranean summer.
---
Oxford
The oxford is traditionally a men's dress shoe. However, over the years, it has become part of women's fashion.
It is an elegant and classy shoe, available in various styles and textures to suit any occasion.
A pair of oxford shoes can dress up many outfits and is essential in any closet, especially in a man's wardrobe.
Oxford shoes are perfect to pair with a tuxedo for a wedding or black tie event, a romantic dinner, or even a more relaxed and casual outfit.
This model is a classic formal dress shoe that will never go out of style!
Ready to buy your pair of oxford? Check out these Spanish brands!
Hockerty is a Spanish brand founded in 2008 and based in Switzerland. However, their shoes are made in Spain by traditional shoemakers.
Their mission is simple: "to give people the freedom to choose their own style and reveal their personality at an affordable price."
At Hockerty, your shoes can be custom-made, adding your personal touch with high-quality standards.
Hockerty is also the e-commerce leader in tailor-made suits and shirts.
Their motto is "Buy less, buy better, buy clothes that will last and fit your body perfectly."
Lottusse is a brand born in Mallorca that is having incredible success at the international level.
This Spanish brand of handcrafted footwear specializes in producing leather products of the highest quality. It is also specialized in the Goodyear manufacturing system, which is defined by its extraordinary efficiency when assembling the different parts of the shoe.
This brand is a benchmark when it comes to elegance. Their shoes are a safe bet for their quality and design without neglecting comfort.
Martinelli is your candidate if you are looking for shoes to wear in your day-to-day office work or for a special event!
Carmina has been producing by hand one of the best and highest quality shoes on the market since 1866.
Its manufacturing process includes more than 190 steps handled by a team of expert craftsmen who carefully take care of each production stage.
All their shoes are made by local craftsmen with traditional Goodyear stitching.
---
Deportivas - Sneakers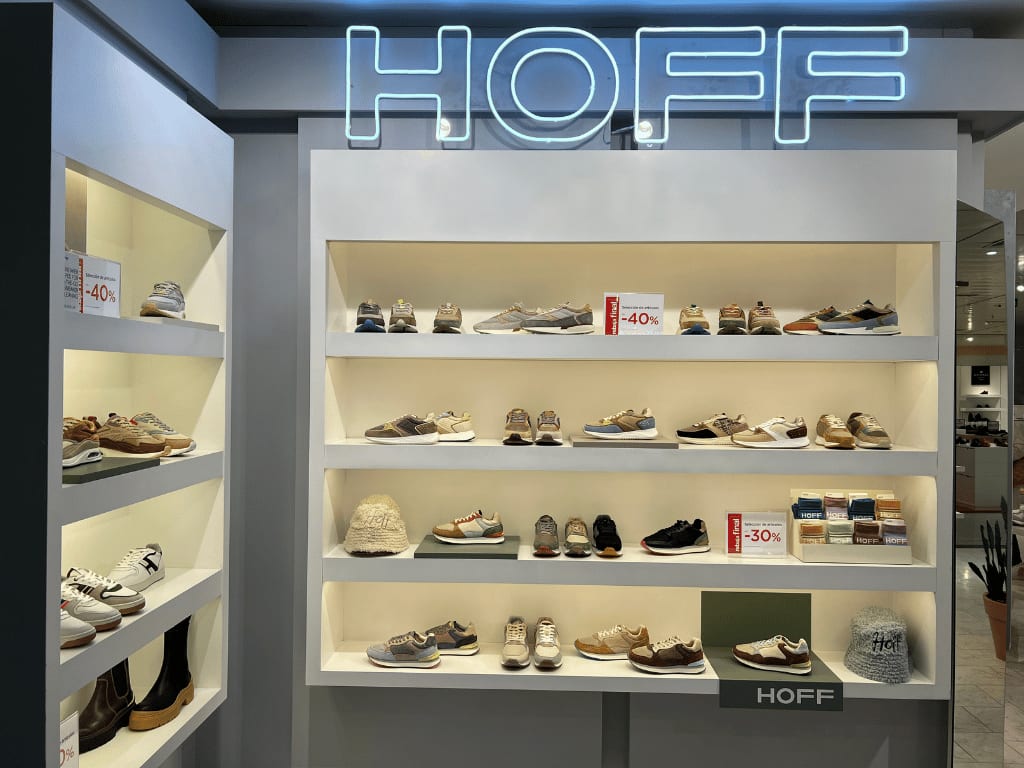 This is perhaps the footwear we see more throughout the year, regardless of the season in which we are.
Sneakers are footwear with no gender or age; they are used by both women and men and both old and young people.
The sneakers have been adapting year after year to new trends. It is a very comfortable shoe and easy to combine. Years ago, this shoe was composed of a very thin sole. Still, the current models have been increasing their platforms significantly.
Before, sneakers were used exclusively for sports. Still, nowadays, they are worn for any occasion, either to complete your sporty look or a casual office look.
If you are looking for a shoe that you can wear daily to combine with any garment, sneakers are always a great option!
These are my favorite Spanish brands of sneakers that are always in my closet and are having a blast right now!
This shoe brand, created by two young people, is doing great! Not only with their sneakers but also with their heels and boots.
Their designs are always innovative and seek to break with the typical. It is a brand that bets a lot on footwear with platform.
The sneakers brand was born in 2014 and has been a great success. Created by a group of friends, their goal, as they say, is to "build a lifestyle brand based on the concept of walking, the constant movement of soul, body, and mind."
These are versatile sneakers, perfect for women and men, and made for any time of the year. They are one of the most comfortable sneakers on the market, full of color and perfect for a trendy look.
---
Sandalias - Sandals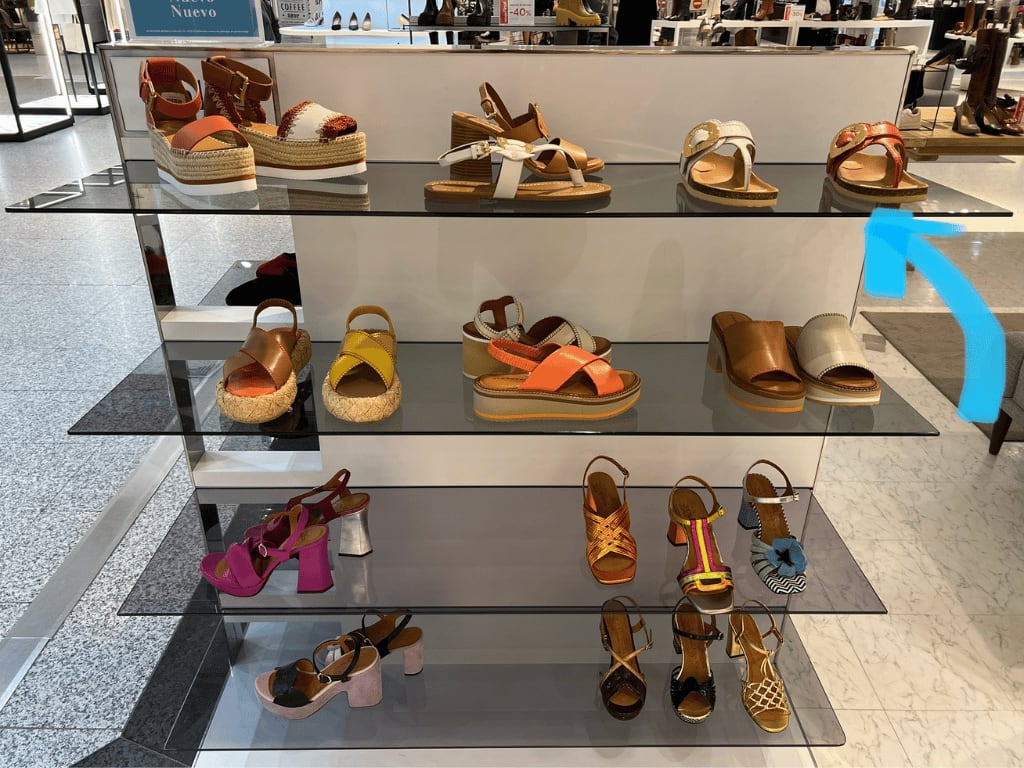 The sandal is the oldest footwear in history, developed by the Egyptians, Romans, and Greeks.
Nowadays, it is a model of footwear commonly used in the summer season. We can see sandals of different models and colors, and styles that vary with each season according to fashion.
The flat sandal is the classic and original sandal and the one we often see in summer. However, today we can see elegant heeled sandals suitable for any event or party at any time of the year.
We all have seen sandals paraded on some of the most important catwalks and in many great designers' collections. It is a shoe that has triumphed remarkably and that we see every year on the feet of women and men!
Sandals are a style of shoe that cannot be missed in your shoe collection!
Have a look at my favorite Spanish brands!
Alohas is one of the reference brands among the young public. Many influencers accompany their looks with shoes of this brand.
Not only stands out for its sandals, but its heels, moccasins, sneakers, and boots are also very popular.
All their products are made ethically and sustainably from certified materials. In addition, its production is handmade and on-demand to raise consumer awareness of the importance of responsibly buying.
Salo Madrid is the reference brand for those special occasions because their designs are very delicate and exclusive. Especially their high heel sandals stand out!
They are an excellent option for both guests and brides who want to take a risk and go for something different.
This brand represents sensuality and sophistication.
All pieces are designed in Spain. Lola Cruz is found in more than 600 stores around the world. It has two stores in Madrid, as well as its own online store that ships internationally.
Its mission is to reach new markets and fit women in every corner of the world.
---
Tacones - Heels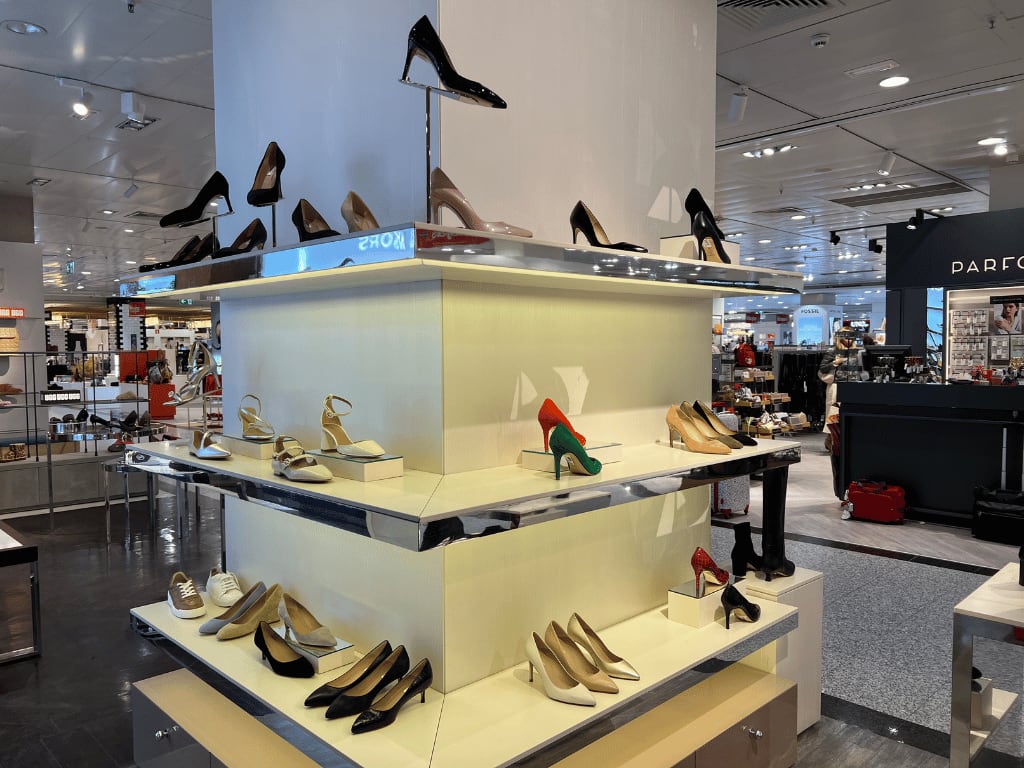 The entry of heels into the fashion world was truly incredible and a total success.
Since its release to the market until today, this style of women's shoes has seen a huge transformation. Of course, always keeping up with the fashion and trends of the time and pandering to the tastes and needs of women on every occasion.
Today, heels are still considered a sign of elegance and a fashion accessory that persists over time, adapting to new trends.
Many women wear this type of footwear either to go to work, at parties, or at special events. They are a complement that concedes to the feminine silhouette a few extra centimeters, stylizing the legs and refining the body.
Even the most casual and everyday style is enhanced with a good pair of heels!
Just make sure that the heels you buy are comfortable; otherwise, wearing them can become an absolute nightmare.
These are my favorite Spanish brands that I recommend to everyone!
You are going to allow me to include this luxury brand in the list, as it is an icon of Spanish fashion and I couldn't not mention it.
If you want to treat yourself someday I recommend you to take a look at these amazing shoes!
---
Cuñas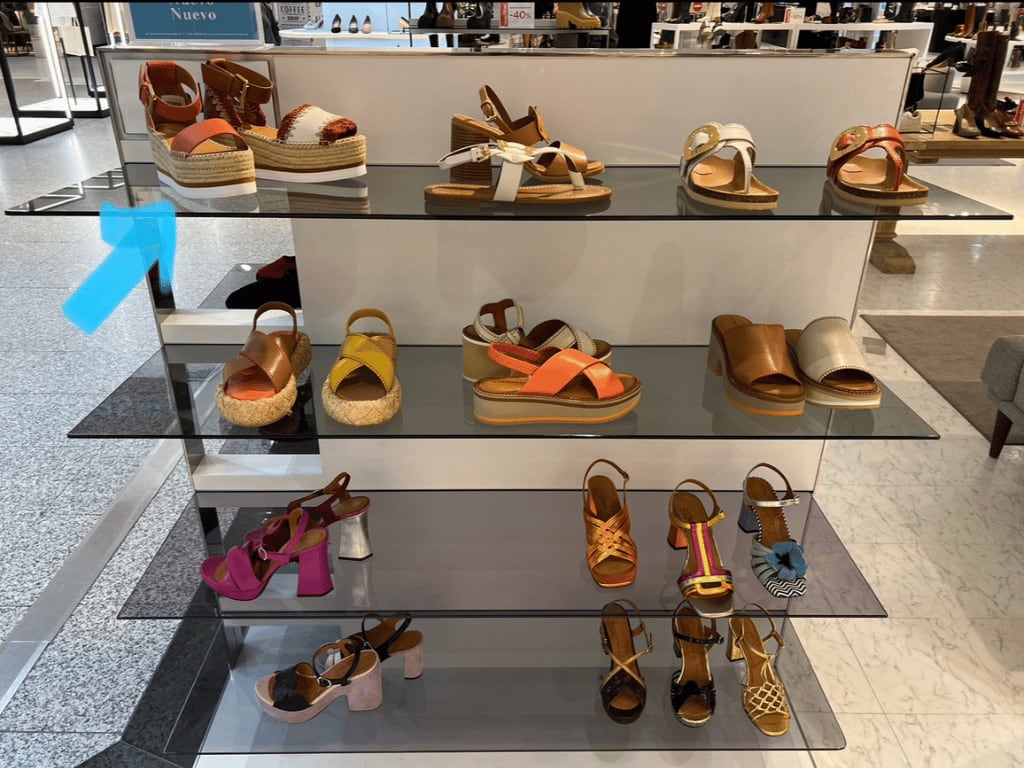 The "cuñas" have revolutionized the footwear industry with their versatility and comfort.
Thanks to the "cuñas," women can add a few extra centimeters to their silhouette without suffering the effects that come with some heels.
Today "cuñas" are a more than consolidated bet in many designers' collections.
For those women who suffer too much from stilettos, "cuñas" are the best option without any doubt!
Here are my recommendations!
These "cuñas" are a "must have" that you can not miss in your closet. It is a brand that presents models with innovative and revolutionary designs constantly adapting to the latest trends.
You have options for all styles and occasions. No doubt this brand will exceed your expectations!
We will talk about this brand later in the "alpargatas" ("espadrilles" in English) section.
---
Botas - Boots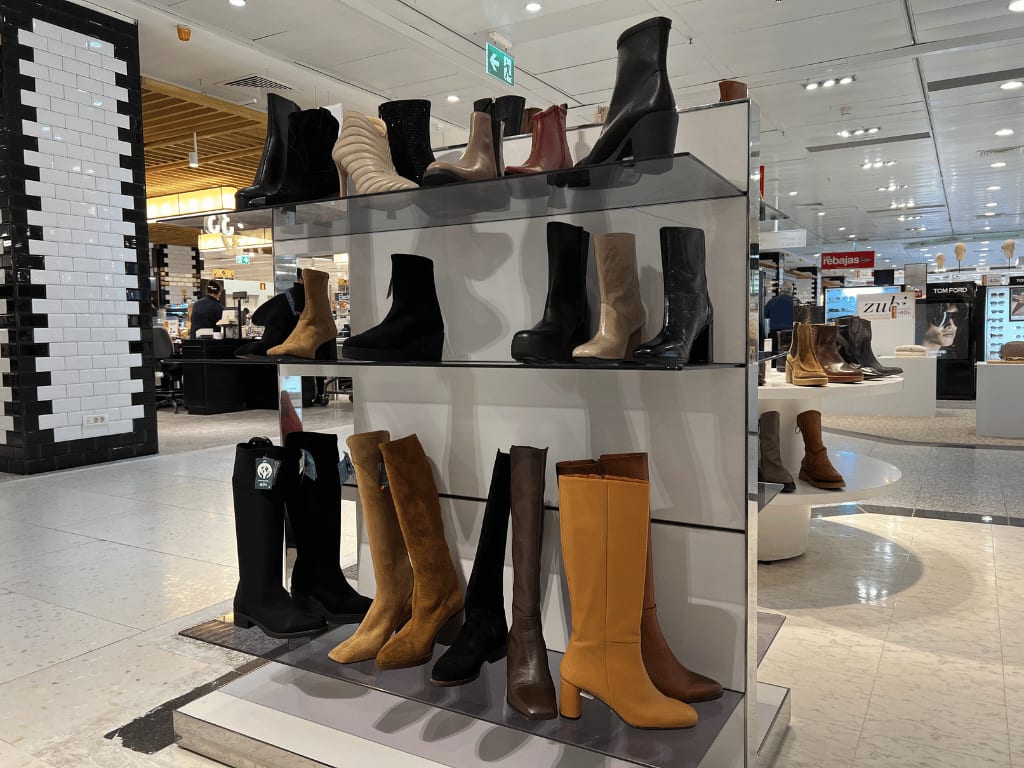 A good pair of boots is always a great option for any outfit!
They come in many different styles, and are the perfect footwear for any time of the year.
Who hasn't worn boots in summer combined with a skirt or dress?
It is also a shoe that can be worn by both men and women.
These are the Spanish brands where I usually buy many of my boots:
This brand from Albacete makes its boots by hand, so no pair of boots are the same.
Sendra is characterized by its exclusivity. They also allow the customer to create their own boot design, which makes it an absolute experience!
Micuir is an eco-friendly brand that literally means "My Leather." Hence, all the shoes and bags of the collection are handcrafted and sustainably made in Spain in the highest quality leather.
Their "cowboy" boots will make you fall in love!
---
Botines - Ankle Boots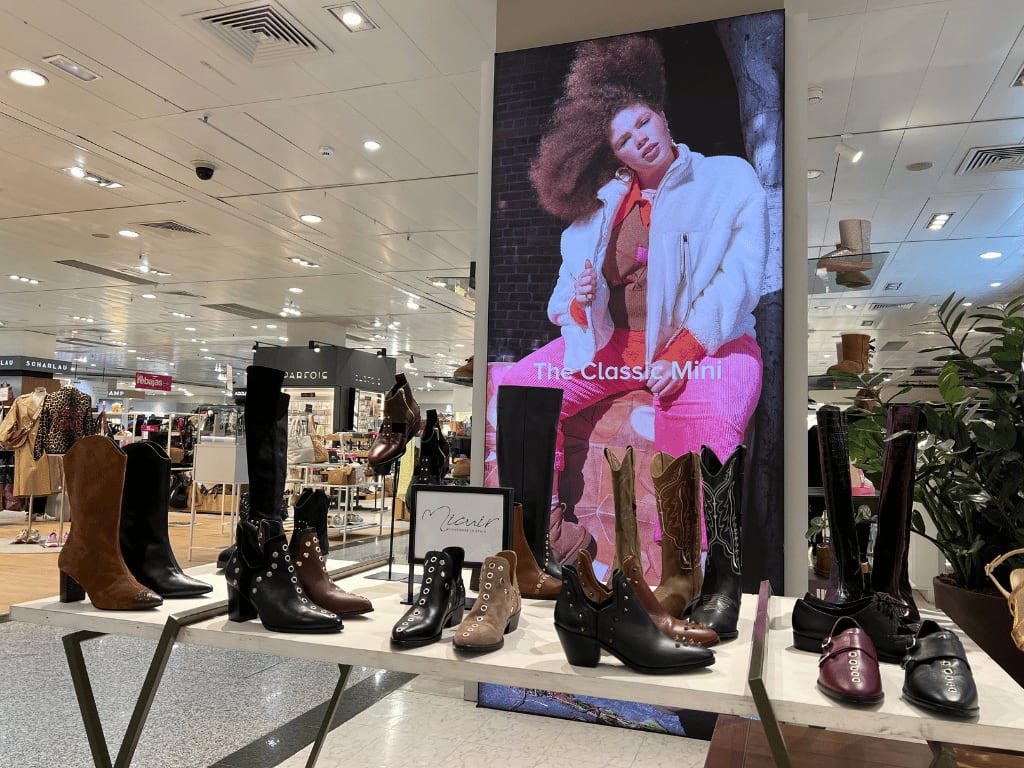 Like boots, ankle boots are footwear that always looks great at any time of the year.
Ankle boots are a type of shoe with a medium heel that completely covers the foot. They can be paired with skinny pants tucked in, wide pants, skirts, and even shorts.
Check out these brands to get your hands on at least one pair!
This Mediterranean-inspired brand has very clear that the secret of its success is the combination of high-quality materials treated with centuries-old traditional techniques and timeless designs.
---
Bailarinas - Ballerinas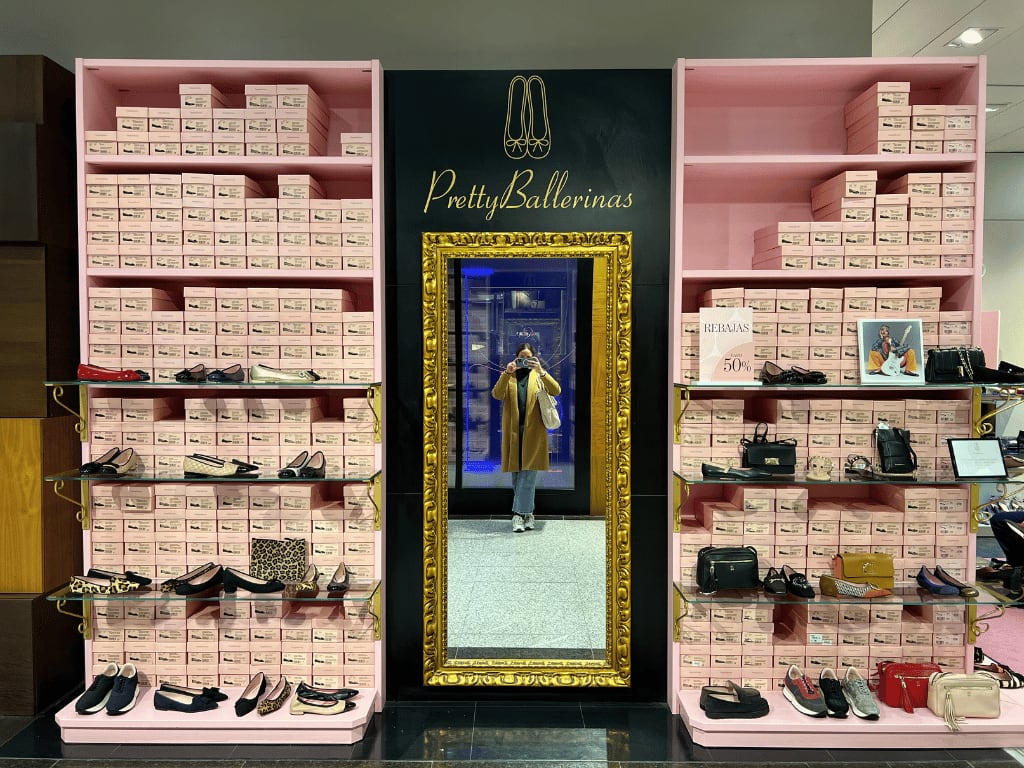 Ballerinas are the perfect women footwear to face the in-between seasons. That day you don't know what to wear because it's not cold but not hot either, a pair of ballerinas is your best option!
This type of shoe is one of the most typical spring footwear in Spain, one of the street styles you will see around this season.
Ballerinas are very versatile shoes that adapt to countless outfits and styles. It's a great shoe because it goes with everything!
Nowadays, you can find from the classic round-toe ballerinas to the pointed toe decorated with different ornaments, designs, and multiple colors. Moreover, it is a shoe you can wear with or without socks, depending on how comfortable you feel.
This year you can't miss at least one pair of ballerinas in your closet!
Have a look at my favorite Spanish brands of ballerinas!
This is, without a doubt, my favorite! If you are looking for original, feminine, and comfortable shoes, this is your brand!
Momoc is a brand of vegan shoes for women that are 100% made in Spain.
It is a brand aligned with sustainability and the high-quality shoes they produce.
Their shoes are made with vegan and recycled materials, such as lining and insole with ecological microfiber, giving the shoe a wonderful and soft touch!
This year you can't miss a Momoc in your shoe collection!
This Spanish brand has become a reference in women's footwear, being the ballerina's star piece. If you visit their website, you will go crazy with the number of options; all of them are spectacular! You can combine them with any outfit!
These are undoubtedly the most international ballerinas. Some celebrities like Angelina Jolie, Kate Moss, and Olivia Palermo have trusted the brand and added these shoes to their looks.
---
Alpargatas - Espadrilles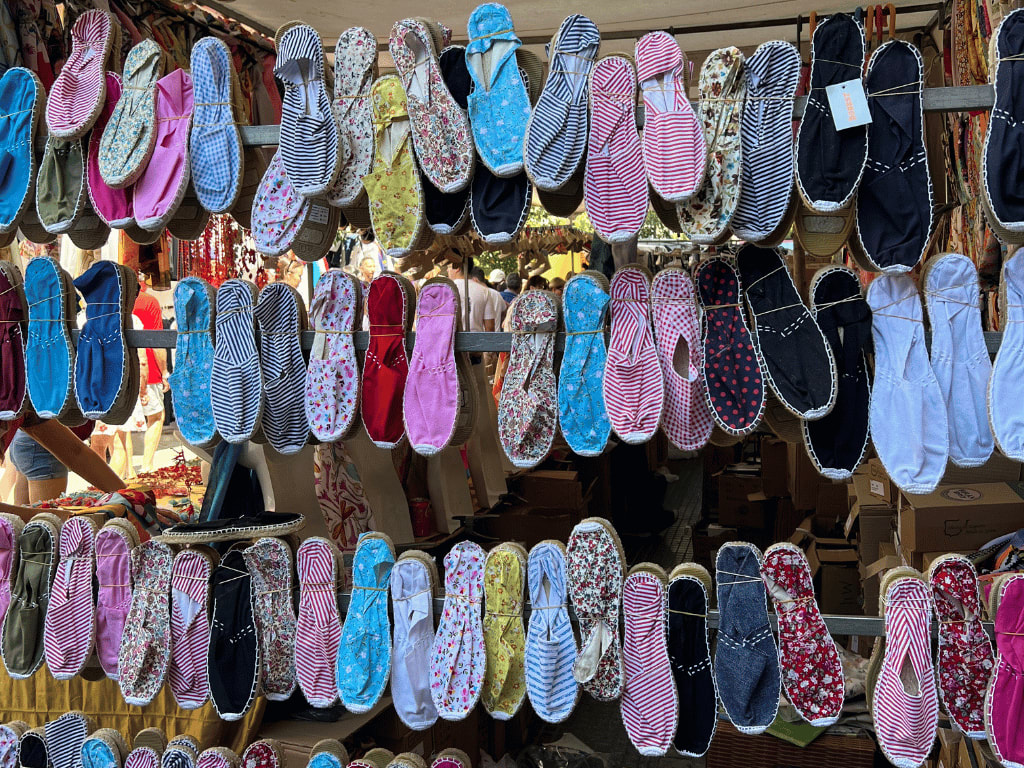 This is perhaps one of the most comfortable shoes you will find on the market. It is a unisex shoe generally made of canvas with a sole of hemp, esparto grass, or other fibers.
Espadrilles are footwear that we usually use in Spain in the summer to go out, go to the beach, or just for a walk.
It is a shoe of humble origin that has become a "must" in the fashion world.
Nowadays, espadrilles can also be seen accompanying wedding guest looks, or even if the bride wants to go comfortable is a great option!
It is also the perfect complement to accompany the flamenco dress in the famous Feria de Abril.
If you want to know everything about the Feria de Abril and other festivals held in Spain, take advantage of this post!
13 Mind Blowing Spanish Festivals Worthy of Your Bucket List!
These are my favorite and most popular Spanish brands of espadrilles:
The firm of espadrilles par excellence with more than 90 years in the industry.
Castañer has always been able to reinvent itself and adapt to the trends of the time.
You will find different designs of espadrilles, flat, wedge, with straps… You can choose from infinite options depending on the occasion or event you are attending.
This brand of espadrilles is especially aligned with sustainability and the environment. It works with indigenous materials as well as citizens of the region.
It currently has more than 3,000 points of sale around the world.
Here you will also find spectacular boots!
---
Menorquinas
When we talk about summer footwear, our beloved "menorquinas" cannot be missing from the list.
If you have never heard of them before, the "menorquinas" (also known as "avarcas") are a traditional type of sandals from the Balearic Islands, especially Menorca. This type of footwear is very popular and a classic of the summer season that never goes out of fashion!
One of the things I like the most about them is that they are unisex shoes, so both men and women can add them to their summer outfits!
The "menorquinas" are undoubtedly one of my favorite summer shoes because besides being super comfortable, they don't make your feet sweat!
This type of shoe is perfect for walking and even going to the beach.
This traditional Menorcan footwear captivates everyone who visits the island, so only some people leave without taking a pair home!
These are the Spanish brands of "menorquinas" that I recommend 100%:
You can see that this brand puts its heart into all its designs.
Avant-garde designs that respond to the trends of the fashion industry. All their models reflect the preference for quality through their materials and details.
This brand aims to end environmental disasters in our country.
Their vision is to raise awareness through their designs to proactively reduce their carbon footprint and lead a more joyful and sustainable life.
Mibo is dedicated almost exclusively to the manufacture, distribution, and sale of "avarcas menorquinas."
It is a brand that combines craftsmanship with new technologies to create models of "avarcas menorquinas" totally traditional and, at the same time, innovative.
---
| Spanish size (ES) | American size (US) |
| --- | --- |
| 34 | 4 |
| 34.5 | 4.5 |
| 35 | 5 |
| 35.5 | 5.5 |
| 36 | 6 |
| 36.5 | 6.5 |
| 37 | 7 |
| 37.5 | 7.5 |
| 38 | 8 |
| 38.5 | 8.5 |
| 39 | 9 |
| 39.5 | 9.5 |
| 40 | 10 |
| 40.5 | 10.5 |
| 41 | 11 |
| 41.5 | 12 |
| 42 | 13 |
| 42.5 | 14 |
| Spanish size (ES) | American size (US) |
| --- | --- |
| 37.5 | 5 |
| 38 | 5.5 |
| 38.5 | 6 |
| 39 | 6.5 |
| 39.5 | 7 |
| 40 | 7.5 |
| 40.5 | 8 |
| 41 | 8.5 |
| 42 | 9 |
| 43 | 9.5 |
| 44 | 10 |
| 45 | 10.5 |
| 46 | 11 |
| 47 | 12 |
| 48 | 13 |
| 49 | 14 |
| 50 | 15 |
| 51 | 16 |
| 52 | 17 |
---
Do you know any of these brands?
Most of the time, we tend to opt for fast fashion. Still, it would be great to also give the opportunity to those Spanish brands that work all their creative and manufacturing process in our country.
By saying this, I do not mean we stop buying in certain stores like Zara or Massimo Dutti, but that we balance the balance a little.
What are your favorite Spanish shoe brands? We would love to hear from you!